Crispy Mac and Cheeze Waffles
These Crispy Mac and Cheeze Waffles are the perfect indulgent side dish! Two ingredients, and you get crisp on the outside, and soft cheesy Mac and cheese on the inside of these divine waffles!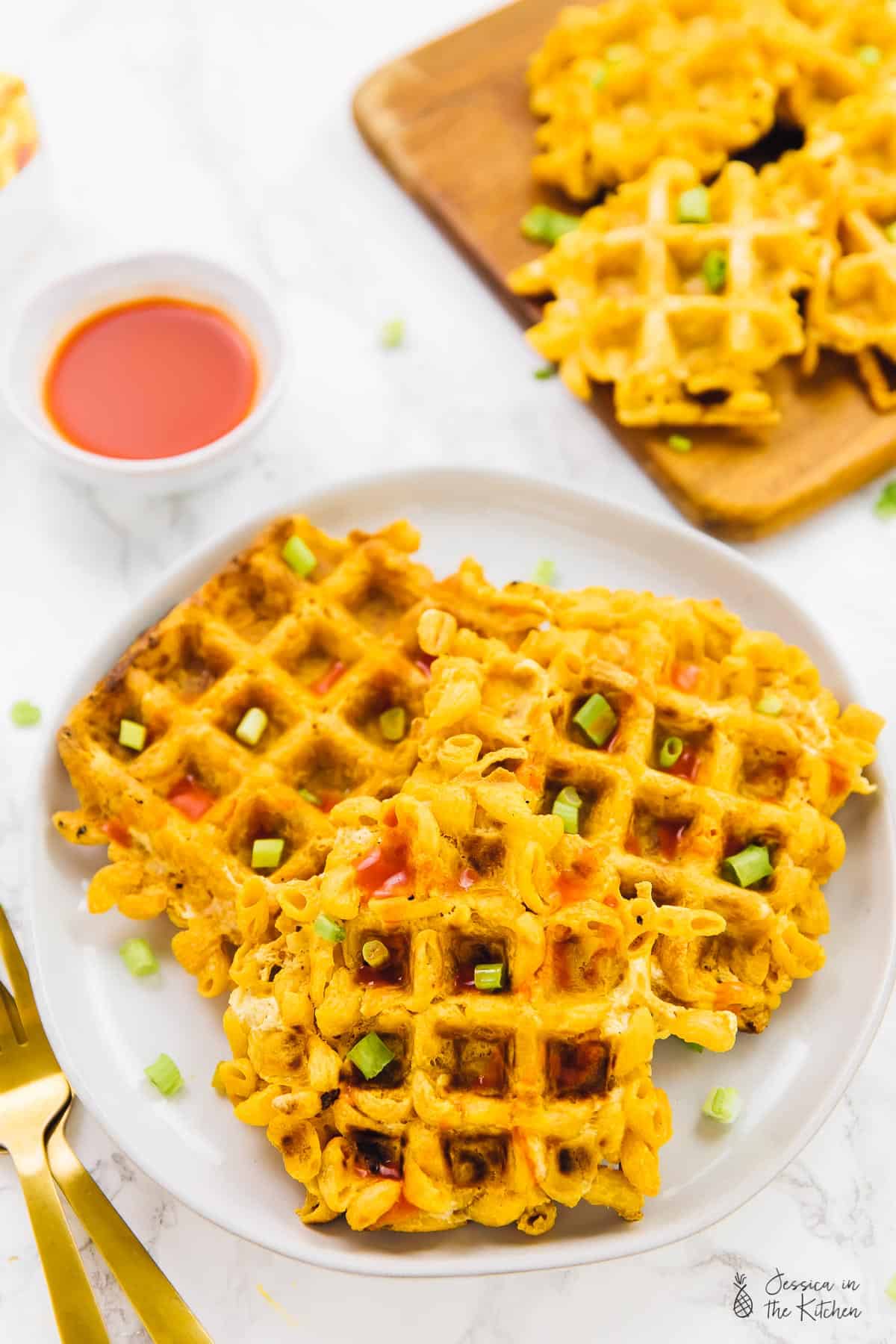 You know what you need today? A life balance. These Mac and Cheeze Waffles are the kind of balance that I'm talking about. Good for you ingredients that taste like Christmas came early. Cheesy, creamy, crispy, crunchy that have come true. We're about to make that happen here with these two – yes TWO – ingredients waffles.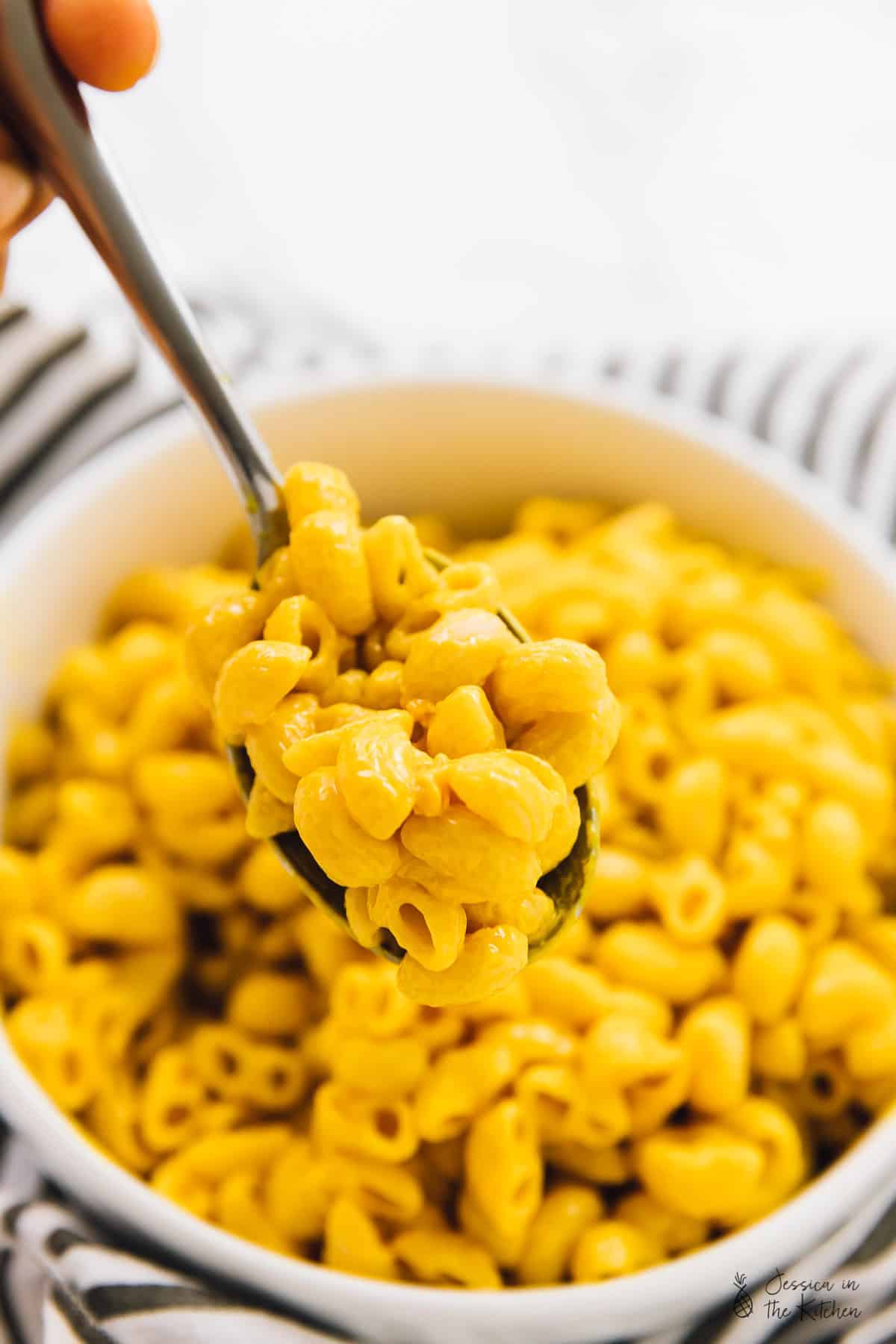 I have been using Daiya products for years now. I remember the first time I used a Daiya product – it was on a vegan pizza (like this one) that I made while still vegetarian. One bite and Gav said "you could sell this!" That pretty much convinced me. The first time we tried Daiya's Deluxe Cheddar Style Cheezy Mac, we were in shock at how cheesy it was. I actually completely forgot that it was gluten free, too! That's exactly why I'm so excited to be sharing these waffles with you. Let's be real – leftover Mac and cheese is always delicious, but these takes it over the top and with only one more ingredient, plus a few delicious add-ons.
I'm making these waffles as a part of Daiya's Comfort Food That Loves You Back campaign – which is pretty awesome. Firstly, one of my favourite things about being vegan is that when I do indulge in comfort food, I don't get that uncomfortable feeling that I used to get with dairy. That's pretty much the point with this campaign – with Mac and cheese that's filled with protein, is gluten free, dairy free, and free of all the top 8 allergens, this is the best kind of comfort food. The kind that doesn't weigh you down, tastes amazing and (of course) comforting, and that you could actually enjoy throughout the holiday season. I mean, I know you're in agreement with me, am I right?! P.S. you got to watch the video below – it's hilarious. Needless to say we pressed our box endlessly!
So these Crispy Mac and Cheeze Waffles. Gav and I started "waffling" things from our very first waffle iron, so my first thought was to immediately make these into Mac and cheese waffles. I mean – ONLY good could come from that right?!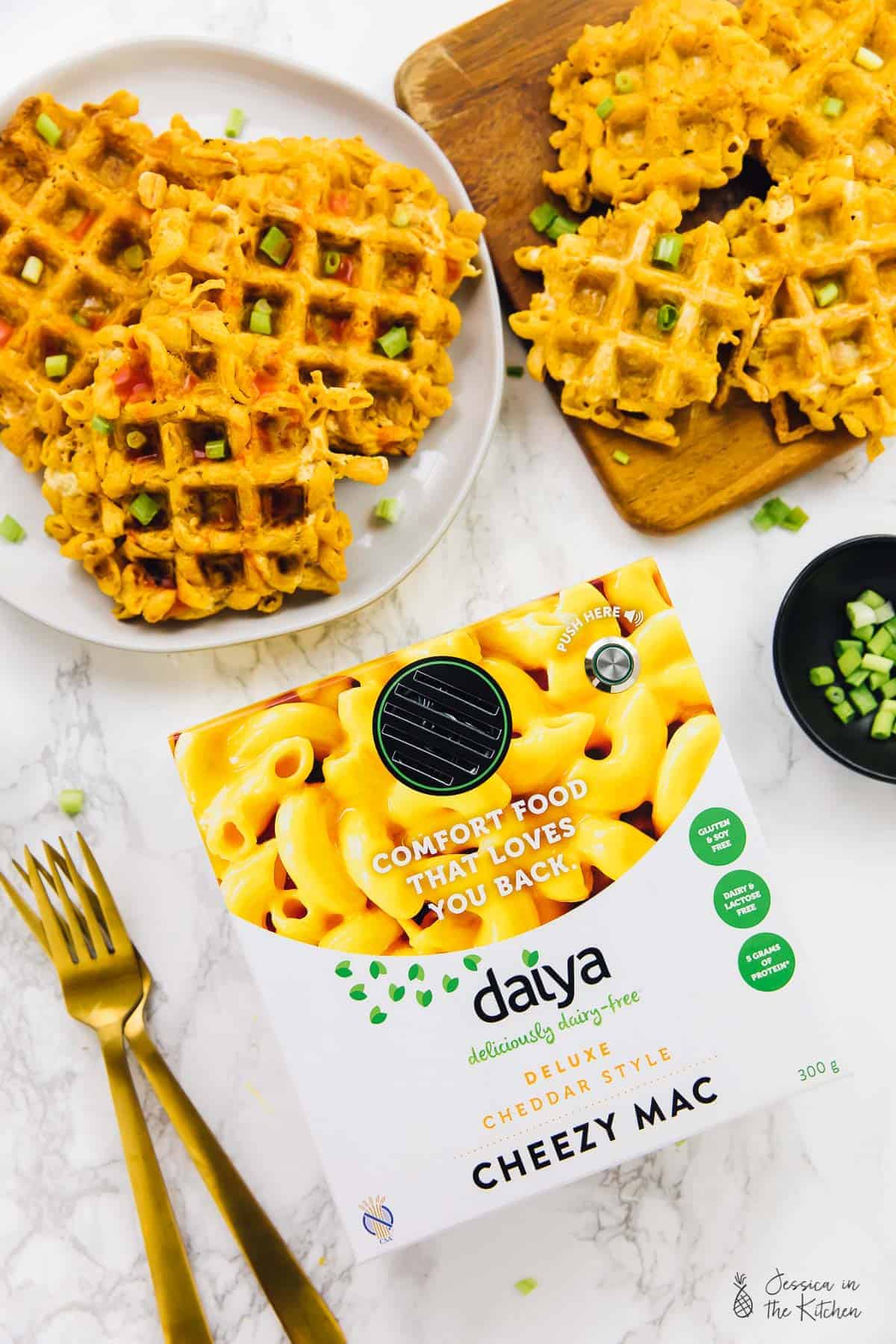 I tested these quite a few because I wanted to ensure that they were still cheesy and soft yet crisp on the outside. After only a few tries, one method stood true. Add a small square of cold Mac and cheese unto the hot waffle iron, sprinkle some dairy-free Daiya cheese on top (I used their new Cutting Block Shreds), then cook for like 4-5 minutes. The cheese layer almost protects that Mac and cheese so it remains in perfect cheesy condition with an extra yummy layer. Let me tell you, this has been a happier household ever since. I didn't even need to add any additional seasonings since the Cheezy Mac is already insanely delicious.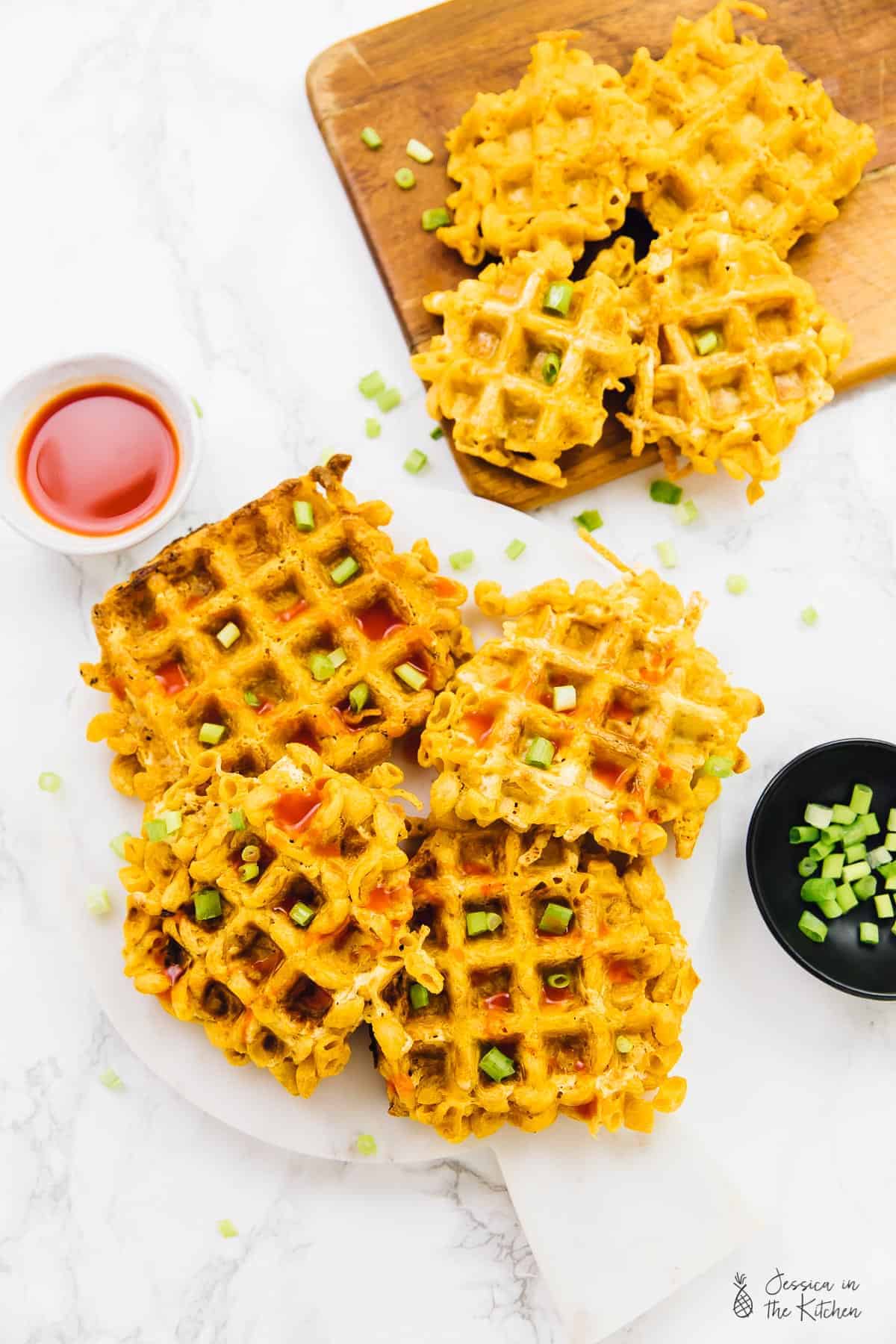 As if that wasn't good enough, I topped mine with hot sauce and scallions and let me tell you we have a WINNER here. This "recipe" is super versatile because while I did 3×3 inch squares, you could do 2×2 for appetiser size, or go mega with a 4×4. It's your Mac and cheese dream world, friends.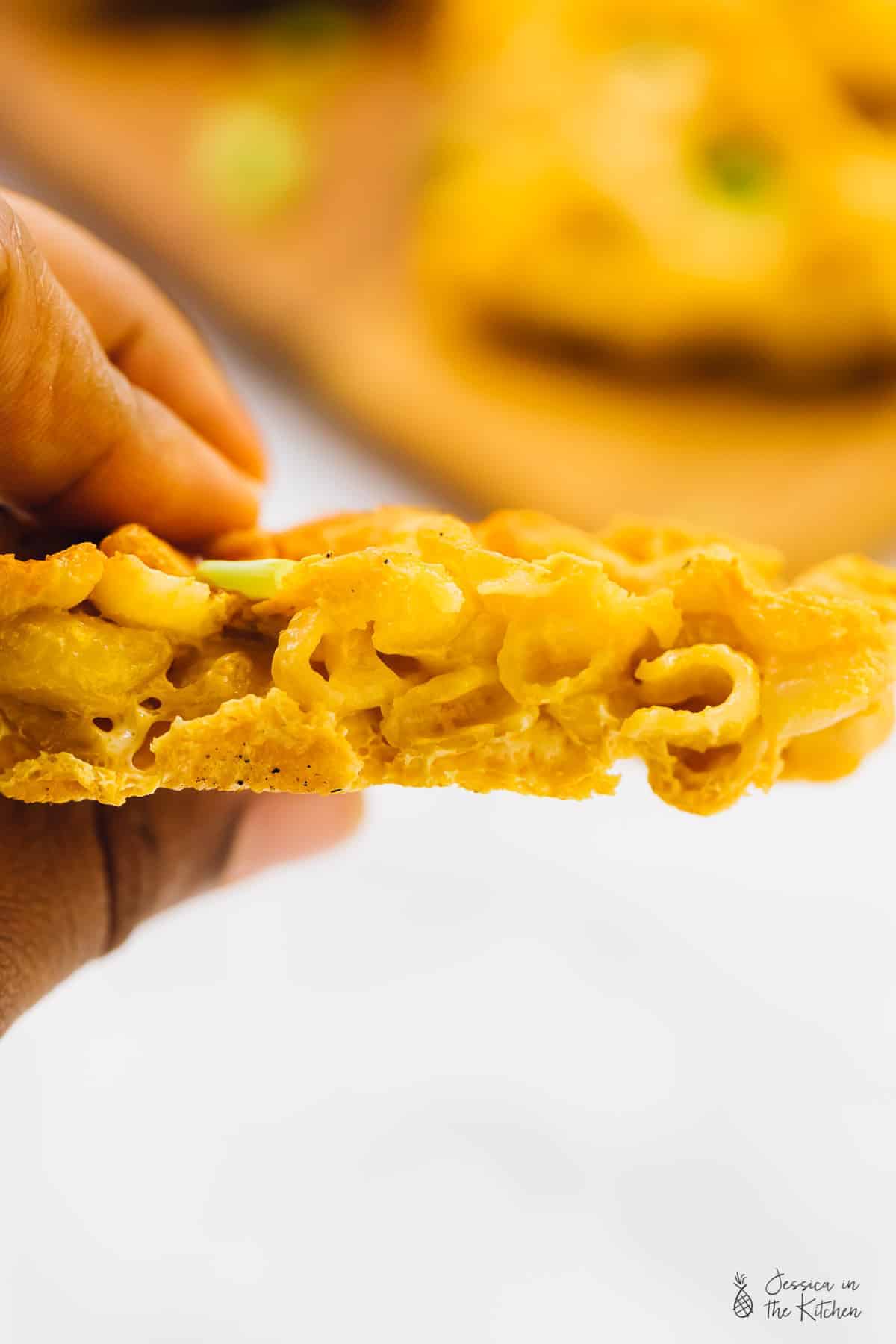 I hope you enjoy these and find some amazing ways to serve them in your house this holiday season. Eat up and enjoy!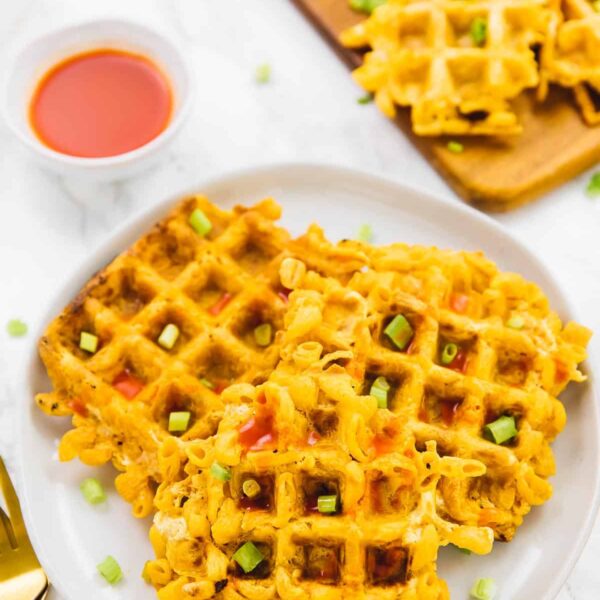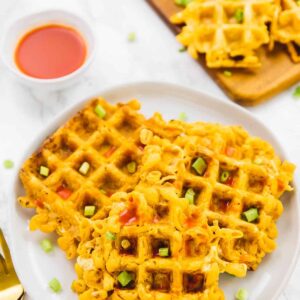 Crispy Mac and Cheeze Waffles
These Crispy Mac and Cheeze Waffles are the perfect indulgent side dish! Two ingredients, and you get crisp on the outside, and soft cheesy Mac and cheese on the inside of these divine waffles!
Ingredients
1 package Daiya Cheddar Cutting Board Shreds*
Instructions
Cook Daiya Mac and cheese according to the directions on the box.

Spread the Mac and cheese in an even layer in an 8x8 or a 9x9 pan and set in the fridge for at least an hour, or overnight. These work great with leftovers too!

Cut a 3x3 square (or really any size that you desire) and place on to your preheated waffle maker. Top with a tablespoon or two of Daiya cheddar shreds and then close the waffle. Cook for about 4-5 minutes until the cheese is nice and crusty. Remove from waffle maker and continue with as many waffles as you like! Feel free to change up the size of them to your preference.

Top waffles with hot sauce and scallions. Enjoy!
Notes
* You won't need the entire package, so you can use the rest of it in a Vegan sandwich or something!
Calories: 335kcal, Carbohydrates: 54g, Protein: 7g, Fat: 10g, Saturated Fat: 3g, Sodium: 433mg, Fiber: 2g, Calcium: 29mg, Iron: 1mg
Disclaimer: Although jessicainthekitchen.com attempts to provide accurate nutritional information, kindly note that these are only estimates. Nutritional information may be affected based on the product type, the brand that was purchased, and in other unforeseeable ways. Jessicainthekitchen.com will not be held liable for any loss or damage resulting for your reliance on nutritional information. If you need to follow a specific caloric regimen, please consult your doctor first.