11 Incredible Vegan Cauliflower Wings Recipes
These are my top 11 Cauliflower Wing Recipes with delicious homemade sauces and seasonings! Take your tailgate to the next level with these crispy, saucy roasted cauliflower bites in an array of flavours from traditional buffalo to a homemade takeout version of General Tso's.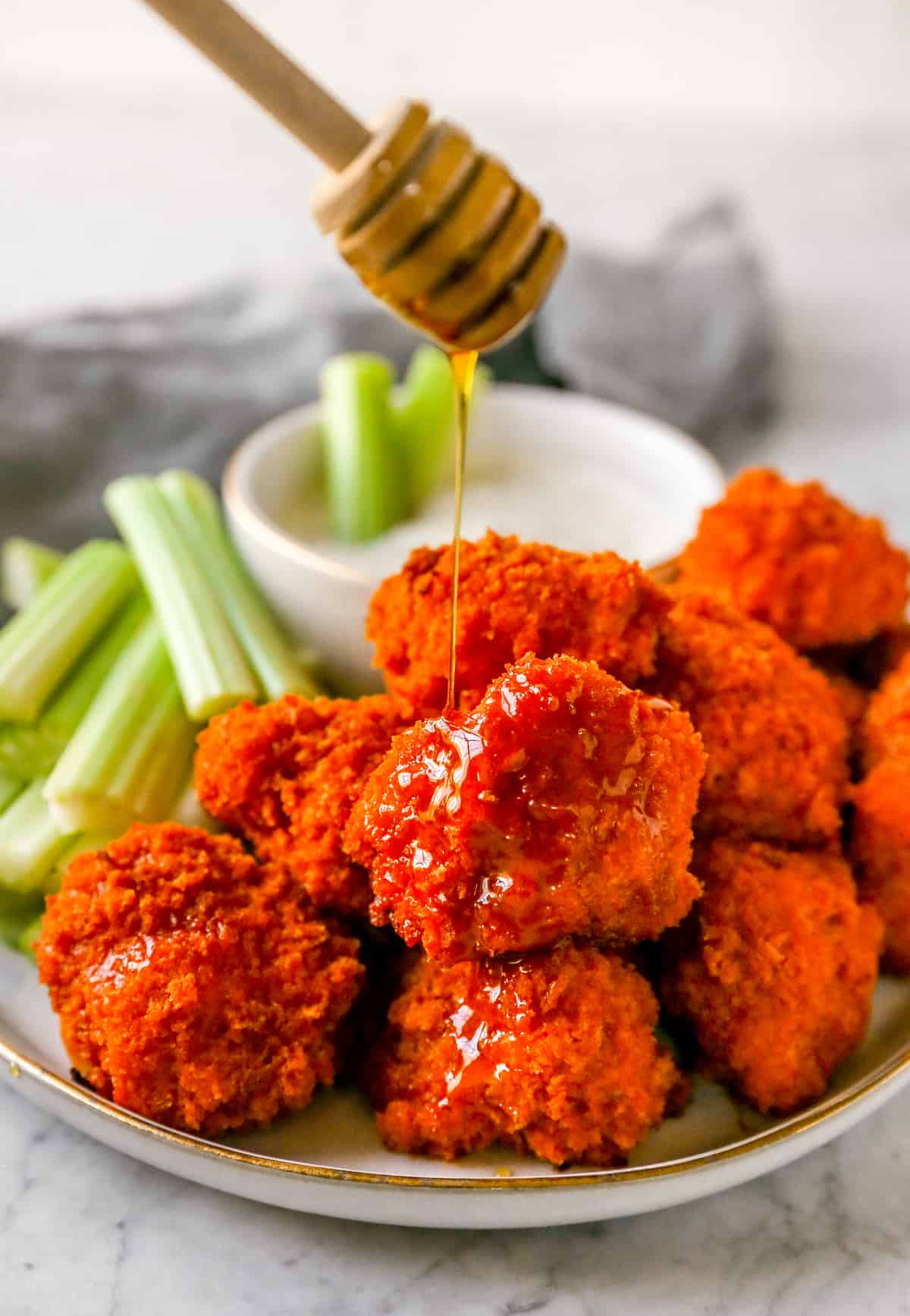 Parties need bite-size snacks. It's just the rule. I love cauliflower wing recipes for a quick vegan tailgate option or an easy weeknight dinner. And there's no end to the flavour combinations for your cauliflower wing recipes!
Here's the thing: I'm in love with cauliflower wings, cauliflower bites, and just cauliflower itself. Cauliflower is so versatile, and you can use cauliflower in anything and it comes out beautifully. This is one of those meatless recipes that will have even the meat lovers come-a-running.
My ultimate goal is to have like every flavour under the sun, kind of like my favourite wings place before I went vegetarian then vegan. Then, one day, someone will reach out and create a vegan wings menu in my name, (preferably near my house) so that I can go and eat my own favourite cauliflower wings whenever I want. A girl can dream, right?!
11 Incredible Vegan Cauliflower Wings Recipes Roundup
Cauliflower wings are the best plant-based way to get that wing craving. Dress them up with amazing seasoning blends and delicious homemade sauces and dips. The options are endless!
These are the perfect saucy game day snack or appetizer! The crispy cauliflower wings are coated in a zesty homemade BBQ sauce with just a handful of pantry staples. Perfect for last minute meals, too!
Mix a little of your favourite Chinese takeout into your appetizer lineup! This crispy battered cauliflower is smothered in a sweet General Tso glaze. It's sweet, spicy, has quite a depth to it, and tastes incredible. 
These Vegan Bang Bang Cauliflower Wings are crispy and sweet with a little kick, all tossed in a sweet chili and vegan mayo sauce! This veggie wing recipe is great because you can make them in the oven or in the air fryer. Crispy, crunchy cauliflower with a sweet and creamy sauce = perfection.
The original King of Wings! The sweet and spicy kick of this homemade buffalo sauce is sure to be a crowd pleaser at your next Super Bowl party or backyard cookout. They're so fast and crunchy, everyone will love these Buffalo Cauliflower Wings.
Add some brightness to your cauliflower wings! This yummy vegan game day snack is covered in a sweet and spicy lemon pepper sauce. It's one of my personal favourite wing flavours, too!
These dry veggie wings are great dipped in a luscious sweet sriracha mix! These can convince the most stringent cauliflower haters to cross over with a crunchy breadcrumb coating dunked in a sweet and spicy sauce.
These Asian-inspired cauliflower bites are covered in a rich maple sesame glaze and dusted with sesame seeds. It's a little spicy, a little sticky, and a little sweet for the best bite on the tailgate table! They're totally gluten free and guilt free, too, if you ask me.
Keep it cheesy with this cauliflower wing recipe! This keeps cauliflower as the star of the dish, never masked in sauces and seasonings. Just a little vegan cheddar cheese, some hot sauce, and a crunchy breadcrumb coating between you and the best Cheesy Buffalo Cauliflower Wings.
If you love sweet and sour take-out, these are the veggie wings for you! Keep the spicy cauliflower wings at bay with these crispy morsels covered in a simple sauce. You'll never believe the basic ingredients for this homemade sweet and sour sauce!
If you love mangos with a little kick, these Mango Habanero Cauliflower Wings are the perfect game day snack for you! These breaded and baked veggie wings are covered in a sweet fruity sauce with a little kick from the peppers. Toss them all up, or leave them dry with a dipping sauce!
This sweet orange sauce is perfect! You'll love this Asian-inspired spin on roasted cauliflower wings — it's sticky, sweet, but kind of tangy, and has a distinct and reminiscent flavour that is easily identified. Great for a quick weeknight meal, too!
Expert Tips for Success & FAQ
Here are some great tips and tricks for the crunchiest, yummiest cauliflower wings recipes:
Keep it chunky. When chopping up the cauliflower, don't make the florets too small. You want the veggies small enough for 1-2 bites, but not so small they burn quickly. You can leave some stem to make it a heartier piece, too.
Toss them together. There's no need to individually dip cauliflower wings into sauce. You can toss them in your wing sauce in a mixing bowl for a super fast finish!
Fresh is best. That being said, you can use frozen cauliflower florets that have been completely thawed and dried. I even bake them plain for a few minutes at 350 degrees F to make sure all the moisture is gone.
Cornstarch optional. This helps make the crispiest cauliflower wings. However, if you can't have it, just skip it! No need to swap.
I hope you love these recipes, friends! Which one of these cauliflower wing recipes will you make for your next tailgate?! Let me know in the comments below!