Lemon Pepper Cauliflower Wings (Vegan)
These Lemon Pepper Cauliflower Wings are absolutely divine veggie wings! They're coated in a sweet and spicy lemon peppery sauce and are the perfect game day snack for vegans!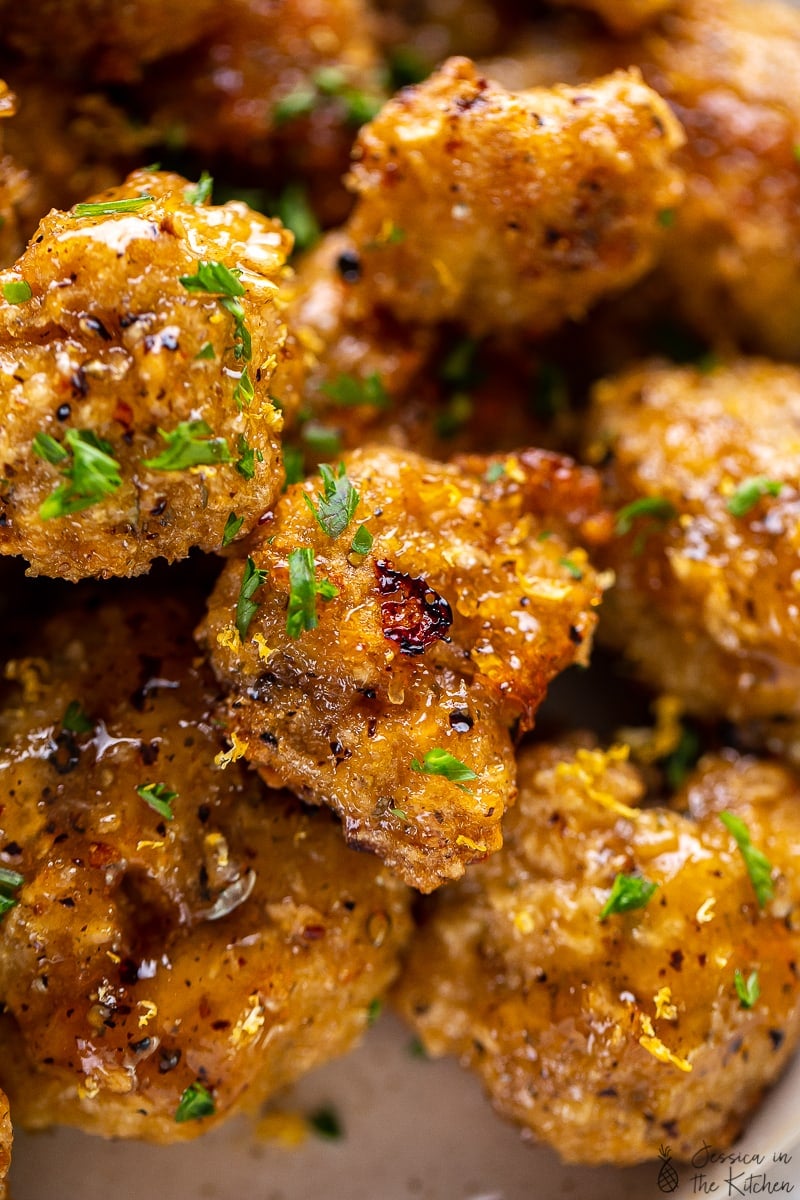 Can you believe that this is my 8th cauliflower wings/bites recipes?! We were trying to count it out first, and I was convinced I was only on wing #4, then realised that indeed, I've already hit 8! My ultimate goal is to have like every flavour under the sun, kind of like my favourite wings place before I went vegetarian then vegan. Then, that one day someone will reach out and create a vegan wings menu in my name, (preferably near my house) so that I can go and eat my own favourite cauliflower wings whenever I want. A girl can dream, right?!
Let's get right into these Lemon Pepper Cauliflower Wings. Lemon pepper became one of my favourite overall flavours sometime last year after a company sent me their lemon pepper seasoning. Friends, I've been putting it on everything and in everything. I'm talking in my tofu scramble. On my baked tofu. Making anything with garlic and onions? Lemon pepper seasoning to the mix! So naturally, I realised, I needed to make some Lemon Pepper Cauliflower Wings and give them a try!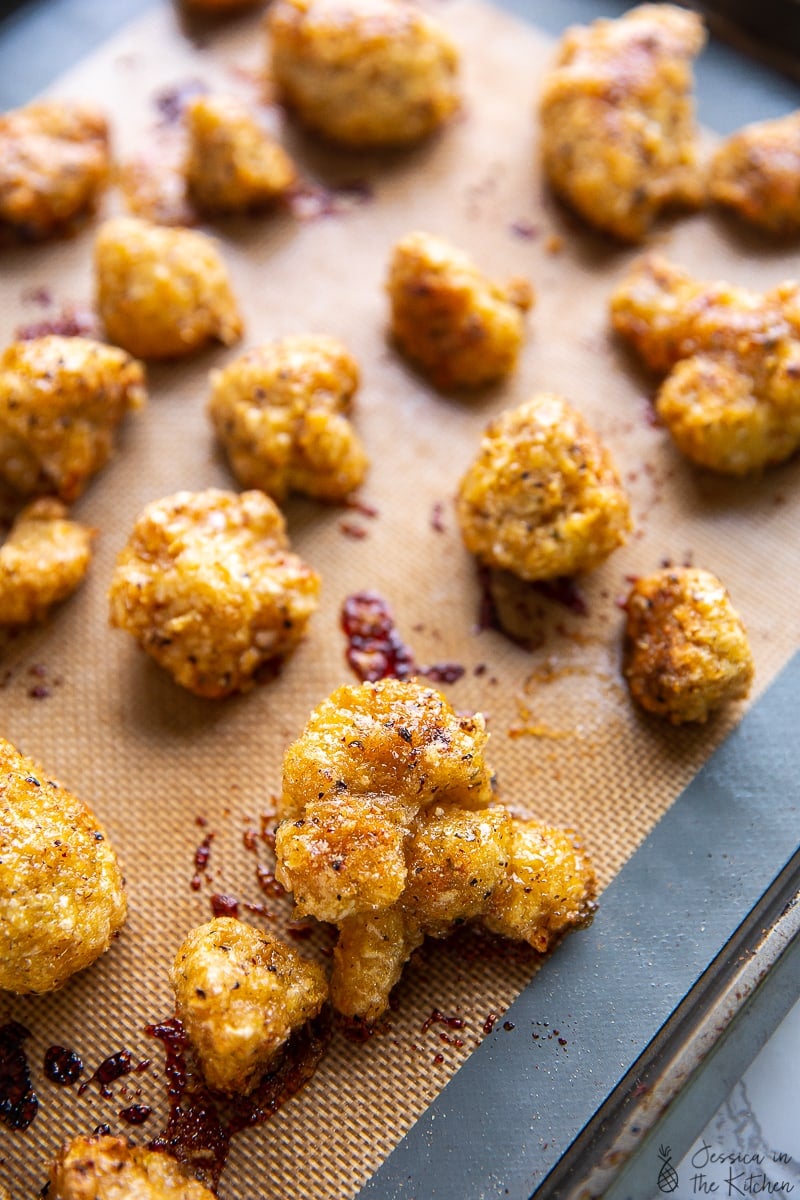 These aren't your regular lemon pepper wings though. Of course naturally their vegan, but also, after being deliciously seasoned, they're topped with a sweet and spicy lemon pepper glaze. I was never a fan of the lemon pepper butter sauce (I tried them for this, and it didn't work out well), but I have always been a massive fan of sweet and spicy glazes. Hello my buffalo cauliflower wings, looking right at you! So I decided to give them a whirl for these wings and they worked out perfectly!
Of course, the sauce is completely customisable for your own taste buds. I wanted a spicy, tangy and sweet combo. Feel free to make them even sweeter, or less sweet. Cooking is for fun, friends!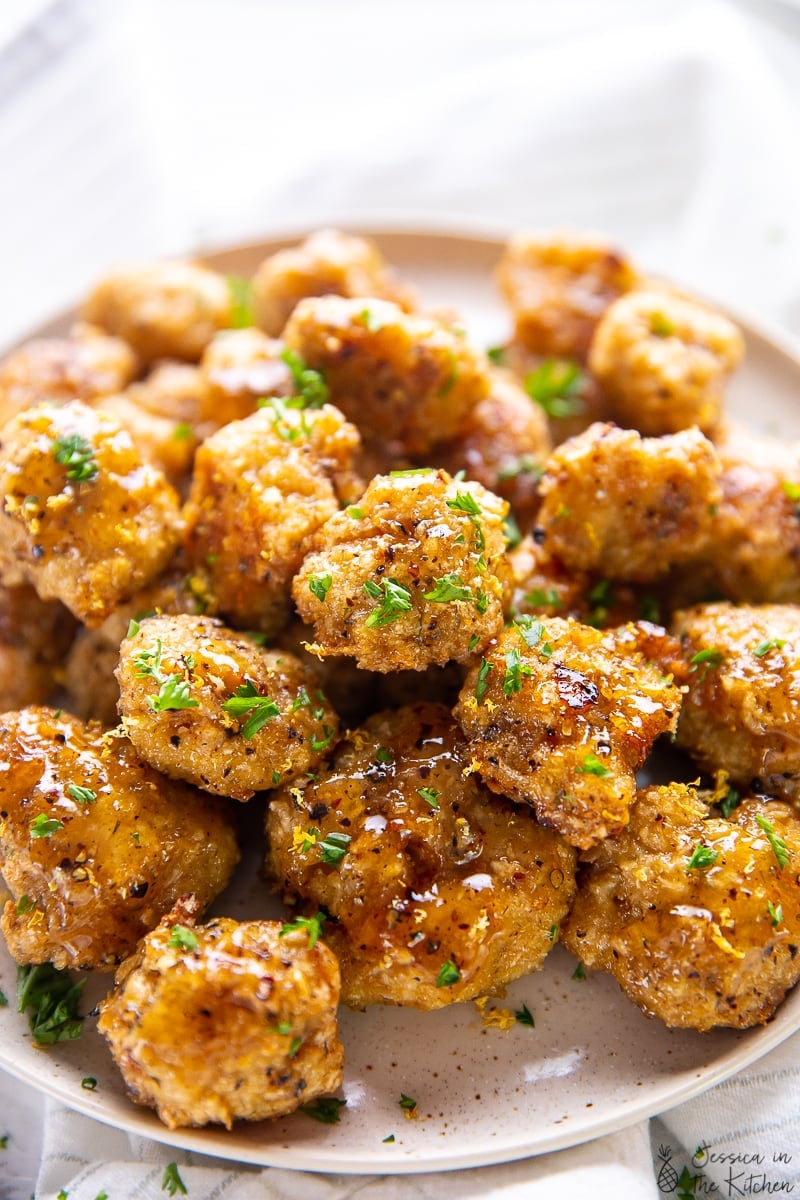 These Lemon Pepper Cauliflower Wings are:
vegan cauliflower wings
perfect for Super Bowl or any Game Day snack
coated in a sweet and spicy and tangy glaze
so easy to make!
Quick Tips for these Lemon Pepper Cauliflower Wings
BTW, and it's a big by the way, I completely hacked my own recipe! All the time in the past, I've said that you should dip each cauliflower wing one by one, and to be honest, it's taken up a fair amount of time. I decided to just wing it (get it?!…please don't leave) and dump them all into the batter and just coat. Then the same into the breadcrumbs.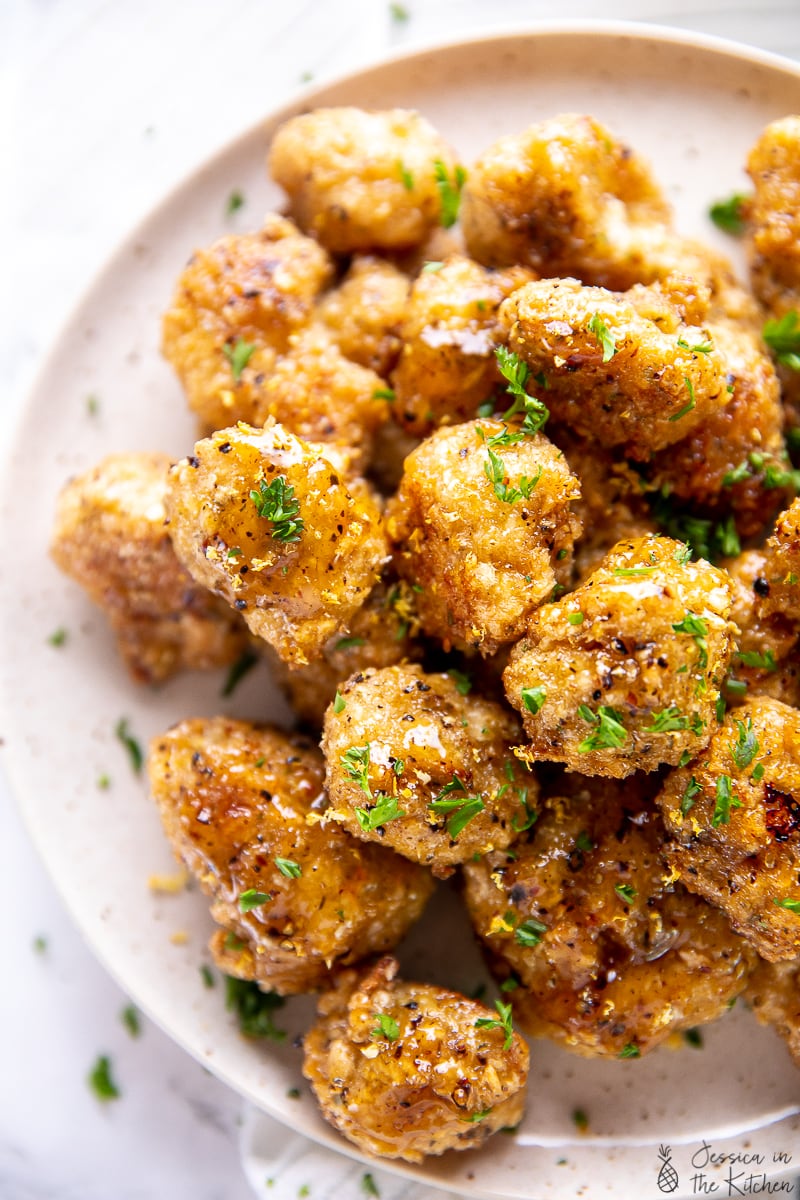 Guess what.
It worked out the exact same. So friends, feel free to do the same! I'll be adding a video for this, where you can see exactly what I did! Major time saver and a huge motivation to make these more often. Eat up and enjoy! P.S. – do you know that we have an entire blog dedicated to low carb recipes named Low Carb Vegan Recipes?! Be sure to check it out!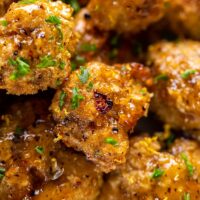 Lemon Pepper Cauliflower Wings (Vegan)
These Lemon Pepper Cauliflower Wings are absolutely divine veggie wings! They're coated in a sweet and spicy lemon peppery sauce and are the perfect game day snack for vegans!
Ingredients
Cauliflower Wings
1 medium head cauliflower, if using a large head, you may need to double the batter and sauce quantities
¾ cup all-purpose gluten free flour
¾ cup unsweetened almond milk
1 tablespoon lemon pepper seasoning
1 cup crispy gluten free breadcrumbs, seasoned with salt & pepper and 1 teaspoon lemon pepper seasoning
chopped parsley and freshly grated lemon zest, for garnish
Lemon Pepper Glaze
8 ½ tablespoons lemon juice
4 ½ tablespoons maple syrup or agave nectar
1 teaspoon freshly ground black pepper
1 teaspoon freshly grated lemon zest
1 teaspoon cornstarch + 1 teaspoon water, mix together separately from the rest of ingredients in a small bowl for a cornstarch slurry
Instructions
Cauliflower Wings
Preheat oven to 450 degrees F/230 degrees C.

Prepare a baking sheet by lining it with a silicone baking sheet or greased foil. Using a knife, remove florets from the cauliflower (aka cut off the leaves and don't use the stems). Chop the cauliflower into smaller pieces to resemble the size of the wings.

In a separate bowl, whisk the gluten-free flour, almond milk and lemon pepper seasoning in a bowl to make the batter. If the batter is too thick, feel free to thin it out with some more milk and vice versa. In a separate bowl, place the breadcrumbs. Line it up beside the batter bowl.

Toss the cauliflower in the batter mixture (you can add them all at once), using a spatula or spoon to coat them all. Transfer them to the breadcrumbs (you can do this in two or three batches) to coat completely, then place onto the baking sheet, giving each wing enough space. Repeat until all of the wings are coated.

Bake for 22 minutes. Please ensure your oven is completely preheated and hot.

While baking, prepare the ingredients for the sauce by heating & whisking together.

Remove from oven. Toss the wings in the sauce (I like to use a spatula to move them around to get properly coated) then using tongs or a spoon, remove and place back on the baking sheet. Bake for another 5 minutes for the sauce to soak into the wings.

Remove from oven and, and garnish with parsley and freshly grated lemon zest. Eat immediately - enjoy!
Lemon Pepper Glaze
In a pan over medium-high heat, mix all the sauce ingredients. Whisk together to help dissolve the cornstarch slurry. Bring to a boil, then a simmer for about 4 minutes until the sauce begins to thicken up. Whisk frequently so the cornstarch doesn't thicken up in spots but instead mixes evenly throughout the sauce. Taste test and add more sugar if you want it sweeter. Remove from heat until needed.
Notes
If you don't need gluten-free breadcrumbs, use panko breadcrumbs!
Calories: 33kcal, Carbohydrates: 7g, Protein: 1g, Fat: 1g, Saturated Fat: 1g, Sodium: 29mg, Potassium: 75mg, Fiber: 1g, Sugar: 3g, Vitamin C: 11mg, Calcium: 22mg, Iron: 1mg
Disclaimer: Although jessicainthekitchen.com attempts to provide accurate nutritional information, kindly note that these are only estimates. Nutritional information may be affected based on the product type, the brand that was purchased, and in other unforeseeable ways. Jessicainthekitchen.com will not be held liable for any loss or damage resulting for your reliance on nutritional information. If you need to follow a specific caloric regimen, please consult your doctor first.