Cauliflower Bites in Sweet Sriracha Sauce
These Cauliflower Bites are crispy, crunchy, tasty snacks dipped in a sweet and spicy sweet sriracha sauce. They'll turn you into a cauliflower lover!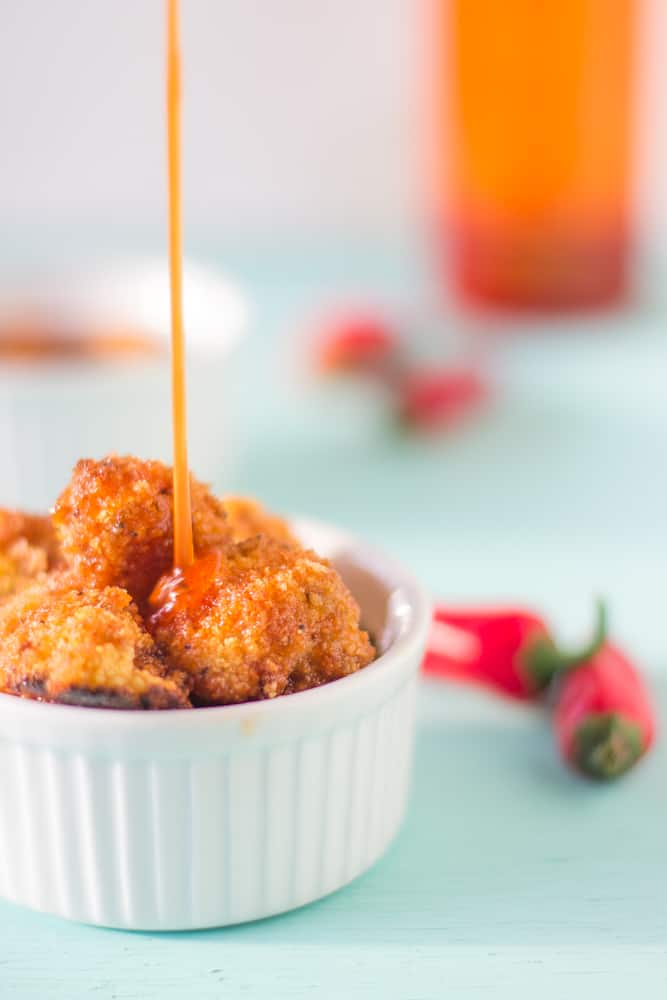 You'd think by now I would stop freaking out over how quickly each month is going by, but HOW is it about to be October? Kind of crazy but the weather has been wonderful lately so I'm absolutely enjoying the change. I wanted to switch things up with a recipe you could definitely make for fall if you wanted, but wasn't necessary fall themed: Cauliflower Bites in Sweet Sriracha Sauce. Here's the thing: I'm in love with cauliflower bites and cauliflower itself. Cauliflower is so versatile and you can use cauliflower in anything and it comes out beautifully. This is another one of those meatless recipes that will have the meat lovers come-a-running.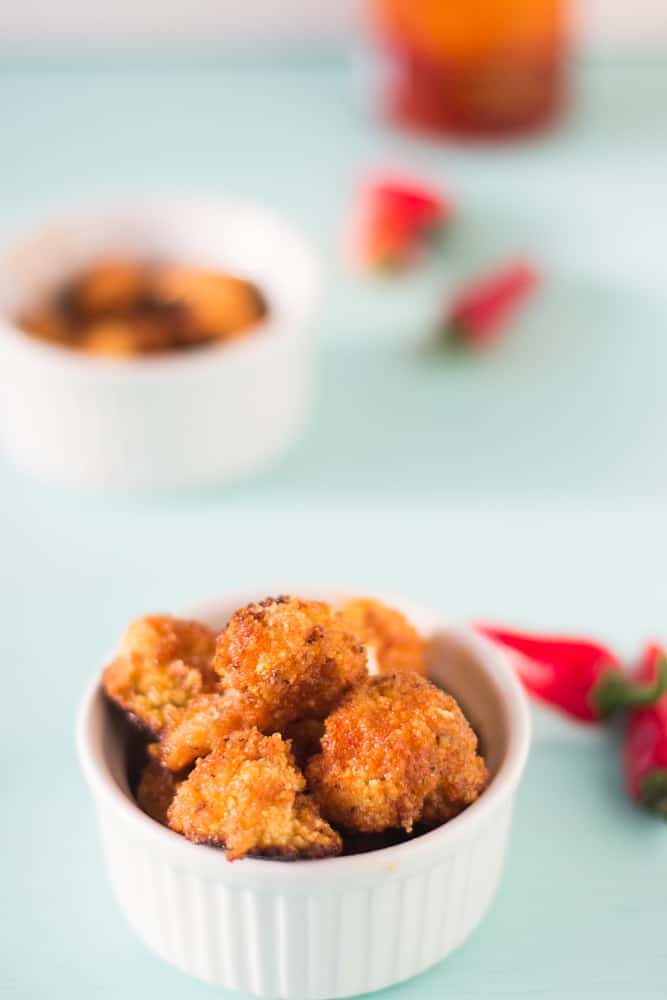 I made these bites over on Julie's Eats & Treats a few months ago, and they were well received so I thought I would share them here too. Flashback to when I made Cauliflower Wings (and thank you Huffington Post for showing them so much love!). That was when my revolution began. Flash forward to not that long ago making this beauty into a pizza casserole and loving it so much. It captures any flavours blended with it and allows them to be highlighted while maintaining it's own flavour.
These cauliflower bites are definitely my favorite cauliflower recipe so far, beyond all of the others, which says a lot. The almond milk coating provides a lighter battering process than egg and milk, but works just as well. The gluten free breadcrumbs create a crunchy exterior and the Sweet Sriracha sauce creates such a delicious and spicy flavour! They get incredibly soft on the inside and are pretty reminiscent of nuggets, just twenty times better.
I would have to say the sauce was my favourite part. Feel free to up your sriracha or lower it. I put it at a level that I thought everyone could enjoy. If you removed majority of the Sriracha these would be great for kids also. If you're up to it, pour it slowly over the cauliflower bites *see below* right before eating to increase your pending enjoyment.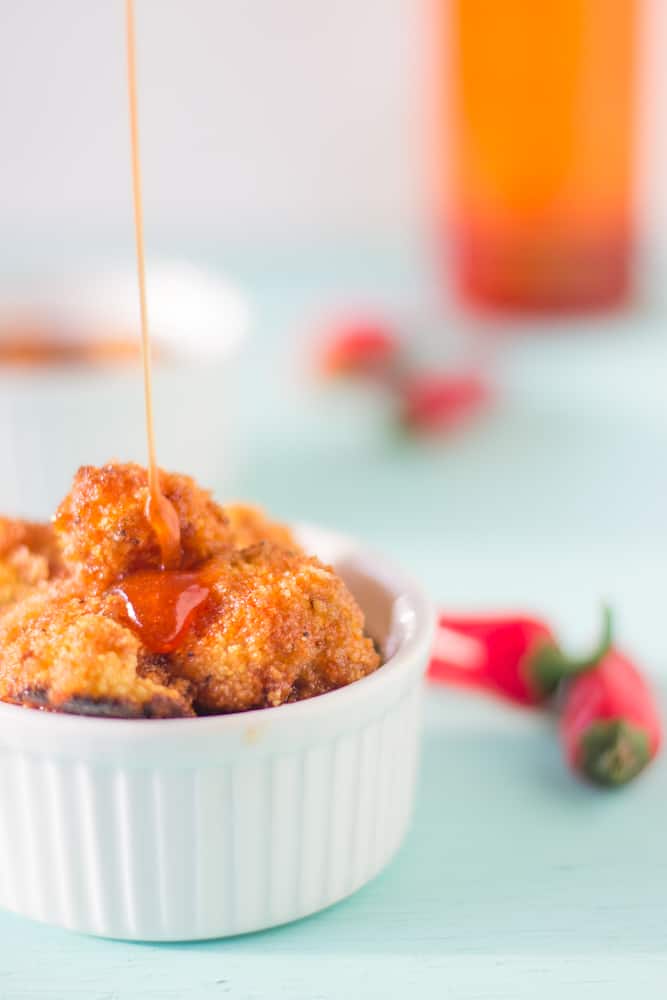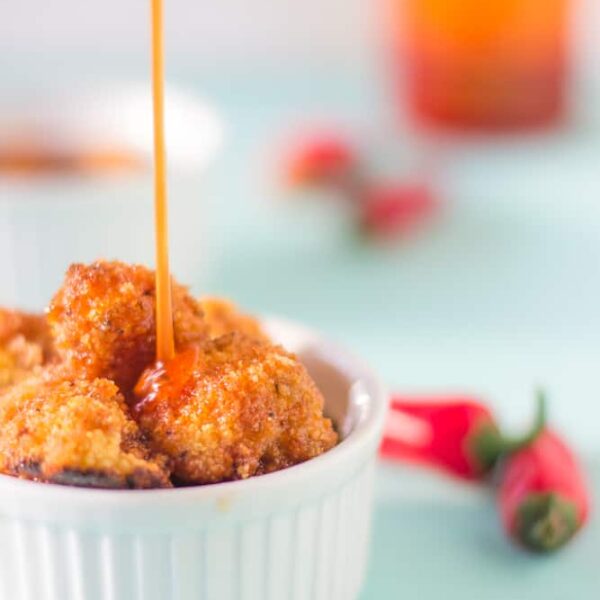 Cauliflower Bites in Sweet Sriracha Sauce
These Cauliflower Bites are crispy, crunchy and tasty snacks dipped in a sweet and spicy sweet sriracha sauce. They'll turn you into a cauliflower lover!
Ingredients
Cauliflower Bites:
1 small head of cauliflower
1/2 cup almond milk
3 teaspoons cornstarch
1 1/2 teaspoons salt
1 1/2 teaspoons ground black pepper
1/2 teaspoon garlic powder
1 1/2 cups gluten free bread crumbs
Sweet Sriracha Sauce:
1 tablespoon of sriracha
4 tablespoons maple syrup or agave
Instructions
Preheat the oven to 450 degrees Fahrenheit and grease a cookie sheet. Set aside.


Mix almond milk, 1 teaspoon salt, 1 teaspoon pepper and garlic powder together in a bowl. Add cornstarch, whisking together to prevent lumps from forming. Set aside.


Remove florets from the cauliflower (aka don't use the stem).


Chop the cauliflower into smaller pieces, the desired size of your bites. Toss the cauliflower in the almond milk mixture made earlier until wet.


Season the bread crumbs with remaining salt and ground black pepper and then toss the cauliflower in the bread crumbs until coated.


Spread out on cookie sheet, and spray the bites with a cooking spray again to help with colour and crisping. Bake for 18-20 minutes.



Remove from oven and serve immediately.
Sweet Sriracha Sauce
Whisk all the ingredients together and serve with bites.

Notes
You can use arrowroot starch instead of cornstarch.
Calories: 303kcal, Carbohydrates: 65g, Protein: 9g, Fat: 3g, Saturated Fat: 1g, Sodium: 1392mg, Potassium: 646mg, Fiber: 6g, Sugar: 20g, Vitamin C: 96mg, Calcium: 126mg, Iron: 1mg
Disclaimer: Although jessicainthekitchen.com attempts to provide accurate nutritional information, kindly note that these are only estimates. Nutritional information may be affected based on the product type, the brand that was purchased, and in other unforeseeable ways. Jessicainthekitchen.com will not be held liable for any loss or damage resulting for your reliance on nutritional information. If you need to follow a specific caloric regimen, please consult your doctor first.