Matcha Chia Pudding (Green Tea) – Vegan
This Matcha Chia Pudding (Green Tea) is made with only 5 ingredients! It's healthy, high fibre, absolutely delicious and a filling breakfast option! It's also great for meal prep!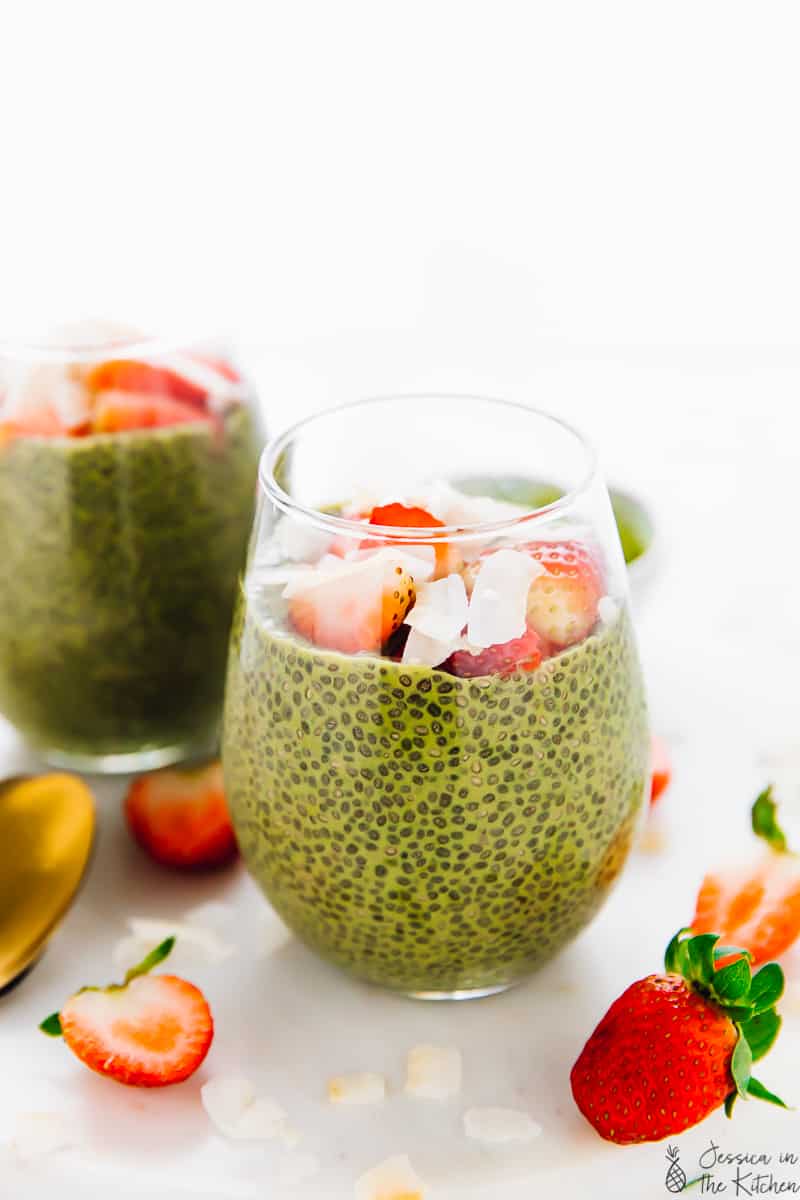 I LOVE making this matcha chia pudding and I'm so happy to be sharing it with you today! Don't worry, if you're like that looks yummy, but what is matcha and what is chia pudding?! I'll briefly explain. If you know and love both matcha and chia pudding you're probably super excited already. Either way, you'll be super satisfied with this recipe when you make it!
What are chia seeds?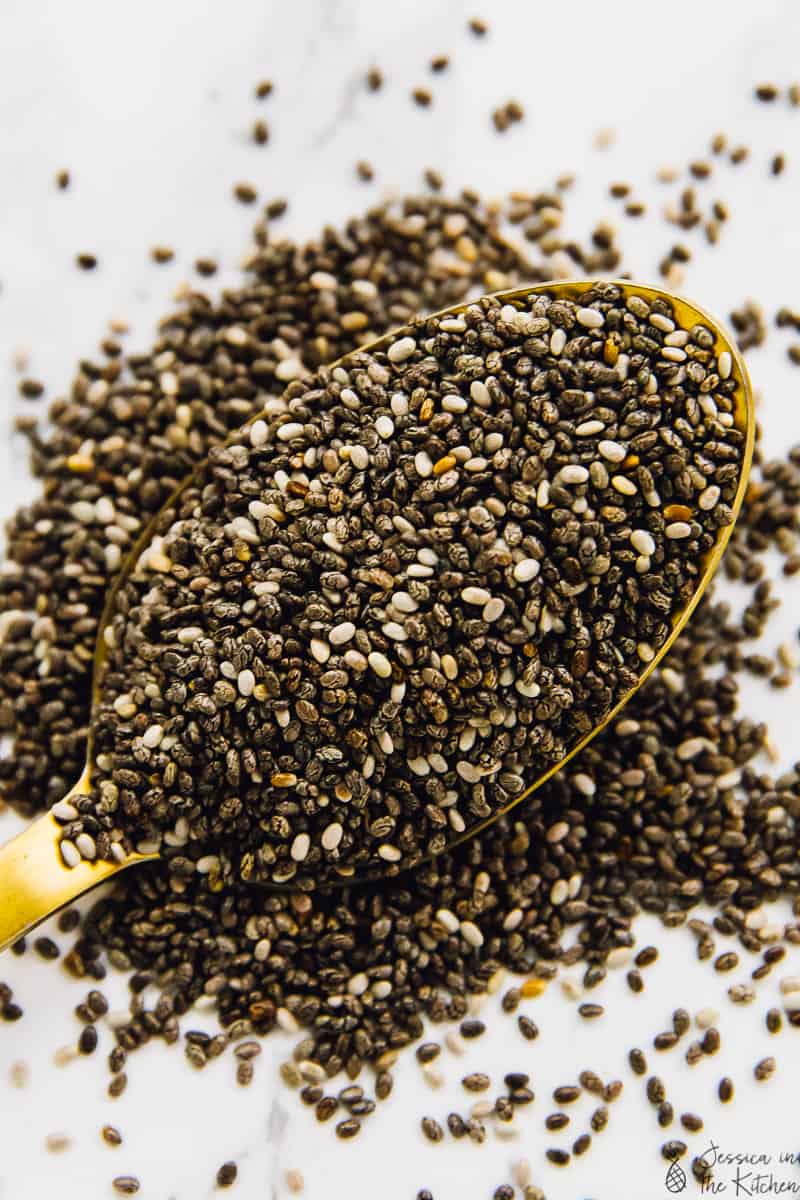 Chia seeds are a tiny seed that mean "strength" in Mayan, and I'm assuming it's because the chia seed gives you lots of energy. They are tiny black seeds that get gelatinous when they absorb water, similar to flax seeds, and are loaded with fibre. You can use chia seeds in a multitude of ways – in your water to add fibre to your daily diet, as a great egg replacement too and really anywhere you want more protein and fibre. Due to their high fibre content, they help to keep you really full – which is why I like to sprinkle them over fruits or in overnight oats. They're also high in omega 3's so you can enjoy them daily! I've even added them to a jam to replace pectin (since they get so gel-like).
So, chia puddings are puddings made typically with chia seeds, a liquid, a sweetener and an optional topping or spice. They are thick, pudding like in texture, and very easy to make.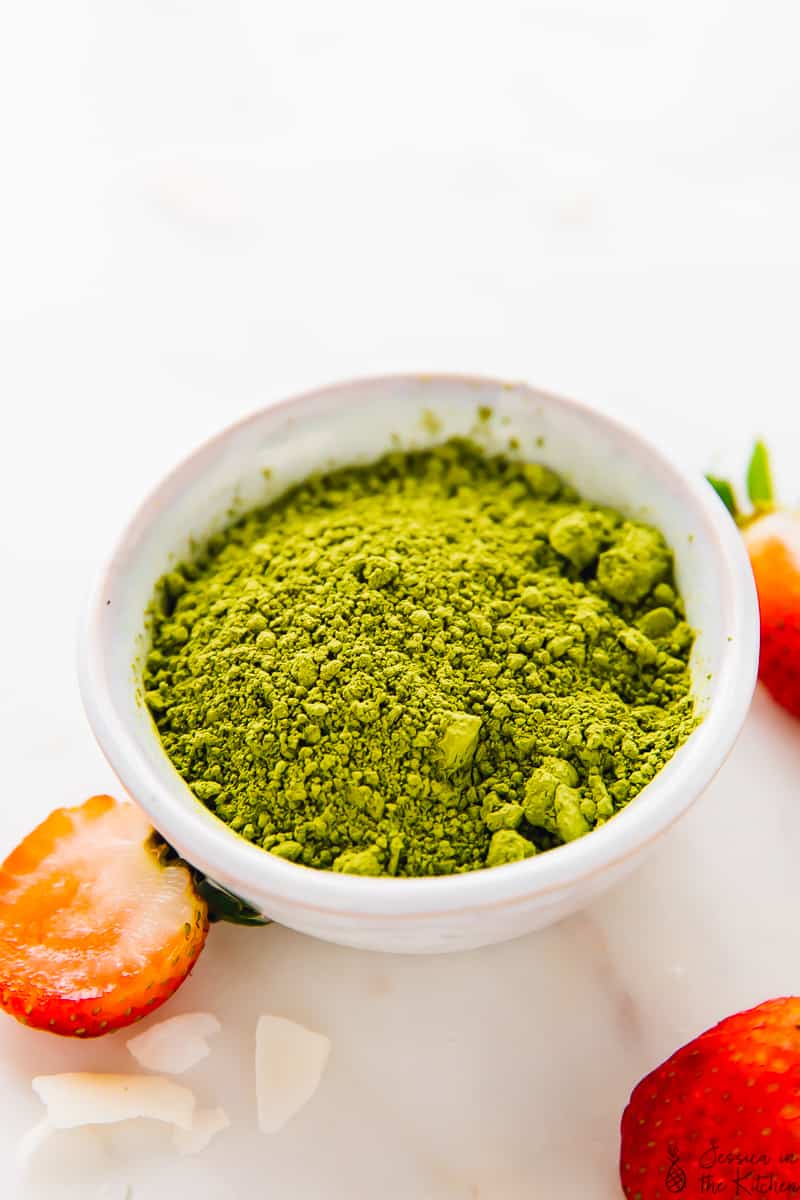 What is matcha green tea?
Long story short, matcha is finely ground/powdered green tea leaves. One serving is like equal to ten cups of green tea, making it caffeinated as well as filled with all the benefits of a cup of green tea, times 10. I love having matcha instead of coffee because coffee makes me incredibly jittery and makes my heart jump; whereas matcha gives me like a slow and steady energy release. I love having it as a part of my morning routine, and I love the taste of it! If you want to see how a more hearty and seasonal version of my daily matcha, click here! Right now, I use less maple syrup (about a teaspoon) and a completely unsweetened almond milk.
If you're wondering what kind of matcha you should use, you can get away with culinary grade, but you can also use ceremonial grade. Culinary grade is the more generic kind of matcha that is used in matcha foods, and ceremonial is the highest grade and quality, which I love using when I'm making my matcha latte. I use culinary grade in this matcha chia pudding this is a matcha food. Of course if you use ceremonial grade matcha in this it does make it an expensive matcha chia pudding, but it's totally up to you.
So all in all, a matcha chia pudding is a gorgeous, delicious and nutrient packed meal. You can enjoy it for breakfast, for a snack, or even for dessert (and pretty much any meal you want). You can have it plain or topped with strawberries and coconut like I did here. Feel free to add more sugar or less if you want. I used 1 tablespoon since it makes it sweet but not overly sweet.

Benefits to this matcha chia pudding include:
Leaves you nice and full thanks to the high fibre, high fat and calories of chia seeds.
Gives you slow energy thanks to matcha
Gives you all the benefits of matcha: high in antioxidants!
Is AMAZING for meal prep! I tested and kept one in my fridge for four days and it tasted identical to the one I had made the night before. Stays fresh and delicious!
Meal prepping matcha chia pudding
Here's how I meal prep chia puddings. I usually line up like 5 (or however amount I'm meal prepping) jars. I love using Weck Jars and mason jars for this, plus they look so neat lined up in your fridge. Then I will make the below recipe "5 times", or make it 5x in a large bowl, then divide it up. It's honestly up to you. I find the first way easier so I don't have a bowl to clean up, and if you're tracking macros or calories then you know you have an even amount in each. See all the nutritional information below in the recipe!
I hope you enjoy this matcha chia pudding so much friends! Eat up and enjoy!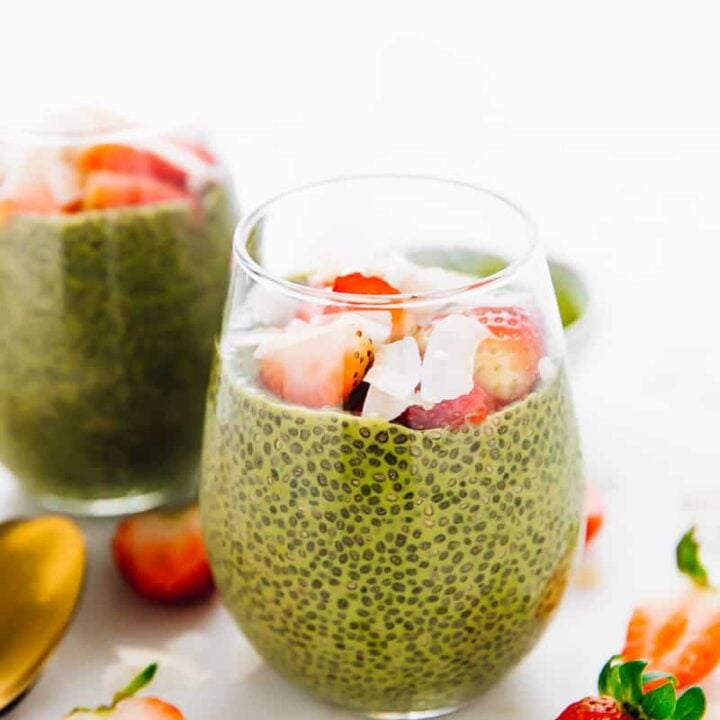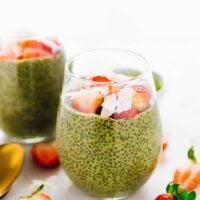 Matcha Chia Pudding (Green Tea)
This Matcha Chia Pudding (Green Tea) is made with only 5 ingredients! It's healthy, high fibre, absolutely delicious and a filling breakfast option! It's also great for meal prep!
Ingredients
3 tablespoons chia seeds
1 teaspoon matcha green tea powder
1 cup unsweetened almond milk
1/2 tablespoon to 1 tablespoon maple syrup*
1/4 teaspoon sea salt
Instructions
In a bowl or in an individual jar, mix all of the ingredients together with a whisk. Stir until completely combined. Let it sit for 5 minutes, then stir again for about a minute. This ensures everything is thoroughly mixed and nothing clumps together in spots. Taste test and adjust based on whether you want more sweetener or spices.


Set in the fridge covered for 4 hours or overnight.

Remove from fridge and top with your favourite toppings - here I like sliced strawberries and coconut flakes.

Serve and enjoy!
Notes
You can easily double or triple this recipe. If you're meal prepping, just portion the above into individual containers. They'll last the week! Maple syrup: You can make this much lower carb by reducing the amount of maple syrup or swapping out a sweetener alternative like stevia drops. I just wanted to provide a recipe that works for anyone! I personally alternate between 1/2 tablespoon maple syrup to 1 tablespoon depending on how I'm feeling that day! If you're like my husband the texture weirds you out, just grind them down first! Can you freeze chia pudding?! Yes you can! Just put it in a freezer friendly container, then in the freezer. Thaw in the fridge overnight! Depending on the ending texture, you can may want to throw a little bit of almond milk on top if it's now too thick.
Calories: 235kcal, Carbohydrates: 21.9g, Protein: 7g, Fat: 14.5g, Fiber: 13g, Sugar: 4.9g
Disclaimer: Although jessicainthekitchen.com attempts to provide accurate nutritional information, kindly note that these are only estimates. Nutritional information may be affected based on the product type, the brand that was purchased, and in other unforeseeable ways. Jessicainthekitchen.com will not be held liable for any loss or damage resulting for your reliance on nutritional information. If you need to follow a specific caloric regimen, please consult your doctor first.