Vegan Meatballs (Sweet & Sticky)
Vegan Teriyaki Meatballs have the perfect texture and taste divine! They are incredibly easy to make, coated in a homemade sweet and sticky teriyaki sauce, and great for meal prep.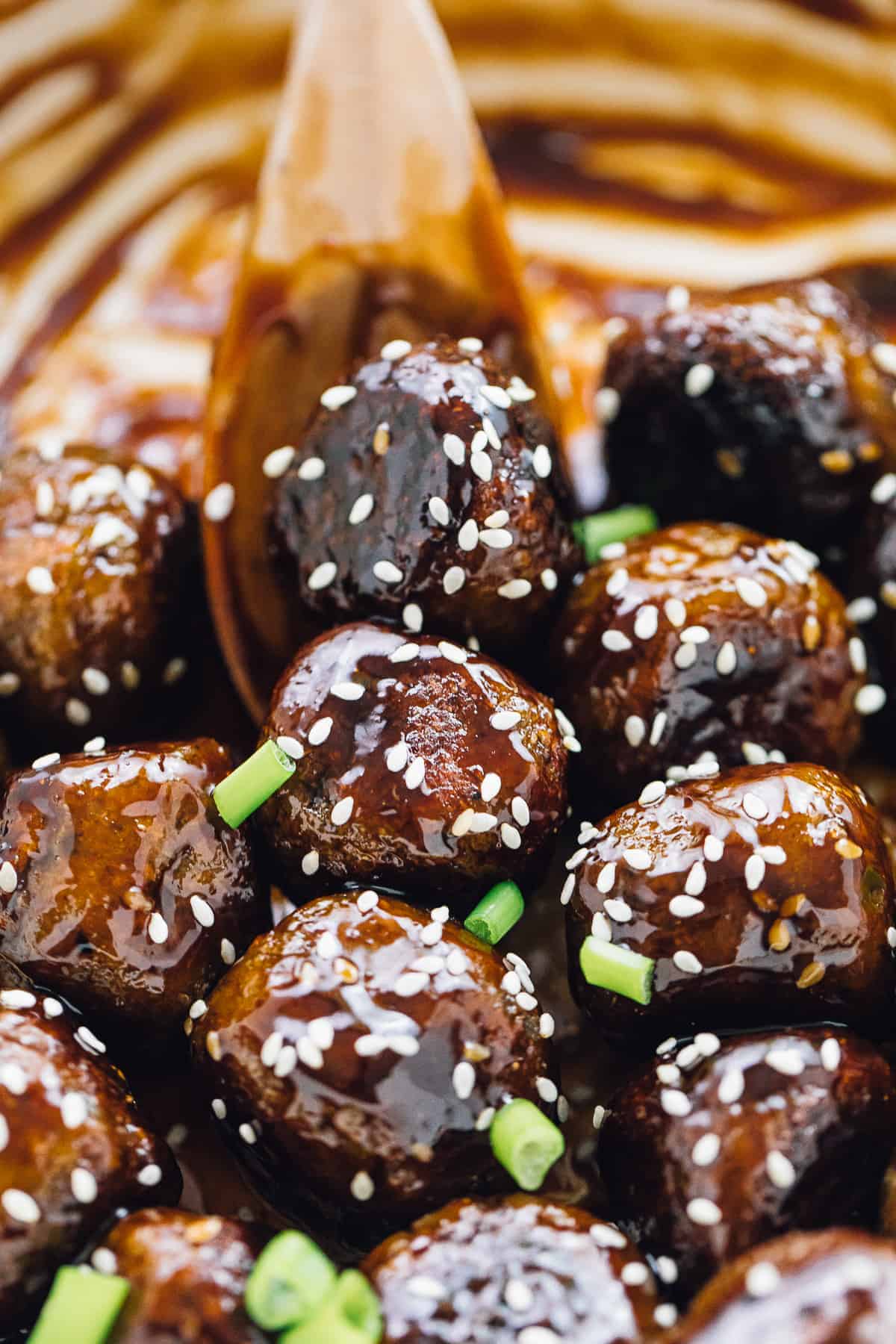 You guys knew I'd be back with another veggie meatballs recipe, didn't ya? I promise you're going to love these Vegan Teriyaki Meatballs. These cauliflower meatballs — or veggie meatballs or or literally whatever you want to call them — are about to make your next weeknight meal EPIC.
Having Vegan Teriyaki Meatballs pre-made and sitting in your fridge. Waiting for you to add it to every meal. On top of pasta. With rice. Quinoa. Squished down into a hoagie. Squished into little sliders between bread. Slathered in an easy and thick teriyaki sauce that's clinging to it and…
I think you get the picture. Meal prep friends! What a wonder it can add to our weeks. These vegan teriyaki meatballs are:
Firm enough to stick a fork in and not fall apart
Still moist enough on the inside
Covered in a thick and syrupy homemade teriyaki sauce
The perfect texture
Freezer friendly — just freeze without the sauce!
Meal prep friendly — make like 40 and add it to everything in life.

Notes on the Ingredients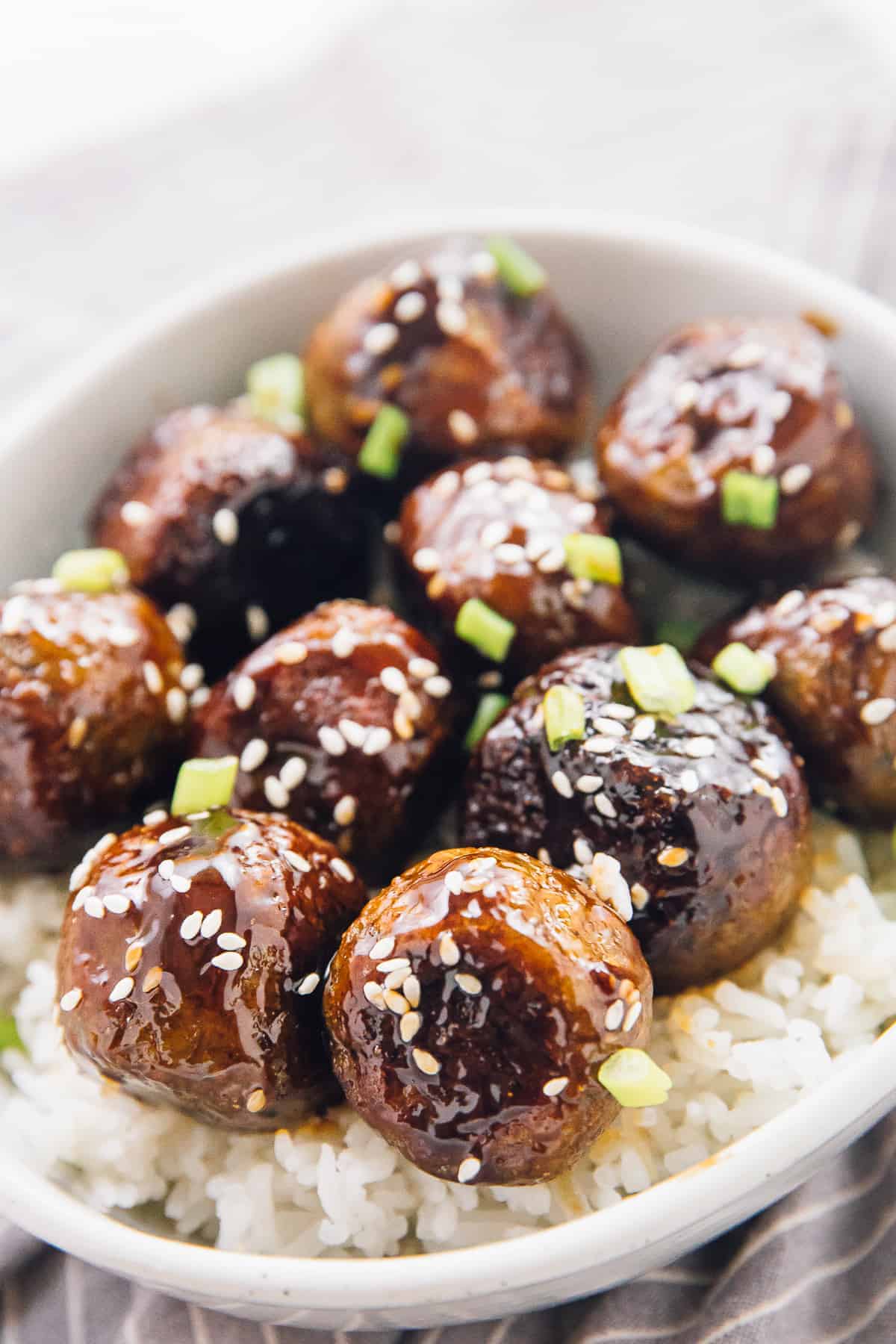 Roasted cauliflower — I love roasted cauliflower, and it's the perfect base for these veggie meatballs. Roast it before ricing it for such a lovely depth of flavour!
Quinoa — My favorite ancient grain! I love the texture quinoa adds to these vegan meatballs
Egg substitute — Where there's meatballs, you need a binder — but how can you make meatballs without eggs? You can use egg replacers ( I prefer Bob's Red Mill) or make a flax egg!
Red onion — I love the slightly sharp bite of red onion. You can use white or yellow onions in a pinch.
Garlic — Everything is better with garlic, and these Asian-inspired meatballs are no exception. Can you ever use too much?
Breadcrumbs — Every meatball needs some breadcrumbs! This helps hold everything together without being too dense.
Coconut oil — You need to brown the "meatballs" before adding the yummy sauce, and I always cook mine in coconut oil for the best char.
Soy sauce — I usually use a light soy sauce or liquid aminos as the base of this sticky sweet sauce. Choose your fav!
Sugar — You can use raw brown sugar or coconut sugar for this teriyaki sauce. You just need a little sweetness to balance the sauce.
Sesame seeds — I love the extra nutty crunch of sesame seeds!
Cornstarch — To make this luscious sauce stick to the meatballs, I recommend a little cornstarch.
Rice wine vinegar — If your teriyaki sauce is missing a little tang, this is what you need.
How to Make Vegan Meatballs
First, mix the soy sauce, brown sugar, cornstarch, water, ground ginger, sesame seeds, and rice wine vinegar. Simmer it all for a few minutes, and set aside until the end.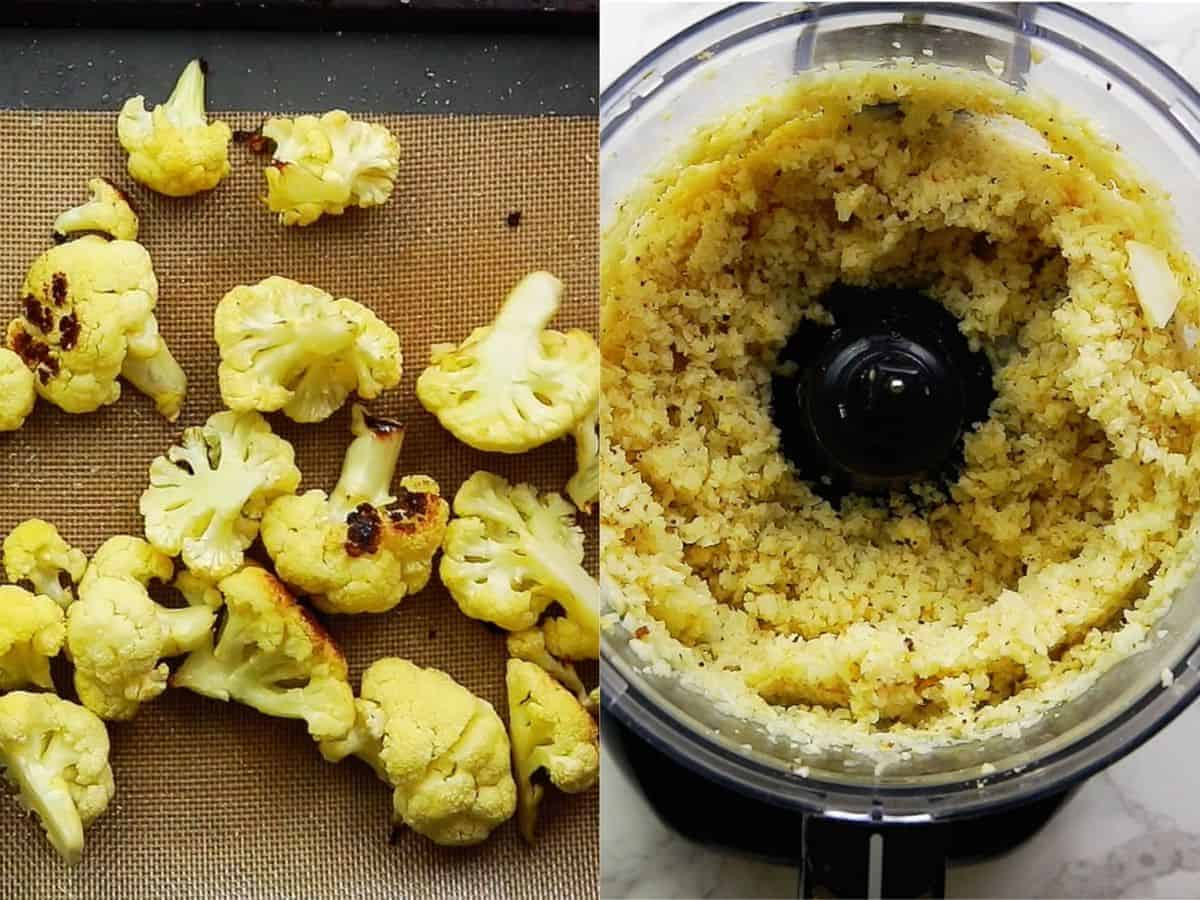 Then, chop up the cauliflower and roast it in a little oil until it's beautifully golden brown. Pulse the roasted cauliflower in your food processor for a few minutes until it's completely riced.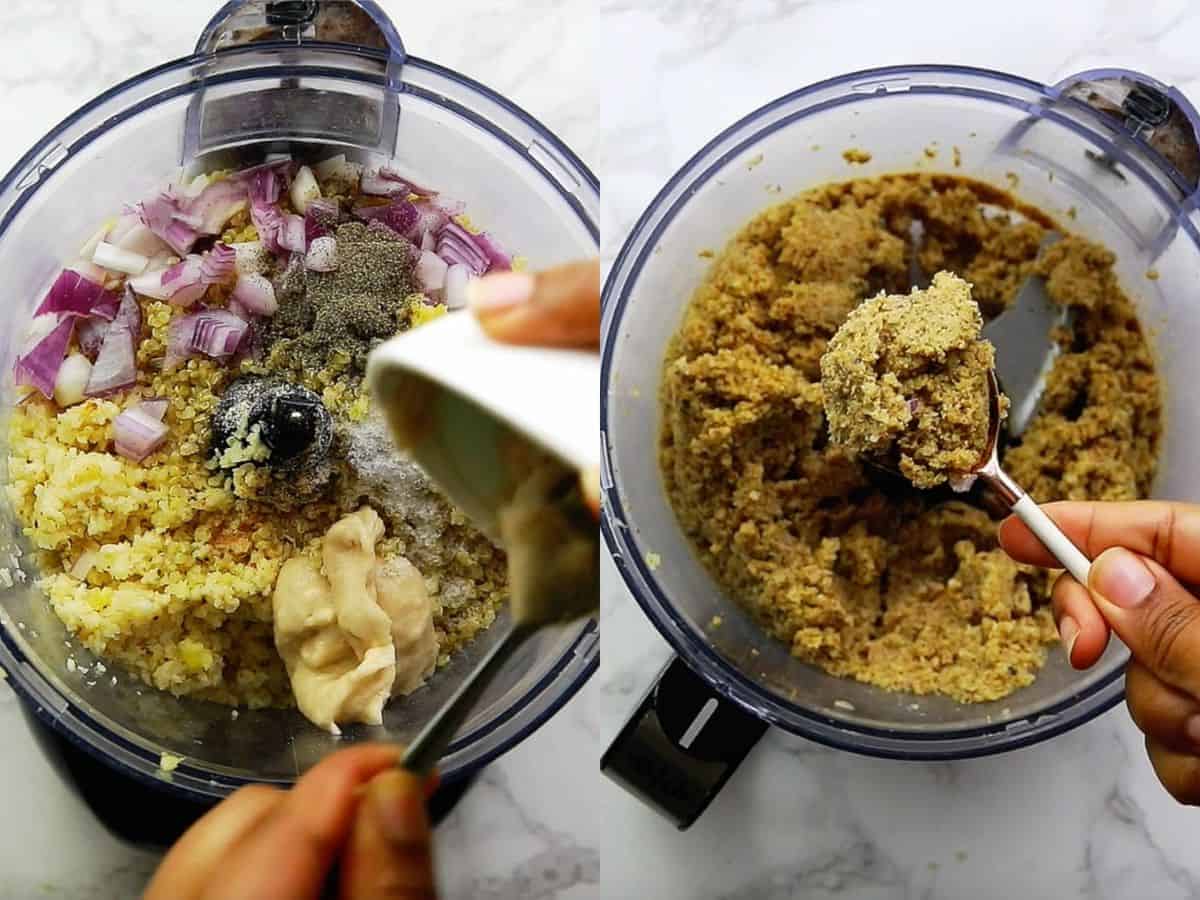 Now, mix your riced roasted cauliflower with the cooked quinoa, egg replacement, red onion, black pepper, salt, garlic, and breadcrumbs. Mix everything together until all your ingredients are totally combined throughout. This helps keep everything together!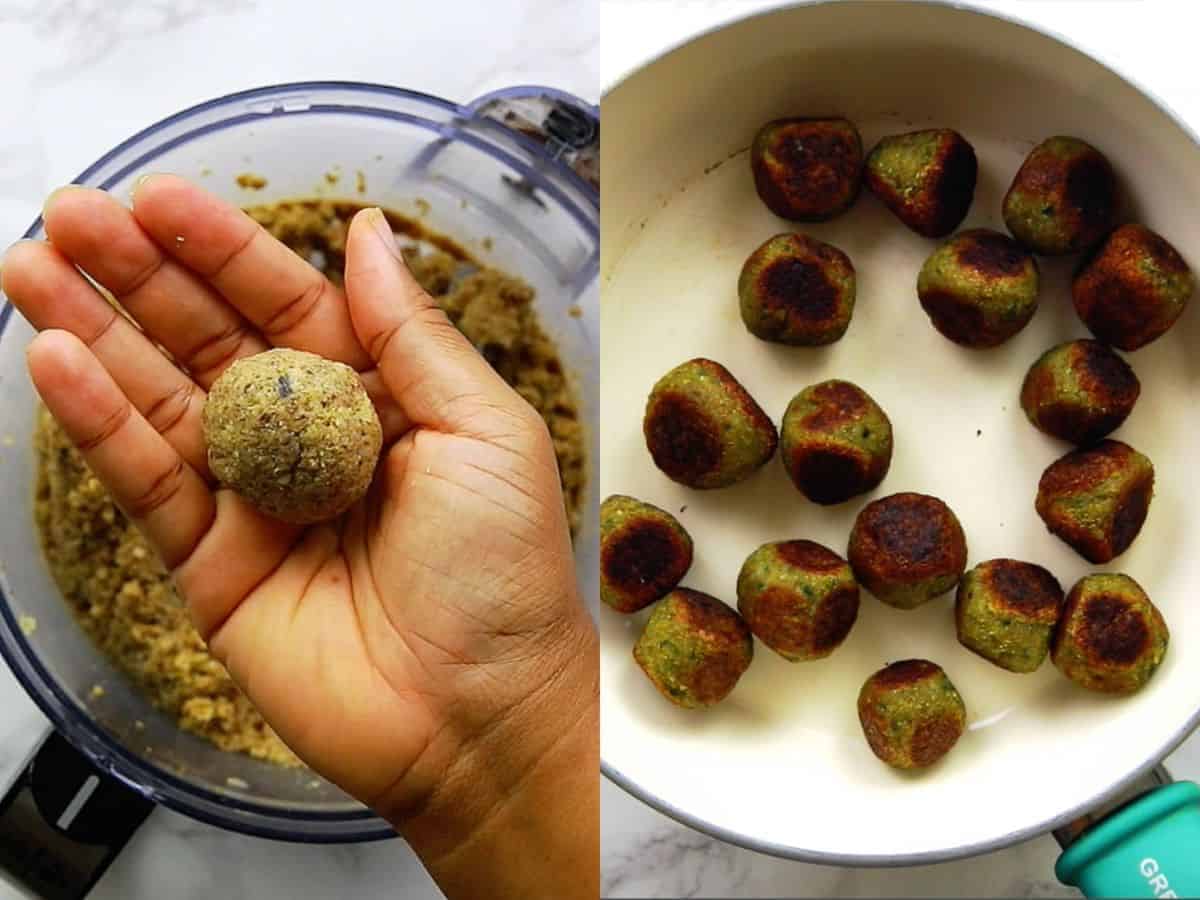 To make the meatballs, use a tablespoon or scoop to make evenly sized meatballs, then roll them with your hands. Cook for a few minutes on all sides, but be sure not to overcrowd the pan! This will lead to steamed veggie meatballs without that golden char.
When all the meatballs are cooked, put them back in the warm pan over no heat and add the sauce. Mix it all together until everything is coated and delicious! If you're feeling very extra like me you can cook down some really ripe pineapple in the sauce.
Expert Tips and FAQs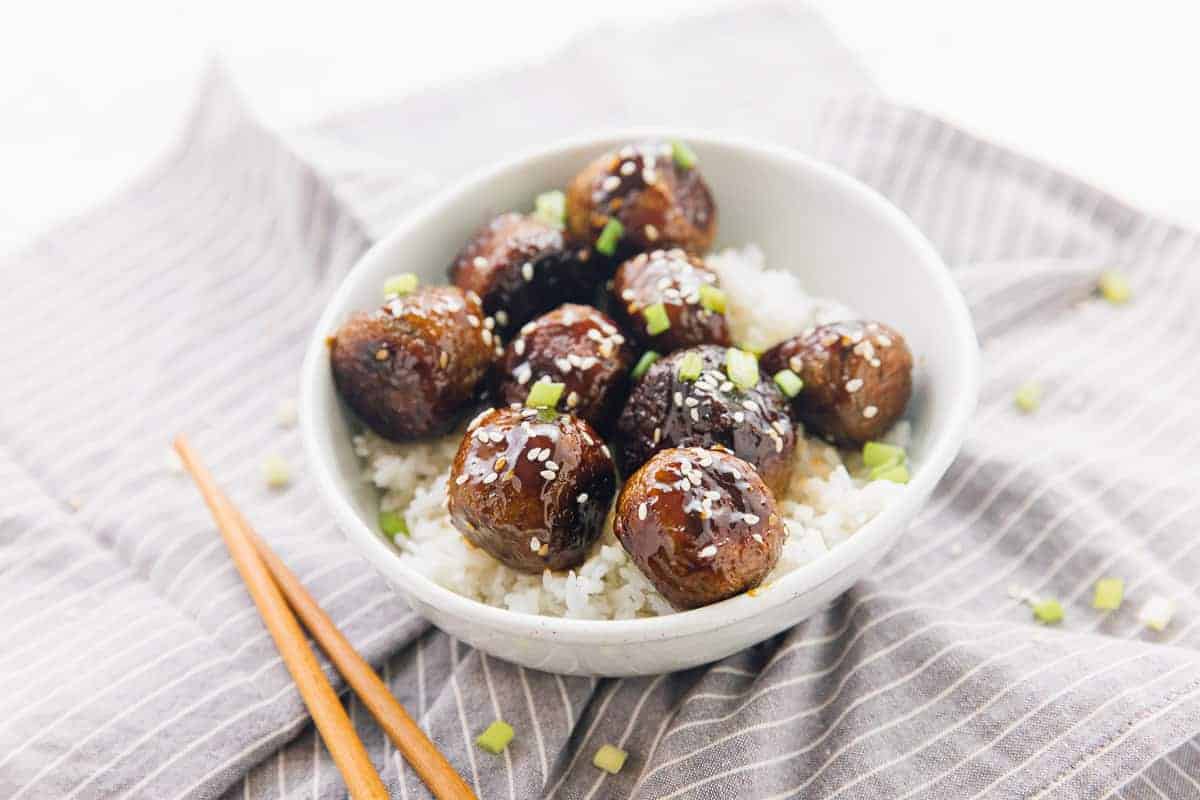 Here's some tips and tricks to make the best vegan meatballs every single time:
Mix, mix, mix. If your meatballs aren't staying together, keep mixing! An even distribution of the roasted cauliflower rice, quinoa, and other yummy ingredients will help hold everything in place when you sauté them.
Don't crowd the pan. If you add too many meatballs to the sauté pan at once, they'll still cook — but you won't get that golden char on the outside. Be sure to leave a little room around each meatball, and sauté them in batches if you need. You can tent the cooked veggie meatballs with foil to keep them warm.
Turn off the heat. When you add the sauce, make sure the heat is off and the pan is slightly cooled down. Otherwise, the sauce could splatter and thicken way too much.
Related Recipes


Enjoy friends! If you make this recipe, please snap a photo and tag #jessicainthekitchen on Instagram! We'd also love it if you would leave a comment below, and give the recipe a rating! Thanks so much!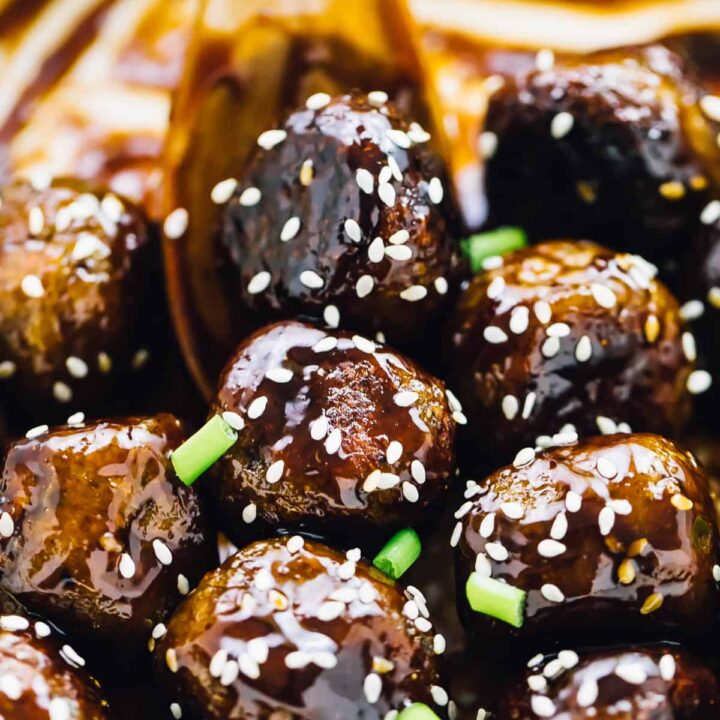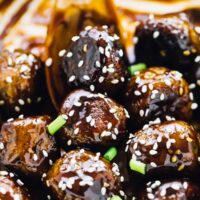 Vegan Teriyaki Meatballs
These Vegan Teriyaki Meatballs have the perfect texture and taste divine! They are incredibly easy to make, coated in a homemade sweet and sticky teriyaki sauce and so meal preppable!
Ingredients
Vegan Meatball Ingredients
8 ounces roasted cauliflower (instructions below), (1 cup)
1 cup cooked quinoa, (137g)
2 Bob's Red Mill Egg Replacers OR flax eggs, if flax eggs, less one tablespoon of liquid per flax egg
½ cup red onion, finely diced, (114g)
1/2 teaspoon ground black pepper
¾ teaspoon sea salt
3 cloves garlic, minced
1 cup breadcrumbs, gluten free if needed
1 ½ tablespoons coconut oil
Teriyaki Sauce Ingredients
1/4 cup light soy sauce or liquid aminos
¼ cup raw unrefined brown sugar or coconut sugar
1 teaspoon cornstarch + 1 teaspoon water, stirred together
½ teaspoon ground ginger
2 teaspoons sesame seeds
1 tablespoon rice wine vinegar
¼ cup water
chopped scallion, to garnish
Instructions
Teriyaki Sauce
Mix all the ingredients together, bring to a boil, then to a medium low heat in a sauce pan until completely incorporated, about 5 minutes. Stir occasionally. Set aside until ready to use.
Vegan Meatballs Base
Preheat oven to 450°F/230°C. Cut the cauliflower's stem off, and cut into even-sized florets. Drizzle the cauliflower with maybe a teaspoon of oil. Roast the cauliflower for 15-20 minutes in the oven. Remove and allow to cool for a few minutes.

In a food processor, add the cauliflower and pulse it until it's completely riced. Remove from the food processor. You only need 1 cup of this for this recipe and 8 ounces should make about 1 cup.

Add the 1 cup of riced cauliflower and all the other meatball ingredients EXCEPT the coconut oil. You can pulse them or mix them together until they form into a tight ball, combining everything. You want to ensure they are so mixed together that you're not seeing individual cauliflower or quinoa florets, it's all one big mixture. That's how you'll ensure the meatballs will hold together!

Heat the coconut oil in a pan over medium high heat. While it's heating, use a tablespoon measurer to form one raw meatball and shape into a ball with your fingers. You can place them on a plate while the oil heats.

Add one meatball to test the oil. Cook on one side for about 1-2 minutes, turning on all sides onto fully cooked inside and out, about 4 minutes. You can add as many meatballs as can fit in the pan without overcrowding it, cooking them all for about 4-5 minutes turning on each side, to cook them through.

Lower/turn the heat off. When the heat has cooled down, add in the sauce. You want to do this because if the pan is too hot, the sauce will spew and the heat can be dangerous while so hot.

Coat the meatballs in the sauce and then remove the pan from the stove. Serve the meatballs and enjoy!! You can enjoy these vegan meatballs alone, in a nice hoagie or with cauliflower rice or quinoa on the side, you know, for a double down. You could even have them on toothpicks as an appetiser at your Super Bowl party!
Notes
I strongly recommend using the Bob's Red Mill Egg Replacer! It acts just like regular eggs and is really great for binding these vegan meatballs.
For freezing, freeze these meatballs without the sauce on. Them allow them to thaw, crisp them up again in the pan, and then coat in the sauce. These meatballs will last in your fridge for up to a week (assuming your cauliflower/base ingredients are fresh, of course!).
Calories: 29kcal, Carbohydrates: 4g, Protein: 0.9g, Fat: 1.2g, Sodium: 88mg, Fiber: 0.7g, Sugar: 0.5g
Disclaimer: Although jessicainthekitchen.com attempts to provide accurate nutritional information, kindly note that these are only estimates. Nutritional information may be affected based on the product type, the brand that was purchased, and in other unforeseeable ways. Jessicainthekitchen.com will not be held liable for any loss or damage resulting for your reliance on nutritional information. If you need to follow a specific caloric regimen, please consult your doctor first.