Vegan Butternut Squash Soup – One Pot & Creamy
This Vegan Butternut Squash Soup is made in just one pot, blended to creamy perfection and done in 30 minutes. It's gluten free, and made with all natural ingredients!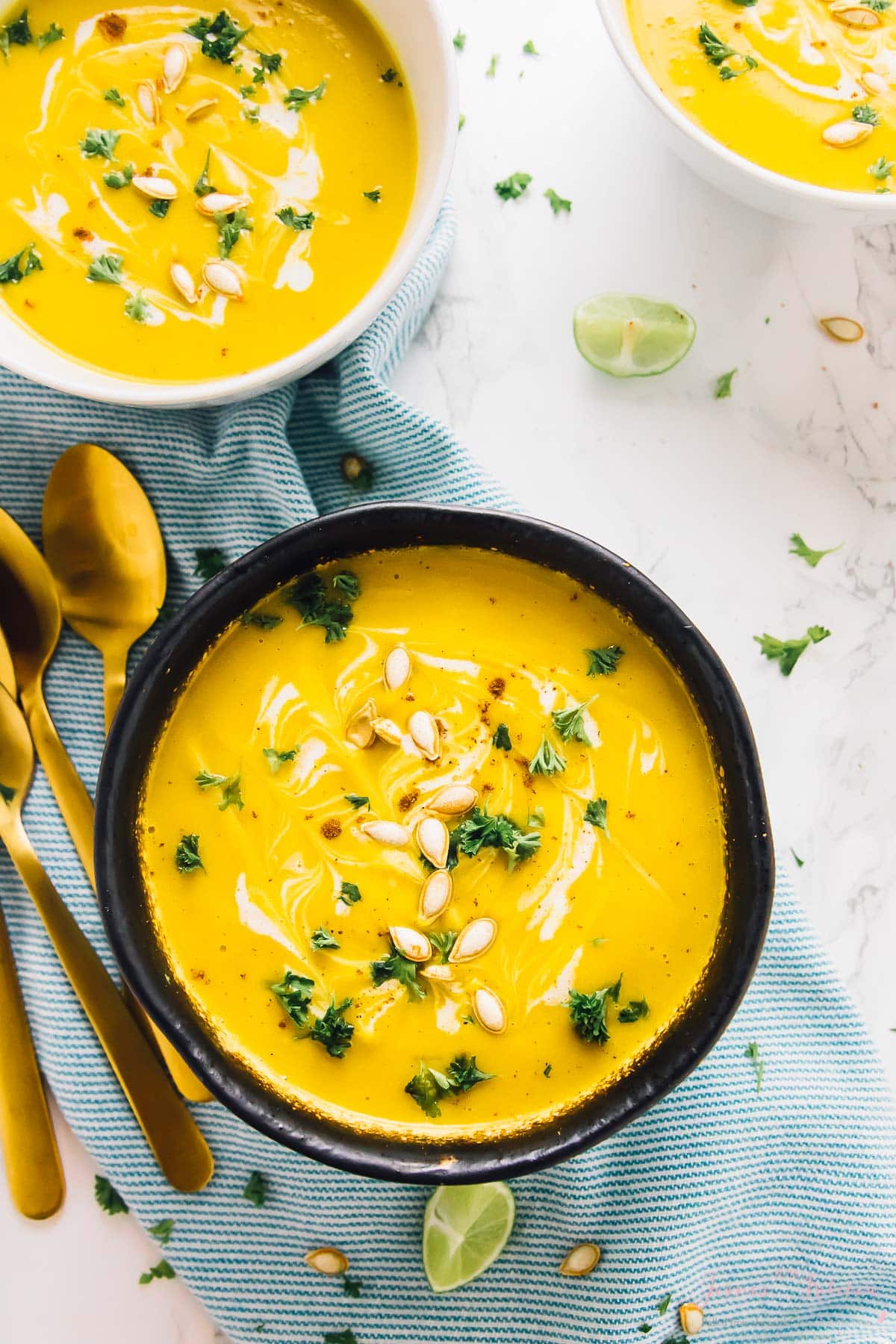 Fun Fact: I've been on the ultimate soup kick. I've made 5 different soup recipes in just a few weeks, and I've realised something: soup is amazing. Soup is diverse, it's easy for weeknight meals, and it's healing. It's so nourishing. It tastes delicious, Without a doubt, it is an official part of my weekly rotation.
I made this Butternut Squash Soup because it was specifically requested by SO many users – and here it is! Creamy, super tasty, and something you'll want to make right NOW. Oh, it's also done is 30 minutes. Score.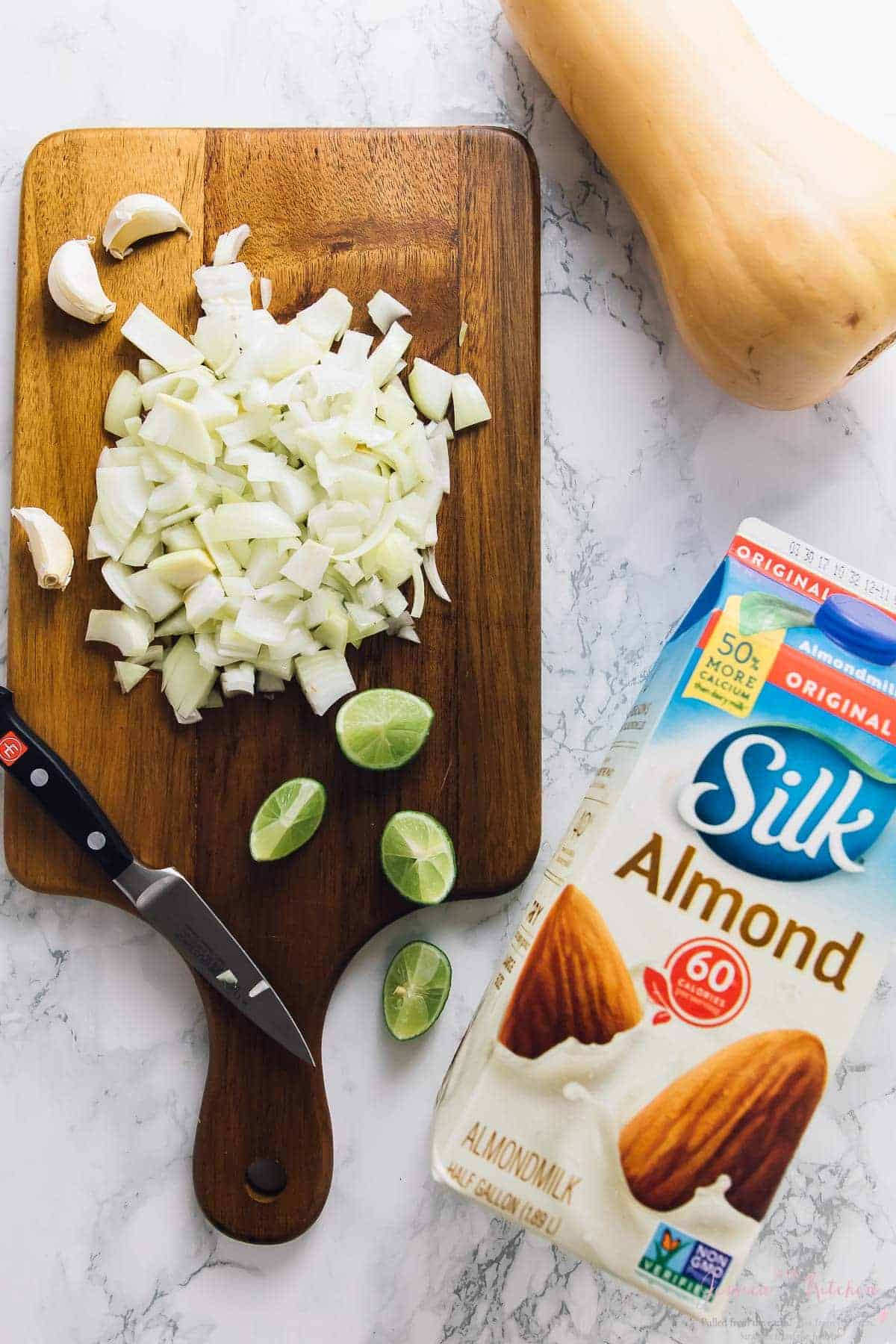 Another fun fact: I'm working with Silk once again this year as a Silk Ambassador! If you know me or you've been here before, then you know that Silk is my only and #1 nut milk choice. Almondmilk, Soymilk, Coconut Milk…keep naming the Silk varieties, and I keep drinking them endlessly.
I wanted this Butternut Squash Soup to remain vegan, and to be light and creamy. This was achieved so easily thanks to using 2 cups of Silk Almondmilk in place of the extra vegetable broth. It produces a beautiful light colour, adds smoothness to the soup, and keeps it plant based. Essentially, it ties perfectly into Silk's new slogan of #TastesLikeBetter. I love that you could easily swap this Almondmilk for Silk's Coconut Milk, Soymilk or even their new protein milks!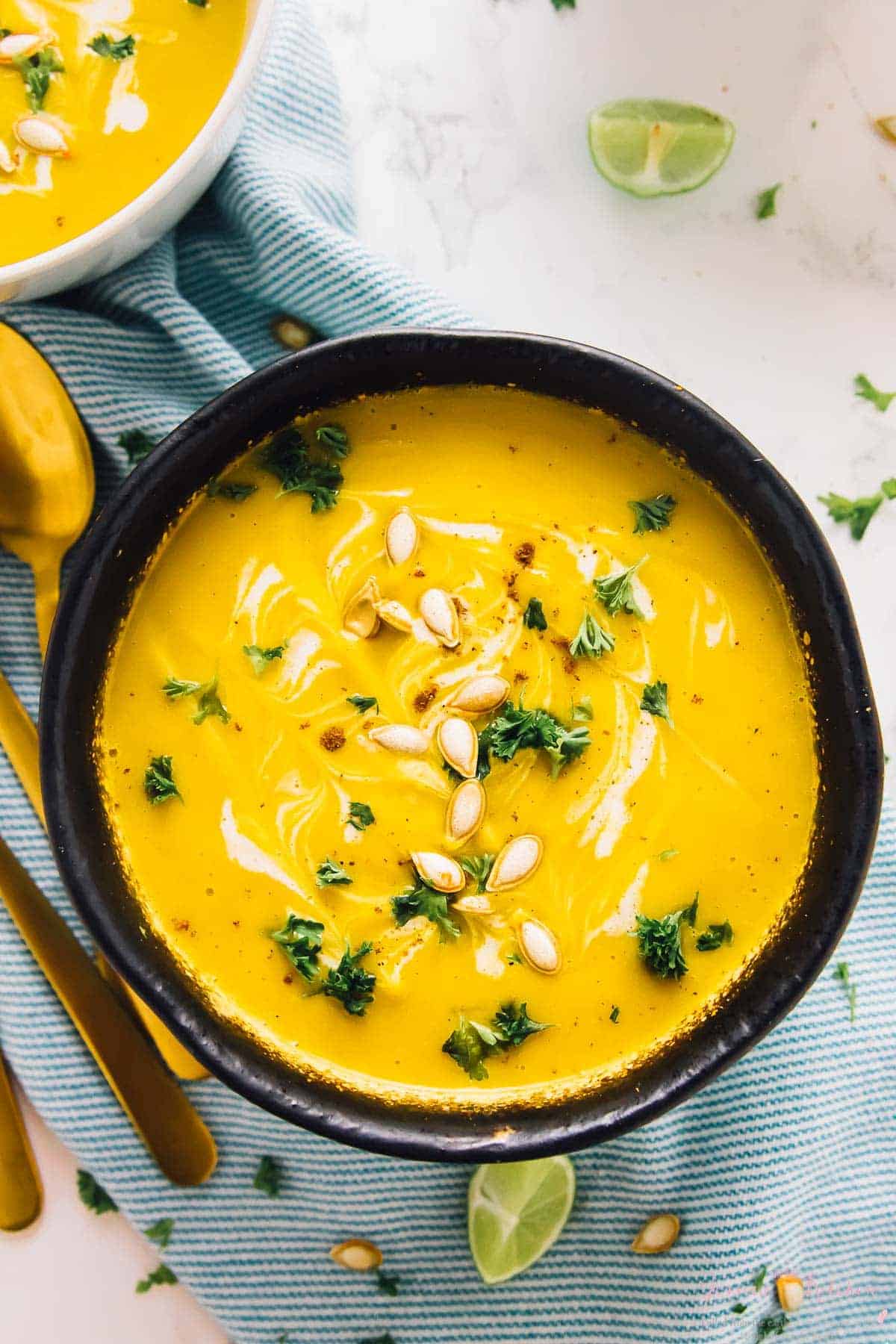 Let's get into the heart of soup, the butternut squash. A lot of you have asked for more nutritional facts about actual ingredients, and I'm more than happy to share! Butternut squash is a winter squash known for its sweet flesh and gorgeous colour. It stores really well so it's an especially great idea for winter meals. It's high in potassium, fibre and of course, beta-carotene. It's super versatile and can be used in anything from soups, to bowl foods, to Mac and cheese to creamy veggie purees and stuffings. I definitely recommend giving it a try. One bite, and you'll understand why it works in pretty much everything.
The butternut squash worked perfectly in this soup. In my original soup recipe, made a few years ago, I added apples. I didn't this time because it truly doesn't even need it – this is a perfectly slightly sweet, very flavourful, balance of a soup. The recipe in and of itself is versatile too – you can increase the veggie broth amount if you want to thin out your soup a bit. It's totally up to you. It's amazing how you can get this in and out in just 30 minutes too. Hello weeknight meal perfection!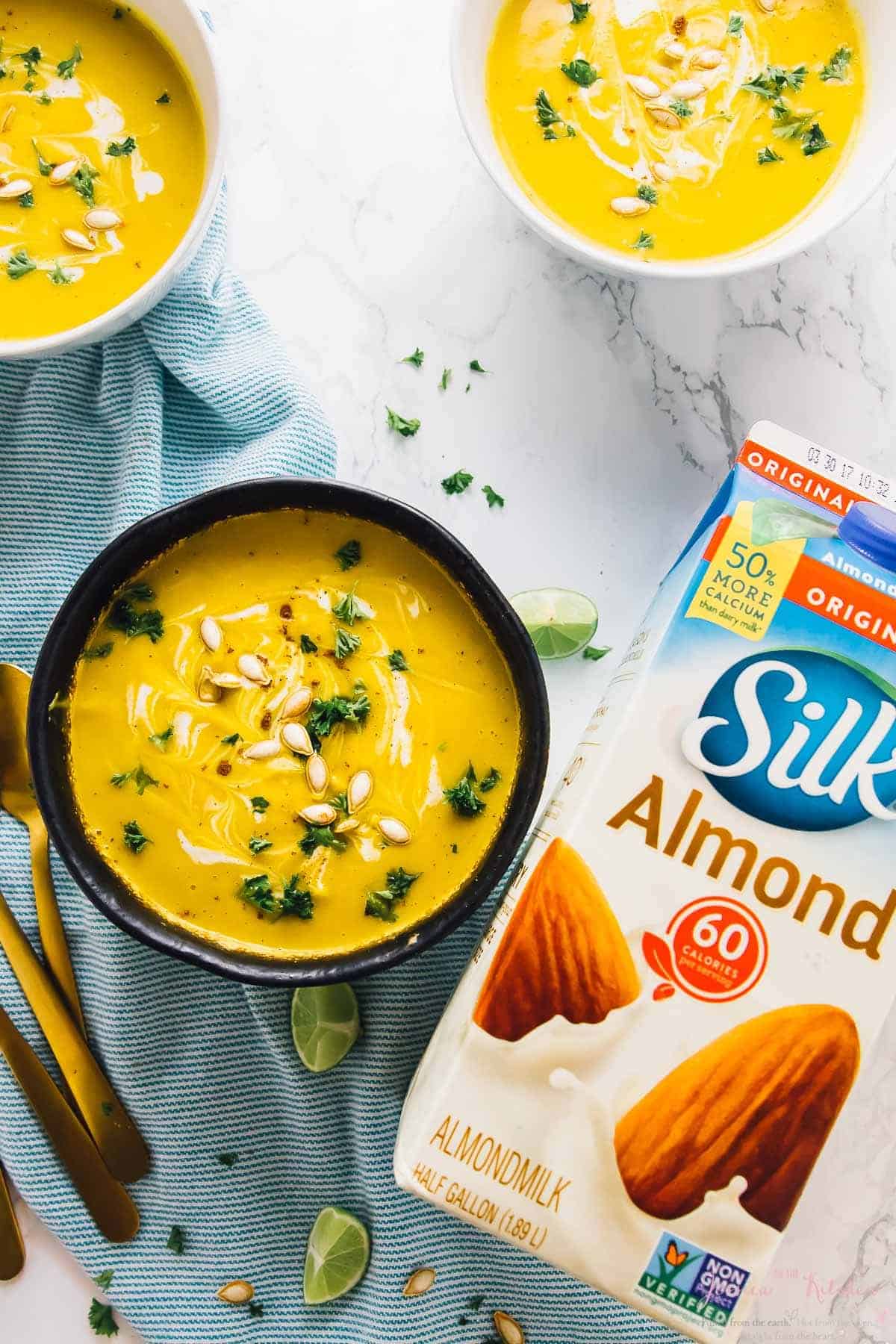 Definitely give this soup a go! I topped mine with a pinch more of nutmeg, some fresh parsley, a swirl of Silk Almondmilk and some toasted butternut squash seeds. It has a nice sweet heat thanks to the black pepper, but you could add even more with a pinch of cayenne before blending the soup. Speaking of which, the process to make this soup is so easy. You sauté off the garlic, onions and butternut squash, add the liquids and some seasonings, let it cook until soft, and then blend away. Immersion blender or high speed blender, it's totally up to you.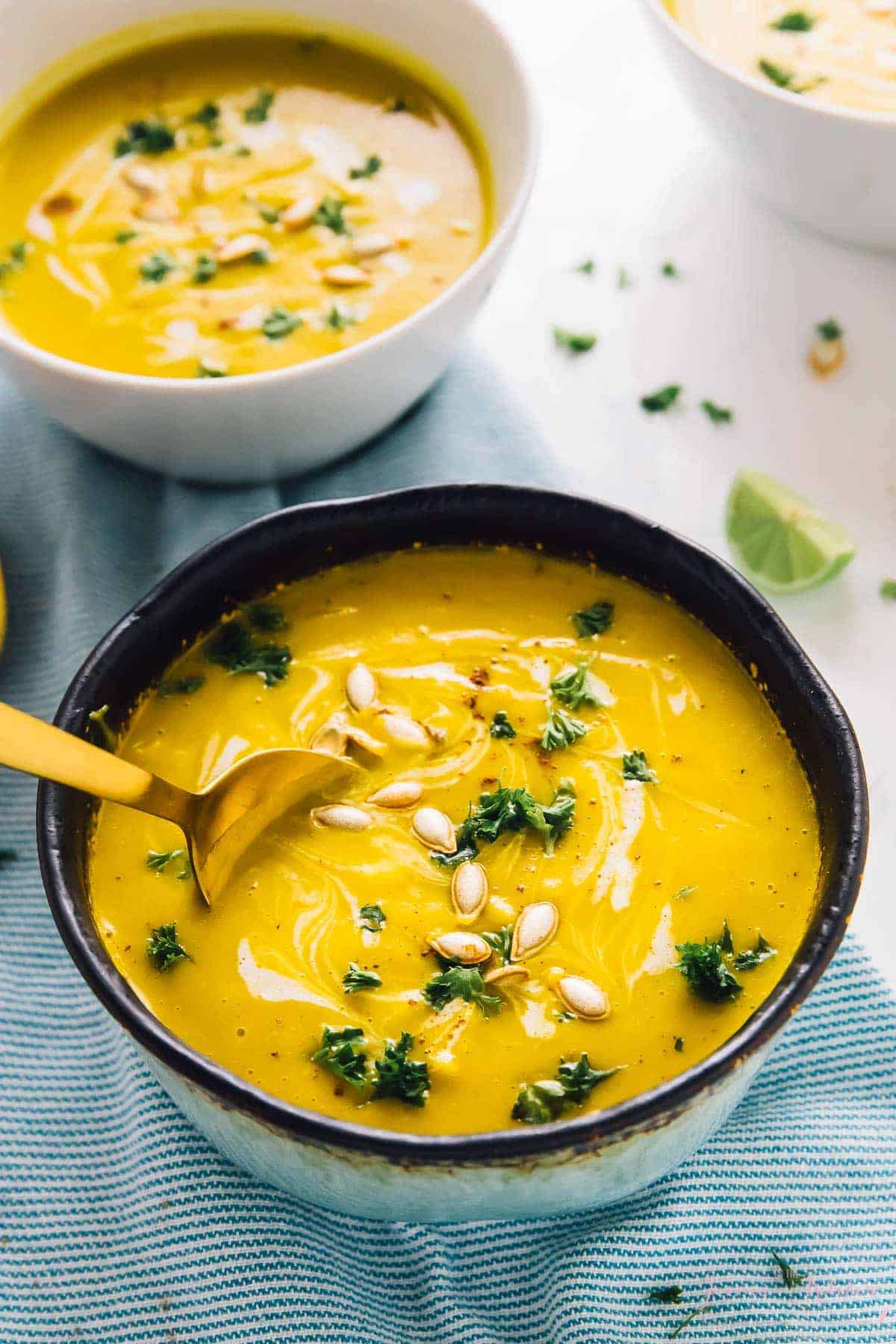 YOUR QUESTIONS ANSWERED
Q: Do I have to use the lime?
A: I love adding limes into soups, curries and stews because the acidity brings about a whole new layer of flavours to the dish. Definitely add it, it's such a burst of flavour!
Q: Is this a sweet soup?
A: Because of the nature of butternut squash, yes it is. Not overly sweet, but that perfect sweet balance. Feel free to add cinnamon and even more nutmeg to compliment that flavour.
Q: What can I serve this soup with?
A: I love serving it by itself, with a side salad, or some freshly made bread or naan bread.

If you try this Vegan Butternut Squash Soup please let me know in the comment section below, or tag me on instagram with the hashtag #jessicainthekitchen! For more exclusive recipes follow me on Instagram AND on Snapchat: jessinkitchen.
RELATED RECIPES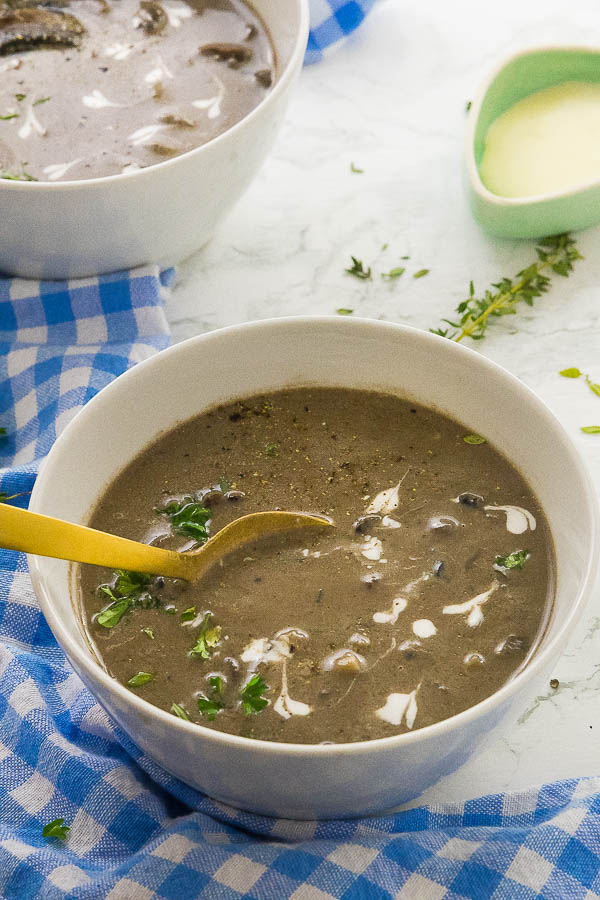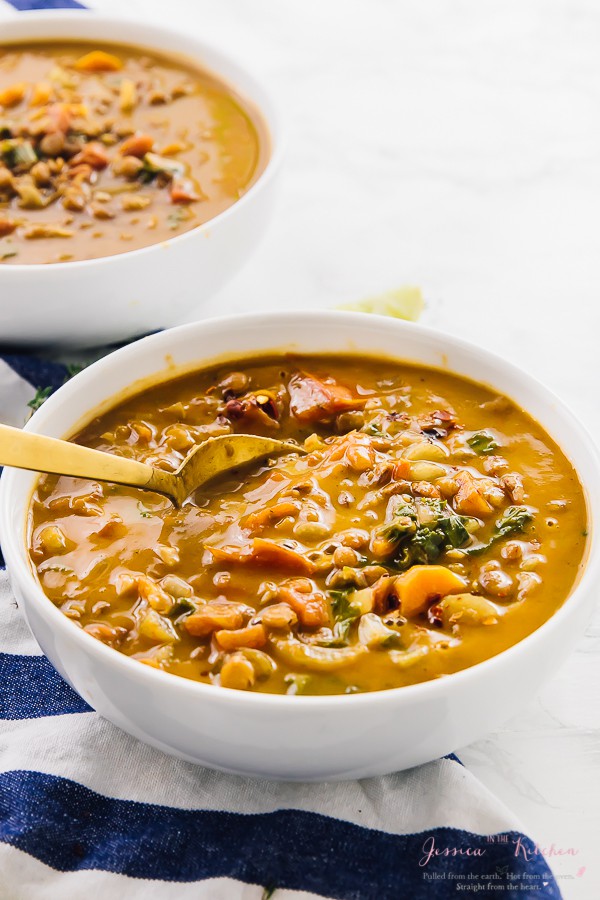 This is a sponsored conversation written by me on behalf of Silk! The opinions and text are all mine.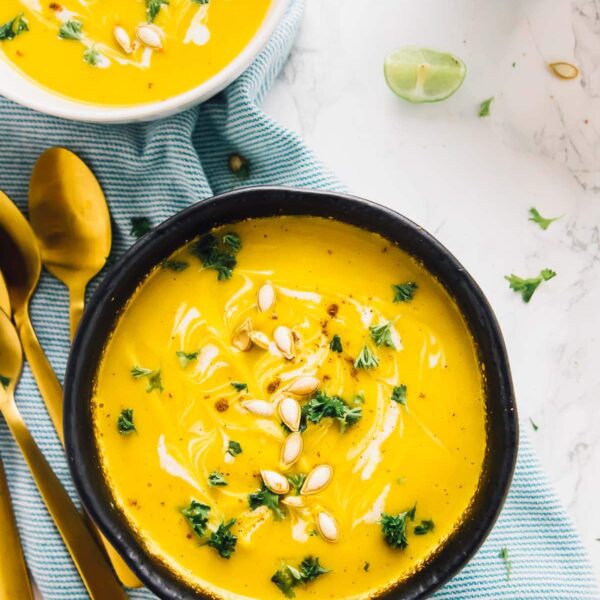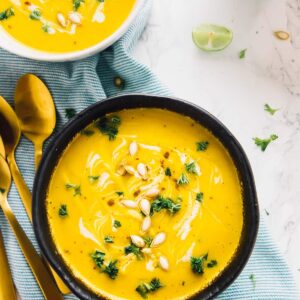 Vegan Butternut Squash Soup - One Pot & Creamy
This Vegan Butternut Squash Soup is made in just one pot, blended to creamy perfection and done in 30 minutes. It's gluten free, and made with all natural ingredients!
Ingredients
Vegan Butternut Squash Soup - One Pot & Creamy
1 1/2 tablespoons olive oil
1 medium onion
3 garlic cloves, minced
2 pounds butternut squash peeled, seeds removed and cubed
1 teaspoon sea salt
1/4 teaspoon ground black pepper
1/2 teaspoon fresh thyme leaves
1 1/2 cups vegetable broth
2 cups Silk Original Almondmilk
2 teaspoons lime juice
Instructions
Vegan Butternut Squash Soup - One Pot & Creamy
In a large stock pot, heat the olive oil over medium high heat until shimmering.


Add in the onion and garlic and stir to coat with the olive oil. Allow to cook for about 3 minutes, until the garlic becomes fragrant.


Add in the butternut squash, stir to combine, and sauté for about 7 minutes until the butternut squash releases some flavour and the onions become translucent.


Add in the salt, pepper, thyme, vegetable broth, almond milk, stir to combine.


Bring to a boil and then to a simmer for another 10 minutes, until the butternut squash becomes fork tender. Test it with a fork to ensure it is properly cooked through.


Remove from heat. Pour the soup into a large blender. Now add the lime juice into the blender too. If you're not using a large blender (holds at least 6 cups) then do this in increments. Using the soup setting on your blender, or a very powerful blend option, blend until creamy and smooth. My blender automatically blends for about 3 minutes continuously. OR, you can use an immersion blender and puree the soup ingredients until combined and smooth.


Taste and add salt and pepper to taste if necessary.


Serve into bowls and top with garnish - I love extra nutmeg, parsley and a bit of extra almond milk or a touch of coconut milk on top (OPTIONAL).
Notes
This recipe is vegan and gluten free.
Calories: 124kcal, Carbohydrates: 21g, Protein: 2g, Fat: 5g, Saturated Fat: 1g, Sodium: 738mg, Potassium: 565mg, Fiber: 4g, Sugar: 5g, Vitamin A: 16197IU, Vitamin C: 34mg, Calcium: 180mg, Iron: 1mg
Disclaimer: Although jessicainthekitchen.com attempts to provide accurate nutritional information, kindly note that these are only estimates. Nutritional information may be affected based on the product type, the brand that was purchased, and in other unforeseeable ways. Jessicainthekitchen.com will not be held liable for any loss or damage resulting for your reliance on nutritional information. If you need to follow a specific caloric regimen, please consult your doctor first.