Sweet and Sticky Orange Cauliflower Bites
These Sweet and Sticky Orange Cauliflower Bites taste just like your favourite Chinese takeout order! They are deliciously battered and are coated in a sweet orange sauce!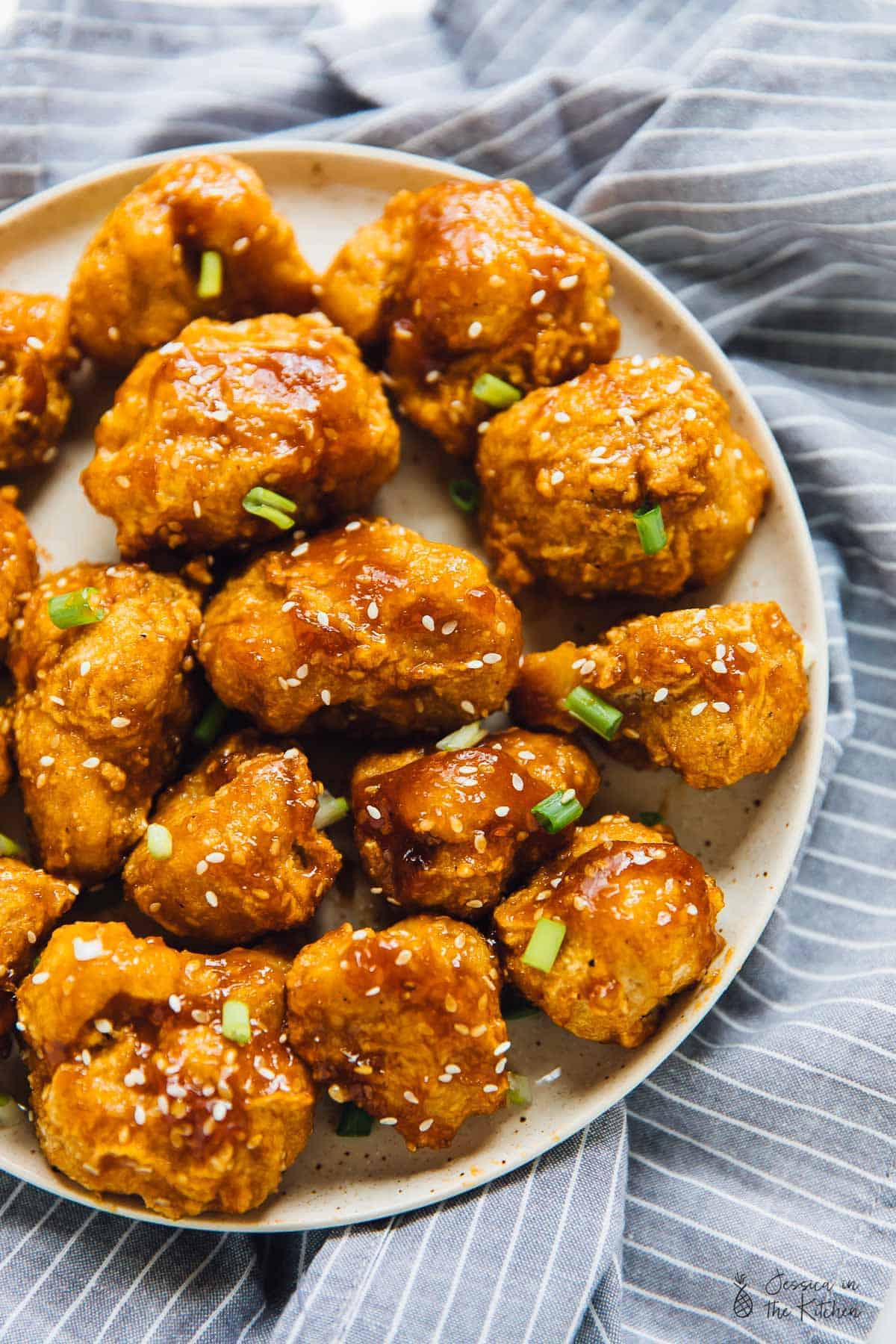 This blog post is sponsored post by Bob's Red Mill. Thanks so much for supporting the brands who support Jessica in the Kitchen! All texts and opinions are my own.
I've made cauliflower wings and cauliflower bites more times than I can count. My Sticky Sesame Cauliflower Wings were named one of the recipes that "won 2016" and "better than the real thing" – which was a pretty big deal to me. To say I'm proud of and in love with my cauliflower wings is an understatement. It's one of my favourite recipe ideas ever.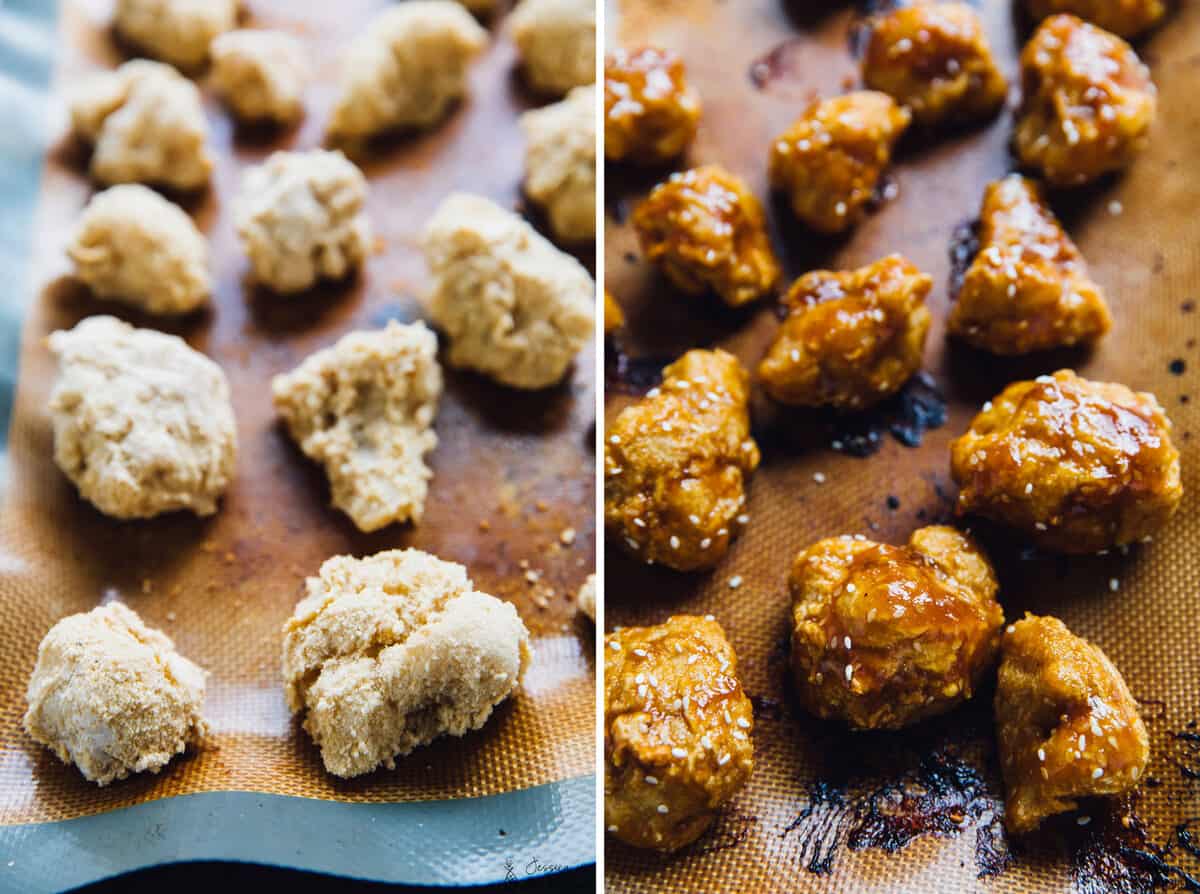 Over the years, I've tried only a few more versions, and I've made them my own way. I know which type of cauliflower I like more, the sweet to salty sauce ratio and so much more. However, there's one thing that I haven't changed – I always make my cauliflower wings and my cauliflower bites with Bob's Red Mill Gluten Free 1-to-1 Baking Flour and I always prefer them that way. This Sweet and Sticky Orange Cauliflower Bites is the exact same way – and it is phenomenal in flavour.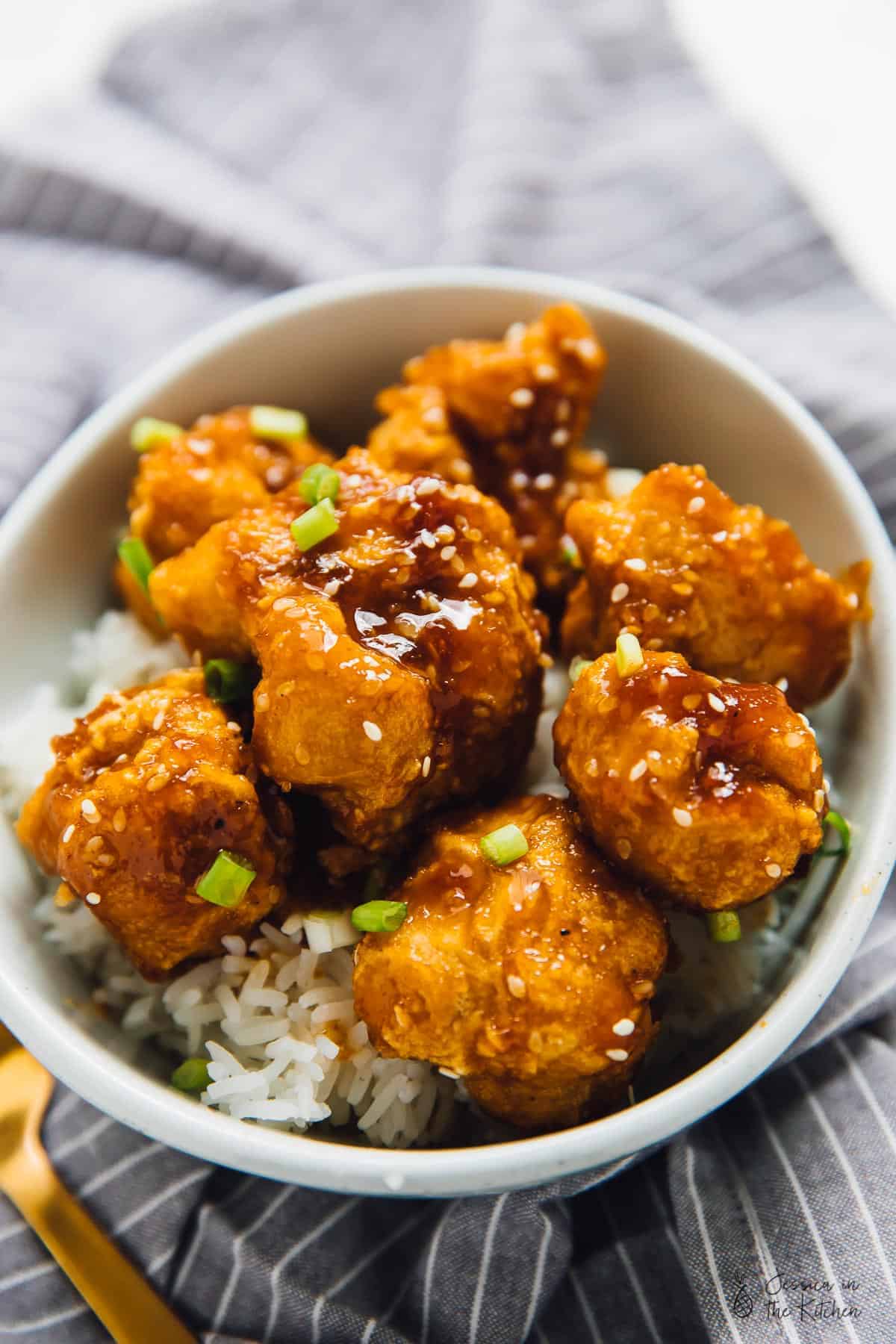 Let's talk flavours of these cauliflower wings first, then we get into why you should definitely be using Bob's Red Mill's gluten free flours here. Who doesn't love the flavour of orange chicken that most of us grew up tasting in food courts, then always ordering for takeout? It's sticky, sweet, but kind of tangy, and has a distinct and reminiscent flavour that is easily identified as "ah! That's orange chicken!" I wanted to replicate that flavour perfectly, except of course without the chicken part.
I'm happy to say that after a few adjustments; these Orange Cauliflower Bites match – like, they really do. In fact I tested it on Gav the second he walked through the door (catching him by surprise made me feel like a food detective, of course) and he immediately said "oh yeah; that's orange chicken flavour!"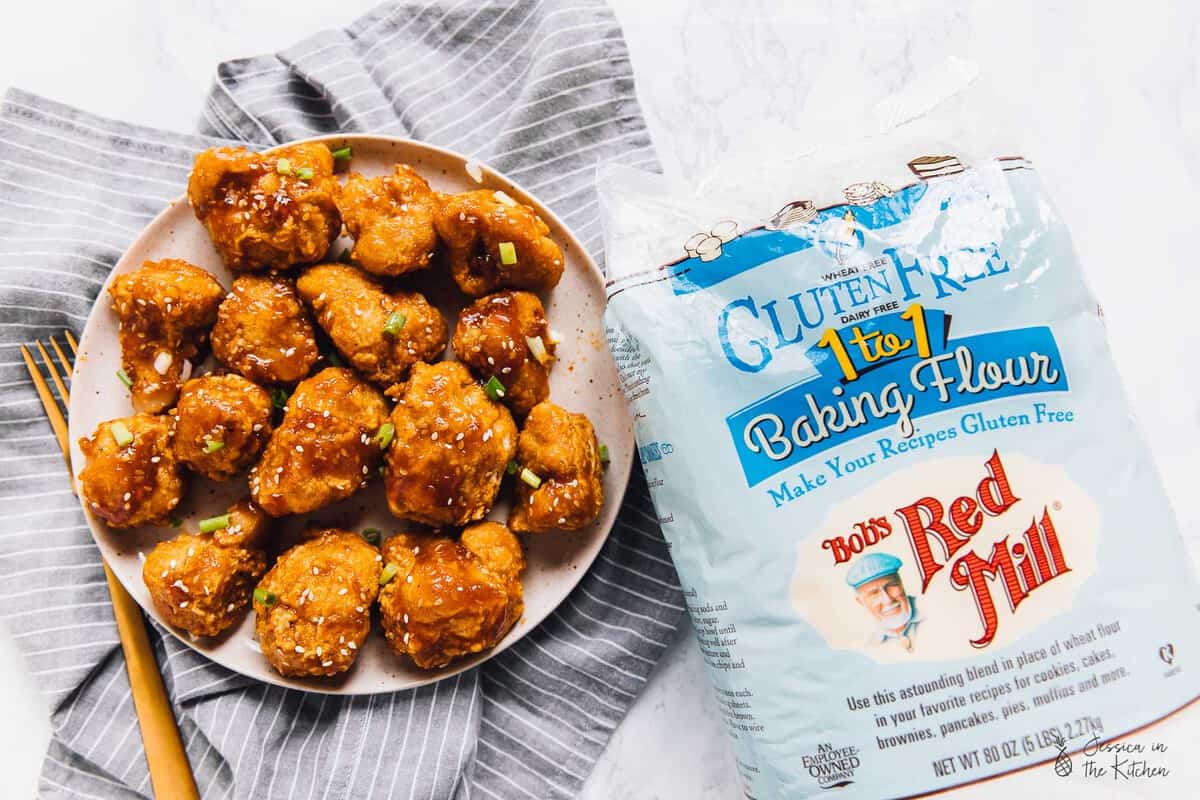 As amazing and crucial as the sauce is, the base of these orange cauliflower bites is what makes them supreme aka, that beautiful batter. It's also what earned them all of those titles. I've kept it the same because I fell in love with my original formula and wanted to keep it that way. The batter on the cauliflower makes it taste deliciously crisp and gives it that "chicken-like" breading texture.
That's why I love using Bob's Red Mill Gluten Free 1-to-1 Baking Flour for this. Not only does it make these gluten free, the texture of the flour mixture is so nice and tender, making me prefer these over all purpose flour. It keeps it light and flavourful, instead of dense. It means it bakes through perfectly in time, every single time. Bob's Red Mill Gluten Free 1-to-1 Baking Flour has the ideal blend that I stand behind time and time again for these babies. So you can rest assured that your baked orange cauliflower bites will "taste like the real deal". Not going to lie – I love hearing those words!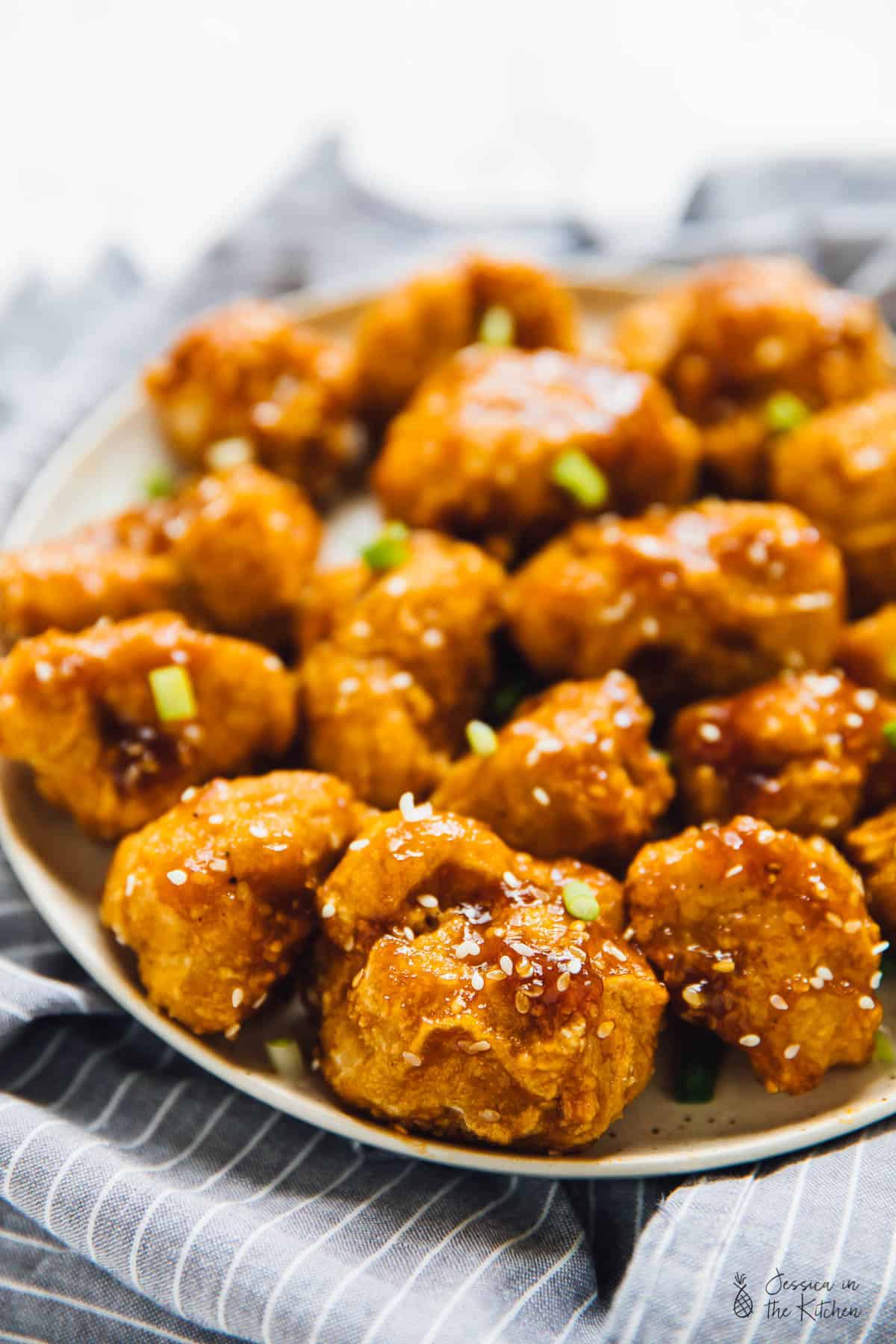 I really hope you guys love these as much as we did! The sauce is perfect as is but feel free to up sweetness or saltiness based on your own preference. Enjoy, friends!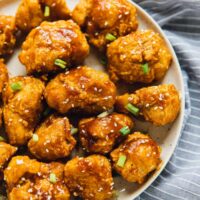 Sweet and Sticky Orange Cauliflower Bites
These Sweet and Sticky Orange Cauliflower Bites taste just like your favourite Chinese takeout order! They are deliciously battered and are coated in a sweet orange sauce!
Ingredients
Cauliflower Bites
1 medium head cauliflower
1/2 cup unsweetened almond milk
1/4 teaspoon sea salt
1/2 teaspoon ground black pepper
1/2 teaspoon garlic powder
1/4 teaspoon crushed red pepper flakes, 1/2 if you want it very spicy, leave out if you don't like spice
1 cup crispy gluten free panko bread crumbs, seasoned with salt and pepper OR brown rice cereal puffs crushed and seasoned*
sesame seeds and chopped scallions, to garnish
Orange Sauce
½ cup water
½ cup orange juice
2 tablespoons maple syrup
¼ teaspoon ground ginger
¼ teaspoon garlic powder
2 tablespoons liquid aminos/low sodium soy sauce
2 tablespoons rice wine vinegar
1 tablespoons cornstarch + 1 tablespoon water, stirred together until cornstarch is dissolved
Instructions
Preheat oven to 450°F/230°C. Prepare a baking sheet by lining it with a silicone baking sheet or greased foil.

Remove florets from the cauliflower (aka don't use the stem). Chop the cauliflower into smaller pieces to resemble the size of bites.

In a separate bowl, whisk the gluten free flour, almond milk, salt, ground black pepper, garlic powder and crushed red pepper flakes in a bowl to make the batter.

In another separate bowl, place the breadcrumbs. Line it up beside the batter bowl.

Toss the cauliflower in the batter mixture one at a time, shaking off excess batter. Do not soak. Then, dip the cauliflower into the breadcrumbs to coat completely, then place onto the baking sheet. Repeat until all of the bites are coated.

Bake for 22 minutes. Please ensure your oven is completely preheated and hot. While baking, prepare the ingredients for the sauce (see below).

Remove from oven. Toss the bites in the sauce then using tongs or even just a large spoon, coating completely. Remove from pot and place back on the baking sheet. Bake for another 5 minutes for the sauce to soak into the bites.

Remove from oven and serve immediately with sesame seeds and chopped scallions. Enjoy!
Orange Sauce
While the bites are baking and have about 5 minutes left, in a pot over high heat, mix all the sauce ingredients, except the cornstarch slurry.

Bring to a boil and boil for about 1 minute, then reduce heat to medium low. Add in the cornstarch slurry and whisk vigorously until dissolved into the sauce. Let it cook for about 3 to 4 minutes until the sauce begins to thicken. Remove from heat and allow to cool slightly. Taste a little bit to decide if you need more sweetener or more soy sauce.
Notes
Notes
If you want to see how this is made in general, check out my YouTube video:
About the bites:
1) Don't use olive oil to grease the baking sheet since it will burn the bottom of your bites. If using a silicone mat, you don't need to grease it at all.
2) The batter will only adhere to the cauliflower bites dry. So, if for any reason you wet your cauliflower, it has to be 100% dry for the batter to stick.
3) If you want to substitute soy sauce, PLEASE taste the sauce before it goes on the bites first. Some soy sauces can make this too salty. I recommend a reduced sodium soy sauce.
HOW TO STORE CAULIFLOWER BITES
You can store these Cauliflower Wings in airtight tupperware container in your fridge for up to 4 days, and reheat them in an oven until warmed. They taste best fresh. I wouldn't recommend freezing these as the batter may get soggy.
HOW TO USE FROZEN CAULIFLOWER
Preheat oven to 425 degrees F. Heat the cauliflower for 15 minutes in the oven. Remove and drain off the excess liquid in a strainer. Toss the cauliflower lightly with a few tablespoons of Bob's Red Mill Gluten Free 1-to-1 Baking Flour , coating lightly to soak up any liquid. Now, proceed with the recipe!
* I used brown rice cereal puffs this time around they added a delightful crunch.
Calories: 41kcal, Carbohydrates: 8g, Protein: 1g, Fat: 1g, Saturated Fat: 1g, Cholesterol: 2mg, Sodium: 88mg, Potassium: 70mg, Fiber: 1g, Sugar: 2g, Vitamin A: 13IU, Vitamin C: 11mg, Calcium: 12mg, Iron: 1mg
Disclaimer: Although jessicainthekitchen.com attempts to provide accurate nutritional information, kindly note that these are only estimates. Nutritional information may be affected based on the product type, the brand that was purchased, and in other unforeseeable ways. Jessicainthekitchen.com will not be held liable for any loss or damage resulting for your reliance on nutritional information. If you need to follow a specific caloric regimen, please consult your doctor first.