Vegan Sweet Potato and Black Bean Quinoa Chili (Slow Cooker)
This Vegan Sweet Potato and Black Bean Quinoa Chili (Slow Cooker) takes only 15 minutes to prep and then right into the slow cooker! It results in a hearty, thick and delicious chili!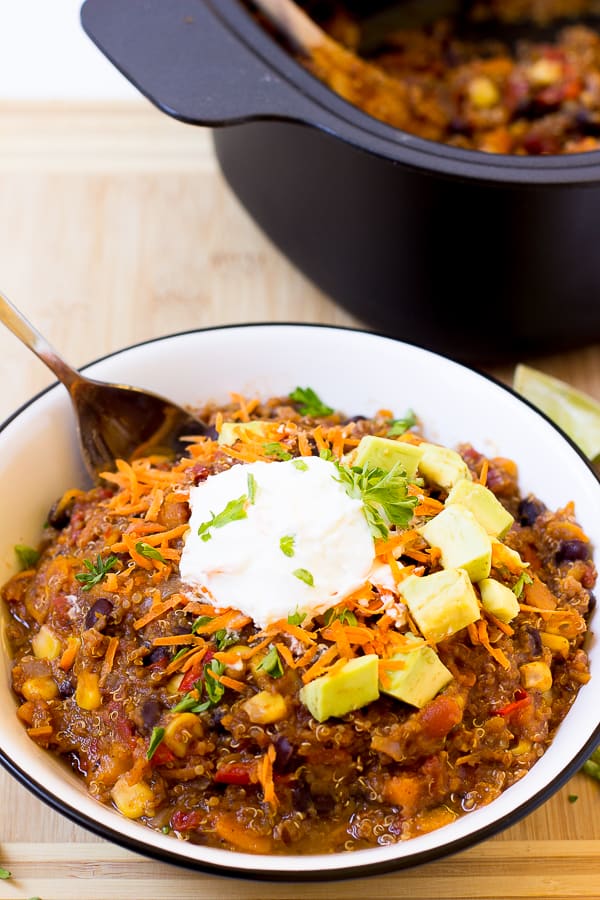 Vegan Sweet Potato and Black Bean Quinoa Chili is quite a mouthful, isn't it? That's the point. A spoonful of this divine chili and you'll be speechless. Suspicious taste testers sat and ate in silence for a bit, then muttered, coming up for air "This is meatless?!".
Yes my friends, amazing meatless chili does exist.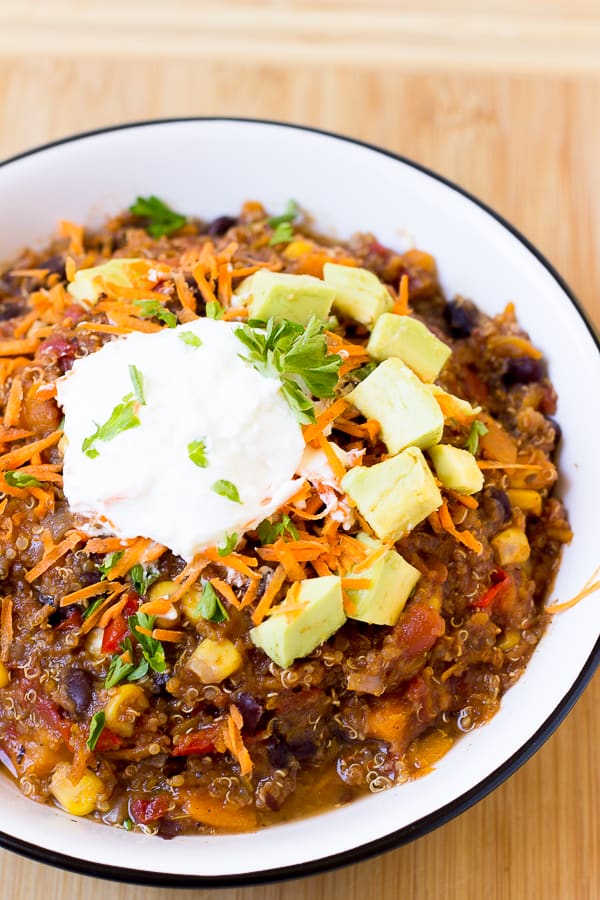 I actually wasn't a huge fan of chili until turning vegetarian, and I'm starting to realise that trend runs true in a lot of things in my life, such as curry (whaaat?! I actually do like curry??), black beans and chickpeas. Vegetarian-ism pretty much turned these wonder foods into magical delicious morsels for me. You don't hear me complaining. I took a try at chili for the first time here and it became a sensational hit, pinned over 25,000 times on Pinterest with tons of readers letting me know that everyone from themselves to their meat-loving partners were enjoying it! If I said I took a bow, I would be lying. I took MANY bows. I practiced speeches thanking the Academy in my mirror. Hey, a girl can dream right?
I think the moment I knew this Vegan Sweet Potato and Black Bean Quinoa Chili recipe was legit was when my dad said "whoa. This tastes great." And went back for more. It's one thing for someone to make a great comment, but actions don't lie!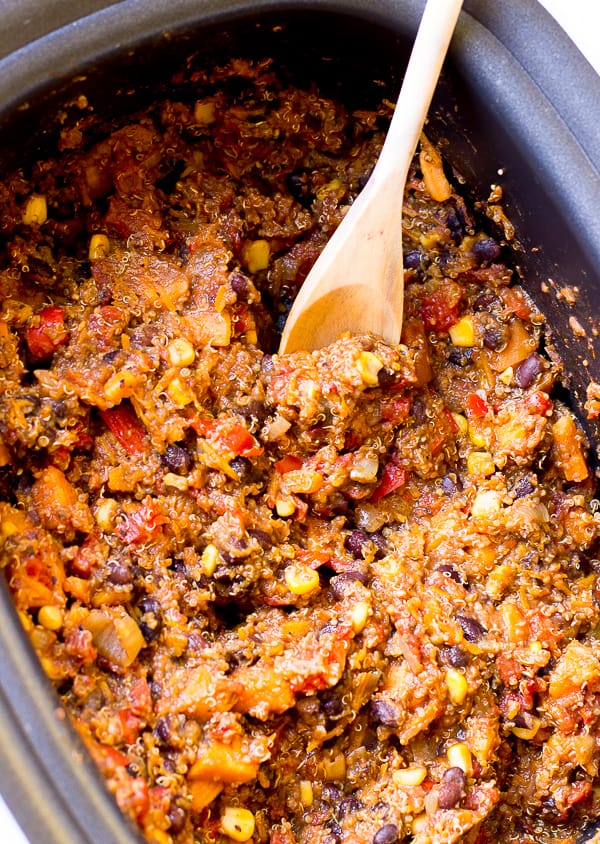 So I decided to not invent the wheel, but keep it turning by amping up my base recipe and throwing in some beautiful sweet potatoes into the mix. I upped the garlic and some of the seasonings and hit start. The sweet potato adds such a great flavour to the chili while simultaneously adding it's own soft and hearty factor that made me realise that it definitely MADE this chili even better than it already was! If you're preparing this for your family, be ensured that adding sweet potato means your chili will be filling up your loved ones quicker, guaranteeing your chili will last even longer.
I've had about…6 bowls of this this week. I KNOW, I KNOW. I'm obsessed. But that's why I love chili, it's so diverse. I've had it by itself, with an egg on top, in a burrito (chili cheese burritos?! YES!), and with tons of vegan sour cream on top. It's lasted super long in the fridge and best of all? Freezes great. I plan to stock up on this beauty for those nights where I have nothing planned for dinner.
Have I sold you yet? You need to try this. I actually timed how long I took and after 15 minutes everything was in the slow cooker and churning away. This was while dancing to Sia's new album and pretending I was on my own cooking show (isn't it awesome?!).
Again, a girl can dream, right?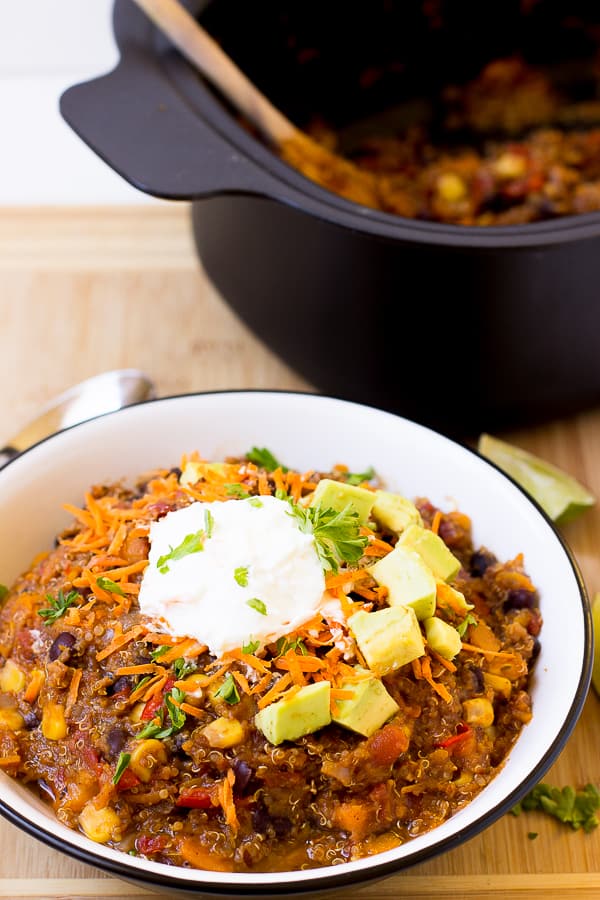 P.S. Here are some of the items I used to make this recipe if you'd like to use them too:
| WHAT YOU'LL NEED // SHOP MY FAVORITE INGREDIENTS & PREP PRODUCTS |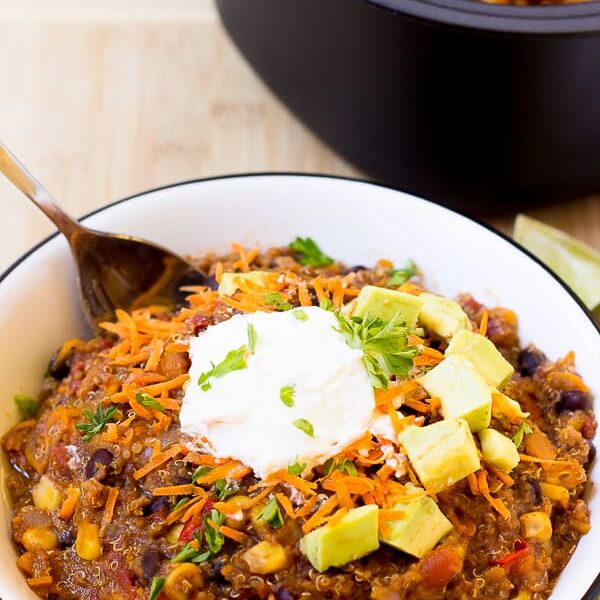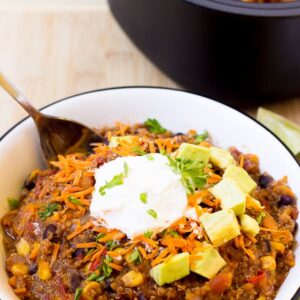 Vegan Sweet Potato and Black Bean Quinoa Chili (Slow Cooker)
This Vegan Sweet Potato and Black Bean Quinoa Chili (Slow Cooker) takes only 15 minutes to prep and then right into the slow cooker! 
Ingredients
2 1/2 cups vegetable broth, 600ml
1/2 cup uncooked quinoa, 90g
15 oz can black beans, drained, 425g
14 oz can diced tomatoes, 411g
1/4 cup chopped red bell pepper, 35.43g
1/4 cup chopped green bell pepper, 35.43g
1 shredded carrot
1/2 cup chopped onion, 42.52g
4 cloves garlic, peeled and minced
1/2 small chili pepper
2 teaspoons chili powder
1/4 teaspoon cayenne pepper
1 1/2 teaspoon salt
1 teaspoon ground black pepper
1 teaspoon ground cumin
1 teaspoon oregano
1/2 cup corn kernels, canned or fresh, 90 grams
1 large sweet potato, about 340g, peeled and diced
Toppings:
chopped avocado chunks
chopped green onions
shredded carrot
Vegan Cashew Sour Cream:
1/2 cup soaked cashews, cashews soaked in water overnight
3-4 tablespoons water
splash apple cider vinegar
1/2 teaspoon fine sea salt
1 teaspoon lime juice
Instructions
Add the broth, sweet potato, uncooked quinoa, black beans and tomatoes to the slow cooker. Stir to combine.

Next add the peppers, carrot, onion and garlic, and stir, then add the rest of the seasonings and stir a few times to combine.

Set the slow cooker to high for 2- 2 1/2 hours or on low for 5-6 hours (for high, monitor the last 30 minutes and for low, monitor the last hour).
Vegan Cashew Sour Cream
Blend all the ingredients for cashew sour cream in a high speed blender (I use a NutriBullet) until smooth, for about 30 seconds, scraping blender once halfway in between.

Serve on chili with your favourite toppings (avocado, chopped green onions).
Notes

If you try this Vegan Sweet Potato and Black Bean Quinoa Chili (Slow Cooker) please let me know in the comment section below, or tag me on instagram with the hashtag #jessicainthekitchen! For more exclusive recipes follow me on Instagram AND on Snapchat: jessinkitchen.
1. This chili freezes well. Pack into ziploc bags and lay flat and freeze. Label for an efficient freezer system!
2. This chili lasts a good week in the fridge.
3. You can add any ground provisions you'd like to the chili. Just adjust the broth accordingly if you want to keep your chili liquid-y.
MORE FALL COMFORT RECIPES
Vegan Crockpot Quinoa and Black Bean Chili
Cheesy Quinoa Casserole
Cauliflower Pizza Casserole 
Chilis Across the Web
Homemade Vegetarian Chili By Cookie & Kate
Slow Cooker Vegetarian Chili – Gimme Some Oven
Calories: 316kcal, Carbohydrates: 47g, Protein: 11g, Fat: 11g, Saturated Fat: 2g, Sodium: 1612mg, Potassium: 949mg, Fiber: 12g, Sugar: 8g, Vitamin A: 9581IU, Vitamin C: 34mg, Calcium: 95mg, Iron: 4mg
Disclaimer: Although jessicainthekitchen.com attempts to provide accurate nutritional information, kindly note that these are only estimates. Nutritional information may be affected based on the product type, the brand that was purchased, and in other unforeseeable ways. Jessicainthekitchen.com will not be held liable for any loss or damage resulting for your reliance on nutritional information. If you need to follow a specific caloric regimen, please consult your doctor first.