Banana Berry Beet Smoothie Bowl
This Banana Berry Beet Smoothie Bowl is a protein-packed, nutrient dense smoothie bowl perfect for post-workout with blood-purifying and anti-oxidant rich ingredients!.
This is a sponsored conversation written by me on behalf of Silk! I love their products so much. Thank you for supporting the brands that help to support me!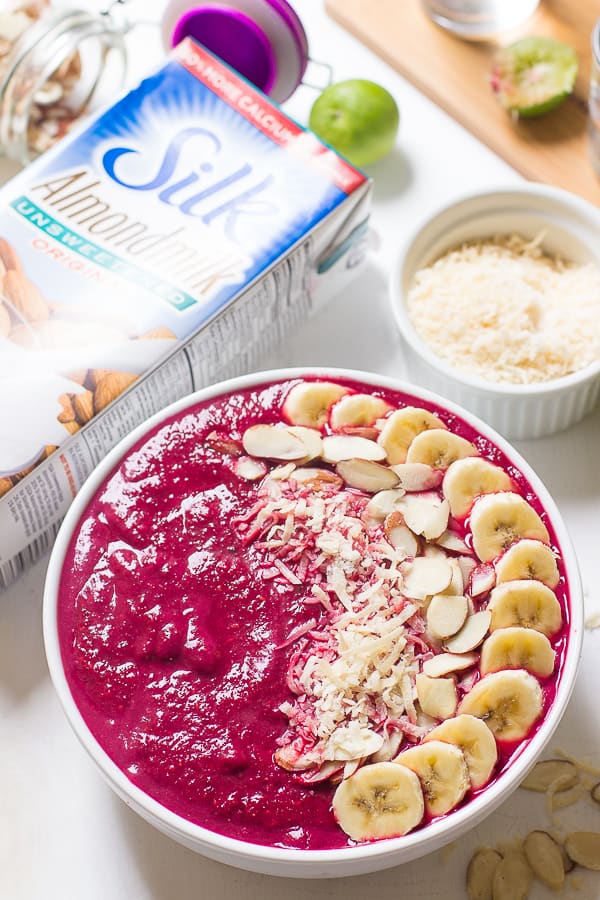 It's official: I've bought a beet farm.
At least, that's what my kitchen and fridge are telling me. Fuelling my obsession for this powerful root vegetable, I decided to incorporate it into a protein-packed, anti-oxidant rich and filling breakfast smoothie bowl. The day after I finished this, I went out and got even more beets to ensure I always have some around to make more of this ridiculously tasty smoothie bowl. Satisfaction guaranteed.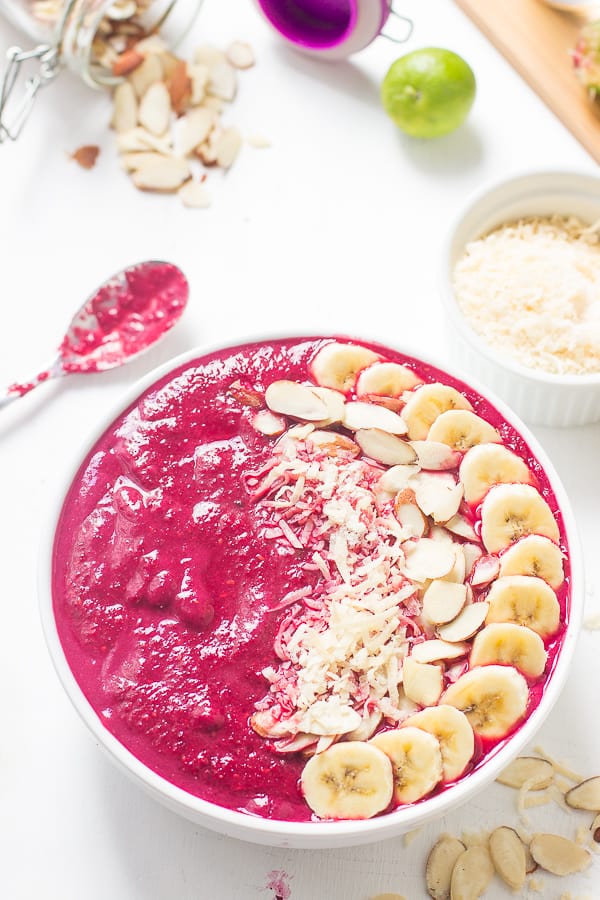 I've seen the smoothie bowl trend around for a while and find it hilarious that I never got into it since I've been doing it for ages. Smoothie bowls are slightly thicker versions of your favourite smoothie that are loaded with toppings to make it a really complete breakfast. I wanted this to be the type of smoothie that would properly fuel you post-workout with the right nutrients and protein. I usually make a quick protein shake out of
Silk ® Almondmilk
and natural pea protein powder, so I thought, why not build on that for a satisfying and complete smoothie?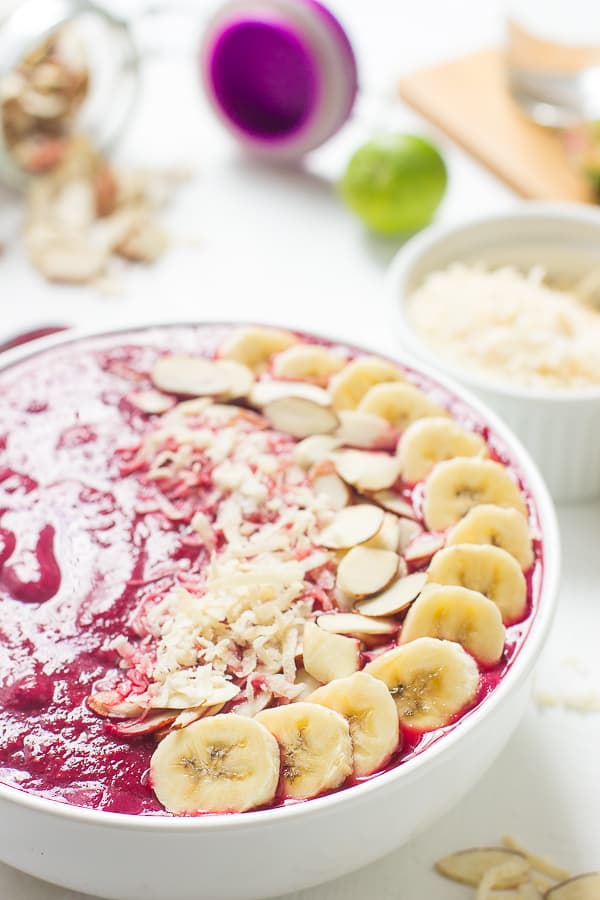 When it came to the ingredients for this smoothie bowl, the beets were a total no brainer. Roasting beets bring out its natural sweetness and creates a beautiful velvet texture that is perfect for any recipe. The frozen raspberries helped to guarantee that this smoothie bowl was nice and thick along with the bananas. The lime, flax seeds and other ingredients are simply the cherry on top for creating the perfect complimentary flavours while adding additional nutrients.
Using the
Silk ® Almondmilk
instead of regular milk means that not only can anyone make this dish, but it's easy on anyone who gets an upset stomach from dairy. If you're lactose intolerant, gluten free, vegan, or just don't want regular cow's milk, Silk ® Almondmilk is a great option. You still get loads of calcium, a smooth and creamy texture and a great flavour that compliments absolutely any smoothie bowl. I've been a user of their nut milks for 5+ years and would definitely recommend it.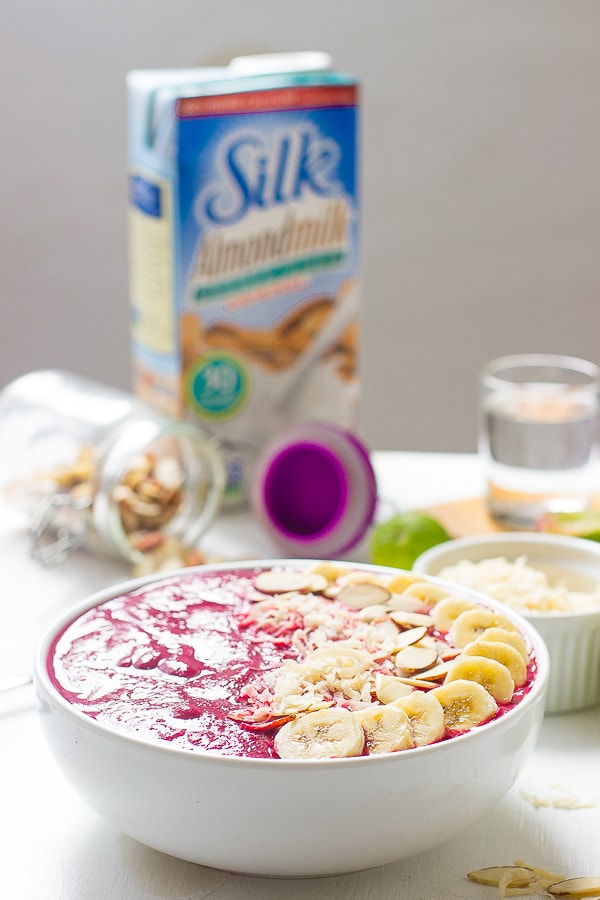 Here's some of the benefits of this smoothie bowl:
Health Benefits of Banana Berry Beet Smoothie Bowl
Beets – Purifies the blood, contains folic acid, Vitamin A and C, boosts immunity and increases energy.
Silk ® Almondmilk
– high in calcium, completely plant-based, smoothie texture and taste.
Raspberries – rich in antioxidants, high in Vitamin A and has anti-cancer properties.
Lime – improves digestion, fights infections and helps restore energy.
Flax Seeds – anti-inflammatory, high in fibre and increases metabolism.
Protein Powder – a natural and vegan protein powder will add a lot of protein to your smoothie.
Bananas – high in potassium, restores blood glucose level and provides energy.
Now, the taste? Divine. The berries and lime compliment each other perfectly alongside the beets and banana. You get a smoothie bowl that screams springtime and summertime in not only this beautiful colour, but it's brightness in taste. It's a great mix of sweet with contrasts of citrus and something you'll want to make again and again. If this sounds like a dream, it totally tastes like it too!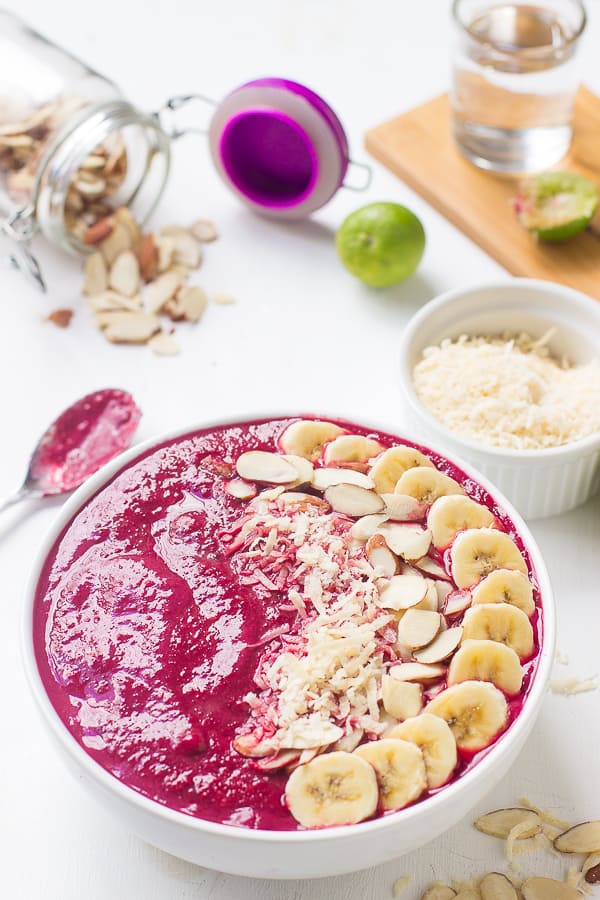 If you try this Banana Berry Beet Smoothie Bowl, please let me know in the comment section below, or tag me on instagram with the hashtag #jessicainthekitchen!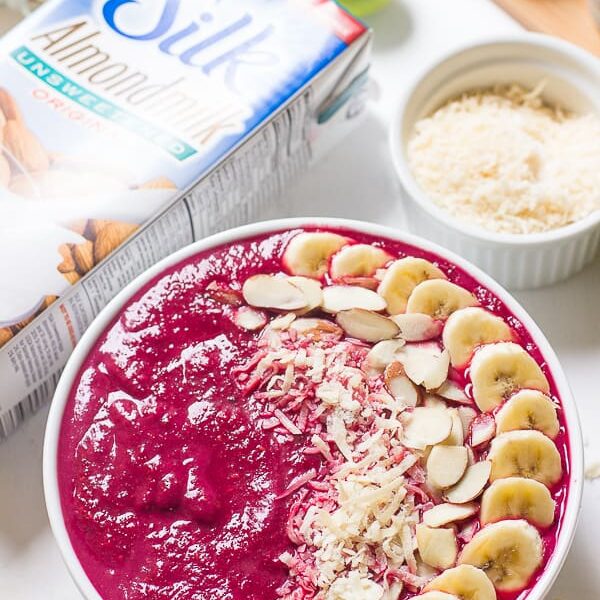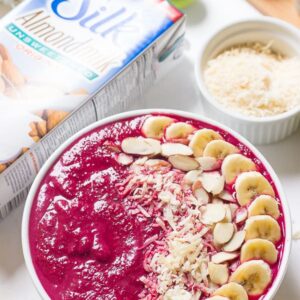 Banana Berry Beet Smoothie Bowl
This Banana Berry Beet Smoothie Bowl is a protein-packed, nutrient dense smoothie bowl perfect for post-workout with blood-purifying and anti-oxidant rich ingredients!
Ingredients
Smoothie Bowl:
3/4 cup chopped roasted beets
3/4 cup frozen raspberries
1/2 cup Silk Unsweetened Original Almondmilk
Juice of 2 small limes, about 1 tablespoon
1 scoop vegan sweet vanilla protein powder, see notes
1 tablespoon flax meal
1 ripe banana
Toppings (use any quantity desired)
Sliced Banana
Slivered Almonds
Shredded Coconut flakes
Instructions
Add all the smoothie bowl ingredients together into a high powered blender. Blend until smooth, about 10-20 seconds. Spoon into a bowl.

Add the toppings on top and any other toppings you desire. Eat immediately and enjoy!
Notes
This recipe is naturally vegan and gluten free.
HOW TO STORE SMOOTHIE BOWL: I would recommend eating this immediately, however you can store is by wrapping the top with saran wrap. I would not recommend freezing this smoothie bowl.
The protein powder I use https://perfectfitprotein.com/collections/frontpage/products/pfp-canisters?variant=1455491652
Calories: 508kcal, Carbohydrates: 95g, Protein: 16g, Fat: 15g, Saturated Fat: 4g, Sodium: 317mg, Potassium: 1576mg, Fiber: 23g, Sugar: 43g, Vitamin A: 218IU, Vitamin C: 88mg, Calcium: 289mg, Iron: 5mg
Disclaimer: Although jessicainthekitchen.com attempts to provide accurate nutritional information, kindly note that these are only estimates. Nutritional information may be affected based on the product type, the brand that was purchased, and in other unforeseeable ways. Jessicainthekitchen.com will not be held liable for any loss or damage resulting for your reliance on nutritional information. If you need to follow a specific caloric regimen, please consult your doctor first.