Healthy Gluten Free Banana Bread
This Healthy Gluten Free Banana Bread is a tried and true banana bread! It's soft, moist, healthy and refined sugar free! I guarantee you'll love this!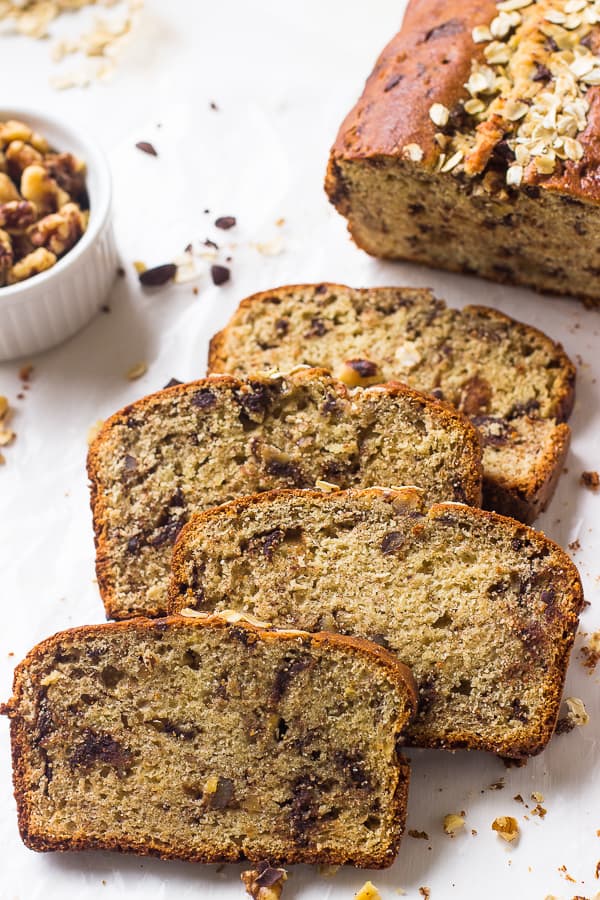 It's been quite the week for me in the kitchen. I caught the cooking bug and can't seem to stop cooking! One of the things I haven't done in a while was baking, and I made this banana bread not once, not twice, but three times ladies & gentlemen! Having a 3 year background in a baking business and catering, I have always found that while cooking is a lot more free form, baking is precise.
This is exactly why I made sure that I had to perfect this healthy banana bread recipe before sharing it with you, and then the baking monster in me made it three times because it is just that good. This bread is the answer to your prayers!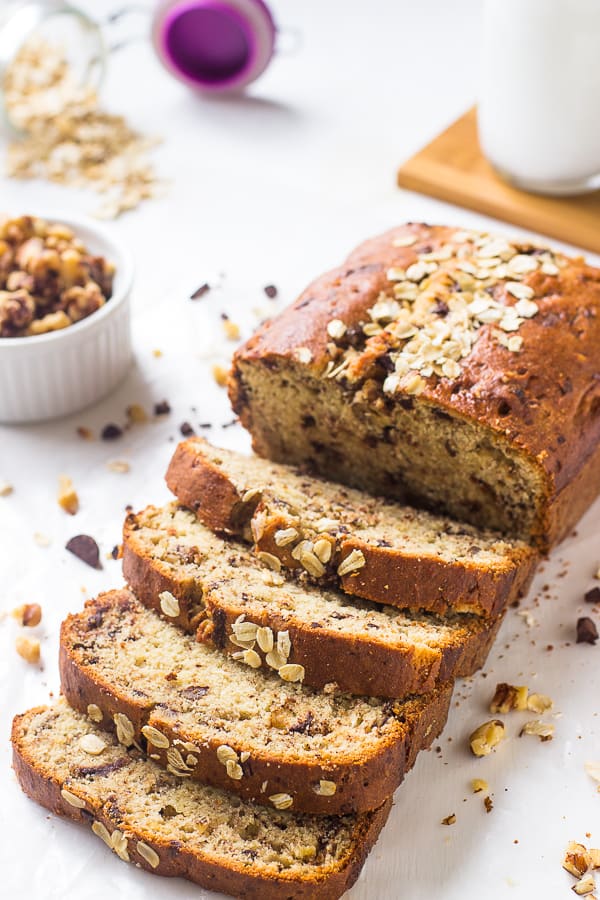 I have had a lot of readers request an easy gluten free banana bread from me, because, who doesn't want to have their banana bread (cake) and eat it too? Although I am now suitably comfortable with gluten free cooking and baking, it's always a challenge when using an old recipe and turning it into a gluten free recipe. You don't want it to "taste gluten free" and you want it to be able to compete with a regular banana bread. This definitely competes with my regular banana bread, which is the recipe I based this off of.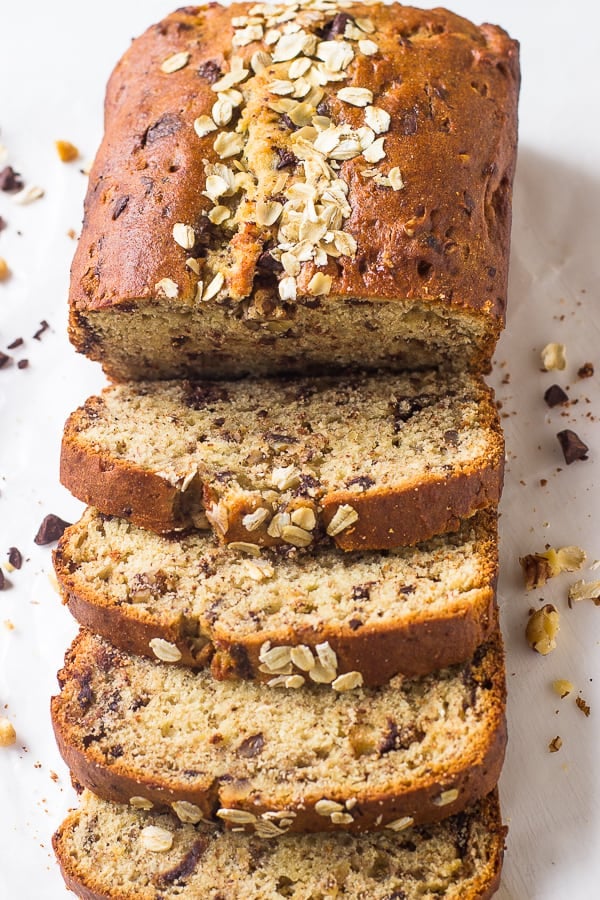 This bread bakes up absolutely beautiful. I love how fluffy it is. It has an excellent crust, and if you're like my dad, you love a great crust on a banana bread. In fact, he was one of my original recipe testers for this dish, and I think his actions definitely proved his love for it, those actions being absolutely devouring his slice and proceeding unto a second slice immediately. My husband, the anti-dessert eater, thoroughly enjoyed this too, going for a second slice. I'm pretty sure I've converted him by now, since he also devoured my gluten free doughnuts If these aren't compliments and proof, what is?!
The test of a great banana bread is the moist test. Yes, we all hate the word moist, but this bread is moist which is my favourite part. This is definitely thanks to the coconut oil and the greek yogurt. The banana flavour shines through despite the fact that there are two coconut ingredients in here, and all the unrefined ingredients simply compliment the banana. The walnuts and oats add a great soft crunch factor and the chocolate chips add even more creaminess. This healthy gluten free banana bread is definitely a winner in my books.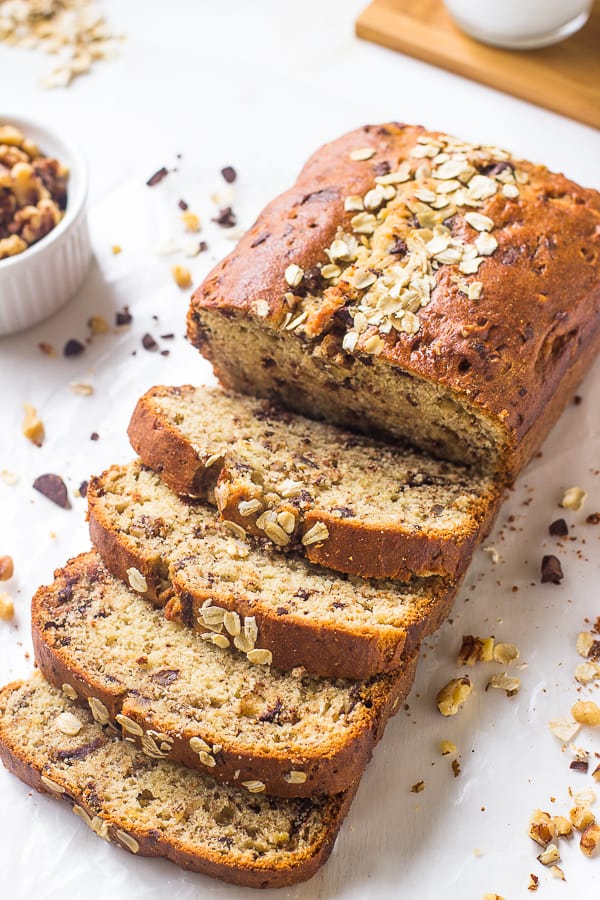 P.S. Here are some of the items I used to make this recipe if you'd like to use them too:
| WHAT YOU'LL NEED // SHOP MY FAVORITE INGREDIENTS & PREP PRODUCTS |


If you try this Easy Gluten Free Banana Bread please let me know in the comment section below, or tag me on instagram with the hashtag #jessicainthekitchen! For more exclusive recipes follow me on Instagram AND on Snapchat: jessinkitchen.
MORE GLUTEN FREE DESSERT RECIPES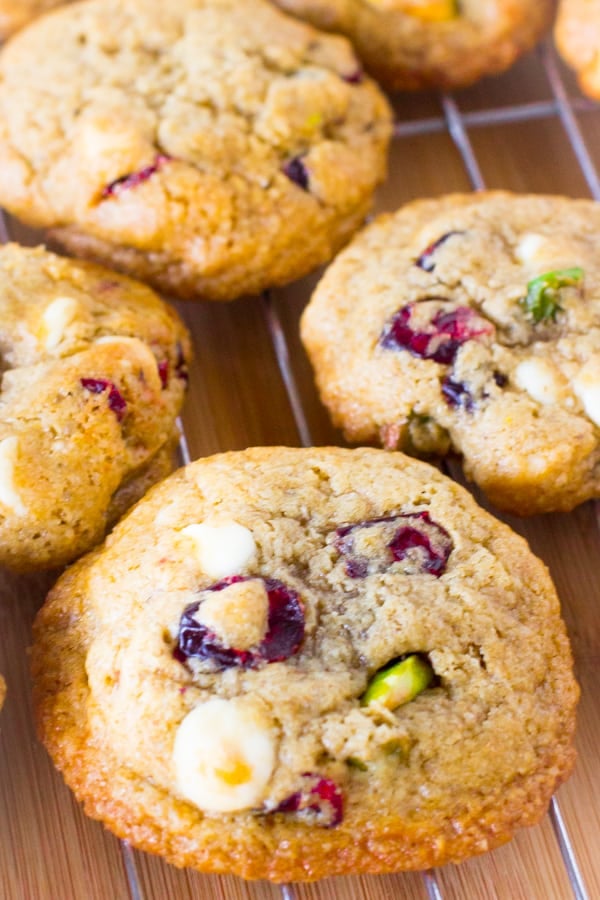 Flourless White Chocolate Cranberry Pistachio Cookies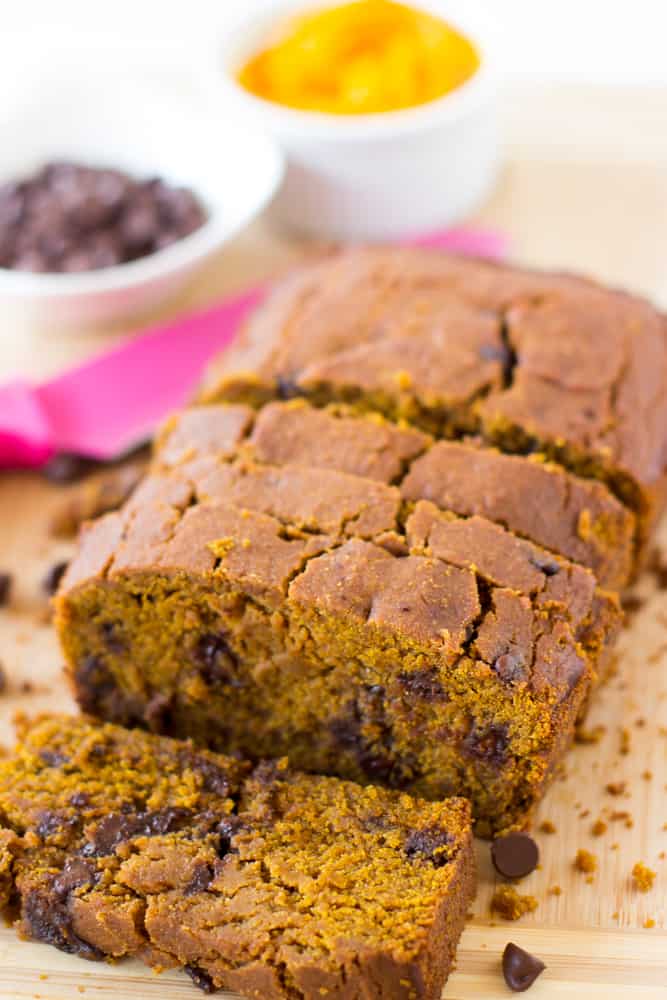 Vegan Pumpkin Chocolate Chip Bread (GF)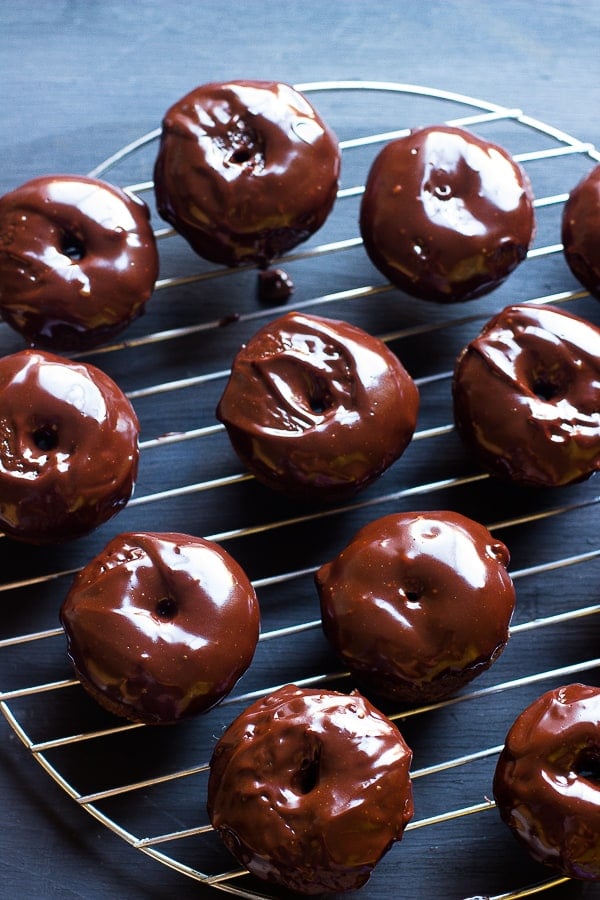 Baked Chocolate Cake S'mores Donuts
Gluten Free Delights Around the Web
Healthy No Bake Chocolate Macaroons by Gluten Free with L.B.
5 Ingredient Peanut Butter Cookies by Shockingly Delicious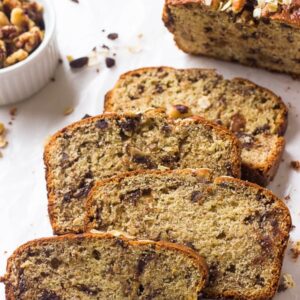 Gluten Free Banana Bread
This Healthy Gluten Free Banana Bread is a tried and true banana bread! It's soft, moist, healthy and refined sugar free! I guarantee you'll love this!
Ingredients
10 ounces Gluten Free Flour Mix, 284g
1 teaspoon baking powder
1/2 teaspoon baking soda
1 1/2 teaspoons xanthan gum
1/2 teaspoon sea salt
2 large eggs
1 cup coconut sugar, 175g
1/2 cup coconut oil
1/2 vanilla bean
1/2 cup greek yogurt
3/4 cup mashed bananas, very ripe bananas
1/2 cup chocolate chips
1/2 cup chopped walnuts
GF certified oats, such as Bob's Red Mill , for topping
Instructions
Preheat the oven to 350°F degrees. Flour and butter/prepare your 9 x 5 banana bread pan. Set aside.

In a medium sized bowl, sift the gluten free flour mix, baking powder, baking soda, xanthan gum and sea salt and whisk to combine.

In a mixer attachment bowl, add the eggs, sugar and coconut oil. Mix together for about 2 minutes on medium-low speed.

Scrape the vanilla bean and add to the mixture. Add the greek yogurt and the mashed bananas and mix everything together for 2 more minutes on medium low speed, scraping down the sides and bottom to ensure everything is combined.

Add in ½ of the dry ingredients mixture, combine for 30 seconds, and then add in the rest of the dry ingredients mixture. Mix again for another 30 seconds, ensuring everything is combined.

Remove bowl from mixer and fold in the chocolate chips and chopped walnuts into the batter until evenly distributed. The batter should be very thick.

Add the batter to the banana bread pan and use your spatula to smooth down the top. Sprinkle some oats on top.

Bake the banana bread on the top shelf of your oven for 55-60 minutes, until a toothpick comes out with a few crumbs. You don't want it to come out clean, so watch your banana bread from about 50 minutes depending on your oven.

Remove from oven and allow to cool for 10 minutes in pan. Transfer the bread to a wire rack by placing the wire rack on top of the bread, then holding the sides of the pan and flipping it over and removing the pan. Hold the sides of the bread to turn right side up. You can also turn the pan over into your hand, and then flip right side up and place on a wire rack.

Allow the bread to cool completely. Slice as desired. Enjoy!
Notes
You can leave out the chocolate chips.
TO MAKE THIS VEGAN
You can use flax eggs Learn how to make a flax egg , and vegan greek yogurt or thick coconut cream in place of the greek yogurt. Ensure you use vegan chocolate chips
TO MAKE BANANA BREAD MUFFINS Make the batter, and pour into a prepared muffin dish. Bake for about 20-23 minutes.
HOW TO STORE BANANA BREAD After your banana bread has cooled completely, wrap in saran wrap. Place in a plastic zipped bag (remove the air) and store for up to 1 week on your container. Do not place in the fridge as they may dry it out.
HOW TO FREEZE BANANA BREAD If freezing, store as above, and then place in the freezer. Remove from the freezer when needed and thaw on the counter.
P.S. ensure that you use gluten free certified oats, or you can just leave the oats off!
Calories: 218kcal, Carbohydrates: 27g, Protein: 4g, Fat: 12g, Saturated Fat: 7g, Cholesterol: 21mg, Sodium: 171mg, Potassium: 70mg, Fiber: 3g, Sugar: 11g, Vitamin A: 36IU, Vitamin C: 1mg, Calcium: 46mg, Iron: 1mg
Disclaimer: Although jessicainthekitchen.com attempts to provide accurate nutritional information, kindly note that these are only estimates. Nutritional information may be affected based on the product type, the brand that was purchased, and in other unforeseeable ways. Jessicainthekitchen.com will not be held liable for any loss or damage resulting for your reliance on nutritional information. If you need to follow a specific caloric regimen, please consult your doctor first.