Baked Chocolate Cake S'mores Donuts
These Baked Chocolate Cake S'mores Donuts are a delicious gluten free chocolate donut sandwich with a toasted melty marshmallow and topped with a delicious chocolate glaze. You can't eat just one!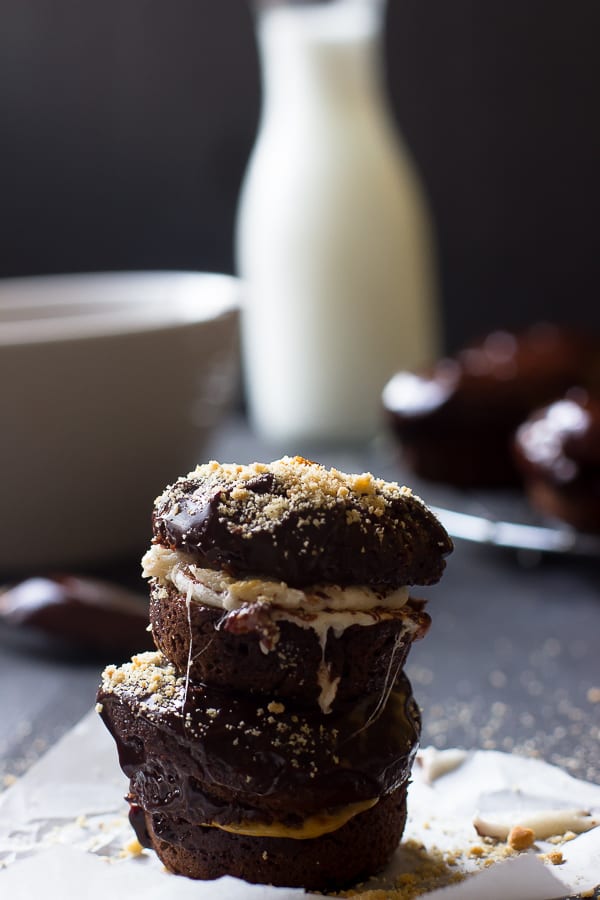 When was the last time I made dessert on the blog? Too long ago, that's for sure. So I thought, why not go big or go home? What's "bigger" than homemade donuts? These are baked, not fried, but every bite is absolutely amazing. These Baked Chocolate Cake S'mores Donuts were not only incredibly decadent and divine, they're also so easy to make and make making homemade donuts available for everyone. Let me take you right to these babies and how you can get your hands on them.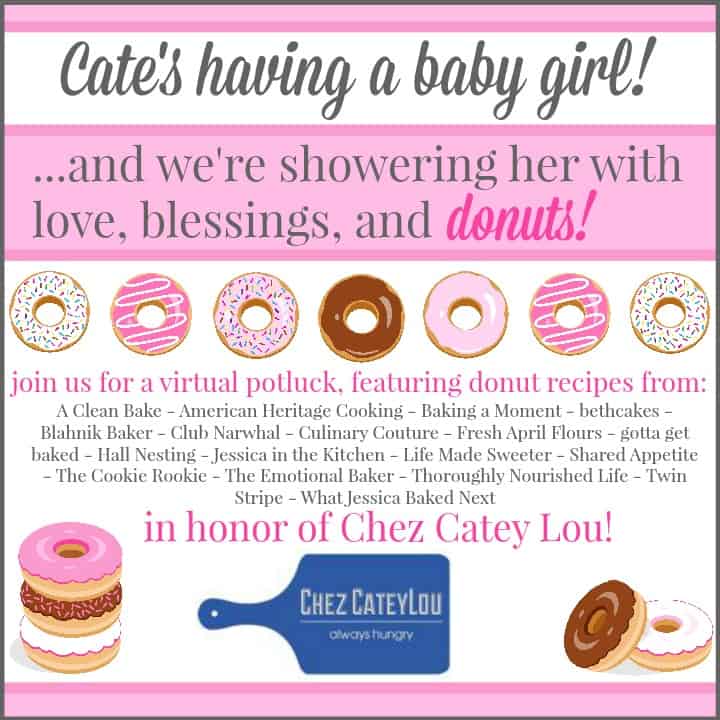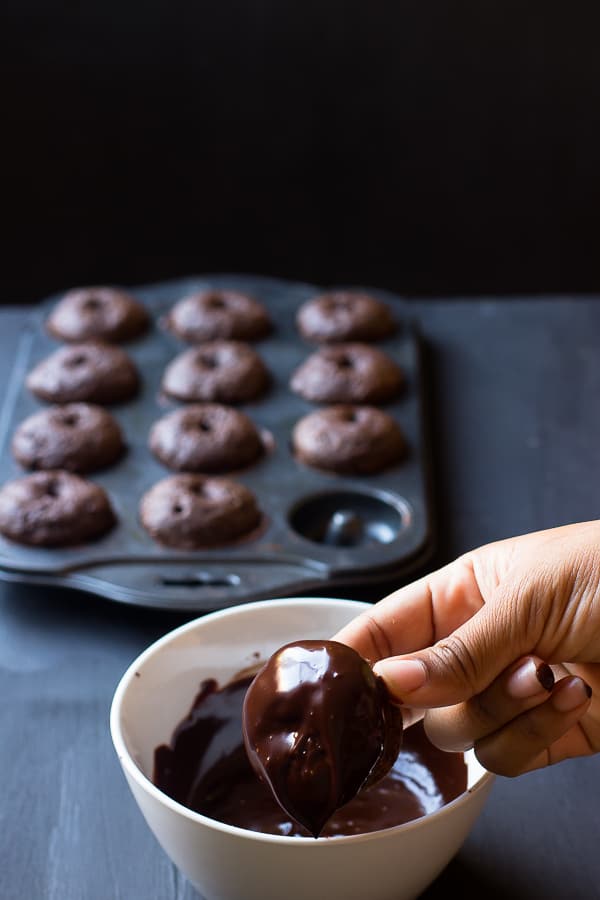 Surprise! Speaking of babies, this is a surprise baby shower post for Chez CateyLou !! Cate just celebrated three years of blogging so I can't think of a perfect time for this for double celebration. She blogs about beautiful baked goods and is soon due to give birth to her baby girl so make sure to check out her blog!! Also, don't forget to check out everyone's amazing recipes below in honour of her baby shower right before the recipe. Thanks to Zainab and Allie for hosting such an amazing baby shower! Cate, I'm wishing you the best for you and your hubby TheBetterHalf for your growing family!!
The theme for the baby shower is donuts, since Cate loves donuts, and I was absolutely in love with this theme. I've made donuts at home before, but I just followed a recipe. This was a great opportunity to do some serious research, trial and error, and try a recipe of my own. I'm so happy with how these Baked Chocolate Cake S'mores Donuts came out. P.S. – do you say donuts or doughnuts?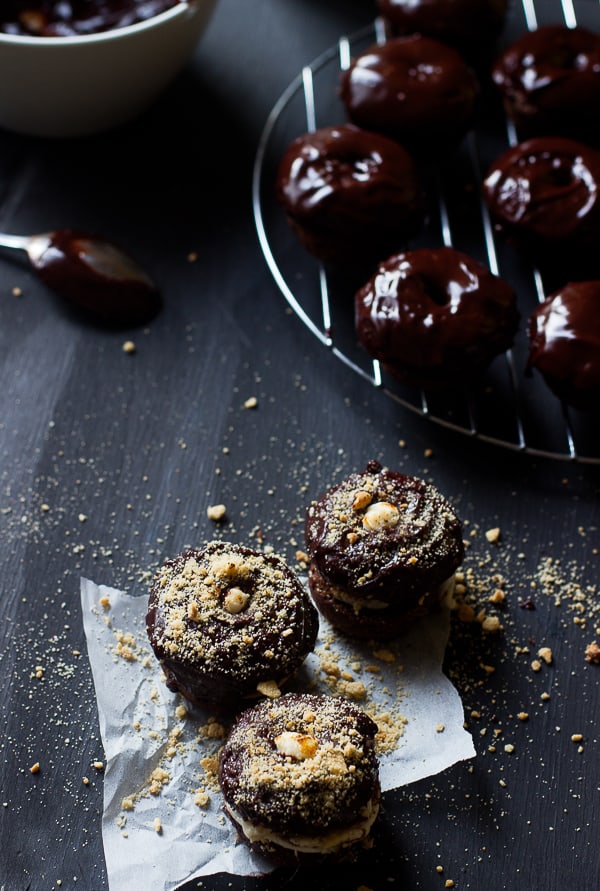 These donuts definitely taste like baked versions of your fried donuts. This means that they not only taste great, but are much less hassle. You get a super chocolate-y, melt in your mouth donut, with a toasted, melty runny marshmallows in the centre, the slight crunch of the graham crackers, and the addictive chocolate glaze all in one bite. I don't think it gets any better than this. These were very easy to make gluten free, and I actually think that lends itself to how soft and smooth these donuts are.
Ever since becoming a vegetarian, I've missed marshmallows. I found vegan marshmallows online and I really fell in love with them. Then I was browsing instagram and fell upon a photo from a vegan donut store called donutfriend that made a chocolate cake s'mores donut and I was like I NEED TO MAKE THIS. I do wish one day to taste one of their donuts, but for now, mine are doing pretty great.
If you enjoy soft donuts, gooey marshmallows, and a creamy chocolate glaze, these are the donuts for you.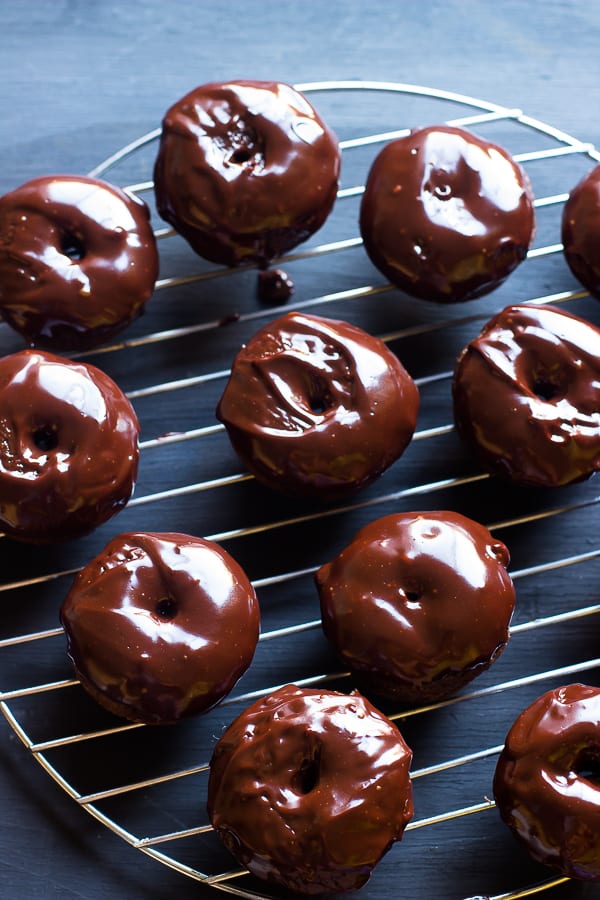 Don't forget to check out everyone's amazing donut recipes:
Baked Dark Chocolate Strawberry Donuts – Club Narwhal
Baked Lemon Donuts – What Jessica Baked Next
Biscoff Donuts – Baking a Moment
Chai Donuts – Fresh April Flours
Chocolate Cake S'mores Donuts – Jessica in the Kitchen
Chocolate Pretzel Donuts – The Emotional Baker
Coconut Matcha Donuts with White Chocolate Glaze – Blahnik Baker
Coffee and Donuts Breakfast Bake – The Cookie Rookie
Doughnut Tiramisu – bethcakes
GF Lemon Donuts with Raspberry Glaze – Thoroughly Nourished Life
Maple Glazed Donut Holes – Hall Nesting
Old Fashioned Sour Cream Cake Donuts – American Heritage Cooking
Paleo Chocolate Frosted Donuts – A Clean Bake
Raspberry Jam Filled Cupcakes – gotta get baked
Sausage, Egg, and Cheese Donut Breakfast Sandwich – Shared Appetite
Strawberry Margarita Oreo Donuts – Life Made Sweeter
Baked Mini Samoa Donuts – Culinary Couture
Donut Holes with Sweet Strawberry Dipping Sauce – Twin Stripe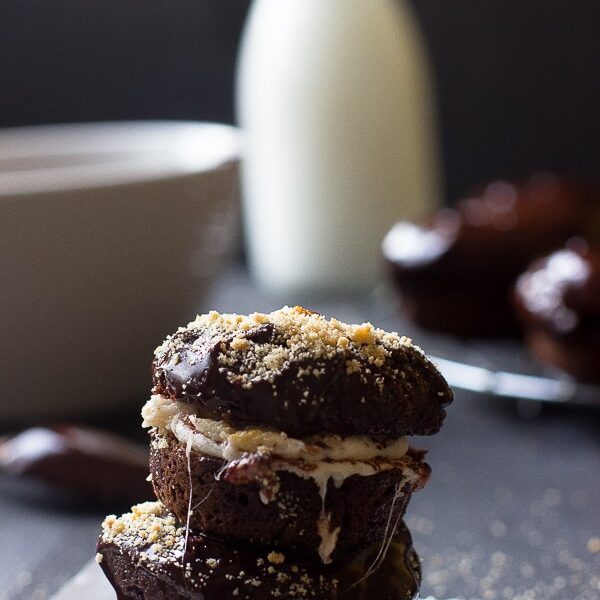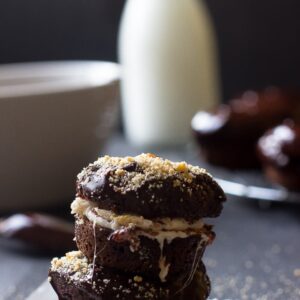 Chocolate Cake S'mores Donuts
These Baked Chocolate Cake S'mores Donuts are a delicious gluten free chocolate donut sandwich with a toasted melty marshmallow and topped with a delicious chocolate glaze. You can't eat just one!
Ingredients
1 cup AP gluten free flour mix, 136g
1/2 teaspoon xantham gum
1/4 cup unsweetened cocoa powder
1/2 cup unrefined raw brown sugar
1/4 teaspoon nutmeg
1 teaspoon baking powder
1/2 teaspoon baking soda
1/4 teaspoon sea salt
1 large egg, or egg replacement to make it vegan
1/2 cup unsweetened almond milk
3 tablespoons vegan butter, melted
1 teaspoon vinegar
1/2 tsp vanilla extract
Glaze:
2 tablespoons coconut milk, NOT cream
1/2 cup non-dairy chocolate chips
1-2 tsp maple syrup, optional - depending on your taste
Su0027mores toppings:
Enough vegan marshmallows for each doughnut, I use Dandies marshmallows
Crushed graham crackers
Instructions
Preheat oven to 350 degrees.

Spray a donut pan and set aside.

Add the almond milk and the vinegar together for two minutes until it begins to curdle. This gives the effect of buttermilk.

Mix the flour, xantham gum, cocoa powder, brown sugar, nutmeg, baking powder, baking soda and sea salt together in a mixing bowl.

In another bowl, mix the egg, vegan butter and vanilla extract. Add the almond milk and vinegar mixture and mix all together with a whisk.

Pour into the dry mixture and stir together with a wooden spoon until just combined and incorporated. The dough should be thick.

Add the batter to a piping bag, to a plastic zipped bag with the side cut and pipe the batter into the pan. You should fill the pan about ? full.

Bake for 9 minutes. Allow to cool for about 1 minute before removing donuts from the pan to allow them to pull from the edges easily. Place donuts onto a cooling rack to cool.
Glaze
While the donuts are baking, melt the chocolate chips for about 1- 1/2 minutes and stir until all are melted.

Mix in the coconut milk.

Taste, and add the maple syrup if you need to depending on your preferred taste.
Putting it all together
Slice the doughnuts in half and place a marshmallow on top of the bottom half. Place the bottoms on a silicone baking mat or parchment paper on a cookie sheet and into your oven. Broil until the marshmallows become toasted and fluffy. Remove and top with the top half of the donut. Sprinkle with crushed graham crackers.

Serve still warm on the same day.

Enjoy!
Notes
Store leftover donuts in an air tight container. Donuts taste best when warm, so if serving leftovers, warm them for a few seconds in the microwave or in the oven.
2. Donuts do not keep very long as leftovers. They do keep for at least 2 days.
3. You can have the donuts without the s'mores if you desire.
4. You can top the donuts with the glaze after the s'mores go into the centre, it's completely up to you. I prefer to put them on as soon as they come out of the oven so that they are dried by the time they the s'mores go into the centre. These Baked Chocolate Cake S'mores Donuts are a delicious gluten free chocolate donut sandwich with a toasted melty marshmallow and topped with a delicious chocolate glaze. You can't eat just one!
Calories: 117kcal, Carbohydrates: 17g, Protein: 2g, Fat: 5g, Saturated Fat: 2g, Cholesterol: 11mg, Sodium: 130mg, Potassium: 33mg, Fiber: 2g, Sugar: 9g, Vitamin A: 102IU, Calcium: 42mg, Iron: 1mg
Disclaimer: Although jessicainthekitchen.com attempts to provide accurate nutritional information, kindly note that these are only estimates. Nutritional information may be affected based on the product type, the brand that was purchased, and in other unforeseeable ways. Jessicainthekitchen.com will not be held liable for any loss or damage resulting for your reliance on nutritional information. If you need to follow a specific caloric regimen, please consult your doctor first.