Vegan Coconut Curry Lentil Soup
This coconut curry lentil soup is rich, creamy, hearty, and comforting. It's a quick and easy one-pot meal that's perfect for busy weeknights. Plus, it's vegan and packed with healthy ingredients.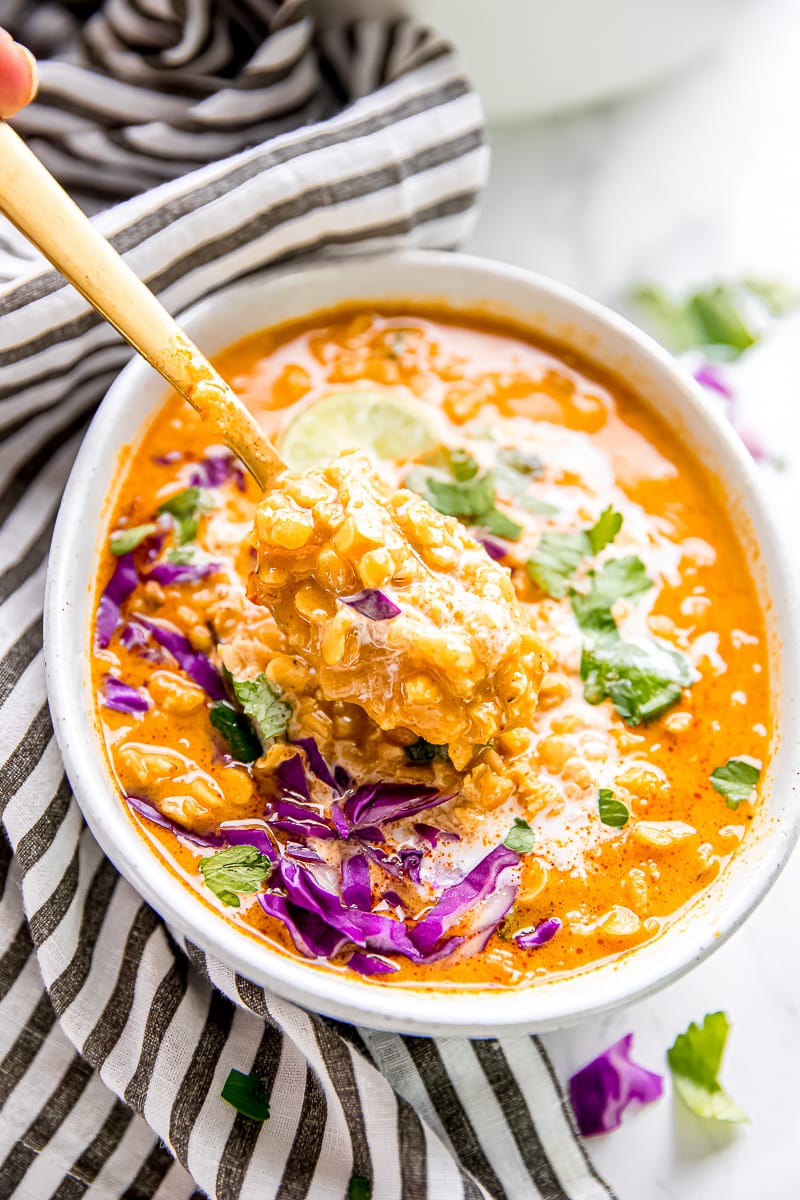 It's not exactly a secret that I'm a big fan of soup, especially once the weather starts to get cold. A big bowl of warm, hearty soup on a cold day is one of the most comforting things in the world. I've become a big fan of lentil soups, which are filling and healthy. This coconut curry lentil soup has quickly become one of my favorites, in part because it takes only 40 minutes and one pot to make.
This vegan soup is rich and creamy, thanks to lots of coconut milk in the broth. But it's also full of strong flavors like ginger, garlic, curry paste, and soy sauce. This healthy soup is a weeknight staple in my kitchen during the colder months, and I'm excited for you to make it.
Notes on Ingredients
Here are the ingredients that you'll need to make coconut curry lentil soup. Scroll to the recipe card at the bottom of the article to see the exact amounts.
Sesame oil
Grated ginger – This is an important ingredient, so be sure to use fresh ginger.
Red curry paste
Onion – Red onion is best for this recipe, but you can use a white or yellow onion if that's all you have.
Garlic
Sea salt
Black pepper – Fresh ground black pepper is best for this recipe.
Sugar – You can use coconut sugar or brown sugar.
Soy sauce – Liquid aminos or tamari are good substitutes for soy sauce.
Red lentils
Coconut milk – You can use full fat or low fat coconut milk.
Vegetable broth
Lime juice
Sambal oelek or sriracha – This is an optional ingredient.
Lime wedges – Lime wedges are an optional garnish.
Purple cabbage – Purple cabbage is also an optional garnish.
How to Make Coconut Curry Lentil Soup
Here's how to make this easy and healthy one pot soup.
Cook the curry and ginger. Heat sesame oil in a pan over medium high heat, then add the ginger and curry paste. Fry it in the oil while stirring for 1 minute.
Add the aromatics. Add the onion and garlic to the pan, and cook until the onion is a little translucent. This should take about 5 minutes.
Season. Add salt, pepper, sugar, and soy sauce to the pot, and stir to combine.
Add the lentils. Put the lentils in the pot and stir.
Add the liquid. Pour the broth and coconut milk into the pot, and bring to a boil. Once the liquid is boiling, reduce to a simmer, and cook until the lentils are cooked all the way through, while stirring occasionally. This should take about 20-30 minutes.
Squeeze in the lime. Add the lime juice to the soup, stir to combine, and turn off the heat.
Serve. Stir in the sambal oelek or sriracha, if you're using it. Add any toppings, then serve and enjoy.
Tips for Success
Here are a few different tips for making this healthy coconut curry lentil soup.
Use a homemade broth. For the best results, use a homemade vegetable stock rather than a store bought one. My recipe for vegetable broth made with veggie scraps is a great stock for this soup.
Cook the soup longer. One of the great things about this recipe is how quickly you can make it. You only need about 40 minutes! But if you have more time than that, you can extract even more flavor. This recipe calls for simmering the soup for 20-30 minutes, but if you simmer it longer than that, you'll get even stronger flavors.
Season at the end. When this recipe calls for seasoning the dish, go light on the salt. As you build the rest of the flavors, the sodium level can change. Different chicken stocks have different sodium levels, and the more you cook the soup the more intense the flavors will become. Taste the soup before serving, and then add more salt if it's needed.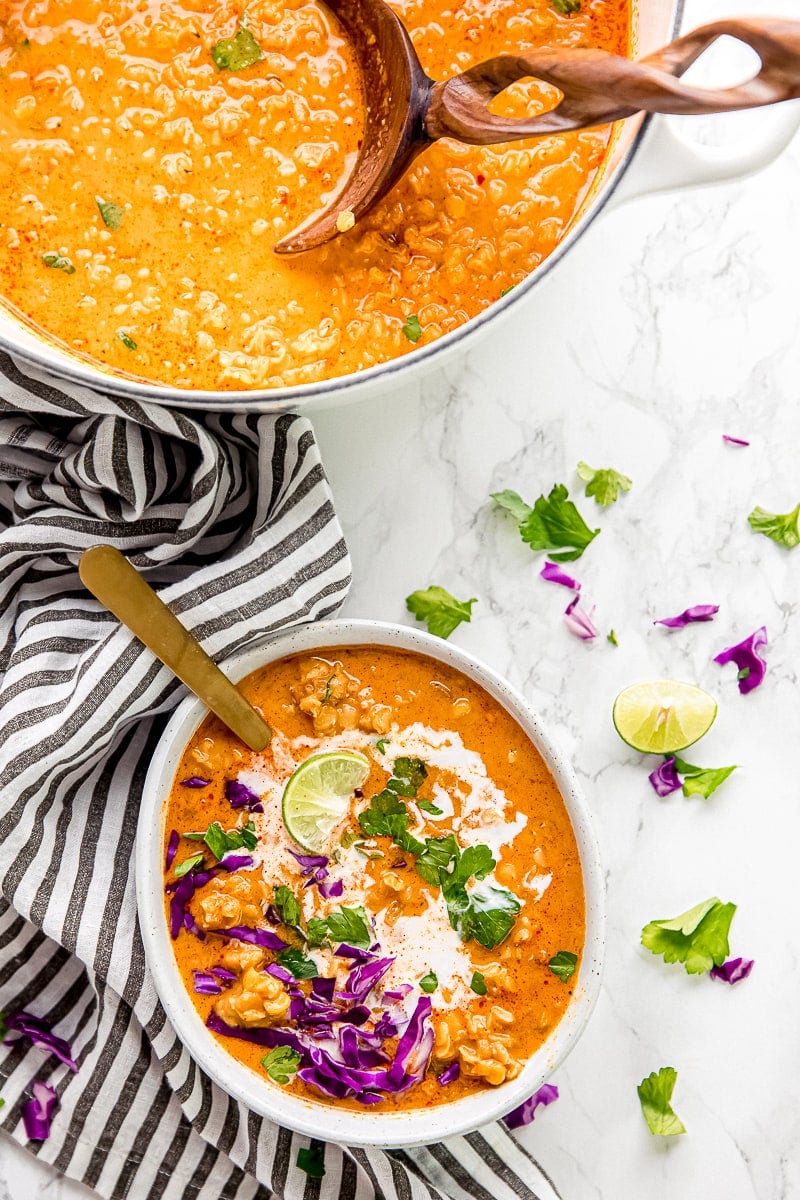 Serving Suggestions
This vegan coconut curry lentil soup goes with so many different things. Here are a few of my favorite foods to serve with it.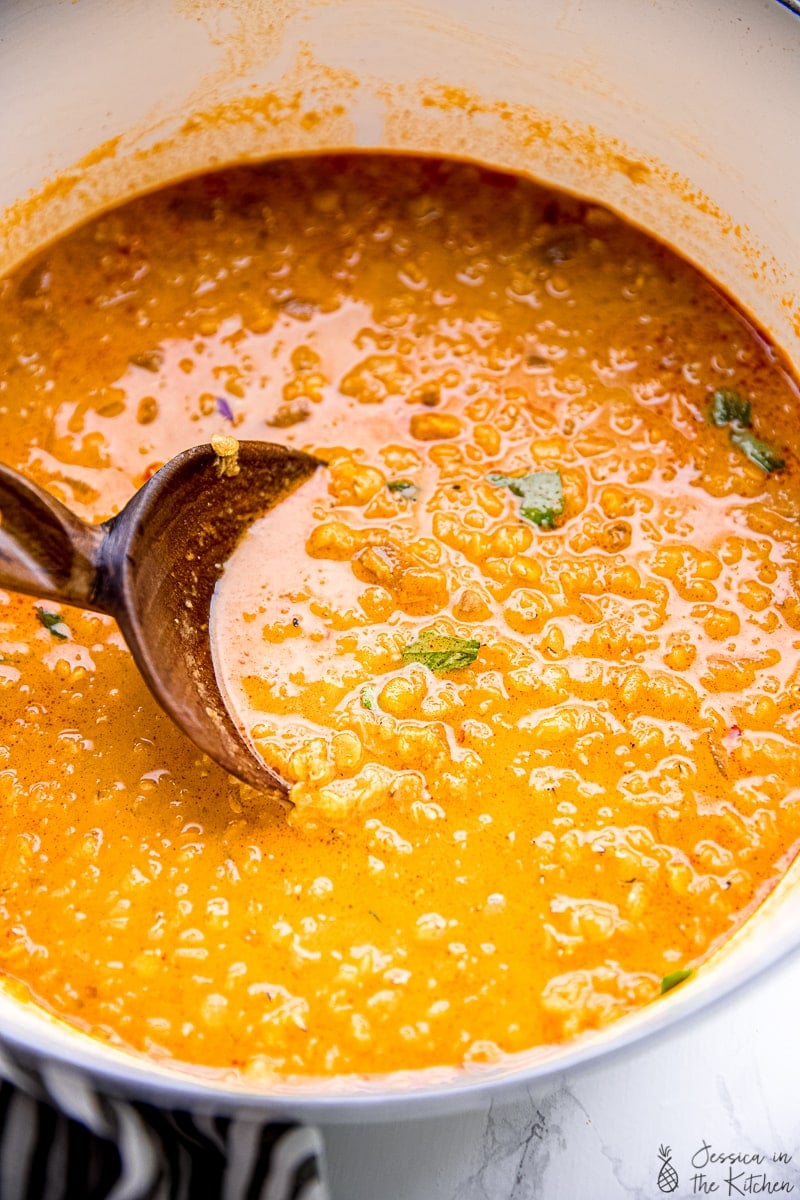 How to Store and Reheat Coconut Curry Lentil Soup
This hearty and healthy vegan soup will last in the fridge for up to 5 days. Just make sure that you store it in an airtight container. To reheat the soup, heat it over medium heat on the stove until warm all the way through, about 5-6 minutes.
Can I Freeze This Recipe?
You can definitely freeze this coconut curry lentil soup recipe. Just put the soup in an airtight container, and it will last in the freezer for 3 months. Thaw in the fridge or defrost in the microwave before reheating.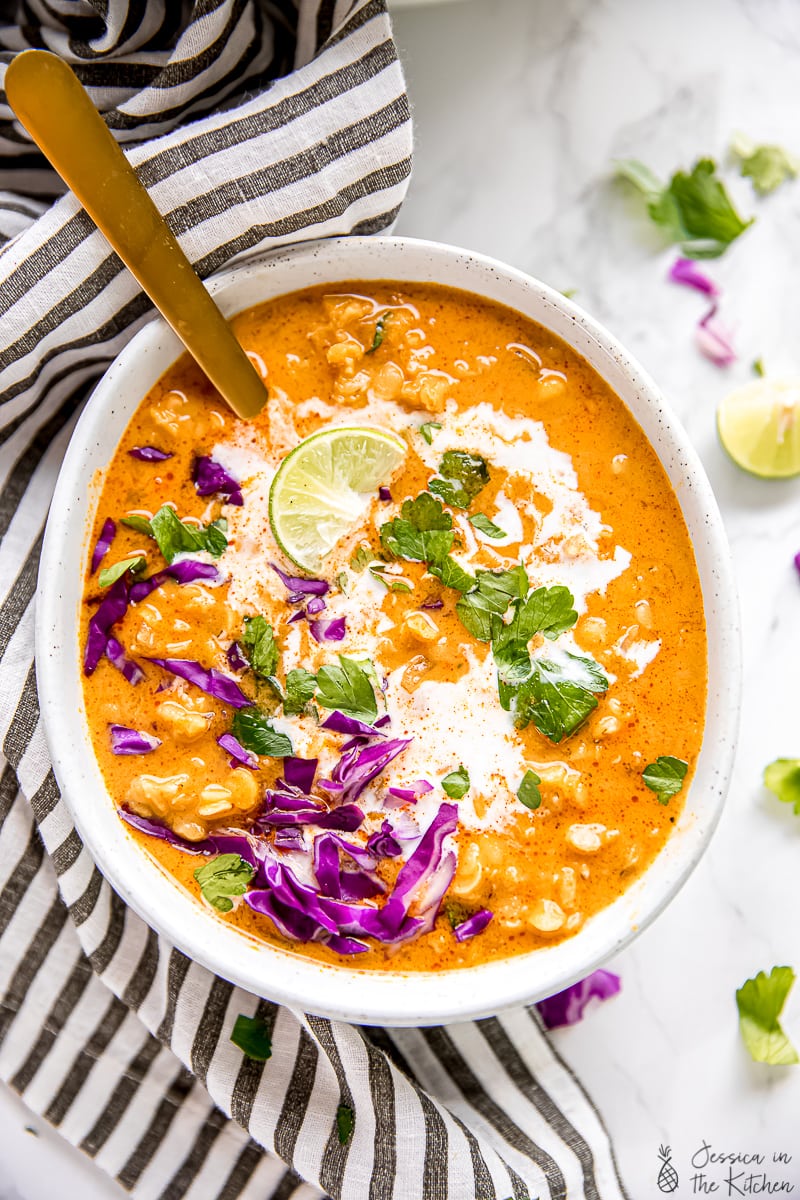 More Recipes With Lentils
Here are a few of my other favorite recipes that have lentils in them.
Enjoy friends! If you make this coconut curry lentil soup, please snap a photo and tag #jessicainthekitchen on Instagram! We'd also love it if you would leave a comment below, and give the recipe a rating! Thanks so much!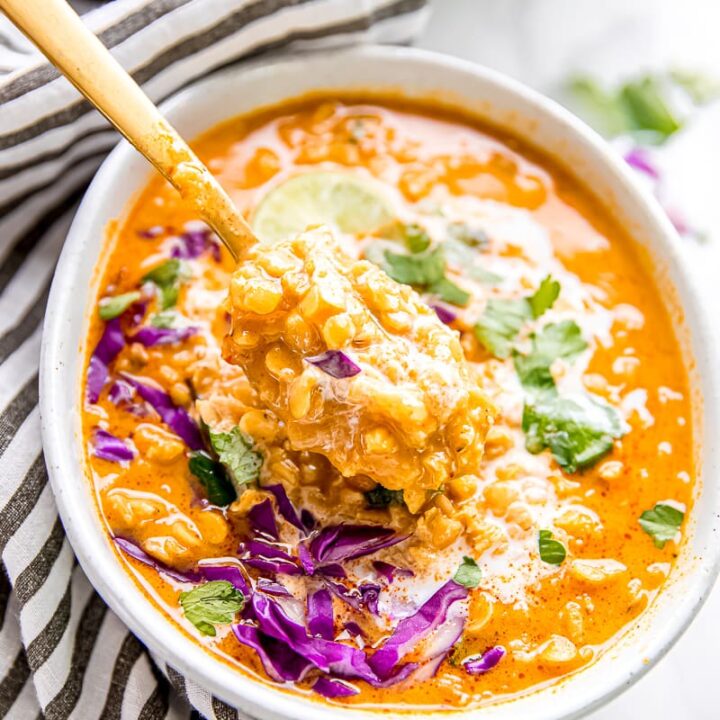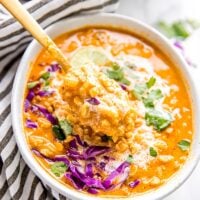 Vegan Coconut Curry Lentil Soup
This vegan coconut curry lentil soup is as full of flavor as it is healthy. It's creamy, rich, spicy, and packed with lentils.
Ingredients
1 tablespoon sesame oil
1 teaspoon freshly grated ginger
2 tablespoons red curry paste, I use this vegan one
½ red onion
4 cloves garlic, minced
¼ teaspoon sea salt
¼ teaspoon ground black pepper
2 tablespoons sugar, brown or coconut sugar
1 tablespoon light soy sauce, or liquid aminos/gluten free tamari/coconut aminos
1 1/2 cups red lentils
1 13.5-ounce can coconut milk, (383g) (full fat or lite)
5 cups vegetable broth
juice of 1 lime
½ tablespoon sambal oelek or Sriracha, optional, for heat
Top with lime & chopped purple cabbage, optional
Instructions
Vegan Coconut Curry Lentil Soup
In a pan over medium high heat, heat the sesame oil. Add in the minced ginger and curry paste to fry it, stirring into the oil, for about 1 minute.

Add in the chopped onion and the garlic and cook until the onion is slightly translucent, about 5 minutes.

Place the sea salt, black pepper, coconut sugar, and soy sauce on top and stir everything together. Add in the lentils and stir again.

Add in the coconut milk and the veggie broth. Bring the soup to a boil and then lower to a simmer, allowing to simmer for about 20 to 30 minutes, until your lentils are fully cooked through. Stir the soup occasionally. You can let it simmer even more if desired.

Squeeze the lime over, stir, and then remove from heat. Taste and add more salt if needed.

Add in any of the optional add ins/toppings. Stir in the sambal oelek (or Sriracha) or scotch bonnet pepper sauce if using.

Enjoy!
Notes
Store in an airtight container in the fridge for up to 5 days, or in the freezer for up to 3 months.
Calories: 166kcal, Carbohydrates: 28g, Protein: 9g, Fat: 2g, Saturated Fat: 0.4g, Polyunsaturated Fat: 1g, Monounsaturated Fat: 1g, Sodium: 810mg, Potassium: 355mg, Fiber: 11g, Sugar: 6g, Vitamin A: 923IU, Vitamin C: 6mg, Calcium: 32mg, Iron: 3mg
Disclaimer: Although jessicainthekitchen.com attempts to provide accurate nutritional information, kindly note that these are only estimates. Nutritional information may be affected based on the product type, the brand that was purchased, and in other unforeseeable ways. Jessicainthekitchen.com will not be held liable for any loss or damage resulting for your reliance on nutritional information. If you need to follow a specific caloric regimen, please consult your doctor first.