Vegan Coconut Curry Lentil Soup
This Vegan Coconut Curry Lentil Soup is packed with amazing lentils simmering in a rich and creamy curry broth. The perfect one-pot meal! Great for lunches at work and also busy weeknights!

Friends, let's go on a wild road. This Coconut Curry Lentil Soup has got to be one of my favourite things I've ever eaten, ever. That's a lot of "evers" so you know it's real. I'm not a leftover girl, and I easily ate this for several days. The comforting nature, the different flavour notes and the fact that I'm slowly but surely turning into soup lady all contributed to this. Let me share more about this amazing soup, and when you're done, go check your pantry, run to the supermarket and make this baby.
First, it's been surprisingly cool here. I don't remember when last we had such great weather, but the other night I went outside and it was so cold that it felt like the air conditioning was on. Pleasantly surprised by this and immediately inspired, the first words out of my mouth were "oh, this is for sure soup weather!". So what does soup lady do? Well, make soup of course. I've been wanting to find a way to incorporate more lentils into my diet because eating them plain on a salad just wasn't cutting it. Of course, I already have a divine and very popular lentil soup, but I was definitely feeling for a new type of lentil soup experience. In walks this dreamy, creamy, Coconut Curry Lentil Soup.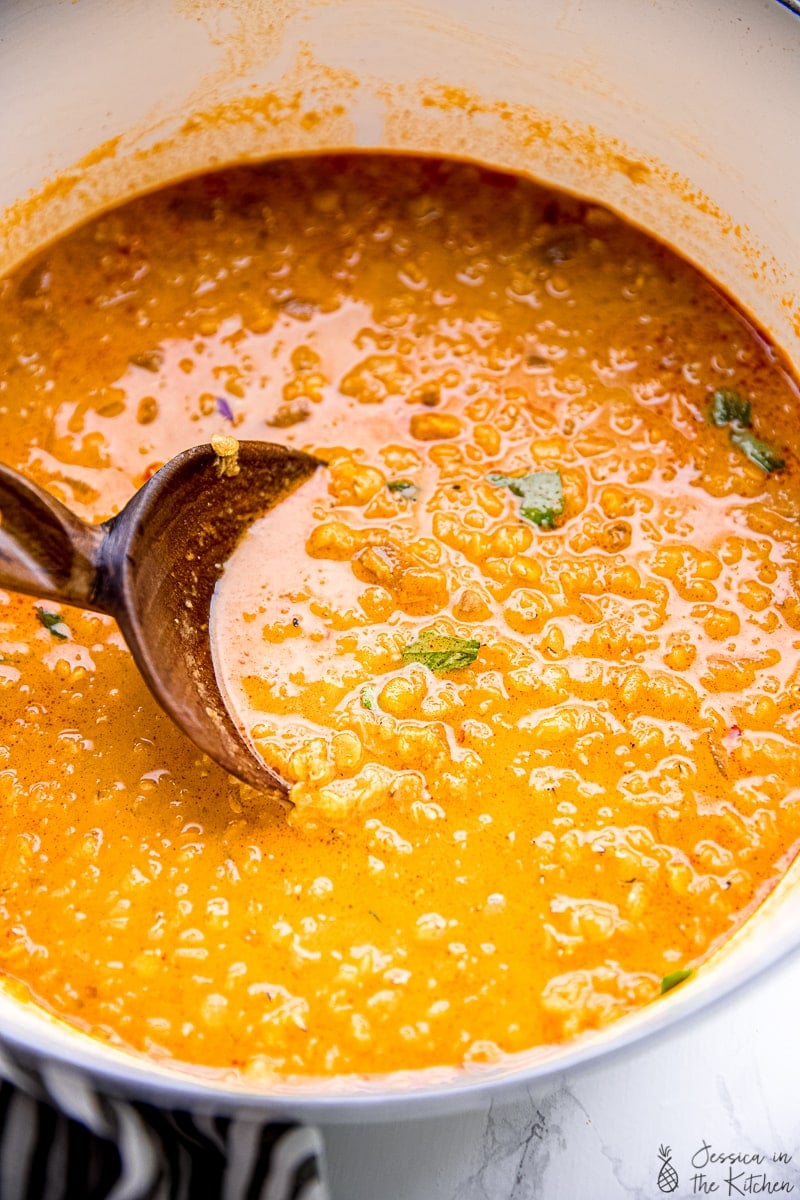 What does lentil soup taste like?
If I had to describe the amazing taste of this Vegan Coconut Curry Lentil Soup, I would go on for days. For your sake, I'll make it short. Lentils (a legume) itself tastes like a mix of a great pea with a bean. As a result, it's slightly peppery with a mix of earthy and creamy textures. The rich broth of curry flavours and spices are absorbed by the lentils, because of this, it adds to the taste of the legume! As if all of this wasn't enough, the richness of the coconut cream adds a smoothness that is unmatched.
Why is lentil soup amazing?
One of the things I really love about this soup is that it's a great guilt-free comfort food indulgence. The main reason is that it is packed with lentils, which are:
An excellent source of fibre. One cup of cooked lentils contain 16 grams of dietary fibre.
Lentils contain 90 percent of your recommended daily intake of folate, 37 percent of your iron, 49 percent of your manganese and 21 percent of your iron. Hello, nutrients!
Extremely filling. I especially love this since it's a great vegan protein source!

Lentil Soup FAQs:
What goes well with Vegan Coconut Curry Lentil Soup?
Lentil soups, in general, are extremely versatile. For a rich and thick soup like this one (or even my Easy Spiced Lentil Soup), your best bet is to pair it with something starchy that absorbs the flavour. It would also be good to pair the soup with a light dish such as a side salad.
Here are some recipes that are a personal favourite:
How to freeze lentil soup:
The good news is that this Lentil Soup freezes well! There are two main methods of freezing lentil soup.
The first method :
Chill your Vegan Coconut Curry Lentil Soup in the refrigerator for 30 minutes.
Ladle the chilled soup into your re-useable silicone bags (I love these Stasher bags) until half-filled
Remove all air from the stasher bag
lay flat side down in your freezer
The second method :
Place your Vegan Coconut Curry Lentil Soup in ice cube trays
Put ice trays in the freezer
Remove your iced soup from the trays and place in your saver bags halfway up
Push the air in bags
Lay flat side down in the freezer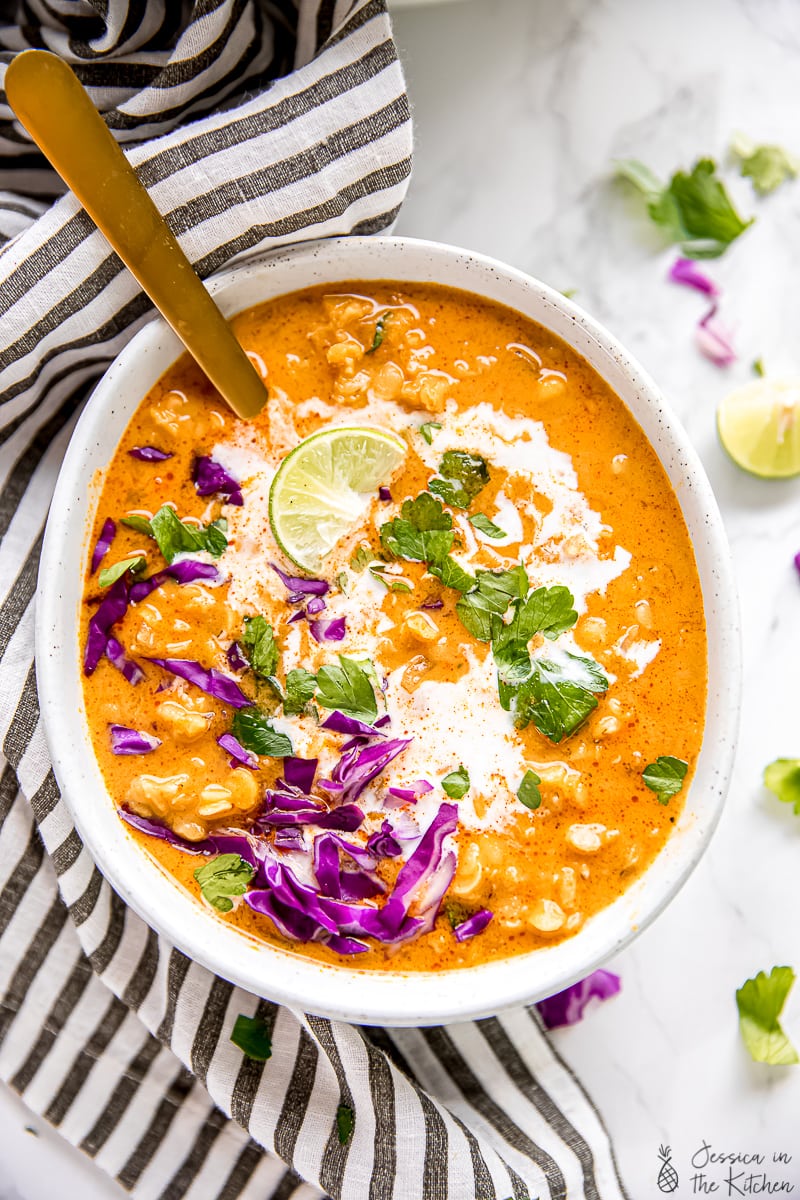 One thing is for sure that this soup is sure to please the tastebuds and the body. I can't wait for you to try this recipe, friends. Eat up and enjoy!
Related Recipes
Creamy Pumpkin Soup (Slow Cooker)
Creamy Tomato Soup with Cheesy Croutons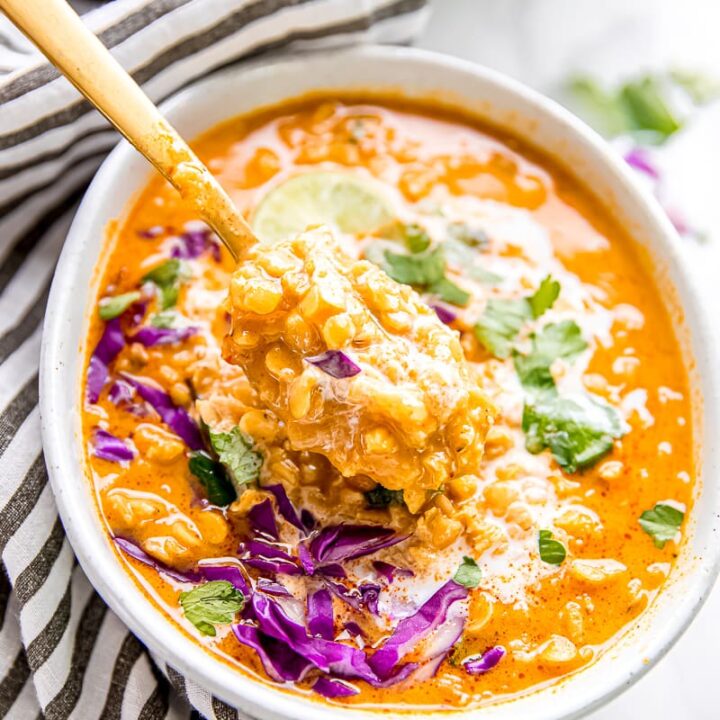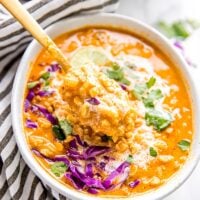 Vegan Coconut Curry Lentil Soup
This Vegan Coconut Curry Lentil Soup is packed with amazing lentils simmering in a rich and creamy curry broth. The perfect one pot meal! Great for lunches at work and also busy weeknights!
Ingredients
1 tablespoon sesame oil
1 teaspoon freshly grated ginger
2 tablespoons red curry paste - I use this vegan one
½ red onion
4 cloves garlic, minced
¼ teaspoon sea salt
¼ teaspoon ground black pepper
2 tablespoons sugar, brown or coconut sugar
1 tablespoon light soy sauce, or liquid aminos/gluten free tamari/coconut aminos
1 1/2 cups red lentils
1 can 13.5 ounce, 383g coconut milk (full fat or lite)
5 cups vegetable broth
juice of 1 lime
½ tablespoon sambal oelek or Sriracha, optional, for heat
Top with lime & chopped purple cabbage, optional
Instructions
Vegan Coconut Curry Lentil Soup
In a pan over medium high heat, heat the sesame oil. Add in the minced ginger and curry paste to fry it, stirring into the oil, for about 1 minute.

Add in the chopped onion and the garlic and cook until the onion is slightly translucent, about 5 minutes.

Place the sea salt, black pepper, coconut sugar, and liquid aminos on top and stir everything together. Add in the lentils and stir again.

Add in the coconut milk and the veggie broth. Bring the soup to a boil and then lower to a simmer, allowing to simmer for about 20 to 30 minutes, until your lentils are fully cooked through. Stir the soup occasionally. You can let it simmer even more if desired.

Squeeze the lime over, stir, and then remove from heat. Taste and add more salt if needed.

Add in any of the optional add ins/toppings. Stir in the sambal oelek (or Sriracha) or scotch bonnet pepper sauce if using.

Enjoy!
Notes
OIL-FREE: yes you can make this oil-free, just use 2 tablespoons extra veggie broth instead of oil.
FISH FREE CURRY PASTE: Many curry pastes have fish sauce in there. Be sure to check yours to ensure it's vegan. This is the one I use! I stock up on many at a time :).
Calories: 223kcal, Carbohydrates: 24g, Protein: 9.5g, Fat: 9.4g, Sodium: 771.7mg, Fiber: 5.7g, Sugar: 3g
Disclaimer: Although jessicainthekitchen.com attempts to provide accurate nutritional information, kindly note that these are only estimates. Nutritional information may be affected based on the product type, the brand that was purchased, and in other unforeseeable ways. Jessicainthekitchen.com will not be held liable for any loss or damage resulting for your reliance on nutritional information. If you need to follow a specific caloric regimen, please consult your doctor first.