Gentle Morning Kitchari (One Pot, Vegan, GF)
This Gentle Morning Kitchari is loaded with protein to help start your day off right! It's flavourful, warming, comforting and so easy to make in one pot!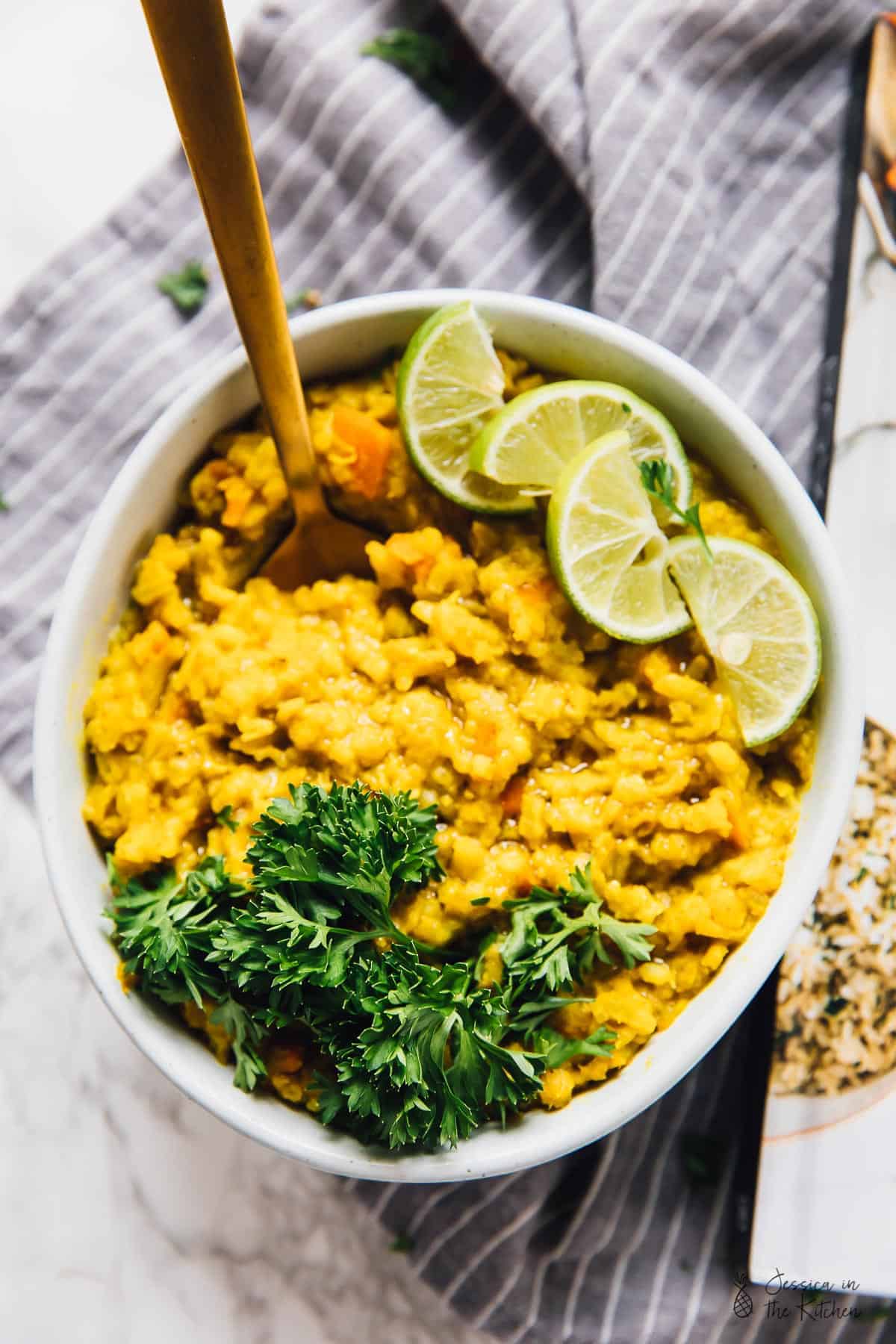 Today is a very different but similar post in that today – we're making a recipe from my good friend Gena's cookbook – Power Plates!! I'm not only going to give you the recipe for this amazing Kitchari, but also an overall review of Gena's book!
So, Power Plates is an all vegan cookbook by Gena from The Full Helping that's jam packed with 100 recipes. My first impression of this book was how gorgeous the photos and the style was! It gets better when you realise the plethora of recipes in this book really makes your mouth water, and covers every category.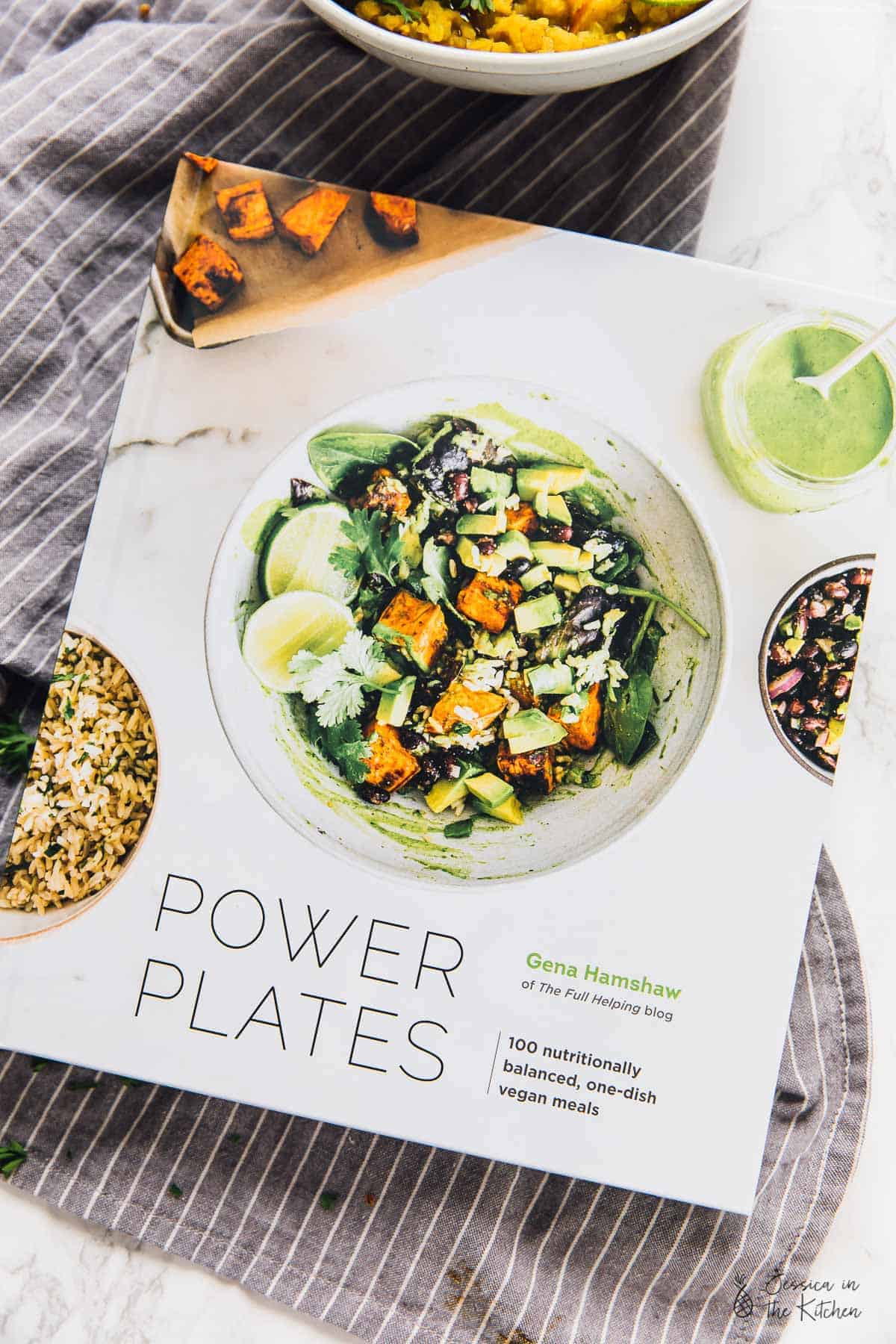 From Every Day Breakfast Tostadas to Curried Jamaican Stew to Balsamic-Glazed Tempeh and Vegetables Over Soft Polenta (good grief!) to Sweet Potato Nacho Fries, I mean, Gena you hit it out of the park! I love that she even has meal plans broken down by seasons and by doing so takes the guesswork out of it for you. I love this book from start to finish and highly recommend it!
Kitchari is a popular Indian dish made with dahl and rice that is actually well known for its uses in an Ayurvedic cleanse. A few days before I made this actually, a blogger I follow did a four day Kitchari cleanse where all she ate was Kitchari. This made me even more curious to give this recipe from Gena's cookbook a try, and friends, it didn't disappoint.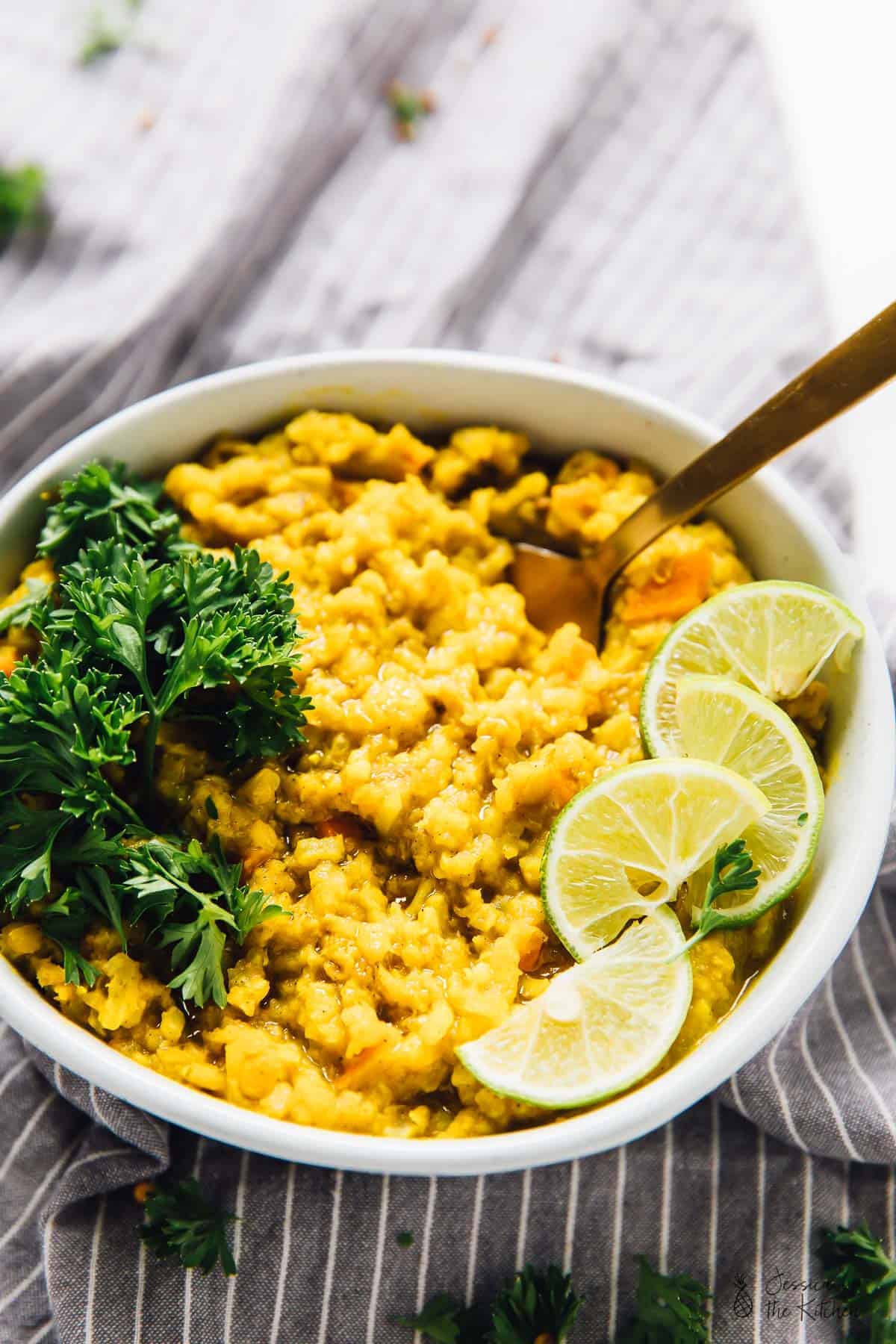 This doesn't taste like what people would tell you "detox" food tastes like. It's warm, comforting, flavourful and is almost like having a savoury rice porridge for breakfast. My husband loves rice, so that's especially why I tried this dish out. He had this everyday, twice a day until we finished it, and we both loved it. I add a squeeze of lime to everything and I definitely did that there, which only enhanced the already amazing flavour that was there.
The best thing about this dish? You don't need to serve it with anything if you don't want to. I had it by itself, and it's the perfect combination of carbs and protein in the morning to get your day started.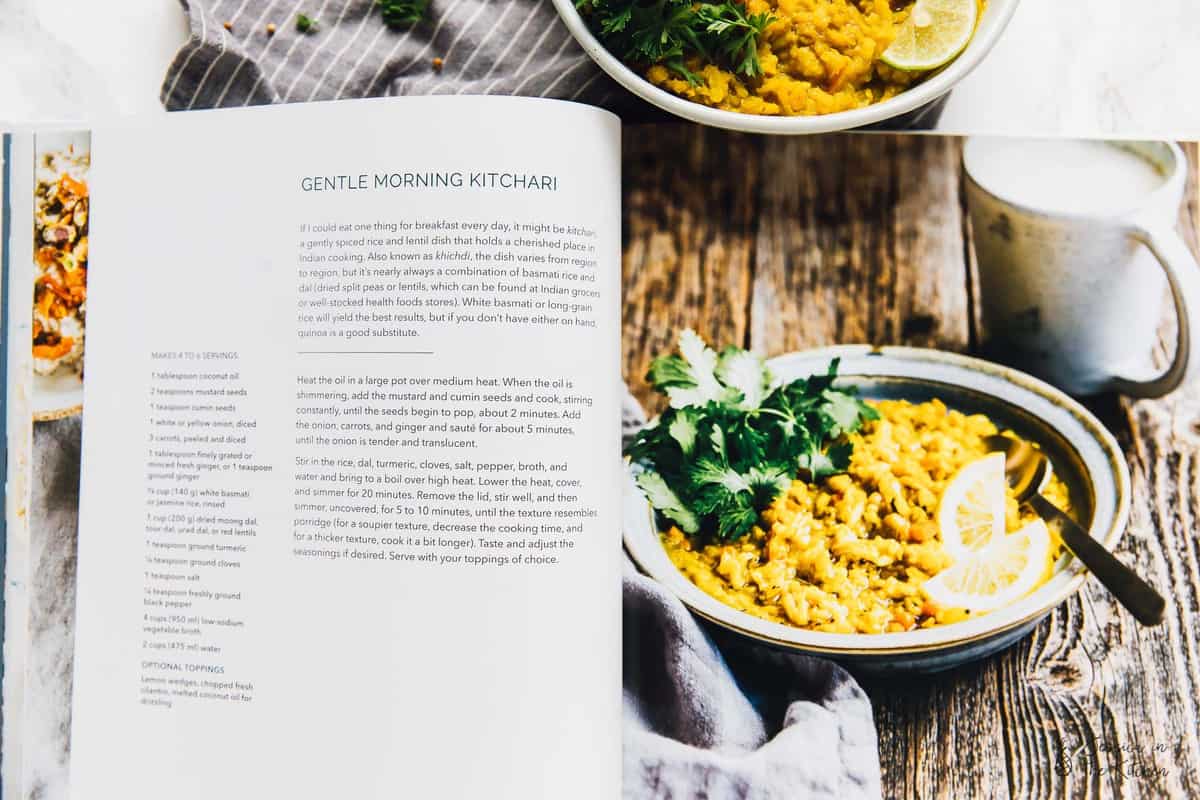 I hope you enjoy friends and be sure to check out Gena's book Power Plates and her blog, The Full Helping too!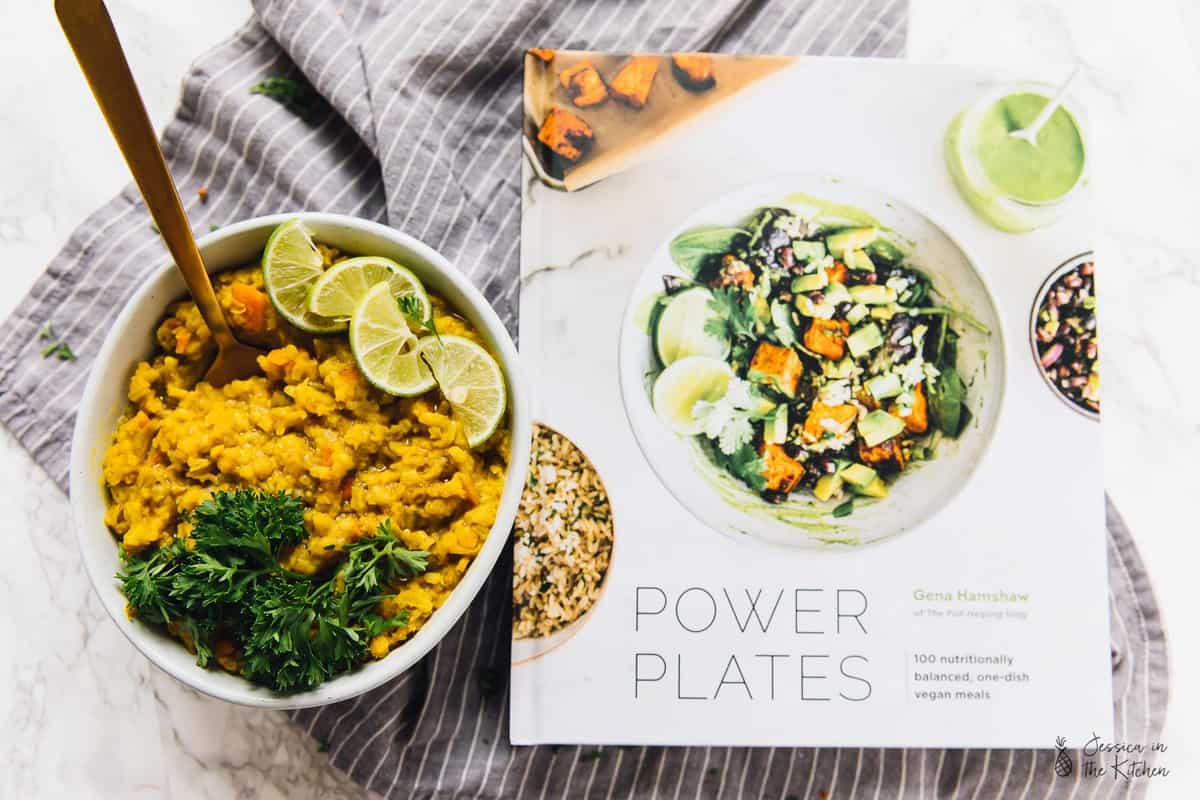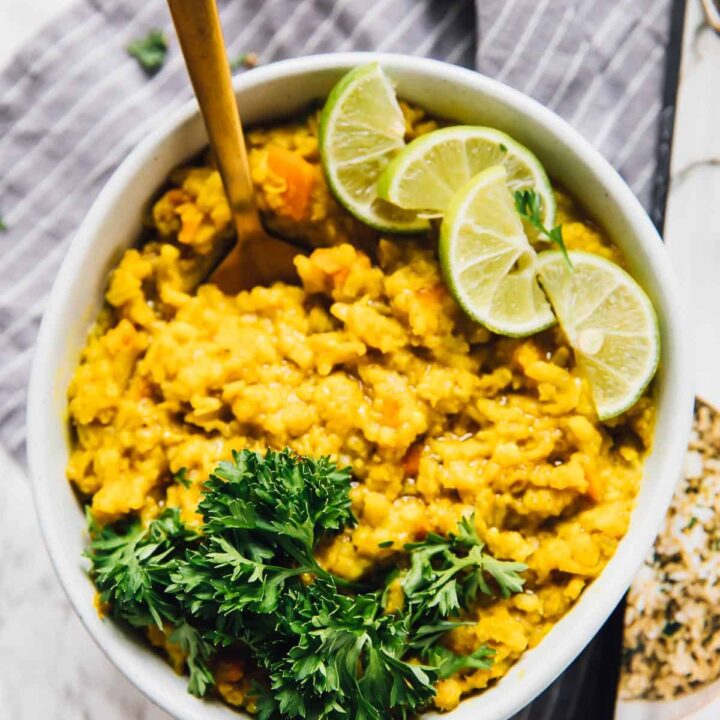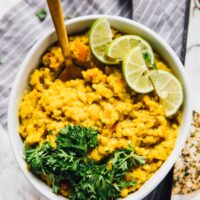 Gentle Morning Kitchari (One Pot, Vegan, GF)
This Gentle Morning Kitchari is loaded with protein to help start your day off right! It's flavourful, warming, comforting and so easy to make in one pot!
Ingredients
1 tablespoon coconut oil
2 teaspoons mustard seeds
1 teaspoon cumin seeds
1 white or yellow onion, diced
3 carrots, peeled and diced
1 tablespoon finely grated or minced fresh ginger, or 1 teaspoon ground ginger
¾ cup white basmati or jasmine rice, rinsed, 140g
1 cup dried moong dal, toor dal, urad dal, or red lentils, 200g
1 teaspoon ground turmeric
¼ teaspoon ground cloves
1 teaspoon salt
¼ teaspoon freshly ground black pepper
4 cups low-sodium vegetable broth, 950ml
2 cups water, 475ml
Optional Toppings
lemon wedges, copped fresh cilantro, melted coconut oil for drizzling
Instructions
Heat the oil in a large pot over about medium heat. When the oil is shimmering, add the mustard and cumin seeds and cook, stirring constantly, until the seeds begin to pop, about 2 minutes. Add the onion, carrots, and ginger and sauté for about 5 minutes, until the onion is tender and translucent.

Stir in the rice, dal, turmeric, cloves, salt, pepper, broth, and water and bring to a boil over high heat. Lower the heat, cover, and simmer for 20 minutes. Remove the lid, stir well, and then simmer, covered, for 5 to 10 minutes, until the texture resembles porridge (for a soupier texture, decrease the cooking time, and for a thicker texture, cook it bit longer). Taste and adjust the seasonings if desired. Serve with your toppings of choice.
Calories: 373kcal, Carbohydrates: 66g, Protein: 16g, Fat: 5g, Saturated Fat: 3g, Sodium: 620mg, Fiber: 17g, Sugar: 5g
Disclaimer: Although jessicainthekitchen.com attempts to provide accurate nutritional information, kindly note that these are only estimates. Nutritional information may be affected based on the product type, the brand that was purchased, and in other unforeseeable ways. Jessicainthekitchen.com will not be held liable for any loss or damage resulting for your reliance on nutritional information. If you need to follow a specific caloric regimen, please consult your doctor first.