Gentle Morning Kitchari (One Pot, Vegan, GF)
This gentle morning kitchari is a warm and comforting dish to start your day on the right foot. It's super healthy and packed with protein, so you can be energized as you head into your day.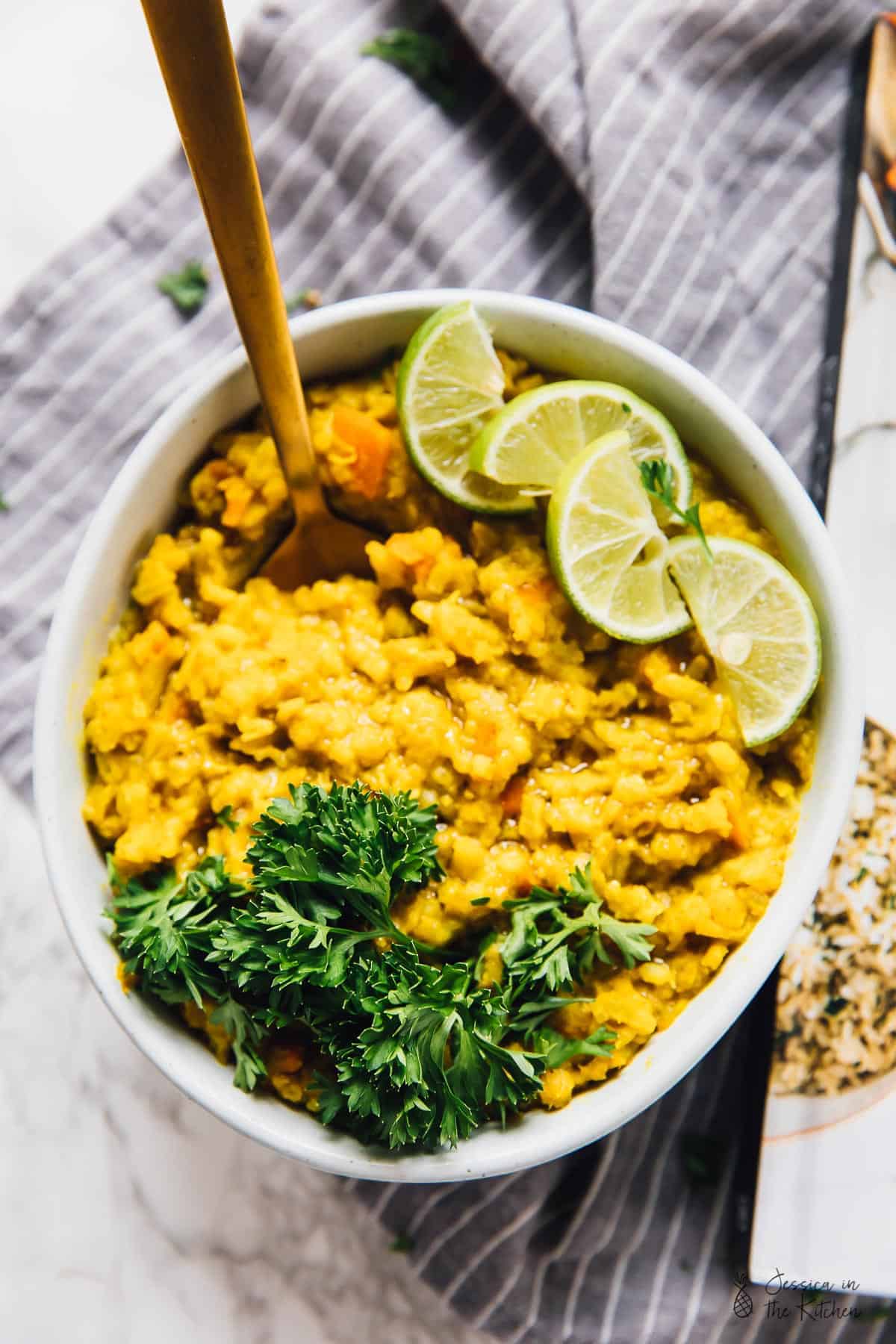 Gentle morning kitchari is one of my favorite recipes for starting the day. Lentils and rice are mixed with lots of healthy spices and veggies, like turmeric, cloves, ginger, and carrots. It has a texture similar to porridge, which makes it a comforting breakfast dish. But because it's so healthy, it will really kickstart your day.
I learned about kitchari from the cookbook "Power Plates," which was written by my friend Gena. It's an Indian dish that's commonly used in Ayurvedic healing, and I can understand why. It makes your body feel like you've been detoxed, but it tastes like something you'll want to make over and over again!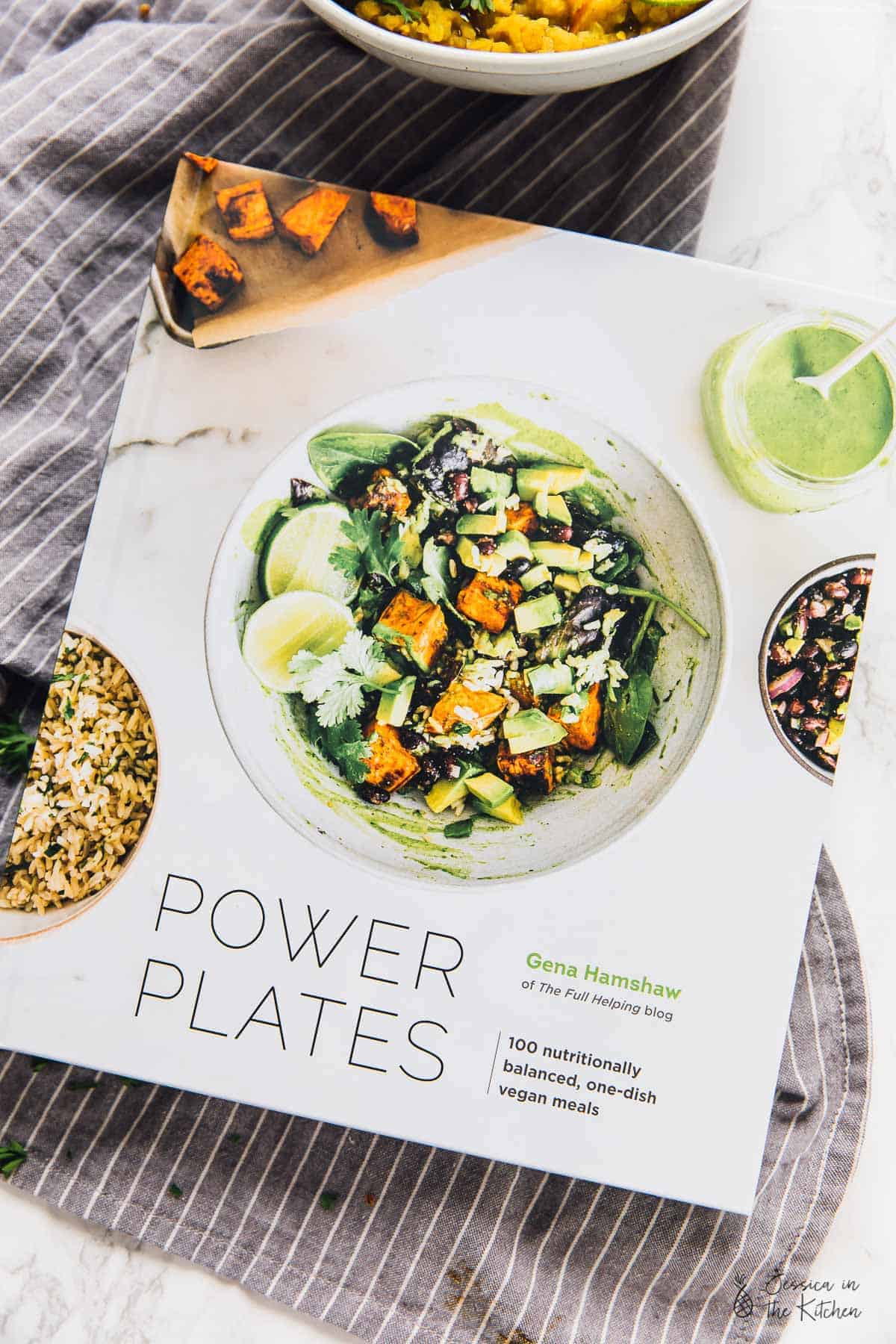 Notes on Ingredients
Here are all the ingredients you need to make gentle morning kitchari. Check out the recipe card at the bottom of the page to see the exact quantities.
Coconut oil
Mustard seeds
Cumin seeds
Yellow onion – You can use a white onion, red onion, or shallot if you don't have a yellow onion.
Carrots
Fresh ginger – While fresh ginger is much better for this recipe, you can use ground ginger if that's all you have.
Basmati rice – Jasmine rice also works just fine for this dish.
Dal – You can use moong dal, toor dal, urad dal, or red lentils, whichever you prefer.
Ground turmeric
Ground cloves
Salt
Ground pepper – Make sure to use freshly-ground black pepper.
Vegetable broth – Try to use a low-sodium broth.
Water
What is Dal?
"Dal" is a catch all word in Indian cooking for lentils, split peas, and beans. Moong dal, also known as green gram beans, are the yellow lentils that are found inside green lentils. Toor dal is a yellow split pea. And urad dal is black lentils. All of these dal have a flavor and texture that is perfect for kitchari.
How to Make Gentle Morning Kitchari
Here's how to make this healthy and healing breakfast dish. It's a very simple recipe!
Cook the spices. Heat the oil over medium heat in a large pot. Once the oil is shimmering, add the cumin and mustard seeds and cook while constantly stirring, until they begin to pop. This should take about 2 minutes.
Cook the veggies. Add the onion, carrots, and ginger to the pot, and sauté until the onion is translucent. This should take about 5 minutes.
Add the rest of the ingredients. Add the rice, dal, turmeric, cloves, water, vegetable broth, salt, and pepper to the pot, and stir to combine.
Cook. Turn the burner to high, and bring the kitchari to a boil. Then lower the heat, cover the pot, and simmer for 20 minutes. Remove the lid and simmer uncovered until it reaches a porridge texture. This should take about 5-10 minutes. Once the kitchari is the right texture, garnish and serve hot.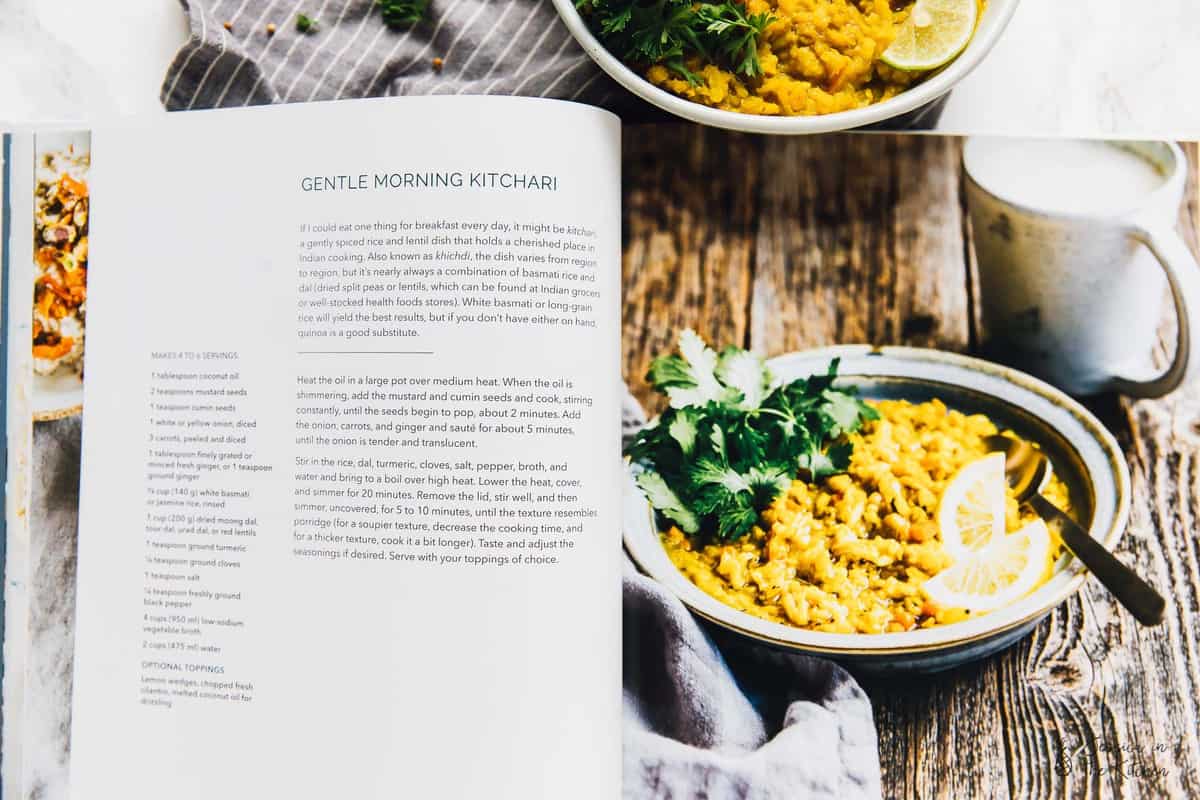 Tips for the Best Kitchari
Here are some tricks and tips for making flavorful and creamy gentle morning kitchari.
Use a homemade broth. Store bought stock is great, but it's never as good as when you make it at home. I always recommend using a homemade broth when possible, and that's especially true with a dish like this, where the stock really shines through. You can take this kitchari recipe to the next level by using a homemade vegetable broth.
Have fun with the texture. Just like with oatmeal, different people like different textures for their kitchari. If you like a thick consistency, cook it a little longer. If you prefer your gentle morning kitchari to be a little runnier, cook it for a shorter amount of time, or add extra liquid.
Use lots of toppings. This kitchari is great as is, but it's a lot better with some fun toppings. I like to top mine with fresh lemon or lime, chopped cilantro, and melted coconut oil, but you can put almost anything on top of a bowl of kitchari. Dill, ghee, coconut flakes, and chutney are all common toppings.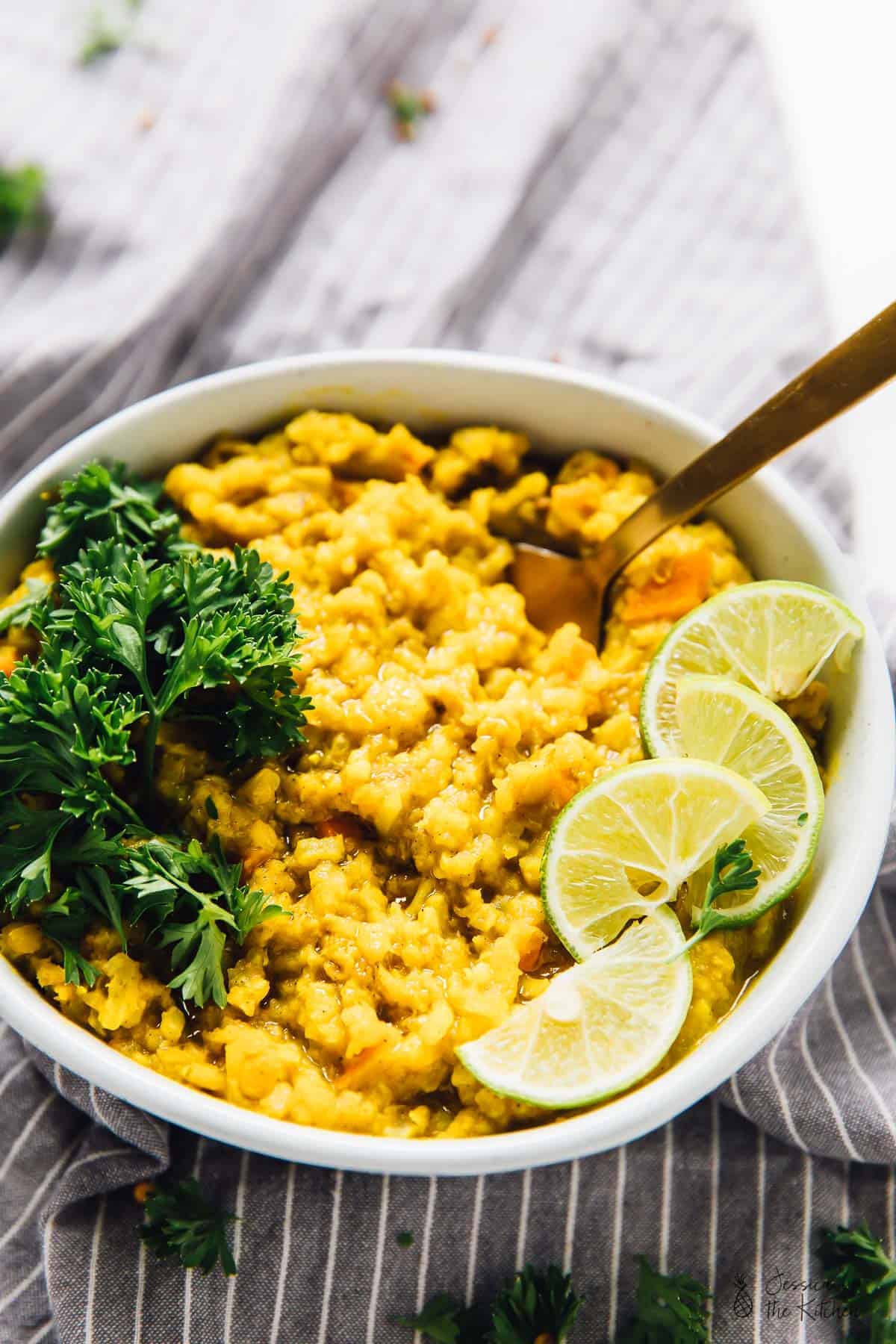 How to Store and Reheat Gentle Morning Kitchari
Leftover kitchari will last in the fridge for up to 4 days if stored in an airtight container. You can reheat it over medium heat on the stove top for 3-5 minutes, until warm all the way through. You can also reheat it in the microwave on medium heat, cooking in 30-second increments until hot. You might want to add a splash of water to the kitchari before heating, so that it doesn't get too dry.
Can I Freeze This Recipe?
You definitely can! Gentle morning kitchari will last in the freezer for up to 6 months, as long as it's stored in an airtight container. Thaw in the fridge, or defrost in the microwave before reheating.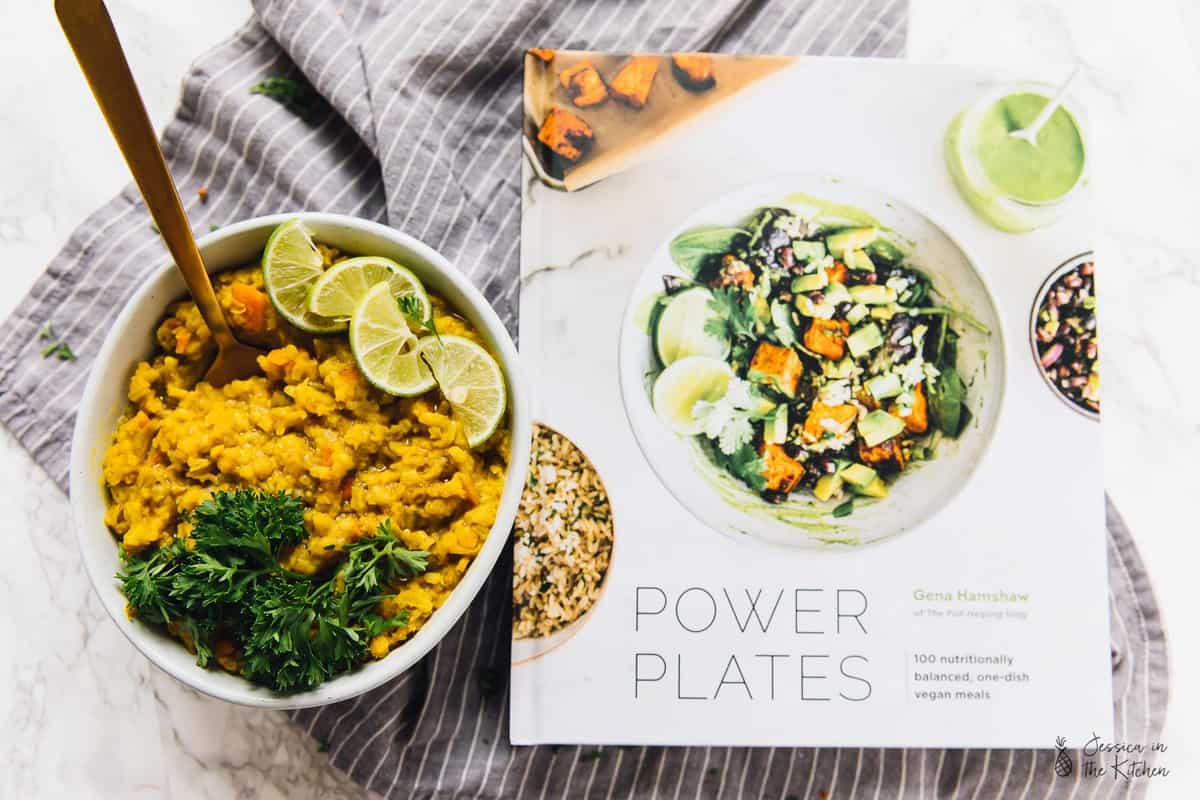 More Indian & Lentil Recipes to Make
Hopefully this gentle morning kitchari gave you a boost of energy to get you through the day. If you liked this recipe, check out some of my other favorite Indian dishes to cook.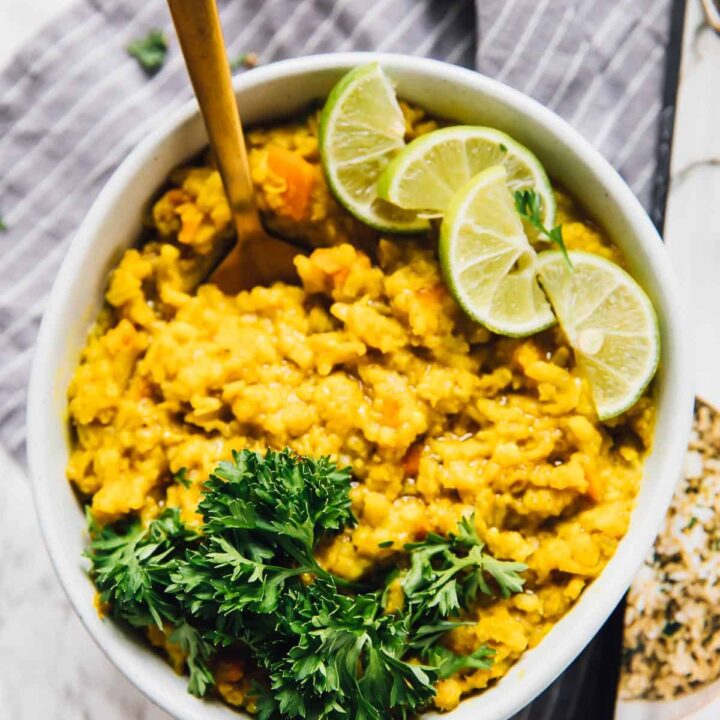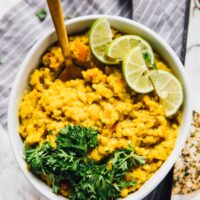 Gentle Morning Kitchari (One Pot, Vegan, GF)
This gentle morning kitchari recipe is creamy, full of spices, and incredibly healthy. It will give you all the energy you need to get through the day.
Ingredients
1 tablespoon coconut oil
2 teaspoons mustard seeds
1 teaspoon cumin seeds
1 white or yellow onion, diced
3 carrots, peeled and diced
1 tablespoon finely grated or minced fresh ginger, or 1 teaspoon ground ginger
¾ cup white basmati or jasmine rice, rinsed, (140g)
1 cup dried moong dal, toor dal, urad dal, or red lentils, (200g)
1 teaspoon ground turmeric
¼ teaspoon ground cloves
1 teaspoon salt
¼ teaspoon freshly ground black pepper
4 cups low-sodium vegetable broth, (950ml)
2 cups water, (475ml)
Optional Toppings
lemon wedges
chopped fresh cilantro
melted coconut oil, for drizzling
Instructions
Heat the oil in a large pot over about medium heat. When the oil is shimmering, add the mustard and cumin seeds and cook, stirring constantly, until the seeds begin to pop, about 2 minutes. Add the onion, carrots, and ginger and sauté for about 5 minutes, until the onion is tender and translucent.

Stir in the rice, dal, turmeric, cloves, salt, pepper, broth, and water and bring to a boil over high heat. Lower the heat, cover, and simmer for 20 minutes. Remove the lid, stir well, and then simmer, uncovered, for 5 to 10 minutes, until the texture resembles porridge (for a soupier texture, decrease the cooking time, and for a thicker texture, cook it bit longer). Taste and adjust the seasonings if desired. Serve with your toppings of choice.
Calories: 373kcal, Carbohydrates: 66g, Protein: 16g, Fat: 5g, Saturated Fat: 3g, Sodium: 620mg, Fiber: 17g, Sugar: 5g
Disclaimer: Although jessicainthekitchen.com attempts to provide accurate nutritional information, kindly note that these are only estimates. Nutritional information may be affected based on the product type, the brand that was purchased, and in other unforeseeable ways. Jessicainthekitchen.com will not be held liable for any loss or damage resulting for your reliance on nutritional information. If you need to follow a specific caloric regimen, please consult your doctor first.