Vegan Cranberry Meatballs (Sweet & Tangy)
These Vegan Cranberry Meatballs have the perfect texture & are great for the holiday season! Solid veggie meatballs in a sweet and tangy cranberry sauce, with tips on how to make them perfect. Great for appetisers too!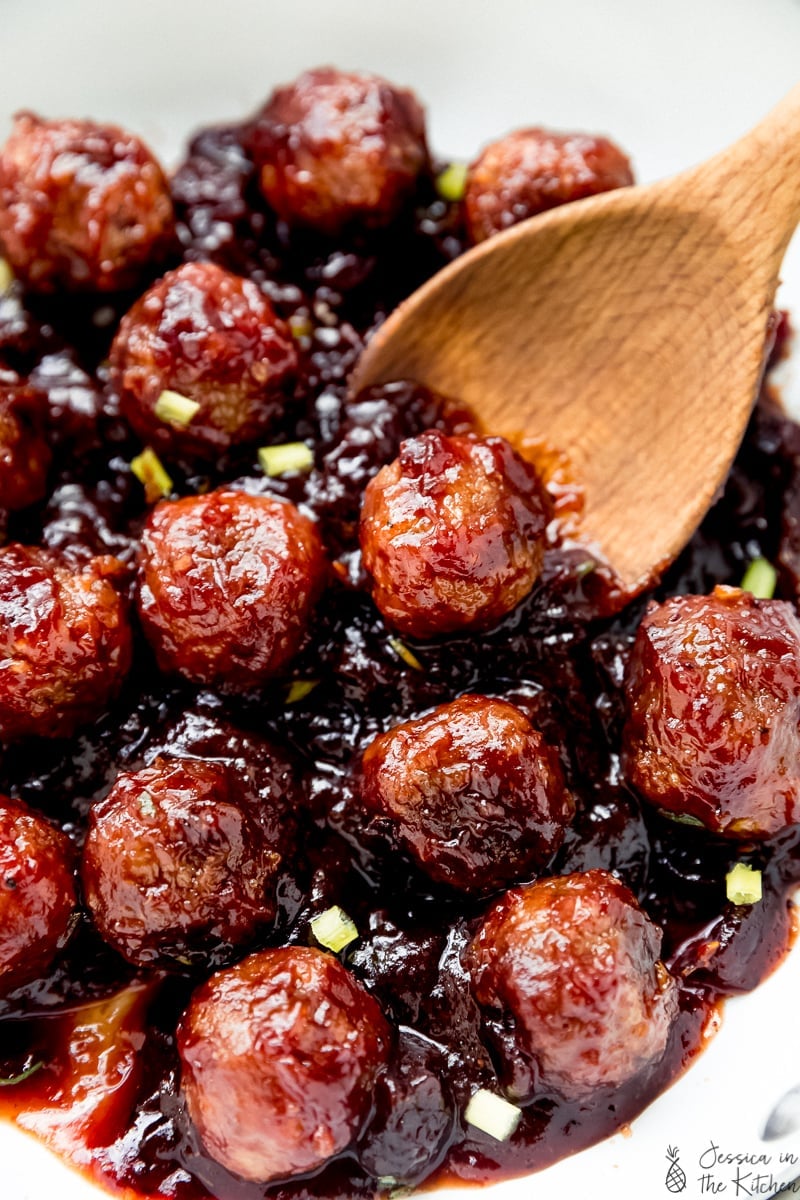 Let's get right into it. There are so many reasons I love these Vegan Cranberry Meatballs. Let's start at the base. It satisfies Gav's need for a meaty-texture, flavour and consistency. I mean, man I'm proud of these vegan meatballs. The texture is spot on, you can customise the flavour any way you want, and the ingredients are easy to get. Plus, they freeze SO well, and can be made in bulk. It also satisfies my veggie-heavy self because they're made of the most unexpected ingredients: cauliflower & quinoa. If you've been here before, you know this is my go to veggie meatball base. Cauliflower and quinoa bind together SO well with the other ingredients, giving you everything you want in one (or 10) vegan meatballs.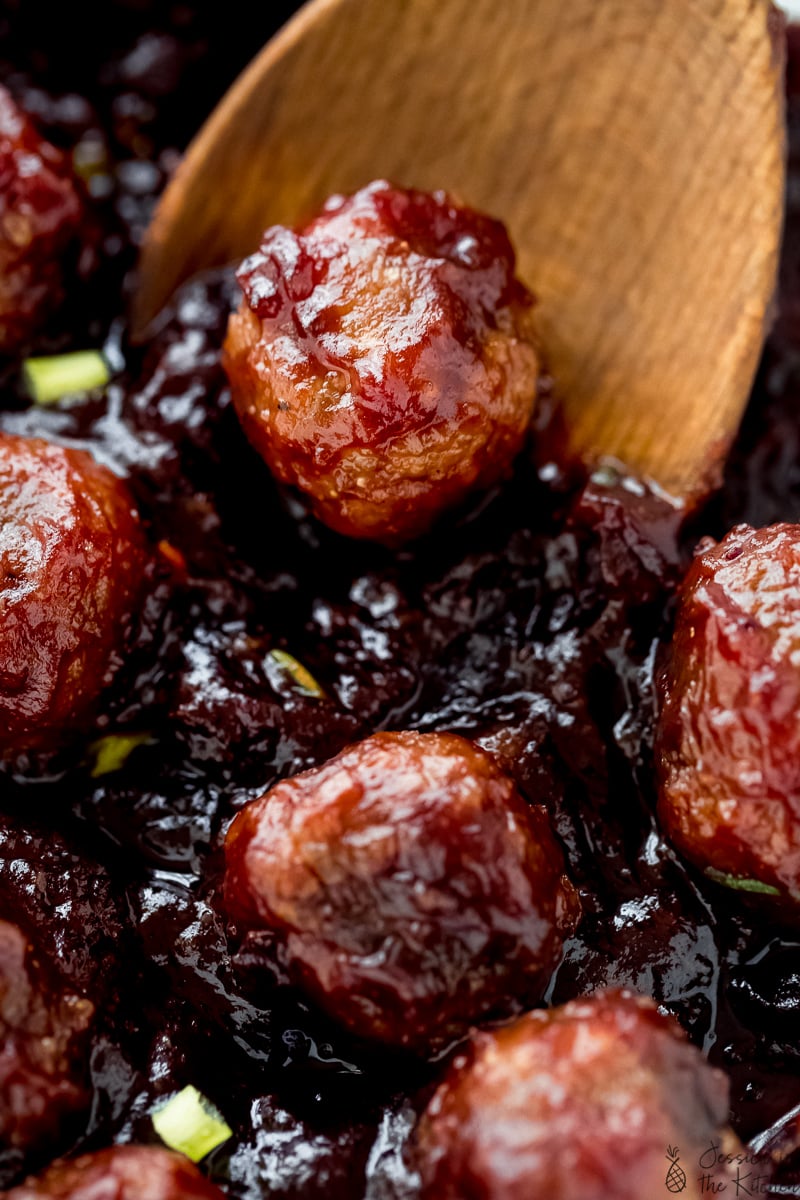 Sweet & Tangy Cranberry Sauce
Then of course, there's the sauce. I had wanted to create a vegan meatball flavour that was very, Thanksgiving meatball like. Something that screamed holiday, appetiser platter, or served on top of mashed potatoes with a sauce. That's when it hit – SAUCE?! CRANBERRY SAUCE! I whipped up my favourite cranberry sauce, and made a quick sweet and tangy sauce with it. I threw in the meatballs – and the result? The most holiday-tasting sauce I've made.
These Vegan Cranberry Meatballs as a result are perfect for an appetiser at your cocktail parties, or a main dish at your Thanksgiving dinner or other holiday parties. Since I know you're going to want to whip them up, let me share my GO-TO tips for making these meatballs perfect. I recently got feedback from a reader who made them and said following my method, they came out perfect.

Vegan Meatballs Falling Apart? Troubleshooting Tips
Okay my favourite part has arrived! I did a whole mini series on my
Instagram
stories, but I want to share the #1 tip why you're vegan meatballs are falling apart if you're making my recipe. Simply: you're not grinding them enough. You want like one cohesive dough, not it falling apart and you can still see quinoa bits. That's not a solid mixture and it will fall apart; guaranteed. Also, if you decide to substitute any ingredients – like say, pre-bought riced cauliflower instead of making it yourself, be sure that you get any of that excess liquid out before adding it in. Extra liquid will make the balls fall apart. I also like to squeeze each meatball together properly before adding in the pan, like I would do with regular meatballs. So these tips should help!!
Can I Prep Cranberry Meatballs in Advance?
Yes you can! In fact, you can make the meatballs up to three days in advance, then add them into the sauce.
P.S. you can of course just buy your veggie meatballs and put them in this sauce, especially if you're making a lot of dishes for your holiday parties.
Enjoy friends!!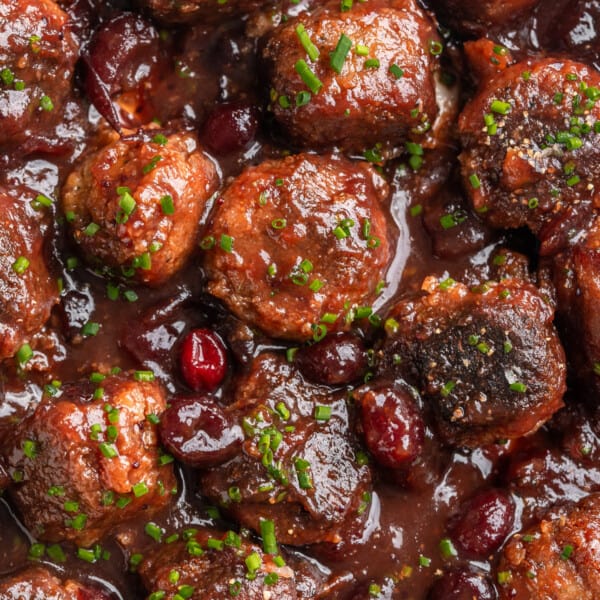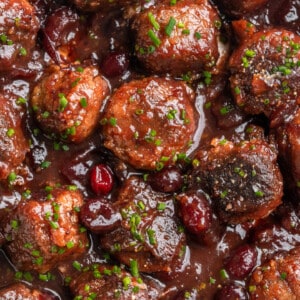 Vegan Cranberry Meatballs
Real food ingredients and an irresistible sweet-and-tangy sauce make these vegan cranberry meatballs a crowd-pleaser for holiday parties!
Ingredients
Tangy & Sweet Cranberry Sauce
14 ounces cranberry sauce, canned, fresh or frozen works
2 tablespoons light soy sauce
2 tablespoons tomato paste
2 tablespoon brown sugar
1/2 teaspoon garlic powder
1/2 teaspoon onion powder
2 tablespoons apple cider vinegar
Vegan Meatballs Base
1 cup roasted cauliflower (instructions below), (226g)
1 cup cooked quinoa, (137g)
2 Bob's Red Mill Egg Replacers OR flax eggs, if flax eggs, less one tablespoon of liquid per flax egg
½ cup red onion, finely diced, (114g)
1/2 teaspoon ground black pepper
¾ teaspoon sea salt
3 cloves garlic, minced
1 cup breadcrumbs, gluten free if needed
1 teaspoon dried oregano
1 tablespoon light soy sauce, or liquid aminos
1 teaspoon dried rosemary or thyme, or both
1 ½ tablespoons oil, any oil works, such as coconut or olive oil
Instructions
Tangy & Sweet Cranberry Sauce
Mix all the ingredients together, bring to a boil, then to a medium low heat in a sauce pan until completely incorporated, about 3-5 minutes. Stir occasionally. Set aside until ready to use.
Vegan Meatballs Base
Preheat oven to 450°F/230°C. Cut the cauliflower's stem off, and cut into even-sized florets. Drizzle the cauliflower with maybe a teaspoon of oil. Roast the cauliflower for 15-20 minutes in the oven. Remove and allow to cool for a few minutes.

In a food processor, add the cauliflower and pulse it until it's completely riced. Remove from the food processor. You only need 1 cup of this for this recipe and 8 ounces should make about 1 cup.

Add the 1 cup of riced cauliflower and all the other meatball ingredients (cooked quinoa, eff replacer, red onion, ground black pepper, sea salt, garlic, breadcrumbs, dried oregano, light soy sauce and dried rosemary) EXCEPT the oil.

You can pulse them or mix them together until they form into a tight ball, combining everything. You want to ensure they are so mixed together that you're not seeing individual cauliflower or quinoa florets, it's all one big mixture. That's how you'll ensure the meatballs will hold together!

Heat the oil in a pan over medium-high heat. While it's heating, use a tablespoon measurer to form one raw meatball and shape into a ball with your fingers. You can place them on a plate while the oil heats.

Add one meatball to test the oil. Cook on one side for about 1-2 minutes, turning on all sides onto fully cooked inside and out, about 4 minutes. You can add as many meatballs as can fit in the pan without overcrowding it, cooking them all for about 4-5 minutes turning on each side, to cook them through.

Lower/turn the heat off. Prep the sauce either in this cooled down pan, or in a separate pan then add the meatballs to it as in the sauce directions. You can enjoy these vegan meatballs alone, in a nice hoagie or with cauliflower rice or quinoa on the side, you know, for a double down. You could even have them on toothpicks as an appetiser at your parties! Enjoy!
Notes
You can also use pre-packaged cauliflower rice! Just squeeze out any and all excess liquid and toast it in your frying pan for a few minutes first to remove any leftover liquid. If you're soy free, you can use coconut aminos or vegan Worcestershire sauce! To store: If you have leftover vegan cranberry meatballs, store them in an airtight container in the fridge for up to 1 week. To reheat, simply microwave or place them in a pan over medium heat and cook until heated through. To freeze: You can freeze these vegan cranberry meatballs! Just make sure to freeze them without the sauce. When ready to eat, thaw them and then reheat in a skillet before adding the sauce.
Calories: 123kcal, Carbohydrates: 23g, Protein: 3g, Fat: 3g, Saturated Fat: 1g, Sodium: 334mg, Potassium: 150mg, Fiber: 2g, Sugar: 11g, Vitamin A: 36IU, Vitamin C: 7mg, Calcium: 27mg, Iron: 1mg
Disclaimer: Although jessicainthekitchen.com attempts to provide accurate nutritional information, kindly note that these are only estimates. Nutritional information may be affected based on the product type, the brand that was purchased, and in other unforeseeable ways. Jessicainthekitchen.com will not be held liable for any loss or damage resulting for your reliance on nutritional information. If you need to follow a specific caloric regimen, please consult your doctor first.