Sweet Potato Chips
Homemade Baked Sweet Potato Chips topped with sea salt make the perfect snack for your summer get-togethers! Crisp, addictive, easy and much healthier than store-bought chips!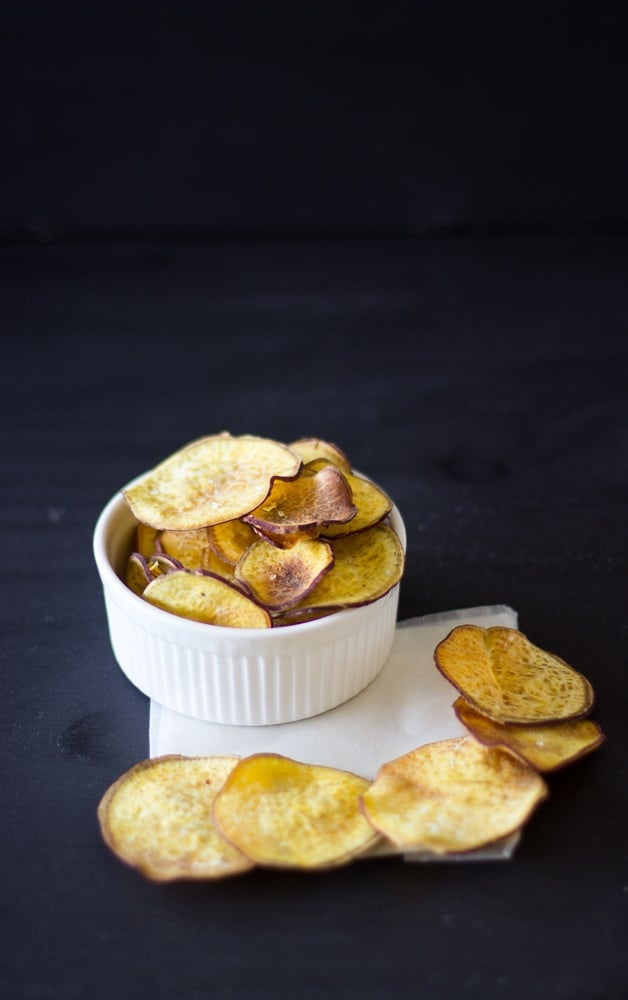 I am so happy to say that I am back. Before I say anything else, I want to thank every for the outpour of well wishes for both my exams and for my broken foot. Seriously, you all are amazing whether you said something here or on my Instagram page. After what seemed like a lifetime, but in truth was only a month, I have officially completed my last set of law school examinations ever. After 5 very long years, I will be called to the bar later on this year to become a lawyer. It's a bit surreal but it's something that is pretty exciting and that I am looking forward to.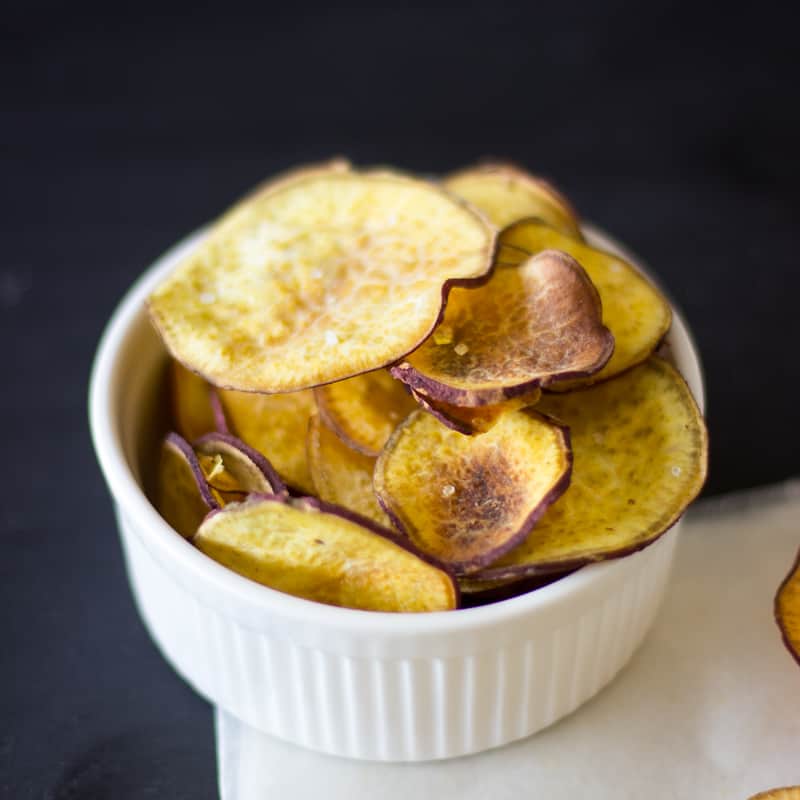 I must say, I am so very impressed with people who have to endure what I have been enduring for the past almost month for their entire life. For me it's not even the crutches, or the pain (which has been a huge part of several complications) but the lack of independence! I am such a fighter when it comes to getting help, and it does seem as if God is telling me – Jessica, you kind of HAVE to ask for help – stop being so stubborn! I mean, I am someone who makes every meal by herself and when you can't hold anything in your hand, it's almost near impossible, or you're so exhausted by the time you're finished that you really just want to sleep. TRUE. Story. As such, Mr. Jessiker Bakes has been nothing short of the best person ever with helping me with everyyyything. My family especially my mom has been endlessly helpful also in ensuring I still get real food and I don't survive off of ordered food. Although, we all need a bit of pizza every now and then (just saying).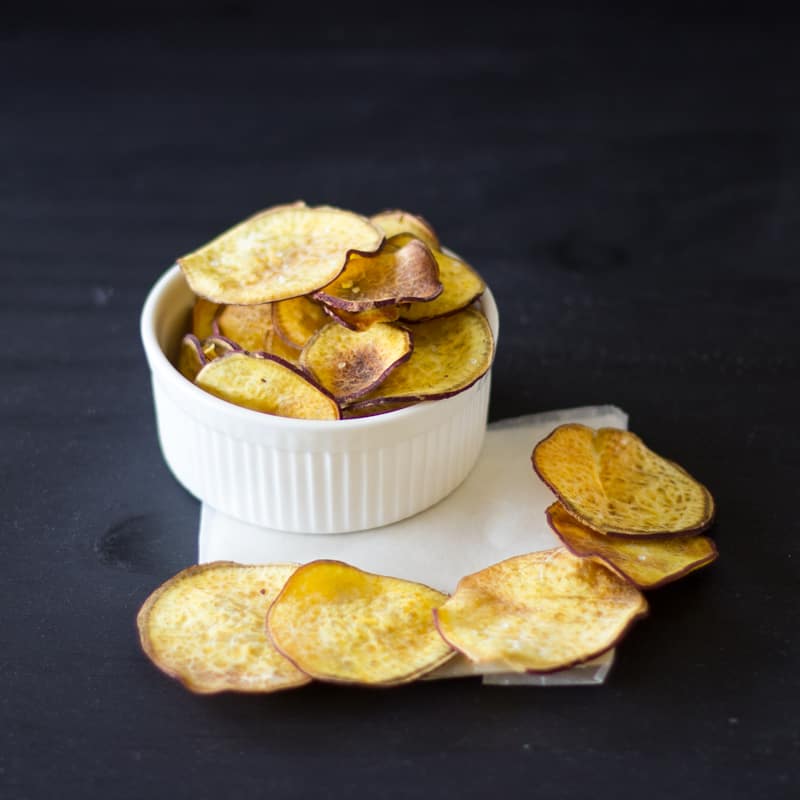 This is where the point of this post comes in (if you're still here – you're SO awesome). During studying for exams I needed snacks that were in quick reach since going to the kitchen and creating something each time was not an option. These baked sweet potato chips are IT. Let me tell you, you will eat these babies up so quickly, that you will be making more very soon. Making these chips is such a simple process – slice them through your mandolin (HAVE I BEEN LIVING UNDER A ROCK?!) and within a few minutes you have your chips. Line them on a sheet drizzled with some olive oil, and sprinkle with sea salt. Bake. BAM. Done. The sea salt is the kicker on top of these sweet chips. It adds a delicious contrast and texture to the chips that I honestly think is necessary for an over the top snack. P.S. if you're studying, or just a super snacker, these homemade cinnamon apple chips I made a while back do the same job and are equally addictive.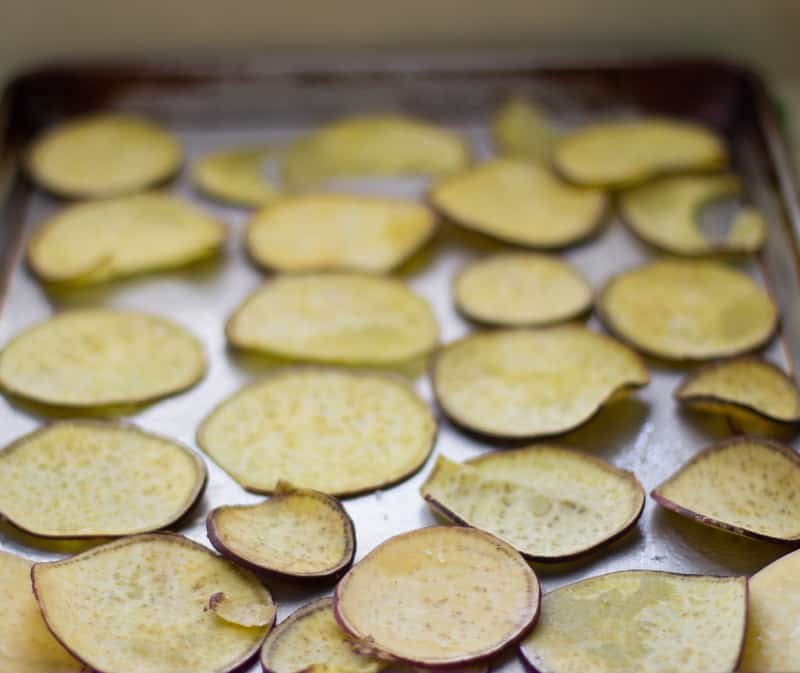 Did I mention that these were healthy? Yes, you should make these today. Ah! I am so glad to be back.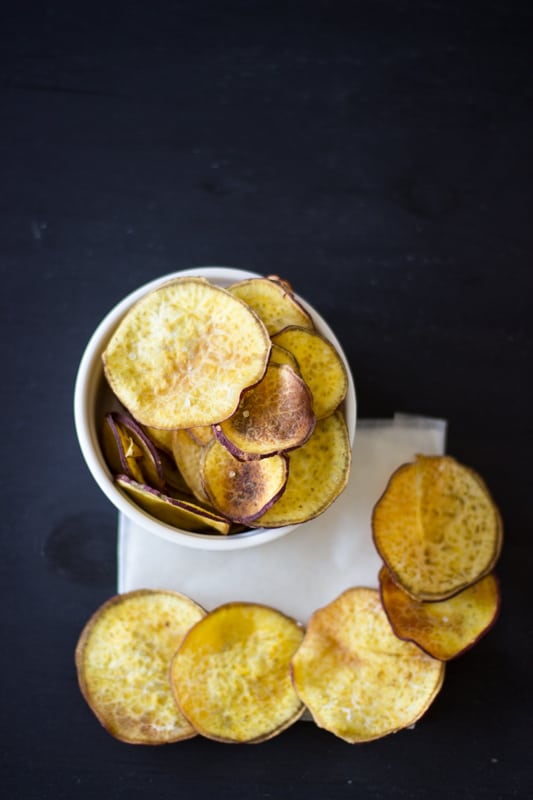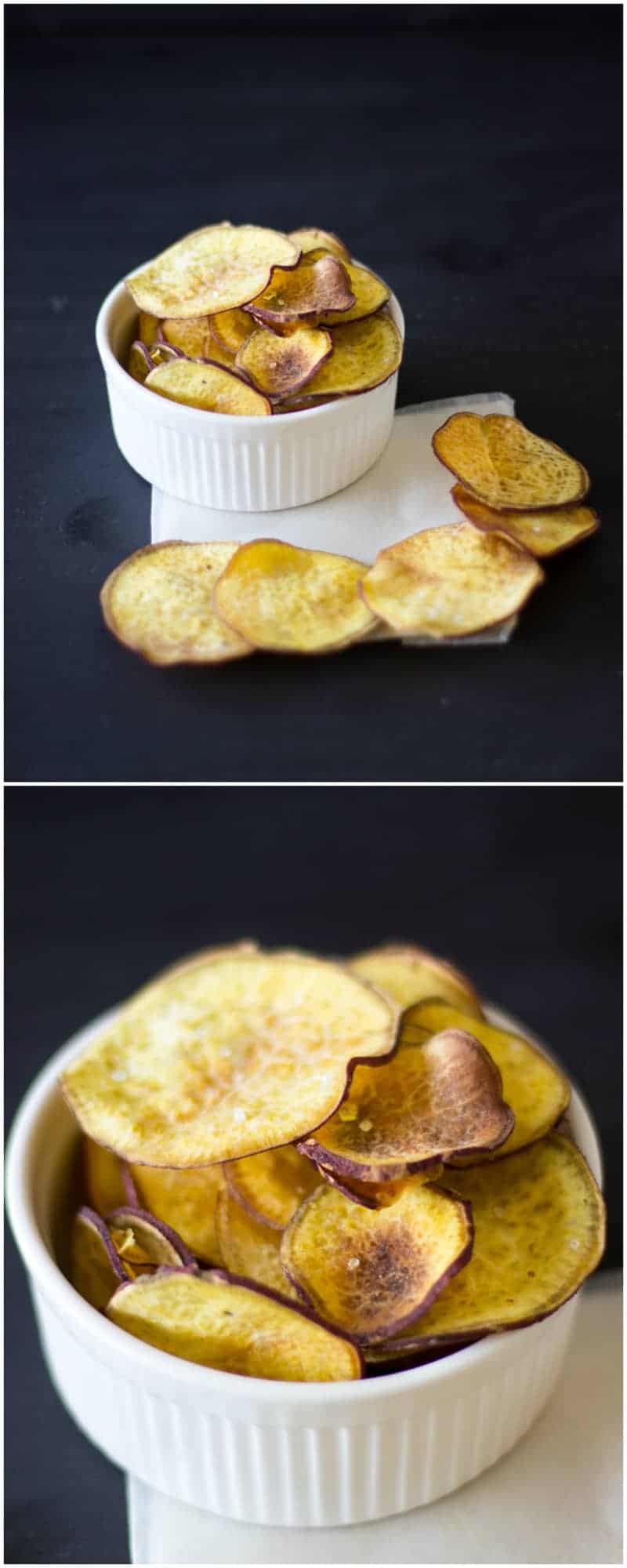 If you like these chips, you may also enjoy these Warm Cinnamon Apple Chips.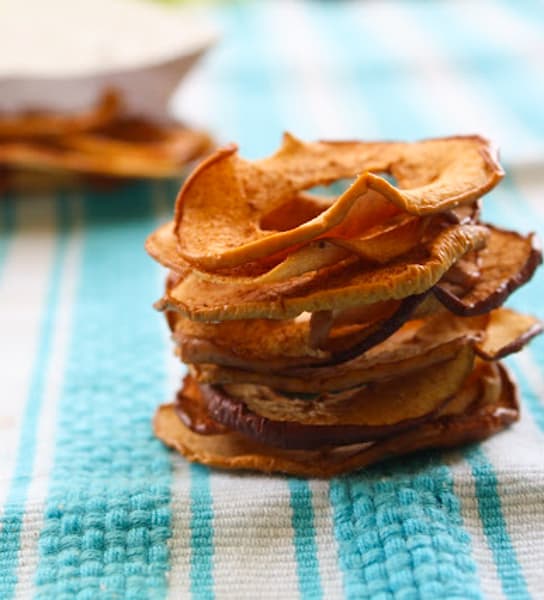 Or these Kale Chips, Three Different Ways!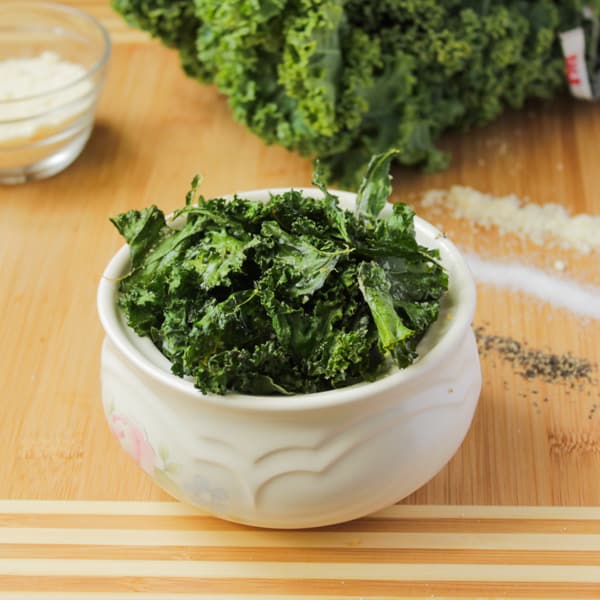 Go ahead and check out all my snack recipes!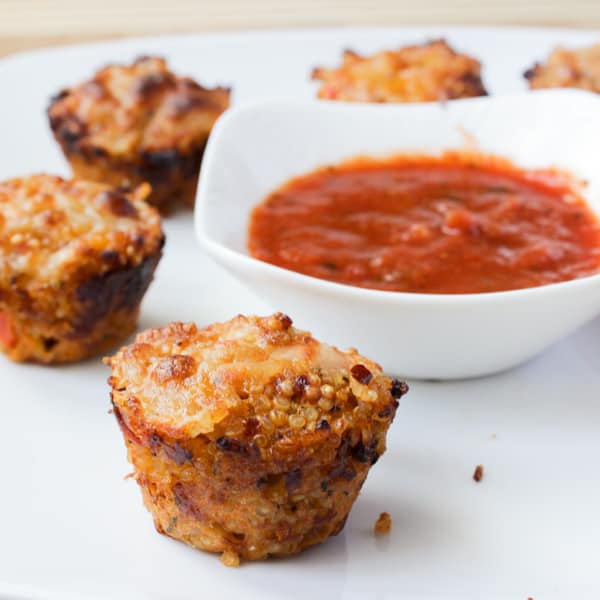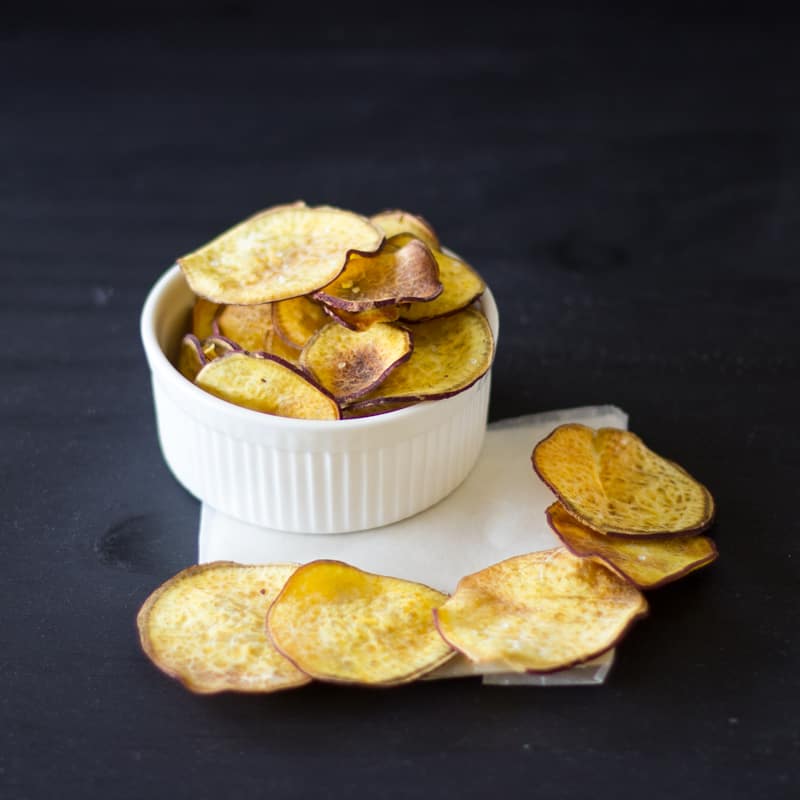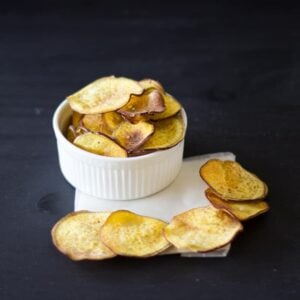 Sweet Potato Chips
Homemade Baked Sweet Potato Chips topped with sea salt make the perfect snack for your summer get-togethers! Crisp, addictive, easy and much healthier than store-bought chips!
Ingredients
1 large sweet potato, washed and dried
Handful Coarse Sea Salt
1 tablespoon Olive oil
Instructions
Preheat the oven to 400 degrees.

Slice the sweet potato through your mandolin until you have made circular chips out of the entire potato.

In a bowl, toss raw sweet potato chips with 1/2 tablespoon olive oil until coated.

Coat a baking sheet with olive oil. Place raw chips on the baking sheet and sprinkle with sea salt.

Bake for 20 to 25 minutes (watch them after the 20 minute mark) until chips are crisp and cooked through.

Sprinkle more sea salt on top as soon as you remove them from the oven. Serve immediately and enjoy.
Calories: 106kcal, Carbohydrates: 15g, Protein: 1g, Fat: 5g, Saturated Fat: 1g, Sodium: 429mg, Potassium: 254mg, Fiber: 2g, Sugar: 3g, Vitamin A: 10688IU, Vitamin C: 2mg, Calcium: 23mg, Iron: 1mg
Disclaimer: Although jessicainthekitchen.com attempts to provide accurate nutritional information, kindly note that these are only estimates. Nutritional information may be affected based on the product type, the brand that was purchased, and in other unforeseeable ways. Jessicainthekitchen.com will not be held liable for any loss or damage resulting for your reliance on nutritional information. If you need to follow a specific caloric regimen, please consult your doctor first.