Vegan Quinoa Beet Burgers (Gluten Free)
This Vegan Quinoa Beet Burger is THE best veggie burger I've ever made! Inspired by my favorite restaurant veggie burger, you'll be sinking your teeth into a flavorful, smoky and mouthwatering veggie burger!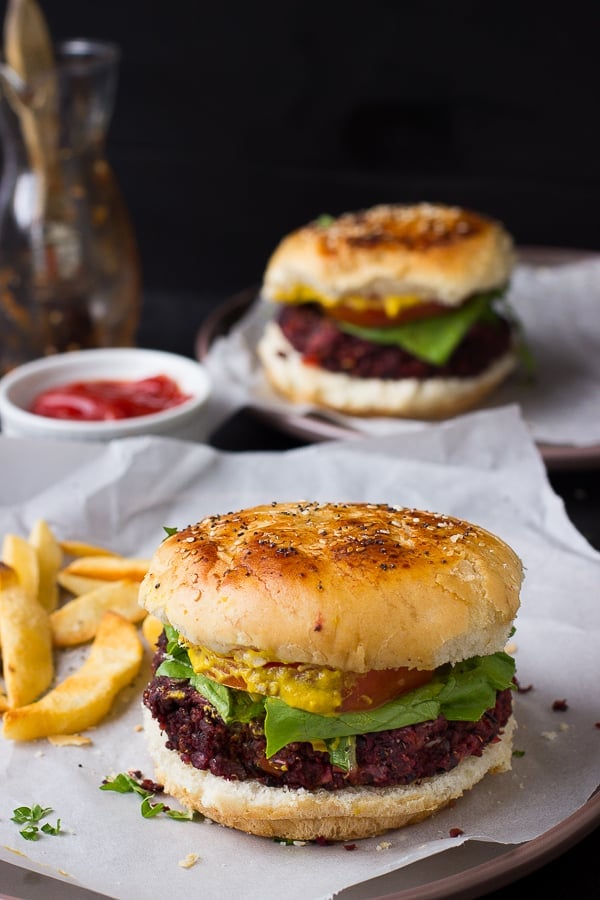 The best veggie burger I've ever sunk my teeth into was at J. Alexander's. The Mr, my mom, and myself had travelled to go meet up with my maid of honour to choose my wedding dress (!!) and she wouldn't stop going on about this J. Alexander restaurant. I ordered my burger, ready to be underwhelmed, and sunk my teeth in. I immediately lowered it slowly from my mouth, panicking, and said "I think you gave me a meat burger! It looks like meat!" I'm the world's worst vegetarian! How did I just take a bite of this, but also absolutely fell in love and wanted more and more?! The waiter, laughing, clarified that it was indeed a veggie burger and I was mistaking the beets for beef.
I may have cried tears of joy that night.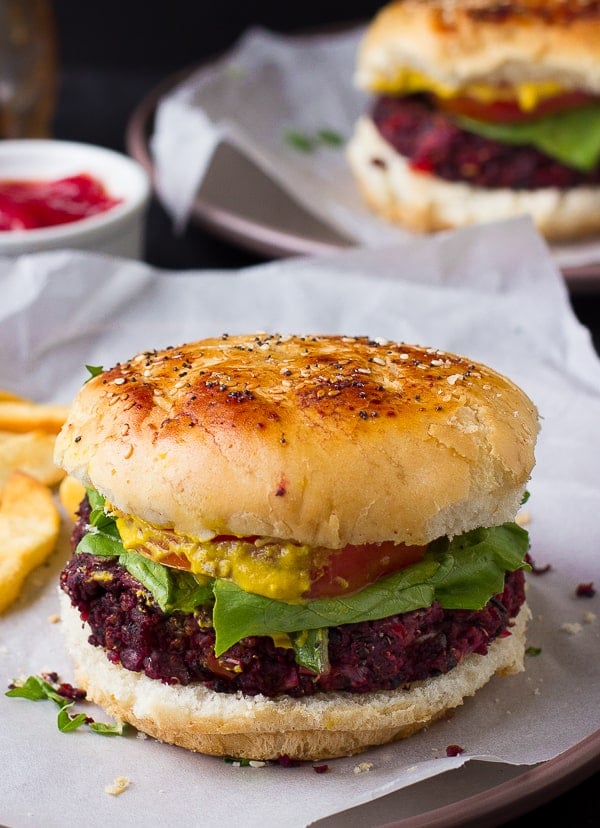 I probably mentioned my beet burger about 10 more times on that trip. It was the best thing I had ever put in my mouth! How did it taste…so burger-y? The flavour, the textures! This burger was firm! It wasn't mushy! It was DELECTABLE! I felt has though I had been transported to smoky beet burger heaven on a train similar to the Polar Express, except I wasn't ever getting off. I couldn't sleep that night, as I tossed around wondering if the waiter had tricked me, if I would ever forget this taste that graced my tastebuds. Determined, I googled this mystery burger and found thousands of testimonies of vegetarians and non-vegetarians alike declaring this the best veggie burger they've ever had. I had to have it again.
I've gone back to J. Alexander's quite a few times, and I'm sad to say that they are rebranding! I'm not sure my beloved beet burger will be on the list, so I decided that it was finally time to try and re-create. I was intimidated, I have to admit, but I pressed on. I found many, many readers posting what they knew about the burger from queries, and found that the chefs used brown rice, oats, beets, mushrooms and black beans in the burger.
When I thought of beet burgers, I was intrigued, because of the unique flavour, colour and smoothness that beets would lend. They apparently also used a "sweet soy sauce" which you can only find at speciality sauces so I opted to find a suitable, easier supermarket substitute – maple syrup, soy sauce, and liquid smoke. Ever since the Mr. and I discovered liquid smoke it's changed our lives. You get a just-off-the-grill effect for everything you put it in and you barely need to add any. It seems to active umami, and is used in many vegan recipes to make coconut bacon for example.
I opted to switch out the brown rice for quinoa, since I clearly own stock in quinoa and it's always in abundance in my pantry, grounded my oats into oat flour, and roasted the beets to unleash a smooth velvet-y texture.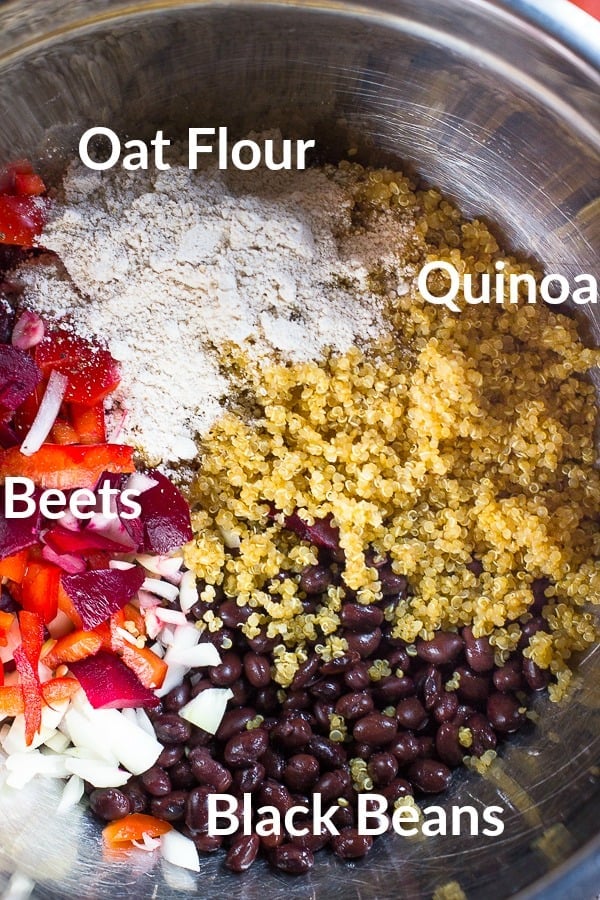 A few mixes in the food processor and I was ready to chill my beet burgers. You can either chill them for 2 hours the fridge, then cook, or overnight. I would say overnight is worth it, but if you want them for dinner that night, 2 hours will provide a lovely burger. It's as easy as pan-frying on either side for a few minutes, then flipping. Now, J. Alexander's burgers are HUGE and I've never been able to finish one in one sitting, so I tried to make these burgers normal size. You could double up if you want and then you would 3 really huge burgers, but just remember to double the recipe so it's all worth it when you freeze these beauties for future cravings.
Without a doubt, I would make these again, and again, and again. I don't think any beet burger will be 100% firm, but these came pretty darn close. I could hold it in one hand without having it flop all over the place like some veggie burgers so I call that a win. The flavour was magnificent, hitting all notes, and also satisfying your protein needs with 12.7 grams of protein in one burger. The burgers are only 262 calories per, so feel free to know that you can enjoy every bite guilt free.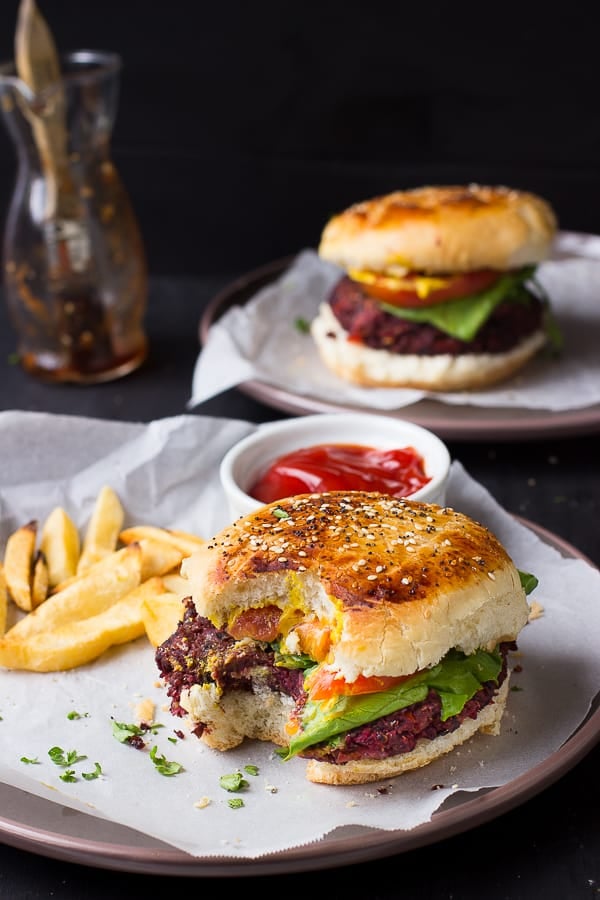 MORE AWESOME VEGGIE BURGERS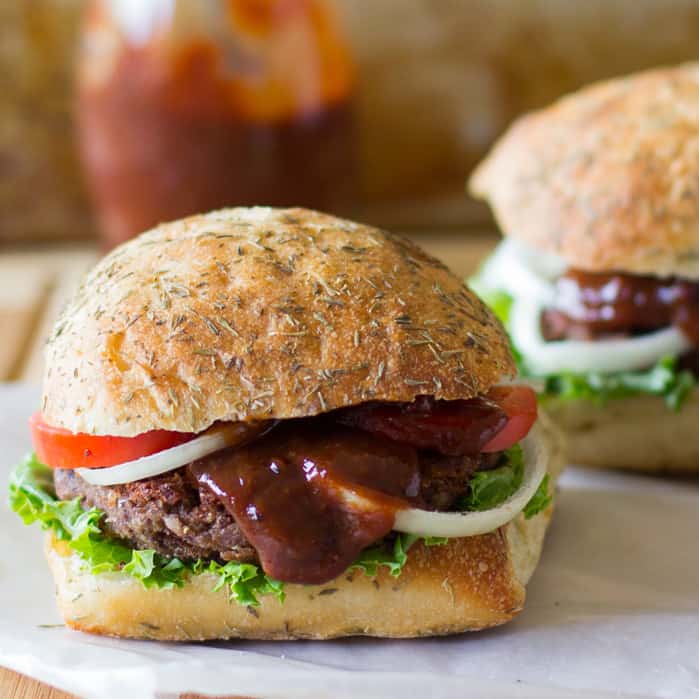 Black Bean and Quinoa Burgers with Strawberry BBQ Sauce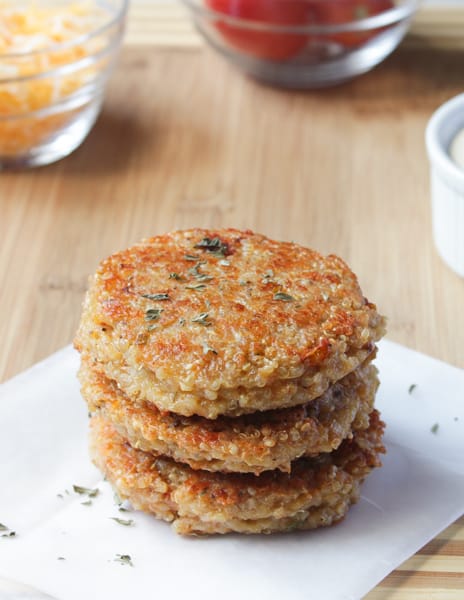 Sundried Tomato and Mozzarella Quinoa Burgers
Veggie Burgers Across the Web
Sweet Potato Chickpea Burgers by Peas and Crayons
Chunky Portabella Veggie Burgers by The Kitchen Whisperer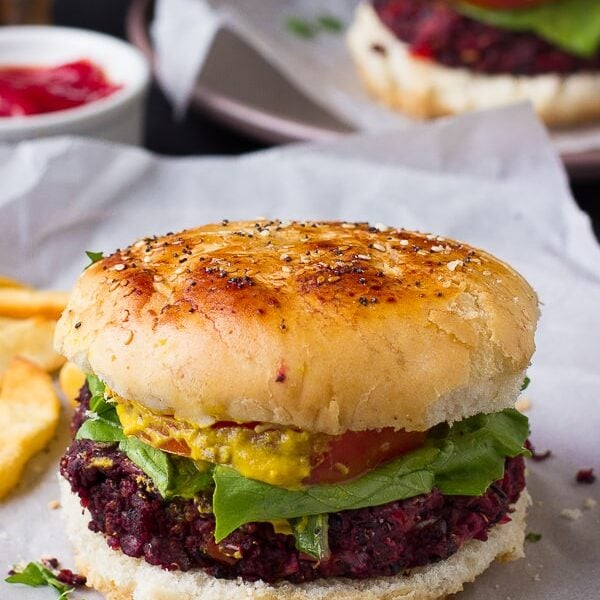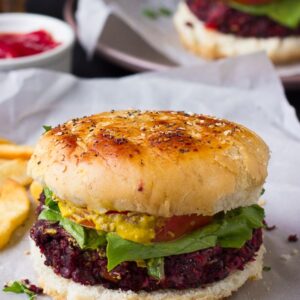 Vegan Quinoa Beet Burgers
This Vegan Quinoa Beet Burger is THE best veggie burger I've ever made! Inspired by my favorite restaurant veggie burger, you'll be sinking your teeth into a flavorful, smoky and mouthwatering veggie burger!
Ingredients
1.75 ounces chopped mushrooms
2 ounces bell peppers
7 ounces black beans
1 cup cooked quinoa
1/2 onion, diced
4 cloves garlic, minced
1/4 cup oat flour, certified GF old-fashioned oats
3 ounces roasted, chopped beets
1/2 teaspoon paprika
Salt & Pepper to taste
1 tablespoon maple syrup
1 tablespoon soy sauce
1/4 teaspoon liquid smoke, optional
Instructions
In a food processor, add the beets. Pulse until cut up, about 30 seconds. Add the rest of the ingredients, including seasonings. Pulse until combined, not too much to make it mushy but until incorporated.

On a cookie sheet lined with parchment paper, form the mixture into burgers (ensure to spray your hands with oil first - they are sticky!). They can make 3 large burgers or 6 smaller burgers. Refrigerate for about 2 hours, or overnight if possible.

When burgers are chilled, in a pan over medium heat, heat about 2 tablespoons olive oil. Add the burgers to it and cook about 4-6 minutes on each side, until crispy and cooked through.

Serve as you desire, in a burger form or in a lettuce wrap. We added burger buns, onions, tomato and lettuce and mustard. Enjoy!
Notes
If you have the time, leaving these burger overnight in the fridge to set before cooking would make them even better and firmer.
Liquid smoke gives the burger a unique taste as if the burger had been grilled over a smoky grill. You could also use vegan worcestershire sauce instead.
You can make oat flour at home by grounding the equal amount of rolled/old-fashioned oats. These Vegan Quinoa Beet Burgers are THE best veggie burgers I've ever made! Inspired by my favorite restaurant veggie burger, you'll be sinking your teeth into a flavorful, smoky and mouthwatering veggie burger!
Calories: 143kcal, Carbohydrates: 23g, Protein: 9g, Fat: 2g, Saturated Fat: 1g, Cholesterol: 9mg, Sodium: 229mg, Potassium: 322mg, Fiber: 5g, Sugar: 3g, Vitamin A: 378IU, Vitamin C: 13mg, Calcium: 26mg, Iron: 2mg
Disclaimer: Although jessicainthekitchen.com attempts to provide accurate nutritional information, kindly note that these are only estimates. Nutritional information may be affected based on the product type, the brand that was purchased, and in other unforeseeable ways. Jessicainthekitchen.com will not be held liable for any loss or damage resulting for your reliance on nutritional information. If you need to follow a specific caloric regimen, please consult your doctor first.