Pumpkin Pie Chia Pudding
This post is sponsored by So Delicious. All opinions are 100% mine. Thank you for supporting the brands that support Jessica in the Kitchen!
This Pumpkin Pie Chia Pudding is like having pumpkin pie for breakfast! It's loaded with nutrients, is great for meal prep and is so delicious!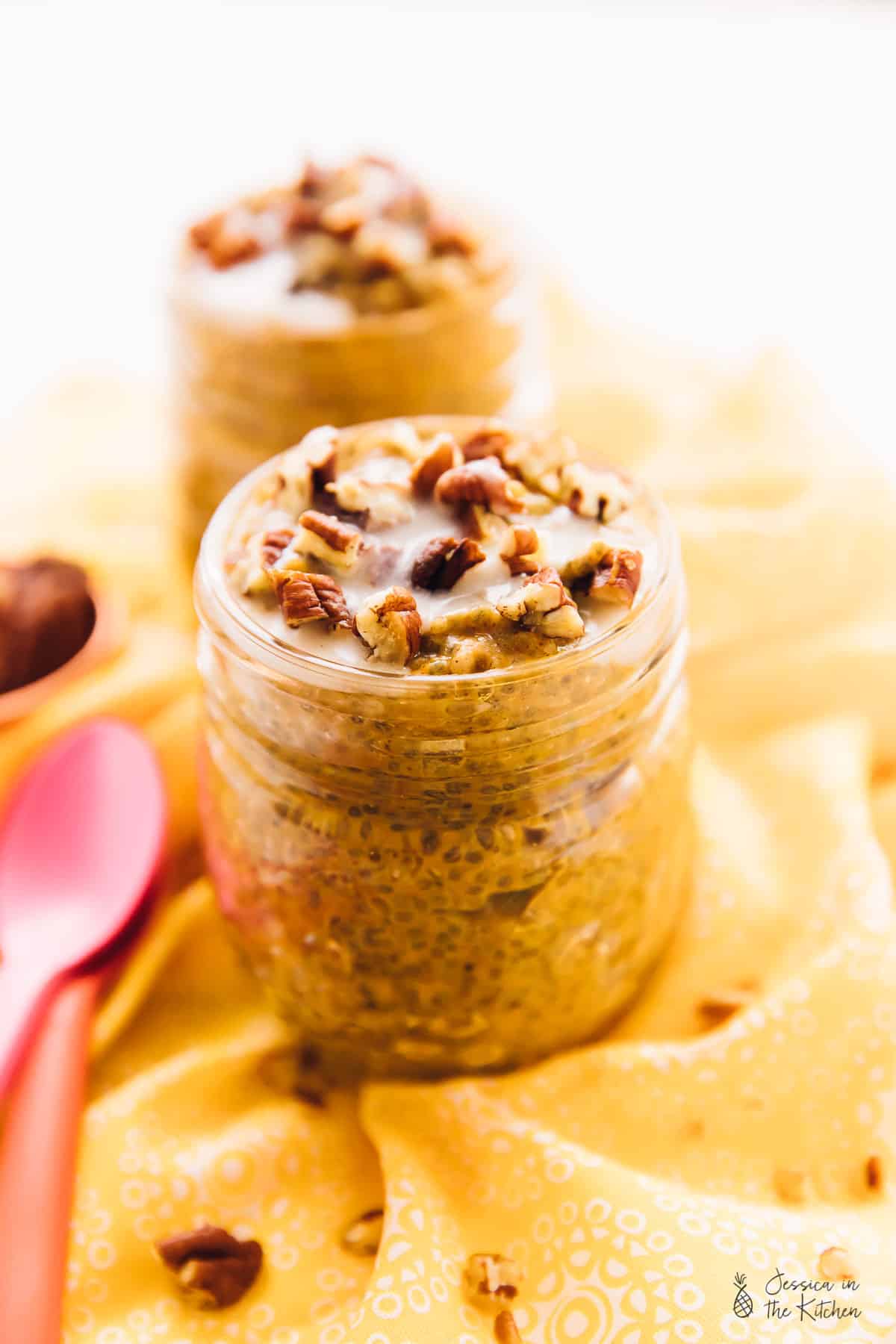 I can't decide which season I like best. Every one of them has its highlights. Spring and Summer bring butterflies, pool parties, and any excuse to go to the beach. Then, Fall and Winter bring comforting foods, warm and cozy clothing and everything pumpkin. Either way, when I'm in a season, I am all about that season. So, for fall? I'm into everything pumpkin, cozy, warming and absolutely delicious. I've even began to sprinkle pumpkin pie spice into my daily matcha lattes! Yup, that's how committed I am.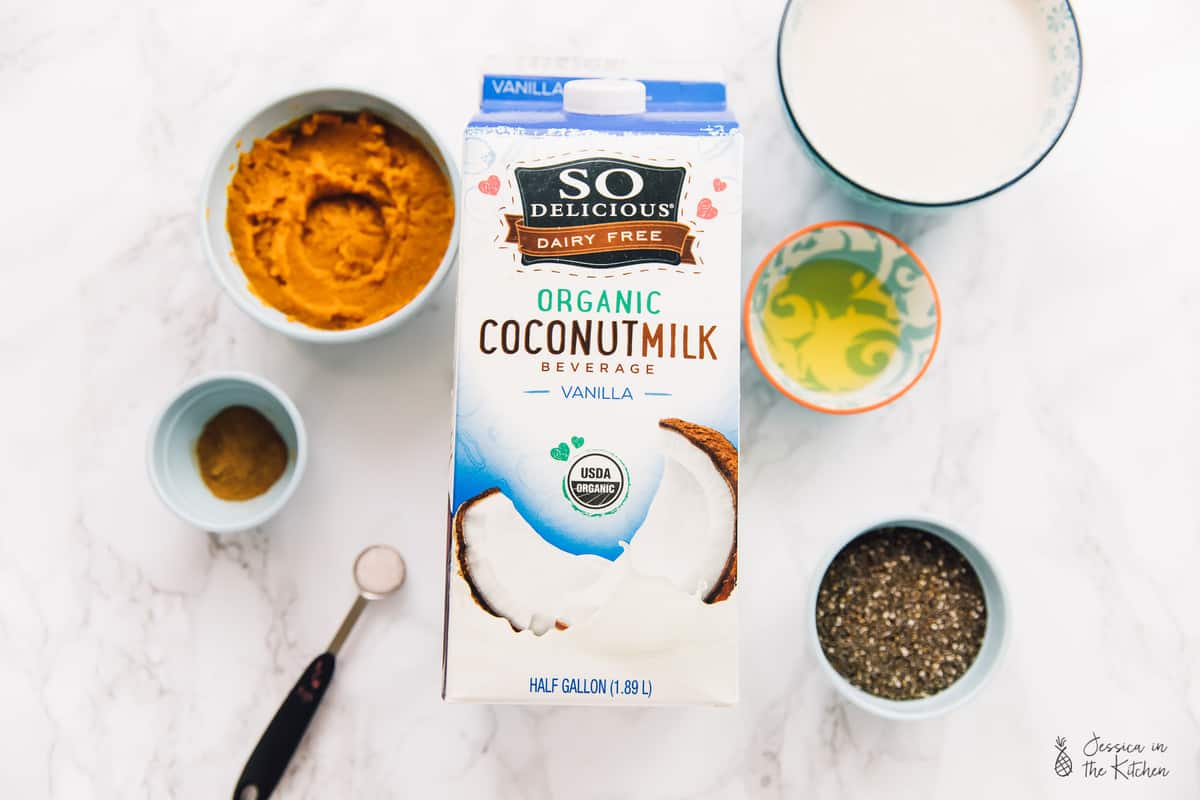 Speaking of committed, I've been switching up my breakfasts to ensure that I can enjoy this Pumpkin Pie Chia Pudding as much as possible. If you aren't sure what chia pudding is, the chia seeds soak up any liquid they come in contact with, creating a thick, pudding-like texture. Let me tell you – the flavours here are exactly what you want to have first thing in the morning. It's like having a pumpkin pie for breakfast – except healthier and more nutritious for you, with all of the taste still there. Thanks to the pumpkin and the chia seeds, this breakfast is chock-full of fibre and will definitely keep you full. I love adding pecans on top because they really amp up the fall flavours here. Plus, they add in some delicious texture.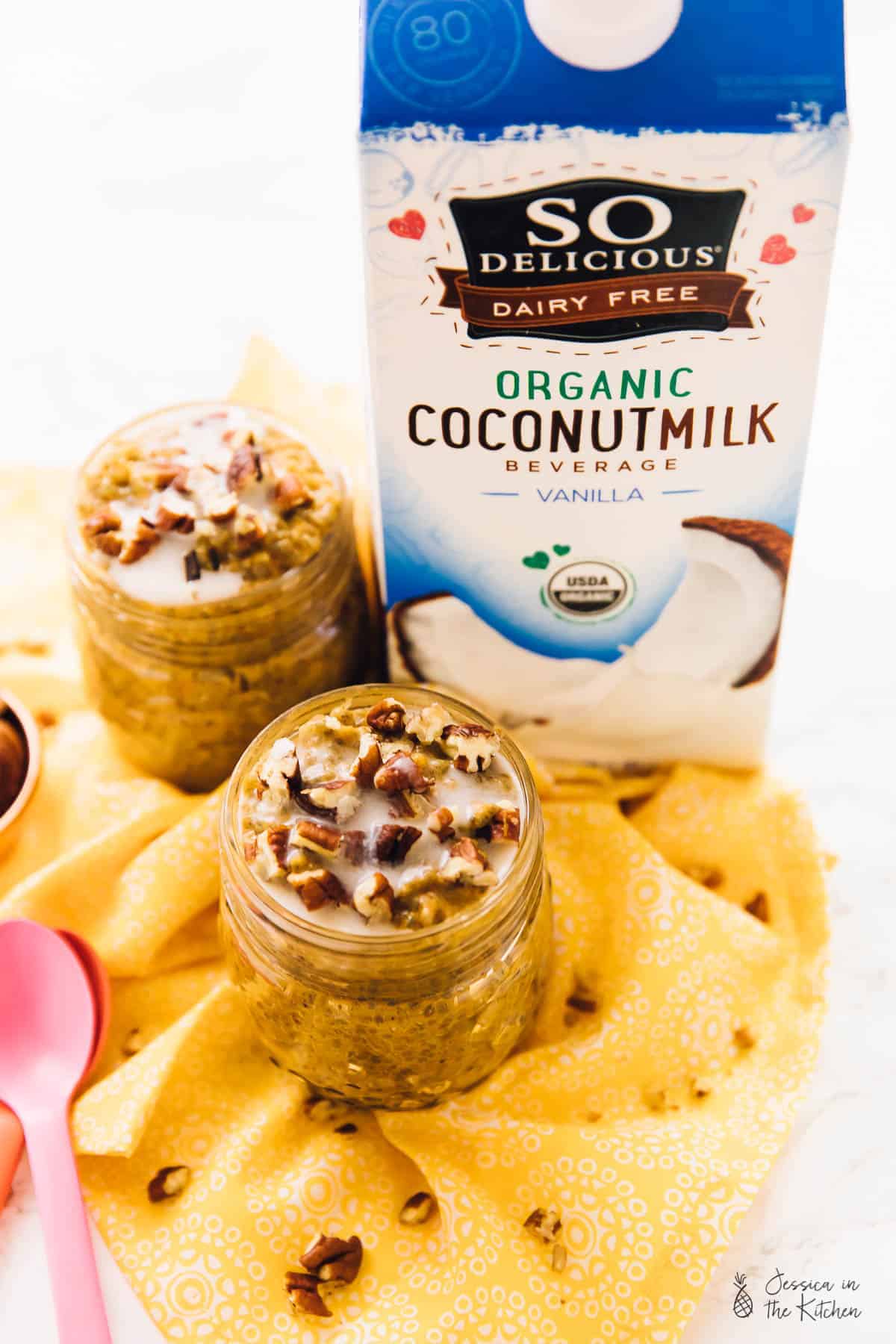 For my choice of nut milk, I immediately went to the So Delicious Organic Coconutmilk Beverage Vanilla. It's certified organic, NON-GMO, of course vegan and also soy-free and carrageenan-free. I love that you get that creaminess from the coconut, yet it doesn't overpower any of the pumpkin spice or pumpkin flavours, so those shine through as the stars. If you're looking to lower your calorie intake, you could even use the So Delicious Organic Coconutmilk Beverage Unsweetened which has 45 calories per cup in comparison, with all the flavour and creaminess still there. It means of course that whether you're serving this to a vegan, vegetarian or anyone, the whole family can enjoy! I love how all of the ingredients here serve their own nutritious purpose. All while still delivering a punch of flavour that you'll be looking forward to.
This Pumpkin Pie Chia Pudding is very meal preppable too. So, you can mix it together the night before and grab it on your way out the door the next morning very easily. You could even prep a few days ahead. Or, you can enjoy it peacefully at your breakfast table.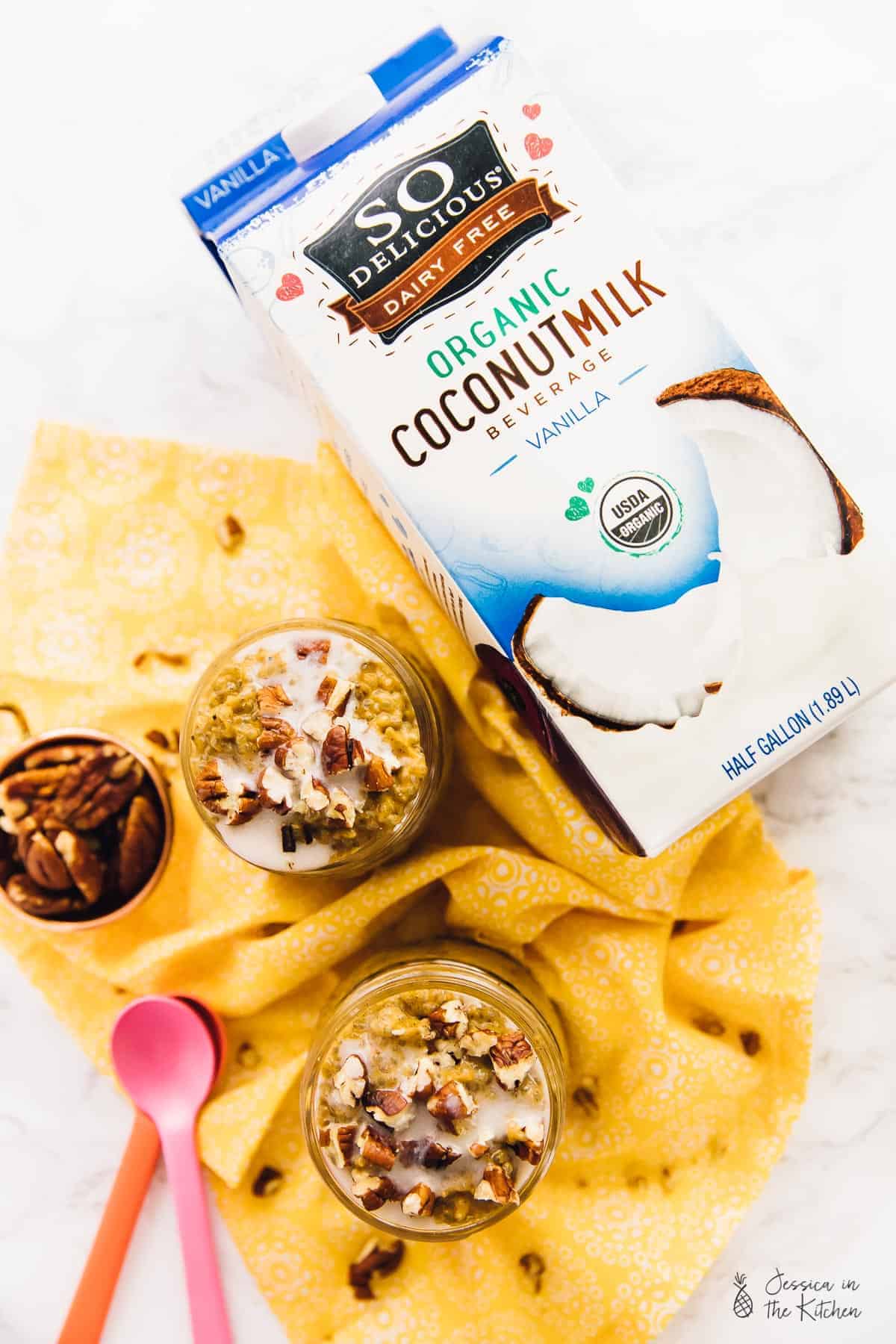 You could even have it as a delicious healthy dessert too. A dollop of whipped coconut cream (you should try the So Delicious CocoWhip!) on top would be great to compliment the So Delicious Coconutmilk Beverage. Any way you want to have it, you're bound to enjoy it.
Eat up and enjoy friends! P.S. – what are your favourite fall traditions?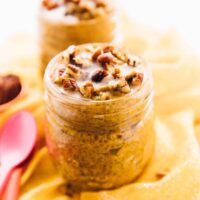 Pumpkin Pie Chia Pudding
This Pumpkin Pie Chia Pudding is like having pumpkin pie for breakfast! It's loaded with nutrients, is great for meal prep and is so delicious!
Ingredients
¼ cup 42g chia seeds
1 tablespoon agave syrup or maple syrup
¾ teaspoon pumpkin pie spice
½ cup pumpkin purée
Pinch sea salt
Chopped pecans, for garnish
Instructions
In a bowl or in individual jars, mix all of the ingredients together with a whisk. Stir until completely combined and pumpkin is smooth throughout the mixture. Taste test and adjust based on whether you want more sweetener or spices. 

Set in the fridge covered for 4 hours or overnight.

Remove from fridge and spoon into individual jars if you haven't already. Top with a drizzle of So Delicious Vanilla Coconutmilk and some pecans. 

Serve and enjoy!
Calories: 99kcal, Carbohydrates: 14.9g, Protein: 1.5g, Fat: 4.5g, Fiber: 4g, Sugar: 9g
Disclaimer: Although jessicainthekitchen.com attempts to provide accurate nutritional information, kindly note that these are only estimates. Nutritional information may be affected based on the product type, the brand that was purchased, and in other unforeseeable ways. Jessicainthekitchen.com will not be held liable for any loss or damage resulting for your reliance on nutritional information. If you need to follow a specific caloric regimen, please consult your doctor first.