Fresh Spring Rolls with Peanut Ginger Sauce
These Fresh Spring Rolls are colorful, crunchy, and super healthy—perfect for a light lunch, dinner or appetizer. Don't skip the sweet-and-savory Peanut Ginger Sauce!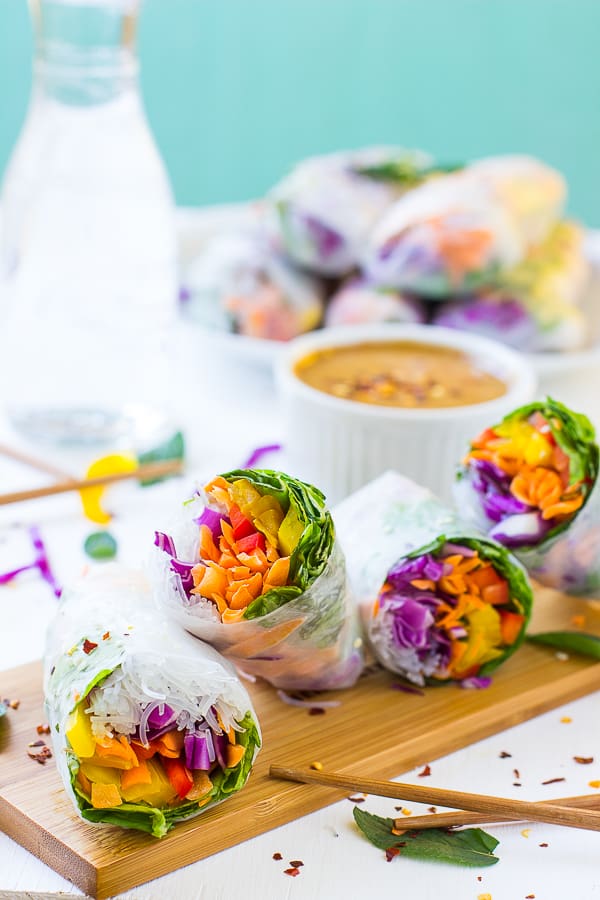 There's something about a rainbow of veggies that makes them even more appealing than usual. I mean, just look at these spring rolls! All those different colors, textures—it's like a colorful salad all rolled up into a convenient hand-held form. Plus, when you're eating the rainbow, you're also getting the widest variety of vitamins and minerals, which makes these fresh spring rolls super healthy.
So now that you know how good these are for you, you should know how easy they are to prepare. First things first, cut up all your veggies ahead of time so you have a mise en place (everything set out) for filling your rolls. Layer on your ingredients any way you like—I usually group each ingredient together rather than mixing everything up for more visual impact—and then wrap the rolls tightly. Tight wrapping is key here!
Your first few rolls will probably be a little wonky (it happens to me, too!), but after you get the hang of it, you'll find the process easy… and even a little bit satisfying! Once you're a rolling pro, you'll want to make my Summer Fruit Spring Rolls!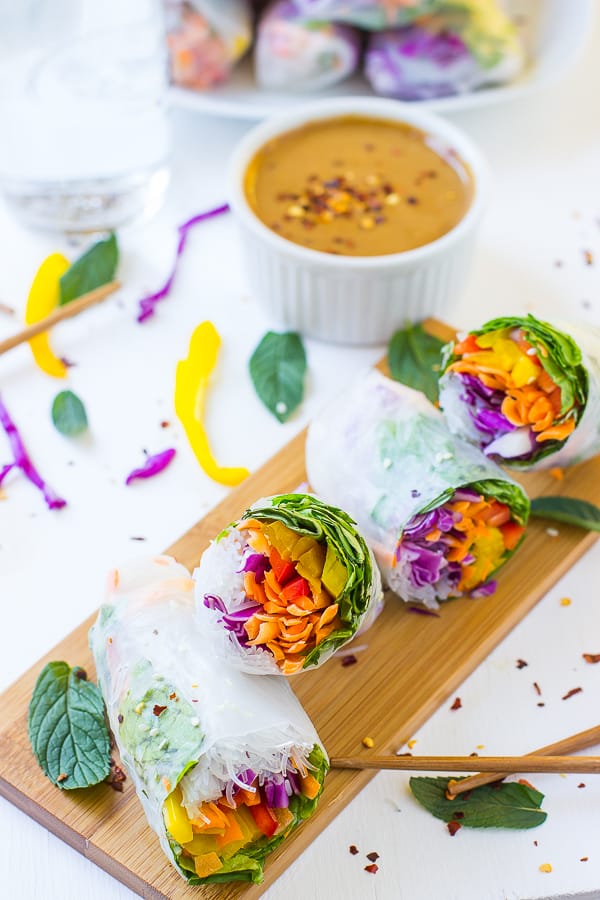 Notes on Ingredients
Please note that this is important information on the ingredients and instructions and the FULL recipe with amounts and details can be found DOWN BELOW (scroll to it) in the recipe card.
For the Fresh Spring Rolls:
Rice paper spring roll wrappers – These can be found in the grocery aisle with other Asian ingredients. They may sometimes be labeled "spring roll skin" or simply "spring roll wrappers"—unlike wheat-based egg roll wrappers, they're made with rice flour and tapioca starch.
Carrot
Mint – Basil or cilantro can be used instead, or use a combination of fresh herbs.
Purple cabbage
Red bell pepper
Yellow bell pepper
Lettuce – Butter lettuce is a great choice; you want something that will roll up nicely, so a variety with a big crunchy center isn't ideal. Spinach or spring greens will work, too.
Rice vermicelli noodles
For the Peanut Ginger Sauce:
Ground ginger
Maple syrup
Soy sauce – Or use liquid aminos, coconut aminos, or tamari.
Distilled white vinegar – Rice vinegar can be substituted.
Sesame seeds
Natural peanut butter
Warm water
Crushed red pepper flakes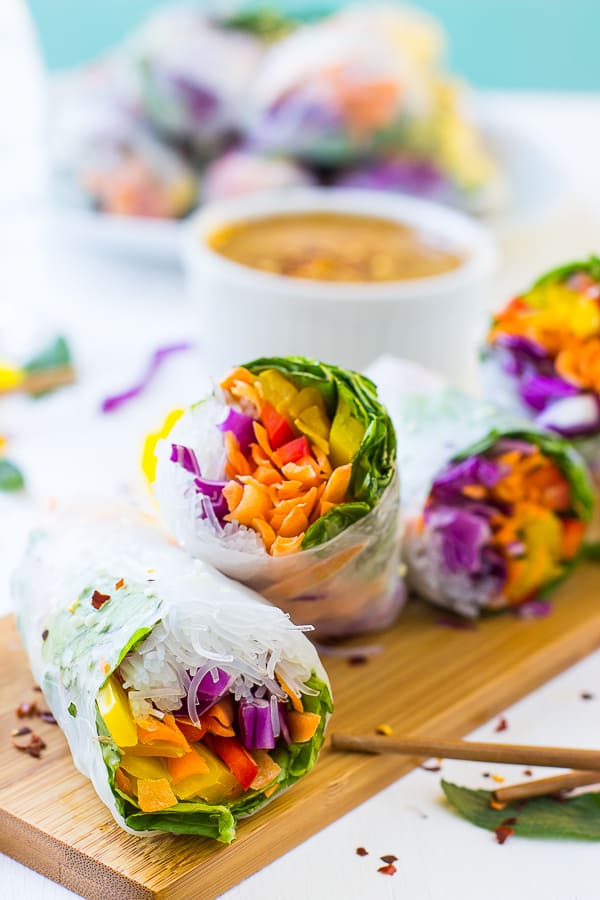 How to Make Fresh Spring Rolls
Once you've prepped the ingredients, most of the work is done! Here's what you'll need to do.
Make the dipping sauce. Whisk together all of the sauce ingredients in a bowl. Set aside.
Prepare your work area. Arrange all of the cut vegetables on a large cutting board; place a smaller plastic or silicone board or large plate next to this so you have space to assemble the rolls. Fill a wide, shallow bowl with water.
Assemble. Dip a wrapper into the water until it's transparent—this should take 20 to 30 seconds. Place the wrapper on your work surface and pat it dry. Fill the middle with the vegetables, noodles, and herbs. Fold over the top and the bottom of the wrapper onto the filling, then roll tightly from left to right, like a burrito. Place the finished roll on a plate with the seam-side down. Repeat with the remaining rolls.
Serve. Divide the spring rolls onto plates and serve them with the peanut sauce for dipping.
Tips for Success
Here are some hints and tips for making fresh spring rolls even easier!
Saving on prep time. If your grocery store has a salad bar, buy the filling ingredients from there to save yourself time slicing and julienning.
Amping up the protein. You can swap the noodles for strips of cooked tofu, or add tofu in addition to the noodles. Tempeh works, too!
A note on work surfaces. The rice paper wrappers will stick to wood, so I recommend using a plastic or silicone board, or simply use a plate for assembly. Failing that, you can line a wood cutting board with a damp paper towel.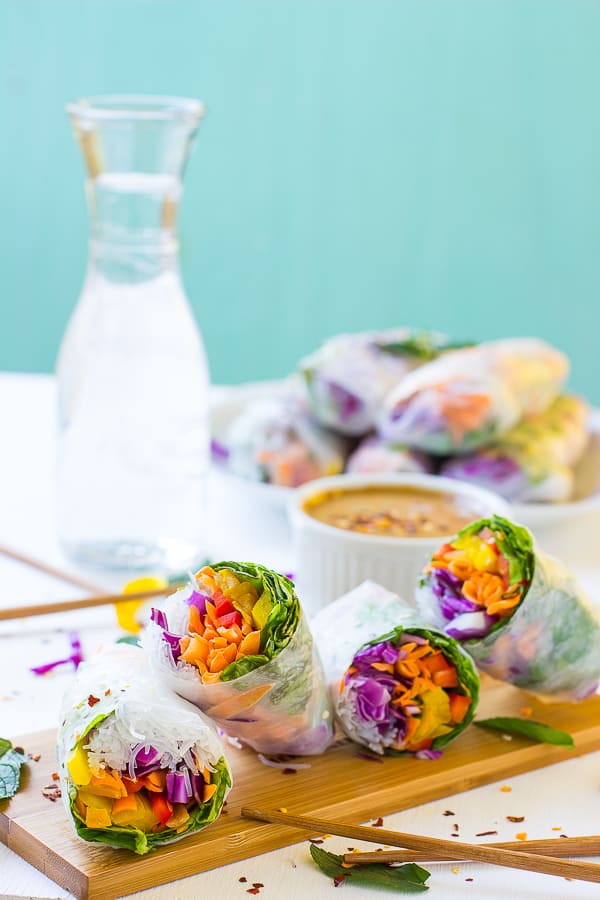 How to Store
Store fresh spring rolls in an airtight storage container in the refrigerator with a damp paper towel separating them to keep them from drying out. The sauce can also be refrigerated. Both will keep in the fridge for 3 to 4 days, depending on the freshness of the veggies you use. Spring rolls are great for meal prep!
Can These Be Frozen?
No, this isn't a recipe that will freeze well. If you're looking for a freezer-friendly Asian appetizer, try my Vegan Potstickers instead!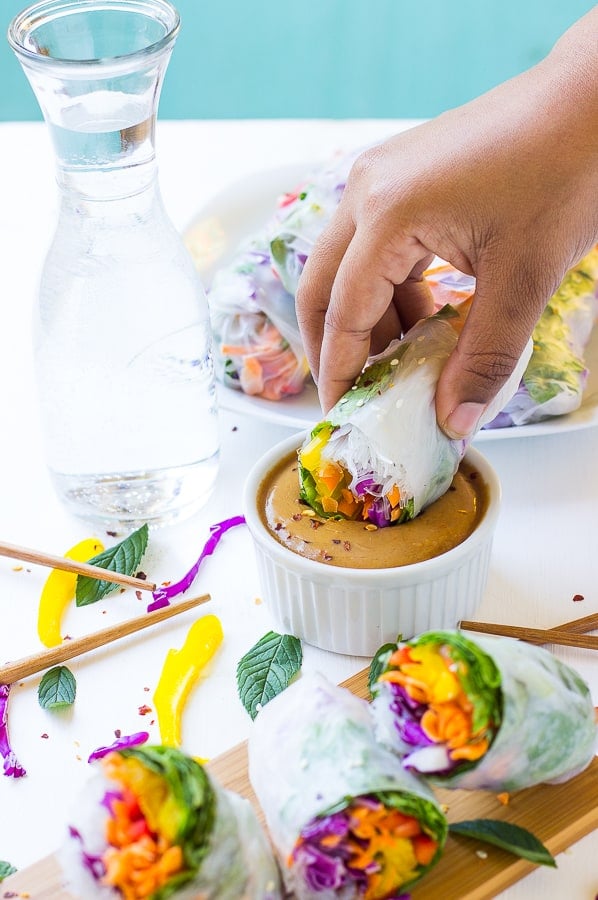 P.S. Here are some of the items I used to make this recipe if you'd like to use them too:
| WHAT YOU'LL NEED // SHOP MY FAVORITE INGREDIENTS & PREP PRODUCTS |


Enjoy friends! If you make this fresh spring rolls recipe, please snap a photo and tag #jessicainthekitchen on Instagram! We'd also love it if you would leave a comment below, and give the recipe a rating! Thanks so much!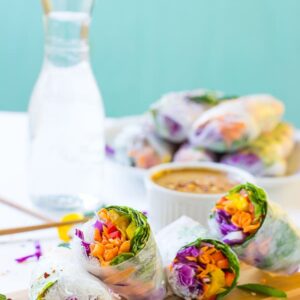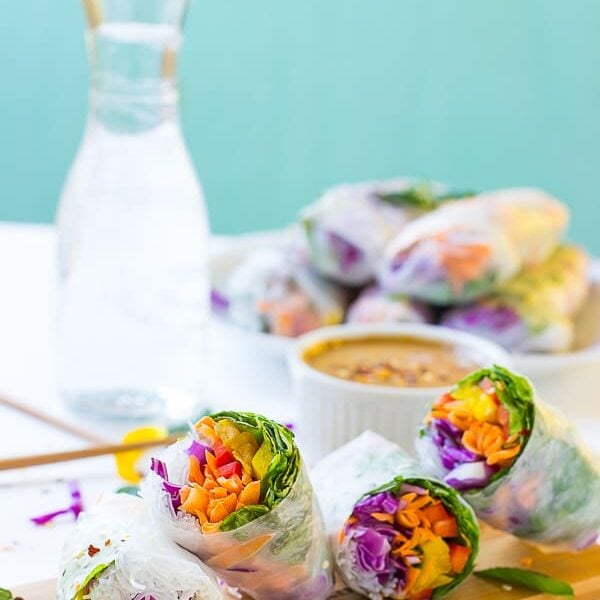 Fresh Spring Rolls with Peanut Ginger Sauce
These Fresh Spring Rolls are packed with different flavors, textures, and colors. A super healthy meal you'll actually enjoy eating!
Ingredients
Fresh Spring Rolls
9-10 rice paper
1 carrot, julienned
¼ cup chopped mint
2 cups purple cabbage, (171) sliced
½ cup red bell pepper, (52g) chopped
½ cup yellow bell pepper, (52g) chopped
7-8 lettuce leaves
5 ounces rice vermicelli noodles, (140g) cooked
Peanut Ginger Sauce
½ teaspoon ground ginger
1 tablespoon maple syrup
2 tablespoon soy sauce, gluten free if needed, or liquid aminos or coconut aminos or tamari
1 teaspoon distilled white vinegar
½ teaspoon sesame seeds
⅓ cup natural peanut butter
¼ cup warm water
¼ teaspoon crushed red pepper flakes
Instructions
Peanut Ginger Sauce
Whisk all the ingredients together in a deep bowl until combined. Set aside until ready to use.
Fresh Spring Rolls
Chop up your veggies and place on a cutting board.

Prepare the rice paper wrappers as per the instructions on your packaging. I poured water into a large wide bowl. I then dipped the rice papers into the water, until they began to become completely transparent. You want to ensure it's soft, but not so soft that it can be easily ripped. For my rice papers, this was about 20-30 seconds.

I then removed from the water and onto a plastic, silicone or ceramic cutting mat (they seemed to stick to my wooden board – if you only have a wooden cutting board, you can lay down a damp paper towel on it) and slightly pat dry.

Fill your rolls! I placed 2-3 slices of the varying bell peppers, a few slices of julienned carrots, some cabbage, a handful of vermicelli noodles, a sprinkling of mint and a small handful of lettuce (basically 1/10th of the amount I have in total). I lined these up in the centre of the rice paper.

I rolled the top and bottom of the rolls over the filling, then from left to right. So I rolled the left of the rice paper over the filing, then began to tuck the filling in as I rolled towards the right like a burrito. I continued to roll tightly until finished, then lay them on the folded edges to set on a plate. This took me about 30-45 seconds to do including putting in the filling.

Serve on a plate with the dipping sauce and enjoy!
Notes
How to store: Fresh spring rolls store well in the fridge with damp paper towel separating them. The peanut ginger sauce can be stored in the fridge, too. Stir before using since it may thicken a bit. Use both within 3 to 4 days. Calories include the sauce too. Without the sauce, the rolls are 123 calories each.
Calories: 162kcal, Fat: 5g
Disclaimer: Although jessicainthekitchen.com attempts to provide accurate nutritional information, kindly note that these are only estimates. Nutritional information may be affected based on the product type, the brand that was purchased, and in other unforeseeable ways. Jessicainthekitchen.com will not be held liable for any loss or damage resulting for your reliance on nutritional information. If you need to follow a specific caloric regimen, please consult your doctor first.