15 Easy Ways To Use A Can of Chickpeas
Wondering what to do with those canned chickpeas in your pantry? Here are 15 easy ways to use a can of chickpeas that are all different, unique, and delicious! From dips to whole meals, everything you need is here!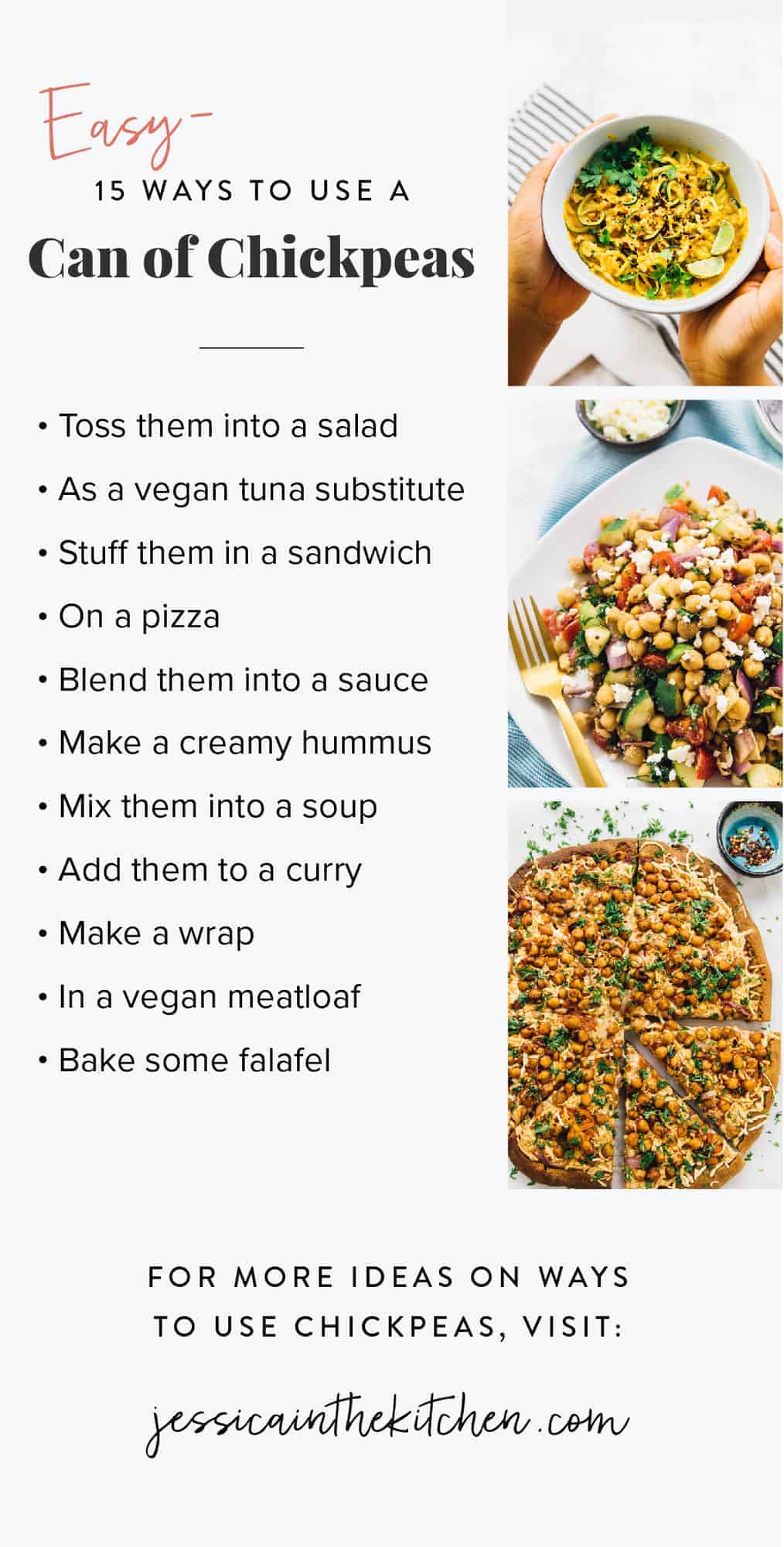 If you were to ask my what my favourite legume was, I would 100%, without a doubt, say chickpeas. They are the powerhouse ingredient that keep our household going, being featured in at least one recipe every week, and sometimes up to four in our fridge.
In fact, these "beans" are definitely in my top ten favourite ingredients of all time. So it's no surprise that I have so many chickpea recipes (and also that I desperately need to add my new hummus recipe to the blog). I didn't even think of doing this roundup, but I know one of the questions you guys ask me all the time is,
What can I do with a can of chickpeas?
We used to have that can of chickpeas sitting in the back of our pantry, so I get it. Now however, we are constantly buying more because we go through them so quickly. Today, I'm here to share all the things you can do with chickpeas. Whether you're completely clueless on how to use them, or that you're bored of your current go-to recipes, you'll find something that you will adore in this list.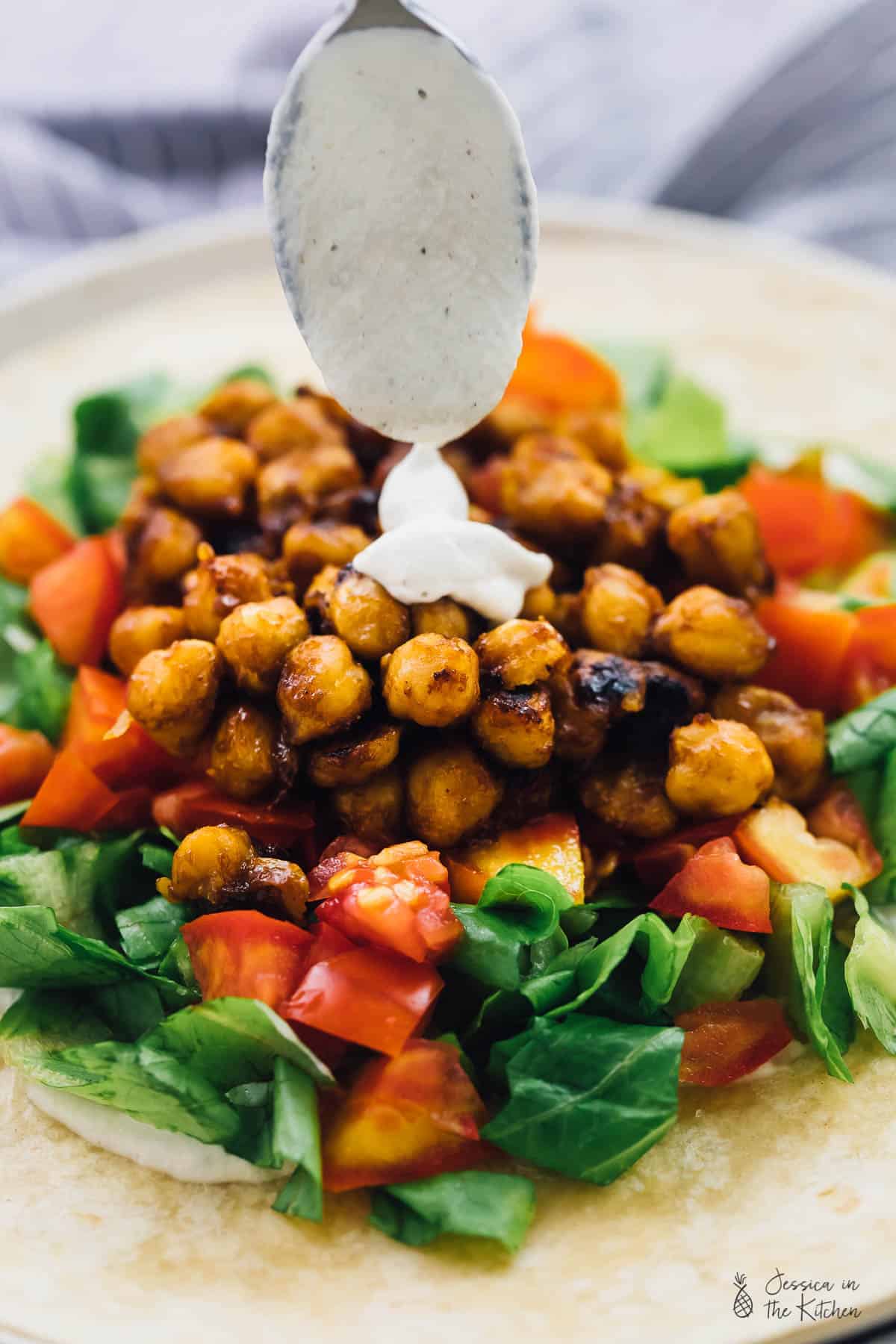 What are chickpeas?
Chickpeas are legumes that are a part of the plant family Fabaceae, subfamily Faboideae. It's high in protein, fibre and is super nutritious. It's also known as garbanzo beans! So if you've ever wondered "what's the different between chickpeas and garbanzo beans," they are the same thing!
One of the greatest things about these legumes is that it is incredibly versatile. Thanks to its creamy texture after it is cooked, it can pretty much take on any shape that you want it to. The same goes for its flavour — chickpeas has a distinct yet semi-neutral flavour, perfect for anything from a vegan tuna sandwich to chickpea blondies.
One last thing — the great debate — canned vs. dried chickpeas. We always have cans of them on hand because they are very easy to use, and as you know here at Jessica in the Kitchen I'm all about sharing easy, attainable and delicious recipes. That being said, the dried varieties are much cheaper, and not very difficult to boil. Just ensure that you are buying the right kind (I do not enjoy Canadian chickpeas, for example), and watch a few YouTube videos about how to cook them first!
I have also been getting another question which is "are canned chickpeas cooked?" Yes, they are already cooked and ready to eat! You'll just need to drain them and rinse before you use them for your recipe.
15 Easy Ways To Use A Can of Chickpeas
Put that can of chickpeas to good use with this list of easy ways to use chickpeas every day! From meal prep snacks to decadent dinner recipes, I've got it all with just humble and nutritious chickpeas!
I hope you found this post extremely helpful! What recipe do you want to make first? What's your favourite chickpea recipe? Let me know in the comments section below!