How To Make A Flax Egg (2 Ingredients) Guide
How to make a flax egg – an easy tutorial on how to use only two ingredients to make a flax egg – the perfect natural vegan egg substitute!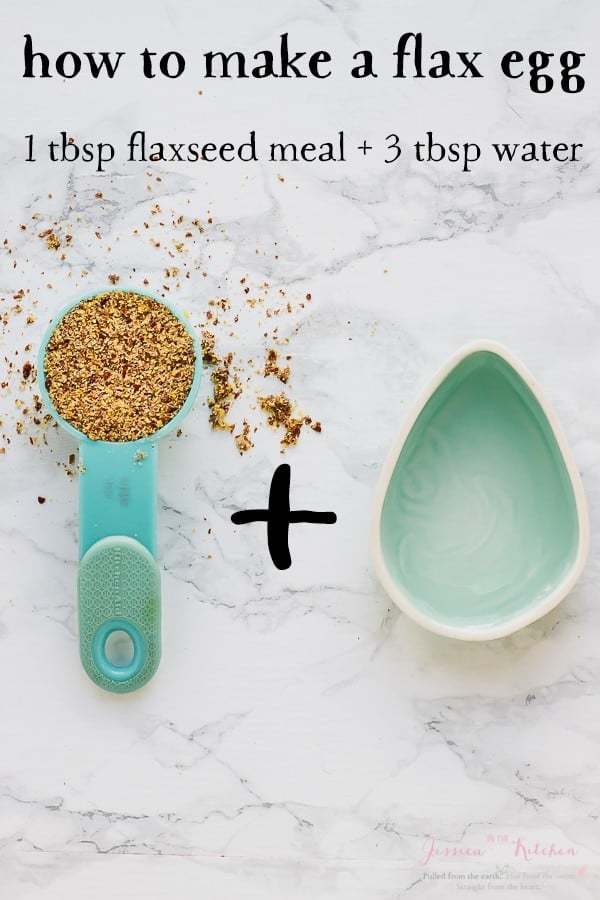 One of the questions I get asked the most is "what is a flax egg?". Understandably, and so I started to include a mini blurb on recipes about it, but I realised that that still wasn't enough detail.
Can I sub this equally for eggs? What does it taste like? Do I have to use flax seeds? After receiving all your questions I realised that I needed to make an entire blog post on the beauty of flax eggs!
What is a flax egg?
A flax egg is a vegan egg substitute, that is made up of ground flax seeds and water. It's 100% natural, vegan, gluten free, paleo, whole30…it falls perfectly into any category of food that you're eating.
P.S. allergic to flaxseed meal? No worries, I get more into what you can substitute later.
So what are flaxseeds?
To get into a little bit of science, flaxseeds come from the flax plant. Flaxseeds are insanely nutritious seed that you should probably start putting in everything you eat! They are very high in fibre, aid with digestion, and have a slightly nutty taste. You can even buy flaxseed oil. Flaxseeds can be brown and golden brown in color.
Health Benefits of Flaxseeds
3 grams protein per serving
4 grams fiber
High in omega-3 fatty acids
Aids with digestion

How Do I make a Flax Egg?
To make a flax egg, mix one tablespoon ground flaxseed meal with three tablespoons of water. Mix together, and let sit in your fridge for 15 minutes to set up and thicken. It's that easy. You could leave it up to 30 minutes if you want. Sometimes I even stick it in my freezer for 10 minutes.
The mixture will begin to thicken and get goopy (like an egg) – and you have your flax egg! It's kind of crazy how easy it is to make. For two flax eggs, just double, and so on.
What flax meal do you use?
I've been using this Spectrum Essentials Organic Ground Flaxseed (aka flax meal which is ground up flaxseeds) (aff. link) for years. But again, remember to replace it every 3-4 months. I also used to use one from Brandless, but they no longer make food products.
How do flax eggs taste?
Okay, please do not taste this raw, just like you wouldn't eat a raw egg. You won't be able to taste the difference in your baked goods at all. I've used flax seeds numerous times in brownies, cakes, pancakes, muffins and quick breads. That's one of the great things about it! Plus, you get tons of nutritional benefit with no weird taste.
Now for the tricky stuff…
Can I substitute flax eggs for real eggs equally?
Yes, but there are a few exception:
Flax Eggs For Baking:
You can general use the ratio 1:1 flax eggs to real eggs in:
pancakes
muffins
quick breads
veggie burgers
patties
Note: flax eggs won't fry like real eggs, so shakshuka is out! Just a note!
Substituting Flax eggs for eggs in brownies
Maybe it's just me, but this is particularly tricky. Real eggs in brownies really help with the rise. – I recommend just trying a recipe that was made for flax eggs such as my vegan chocolate brownies.
Do I have to use flaxseeds?
Great news: you can make flax eggs with chia! Substitute the chia seeds equally, grind the chia seeds, and use them similarly.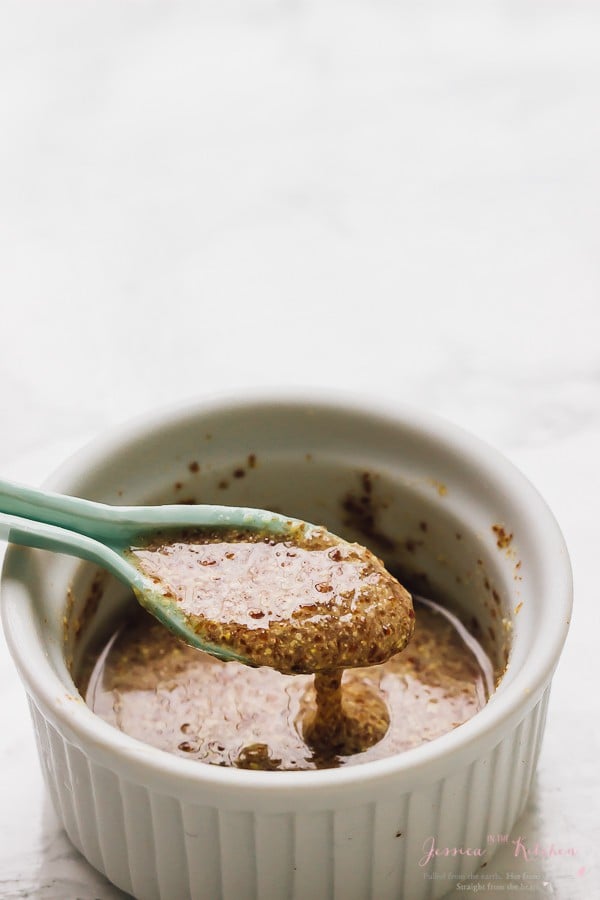 Flax egg troubleshooting tips
ensure your flax meal is fresh! I found this out the hard way. You should replace your flax meal every 3-4 months, but most importantly it should easily be thick and gooey like in the above photo after mixing. Keep your flax meal in the fridge to keep it fresh as long as possible.
Make sure you really mix it. You don't want it to just be a thick layer on the bottom and water on the top after the 15 minutes, you want it properly incorporated. I usually mix it for like 15 seconds first, then another 15 seconds after the 15 minutes in the fridge. So like a 15:15:15.
Remember to place it in the fridge while it sets up.
Recipes using flax eggs
Here are my recipes using flax eggs:
Vegan Chocolate Raspberry Baked Oatmeal Cups
Zucchini Fritters (Gluten Free & Vegan)
Sweet Potato Kohlrabi Fritters with Tahini-Yogurt Sauce
Chickpea and Beet Vegetarian Meatballs
Gluten Free Apple Pie Pancakes (substitute option)
Gluten Free Pumpkin Pancakes (substitute option)
Vegan Quinoa Cauliflower Burgers (Gluten Free)
Quinoa Veggie Burgers (Substitute option)
More great recipes around the web using flax eggs:
Zucchini Bread Quinoa Breakfast Cookies by Simply Quinoa
Gluten Free Vegan Brownies by Beaming Baker
One Bowl Vegan Pumpkin Cornbread by Simply Quinoa
Great Resources/Sources:
Bon Appetit- How to Eat Flaxseed
Whole 30 – The Official Can I Have Whole30 Guide
Several cookbooks, articles and videos over the last few years
Did I leave anything out? If you have any more questions on how to make a flax egg, please ask them in the comments below and I'll answer them and add them to the guide. P.S. – do you know that we have an entire blog dedicated to low carb recipes named Low Carb Vegan Recipes?! Be sure to check it out!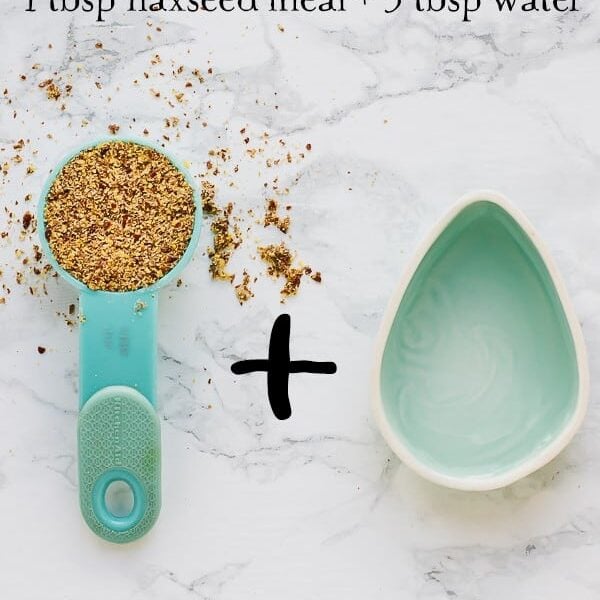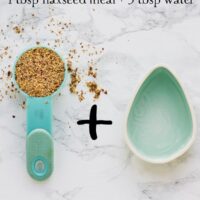 How To Make A Flax Egg (2 Ingredients)
How to make a flax egg – an easy tutorial on how to use only two ingredients to make a flax egg – the perfect natural vegan egg substitute!
Ingredients
How To Make A Flax Egg (2 Ingredients)
Instructions
How To Make A Flax Egg (2 Ingredients)
Mix the ingredients together in a small container. Put it in the fridge to set up for 15 minutes. Stir it one more time after the 15 minutes to mix any water that's still on top, for about 30 seconds. The mixture should become thick and goopy.

You can use your flax eggs in place of regular eggs.
Notes
Flaxmeal is ground up flax seeds. If you can't find flaxmeal, you can make it by grounding up flax seeds in your blender or spice or coffee grinder until it's fine like in the photos.
Calories: 37kcal, Carbohydrates: 2g, Protein: 1g, Fat: 3g, Saturated Fat: 1g, Sodium: 4mg, Potassium: 57mg, Fiber: 2g, Sugar: 1g, Calcium: 18mg, Iron: 1mg
Disclaimer: Although jessicainthekitchen.com attempts to provide accurate nutritional information, kindly note that these are only estimates. Nutritional information may be affected based on the product type, the brand that was purchased, and in other unforeseeable ways. Jessicainthekitchen.com will not be held liable for any loss or damage resulting for your reliance on nutritional information. If you need to follow a specific caloric regimen, please consult your doctor first.