Eggnog French Toast
This Eggnog French Toast is an incredibly simple and easy to make Christmas breakfast that is ready in 25 minutes!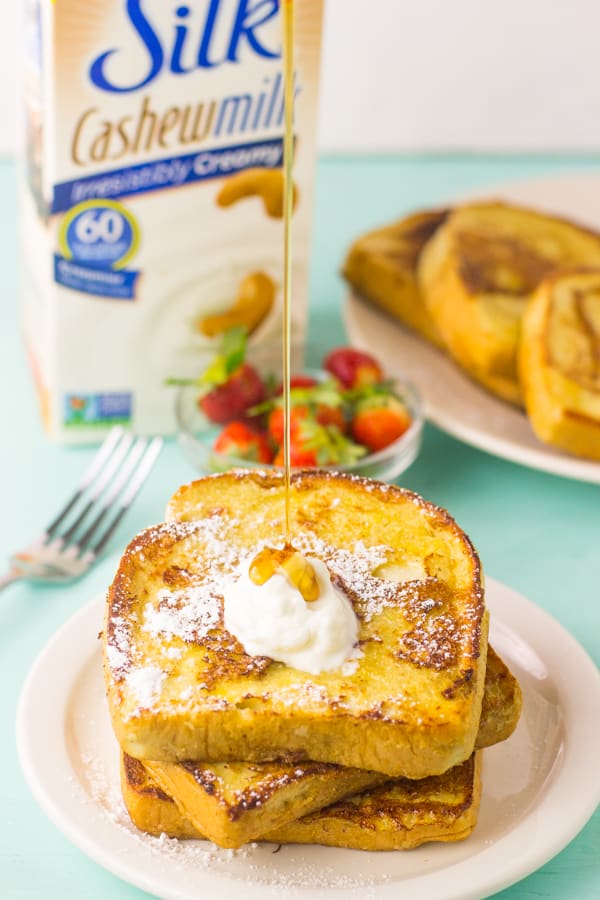 Being 100% in Christmas spirit mode means tons of delicious Christmas breakfasts being made pre-Christmas inclusive of this Eggnog French Toast. It's basically the best thing since sliced bread. The best part? The eggnog is made with this delicious Silk Cashewmilk and my family could not tell the difference, and they absolutely loved it.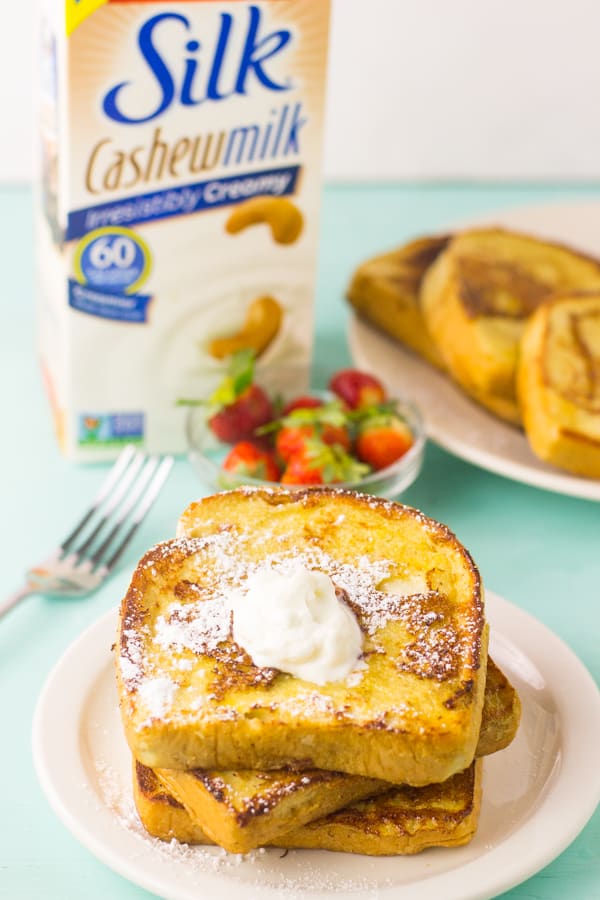 By the way: You guys are the best and I have an update from my last post; I'm halfway through my Christmas gifts! Just like that, I went into super Santa's elf mode and ordered them online. Also, our Christmas tree is finally up and so are most of the Christmas lights, so it's basically Christmas day around here inclusive of not one, not two, but four batches of eggnog made this weekend for my family that is finished as I type this. There has got to be an eggnog competition because we would certainly win.
Of course, when I made this eggnog french toast the next morning no one was complaining. The fragrance of eggnog was in the air alongside cinnamon french toast and to be very fair, anyone near or far would've automatically been drawn to the kitchen. I used my usual eggnog recipe but I made an important change: I used Silk Cashewmilk instead of regular milk and I'm proudly shocked by the results. Having the opportunity to share my review of Silk's Cashewmilk had me over the moon since I drink Silk Almondmilk almost every single day! I was so excited because this is a brand I truly believe in, and as is evident from many of my posts I am a fan on non-dairy milks.
Some great things: Silk Cashewmilk is creamy, actually creamier then regular dairy milk, and tastes pretty amazing. You know I'm also into nutritional facts so I'm about to get stats on you: Silk Cashewmilk has 50% more calcium than dairy milk aka you should be drinking and buying this instead. I had a glass and went "oh wait, this tastes really great!" I then proceeded to another glass and had to remind myself it was for the eggnog Jessica and happily used it since, well it's eggnog. No further explanation needed.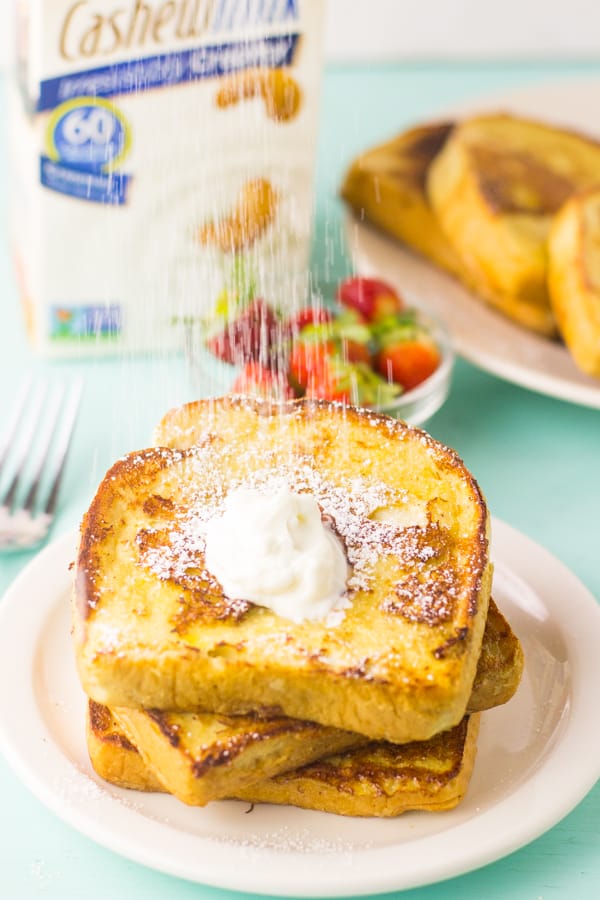 My family went on about how much they loved this eggnog, much more than the last time I made it with dairy milk. I personally found eggnog made with the Cashewmilk much smoother, which helped with the batter for the french toast. Yes, on to the french toast! This was your typical crisp on the outside, delicious soft yet sturdy on the inside. There's a lovely eggnog flavour that isn't overpowering but definitely pronounced and topped with any kind of syrup is even more delicious.
Needless to say, all my Cashew Milk is finished and I'll definitely be replacing it with some more. You should totally Sign up for Silk's eNewsletter because a) new updates and b) an instant coupon for Silk Cashewmilk! If you give it a try I'd love for you to head over to Silk's Facebook Page to share your experience – there are many of other people sharing their happy experience too which always makes me a bit giddy when people find milk alternatives. I know, I'm weird, but when something is this delicious, can you blame me?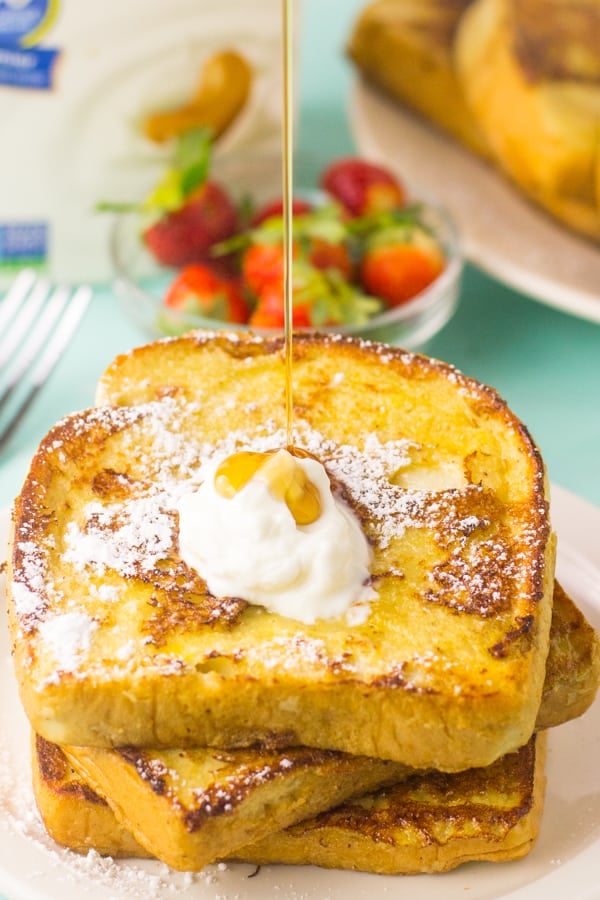 This conversation is sponsored by Silk. The opinions and text are all mine.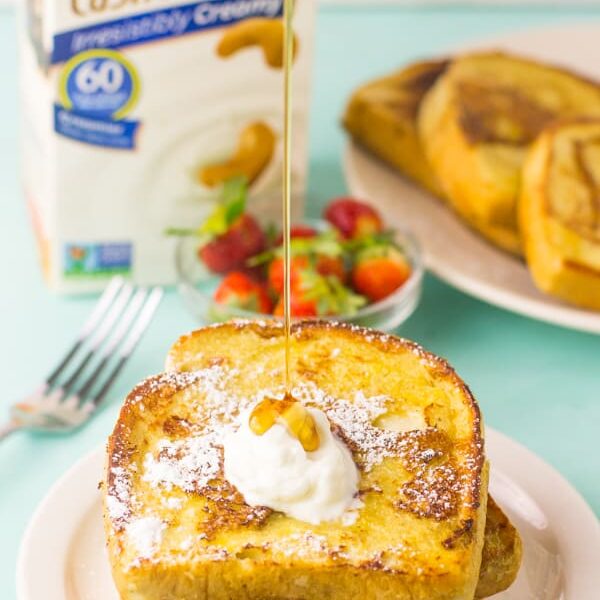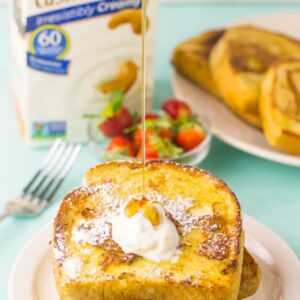 Eggnog French Toast
This Eggnog French Toast is an incredibly simple and easy to make Christmas breakfast that is ready in 25 minutes!
Ingredients
French Toast
6 slices thick bread
2 eggs
3/4 cup eggnog, recipe below
1/2 teaspoon cinnamon extract
1/2 vanilla extract
Silk Cashewmilk Eggnog Recipe:
2 large eggs, room temperature
1/3 cup natural brown sugar
1 cup Silk Cashewmilk
1/2 teaspoon nutmeg
1/2 teaspoon cinnamon
1/2 teaspoon all spice
Instructions
Silk Cashewmilk Eggnog Recipe
Add the separated egg yolks and egg whites to a blender and blend until a light creamy colour, about 15 seconds.

In a small saucepan, heat the sugar with the milk over medium heat for about 3 minutes until steam begins to rise and the surface begins to bubble slightly, and the sugar has dissolved, constantly stirring.

Add the sugar and milk mixture into the blender and blend. Ensure the mixture isn't too hot else the eggs may set.

Add the vanilla and the spices and continue blending the eggnog for about 15 seconds.

Return this mixture to the pan and heat for about 1 minute on medium heat, heating through the eggs. Return the mixture to the blender and add the alcohol. Blend one last time for 30 seconds, the eggnog will get frothy.
Eggnog French Toast
Mix the eggnog and the eggs together with the cinnamon extract and the vanilla extract with a whisk and set aside.

Preheat your griddle to 400 degrees F (if you don't have a griddle, you can use an indoor grill or a pot). Spray with cooking spray.

When the griddle is ready (a spray should sizzle) dip your slices of bread into the batter, ensuring that the bread is dipped all the way and has soaked up a good amount of the batter (approximately 3-5 seconds on each side). Place the bread on the griddle. Repeat for all your slices if you have the space.

Cook for 6 minutes on the first side (check to ensure it doesn't burn) then flip and cook for about 4-5 minutes on the other side. Both sides should be nice and golden and crispy.

Serve immediately with your favourite toppings and syrups!
Notes
This Eggnog French Toast is an incredibly simple and easy to make breakfast that is ready in 25 minutes!
Calories: 397kcal, Carbohydrates: 59g, Protein: 16g, Fat: 11g, Saturated Fat: 4g, Cholesterol: 256mg, Sodium: 469mg, Potassium: 320mg, Fiber: 3g, Sugar: 33g, Vitamin A: 448IU, Vitamin C: 1mg, Calcium: 213mg, Iron: 3mg
Disclaimer: Although jessicainthekitchen.com attempts to provide accurate nutritional information, kindly note that these are only estimates. Nutritional information may be affected based on the product type, the brand that was purchased, and in other unforeseeable ways. Jessicainthekitchen.com will not be held liable for any loss or damage resulting for your reliance on nutritional information. If you need to follow a specific caloric regimen, please consult your doctor first.