Gluten Free Vegan Pie Crust (Video)
This Gluten Free Vegan Pie Crust is made with just 4 ingredients and works with ANY pie! All natural, easy ingredients and bakes perfectly into a light flaky crust!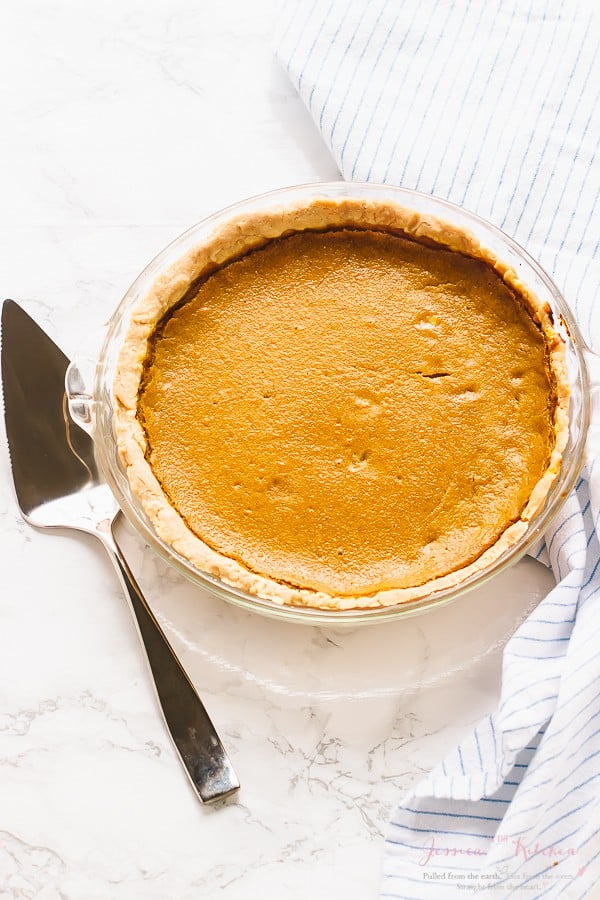 (pictured above: Vegan Gluten Free Pumpkin Pie)
Now that Halloween's over, it's officially all things Thanksgiving and Christmas season! Yeah, that mashup season is my current reality right now. To celebrate, I did something a bit different today: a pie crust. Not just any pie crust though, we're learning how to make a gluten free vegan pie crust! This is the answer to all your pie crust dreams since this works perfectly for everyone.
BONUS: it only looks intimidating; it's actually pretty easy to make!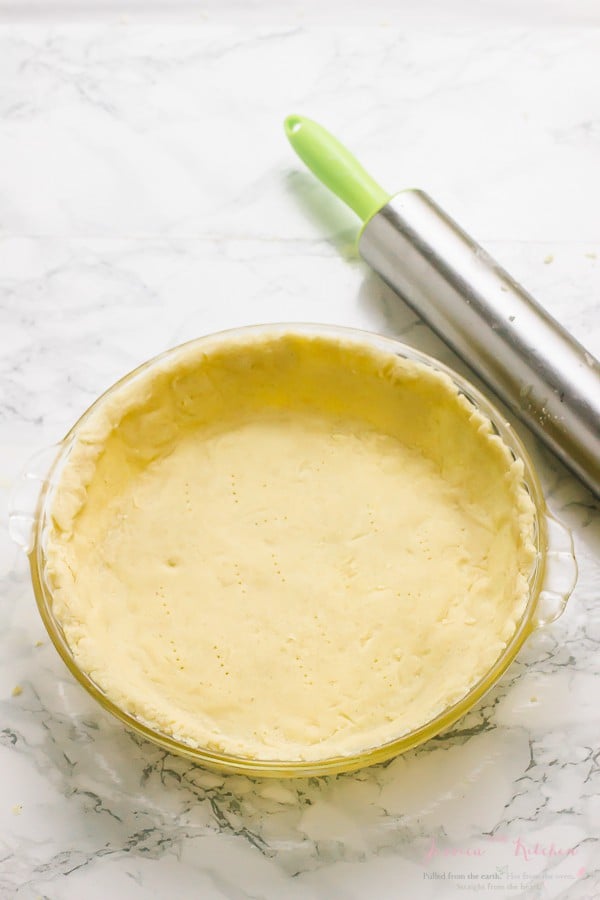 Step one to making a gluten free vegan pie crust: prepare to eat all the pie because the crust just tastes that amazing. Okay, truly, step one: ensure all your ingredients are very cold. Measure out your butter, cube it, then freeze it for a bit. Since vegan butter isn't as solid as regular butter, this step is crucial. If you can buy the ones that come in the sticks, even better. Once it's pretty solid, it's ready.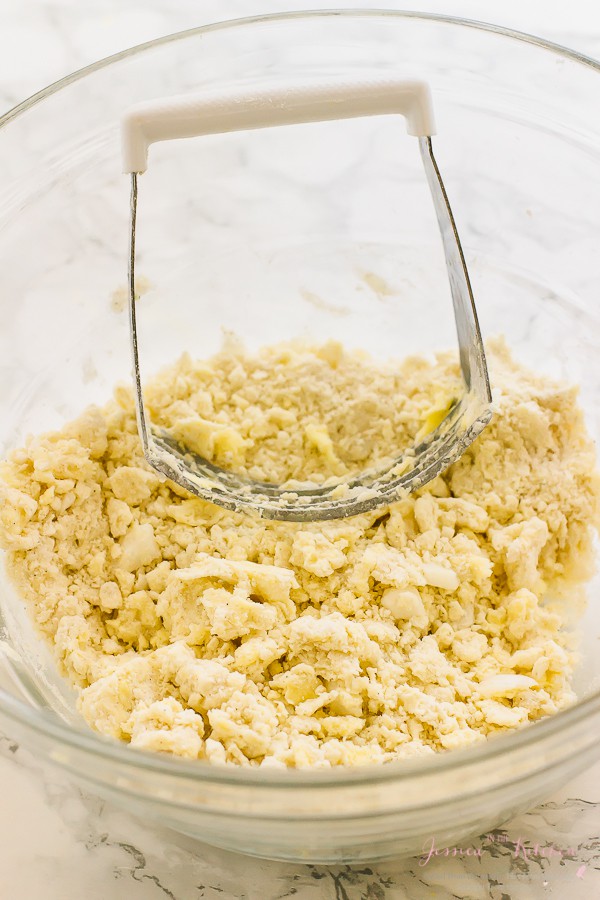 Next, mix everything together. There is no gluten, so you don't have to worry about over mixing. However, you still don't want to blend it out because solid bits of vegan butter is a GOOD thing. This means an even "fattier" crust and more flakiness, that's still sturdy.
We want flakiness.
Form into a disk, wrap with saran wrap, and set in your fridge for two hours or more. I do overnight sometimes. I love that you can make this gluten free vegan pie crust (just cementing that in your minds, inception style) ahead of time because, who has 4 hours to make a pie?!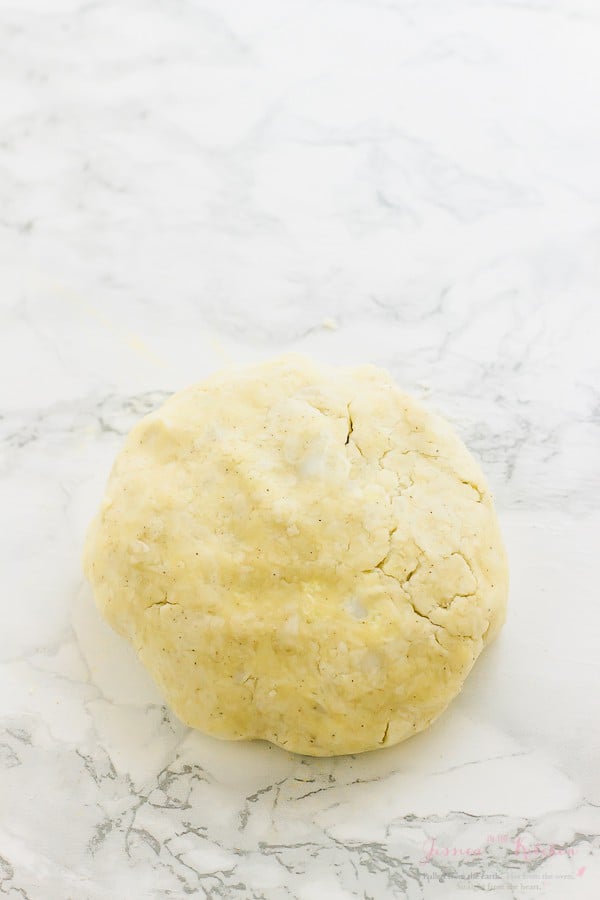 Roll it out (no pictures for this step, but it's all in the video). PERFECT. I like to roll my dough out to 12 inches so you get that hang over the pie container. Speaking of which, I use a standard 9 inch pie dish. Apparently it is deep dish (according to the description), and you can pick it up on Amazon.
I roll mine out on parchment paper so I can just flip it onto the pie dish. Even after 3 years of owning a baking company, this part is still tricky, but this crust is FORGIVING. If it doesn't fall perfectly, just form it out with your hands. Seriously, no one will know. Except us, of course.
If your recipe requires pre-baking, add some pie weights if you own them, or dry beans. I always have dry beans, so this seems perfect here. For my pumpkin pie recipe, I bake these for 10 minutes (coming tomorrow). Since it's such a wet crust, that helps prevent soggy crust.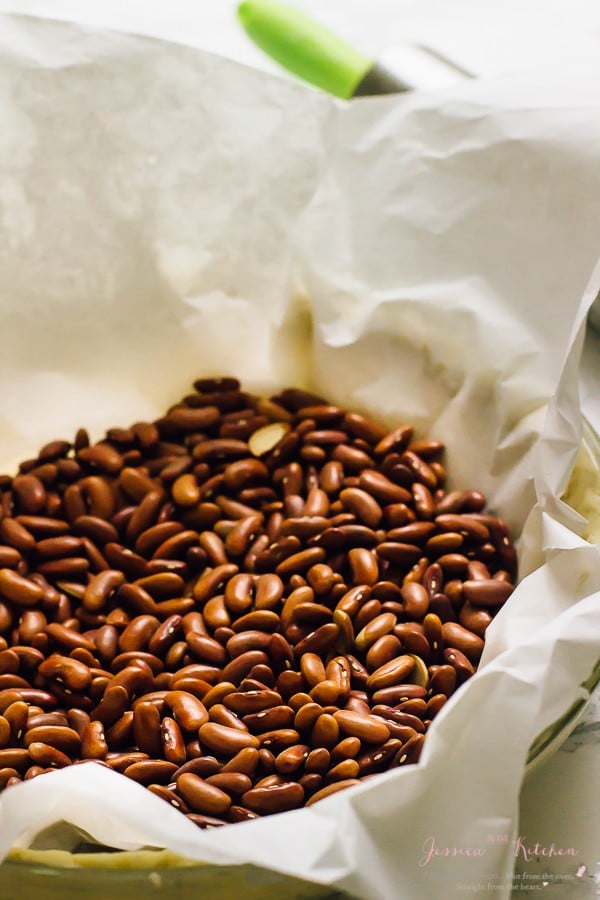 You're done! Add your delicious filling and reveal beautiful yummy pie below! That wasn't so bad right?! P.S. 2 LOOK at that flakiness!! Goodness this crust was delicious. I had way too much, but that's okay because I shared it so the calories don't count 😉 .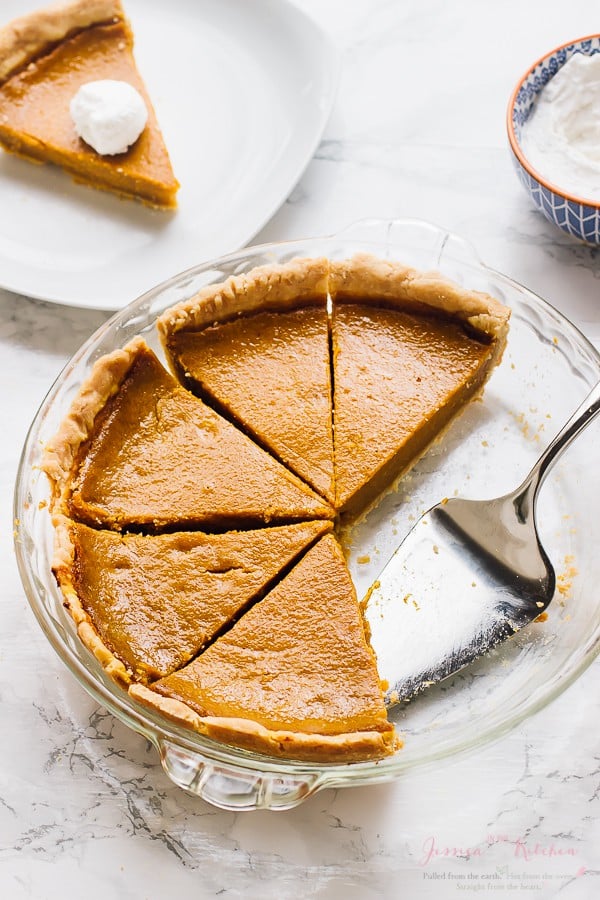 YOUR QUESTIONS ANSWERED
Q: Can I freeze this gluten free vegan pie crust?
A: YES! You can freeze this pie crust for up to 3 months. When ready to use, thaw overnight and use as normal.
Q: Why is my pie crust crumbly?
A: You may need a bit more water in your pie crust. Ensure that you actually weigh out your flour to prevent adding too much!
Q: Why is my pie crust too soggy?
A: You probably added too much liquid. Again, weighing out ingredients will help to prevent this!
P.S. Here are some of the items I used to make this recipe if you'd like to use them too:
| WHAT YOU'LL NEED // SHOP MY FAVORITE INGREDIENTS & PREP PRODUCTS |


If you try this Gluten Free Vegan Pie Crust please let me know in the comment section below, or tag me on instagram with the hashtag #jessicainthekitchen! For more exclusive recipes follow me on Instagram AND on Snapchat: jessinkitchen.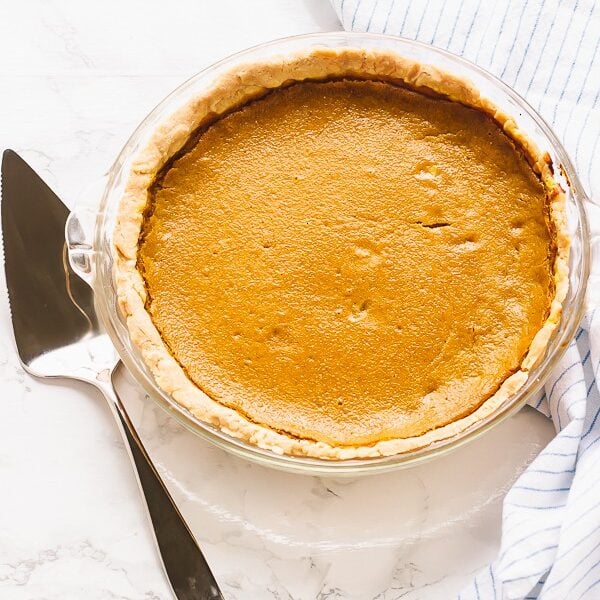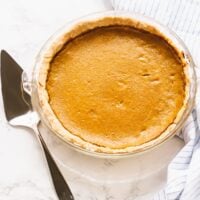 Gluten-Free Vegan Pie Crust
Make your favourite vegan pie recipe gluten-free with this easy gluten-free vegan pie crust! You only need 4 simple ingredients for the perfect, flaky pie crust. 
Ingredients
Gluten Free Vegan Pie Crust
1 1/4 cup all purpose GF flour, 6.5 oz/185g
1/2 teaspoon sea salt
8 tablespoons vegan butter, solid and cold
4-6 tablespoons ice cold water
Instructions
Gluten Free Vegan Pie Crust
Ensure all your ingredients are very cold. You want almost frozen butter that is hard.

Add all the ingredients (you can mix the salt with the flour first) to a large bowl and using a pastry cutter, blend it all together. You could also use a fork or even your hands. You want everything blended together to form a coarse dough, where you can still see bits of butter that look like little pieces of coarse sand. Don't overwork.

Add the water slowly. Start at 4 tablespoons and mix with a wooden spoon. If the dough is too dry, add a tablespoon at a time until it's a bit more pliable. The dough should come together and not be sticky.

Shape the dough into a disk. Pay attention to see if it needs a bit more flour (a sprinkling) or water and add accordingly. I do not recommend adding more water than above.

Wrap with saran wrap, and place in the fridge for two hours up to two days.

When ready to use, set on the counter for about 5 to 10 minutes before rolling out.

Set down some parchment paper, dust it lightly with GF flour, and begin to roll out crust. Since the parchment paper moves a lot, it may help to add some weight to the edges. Roll out into a 12 inch circle.

Lightly flour your pie dish. Move the parchment paper with pie dough over the pie dish and begin to invert it into the dish. If it doesn't fall perfectly, just reform with your fingers. Smooth out the bottom and edges. Ensure the pie is covering all of the pie dish, especially the bottom.

Prick the bottom with a fork lightly, then add pie weights into a parchment paper onto pie crust. IF pre-baking, bake according to recipe's instructions. Enjoy!
Notes
To store: This gluten-free vegan pie crust can be kept in the fridge for up to 2 days before you use it. To freeze: This gluten-free vegan pie crust can be kept in the freezer for up to 3 months. To freeze, wrap the disk of dough tightly in plastic wrap and place it in a freezer bag. When ready to use, thaw overnight in the fridge and then follow the recipe instructions to roll it out and form the crust.
Calories: 159kcal, Carbohydrates: 14g, Protein: 2g, Fat: 12g, Saturated Fat: 6g, Sodium: 202mg, Fiber: 2g, Sugar: 1g, Vitamin A: 334IU, Calcium: 12mg, Iron: 1mg
Disclaimer: Although jessicainthekitchen.com attempts to provide accurate nutritional information, kindly note that these are only estimates. Nutritional information may be affected based on the product type, the brand that was purchased, and in other unforeseeable ways. Jessicainthekitchen.com will not be held liable for any loss or damage resulting for your reliance on nutritional information. If you need to follow a specific caloric regimen, please consult your doctor first.