Coconut Lemon Energy Bites (10 Minutes, Vegan)
These No Bake Coconut Lemon Energy Bites are made with only 6 ingredients, vegan and gluten-free and are a perfect quick healthy breakfast or snack!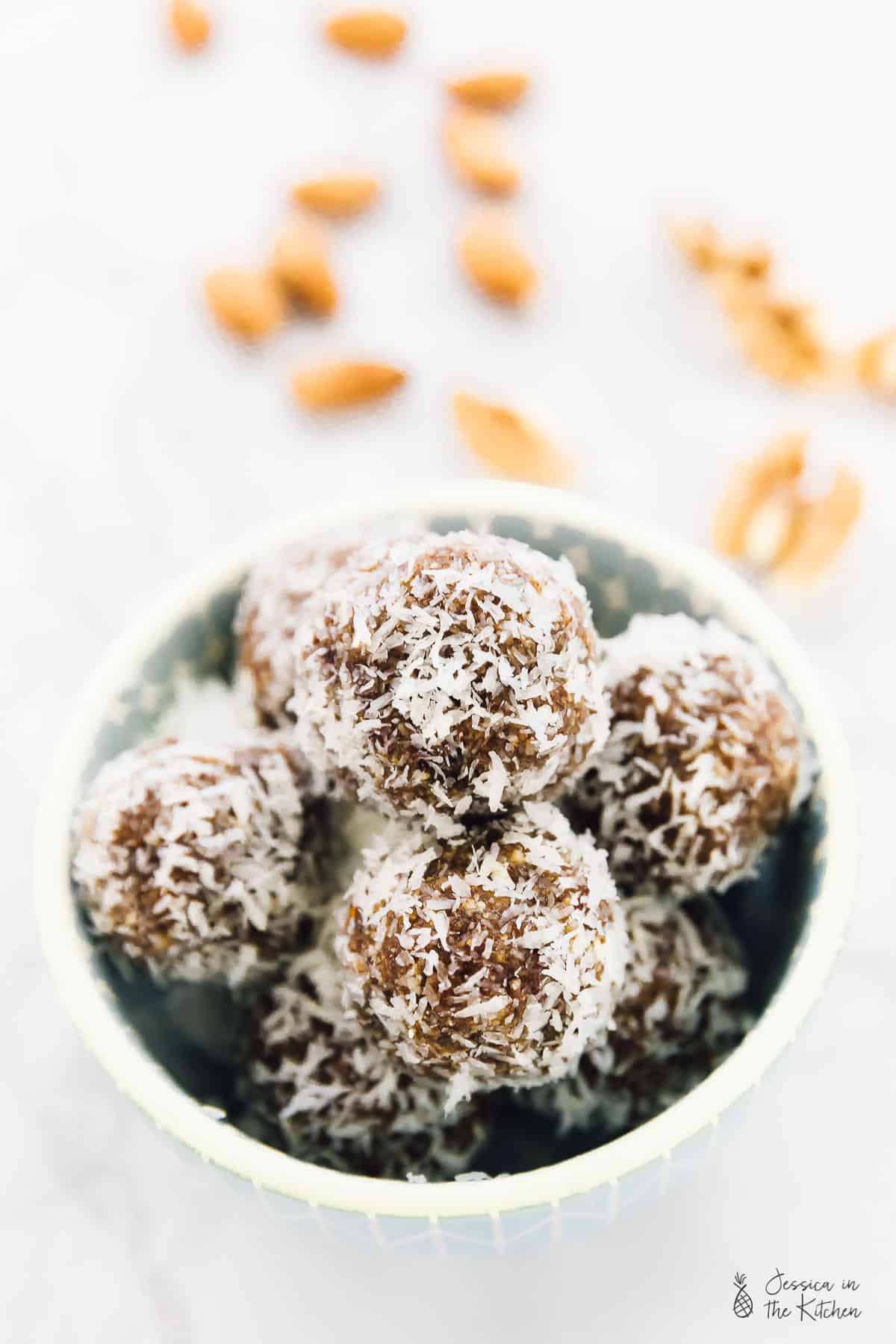 This post was originally published in May 2018 and has since been slightly updated and re-published in July 2020.
These Coconut Lemon Energy Bites are fruity, the perfect mix of spring and summery flavours. They're rolled in delightful coconut flakes, which immediately makes it delicious and gives it amazing texture.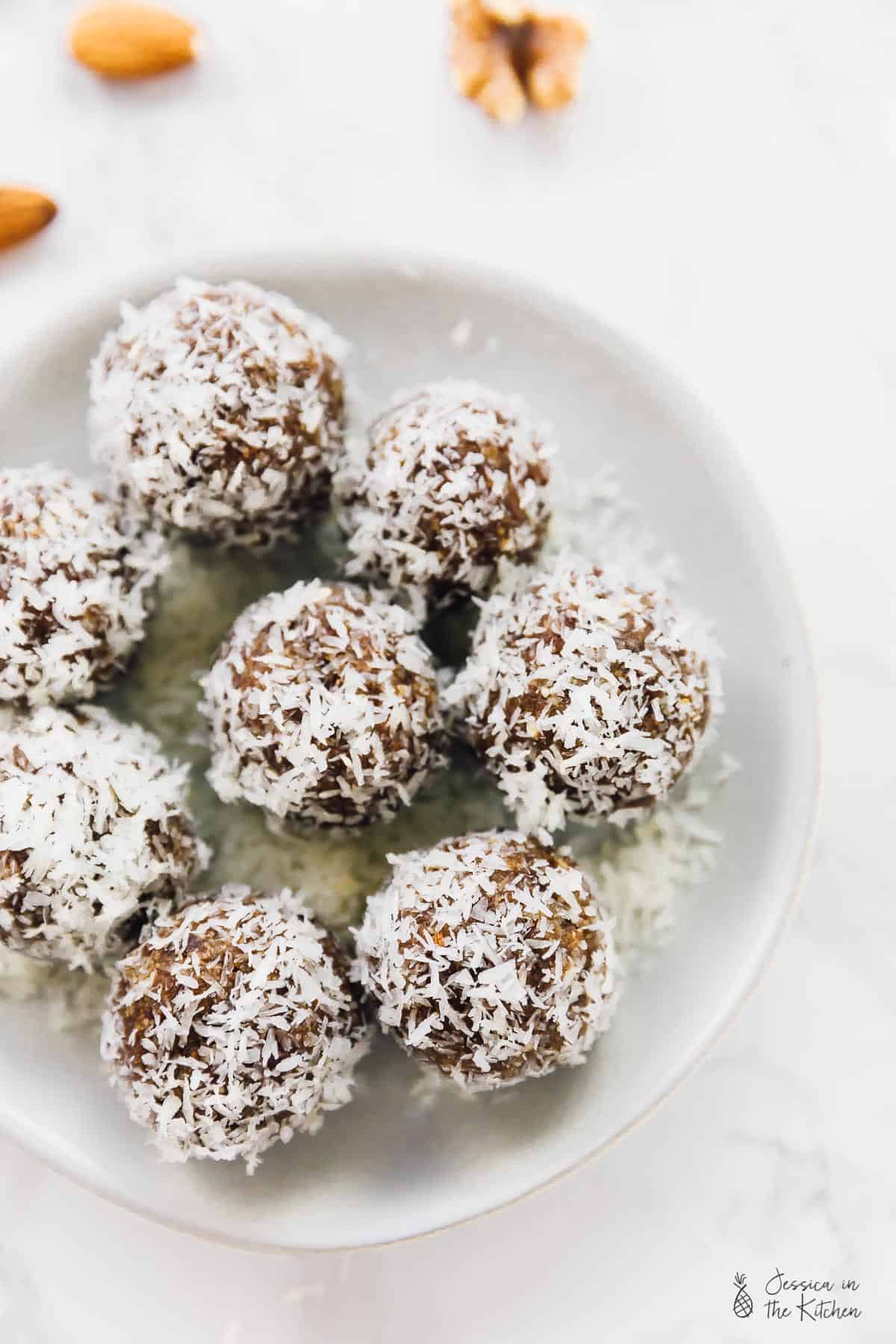 What are energy bites?
If you're new to energy bites, let me explain them a bit. They're little bliss balls packed with ingredients that give you great energy, are healthy and they taste amazing. They tend to be "raw", made of up nuts, oats chocolate chips, dried fruit…basically almost like trail mix in a bite. They're chewy, delicious, and you can make them any flavour that you desire! I've made carrot cake energy bites, brownie energy bites and even chocolate peanut butter energy bites.
When I say these bites are good, I mean gooood. They taste like little bites of lemon cakes rolled in coconut heaven. I love that they're made with totally whole food ingredients and filled with tons of energy, using simple ingredients such as lemon juice, coconut flakes, nuts and dates. That's all that makes these amazing coconut lemon energy bites. The main sweetener here are dates, which are naturally sweet, chewy and loaded with fibre.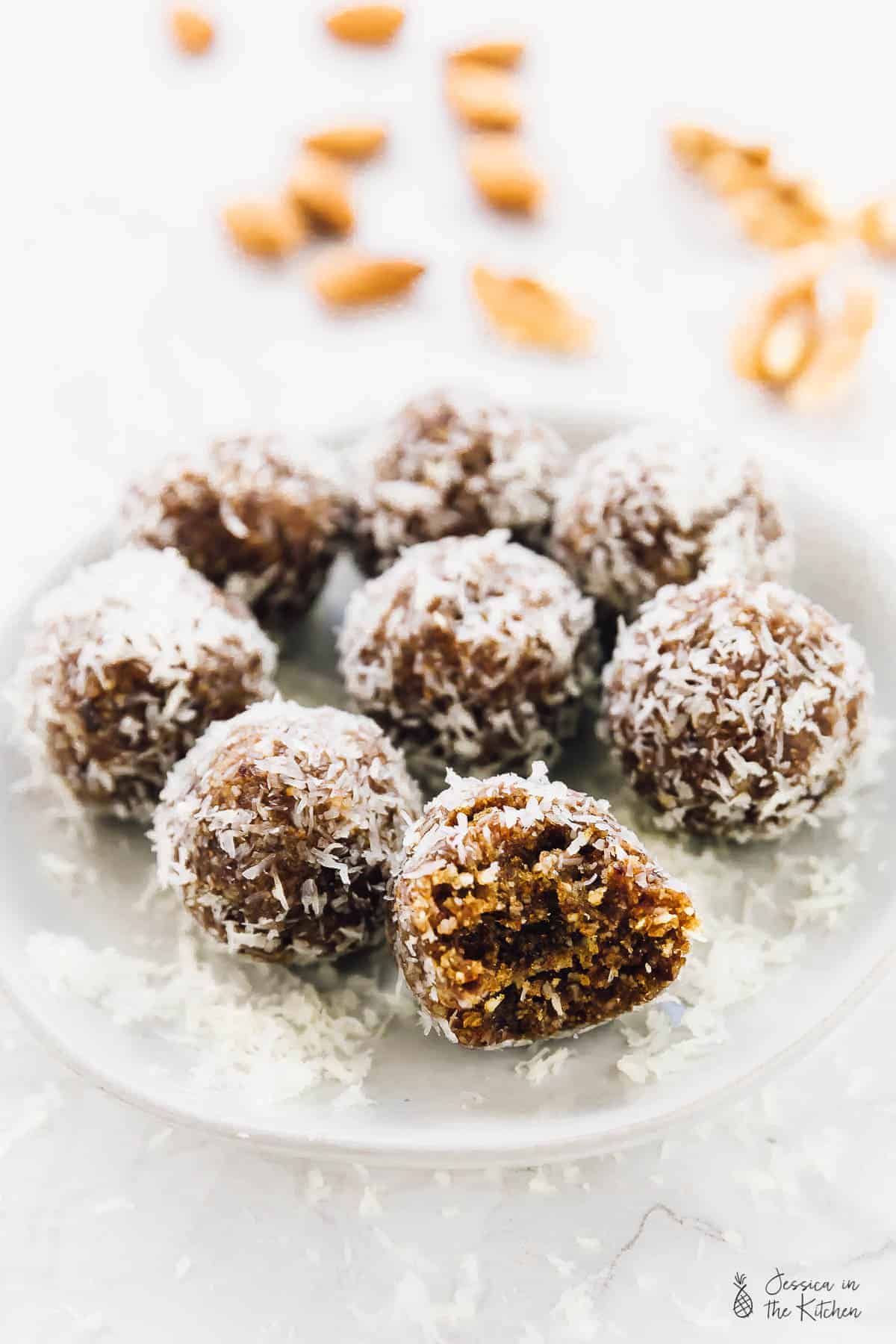 Tips for Making The Best Energy Bites
Ensure your dates are properly soaked and pitted. This helps to ensure the proper stickiness needed for the dates.
While you shouldn't, if you're having issues with sticking, add another date or a splash more of lemon juice.
Don't add everything in at once, follow the order outlined. You need the nuts to be ground first before you add the other ingredients. That way it'll be the right consistency.
So, bullet points for these Coconut Lemon Energy Bites?
No bake
High energy
Helps with sugar cravings. One bite (like, an actual lemon energy bite, and your sweet tooth is curbed.)
Tastes amazing
Healthy!
These energy bites last a good week in your fridge, although you'll probably finish them all before that. If you travel a lot like me, make them your perfect travel snack! Enjoy, friends!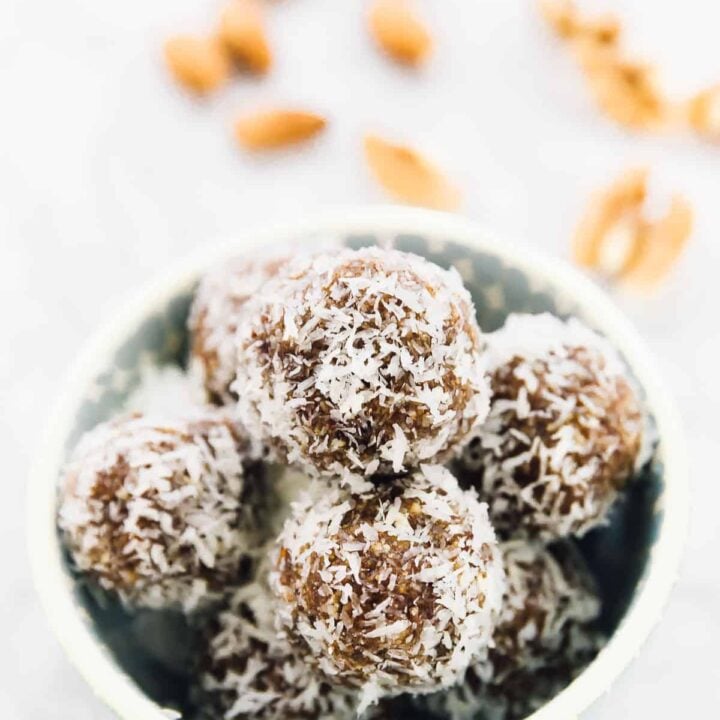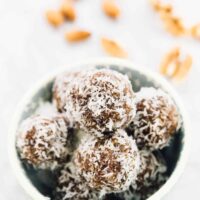 Coconut Lemon Energy Bites (10 Minutes, Vegan)
These No Bake Coconut Lemon Energy Bites are made with only 6 ingredients, vegan and gluten-free and are a perfect quick healthy breakfast or snack!
Ingredients
1 cup raw almonds
1 cup raw walnuts
1 cup pitted dates, soaked for at least 10 minutes, and then chopped
2 tablespoons lemon juice
½ cup shredded coconut flakes, unsweetened
¼ teaspoon sea salt
Instructions
Grind the walnuts and almonds in a food processor, until a dough starts to form. Add the dates, lemon juice, ¼ cup shredded coconut flakes and salt and process until incorporated and the mixture begins to turn into a dough.

Roll the mixture into round balls using the help of saran wrap (wrap it around the bites to form a circle), until all the mixture is finished.

Roll the balls in the last ¼ cup shredded coconut flakes.

Place in the fridge for at least an hour, then enjoy!
Notes
Notes This recipe is raw, gluten free and vegan. HOW TO STORE You can store these energy bites in the fridge in a zipped bag or air tight tupperware container for at least 3 weeks if the dates are fresh.
Calories: 143kcal, Carbohydrates: 11g, Protein: 3g, Fat: 11g, Saturated Fat: 2g, Sodium: 38mg, Potassium: 170mg, Fiber: 3g, Sugar: 7g, Vitamin C: 1mg, Calcium: 35mg, Iron: 1mg
Disclaimer: Although jessicainthekitchen.com attempts to provide accurate nutritional information, kindly note that these are only estimates. Nutritional information may be affected based on the product type, the brand that was purchased, and in other unforeseeable ways. Jessicainthekitchen.com will not be held liable for any loss or damage resulting for your reliance on nutritional information. If you need to follow a specific caloric regimen, please consult your doctor first.