10 Amazing Vegan Pasta Recipes
Vegan pasta recipes are so easy and super versatile to fit any meal! In just 30 minutes, you can choose from a light and fresh pasta salad lunch to a decadent and creamy vegan Alfredo recipe. I'll break down all my favourites.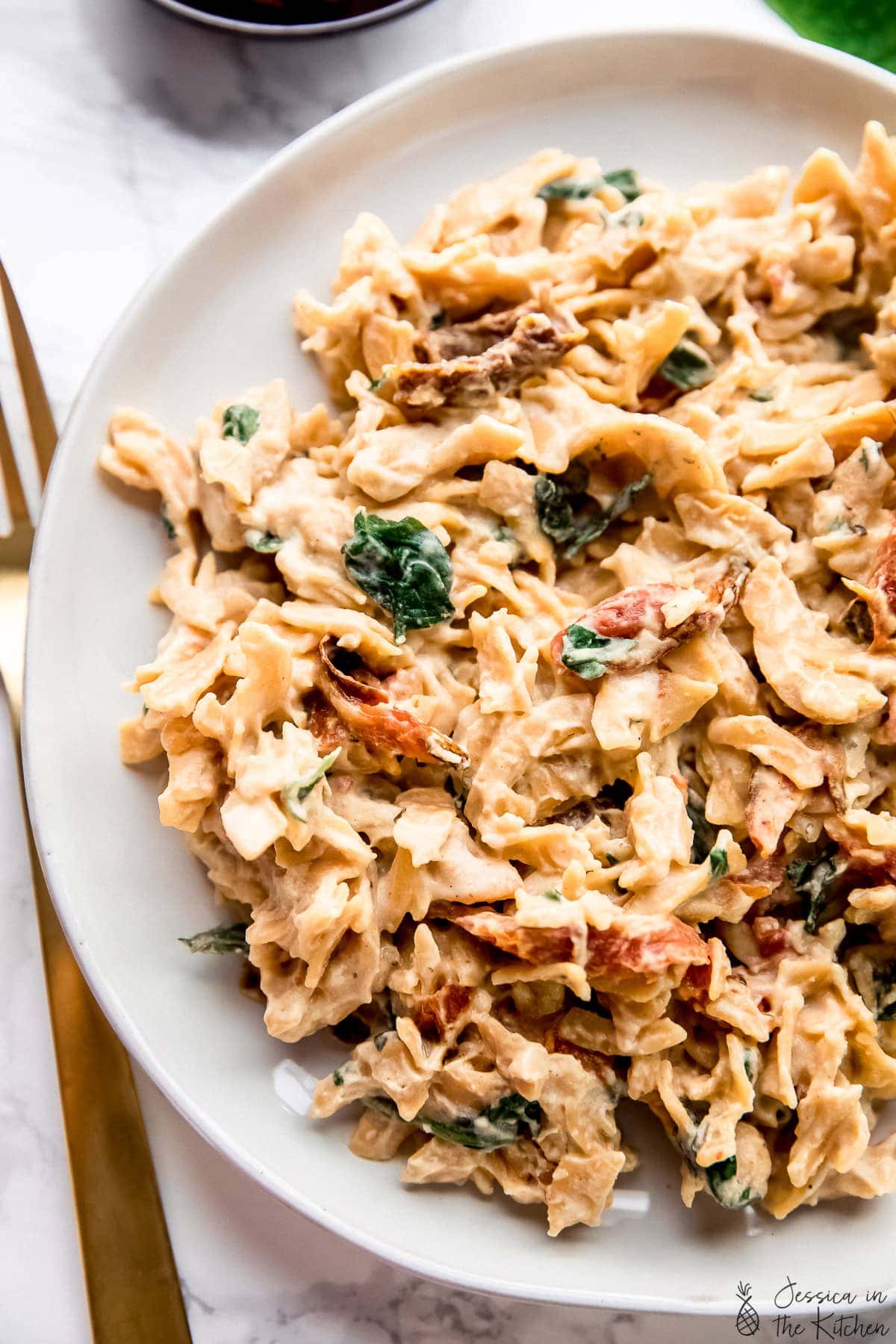 You know what I realized? It's been a while since I've made an easy vegan pasta dish. This vegan pasta recipe roundup is all about the noodles and how to make them amazing in just minutes!
Vegan pasta takeout options are some of the best options for us, but I swear you can make all these vegan pasta recipes at home with no fancy equipment or special ingredients! Get fancy and make homemade pasta, or use your favourite store-bought brand.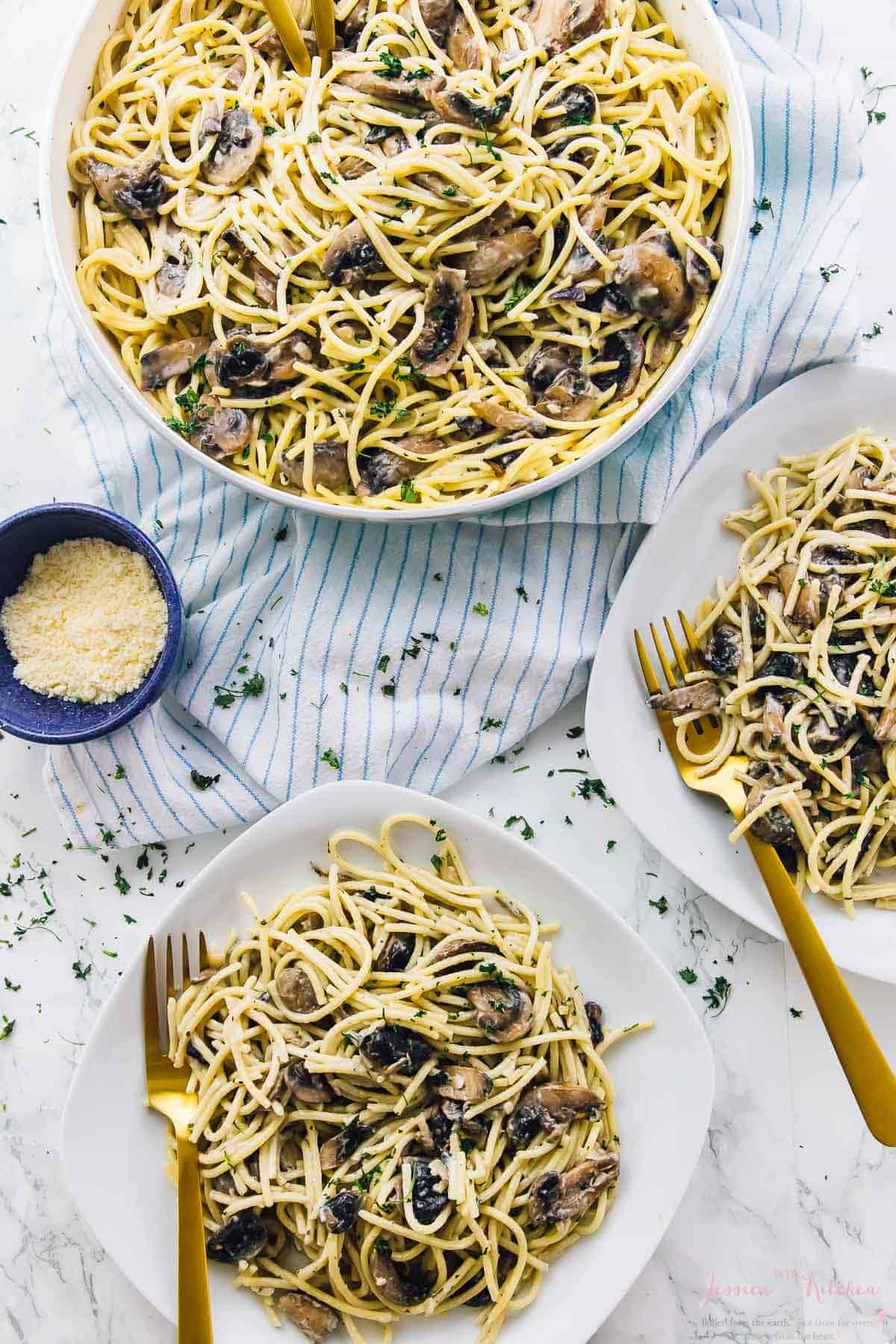 When I was younger, Italian food was my favourite. I'm talking all pasta all the time, and so when we went to Italy for the first time, I was in heaven. Since then, my favourite foods have switched up a bit, but I still love an easy, simple vegan pasta recipe. 
These are the kind of delicious dishes that you want to come home to after a long day at work, making it perfect for a weeknight dish or a weekend dish. If you want easy weeknight one-pot pasta recipes or a decadent date-night dish, you're at the right place!
10 Amazing Vegan Pasta Recipes
I love easy vegan pasta recipes! These totally plant-based pasta dishes are light, comforting, creamy, and packed full of flavor. There's no better budget recipe than cleaning out your produce drawer with some vegan pasta and cashew cream.
Dress up your basic tomato sauce with cashew cream for this decadent pasta dish! Vegan or not, everyone will love this super creamy tomato sauce with a little nutritional yeast for that extra yummy punch.
This Vegan Cheesy Taco Pasta is one of my absolute favs. It's super creamy, packed with protein, and takes only 20 minutes! Pair it with this yummy taco salad with walnut meat you'll crave every Taco Tuesday!
Gluten-free people need pasta, too! This savory garlic mushroom pasta recipe is made with gluten-free spaghetti and a light and creamy coconut milk sauce. Switch it up with parsley or basil for a different dish every night.
If you love lasagna, try this cheesy vegan pasta bake! It's the ultimate crowd pleaser loaded with rigatoni, shiitake mushrooms, sun-dried tomatoes, and all your favourite herbs. Don't forget the vegan cheese!
Who said pasta sauce had to have tomatoes? This vegan pumpkin alfredo pasta recipe will not only satisfy your comfort food craving, but remove any guilt of eating pasta! I love a whole wheat penne for this pasta recipe, but I've also been on a quinoa pasta kick recently, too.
When you find an amazing one-pot pasta recipe, you keep it forever. This vegan alfredo with penne is as simple as chopping garlic, making a creamy almond milk sauce in seconds, and boiling pasta! It's so easy and delicious you'll make it every week.
Not all pasta dishes have to be main dishes! I love this easy vegan pasta salad for every summer meal. Springy rotini and all your favourite fresh veggies are covered in a homemade Italian vinaigrette. A great meal prep lunch, too!
This is truly the best vegan alfredo! It's absolutely decadent, made with a cashew cream sauce. Make this creamy, cheesy vegan alfredo sauce in your blender in minutes.
This romantic pasta dish is so impressive in just a few minutes! It's a great date-night recipe to make together in just 30 minutes. It's made with burst tomatoes, sautéed shiitake mushrooms, and garlic in a creamy, inviting pasta.
Homemade hummus is a great dip, but it's an even better sauce! Hummus Pasta is an incredibly easy vegan pasta I love to whip up for a weeknight dinner. It's deliciously creamy, very customizable, and ready in just 20 minutes.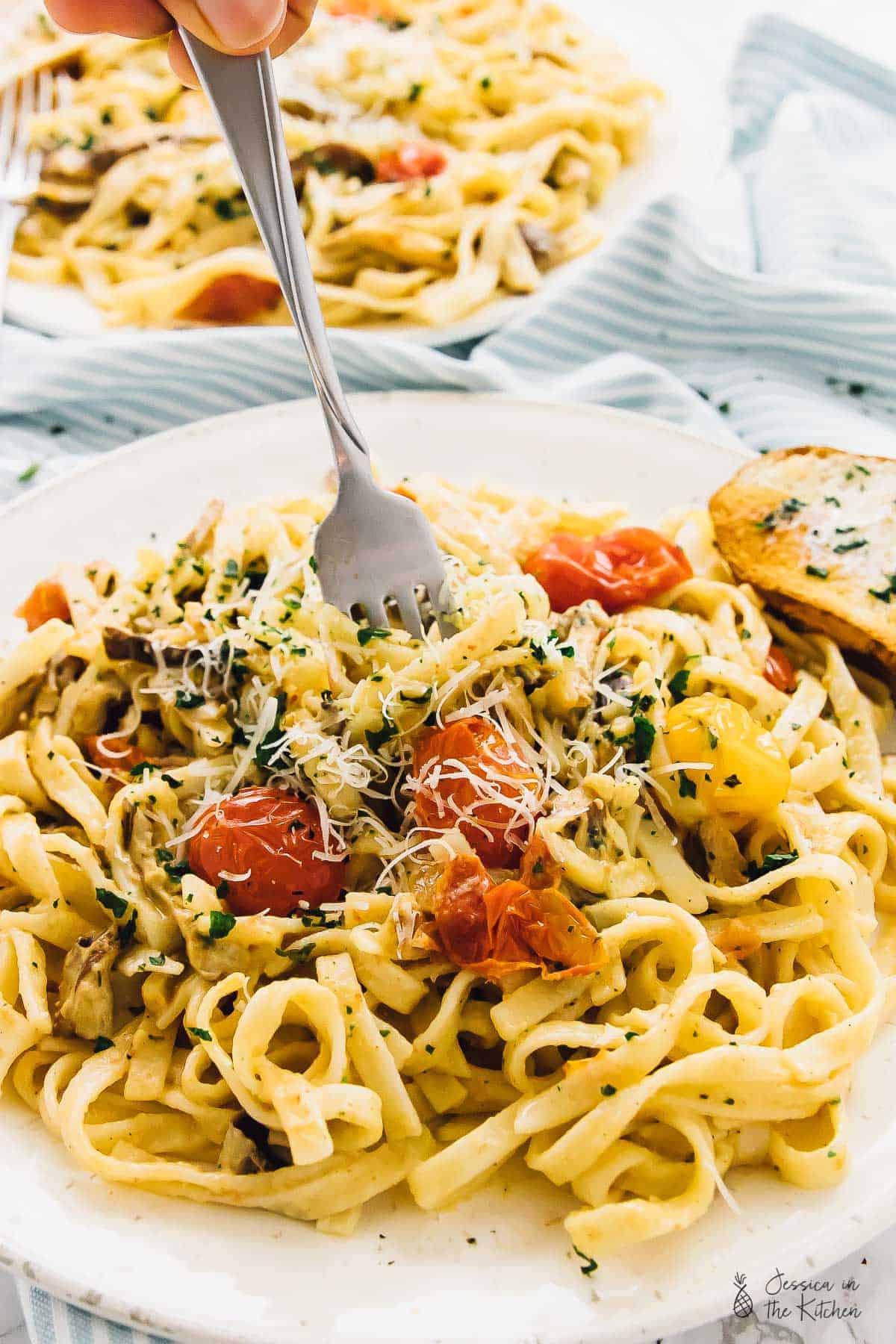 Expert Tips and FAQs
Here are some great tips and tricks for the best vegan pasta every single time:
Salt the water. Pasta is a great easy dinner, but don't be afraid of the salty water! You want your pasta boiling water to taste as salty as an ocean to get a little flavor into the noodles.
Switch it up. You can add or swap any veggies you love for all of these recipes. I recommend sautéing or roasting them before adding them into the pasta. And don't forget the seasonings!
Perfect for meal prep. Pasta dishes only get better overnight! Make a big batch of any of these vegan pasta recipes on a lazy Sunday and enjoy it all week long.
Make it gluten free. You can make any of these dishes gluten-free with a simple noodle swap! Use your favourite shapes and varieties with all these vegan pasta sauces.