15 Incredible Tofu Recipes (Ways to Use Tofu)
15 Incredible Tofu Recipes! There's so many ways to use tofu for a quick and easy dinner or meal prep dish! I've got all the tips and tricks for the best crispy texture and the go-to marinades to get all the flavour in minutes. You can even use it to make vegan cheeses!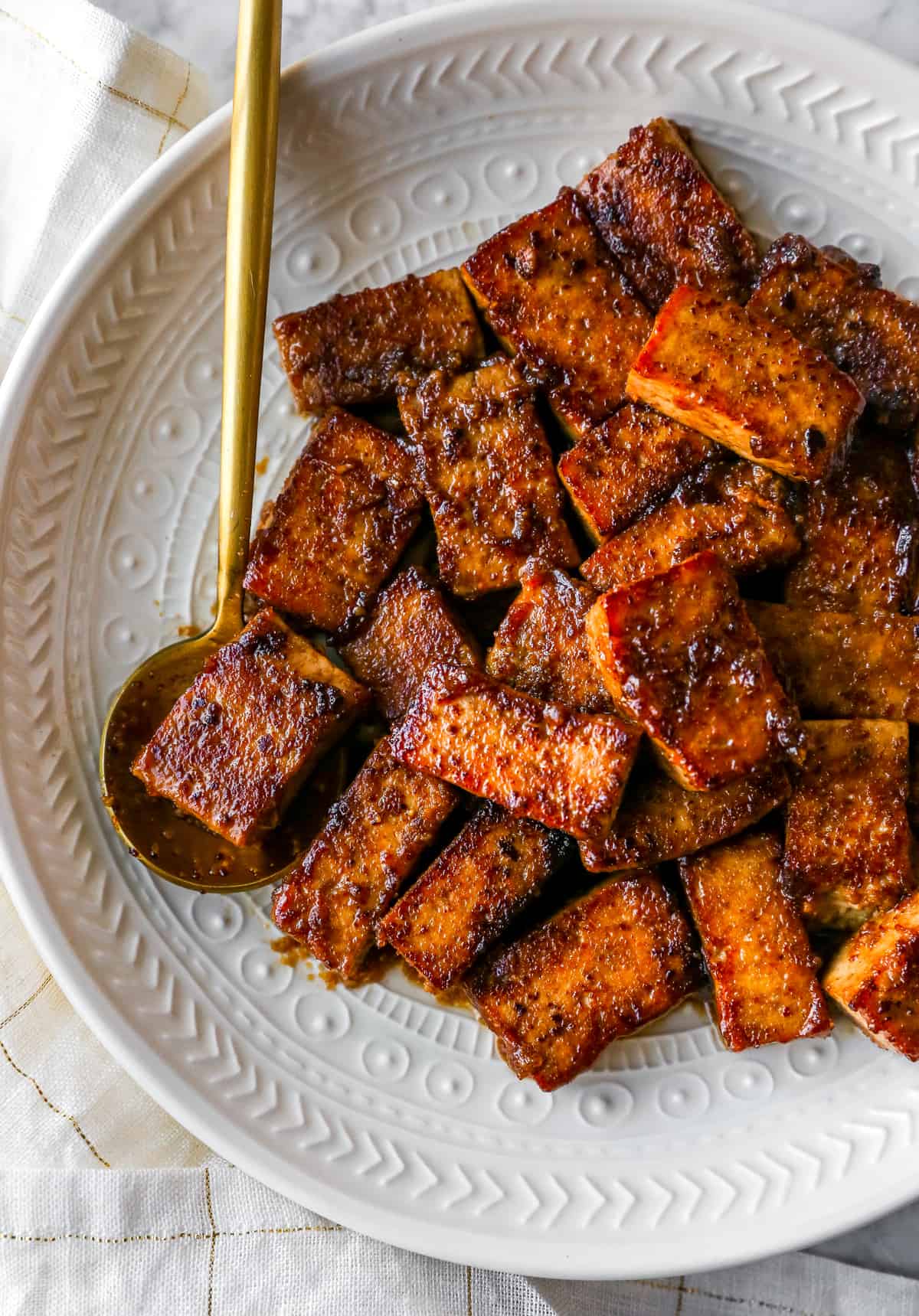 Tofu is one of my favourite proteins! There are so many ways to use tofu, from a simple crispy baked recipe to a deliciously marinated Asian-inspired dish.
Looking to make your tofu taste better, but don't know where to start? Start here! Whether you're looking for breakfast, lunch, dinner, or meal prep tofu recipes, you'll find some of the easiest recipes ever with so much flavour. Once you learn all the ways to use tofu, you'll never be out of dinner ideas.
Tofu is DELICIOUS. It's versatile, easy to use, meal prep friendly, even freezer friendly. When you cook it properly AND use the right type, your opinion will change.
One of the things that is asked a lot is whether it is "real." Of course it is! It's a bean curd made from soy beans, and there are many videos on YouTube to make tofu at home (from soy milk). It's minimally processed and has been a component in East Asian and Southeast Asian cuisines for centuries — just to show that this isn't just a trend.
15 Incredible Tofu Recipes (Ways to Use Tofu)
These are some of the best tofu recipes ever! There's no end for ways to use tofu in plant-based recipes, but these are some of my absolute favourites. Bake it, sauté it, air fry it — learn all the easy ways to use tofu with this vegan recipe roundup.
Everyone who says tofu is bland has never found the right marinade. This Marinated Tofu recipe will make you fall in LOVE with tofu, I promise! It's great for baking, frying, grilling, and even air frying. Make your tofu so flavourful with this homemade marinade.
This has quickly become my go-to meal prep recipe. You can serve this Easy Baked Tofu with anything! It's got the perfect crispy texture and comes out perfectly in just 20 minutes.
Here's a fact of life: Air fryer tofu is one of the easiest quick meals I make. Turn your crispy tofu dreams into reality with this air fryer recipe. Did I mention it takes just 10 minutes to cook?!
I'd never survive without my trusty slow cooker. This Crockpot Tofu Butter "Chicken" is better than takeout and so super easy to make! This one-pot Indian tofu recipe is so great for meal prep or a busy weeknight dinner.
If you miss scrambled eggs, I have the best breakfast recipe for you! This Tofu Scramble recipe is a light and fluffy vegan version of scrambled eggs. One of my favourite breakfast recipes, it's loaded with flavour and great for meal prep.
Your family will love this 5-ingredient sweet ginger stir-fry sauce! Throw some cubed tofu and your favourite veggies in this sticky glaze for the best takeout fakeout night. It's also one of my go-to meal prep recipes, too!
This Vegan Thai Red Curry with Tofu tastes absolutely phenomenal! It has a short prep time, is loaded with rich and bold flavours, and is bound to be a crowd-pleaser. It's super comforting and excellent for meal prep. It seriously checks all the boxes.
Tofu is all about the marinades. Get ready to put this vegan tofu feta cheese on every single thing! Years ago, I was skeptical about making "cheese" with tofu, but this recipe changed my mind. I was honestly shocked at how deliciously briny this vegan cheese is.
This Sweet and Sour Tofu recipe is one of my favourite takeout orders. The firm tofu is perfectly crisp, and the sweet and sour sauce is unbelievably delicious! It comes together quickly and tastes amazing as meal prep too.
This Vegan Butter Chicken will blow your mind and impress your friends! This super delicious dish is just like your favourite restaurant made with just tofu and all the spices. I've definitely used the leftovers for amazing breakfast tacos, too.
You can do so much with air fryer tofu! I love to toss mine in this yummy orange sauce for an easy weeknight dinner in mere minutes. Serve this Asian-inspired recipe over rice, cauliflower rice, noodles, with bread, or any starch you want. 
I always add tofu to my simple dinner salads! Try it with this delicious Cajun seasoning and a tangy vegan honey mustard dressing. Add all your favourite veggies for this simple, indulgent meal prep salad.
General Tso Tofu tastes just like your favourite Chinese takeout order! Crispy tofu generously coated in an easy homemade sweet and tangy sauce! Spice it up or keep it mild.
Turn your tofu scramble into delicious breakfast tacos! This Easy Southwestern Tofu Scramble will become your go-to vegan breakfast. It's beyond simple to make with all your favourite veggies and a little guacamole.
When you're too tired to make dinner, this is the recipe you need! Teriyaki Tofu is so quick and super flavorful with just a few ingredients and almost no effort. Skip the takeout and make this tonight instead.
Expert tips and FAQs
Here are some great tips and tricks for the best ways to use tofu every single time, and to ensure all of your tofu recipes are on point:
Get the right type. There's so many types of tofu, and they're all great! But every recipe needs a specific kind. Most of these recipes use firm or extra firm block, which is what you want for perfect cubes. Medium block is best for dishes like miso soup, and silken or soft block tofu are ideal for smoothies and vegan cheesecakes.
To drain or to press? Depending on your type of tofu, you'll need to prep it before you cook it. Most recipes want the protein but not the liquid, so be sure to remove it! You can drain soft versions, but need to press firm blocks with a tofu press or just a book!
Season your tofu — no, really season it. One reason I've heard hoards of people say they hate tofu is because it's bland. And, in it's natural state, I can't argue. However, it absorbs any flavours you add to it, you just need a lot of them to get deep into the block. You can't just salt and pepper the outside and expect it to taste amazing.
Cornstarch makes it so crispy. If you're struggling to get that perfectly crispy texture, add a little cornstarch! It helps draw out any moisture you missed during the pressing for the crunchiest outside and fluffiest inside. You also want a super hot oven or skillet for crispy tofu.