Za'atar Roasted Cauliflower Steaks (Vegan, Low Carb)
Get ready for a new kind of steak! These Za'atar Roasted Cauliflower Steaks are beautifully roasted, tender and insanely flavourful! They're also low carb!
This post was originally published in 2016 and has been brought forward due to the new interest in low carb recipes!
Before I even go into this recipe, are you seeing those golden caramelised edges? Can you say – perfection? That's exactly what I thought when I pulled these out of the oven. I've been on a cauliflower kick for quite a while which is funny since before I became a vegetarian I had NEVER given cauliflower a second thought. After trying it, I realised it was an amazing and versatile ingredient and have so many recipes I want to share with you. P.S. I have an entire roundup up of Creative Cauliflower Recipes to give a try! For right now though, I need to share with you just how much I enjoyed these cauliflower steaks. It was so quick, so easy and so beautifully unique. Ready to dive in with me?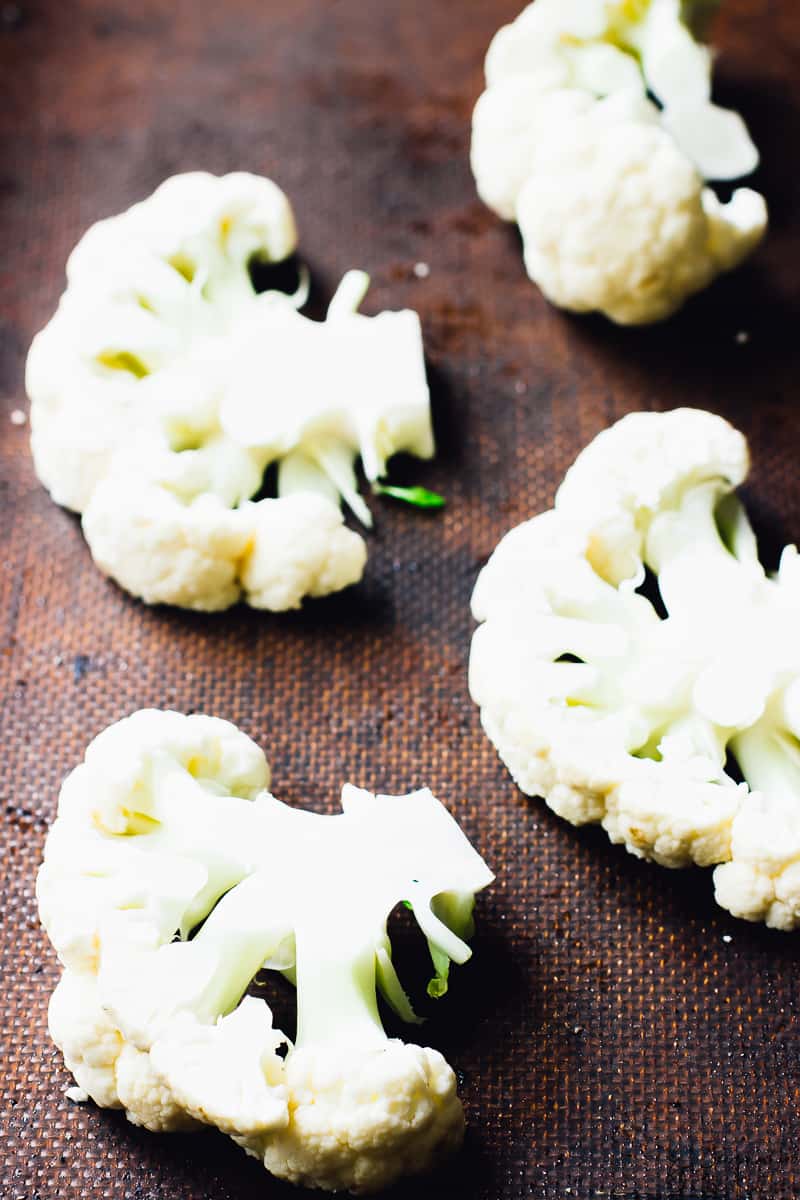 I don't need to say much about these cauliflower steaks. They make a great main dish but also work as a side dish for smaller cauliflower heads. They would have been delicious just roasted, but the za'atar spice mix completely transformed them. Za'atar is a magical Middle Eastern herb mix made of ground sumac, roasted sesame seeds a variety of green herbs. It has a slightly lemon-y taste and taste amazing in olive oil, on coconut yogurt, in hummus…and on basically anything. I got my first taste at a Lebanese lunch restaurant where I became a daily regular. I asked how they made the za'atar mix and to my surprise they gave me a free container's worth!!!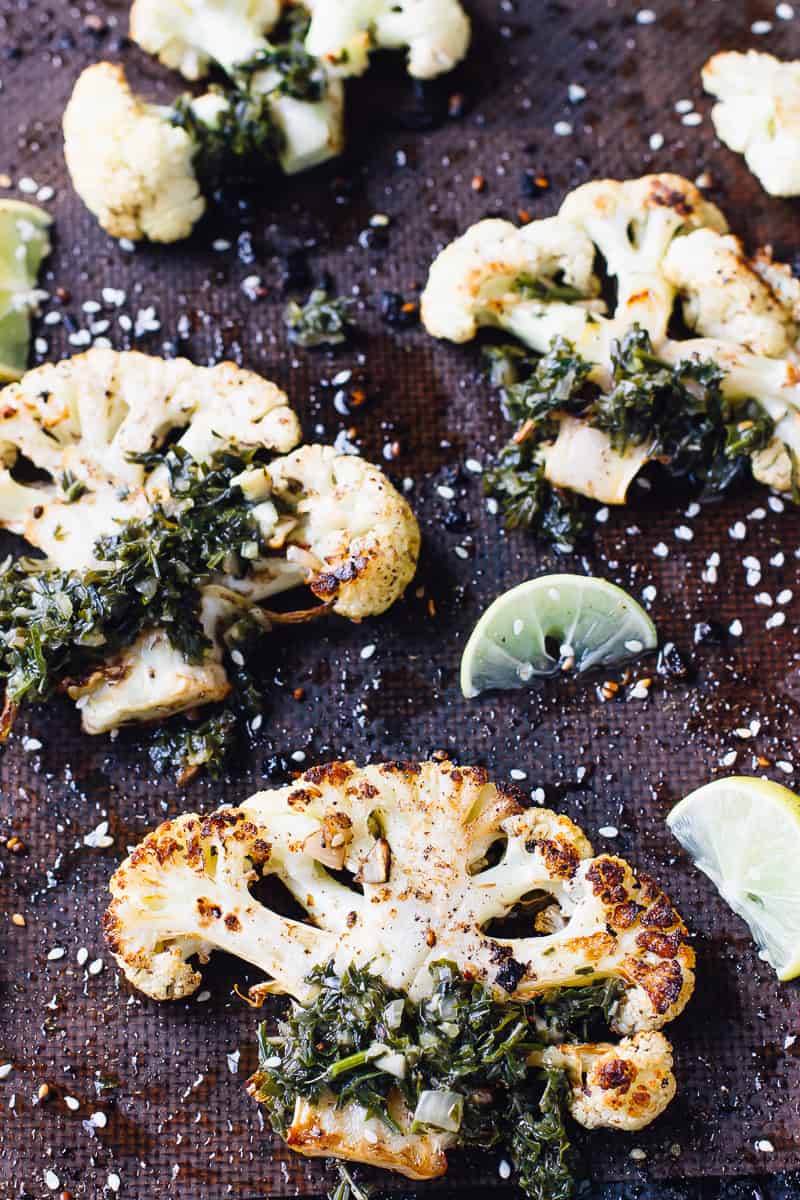 Needless to say I savoured every teaspoon. Since then, I came back from my trip to Israel with a giant jar of homemade za'atar that we've been dutifully using. You can buy za'atar pretty much anywhere now and the best varieties in your local international aisles/stores. mix. Adding za'a'tar plus searing the cauliflower before roasting is what transforms this recipe. It gives the outside a great texture that enhances everything.
Topped with the chimichurri it adds an EXPLOSION of flavour. I know, I sound uber excited, but I can't help it. I love transforming a veggie but still keeping it's integrity!! Does that make me a veggie geek? I think it does. So yeah, I'll be sitting over here in my veggie geek corner, snacking on cauliflower, putting za'atar on everything. Just give me some Netflix and a blanket and I'm good for the night.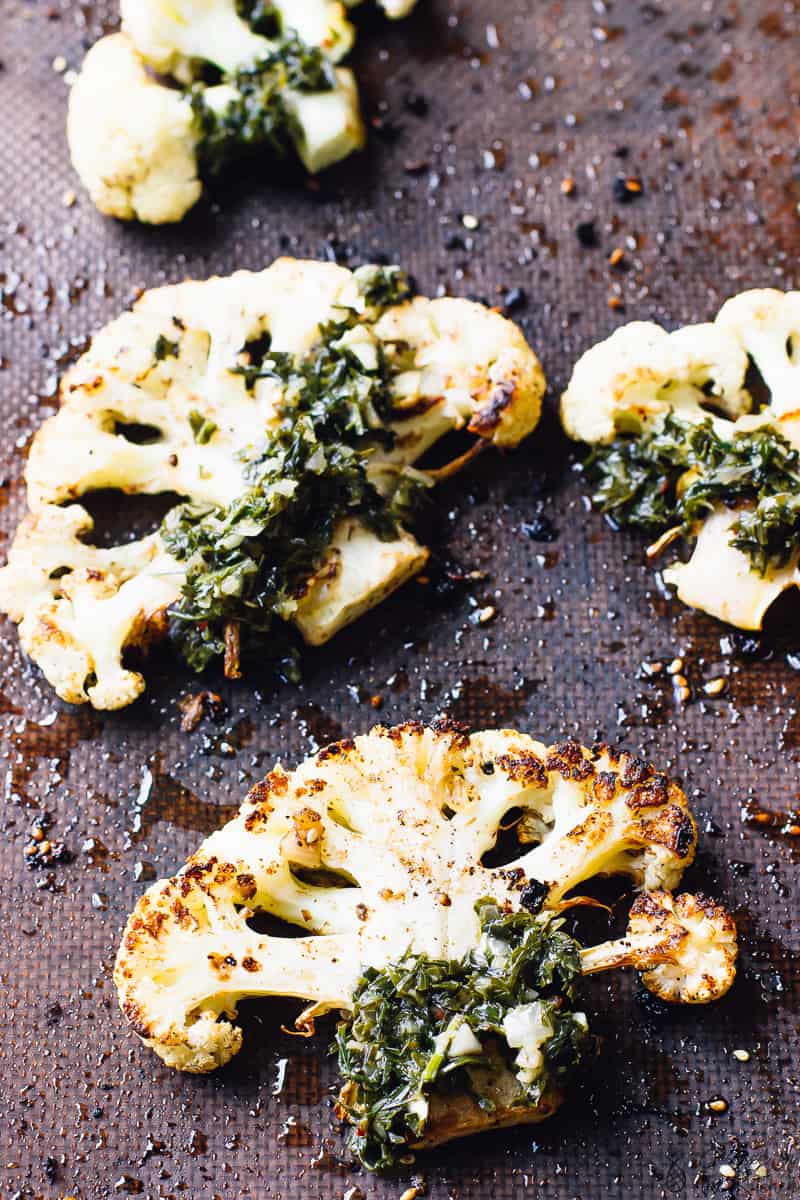 If you try these Za'atar Roasted Cauliflower Steaks, please let me know in the comment section below, or tag me on instagram with the hashtag #jessicainthekitchen!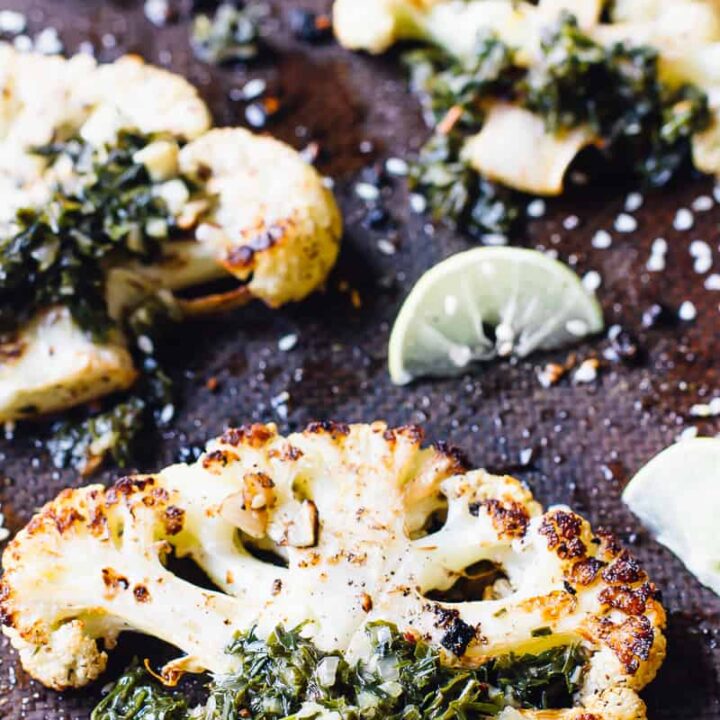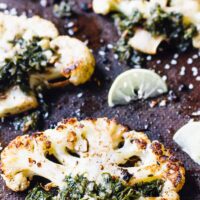 Name: Za'tar Roasted Cauliflower Steaks
Get ready for a new kind of steak! These Za'atar Roasted Cauliflower Steaks are beautifully roasted, tender and insanely flavourful! They're also low carb!
Ingredients
Za'atar Roasted Cauliflower Steaks
1 medium head cauliflower
1 teaspoon za'atar
1 teaspoon fresh lime juice
1 tablespoon + 2 teaspoons olive oil
1/2 teaspoon sesame seeds
1/2 teaspoon salt
1/2 teaspoon ground black pepper
Instructions
Za'atar Roasted Cauliflower Steaks
Preheat the oven to 400 degrees F.

Cut off the greens and the stem from the cauliflower. Hold your Cauliflower upright and cut 1-inch thick "steaks" from your cauliflower. I got about 4. You'll have a few pieces that may fall off - you should definitely roast those too.

Mix the za'atar, lime juice,olive oil, sesame seeds, salt and pepper in a small bowl. Use a pastry or silicone brush each side lightly. Leave some of the mixture behind to put on it before putting in the oven.

Heat a pan for medium high with the 2 teaspoons of olive oil. Add the cauliflower steaks, pressing down and searing each side until golden brown, about 2-3 minutes. Flip and sear the other side.

Transfer the cauliflower steaks to a silicone sheet or foil on a baking sheet and roast for 15 minutes until the cauliflower is tender but still slightly firm.

Remove from the oven and sprinkle with more sesame seeds, a squeeze of lime juice and a second sprinkling of salt and za'atar. Top with

chimichurri

for an extra boost of flavour.
Notes
HOW TO STORE CAULIFLOWER STEAKS
Allow to cool completely and store in an airtight tupperware container. Reheat by placing in your oven at 350 degrees until heated through. These Cauliflower Steaks do taste best fresh. I wouldn't try freezing these Cauliflower Steaks as it would ruin the texture.
RELATED RECIPES
Sticky Spicy Sesame Cauliflower Wings
Calories: 87kcal, Carbohydrates: 8.8g, Protein: 3g, Fat: 5.6g, Fiber: 3.8g
Disclaimer: Although jessicainthekitchen.com attempts to provide accurate nutritional information, kindly note that these are only estimates. Nutritional information may be affected based on the product type, the brand that was purchased, and in other unforeseeable ways. Jessicainthekitchen.com will not be held liable for any loss or damage resulting for your reliance on nutritional information. If you need to follow a specific caloric regimen, please consult your doctor first.