Vegan Strawberry Coconut Ice Cream (No Churn)
This Vegan Strawberry Coconut Ice Cream is deliciously creamy, no churn and so easy to make! You only need 4 ingredients!
Looking for more easy strawberry dessert recipes? You'll love this Strawberry Granita!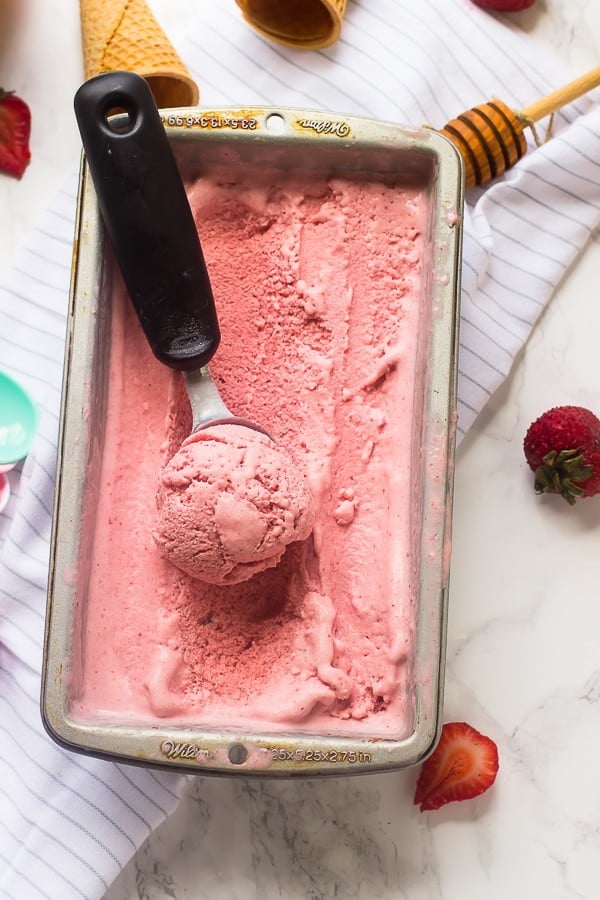 One of my favourite parts about summer is definitely the endless amounts of ice cream. I have very fond memories of the ice cream truck driving through my neighbourhood as a child. For some reason he went very quickly, so you kind of had to be posed by the door, listening out for him around the same time every Thursday.  Then there's the time I had gelato three times in one day while in Venice. Needless to say, I love ice cream. So I knew that I needed to make some more homemade ice cream this summer. I decided to use one of my favourite all time ingredients (spoiler alert: strawberries) to make this Vegan Strawberry Coconut Ice Cream, and I am so happy that I did.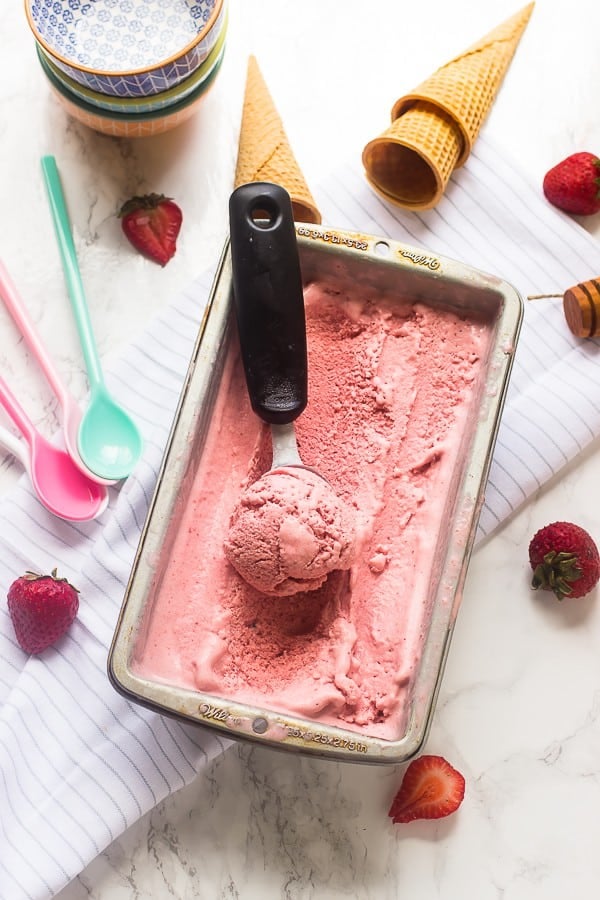 This vegan strawberry coconut ice cream is one of my favourites yet. The coconut cream makes it incredibly creamy, the strawberry flavour is really prevalent in it and the maple syrup adds a delicious sweetness to it. I love that it isn't over sweet, but just right to stay refreshing for the summer. The vanilla bean actually ties it all in. It added a huge amount of flavour to it and these beautiful specks of vanilla.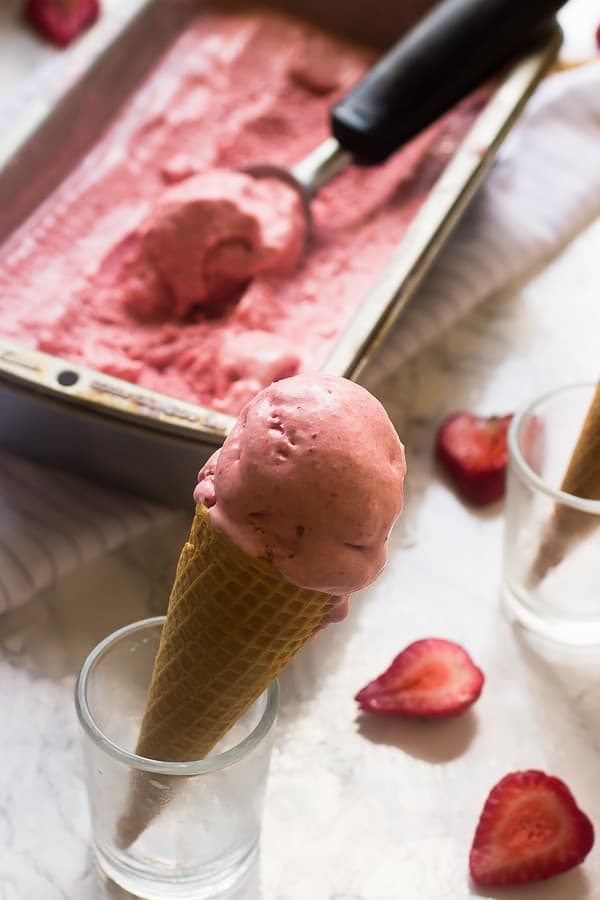 I made this ice cream a no churn recipe because I don't think you should need to have an ice cream maker to indulge in such deliciousness! It's so easy to make, and as long as you remember to whisk it, it won't be icy. Now go forth, and make ALL the ice cream!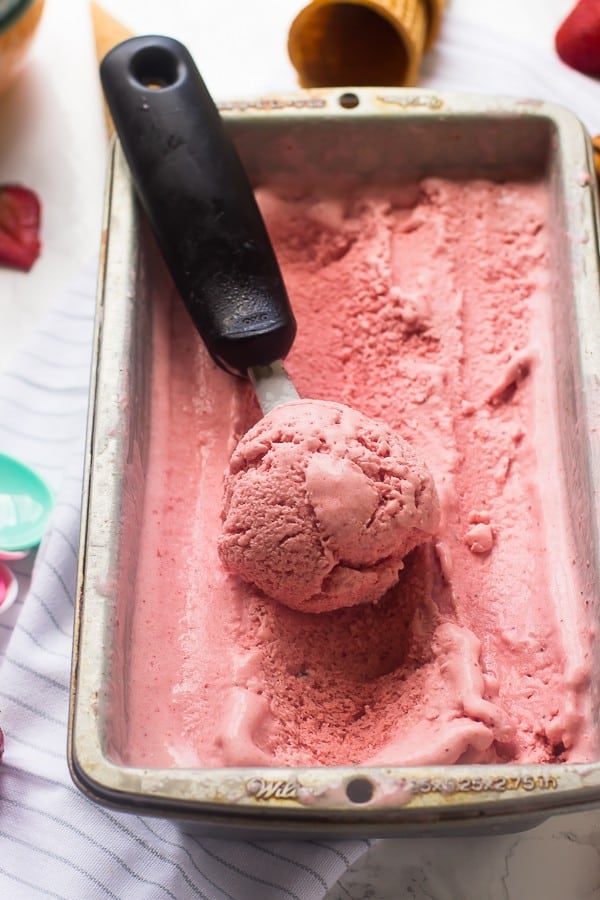 If you try this Vegan Coconut Strawberry Ice Cream please let me know in the comments section below, or tag me on instagram with the hashtag #jessicainthekitchen! For more exclusive recipes follow me on Instagram AND on Snapchat: jessinkitchen.
More Vegan Ice Cream Recipes
Ready to make some more vegan ice cream from the comfort of your own kitchen? Check out the following recipes!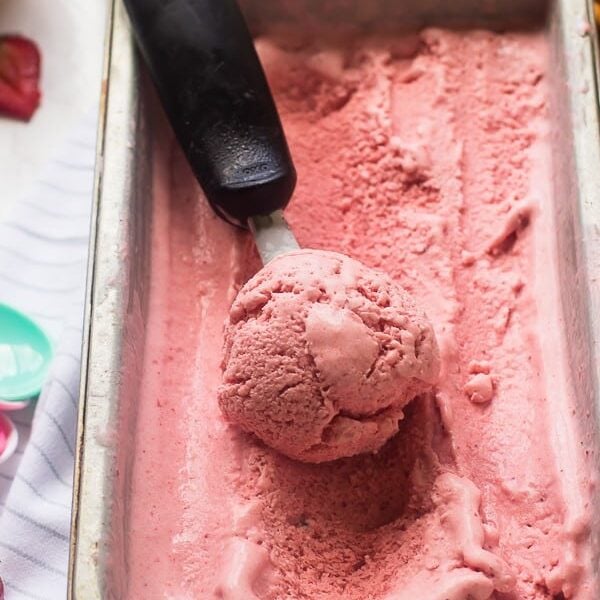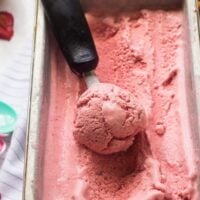 Vegan Strawberry Coconut Ice Cream (No Churn)
Creamy vegan strawberry ice cream is made with just 4 ingredients. It's super easy to prep, and the best thing to cool down with on a hot summer day!
Ingredients
4 cups frozen strawberries
28 ounces coconut cream from cans of coconut milk*, see notes below on how to make coconut cream from coconut milk (two 13.4 ounce cans)
1 tablespoon vanilla extract, or 1 vanilla bean, split and seeded
1/2 cup maple syrup
Instructions
Add the coconut cream to a food processor or blender and blend for a minute or two.

Add the frozen strawberries, coconut cream, vanilla extract, and maple syrup into a food processor or blender and mix together until thick and creamy and combined.
Ice Cream Machine
Place the ice cream base into a freezer-safe container in the refrigerator for 2 hours to set up before freezing.

Freeze the ice cream according to the manufacturer's instructions for your machine.
No Machine/No Churn
Place all ice cream base into a freezer-safe container and place in the freezer and allow to freeze for 1 hour. Ensure it is covered.

Whisk slightly every 20 minutes to avoid it getting too icy for 3-4 hours. It should be getting thicker after each whisking, until it's firm enough to scoop.

To eat: serve immediately or when you are ready for it (after it's been in the freezer), thaw for 5-10 minutes and scoop with an ice cream scoop.
Notes
This recipe is vegan and gluten free.
HOW TO STORE
Store this ice cream in a freeze safe container. For the best taste and texture it is advised that you store it no longer than 2 weeks.
A FEW NOTES
You can buy coconut cream or make it from full fat coconut milk. Place a can of coconut milk in the fridge overnight. Remove, turn upside down, open and pour off the liquid coconut water on top (you can drink it or use it in a smoothie). Then use the thick coconut cream that is left in the recipe.
Calories: 366kcal, Carbohydrates: 29g, Protein: 3g, Fat: 29g, Saturated Fat: 25g, Sodium: 21mg, Potassium: 498mg, Fiber: 2g, Sugar: 21g, Vitamin A: 12IU, Vitamin C: 58mg, Calcium: 68mg, Iron: 5mg
Disclaimer: Although jessicainthekitchen.com attempts to provide accurate nutritional information, kindly note that these are only estimates. Nutritional information may be affected based on the product type, the brand that was purchased, and in other unforeseeable ways. Jessicainthekitchen.com will not be held liable for any loss or damage resulting for your reliance on nutritional information. If you need to follow a specific caloric regimen, please consult your doctor first.