Easy Vegan Pantry Recipes (Recipes made from Pantry Staples + Tips on Storing & Prepping)
Here's a short list of some of my favourite easy Vegan Pantry Recipes – Recipes made from Pantry Staples. Including lots of great and practical tips for storing your meals, prepping them, and ensuring you extend the shelf life of your ingredients!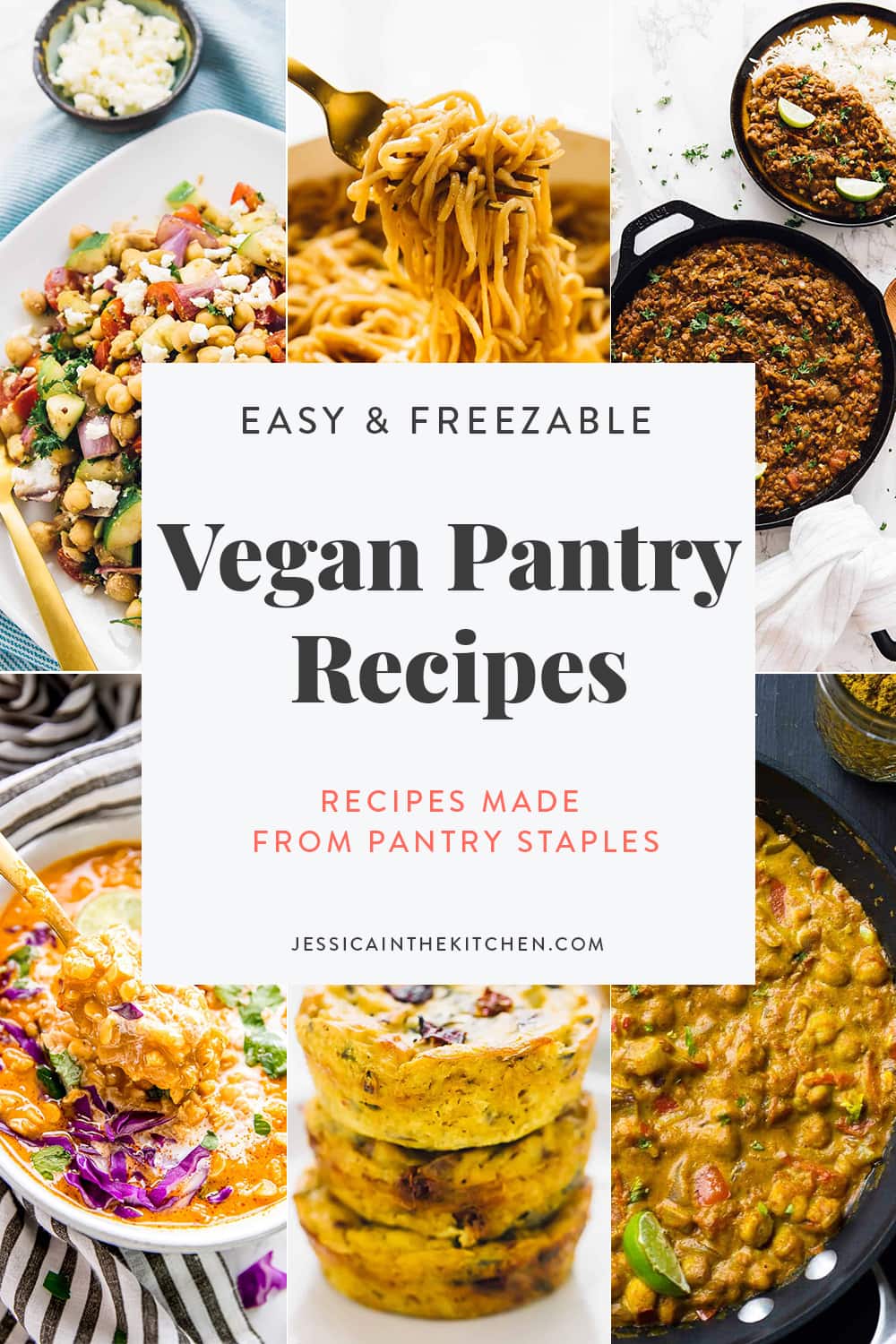 Friends. Sending you all so much love! I want to do my best to make your life easier. If you're like me and are staying at home, you probably want some recipes using your pantry ingredients – while also wanting them to taste delicious and be very easy. This is my first instalment of pantry staple recipes to get you started on some wonderfully easy recipes that are primarily made up on pantry ingredients! There are so many recipes that you can make from shelf-stable, frozen and fresh foods (that last a bit longer) plus your handy seasonings that you probably already.
These recipes are also very comforting, perfect for these times. I also wanted to share some of my favourites tips for extending the shelf life of recipes, along with some common swaps. Since your pantry might look slightly different from mine, feel free to swap for what you have.
Easy Pantry Staple Recipes (Vegan & Tips on Storing)
Coconut milk, canned chickpeas and canned tomatoes make this the ultimate pantry recipe. It also freezes so well!
This recipe has been doing exceptionally well, and I know it's because of how easy it is! Coconut milk, lentils, vegetable broth and some easy seasonings come together into a delicious filling and comforting soup!
Using ingredients like chickpeas and fridge ingredients that last long (like cucumbers) this salad lasts for days and tastes great room temperature or cold.
Pasta in a soup ALWAYS has my attention. This soup features some amazing pantry ingredients and switches it a bit to keep your routine new and fresh.
Could this get any easier? Stove top (or crockpot if you want), this chili uses canned beans, tomatoes, lentils and some longer lasting vegetables. P.S. instead of cartons of vegetable broth - use bouillon cubes or vegetable broth paste which lasts WAY longer and can transform water anywhere into a nutritious broth.
Pro TIP: make all the pasta dishes. This uses veggies that last long, and if you can't get fresh tomatoes you can easily sub sundried tomatoes!
This Quiche Muffins will save your morning. Tofu, sundried tomato and spinach (easily frozen, straight from the fresh bag) make such a great dish. You can swap the veggies for ones you already have and make them your own!
Oats, a great use for ripe bananas, frozen fruit! It couldn't get easier. These freeze so well and make a great quick breakfast!
These noodles are not only super delicious, they take only 15 minutes. Perfect for when you're low on time and need a quick meal. You can also add tofu to bulk it up.
Yet another pantry staple (lentils, coconut milk, vegetable broth) that comes together so easily. It reminds me of a dahl recipe that I had and loved, and has tons of rave reviews.
Gosh, we all deserve a treat right now. Tahini is one of my favourite pantry ingredients and works so well here. If you don't have, sub a very runny peanut butter or other nut butter.
Coming NEXT:
Freezer Friendly Guide for freezing vegan baked and cooked goods
Easy Pantry Snacks (that are also kid-friendly)
DIY Hand Sanitizer
Stocking Your Pantry: check out my post about stocking a healthy vegan pantry. This isn't a hard and fast list of course, but a good guide in general.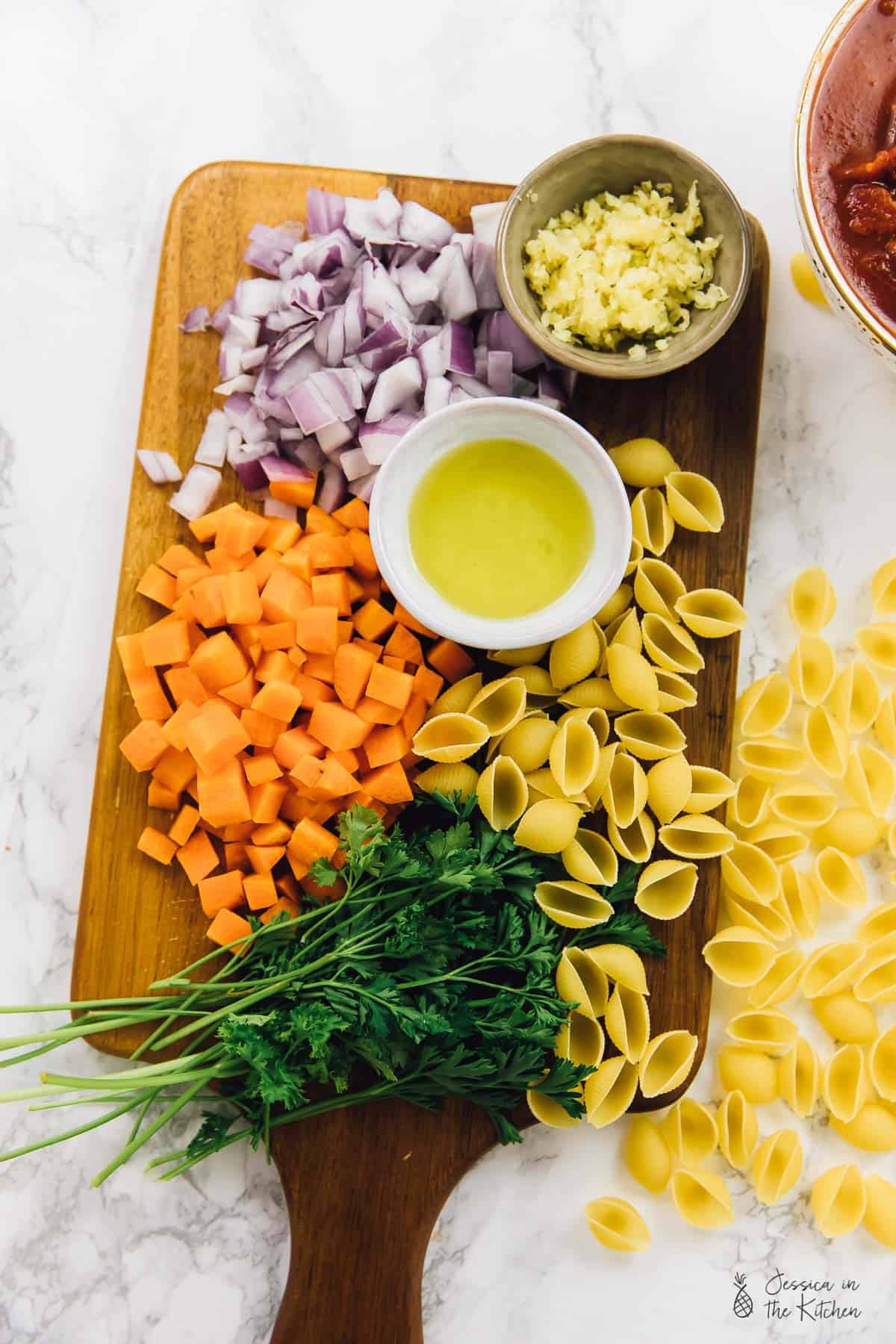 Tips for prepping and storing recipes
Utilise your freezer! I'll be sharing a freezer-friendly guide next, but you can freeze many of the recipes on this list. Then organise your freezer so you actually use the items in it. If your freezer looks overwhelming, chances are you won't go into it. But you can freeze anything from curries to soups to sauces and gravies and pestos!
P.S. instead of cartons of vegetable broth – use bouillon cubes or vegetable broth paste which lasts WAY longer. We only use this and our homemade vegetable broth (which you can freeze) and it saves us a lot of money and waste.

FRIDGE
Keep a small whiteboard or chalkboard on your fridge (or even a piece of paper) to keep a running list of what's in the fridge. I can't tell you how many times my husband will make more rice when there's a container in the fridge with it. I like to keep one for "INGREDIENTS IN THE FRIDGE" and one beside/under it for "MEALS PREPARED" so I know what I can pair with what. I also have a separate pantry list I can look at at a glance. Sometimes it really helps to see everything at one glance.
Keep made dishes that will spoil quicker near the front of your fridge. Anything can get buried in the back of your fridge, and this way it's the first thing you see.
Give your fridge a quick weekly clean – that way you'll catch anything you might've missed before it spoils!
Bulk prep where you can. It'll make your life a lot easier in the long run, and as mentioned before, you can always freeze these items.
SWAPS/MAKE IT WORK FOR YOU
If you don't have the required spice, it's usually not a big deal unless that spice totally rules the dish. Usually, a general seasoning mix can go a very long way or an easy swap. Don't have garam masala? You probably have most of the ingredients to make it up. Don't have enchilada sauce? Use tomato sauce + some chilli powder and chipotle powder. When in doubt, google "substitute for…".
Remember to choose some staple recipes that you know you'll love, and then rotate them, adding in something new every now and then! That way you don't make too much of something that you don't even know if you'll like, and you and your entire family are more likely to actually finish it!
I hope this post helps so much, friends! I will continue to update this post and keep it current. Look out for other pantry posts!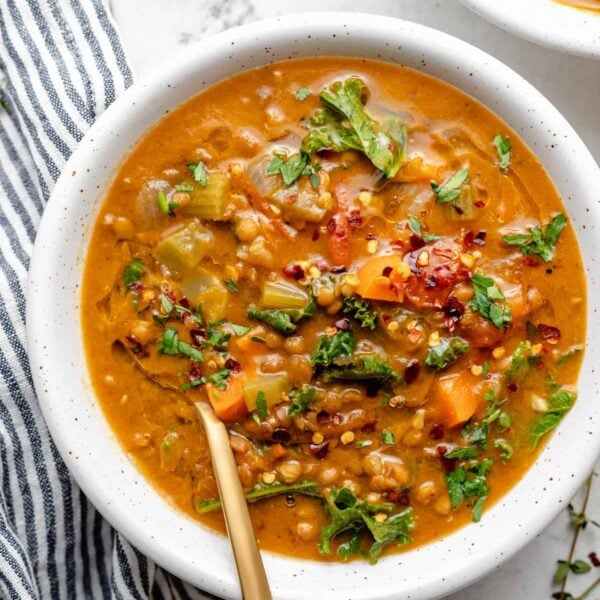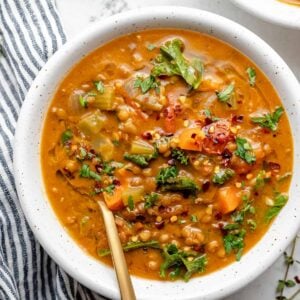 Indian-Spiced Lentil Soup
This easy Lentil Soup is loaded with delicious spices and very simple to put together. It tastes wonderful alone or as a side dish, and it's vegan, gluten-free and loaded with whole food ingredients.
Ingredients
1 ½ tablespoon olive oil
1 large red onion, diced
4 stalks celery, diced
1 large carrot, diced, or two medium size carrots
5 cloves garlic, minced
26 ounces fresh tomatoes, chopped - you can also use a 28oz can diced tomatoes and drain the liquid - (737g)
1 cup dried brown lentils, 7.1 ounces/200g, picked over, rinsed and dried
1 tablespoon garam masala
salt & pepper to taste, I use 3/4 teaspoon sea salt and 1/4 teaspoon ground black pepper
6 cups vegetable broth
2-3 sprigs thyme, to be removed at the end
1 cup kale, roughly chopped
2 tablespoons lime
Toppings, Optional: Oil drizzle, red wine vinegar, red pepper flakes, parsley, and/or sprinkle of zaatar Crusty bread
Instructions
In a large, deep pot over medium high heat, add the olive oil to heat.

Add the onions, celery, carrot and minced garlic. Stir together and allow to sweat for about 8 minutes, to soften and release natural juices from the veggies.

Add in the tomatoes, brown lentils, garam masala and salt and pepper. Stir together. Pour in the vegetable broth, and add the thyme and stir again.

Bring to a boil, and then to a simmer for 30 minutes, until lentils are fully cooked.

Remove the thyme. Scoop out two cups of soup (with liquid) and pour into your blender. If you have a glass blender, ensure it cools down a bit first!

Press the soup setting or blend until fully blended out. Pour back into soup pot and mix the soup together one more time to combine everything.

Add in kale and lime juice and stir to combine.

Serve the soup and top with your favourite toppings and enjoy!
Notes
To store: Transfer soup to an airtight container and refrigerate for 4 to 5 days. Reheat it in the microwave or in a pan on the stovetop. To freeze: Transfer to a zip-top freezer bag or airtight storage container and freeze for up to 3 months. Reheat from frozen or let it thaw in the refrigerator, then heat it up.
Calories: 206kcal, Carbohydrates: 33g, Protein: 10g, Fat: 5g, Saturated Fat: 1g, Polyunsaturated Fat: 1g, Monounsaturated Fat: 3g, Sodium: 1033mg, Potassium: 784mg, Fiber: 13g, Sugar: 8g, Vitamin A: 4794IU, Vitamin C: 33mg, Calcium: 84mg, Iron: 3mg
Disclaimer: Although jessicainthekitchen.com attempts to provide accurate nutritional information, kindly note that these are only estimates. Nutritional information may be affected based on the product type, the brand that was purchased, and in other unforeseeable ways. Jessicainthekitchen.com will not be held liable for any loss or damage resulting for your reliance on nutritional information. If you need to follow a specific caloric regimen, please consult your doctor first.