Vegan Chickpea Tuna Salad
This Vegan Chickpea Tuna Salad is just like your favorite tuna sandwich, but made with chickpeas! It's creamy, tangy, and perfect for easy weekday lunches.
This Vegan Chickpea Tuna Salad Sandwich is the perfect on-the-go lunch, and it also brings a bit of nostalgia to the table, too, making you think of those brown bag lunches you brought to school as a kid. Of course, the vegan tuna salad is nothing like the one you enjoyed all those years ago…
It's made with chickpeas! And it's also packed with flavor.
Instead of just adding mayo and maybe some sliced celery, I've added a variety of flavors and textures to this Vegan Chickpea Tuna Sandwich, including briny capers, Old Bay seasoning, pungent red onion, fresh herbs, and chopped pickles for some tang and crunch.
While I serve this up sandwich-style, you can use the filling any way you'd use a tuna salad—on crackers, served on a bed of greens, piled atop a pitted avocado, or spread onto cucumber slices. You can even make a vegan tuna melt by adding a slice of your favorite plant-based cheese and toasting the sandwich on a griddle!
What Is Vegan Fish Made Of?
There are countless beef, chicken, and bacon substitutes out there, but vegan fish is harder to find! This recipe substitutes chickpeas for the fish and uses Old Bay seasoning to add seafood flavour, but I've also used hearts of palm to make vegan fish sticks and fish tacos in the past. Other plant-based fish substitutes are made with seitan, and sometimes they're flavoured with seaweed.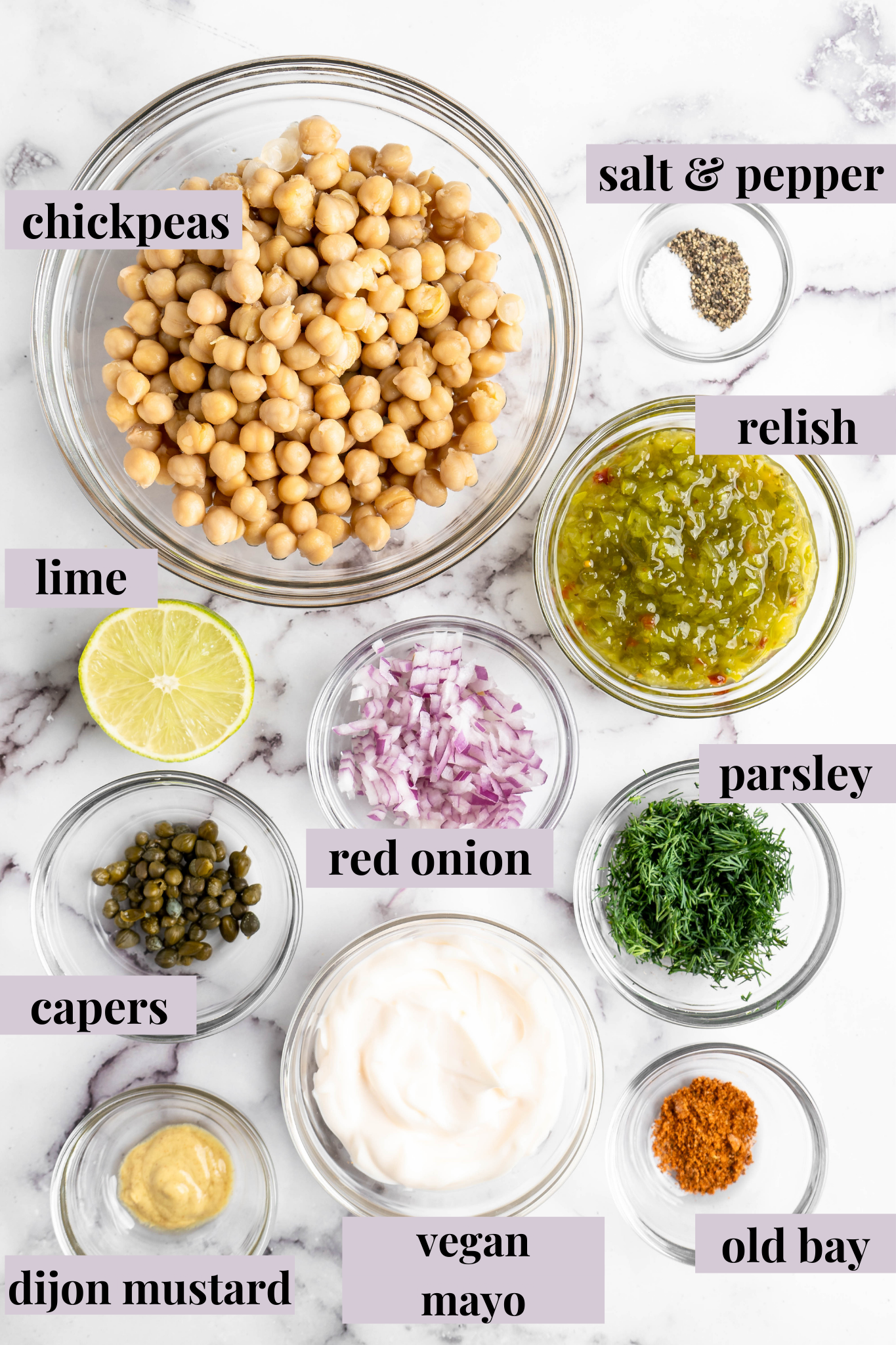 Notes on Ingredients
Please note that this is important information on the ingredients and instructions and the FULL recipe with amounts and details can be found DOWN BELOW (scroll to it) in the recipe card.
Chickpeas – You can use canned chickpeas or cooked dried chickpeas.
Vegan mayo – Use homemade vegan mayo or store-bought.
Red onion
Fresh parsley or dill
Pickles or relish – Pickles will add texture and flavour, while relish mostly contributes flavour.
Lime juice – Lemon can be used instead.
Old Bay seasoning – Because Old Bay seasoning is so often paired with seafood, it tricks your brain into thinking you're eating actual fish!
Dijon mustard
Salt and pepper
Capers – You can omit the capers, but if you have them on hand, you'll love the briny flavour they add to the tuna salad filling.
What Are Capers and What Are They Used For?
Capers are actually flower buds! They come from the Capparis spinosa, or caper bush, which is found throughout the Mediterranean. This is why capers pop up in so many Mediterranean dishes! They have a briny, piquant flavor that adds a bit of pep to this vegan tuna salad, but you'll also find them in a number of pasta dishes, potato salads, Caesar salad, and dressings.
How to Make Vegan Chickpea Tuna Salad
Once you prep the ingredients, there's not much left to do other than combine everything and layer the chickpea salad onto bread!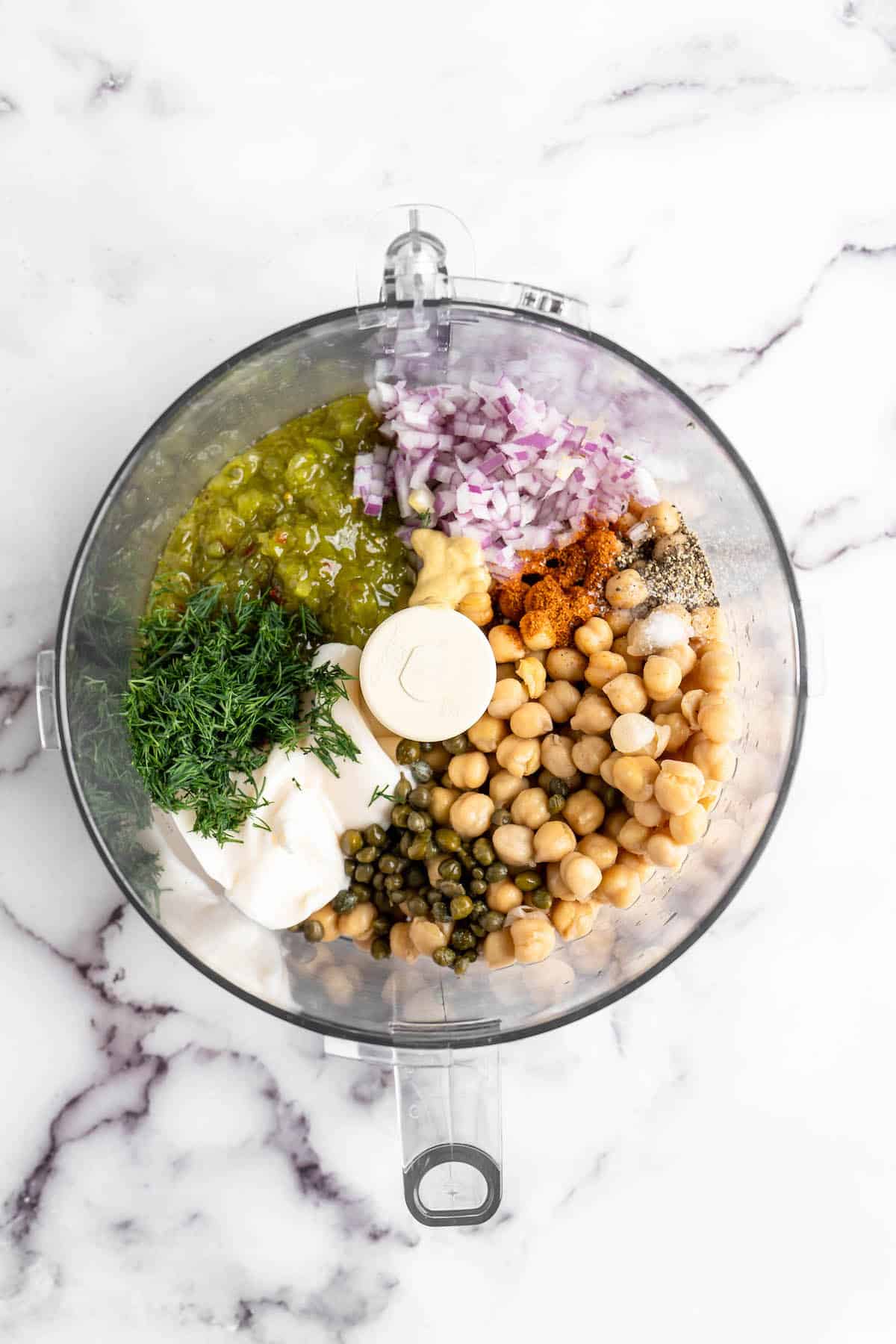 Combine the ingredients. Add all of the salad ingredients to your food processor and pulse a few times until combined.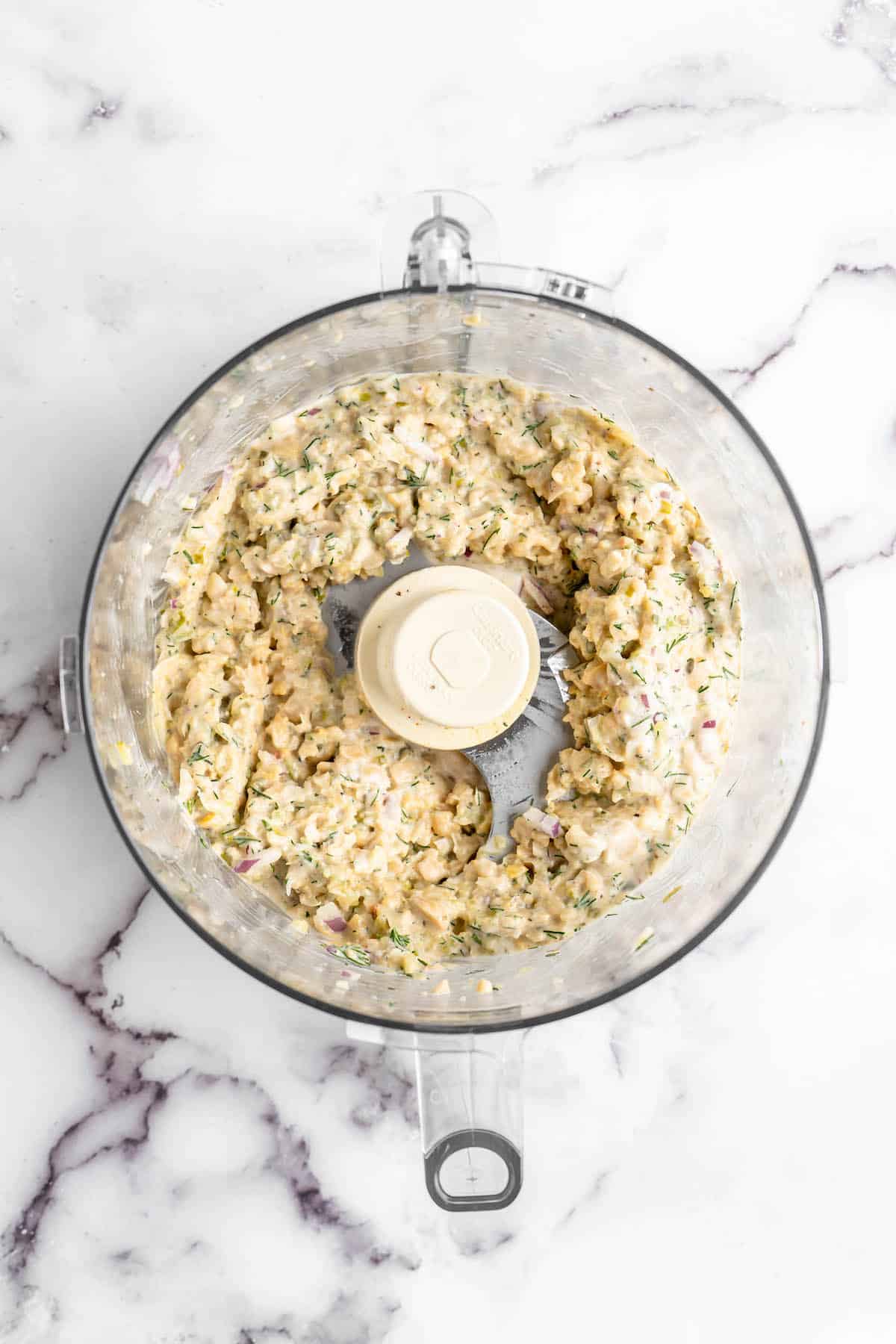 Finish. If needed, scrape down the sides of the bowl and pulse again. Season to taste.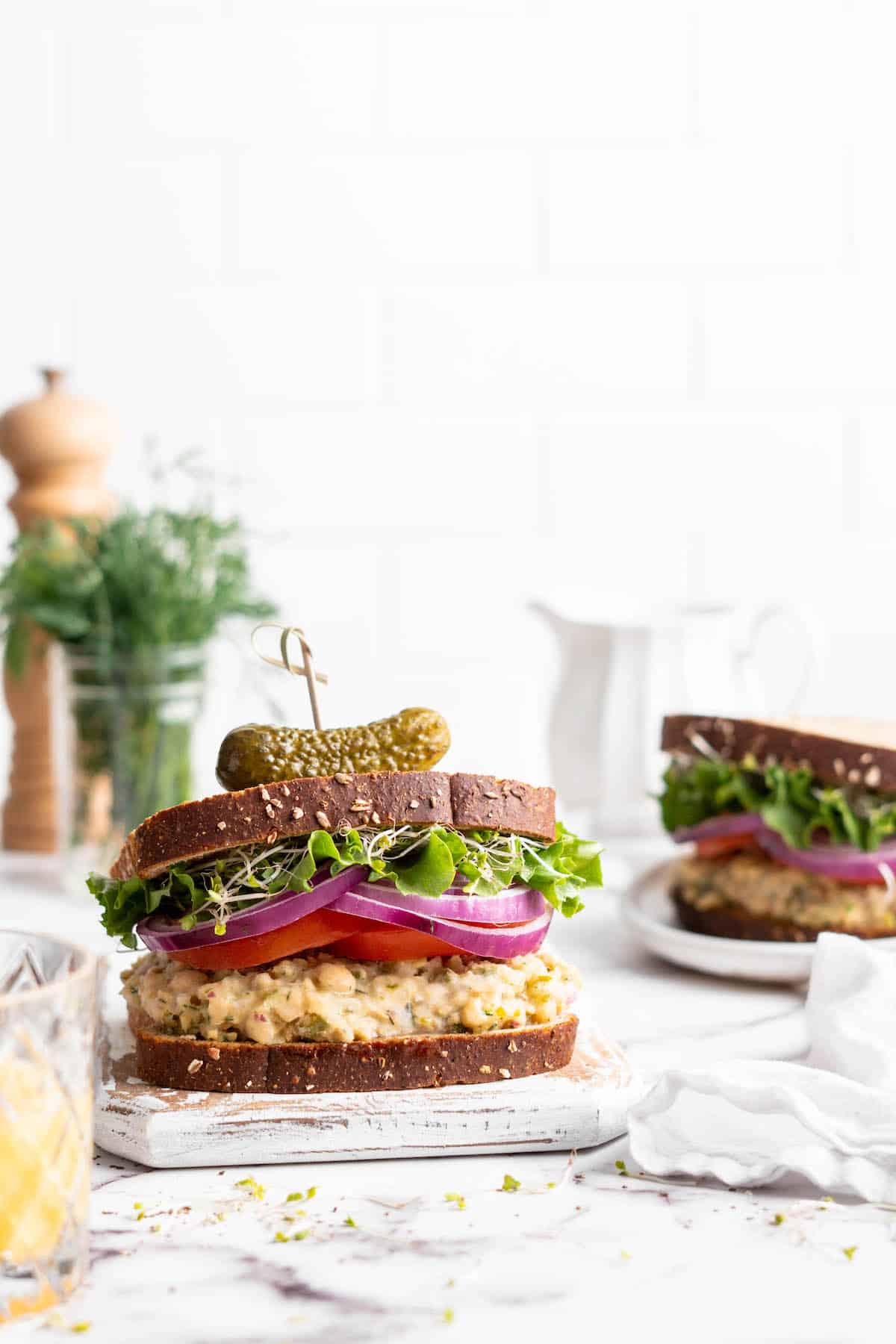 Serve. Spread the vegan tuna salad onto bread; I like adding lettuce, onions, and tomatoes.
Tips for Success
Here are some simple hints and tips to help you make perfect chickpea tuna salad!
Getting the right consistency. You don't want your faux tuna salad to be mushy, but you want to break down the chickpeas and incorporate all the ingredients. About 5 pulses is perfect.
No food processor? No problem! Use a fork to mash the chickpeas, then stir in the other ingredients.
Making it your own. You can add sliced celery or water chestnuts for crunch, or make it chicken salad style and add halved red grapes or diced apple.
How to Store
Vegan chickpea tuna salad can be refrigerated in an airtight container for up to 5 days, which makes it perfect for meal prep lunches. Make it on a Sunday night and enjoy it all week long!
Can This Recipe Be Frozen?
While experts advise against freezing traditional mayo-based salads, using vegan mayo means that you can freeze this chickpea tuna salad. Store it in an airtight container for up to 3 months and let it thaw in the refrigerator before serving.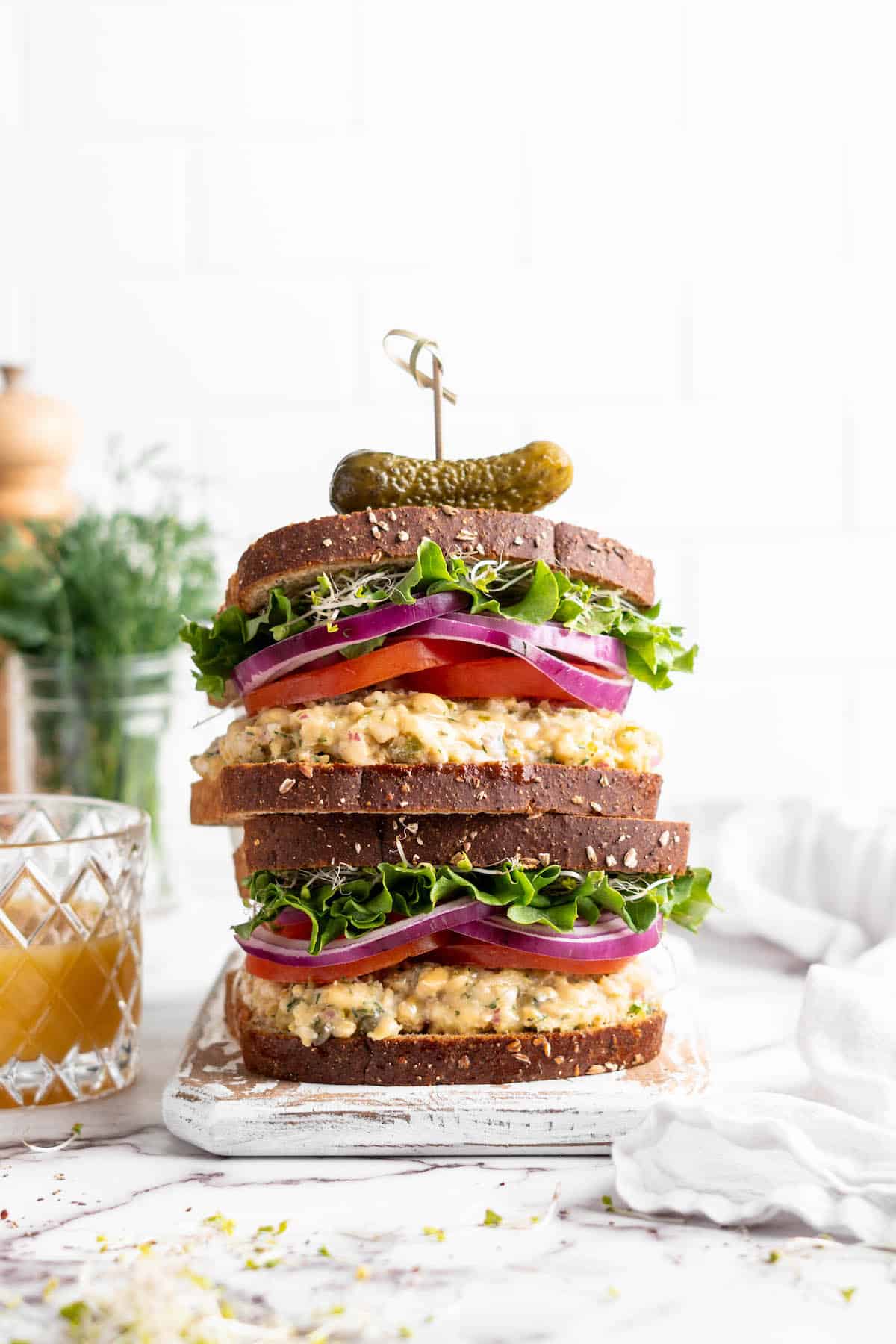 Enjoy friends! If you make this vegan chickpea tuna salad recipe, please snap a photo and tag #jessicainthekitchen on Instagram! We'd also love it if you would leave a comment below, and give the recipe a rating! Thanks so much!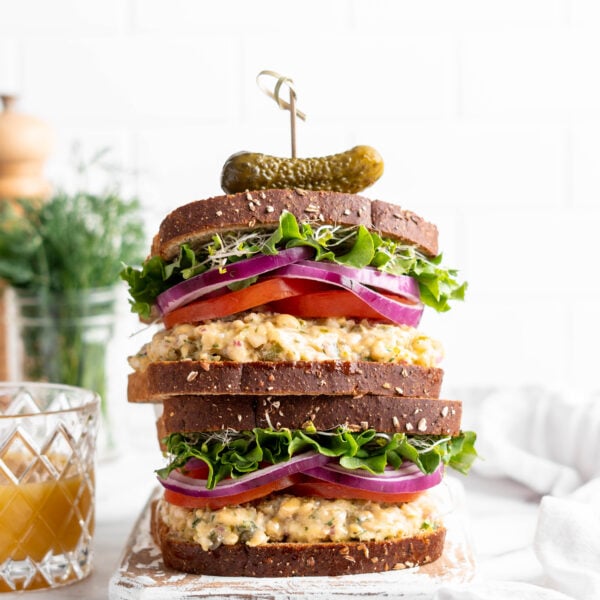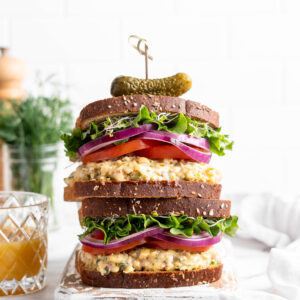 Vegan Chickpea Tuna Salad
This creamy vegan version of tuna salad is perfect for meal prep lunches!
Ingredients
1 15 oz. can chickpeas or roughly 1 ½ cups cooked chickpeas
1/4 cup vegan mayo
2 tablespoons red onion, roughly chopped
2 tablespoons fresh parsley or dill
1/4 cup finely chopped pickles or relish
Squeeze of a lime
½ teaspoon old bay seasoning
1/2 teaspoon dijon mustard
Salt and pepper
1 teaspoon capers
Instructions
Add all the ingredients into the food processor and pulse a few times until combined. You don't want it too mushy but you want to break down the chickpeas and incorporate all the ingredients, so about 5 pulses (depending on your food processor – see video for reference).

Scrape down with your spatula and taste and adjust seasonings to your liking, pulsing again like once or twice to combine.

Serve in a lettuce wrap, or in a sandwich as above, or on crackers or however you desire. If you're making a sandwich, I like to serve it on toasted bread with lettuce, onions and tomatoes. Enjoy!
Notes
How to store: Vegan chickpea salad can be refrigerated in an airtight container for up to 5 days. How to freeze: Store the salad in an airtight container for up to 3 months and let it thaw in the refrigerator before serving.
Calories: 392kcal, Carbohydrates: 49g, Protein: 14g, Fat: 16g, Saturated Fat: 2g, Polyunsaturated Fat: 2g, Monounsaturated Fat: 1g, Sodium: 465mg, Potassium: 484mg, Fiber: 12g, Sugar: 8g, Vitamin A: 310IU, Vitamin C: 6mg, Calcium: 85mg, Iron: 5mg
Disclaimer: Although jessicainthekitchen.com attempts to provide accurate nutritional information, kindly note that these are only estimates. Nutritional information may be affected based on the product type, the brand that was purchased, and in other unforeseeable ways. Jessicainthekitchen.com will not be held liable for any loss or damage resulting for your reliance on nutritional information. If you need to follow a specific caloric regimen, please consult your doctor first.