Lemon Garlic Grilled Zucchini
This Lemon Garlic Grilled Zucchini is a delicious, flavourful and bright spring or summer side dish perfect for grilling season!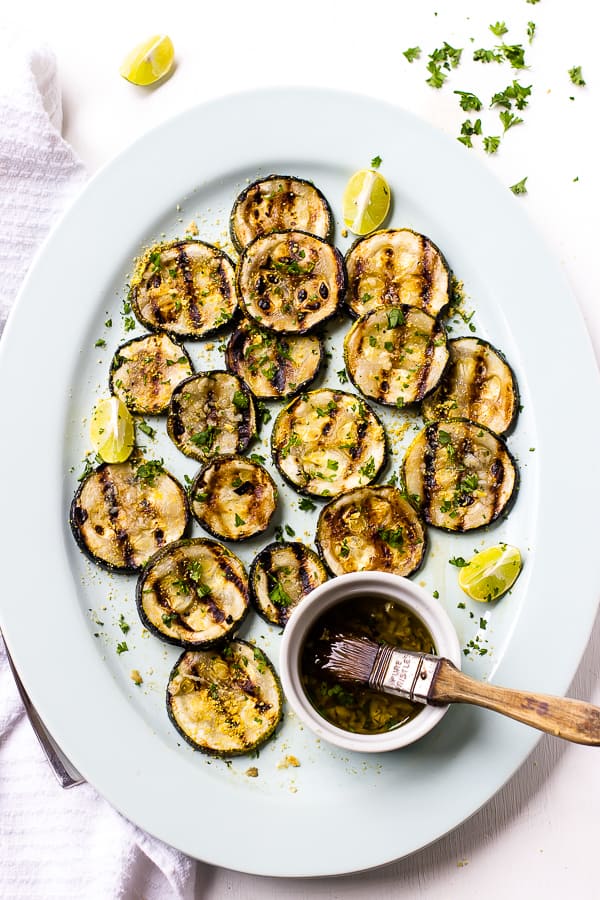 What better way to end summer grilling than with this Lemon Garlic Grilled Zucchini? Zucchini is not only one of the best veggies to grill, it's also one of the best ways to enjoy zucchini, other than delectable zucchini noodles of course. Trust me, you're going to want to keep this recipe.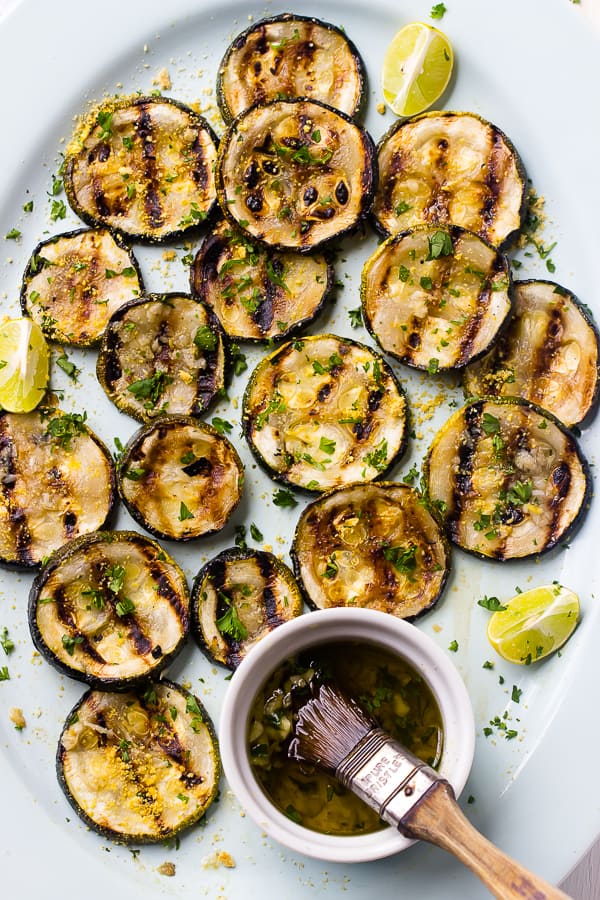 Something about the smokiness of the grill and the direct fire heat seems to really bring this veggie alive. The beautifully charred edges and grill marks are my favourite part of grilling this veggie instead of just baking it. Then, of course, comes the lemon garlic marinade. This marinade really takes it over the edge.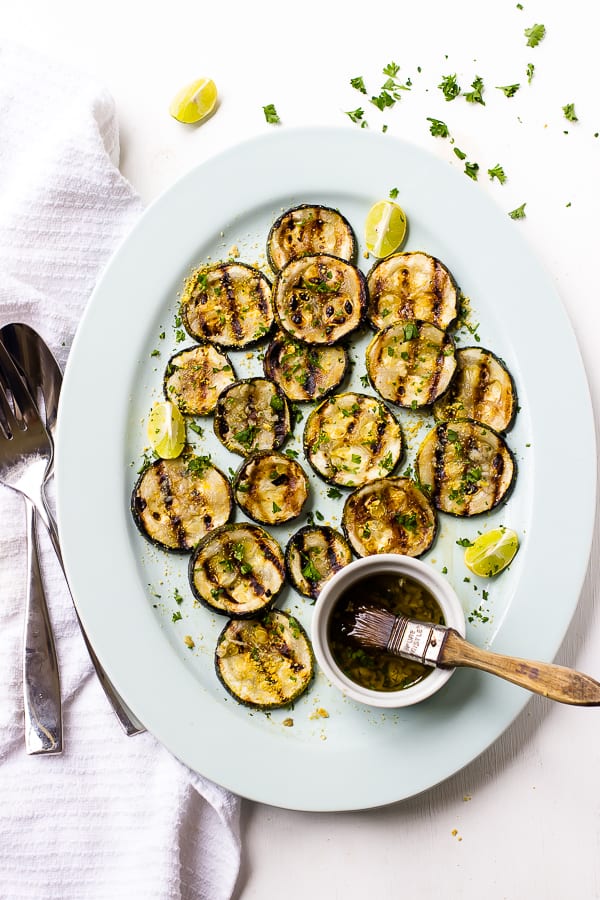 The lemon garlic combo becomes extra special since the zucchini slices are actually marinading in it. This was actually an accident! There was no coal so I just put the bowl up while recipe testing. By the time we got coal, the fire lit and ready to grill, it was the next day. I took them out of the fridge and they had an amazing lemon garlic fragrance. It became very clear: these babies were about to light up my world. Every single grilling pun intended.
The subtle punch of flavour is absolutely divine and makes this lemon garlic grilled zucchini one of the best grilling side dishes you can make. I ground some salt, pepper, squeezed some lime over the top, added some fresh parsley and some vegan parmesan cheese. I completely these extra steps as they bring out the flavour even more and take your grilled zucchini to a new level. Here's to grilling season!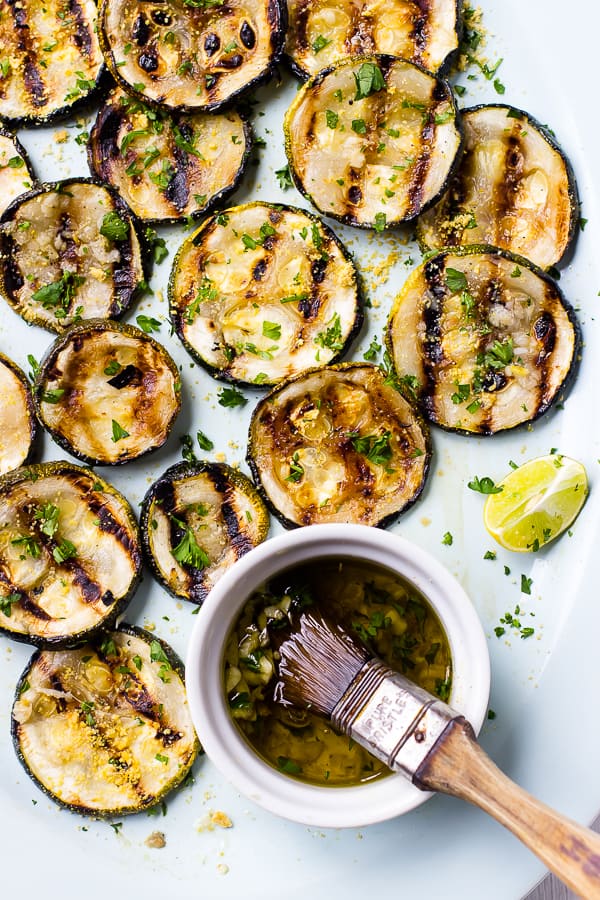 | WHAT YOU'LL NEED // CLICK THE LEFT & RIGHT ARROWS TO SCROLL |



If you try these Lemon Garlic Grilled Zucchini, please let me know in the comment section below, or tag me on instagram with the hashtag #jessicainthekitchen! For more exclusive recipes follow me on Instagram AND on Snapchat: jessinkitchen.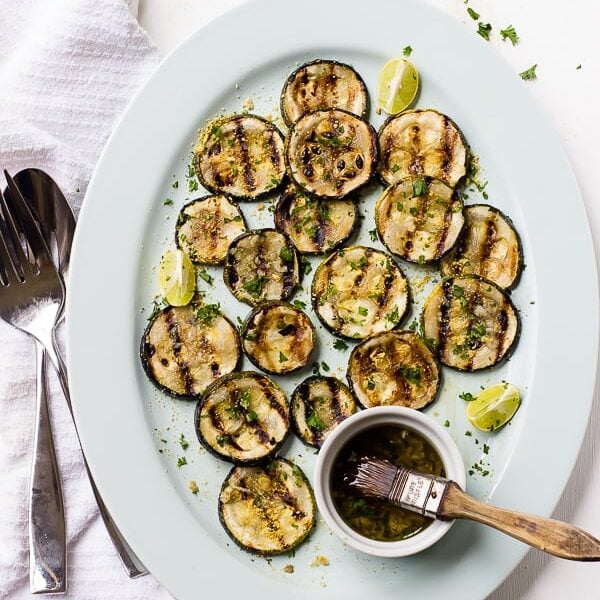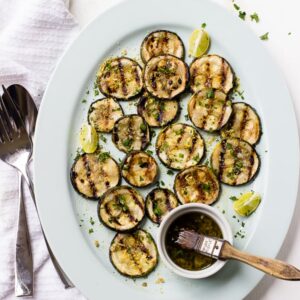 Lemon Garlic Grilled Zucchini
This Lemon Garlic Grilled Zucchini is a delicious, flavourful and bright spring or summer side dish perfect for grilling season!
Ingredients
2 medium zucchinis, washed and sliced
2 tablespoons olive oil
1 tablespoon freshly squeezed lemon juice
4 garlic cloves, peeled and minced
3/4 teaspoon sea salt
1/2 teaspoon freshly ground black pepper
Chopped parsley, lime wedges and vegan parmesan cheese for garnish
Instructions
Add the zucchinis to a bowl. Set aside.

In a small bowl, mix the olive oil, lemon juice, garlic cloves, sea salt and freshly ground black pepper together and whisk together until incorporated.

Add to the container with the zucchini and toss with zucchini until everything is coated. Cover with saran wrap and allow to marinate for a few hours, at least 4 hours. I did mine overnight.

Heat your grill (according to manufacturer settings) to high heat.

Using grill tongs, place all of the zucchini onto the grill. Let the zucchini heat for about 4-5 minutes on each side, until grill marks begin to form and the zucchini begins to brown. Flip and cook for another 4-5 minutes. This timing may vary based on your grill's heat. The zucchini should be completely cooked through.

Remove from grill and place onto a serving platter. Season again lightly with ground sea salt and black pepper. Garnish with chopped parsley and vegan parmesan cheese and serve with lemon or lime wedges to squeeze over the top.
Notes
Notes: 1.This recipe is gluten free and vegan. I recommend serving the zucchini immediately as it will wilt slightly as it cools. 2. HOW TO STORE ZUCCHINI: You can store your zucchini in an airtight container in the fridge. I recommend reheating it in a toasted oven, grill pan or on the grill. The zucchini will last about 2 days cooked in your fridge but tastes best fresh.
Calories: 169kcal, Carbohydrates: 9g, Protein: 3g, Fat: 15g, Saturated Fat: 2g, Sodium: 889mg, Potassium: 536mg, Fiber: 2g, Sugar: 5g, Vitamin A: 392IU, Vitamin C: 40mg, Calcium: 42mg, Iron: 1mg
Disclaimer: Although jessicainthekitchen.com attempts to provide accurate nutritional information, kindly note that these are only estimates. Nutritional information may be affected based on the product type, the brand that was purchased, and in other unforeseeable ways. Jessicainthekitchen.com will not be held liable for any loss or damage resulting for your reliance on nutritional information. If you need to follow a specific caloric regimen, please consult your doctor first.