How To Make Tahini (2 Ingredients)
Why buy tahini when you can make your own at home? It's easier than you think and you can use this Middle Eastern staple in hummus, baba ghanoush, salad dressings, and more!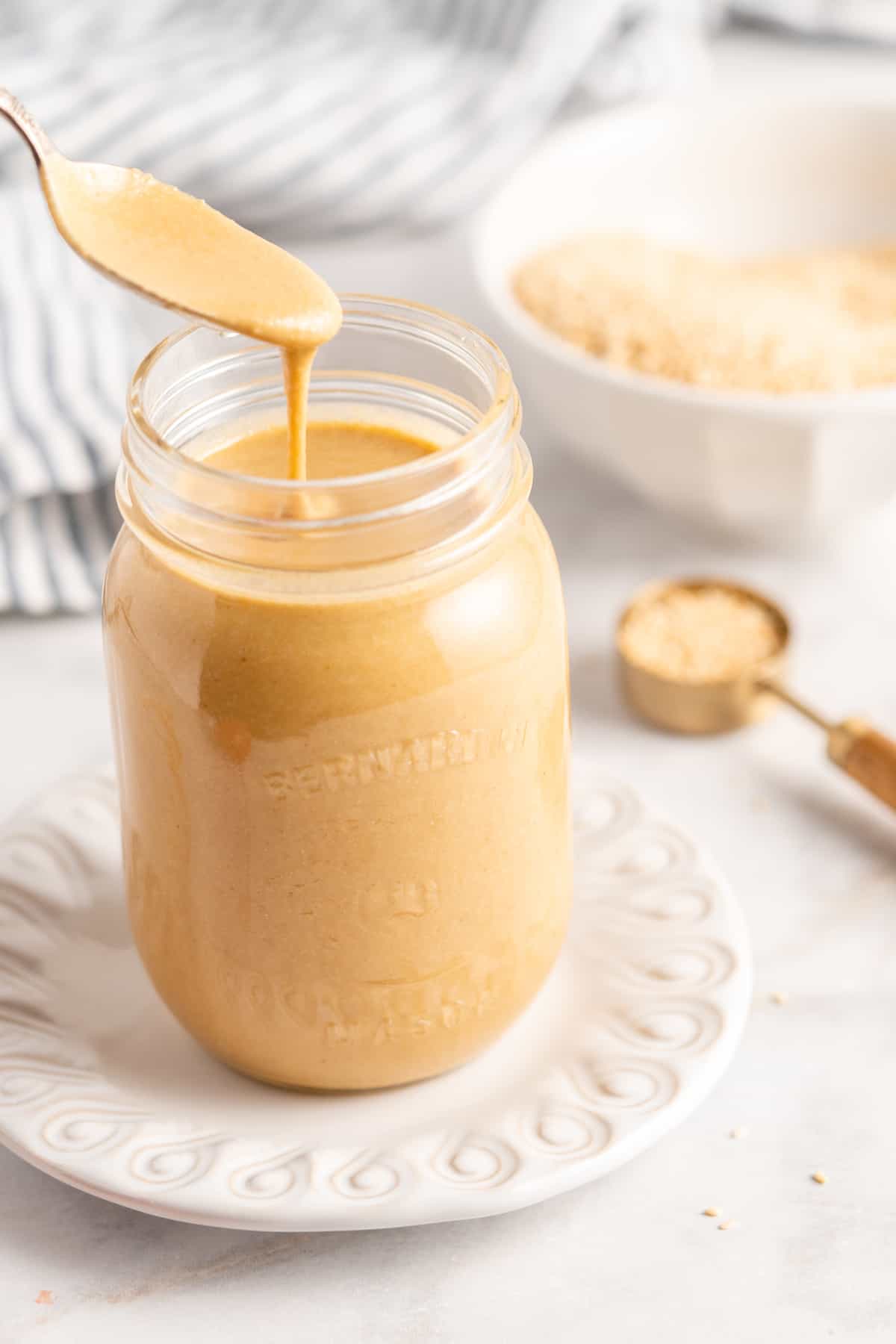 Tahini is a Middle Eastern sesame seed paste that has a rich, earthy flavor. It's included in many of your favorite Mediterranean-inspired recipes, from hummus to baba ghanoush. A good tahini can set you back $10 or more, though, so today I'm going to show you how to make it at home!
You only need two ingredients to make your own tahini, so this recipe is really all about using quality ingredients and the right technique. I use Bob's Red Mill sesame seeds and a good olive oil, and I always toast the seeds on a baking sheet to amp up their earthy flavor.
Although you could eat tahini on its own, it's generally used as an ingredient in other recipes. Even the ubiquitous tahini in Middle Eastern restaurants is actually a sauce made with tahini and garlic, lemon juice, and seasonings. In addition to dips like hummus, you can use tahini in Salted Chocolate Chip Tahini Cookies, Vegan Beet Falafel with Harissa Tahini Dressing, and Kale Salad with Sesame Tahini Dressing.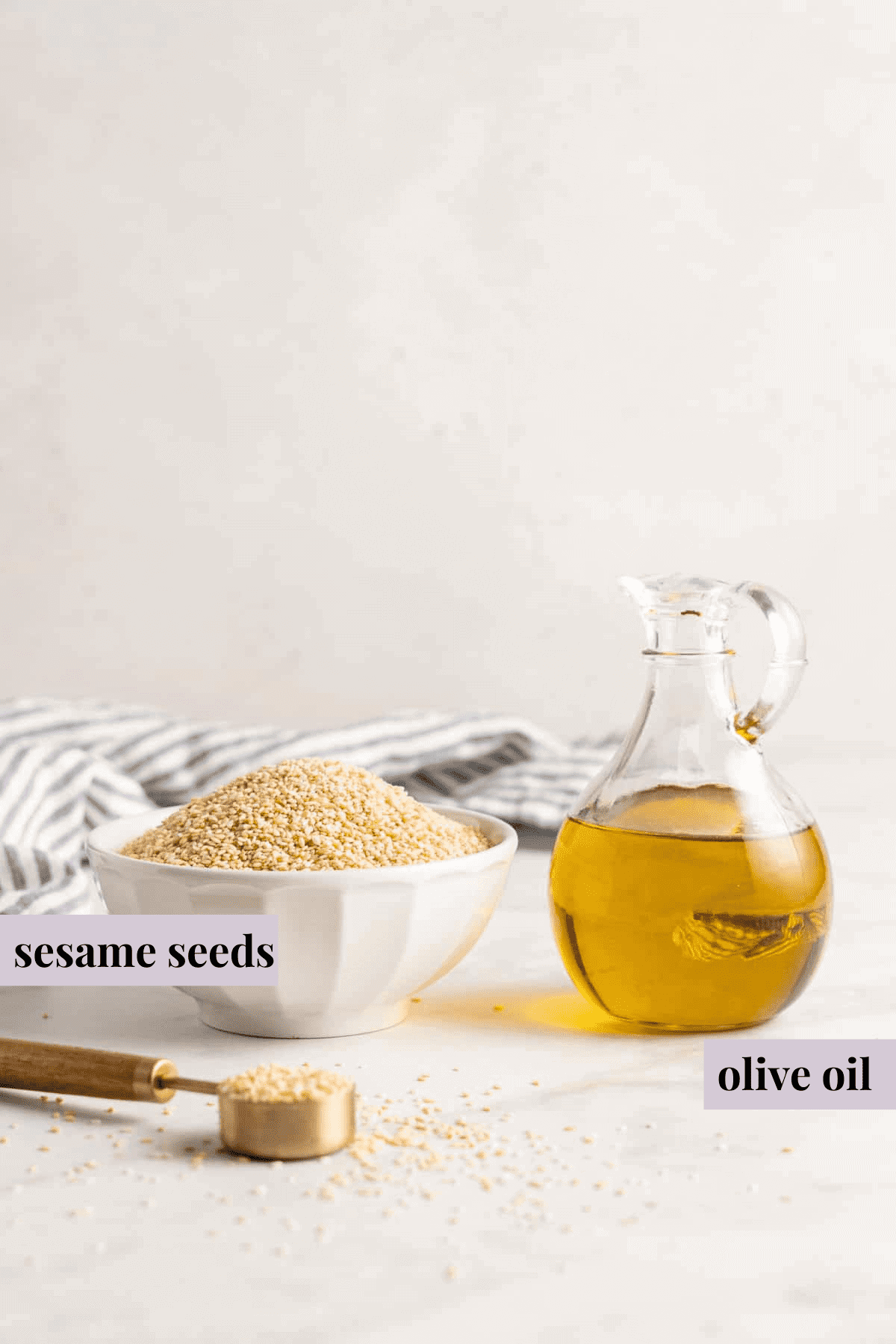 Notes on Ingredients
Please note that this is important information on the ingredients and instructions and the FULL recipe with amounts and details can be found DOWN BELOW (scroll to it) in the recipe card.
Sesame seeds – If your grocery store has a bulk section, you'll likely find sesame seeds there!
Olive oil – Use a high-quality extra-virgin olive oil.
How to Make Tahini
Making tahini is an absolute breeze—you'll never want to buy it again! Here's what you'll need to do.
Prepare. Preheat your oven to 350°F/175°C.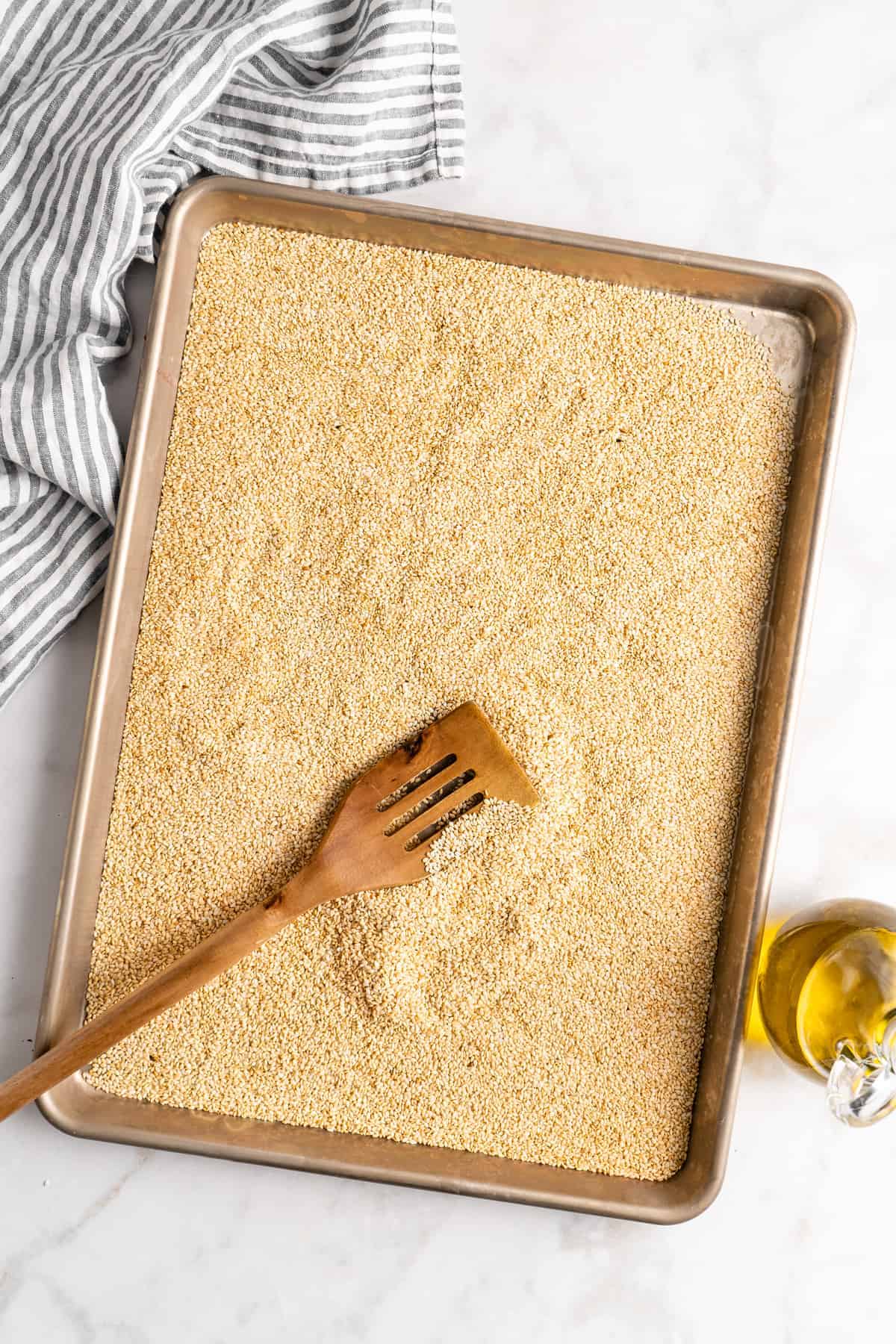 Toast the seeds. Pour the sesame seeds onto a rimmed baking sheet and spread them out so they're in an even layer. Place the sheet pan in the oven for about 10 minutes, or until the seeds are golden brown and fragrant.
Cool. Remove the sheet pan from the oven and let the sesame seeds cool for 20 minutes.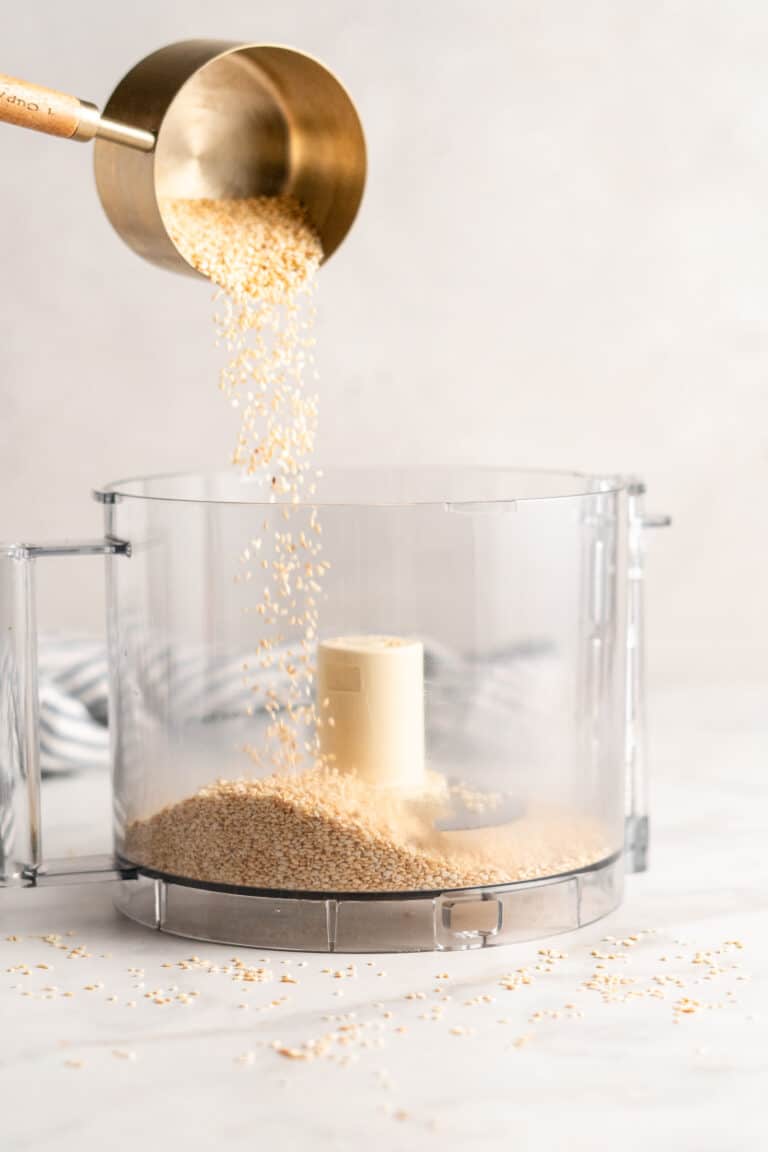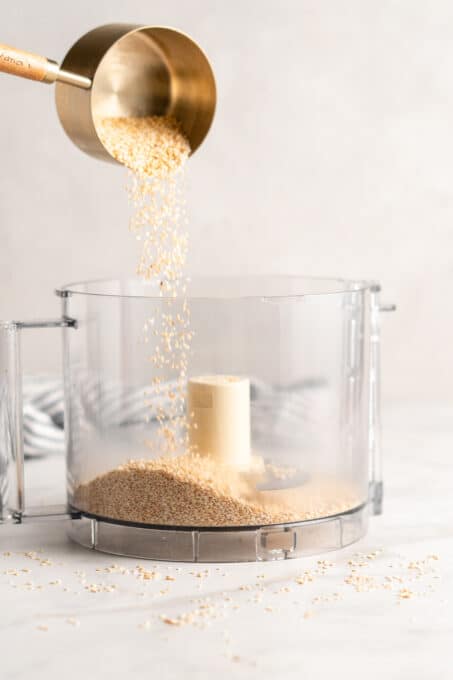 Puree. Transfer the sesame seeds to a food processor or blender. Pulse a bit to chop them up, then add the olive oil and blend for about 2 minutes, or until the mixture is smooth. Stop to scrape down the sides of the food processor or blender, if needed.
Tips for Success
There's not much to this recipe, but here are some hints and tips to make sure your tahini turns out perfect!
Keep a close eye on the sesame seeds. They can go from lightly toasted to burnt super fast! If your oven tends to cook hot, check the seeds at the 8 minute mark, or toast the seeds in a large skillet on the stovetop instead.
Get the right consistency. Tahini is also called tahini paste, which gives you a good idea of what the consistency should be. If needed, you can add more olive oil as you process it, but it should be smooth and thick, similar to an almond butter.
No food processor? You can make tahini the traditional way, using a mortar and pestle.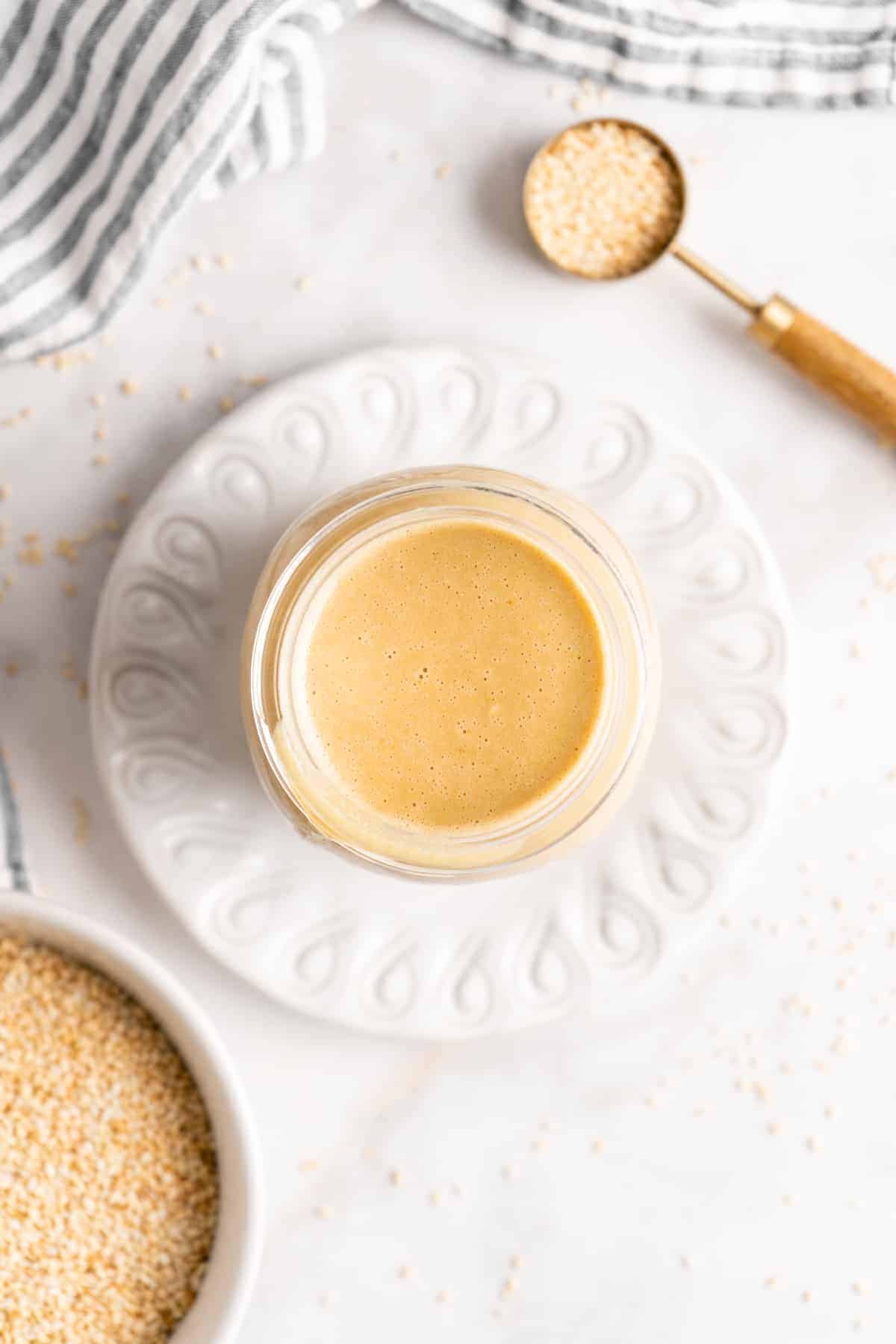 How to Store
Tahini can be refrigerated in a sealed jar for up to a month. If it separates, simply stir it before using.
Can This Be Frozen?
You can freeze tahini in an airtight container, jar, or freezer bag for 3 to 4 months. Let it thaw in the refrigerator and store it there for up to a month after thawing.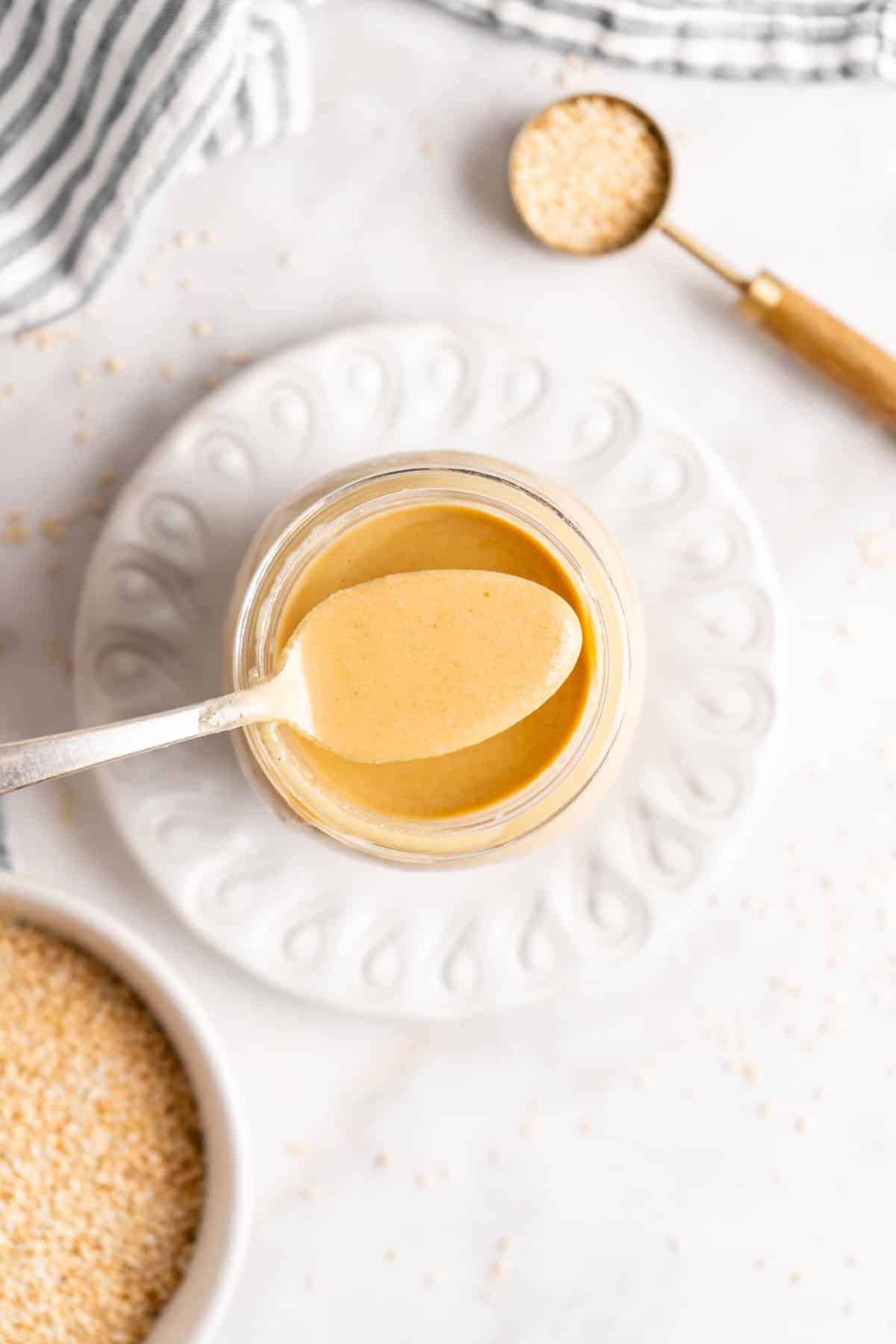 Enjoy friends! If you make this tahini recipe, please snap a photo and tag #jessicainthekitchen on Instagram! We'd also love it if you would leave a comment below, and give the recipe a rating! Thanks so much!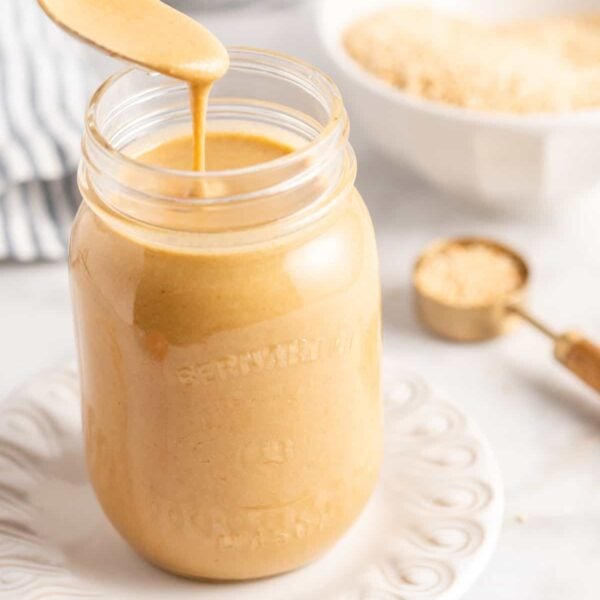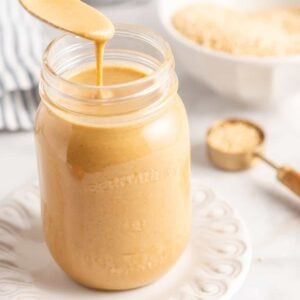 How To Make Tahini (2 Ingredients)
Making tahini at home is easier than you think! Use it in hummus, baba ghanoush, salad dressings, and more.
Ingredients
16 oz sesame seeds, I used an entire container of Bob's Red Mill Natural Brown Sesame Seeds 455 g
3/4 cup olive oil
Instructions
Preheat oven to 350 ° F/175 ° C.

Pour all the sesame seeds on a cookie sheet and spread over the entire sheet. Bake for 10 minutes – this process helps to toast the seeds and adds flavour.

Once finished, remove from baking sheet and allow to cool for 20 minutes.

Pour sesame seeds into your food processor or blender (I use my Ninja) and turn on, pulsing, then add the olive oil. Blend for about 2 minutes, until creamy, scraping down the edges every now and then.

Notes
How to store: Refrigerate in a sealed jar for up to a month. If it separates, stir it before using. How to freeze: Freeze tahini in an airtight container, jar, or freezer bag for 3 to 4 months. Thaw in the refrigerator before using.
Calories: 504kcal, Carbohydrates: 13g, Protein: 10g, Fat: 48g, Saturated Fat: 7g, Sodium: 7mg, Potassium: 265mg, Fiber: 7g, Sugar: 1g, Calcium: 553mg, Iron: 8mg
Disclaimer: Although jessicainthekitchen.com attempts to provide accurate nutritional information, kindly note that these are only estimates. Nutritional information may be affected based on the product type, the brand that was purchased, and in other unforeseeable ways. Jessicainthekitchen.com will not be held liable for any loss or damage resulting for your reliance on nutritional information. If you need to follow a specific caloric regimen, please consult your doctor first.