Beet Chips
Beet Chips are a bright, colourful, sweet-and-salty, crunchy snack! Only three ingredients, and my entire family loved it!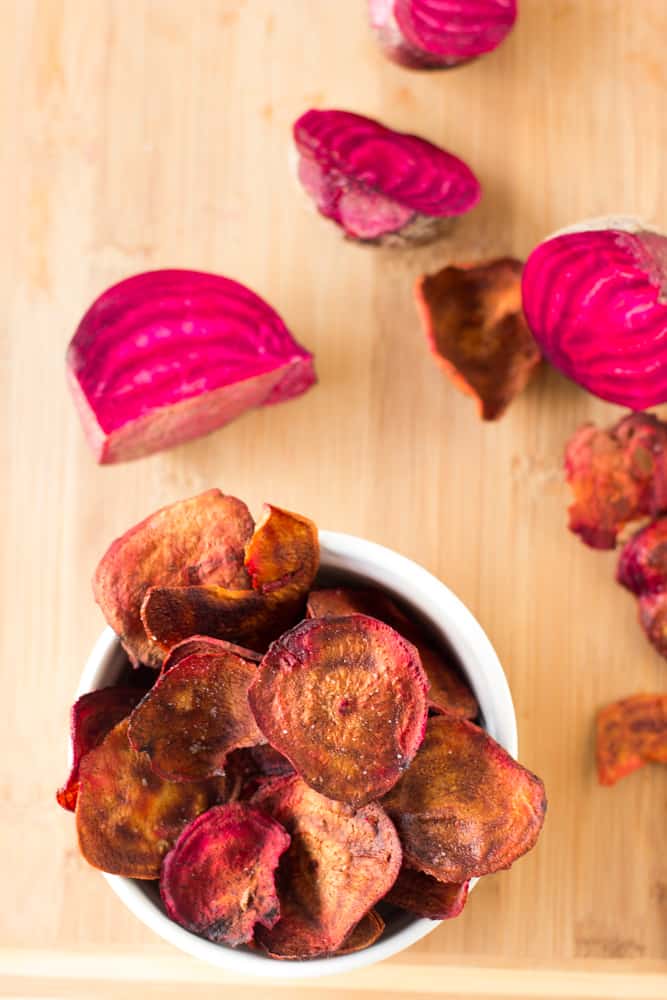 Happy Friday! This is one of those weekends I'm truly looking forward to – I have a long list of things to do, namely making ice cream, lounging in the pool, and finding a new Netflix show to fill my OITNB withdrawal. Whew, someone's got to do this job, and I proudly volunteer as tribute.
What else did I proudly volunteer at? Gobbling down all of these beet chips.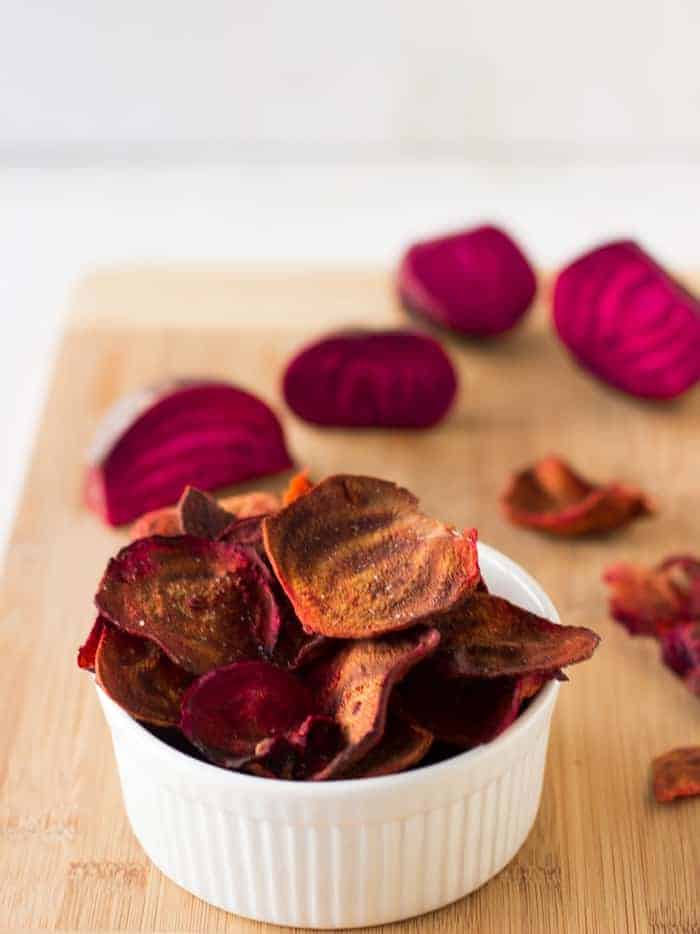 Here's the thing with me and beets. I have beet juice almost every single morning made fresh by my amazing mother. The first day I tried the juice I was less than enthusiastic about knowing beets were in there, but was won over by the taste. Fast forward to months later, and I crave it daily. Growing up you hear horror stories about beets, but the truth is they are a delicious sweet vegetable. Who lied about beets? Probably someone who wanted them all to themselves.
The thought for these chips came after my sweet potato chips which didn't last 30 minutes on a road trip which they were supposed to be snacks for the weekend and I was like, what else can I make chips of? Regular potato chips were so overdone, and then I thought WAIT.
Beets. Would they be sweet?
Two batches later (I burnt my first batch watching the Brazil and Germany match) came out these still bright, beautiful and incredibly crunchy chips. They are deliciously sweet and the salt provides an amazing contrast.
You know, like caramel and sea salt? Pretzels and chocolate? I'm adding beet chips and fine sea salt to this category.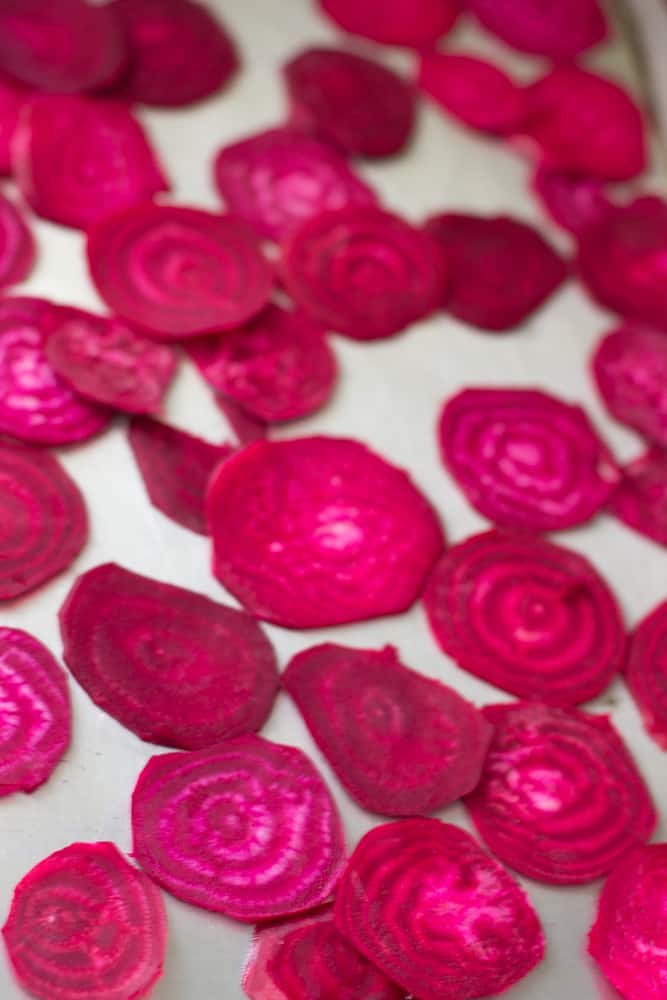 If they sold this as a snack I would be hooked, and I mean only these three ingredients no additives, because that would cloud the natural flavour of these beet chips. Throughout the entire shoot of these I was chomping down, as was Mr. Bakes, then my brother came along…then my entire family devoured them. My mom, I understand, she loves beets. But beet skeptics gave it a try and loved them too. While I was happy…I kinda wanted them ALL for myself.
By the way, aren't beets SO pretty? I wish all my meals and snacks were shades of pinks, red and purples. I already have my next beet recipe planned. Even if it means staining everywhere pink, red and purple. I can deal.
If you enjoyed these beet chips, then you'll definitely enjoy these Baked Sweet Potato Chips!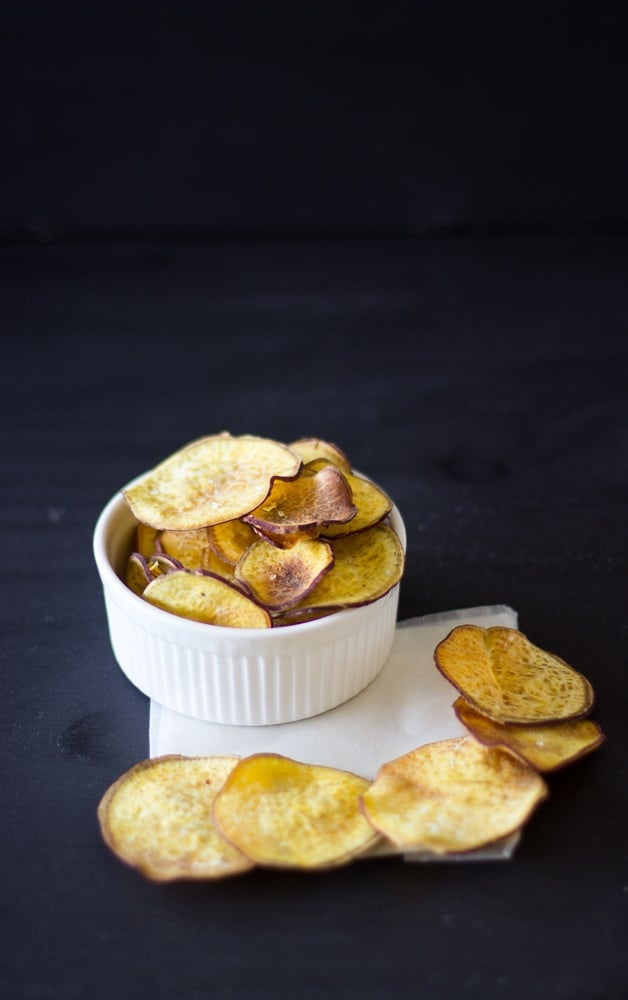 And these Warm Cinnamon Apple Chips.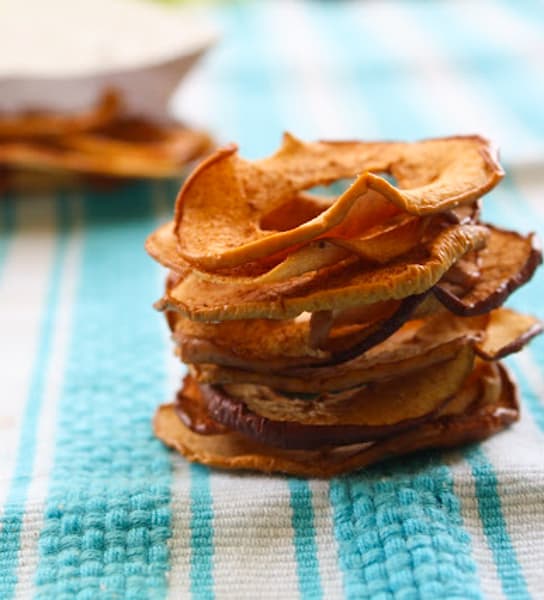 Or these Kale Chips, Three Different Ways!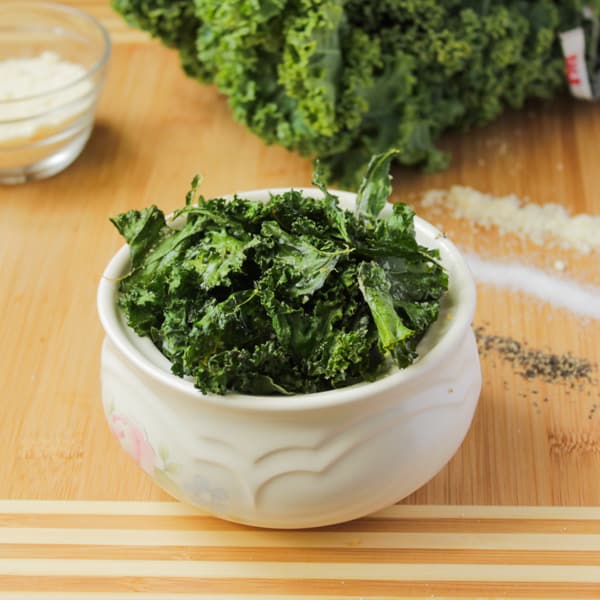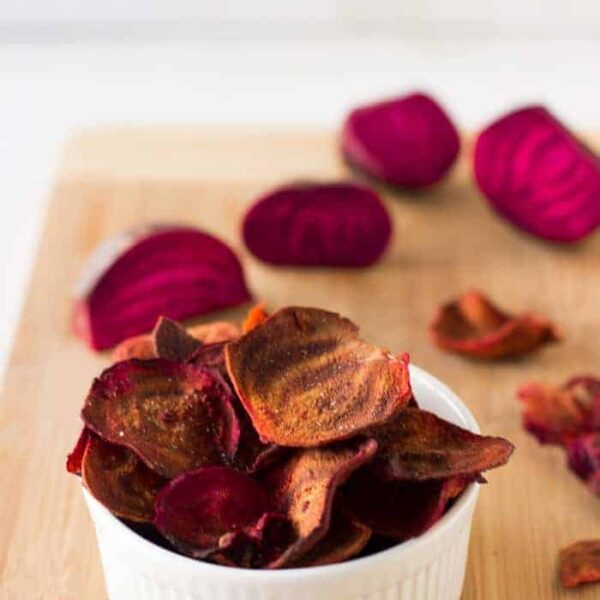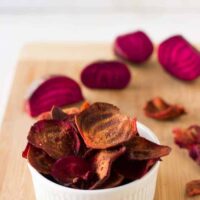 Beet Chips
Beet Chips are a bright, colourful and and sweet and salty crunchy snack! My entire family loved it!
Ingredients
4 small beets or 2 large beets
Handful fine sea salt
1 tablespoon olive oil
Instructions
Preheat the oven to 300 degrees.

Wash the beets and peel off the skin. Slice the beets through your mandolin until you have made circular chips out of everything.


In a bowl, toss raw beets with 1/2 tablespoon olive oil until coated. Coat a baking sheet with remaining olive oil.


Place raw chips on the baking sheet and sprinkle with fine sea salt (salting prior to will also help dry them out which helps with the crunch).

Bake for 35 to 40 minutes (watch them after the 35 minute mark) until chips are crisp and cooked through. Sprinkle more sea salt on top as soon as you remove them from the oven.

Serve immediately and enjoy.
Calories: 88kcal, Carbohydrates: 10g, Protein: 2g, Fat: 5g, Saturated Fat: 1g, Sodium: 861mg, Potassium: 355mg, Fiber: 3g, Sugar: 7g, Vitamin A: 36IU, Vitamin C: 5mg, Calcium: 17mg, Iron: 1mg
Disclaimer: Although jessicainthekitchen.com attempts to provide accurate nutritional information, kindly note that these are only estimates. Nutritional information may be affected based on the product type, the brand that was purchased, and in other unforeseeable ways. Jessicainthekitchen.com will not be held liable for any loss or damage resulting for your reliance on nutritional information. If you need to follow a specific caloric regimen, please consult your doctor first.