Bang Bang Broccoli (Vegan)
This Bang Bang Broccoli is crispy, sweet & spicy and tossed in a creamy spicy mayo sauce! It's pretty easy to make, and tastes phenomenal! P.S. you can also make it in the air fryer!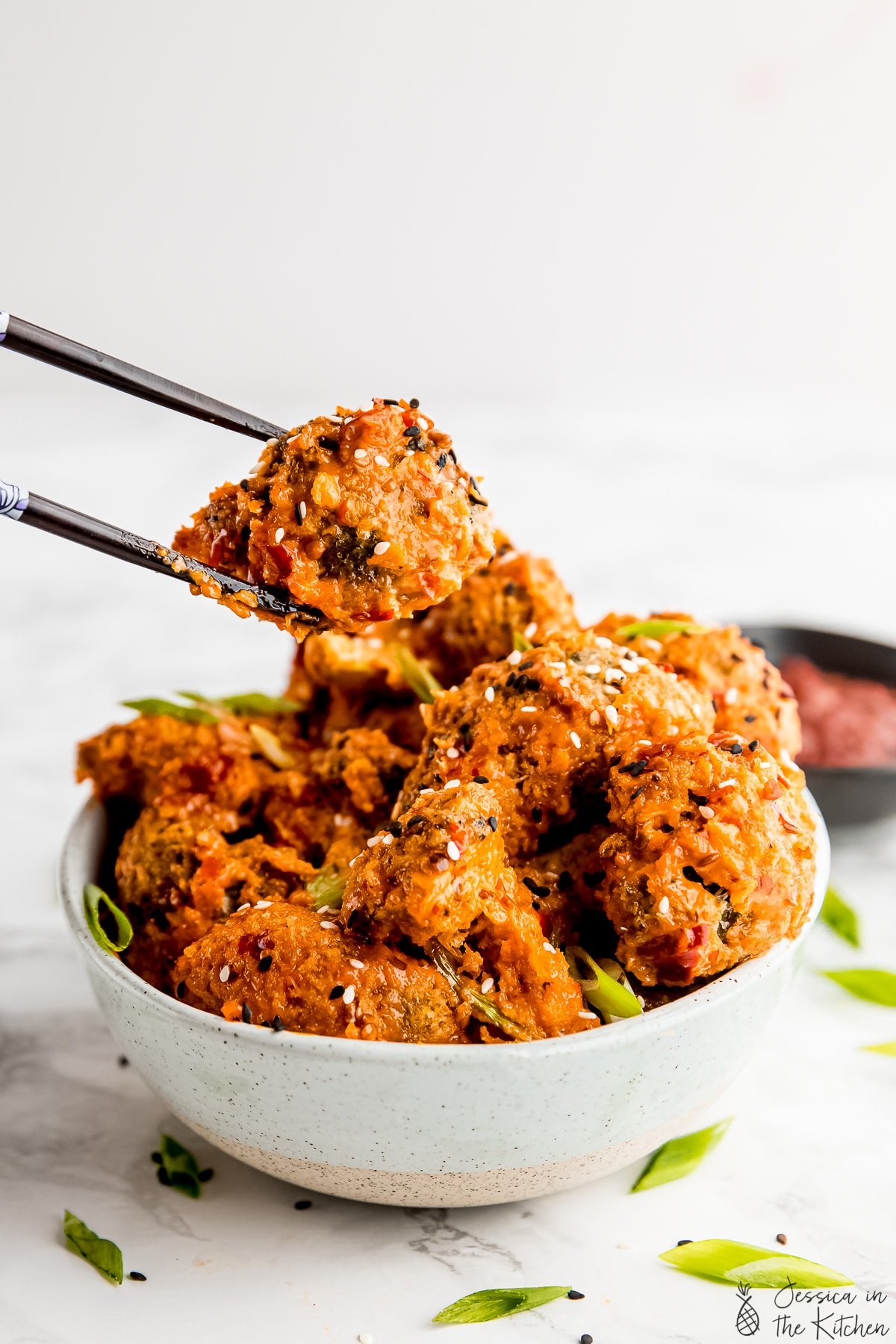 I can't count how many times I've made this bang-bang broccoli in the last two months. It's one of those dishes that's actually pretty easy to do, takes only 15 minutes to bake, and when it's done? Tastes PHENOMENAL. I mean, like a "man that was totally worth it" taste.
After trying this at one of our fave Asian restaurants, I was pretty bummed that they couldn't veganise it, or more, their vegan version meant no sauce. Well, that's kind of the whole point, right?! So I went about trying to make a vegan version, based loosely on my cauliflower wings, and mostly on my tastebuds. The result is this beauty.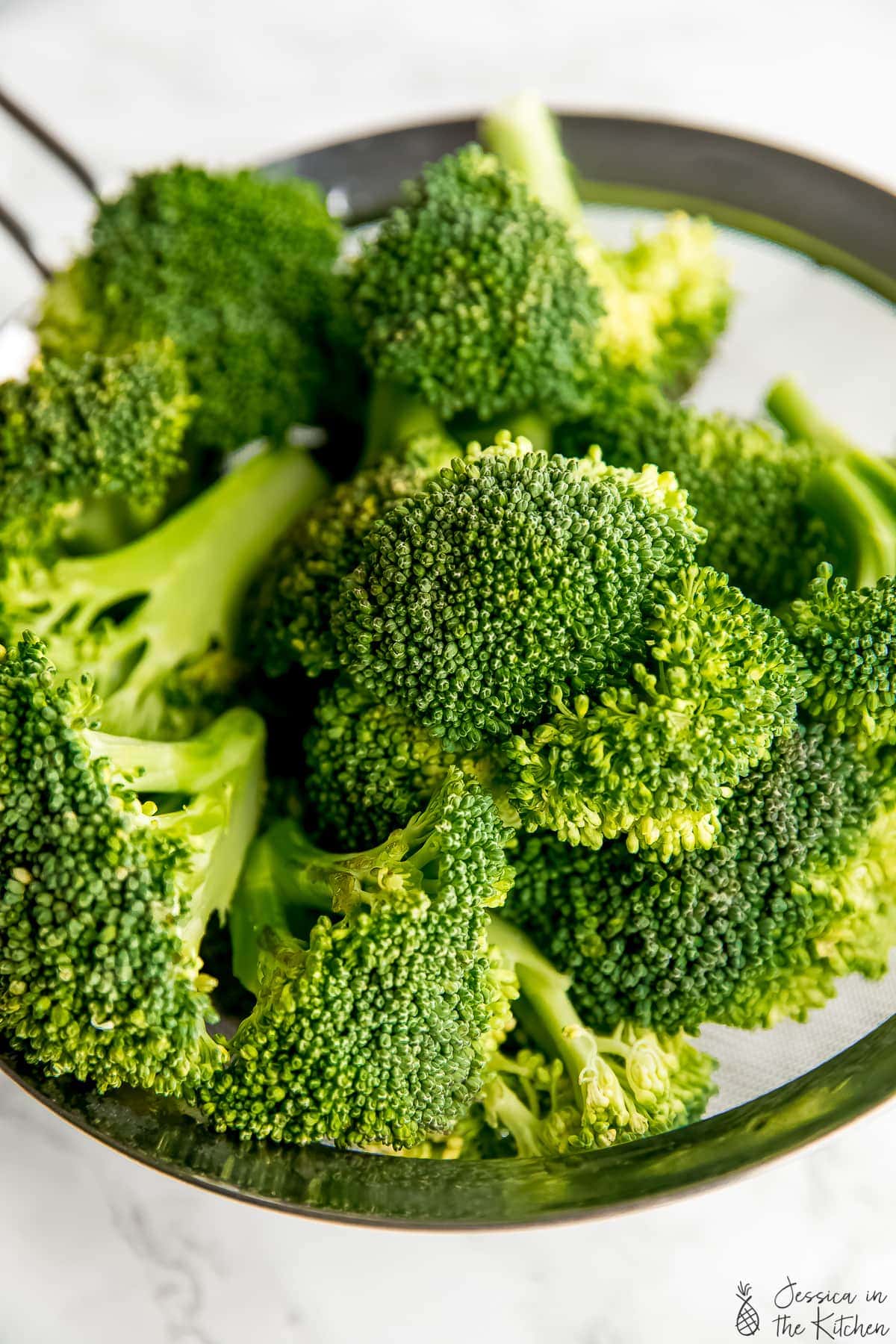 How to Make Bang Bang Broccoli
Making this bang-bang broccoli is as easy as battering it in a tempura-like batter, rolling it in the panko breadcrumbs, and then baking it. The batter has cornstarch which if you choose to fry this, makes it exceptional. But even if you bake it as I do, it's a solid 10/10. The panko gives it that beautiful crispy texture and is a must. Even if you don't add the sauce, it tastes divine. 
But…the signature bang bang sauce. It's a mix of sweet of spicy with vegan mayo, maple syrup or agave nectar and a chili paste (such as sambal oelek or sriracha). I personally prefer agave cause it's cheaper and has a more viscous consistency, so really gives it that sticky feel. It soaks beautifully into the crispy broccoli and there you have it – sweet, spicy and saucy bang bang broccoli.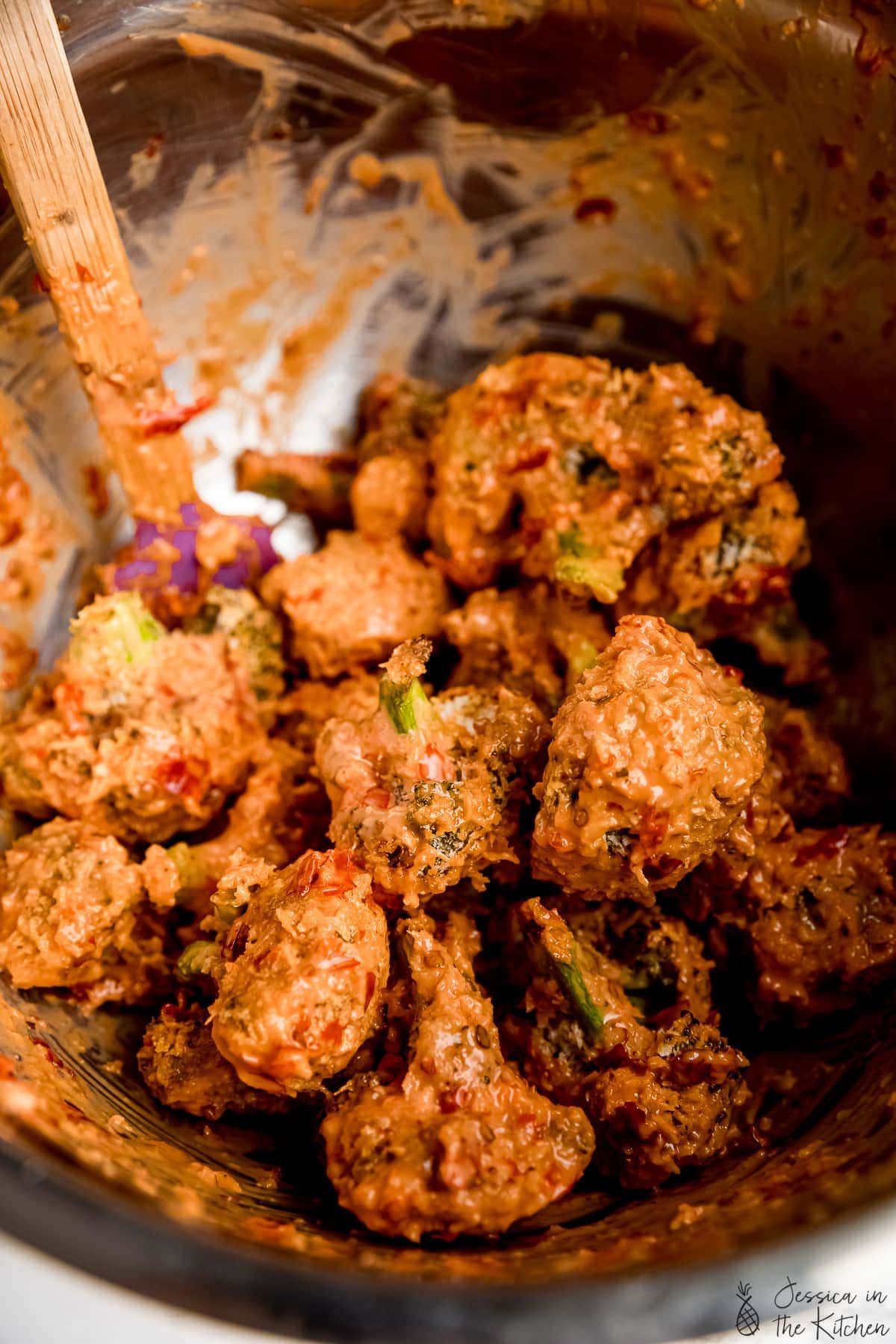 What to Serve/Eat Bang Bang Broccoli with
This goes so well with so many things.
Noodles, fried rice, in lettuce wraps or with dumplings! It's totally up to you! 
You could even use cauliflower instead
Batter up other veggies you may have and treat it the same. It's a great way to use leftovers and tastes amazing! 
Enjoy, friends!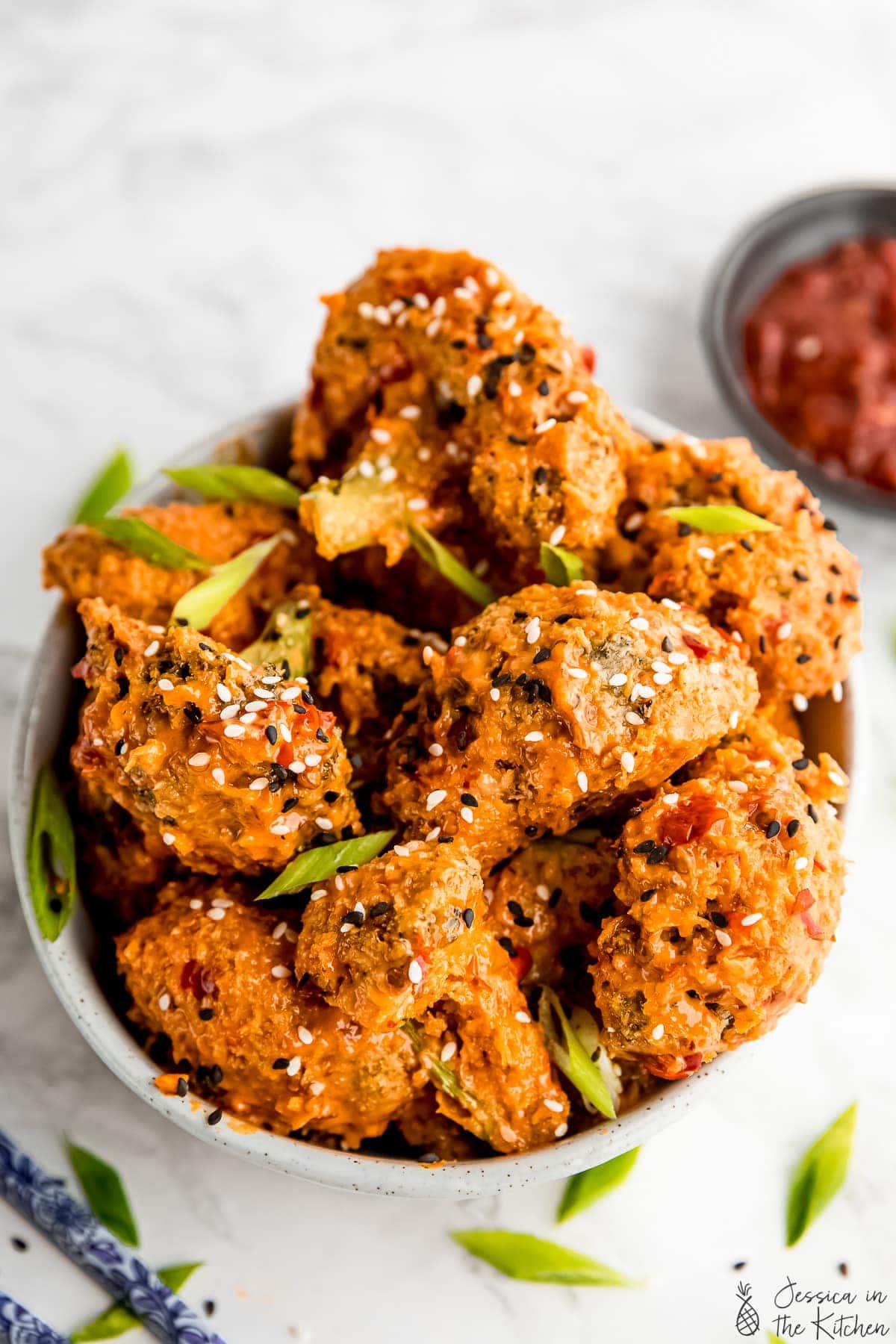 Enjoy friends! If you make this Vegan Bang Bang Broccoli, please snap a photo and tag #jessicainthekitchen on Instagram! We'd also love it if you would leave a comment below, and give the recipe a rating! Thanks so much! P.S. – do you know that we have an entire blog dedicated to low carb recipes named Low Carb Vegan Recipes?! Be sure to check it out!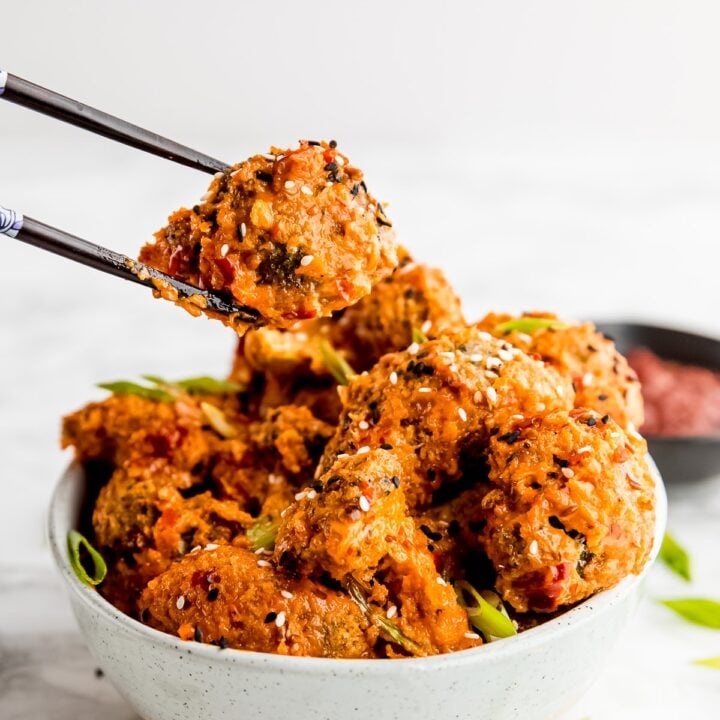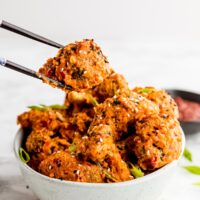 Bang Bang Broccoli (Vegan)
This Bang Bang Broccoli is crispy, sweet & spicy and tossed in a creamy spicy mayo sauce! It's pretty easy to make, and tastes phenomenal!
Ingredients
Bang Bang Sauce
1/2 cup vegan mayonnaise
1/4 cup sambal oelek or any other chili paste (including sriracha)
2 tablespoons maple syrup or agave nectar
Bang Bang Broccoli
1 lb. broccoli, chopped into florets
3/4 cup all-purpose flour, gluten-free or regular
1 tablespoon sambal oelek or any chili paste 
1/2 cup cornstarch 
3/4 cup unsweetened almond milk or any nut milk + two teaspoons lemon juice or apple cider vinegar
1/2 teaspoon sea salt
1/2 teaspoon ground black pepper
1 teaspoon garlic powder
1/2 teaspoon onion powder 
1 cup crispy Panko breadcrumbs seasoned with salt pepper, onion powder & garlic powder 
Instructions
BANG BANG SAUCE
Mix all the sauce ingredients together in a bowl. It should be liquid-y. Set aside.
BANG BANG BROCCOLI 
Preheat oven to 450 degrees F/230 degrees C. Line a baking sheet with a silicone baking sheet or greased foil. Using a knife, remove florets from the broccoli (aka cut off the leaves and don't use the stems).

In a bowl, mix the flour, chilli paste, cornstarch, nut milk, ACV, sea salt, ground black pepper, garlic powder and onion powder. Stir to combine - the batter should be like a sticky tempura batter. If the batter is too thick, feel free to thin it out with some more milk and vice versa.

In a separate bowl, place the panko breadcrumbs. Line it up beside the batter bowl. Toss the broccoli in the batter mixture (you can add them all at once), using a spatula or spoon to coat them all.

Then, transfer them to the panko breadcrumbs (you can do this in two or three batches) to coat completely, then place onto the baking sheet, giving each floret enough space.

Bake for 15 minutes. Please ensure your oven is completely preheated and hot.

Remove from oven. Toss the battered baked broccoli in the sauce (I like to use a spatula to move them around to get properly coated) then using tongs or a spoon, remove and place back on the baking sheet. Bake for another 1-2 minutes for the sauce to soak into the wings.

Remove from oven, top with sesame seeds, eat immediately and enjoy!
Notes
AIR FRYER DIRECTIONS You can make this in the air fryer at 400F for 8 minutes.
Calories: 445kcal, Carbohydrates: 55g, Protein: 8g, Fat: 23g, Saturated Fat: 2g, Sodium: 662mg, Potassium: 419mg, Fiber: 6g, Sugar: 10g, Vitamin A: 706IU, Vitamin C: 101mg, Calcium: 163mg, Iron: 2mg
Disclaimer: Although jessicainthekitchen.com attempts to provide accurate nutritional information, kindly note that these are only estimates. Nutritional information may be affected based on the product type, the brand that was purchased, and in other unforeseeable ways. Jessicainthekitchen.com will not be held liable for any loss or damage resulting for your reliance on nutritional information. If you need to follow a specific caloric regimen, please consult your doctor first.