The Best Vegan Chocolate Chip Cookies
These Vegan Chocolate Chip Cookies (Vegan) are the EASIEST and BEST cookies ever! They're made with 5 ingredients you probably already have, 5 minutes of prep and are deliciously soft & chewy. Guaranteed to be a hit!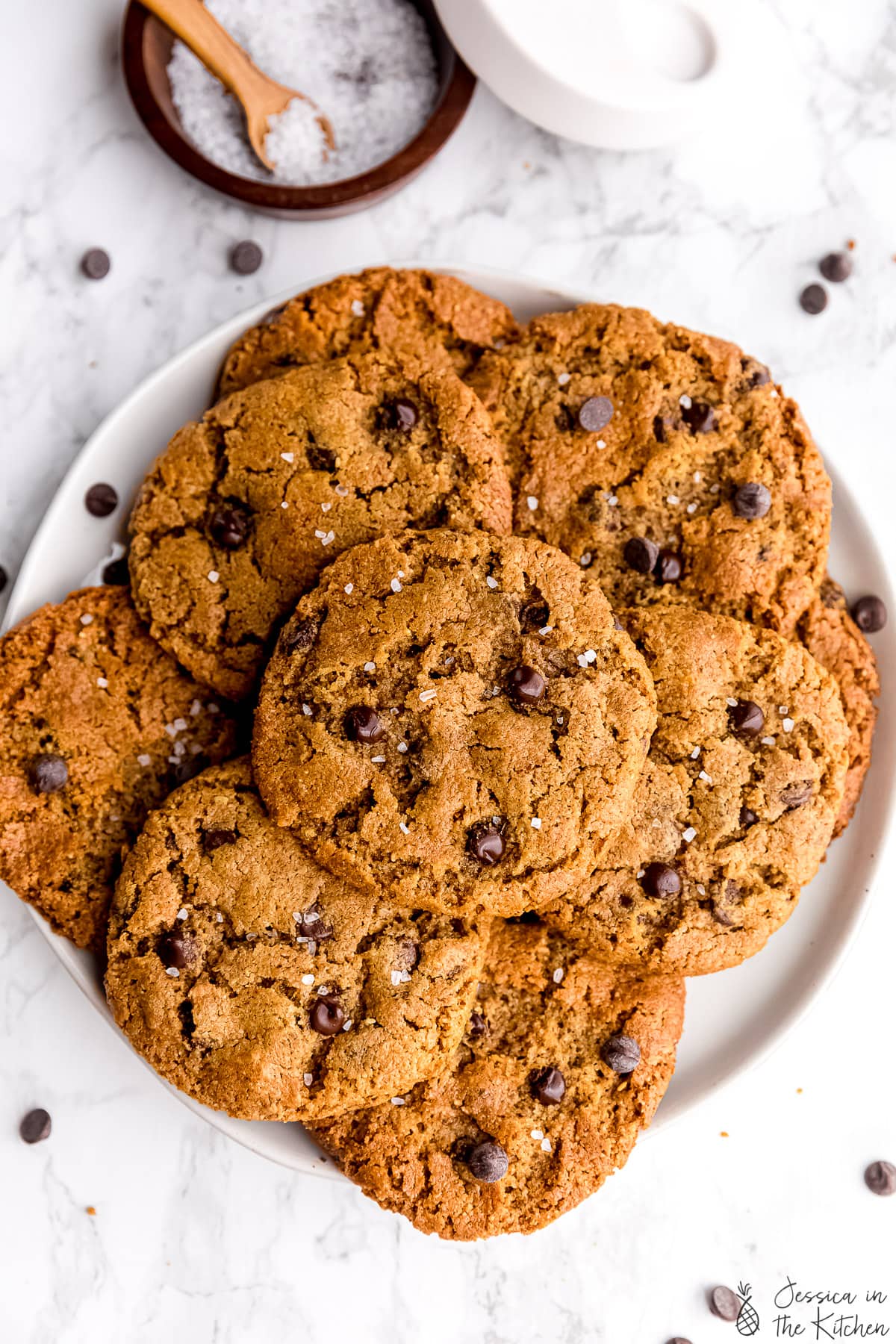 Everyone needs a good chocolate chip cookie recipe – everyone. There's just something about a soft, chewy, freshly baked cookie studded with gooey chocolate that is the ultimate in comfort baking. Trouble is, too many vegan cookie recipes miss the mark when it comes to replicating the supreme satisfaction that comes with devouring a truly good cookie.
Not so with this recipe, which in my opinion is hands out the BEST. It's easy (always important) and makes tender vegan cookies filled with melty dark chocolate chips. They're seriously good. You should try them.
In fact, these cookies are so addictive that when I started writing this post I was having a hard time coming up with the title. I considered "The Best Thing Ever" and also "How to Eat 12 Cookies at Once." But no matter how much both of those titles got to the deep truth of the matter, they didn't say enough about what this recipe was about. So, I kept it simple and went with The Best Vegan Chocolate Chip Cookies.
These 5-ingredient chocolate chip cookies are absolutely phenomenal and SO. EASY. TO. MAKE. Let's get into it.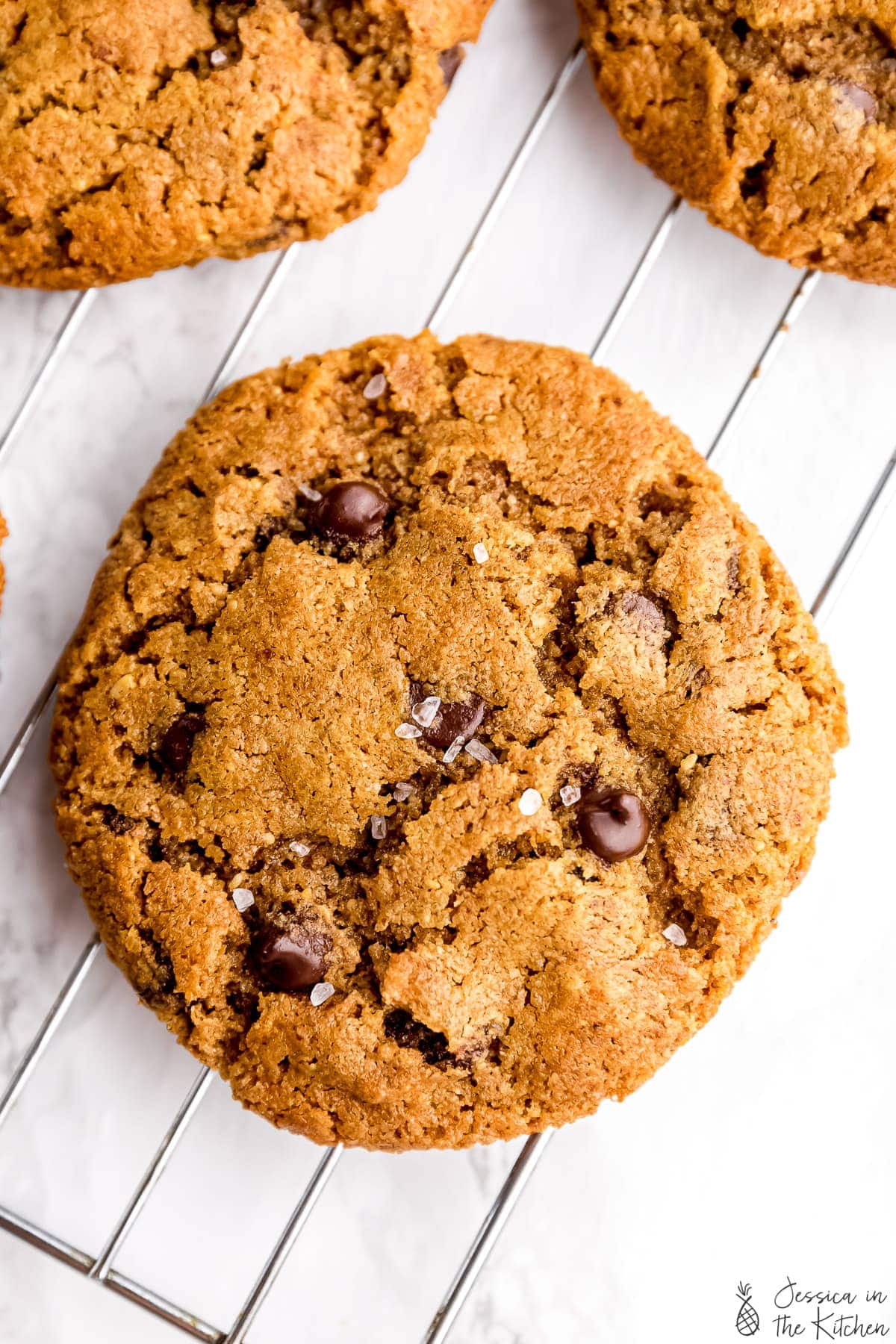 Notes on Ingredients
There are only 5 ingredients in this vegan cookie recipe. Here's a quick look at them with my notes to help you make the best cookies ever. Be sure to scroll down to the recipe card below for specific amounts.
Peanut Butter – This ingredient perfectly replaces flour. You can easily substitute almond butter or any other nut butter including sesame seed butter. Just ensure it's a similar consistency of creamy & thick peanut butter. Remember if you're using natural nut butter, churn it first to properly incorporate the nut butter. 
Sugar – I used raw brown sugar. I do not have white sugar, but I'm sure it would work the same. It also works well with coconut sugar or a sugar replacement. 
Banana – Hey; we all have some overripe banana somewhere, right?! This basically acts as an egg replacement 
Baking Soda
Chocolate Chips – I mean, necessary. I used dark chocolate chips. 
Add-ins – Sea salt, chopped nuts & vanilla extract. Your nut butter probably has salt in there, but feel free to add in a dash of sea salt, and a splash of vanilla extract. If you're doing chopped nuts, I would recommend 1/4 cup chocolate chips, 1/4 cup chopped nuts so you don't overwhelm the weight of the cookies with them.
How to Make Vegan Chocolate Chip Cookies
Making these cookies couldn't be easier. Here's how to do it:
Make the cookie dough. Add everything to a bowl and stir for 3 minutes. Like, time it.
Shape the cookies. Stir really well, then scoop out. I like to scoop and then roll them. See the video above. I use 2 tablespoons per cookie, but you can make smaller cookies just adjust the bake time or they'll be overbaked (see notes).
Bake, let cool, enjoy. Boom – DONE and delish.
Tips for Success
These cookies are pretty foolproof, but here are some tips that pretty much guarantee the best vegan cookies ever:
Get your cookie dough balls nice and round. This yields a beautiful end cookie. 
Give each cookie enough space to bake. You want to leave at least 2 inches between each because they spread. I used two cookie sheets and put them on the middle rack.  
Allow the cookies to cool. Trust me! When they're done, I let them cool on the cookie sheet *OFF* (I move them to an oven mitt or trivet while still on the cookie sheet) the stove for 5 minutes. This helps them to set, without over baking them. 
Don't substitute the ingredients, or if you do, don't expect they'll need the same time. That also counts for smaller or larger cookies. Smaller cookies will bake quicker, larger cookies will take longer. 
Hit them with some salt when you remove them from the oven. YUM. The contrast is phenomenal. A tiny sprinkle of salt really elevates each bite of these cookies. Be sure to do this right when they come out of the oven or the salt won't adhere to the tops of the cookies as well.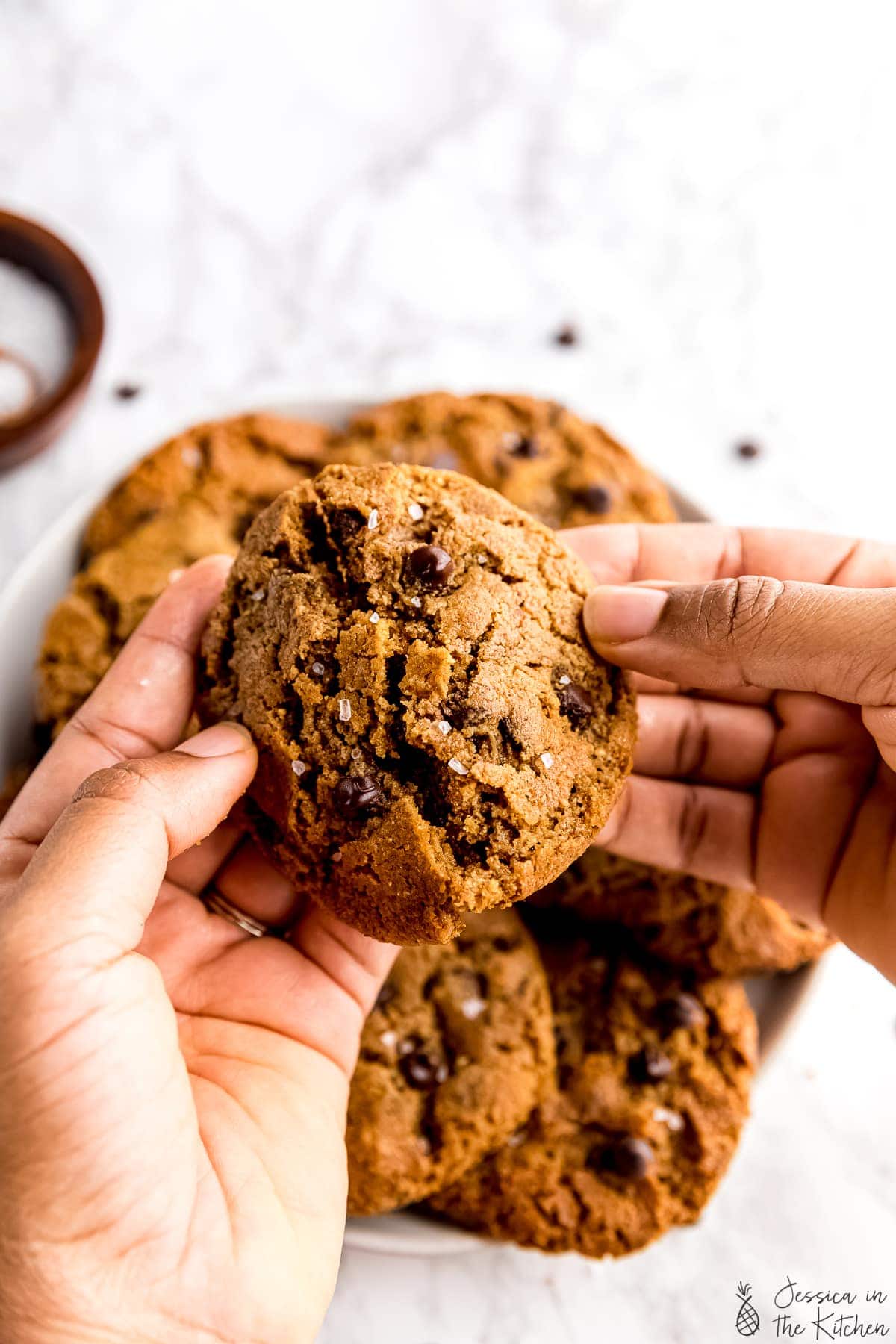 How to Serve, Store & Freeze
You can leave these cookies on the cooling rack to store them for up to 3 days. Because there isn't any flour, they're actually softer the next day! So if you accidentally overbake them, they'll recover.
Then to freeze them, flash freeze them like I freeze bananas, then store them in a freezer-safe bag. Then thaw it by letting them sit out on the counter for an hour, or in the fridge for a few hours!
Needless to say, these cookies are absolutely decadent and delicious and have to be made ASAP. Make them, freeze them, and enjoy them! Snap a photo and tag me on Instagram and other social media platforms!
Enjoy friends! If you make these 5 Ingredient Chocolate Chip Cookies, please snap a photo and tag #jessicainthekitchen on Instagram! We'd also love it if you would leave a comment below, and give the recipe a rating! Thanks so much! P.S. – do you know that we have an entire blog dedicated to low carb recipes named Low Carb Vegan Recipes?! Be sure to check it out!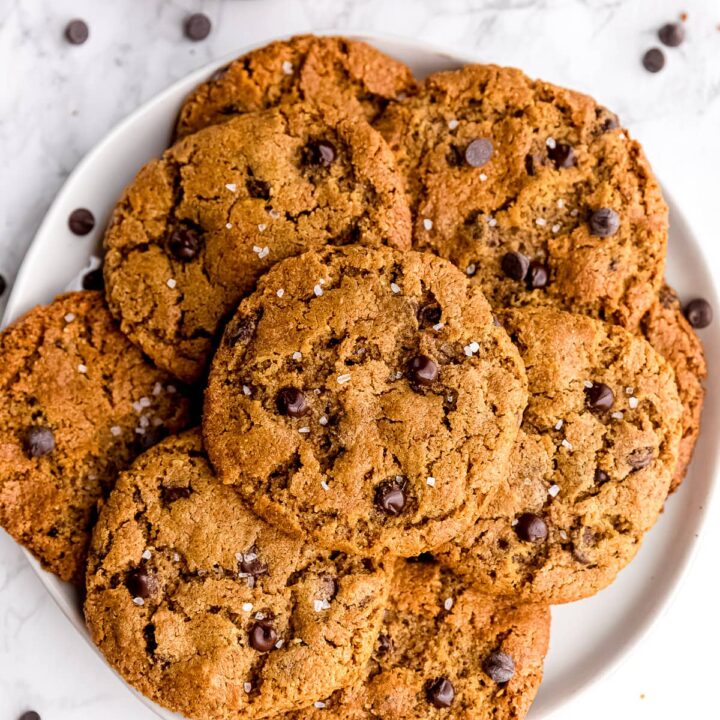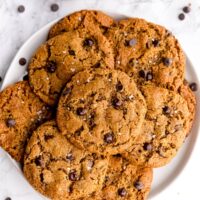 Vegan Chocolate Chip Cookies (5 Ingredients)
These 5 Ingredient Chocolate Chip Cookies (Vegan) are the EASIEST and BEST cookies ever! They're really only 5 ingredients, 5 minutes of prep and are deliciously soft and crackly. Guaranteed to be a hit!
Ingredients
1 cup peanut butter, or any nut butter
1 cup granulated sugar
2 teaspoons baking soda 
1/4 cup mashed banana
1/2 cup chocolate chips
optional: pinch of sea salt, chopped nuts & vanilla extract
Instructions
Preheat the oven to 350°F/180°C. Line a large baking sheet or two smaller baking sheets with silicone mats or parchment paper.

In a bowl, add all 5 ingredients and stir together until all combined and smooth, about 3 minutes by hand.

Using 2 tablespoons per cookie, scoop the dough and roll into a ball. Place on the baking sheet, allowing at least 4 inches of space between each cookie.  Bake for 12-13 minutes until the cookies are beautifully crackly and set.

Remove from oven. Sprinkle with some extra sea salt on top.Allow to cool on the baking sheet for at least 5-10 minutes (trust me) outside of the oven, then transfer to a wire rack. You don't want to disturb them before that – the cookies are still cooking from the residual heat. Serve and enjoy! Store the cookies in an airtight container once cooled, or leave them on the wire rack.
Notes
You can use any kind of sugar as long as it's granulated. I use raw brown sugar; you can use coconut sugar or even white sugar (whatever type you have) or granulated monkfruit sweetener.
Make sure your baking soda is fresh!! Try this easy test. 
I use Lily's Dark Chocolate Chips, use any you have!
If you want smaller cookies, do them at 1 tablespoon and bake for 10 minutes instead!
Calories: 238kcal, Carbohydrates: 28g, Protein: 6g, Fat: 13g, Saturated Fat: 4g, Sodium: 286mg, Fiber: 2g, Sugar: 24g, Calcium: 34mg
Disclaimer: Although jessicainthekitchen.com attempts to provide accurate nutritional information, kindly note that these are only estimates. Nutritional information may be affected based on the product type, the brand that was purchased, and in other unforeseeable ways. Jessicainthekitchen.com will not be held liable for any loss or damage resulting for your reliance on nutritional information. If you need to follow a specific caloric regimen, please consult your doctor first.