Banana Bread Mug Cake (Vegan)
This Banana Bread Mug Cake (Vegan) will totally blow you away! It's vegan, easily made in under 5 minutes start to finish and has a delightful banana bread flavour that's so addictive!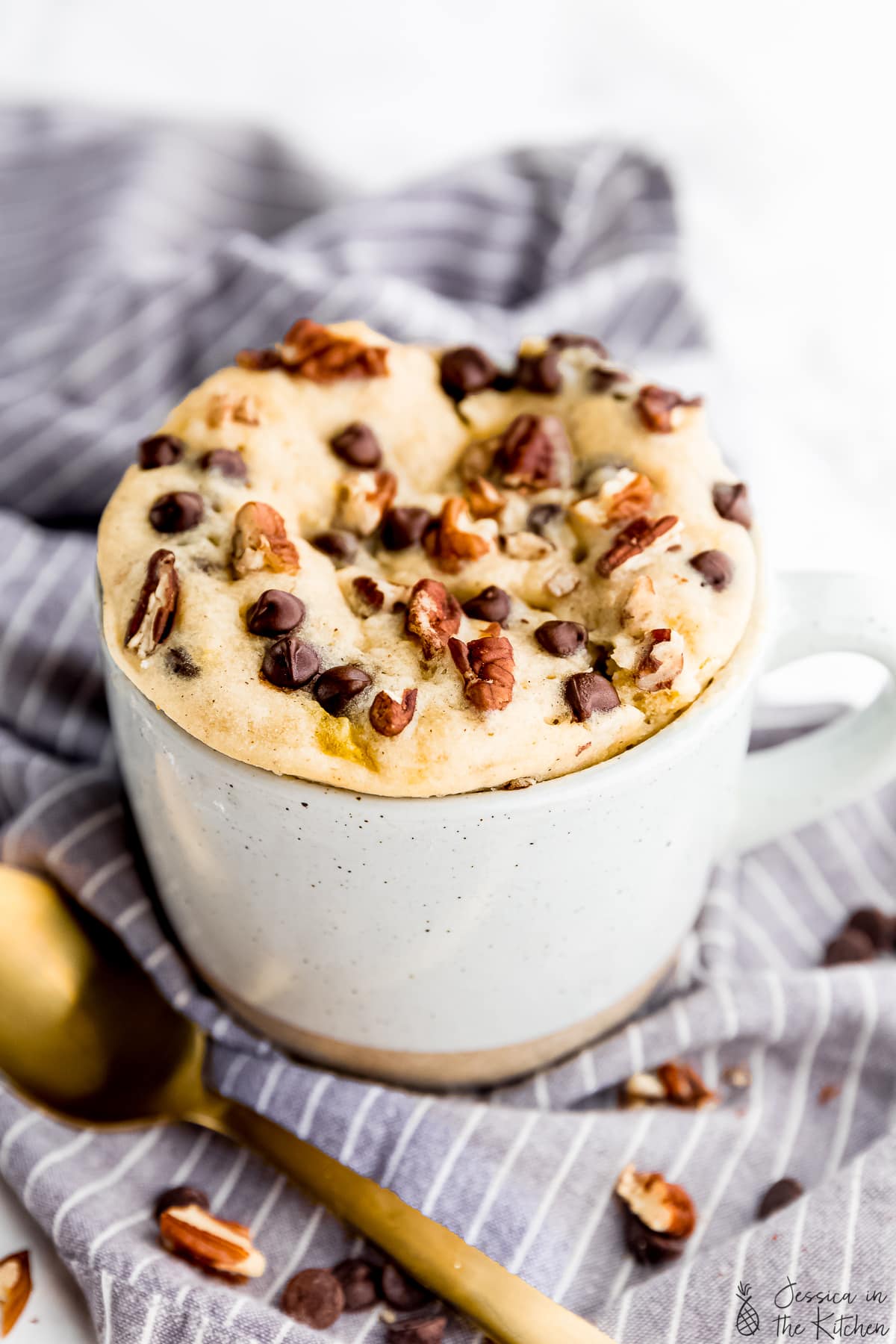 Here's a simple fact of life: there are two things you should be making while you're staying at home right now:
whipped coffee
and
banana bread
of some sort. What's your pick? You've probably made my simple vegan banana bread, or maybe my
banana bread chocolate chip muffins
. I have another fantastic and 80-second recipe for you: this Banana Bread Mug Cake.
Friends, needless to say, I'm mug cake obsessed, and for good reason. It's the cake you know and love, in a single serving, ready in just minutes. Fluffy, moist, delicious and loaded with flavour.
I'm in love with how easy and divine this Banana Bread Mug Cake. It's the perfect quick dessert, and so absolutely comforting. It's loaded with banana bread flavour, comes together so quickly and uses pantry ingredients. Also, if you're like me and keep buying bananas and then not eating then, between the vegan banana bread and this mug cake, you'll be covered.

What is a mug cake?
In case you don't know, a mug cake is exactly what it sounds like. A quick single-serving cake that's usually whipped up in your mug and cooked quickly in it too. It usually takes about a minute to two minutes to make, and the result is a fully cooked, delicious and moist mini cake. I've made one before that's the #1 search result for vegan brownie mug cake, so be sure to check that one out too.
Needless to say – mug cakes are incredibly convenient and so tasty! You usually only one a single serving anyway, and the overall time is always less than 5 minutes to make!
Ingredients in Banana Bread Mug Cake
Banana – ah yes, the key ingredient here. The banana here acts as a binder, a flavouring agent, and so much more. I highly recommend using a very ripe banana, and measuring out yours. You want to ensure that your banana is very mashed, and that you measure the amount of the mashed banana, not the amount before mashing.
Flour – you can sub gluten-free flour, just be sure to see if it needs a bit more baking time (about 10 seconds more) but don't overbake. It's okay if there is a tiny bit of gooey liquid on top – it'll set while cools.
Sugar – I only use 1 tablespoon because of the sweetness of the bananas. If you think you'd like something sweeter, you can add an extra tablespoon!
Oil – adds to the moisture and texture of the mug cake. You can use any neutral oil that you have!
Almond milk – adds some moisture to the mug cake. You can sub any other nut milk or soy milk that you have.
Sea salt – a dash always elevates flavours, don't skip it!
Baking powder – aids in the rise of this mug cake and to help with the texture. P.S. be sure to test your baking powder before using it to ensure it's fresh.
Cinnamon, walnut & chocolate chips  – optional, but amazing add-ins that take it over the top. I highly recommend at least the cinnamon!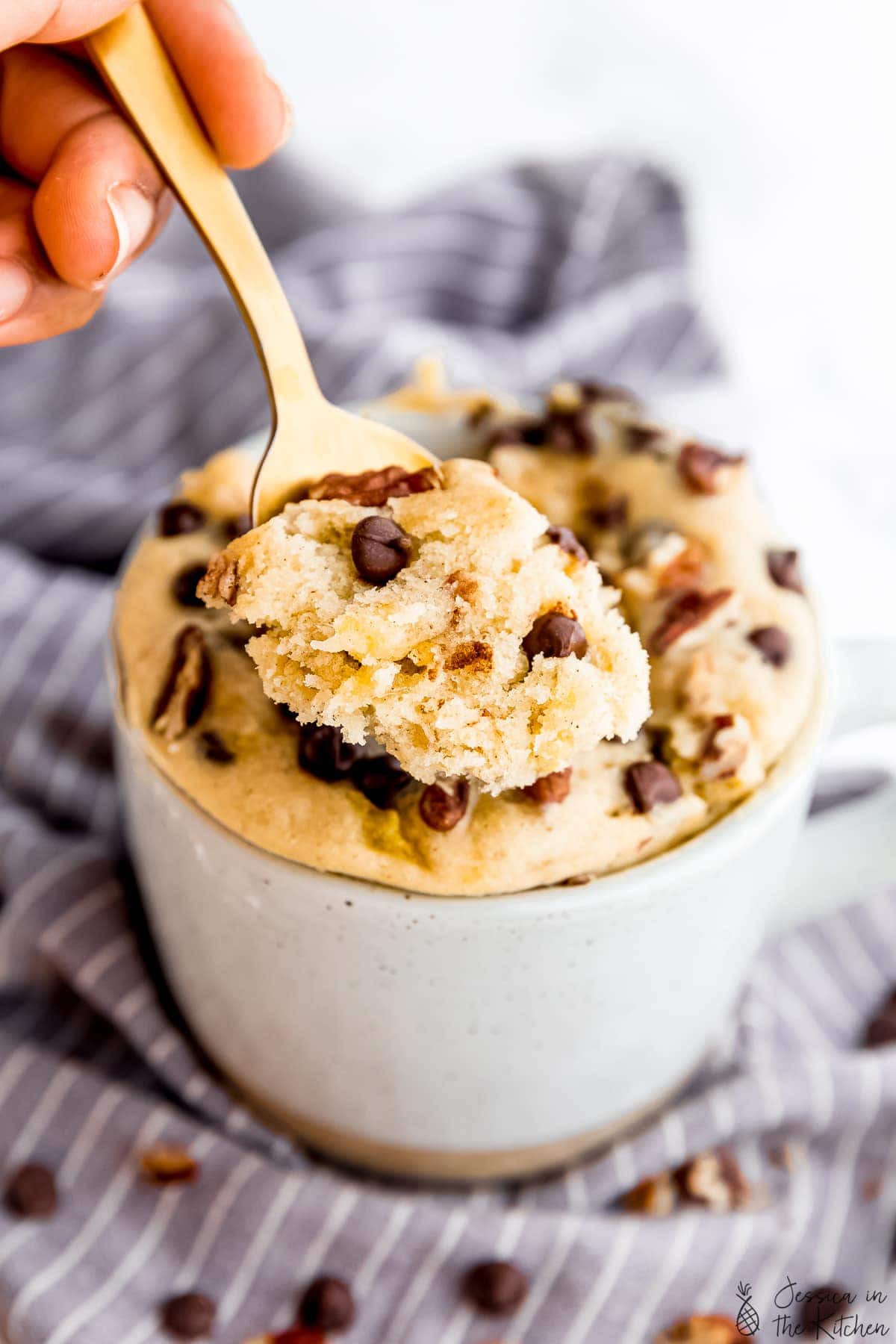 Tips for making mug cakes
Making a mug cake is pretty much foolproof, but these few tips help to make a big difference. I've tested mug cakes over 2 dozen times (yes!), and here are the top tips I took away:
Use a wide short-ish mug (like the one in these photos!). If you have a variety to choose from, using this type of mug means the cake rises higher in a concentrated space. I've found this helps with cooking.
Ensure to stir it all together. Don't go whisking it for minutes on end, but ensure your entire mug cake is mixed. Since it's such a small container it can be easy to miss the bottom. Just ensure you incorporate everything.
Adjust your time based on your microwave. The times I've provided should work but yours may need an extra 10 seconds. It'll cook edges to centre so just check the centre that it's fully cooked…BUT:
BUT, don't overcook. This will make your mug cake gummy and rubbery. Remember that the mug cake will keep cooking while it's cooling so it's better to slightly under bake it.
Let it cool for like 3 minutes before digging it. It really does make a difference, like how you'd let a cake or brownies cool first!
I've included instructions for baking this in your oven too! Similarly here, be sure to slightly underbake (you don't want your toothpick to come out clean, it should still have crumbs attached) since it'll continue to cook while it cools.
That's it friends! Whip this up and enjoy so much!!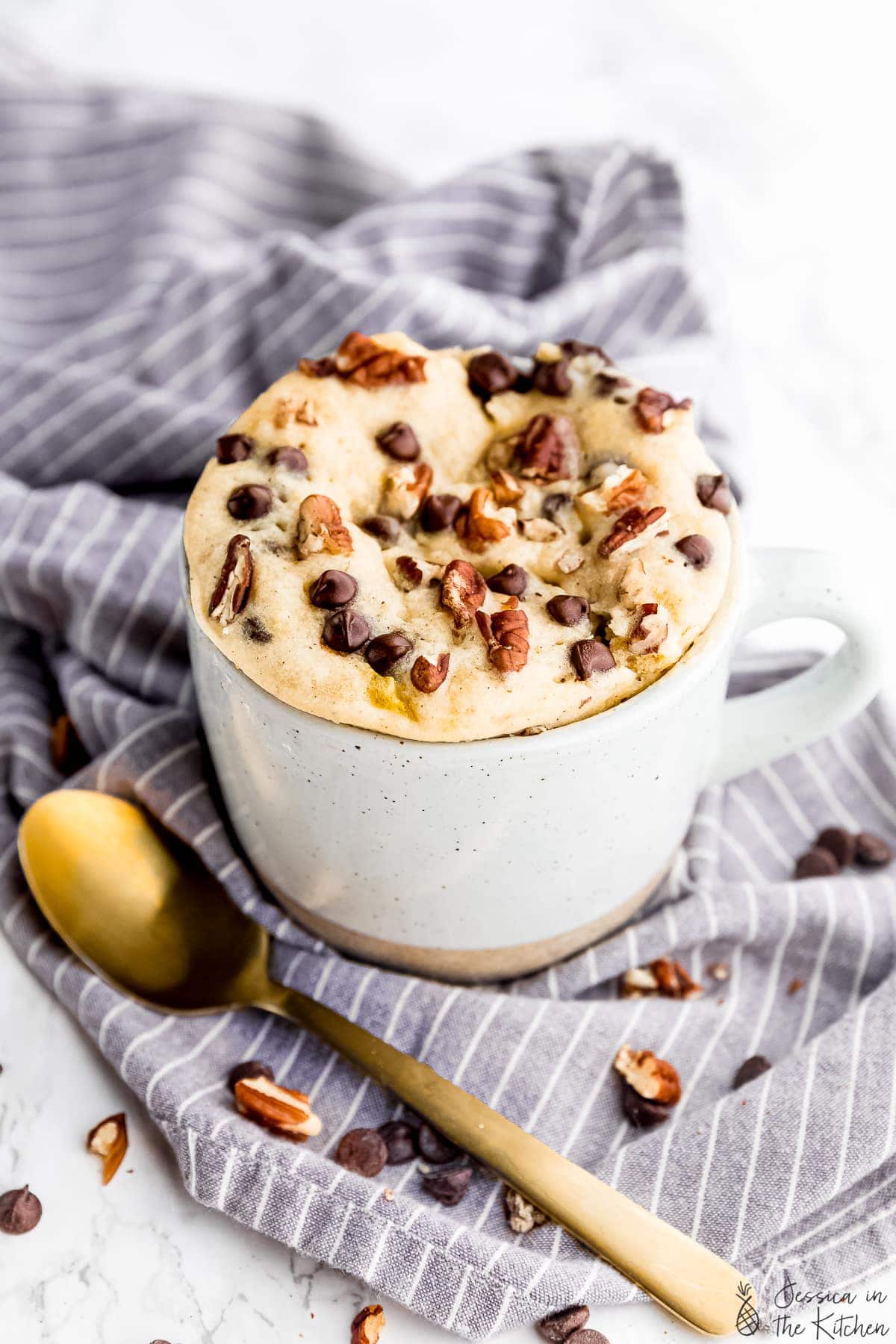 Other mug cake recipes
Vegan Chocolate Brownie Mug Cake
Chocolate Chip Tahini Mug Cake
Enjoy friends! If you make this Banana Bread Mug Cake, please snap a photo and tag #jessicainthekitchen on Instagram! We'd also love it if you would leave a comment below, and give the recipe a rating! Thanks so much! P.S. – do you know that we have an entire blog dedicated to low carb recipes named Low Carb Vegan Recipes?! Be sure to check it out!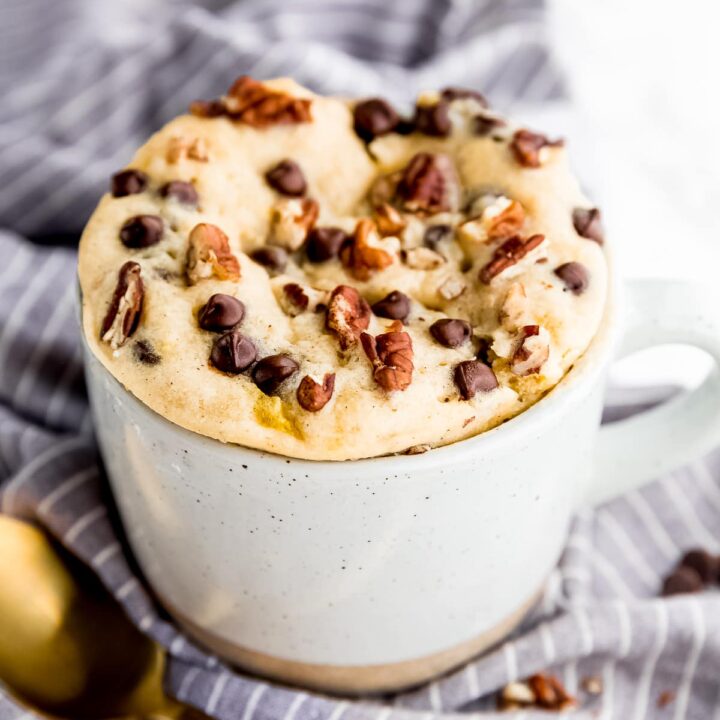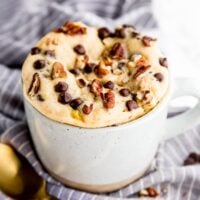 Banana Bread Mug Cake (Vegan)
This Banana Bread Mug Cake (Vegan) will totally blow you away! It's vegan, easily made in under 5 minutes start to finish and has a delightful banana bread flavour that's so addictive!
Ingredients
1/3 cup mashed bananas, about 1 very ripe banana, but be sure to measure it out
1 tablespoon oil
1 tablespoon almond milk , or other vegan milk
1 tablespoon raw brown sugar, or coconut sugar or other granulated sugar
3 tablespoons all-purpose flour, or all-purpose gluten-free flour mix*
pinch of sea salt 
pinch of ground cinnamon 
1/2 teaspoon baking powder
Optional: 1 tablespoon chopped nuts and/or chocolate chips 
Instructions
In a mug, add in the mashed banana, oil, milk and sugar. Whisk together for about 30 seconds to combine completely and banana is completely mashed. Add in the flours, baking powder, salt and cinnamon.

Stir to combine for about 20 more seconds to ensure it's all incorporated, ensuring the get the bottoms too. Add in the nuts & chocolate chips if using and fold in. Feel free to sprinkle some of them on top.

Place in your microwave for about 80 seconds. It's okay if it's slightly undercooked because it'll continue to cook while it cools. It's better for it to be slightly undercooked than overcooked. Remove and let cool for about 3 minutes. Trust me! If making in your oven, preheat oven to 350F and bake in about a 3.5-inch ramekin (ensure it's oven safe) for 25-30 minutes. Remove and allow to cool for about 5 minutes. Sprinkle some coarse sea salt on top and enjoy!
Notes
*I use Bob's Red Mill Gluten Free 1-to-1 Baking Flour! This Banana Bread Mug Cake is to a general sweetness, but isn't *very* sweet. If you know you want a sweetener recipe, add another tablespoon of sugar! You can also make this regular gluten free, just check if it needs to bake for an extra 10 seconds or so.
Calories: 321kcal, Carbohydrates: 47g, Protein: 3g, Fat: 15g, Saturated Fat: 1g, Sodium: 236mg, Potassium: 269mg, Fiber: 3g, Sugar: 21g, Iron: 1mg
Disclaimer: Although jessicainthekitchen.com attempts to provide accurate nutritional information, kindly note that these are only estimates. Nutritional information may be affected based on the product type, the brand that was purchased, and in other unforeseeable ways. Jessicainthekitchen.com will not be held liable for any loss or damage resulting for your reliance on nutritional information. If you need to follow a specific caloric regimen, please consult your doctor first.