Quinoa Veggie Burgers (Sun-dried Tomato and Mozzarella)
Sun-dried Tomato and Mozzarella Quinoa Veggie Burgers. Crazy delicious, veggie burgers that taste full of flavour and are filling and are very easy to make gluten free and vegan!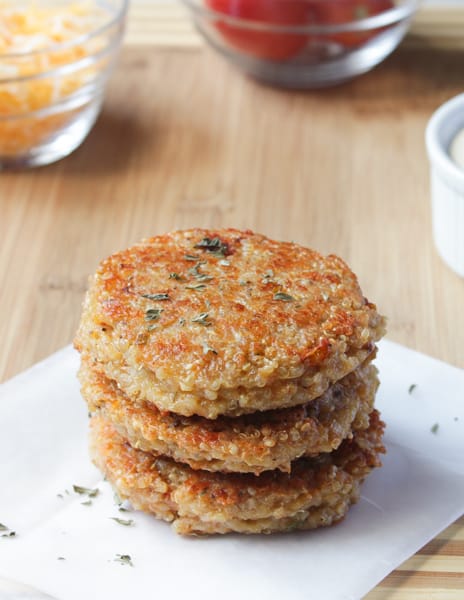 As you can see, these aren't just any 'ole burgers. They are Quinoa Veggie Burgers. Sun-dried Tomato and Mozzarella Quinoa Veggie Burgers. Crazy delicious, veggie burgers that taste full of flavour and are filling.
The Mr. gobbled them out – totally a yes getting him on quinoa's good side. My mom also loved them. YES YES YES! These were the two people who were against me and my quinoa ways and I've converted them! Maybe I should explain why I think these burgers were so fantastic.
I did something crazy. Okay, not really, but instead of cooking the quinoa with water, I used broth. Friends, when you make quinoa with broth, amazing things happen.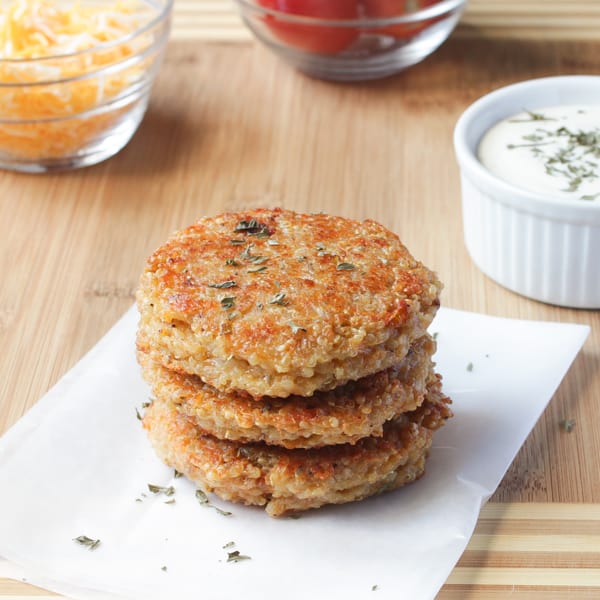 As in, I made them instantly amazing. I had to resist eating just the bare cooked quinoa. It was so good. I saw such a huge difference in cooking them in broth over water that I will always make my quinoa this way. Since the broth was so flavourful, that provided such a delicious base for these burgers. Now, these burgers aren't your fake frozen veggie burgers. They are firm like real burgers, but soft enough on the inside and packed with flavours of all the seasonings and the sun-dried tomatoes.
Then you get hit with the cheese. The mozzarella oozes out a bit when you break into the burger, almost as if this is a mozzarella-stuffed burger. It helps to add a delicious cheesy bite to the burgers, will being a binder at the same time. The sun dried tomatoes not only provide an insanely good flavour, but they add some beautiful specs of colour too.
Whoa. Technically speaking, this could be a pizza-esque burger with the tomatoes and cheese. And more than technically speaking, this was good. Remember when I said I was all quinoa-ed out? I was wrong.
The quinoa is back to stay for good. Oh yes. If you want an amazing quinoa burger, then these are the ones for you!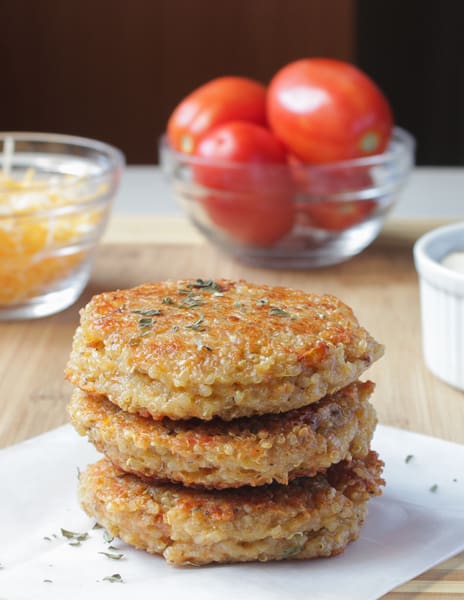 FUN NUTRITIONAL FACTS/HEALTH BENEFITS FOR THESE QUINOA VEGGIE BURGERS
Quinoa is high in protein, fiber and is gluten free. Tons of benefits, all the flavor!
The egg in the burgers make it high in protein and guarantee that these burgers keep you full and satisfied.
Want more facts about quinoa? Check out this detailed article by Authority Nutrition.
YOUR QUESTIONS ANSWERED
Q: How do I make these quinoa veggie burgers vegan?
A: You can sub the cheese for vegan dairy mozzarella shreds, and use flax eggs instead. You will need to add a little more flour to help keep the burgers together.
Q: My burgers are falling apart. How do I make my quinoa burgers stay together?
A: Just like any other burger, you need to take care with how you mix your ingredients and form your patties. Mix well, and form the patties tightly. If your uncooked patties are too wet, add a bit more flour, re-mix, and form them again.
Q: What do I serve with quinoa burgers?
A: I've been asked this several times. You could serve these with my popular kale cabbage slaw or with a vegan burger bun. I love homemade fries on the side. Also, you can make them smaller and put them on top of a salad bowl.
P.S. Here are some of the items I used to make this recipe if you'd like to use them too:
| WHAT YOU'LL NEED // SHOP MY FAVORITE INGREDIENTS & PREP PRODUCTS |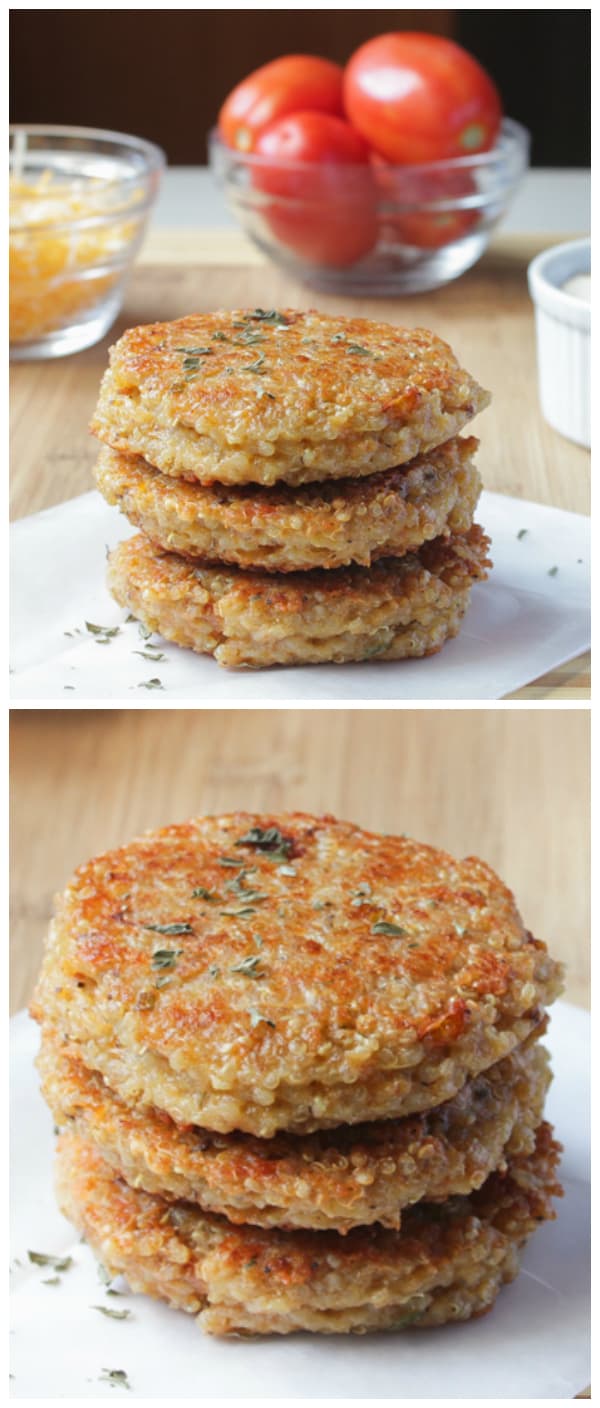 WATCH THE VIDEO TO SEE HOW IT'S MADE: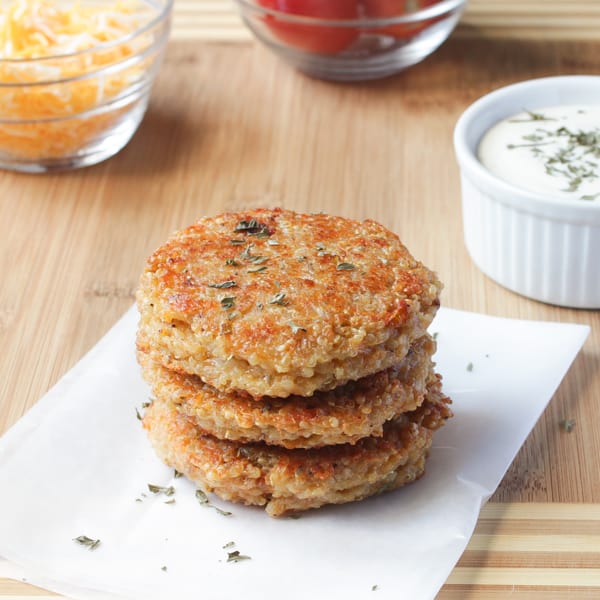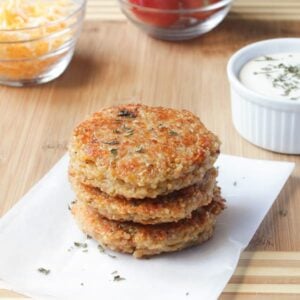 Quinoa Veggie Burgers (Sun-dried Tomato and Mozzarella)
These Sun-dried Tomato and Mozzarella Vegan Quinoa Veggie Burgers are an absolute hit!! Rave reviews, very delicious and are full of flavour and filling!
Ingredients
1 cup cooked quinoa
3/4 cup low part skim mozzarella shredded cheese
2 sun-dried tomatoes, chopped
1 1/2 eggs, I usually beat a whole egg, then half it
3 tablespoons flour, you can use coconut flour for GF
1 tablespoon chopped scallion/green onions
1/2 teaspoon salt
1/2 teaspoon pepper
1/2 teaspoon garlic powder
1 teaspoon sriracha, optional
2 tablespoons oil
To cook quinoa (makes 3 cups):
1 cup uncooked quinoa
2 cups vegetable broth
1/2 teaspoon salt
Instructions
Cooking Quinoa
Wash the quinoa in a mesh strainer rigorously with water.

In a pan over medium high heat, add 2 teaspoons olive oil. Dry the quinoa by adding it to the pan and letting it heat up for about 2 minutes.

Add the broth to the pan and the salt. Stir, and bring to a boil. Lower to medium-low heat and cover, cooking for 15 minutes, stirring occasionally.

When all of the water has been absorbed, the quinoa is finishing cooking. Use your fork to fluff the quinoa a bit.
Quinoa Burgers
Add all of the ingredients together to make the burgers except the oil, stirring until thoroughly combined.

Divide into 4 burgers on a parchment paper (or just a place).

Heat the oil in a large pan over medium-high heat.

Test to ensure the oil is hot enough (but not burned) by breaking off a piece of one of the burgers. If it sizzles, it is hot enough.

Add the burgers into the pan. Allow to cook for 2-3 minutes on one side, then flip.

Cook for 2-3 minutes on this side. It should be golden brown. If not, cook for one minute extra on each side. Place on a paper towel to cool and remove excess oil. Enjoy!
Notes
Notes
These burgers are vegetarian.
TO MAKE IT VEGAN
You can use vegan shredded cheese such as Daiya cheese and a flax egg
TO MAKE IT GLUTEN FREE I make these Gluten Free all the time by using coconut flour instead of regular flour.
HOW TO STORE You can store these burgers in an air tight tupperware container in the fridge separated by wax paper. They last about 4-5 days in the fridge and taste best fresh.

If you try these Sun-dried Tomato and Mozzarella Quinoa Veggie Burgers please let me know in the comment section below, or tag me on instagram with the hashtag #jessicainthekitchen! For more exclusive recipes follow me on Instagram AND on Snapchat: jessinkitchen.
Calories: 392kcal, Carbohydrates: 45g, Protein: 16g, Fat: 17g, Saturated Fat: 4g, Cholesterol: 78mg, Sodium: 1241mg, Potassium: 392mg, Fiber: 5g, Sugar: 2g, Vitamin A: 496IU, Vitamin C: 1mg, Calcium: 143mg, Iron: 3mg
Disclaimer: Although jessicainthekitchen.com attempts to provide accurate nutritional information, kindly note that these are only estimates. Nutritional information may be affected based on the product type, the brand that was purchased, and in other unforeseeable ways. Jessicainthekitchen.com will not be held liable for any loss or damage resulting for your reliance on nutritional information. If you need to follow a specific caloric regimen, please consult your doctor first.