Peanut Butter Swirl Brownies (Chewy & Fudgy)
These Peanut Butter Swirl Brownies are the ultimate brownie treat! Chewy, fudgy, easy to make and loaded with creamy peanut butter flavor!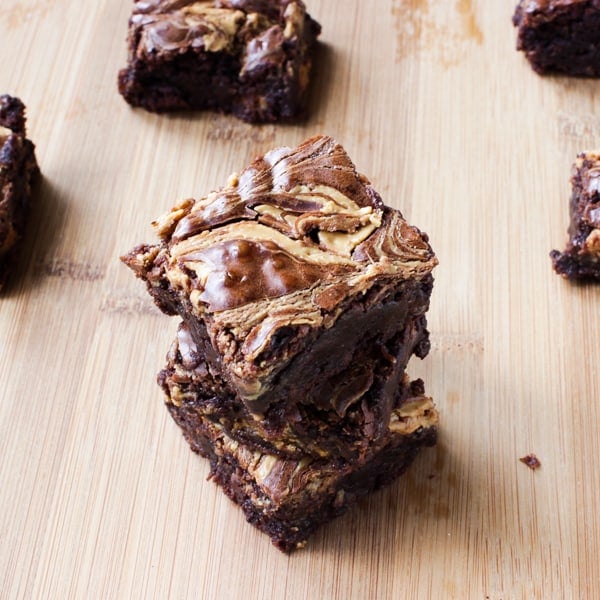 Why am I posting peanut butter swirl brownies in the middle of the week? Because next month is Peanut Month, and even better, March 1 is Peanut Butter Lover's Day!
I've got you prepared, no worries.
You probably don't know this since I barely post peanut butter recipes on the blog, but I'm big on peanut butter. Actually, all nuts, especially almonds and cashews, but peanut butter gets its fair share in my diet. Especially in peanut butter and jelly sandwiches, which are like my favourite, to-go sandwiches. Sorry everyone, I know us food bloggers seem like we always eat extravagantly, which I will agree that for the most part, I've been doing pretty well, but sometimes I just want cereal, or PB & J.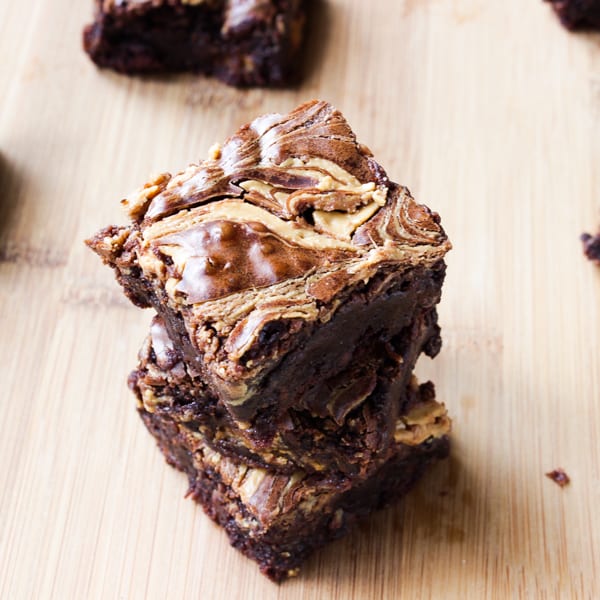 Now, these brownies. Peanut butter takes brownies to a whole new level of creaminess and flavour by definitely amping it up. I swirled the peanut butter throughout the entire batter so that you got it not only on the top but throughout your brownie, and trust me, it's good. It adds a different kind of richness than chocolate while complementing the chocolate, almost toning it down a notch to introduce these new delicious flavour. I love how peanut butter isn't a neutral flavour, but isn't particularly sweet or salty, it's just, well perfect. Try it; add peanut butter to your oatmeal, your smoothie, anything, and you'll see how much more creamy it becomes will balancing out the other flavours.
How do you plan to celebrate Peanut Butter Lover's Day? I think I will be whipping up another batch of these.

If you try these Peanut Butter Swirl Brownies please let me know in the comment section below, or tag me on instagram with the hashtag #jessicainthekitchen! For more exclusive recipes follow me on Instagram AND on Snapchat: jessinkitchen.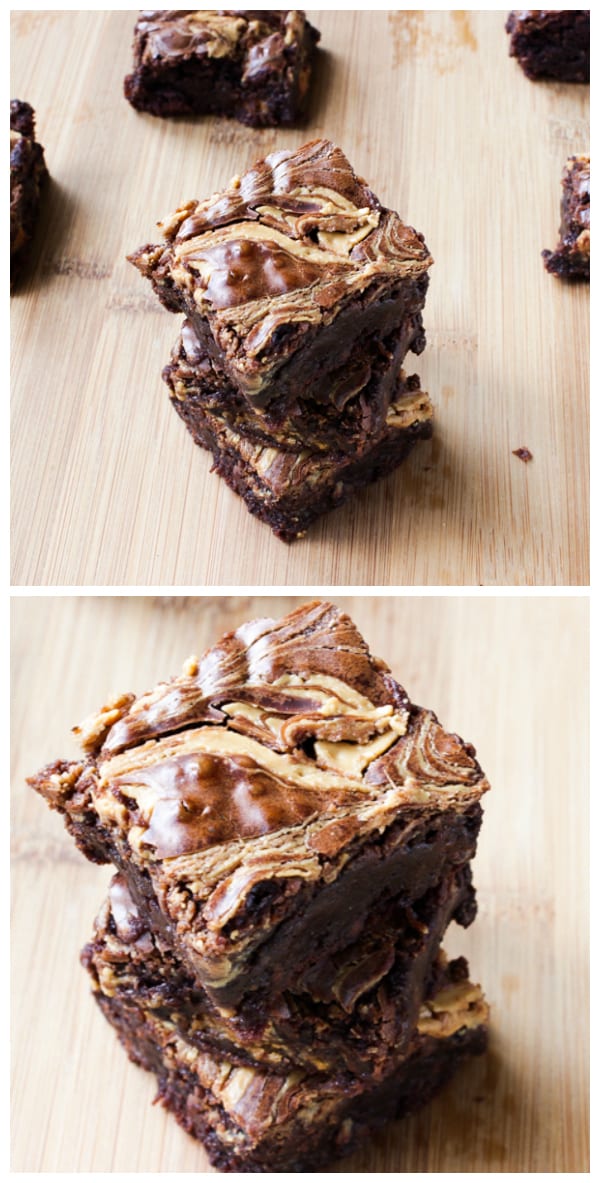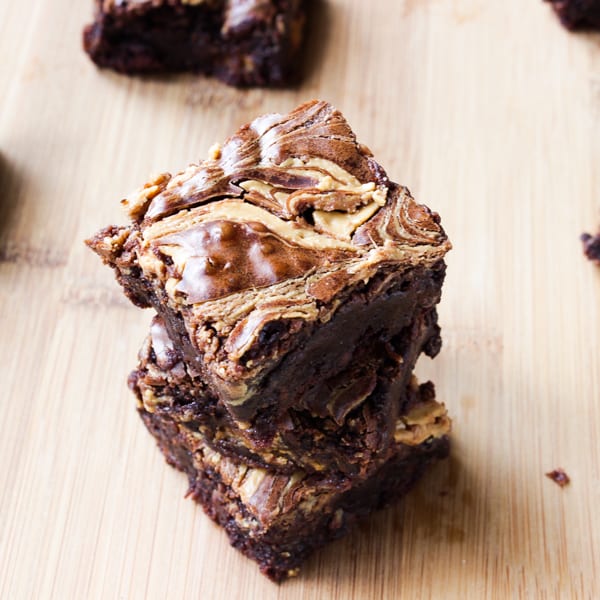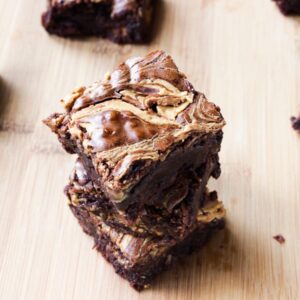 Peanut Butter Swirl Brownies (Chewy & Fudgy)
These Peanut Butter Swirl Brownies are the ultimate brownie treat! Chewy, fudgy, easy to make and loaded with creamy peanut butter flavor!
Ingredients
3/4 cup all purpose flour, 107g
1/2 tsp salt
1/4 tsp baking soda
3/4 cup brown sugar (I use raw brown sugar, cane sugar or coconut sugar), 158g
1/2 cup melted coconut oil, 100g
1 teaspoon vanilla extract
2 tablespoons water, 28g
2 eggs, 114g in shells
1 cup chocolate chips, melted - I recommend Ghirardelli, 188g
1 cup chocolate chips, unmelted
1/4 cup runny peanut butter
Instructions
Preheat oven to 325 degrees F/165 degrees C.

Melt chocolate chips in microwave for a minute, stirring after to see if chips have melted. If not, microwave in increments of 30 seconds until completely melted.

In a medium bowl, sift the flour, salt and baking soda until combined. Set aside.

In a separate bowl, add the eggs, sugar and oil and mix until combined for about 2 minutes. Add the water and the vanilla extract. Add to the dry mixture to the wet mixture and melted chocolate chips and stir for about 3 minutes until combined.

Stir in the 1 cup unmelted chocolate chips.

Pour into a greased, parchment lined, or a greased foil-lined 8x8 square pan.

Warm up peanut butter in a microwave safe bowl for about 15 seconds.


Add the peanut butter with a spoon in dollops on top of the brownies. Using a dinner knife, swirl the peanut butter throughout the brownies.


Bake for 35 minutes. When finished, remove from oven and allow to cool completely in pan on a wire rack.

Notes
Notes
It's up to you what type of chocolate chips you would want to use, but do not use baking chocolate (which is without sugar). You can use semi-sweet or dark chocolate based on the brownie you would like to achieve. I recommend semi-sweet since it's the best of both worlds. If you'd like a mix use semi-sweet for the base, and either milk or dark for the chips in the brownies.
Oil instead of butter in products tends to create a moister product. All you have to do is switch out equal parts of the butter for the oil.
The pan size makes a huge difference! If you do not use an 8×8 pan for e.g. if you use smaller, your brownies will not be ready in the right amount of time.
Ensure your oven is properly calibrated, and remember your brownies will not be properly set until they are cooled down.
Calories: 370kcal, Carbohydrates: 40g, Protein: 5g, Fat: 23g, Saturated Fat: 16g, Cholesterol: 36mg, Sodium: 216mg, Potassium: 96mg, Fiber: 2g, Sugar: 28g, Vitamin A: 53IU, Calcium: 51mg, Iron: 2mg
Disclaimer: Although jessicainthekitchen.com attempts to provide accurate nutritional information, kindly note that these are only estimates. Nutritional information may be affected based on the product type, the brand that was purchased, and in other unforeseeable ways. Jessicainthekitchen.com will not be held liable for any loss or damage resulting for your reliance on nutritional information. If you need to follow a specific caloric regimen, please consult your doctor first.