Bang Bang Cauliflower (Vegan)
These Vegan Bang Bang Cauliflower Wings are crispy, sweet & spicy and tossed in a creamy spicy mayo sauce! It's pretty easy to make, and tastes phenomenal! P.S. you can also make it in the air fryer or without!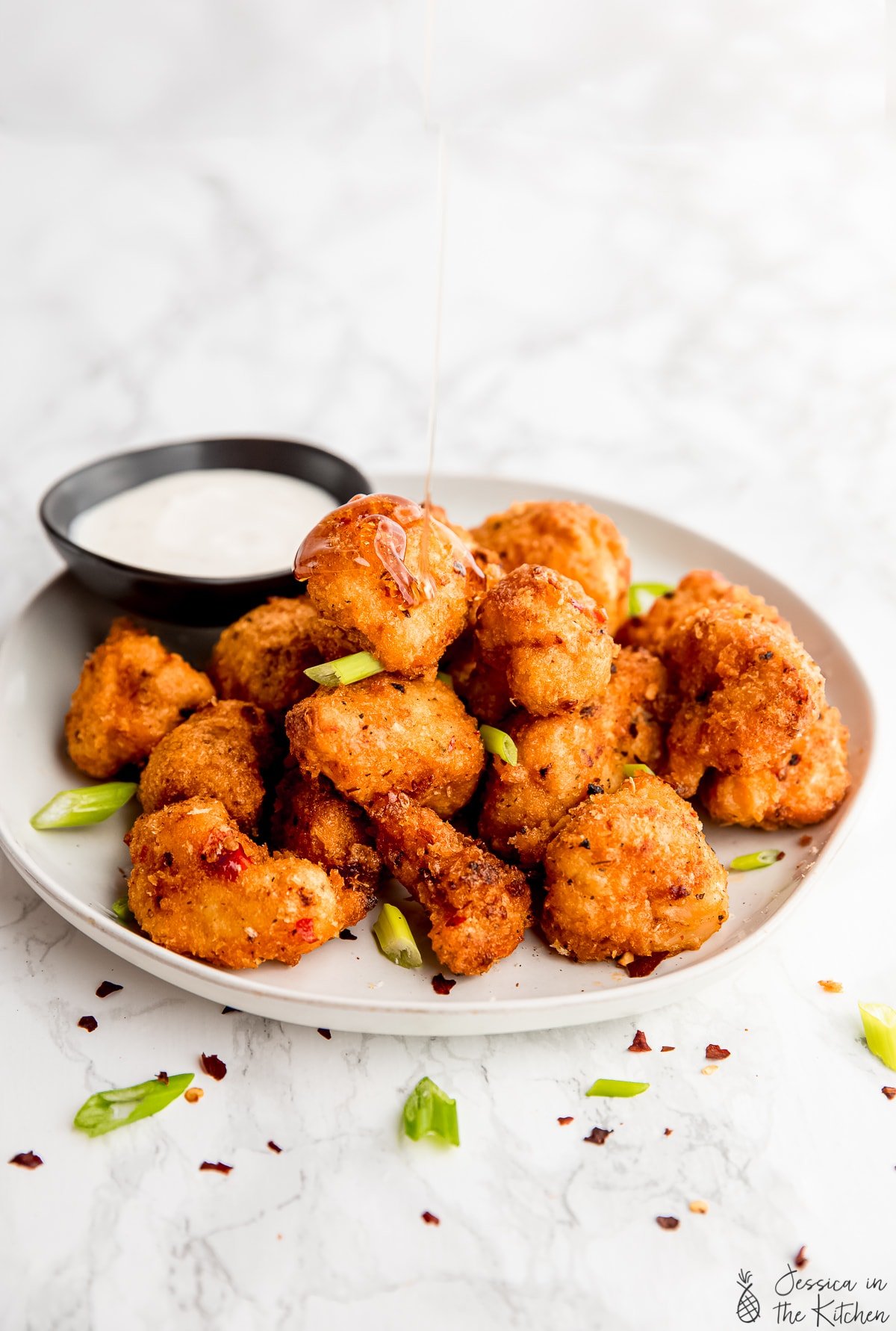 Without a doubt, I'm in love with cauliflower. If you're feeling deja vu – ish yes, we've had this conversation before! After being introduced to cauliflower wings and cauliflower soup, I've gone out of my way to seek out all the ways to master cauliflower. Here I am again, but this time with bang bang cauliflower!
What is bang bang cauliflower?
Bang bang cauliflower is essentially cauliflower wings in a bang bang sauce. Surprise! Another cauliflower wings recipe! But bang bang is a special sauce made up of a Chili paste (or really any thick spicy sauce like sriracha), mayo and a sweetener and it tastes sooo divine. After making bang bang broccoli, I knew I wanted to make a cauliflower version. They are similar, but different in flavour and cooking times so I wanted to do a separate version.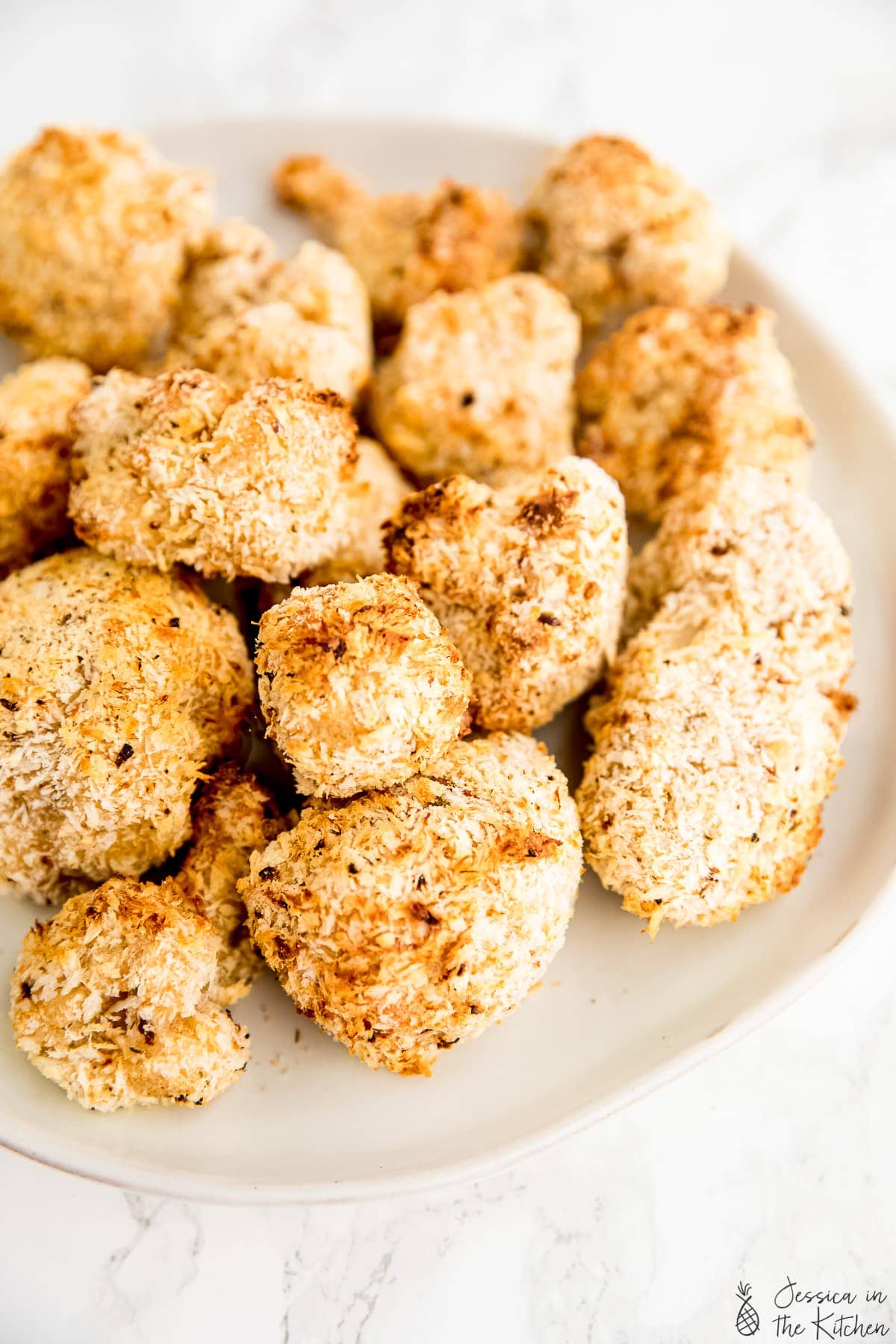 Can you make cauliflower wings in the air fryer?
I also get asked all the time "can I make cauliflower wings in the air fryer?" So I wanted to address that in this post! Long story short – yes, you can make cauliflower wings in your air fryer!
I'll include the bake time below and I will also include a bake time for making this in the oven. To me, they come out basically the same, it's just a matter of preference.
This bang bang cauliflower is honestly a dream come true. As if I didn't already love spicy cauliflower wings (hello buffalo cauliflower wings) this bang bang sauce rode into my life like a knight in shining armour. Crispy crunchy cauliflower combined with a sweet and creamy sauce = perfection.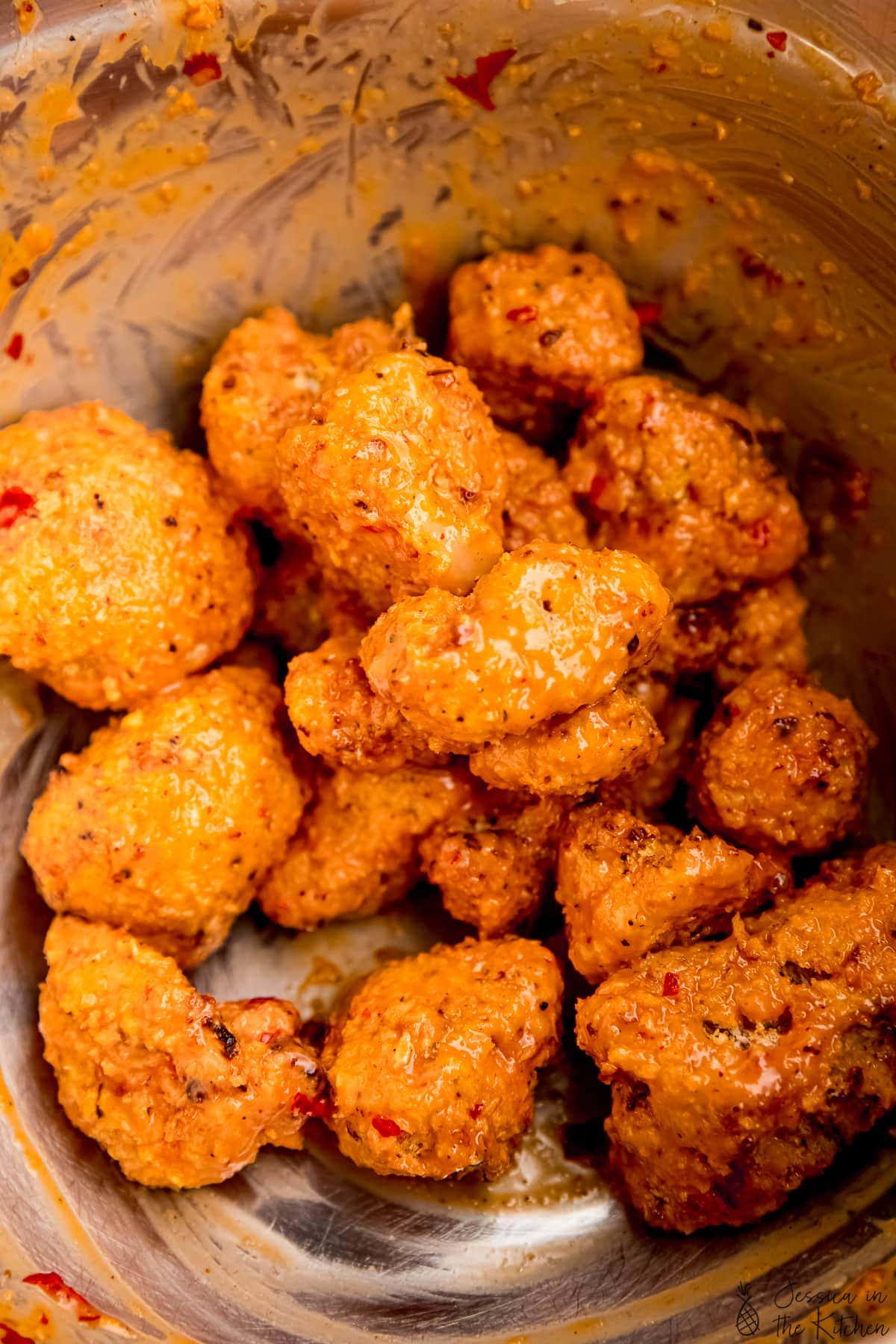 How to make bang bang cauliflower
First, you batter and bread the cauliflower similar to in my cauliflower wings recipes. The difference here is the batter. It's more of a tempura batter, and comes out nice and light. It really adheres well to the cauliflower.
Next, you toss the cauliflower in the sauce. I eat this two ways. Sometimes I toss the sauce in it and eat It immediately. Or, if you're like me normally and need to find a show to watch while eating (which let's be real, take a while sometimes), I toss it in the sauce then stick it back in the air fryer or oven for another minute or two. The sauce really seeps in and the cauliflower stays extra crunchy.
Needless to say; these cauliflower bites are supreme. Like, top-notch foods. I highly recommend them, and love that they actually do taste great the next day too! Be sure to give it a try and happy eating friends!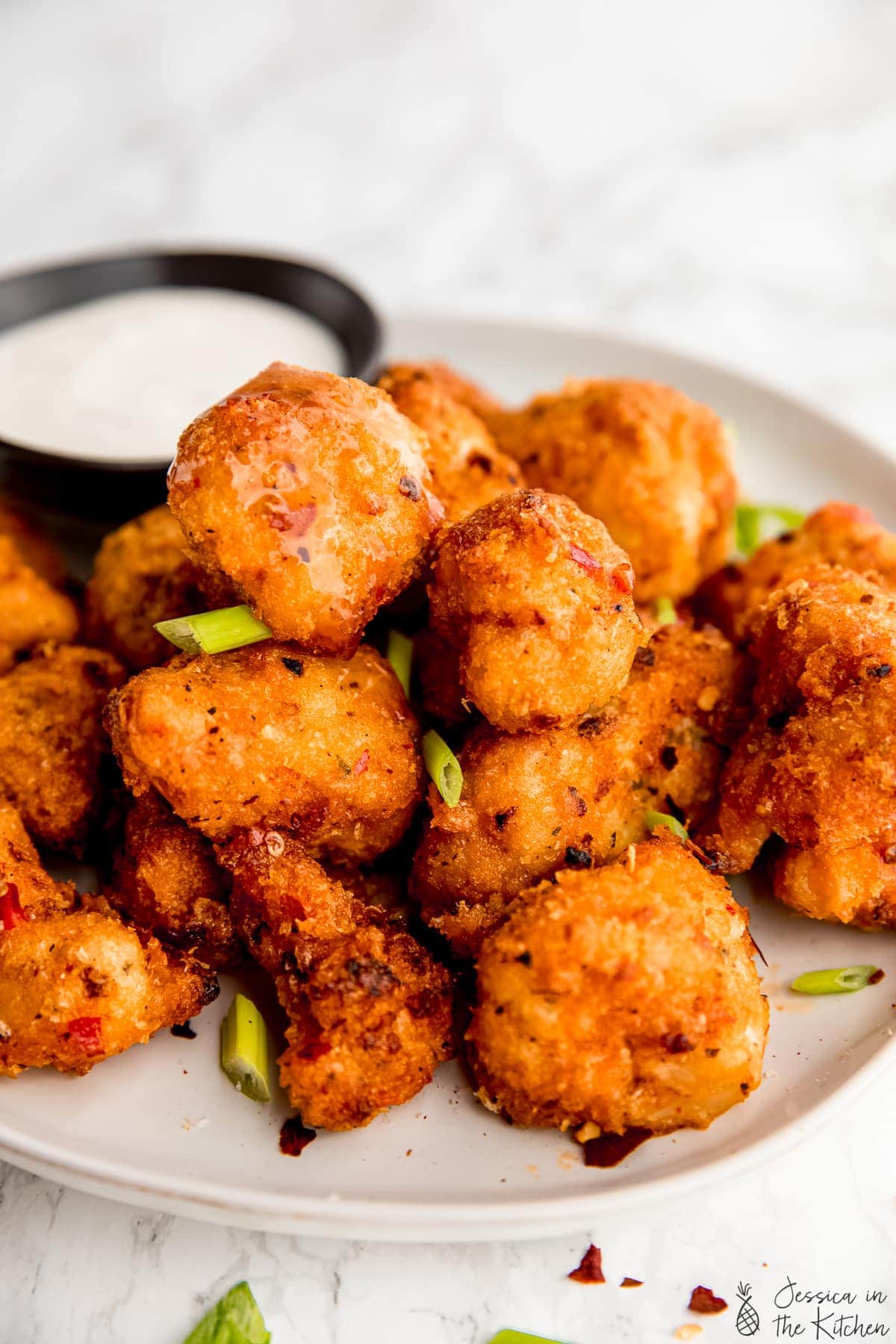 What to Serve/Eat Bang Bang Cauliflower with
This goes so well with so many things.
Noodles, fried rice, in lettuce wraps or with dumplings! It's totally up to you!
Batter up other veggies you may have and treat it the same. It's a great way to use leftovers and tastes amazing!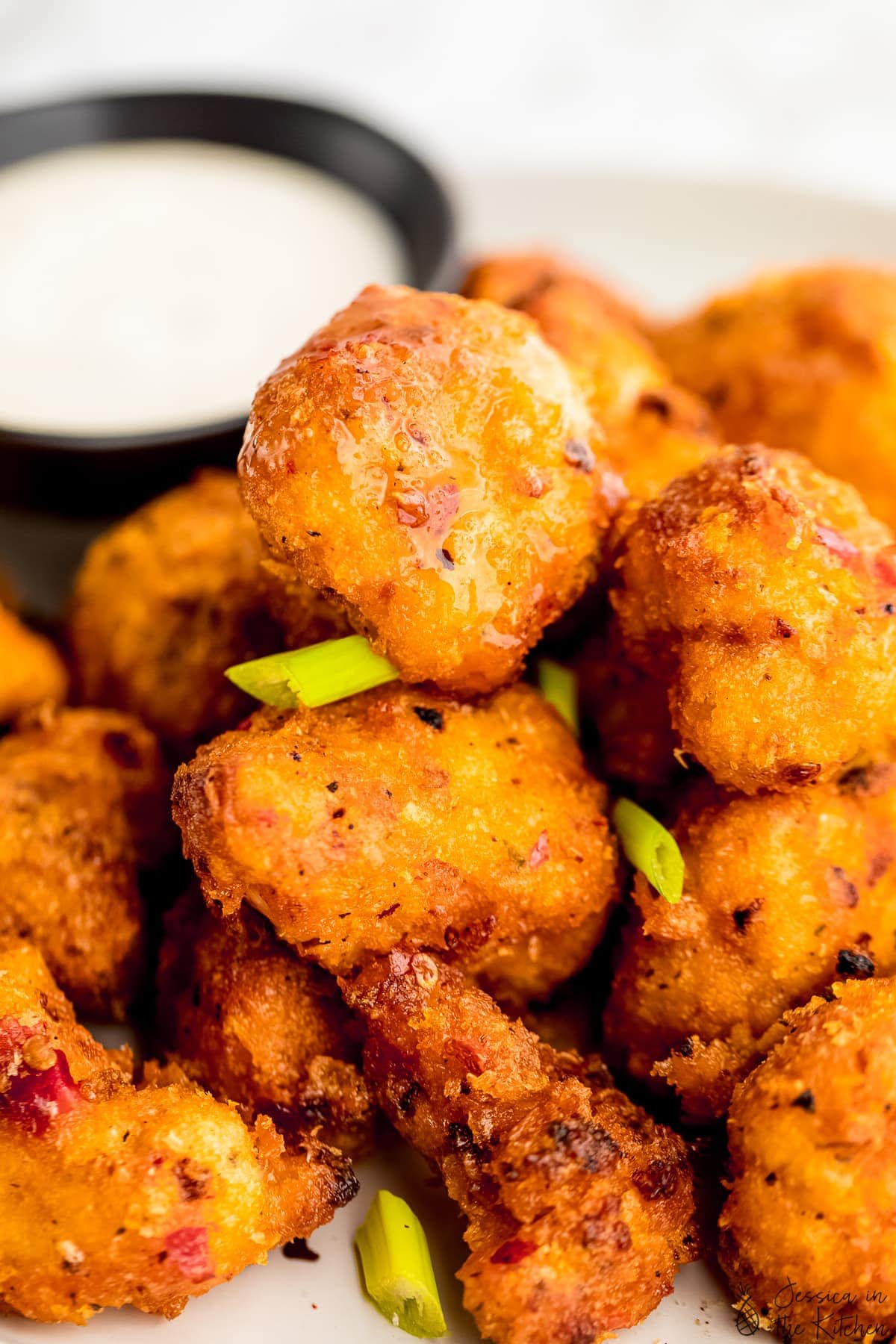 Enjoy friends! If you make this Vegan Bang Bang Cauliflower, please snap a photo and tag #jessicainthekitchen on Instagram! We'd also love it if you would leave a comment below, and give the recipe a rating! Thanks so much! P.S. – do you know that we have an entire blog dedicated to low carb recipes named Low Carb Vegan Recipes?! Be sure to check it out!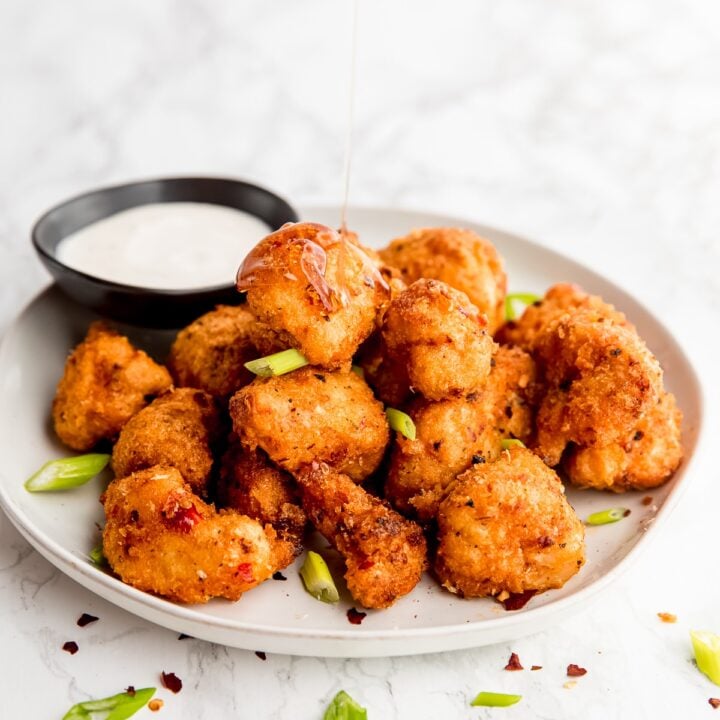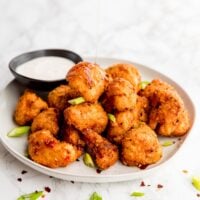 Vegan Bang Bang Cauliflower
These Vegan Bang Bang Cauliflower Wings are crispy, sweet & spicy and tossed in a creamy spicy mayo sauce! It's pretty easy to make, and tastes phenomenal! P.S. you can also make it in the air fryer or without!
Ingredients
Bang Bang Sauce
1/2 cup vegan mayonnaise
1/4 cup sambal oelek or any other chili paste (including sriracha)
2 tablespoons maple syrup or agave nectar
Bang Bang Cauliflower
1 head cauliflower, chopped into florets
3/4 cup all-purpose flour gluten-free or regular
1 tablespoon sambal oelek or any chili paste 
1/2 cup cornstarch 
3/4 cup unsweetened almond milk or any nut milk + two teaspoons lemon juice or apple cider vinegar
1/2 teaspoon sea salt
1/2 teaspoon ground black pepper
1 teaspoon garlic powder
1/2 teaspoon onion powder 
1 cup crispy Panko breadcrumbs seasoned with salt pepper, onion powder & garlic powder 
Instructions
BANG BANG SAUCE
Mix all the sauce ingredients together in a bowl. It should be liquid-y. Set aside.
BANG BANG CAULIFLOWER 
Preheat oven to 450 degrees F/230 degrees C. Line a baking sheet with a silicone baking sheet or greased foil. Using a knife, remove florets from the cauliflower (aka cut off the leaves and don't use the stems).

In a bowl, mix the flour, chilli paste, cornstarch, nut milk, ACV, sea salt, ground black pepper, garlic powder and onion powder. Stir to combine - the batter should be like a sticky tempura batter. If the batter is too thick, feel free to thin it out with some more milk and vice versa.

In a separate bowl, place the panko breadcrumbs. Line it up beside the batter bowl. Toss the cauliflower in the batter mixture (you can add them all at once), using a spatula or spoon to coat them all.

Then, transfer them to the panko breadcrumbs (you can do this in two or three batches) to coat completely, then place onto the baking sheet, giving each floret enough space.

Bake for 22 minutes. Please ensure your oven is completely preheated and hot.

Remove from oven. Toss the battered baked cauliflower in the sauce (I like to use a spatula to move them around to get properly coated) then using tongs or a spoon, remove and place back on the baking sheet. Bake for another 1-2 minutes for the sauce to soak into the wings.

Remove from oven, top with sesame seeds, eat immediately and enjoy!
AIR FRYER INSTRUCTIONS
IF using an air fryer, preheat to 400 degrees F/200 degrees C.

Repeat all the steps and then place in your air fryer in a single row, so that all the cauliflower has a little bit of space around each piece. Cook for 12-15 minutes, shaking the basket halfway, then continuing to cook. After you add the sauce, bake for another 1 to 2 minutes in the air fryer!
Calories: 481kcal, Carbohydrates: 66g, Protein: 8g, Fat: 20g, Saturated Fat: 2g, Sodium: 672mg, Potassium: 594mg, Fiber: 5g, Sugar: 12g, Vitamin A: 34IU, Vitamin C: 73mg, Calcium: 133mg, Iron: 3mg
Disclaimer: Although jessicainthekitchen.com attempts to provide accurate nutritional information, kindly note that these are only estimates. Nutritional information may be affected based on the product type, the brand that was purchased, and in other unforeseeable ways. Jessicainthekitchen.com will not be held liable for any loss or damage resulting for your reliance on nutritional information. If you need to follow a specific caloric regimen, please consult your doctor first.