Orange Glazed Tofu
Orange Glazed Tofu is tasty, flavourful and shows you how amazing tofu can be!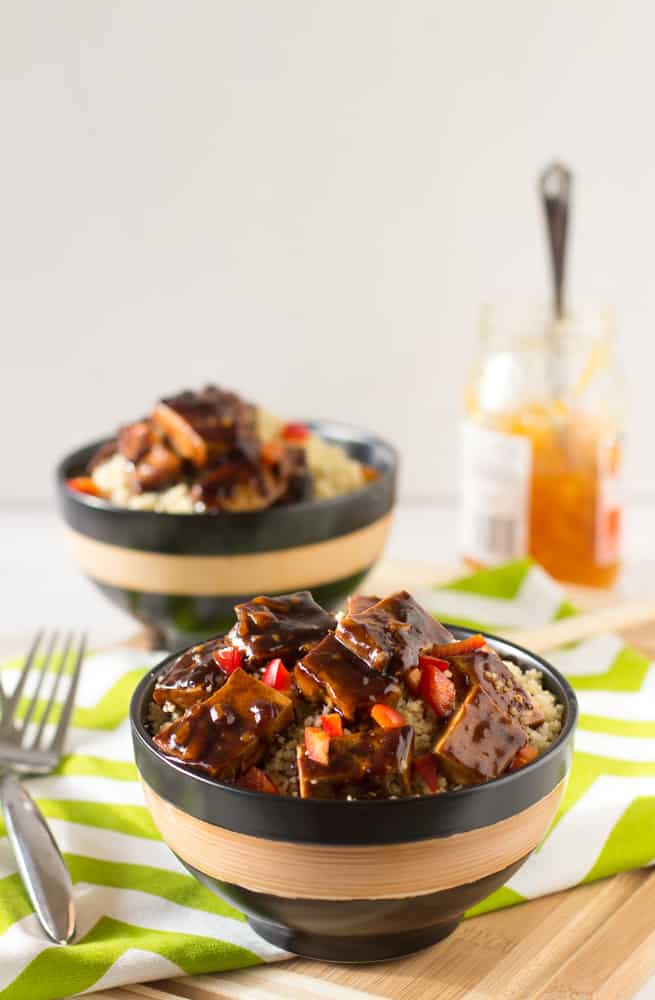 This was quite an eventful week. The end of the World Cup (so glad that final match didn't go into penalties because my heart can't take it!) and the first time we tried tofu at home. I will admit, I was kinda terrified nervous but we went ahead anyway, tofu in one hand, spatula in the next.
Can I just say, I'm kinda in love with tofu now.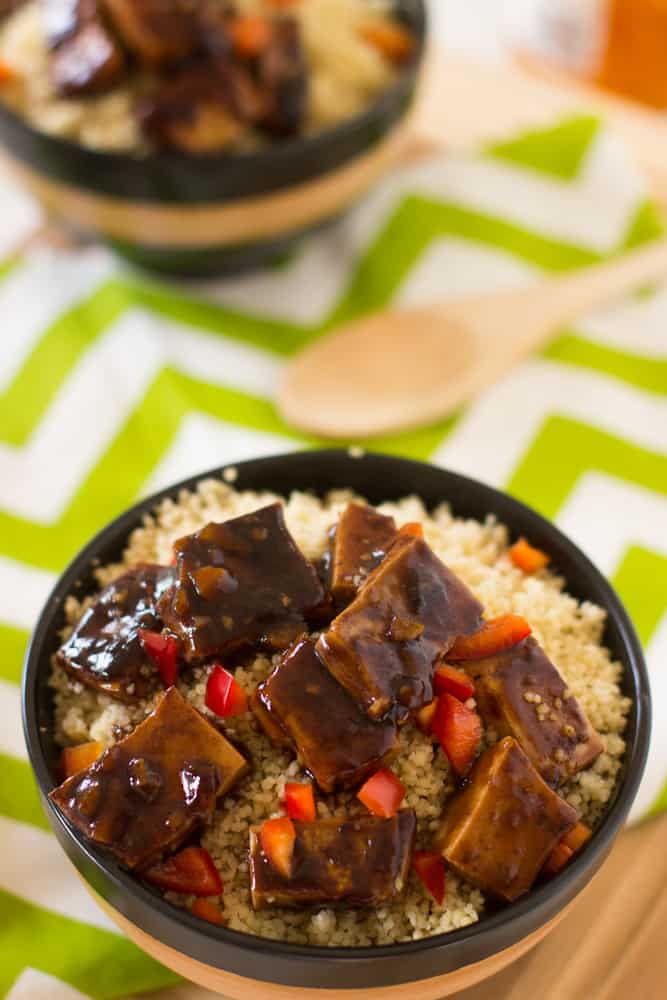 It wasn't until Mr. Bakes pointed it out that I realised I had tofu every time I had miso soup at the Japanese restaurant, and I was like oh d-uh I love that stuff. But just like how some cruel person taught us that beets tastes like dirt (no, they are deliciously sweet and make amazing beet chips) someone taught us that tofu is bad for you.
The truth is, it isn't. We got tofu Non-GMO soybeans (I am all about avoiding GMOs ever since I did extensive research). Also, it's more than possible to create tofu from many other beans, so clearly this stuff is quite normal. Don't be afraid of tofu!
I'm not trying to be reminded of meat so I won't say it was "meaty", but it had a wonderful texture, wasn't mushy in any way, and best of all absorbed the flavours perfectly. Thanks to Kiersten of Oh My Veggies we felt inspired to try it!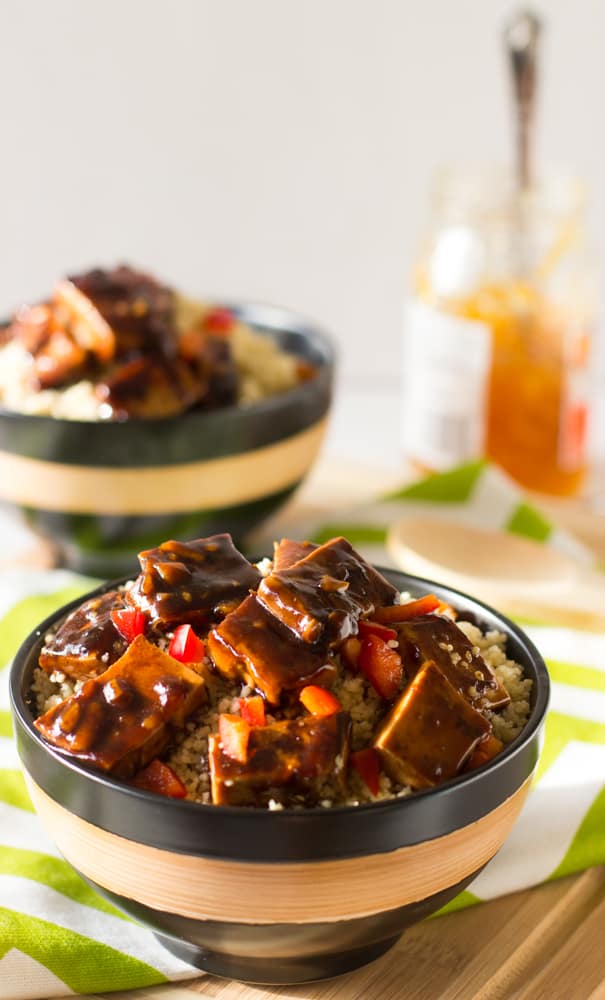 Tofu with the Best Orange Glaze
I wish Chinese food restaurants served this, because I could eat it all over again. The glaze was a great base, and the tofu absorbed it perfectly after only 10 minutes of sitting in the sauce. It was the perfect topping to my couscous. And if I thought I loved it, Mr. Bakes LOVED IT. Like, "Qhen are we making tofu again??" loved it. Score!
I'm now super interested in what else I can make with tofu. You should have seen my facial expression when I realised this magical soybean creation would soak up ANY flavour, making it perfect for dessert! Mousse! Pudding! Cheesecake! I had a sparkle in my eyes that caused Mr. Bakes to snap his fingers in front of me to bring me back to reality.
I may have created a monster…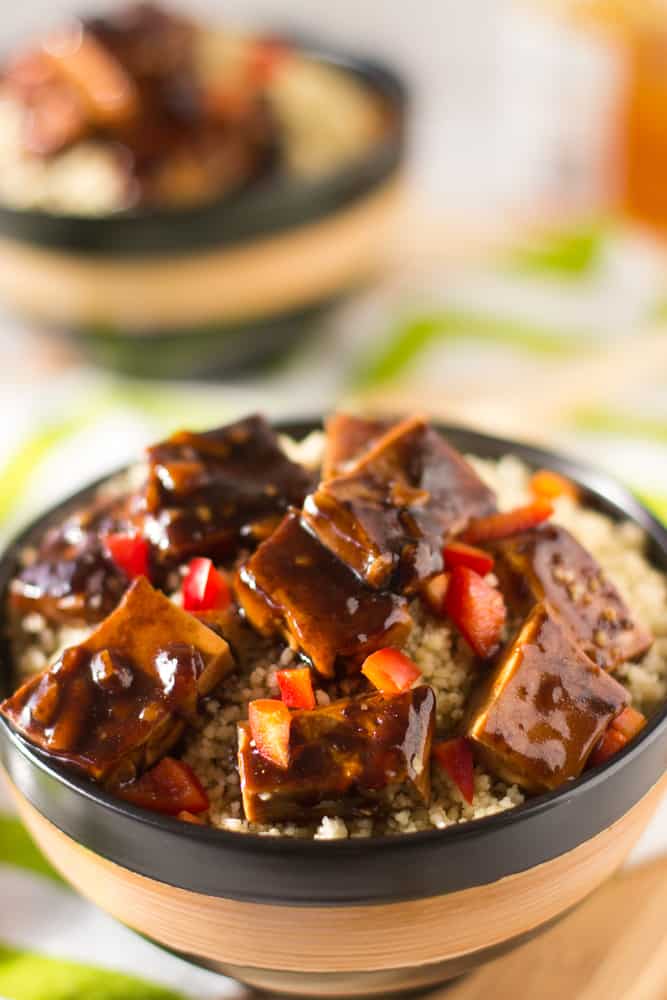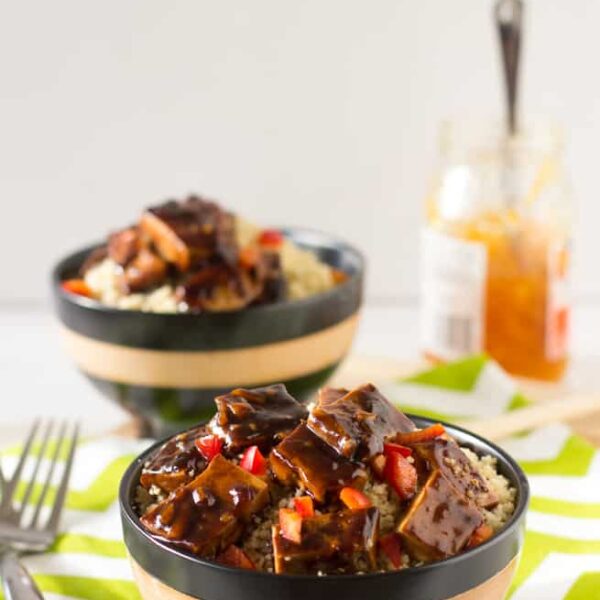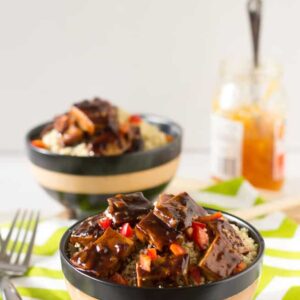 Orange Glazed Tofu
Orange Glazed Tofu is tasty, flavourful and shows you how amazing tofu can be!
Ingredients
1 block of exta-firm tofu
Chopped red peppers, for topping (optional)
Orange Glaze:
2 tablespoons Orange marmalade
Juice of 1 orange
1 tablespoon light soy sauce, or liquid aminos or tamari
1 teaspoon balsamic vinegar
2 teaspoons cornstarch
2 tablespoons of water
Instructions
Press tofu for 30 minutes in the whole block (you can put a towel underneath it, then one on top of it and put some books on top to press it. This will help to remove the water and won't leave it feeling mushy.

When tofu is pressed (it should look much thinner and the towel will be wet), cut it into cubes.

In a pan over medium heat, sautée tofu for 5 minutes on each side until golden brown. Remove from heat.

Combine all the sauce ingredients in a bowl and whisk together.

In another pan over medium high heat, cook down sauce for 5 minutes until it begins to thicken, then add tofu and let tofu sit in the sauce for 10 minutes on medium-low heat to allow tofu to absorb the flavours of the sauce. Remove from heat.

Serve over quinoa or couscous, top with chopped red peppers and enjoy!
Calories: 261kcal, Carbohydrates: 28g, Protein: 19g, Fat: 9g, Saturated Fat: 1g, Sodium: 501mg, Potassium: 119mg, Fiber: 3g, Sugar: 19g, Vitamin A: 147IU, Vitamin C: 36mg, Calcium: 281mg, Iron: 2mg
Disclaimer: Although jessicainthekitchen.com attempts to provide accurate nutritional information, kindly note that these are only estimates. Nutritional information may be affected based on the product type, the brand that was purchased, and in other unforeseeable ways. Jessicainthekitchen.com will not be held liable for any loss or damage resulting for your reliance on nutritional information. If you need to follow a specific caloric regimen, please consult your doctor first.