Vegan Carrot Cake Pancakes (with Maple Cream Cheese)
These Vegan Carrot Cake Pancakes are like eating carrot cake for breakfast!! They're gluten free, meal preppable and topped with a divine vegan maple cream cheese drizzle!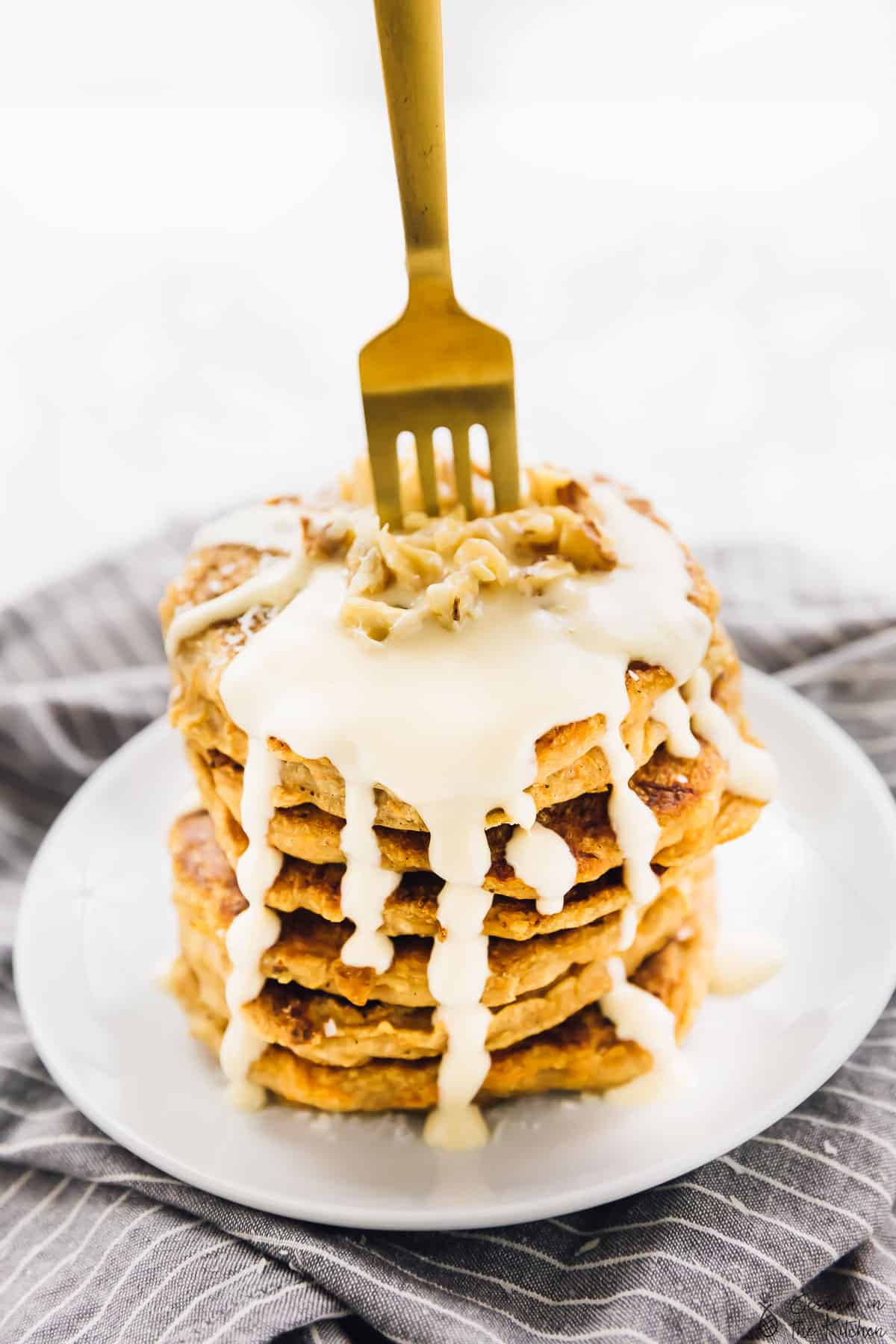 Fun fact: carrot cake is my favourite cake of all time. Cue carrot cake energy bites and carrot cake muffins. I might have mentioned that like a billion times before, but hey, it's super relevant here. What do you do when you want carrot cake over the Easter, but you know you have way too many episodes to catch up on to make an actual carrot cake?
You make these easy, fluffy and thick carrot cake pancakes. Oh, yes.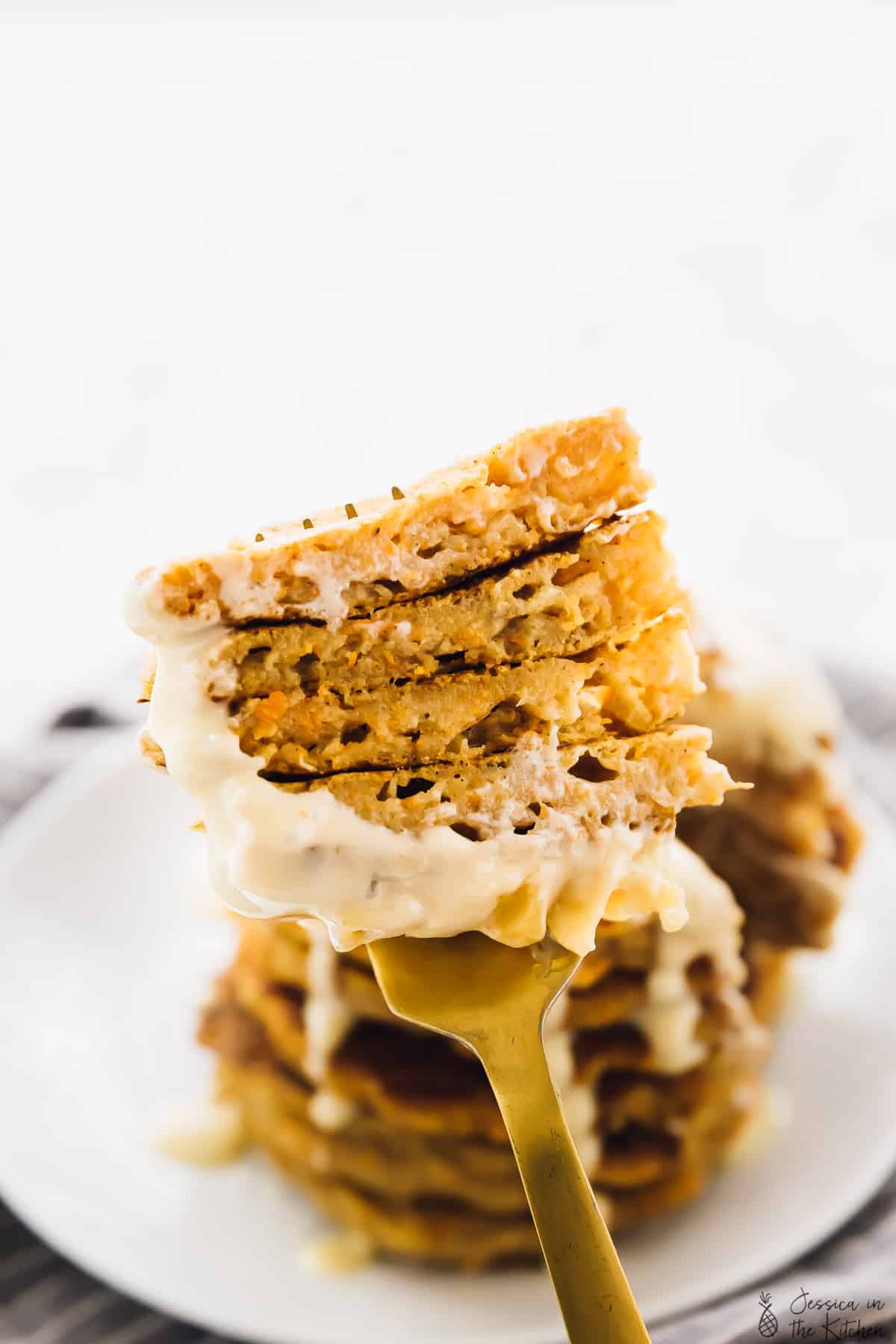 Look. This needs to be on your next meal prep list. Or tomorrow's breakfast. Or both. These carrot cake pancakes have that spot on flavour of carrot cake thanks to the cinnamon, ginger and nutmeg in the batter. Then of course, I had to add vanilla extract. To top it off – I made you a maple cream cheese drizzle.
The maple cream cheese drizzle reminds me of something one of those fancy brunch places would serve you on the side. You're trying to figure out what is this magical sauce and you figure it's something crazy fancy. Wrong. It's vegan cream cheese, almond milk + maple syrup and it's incredibly simple and tastes divinely complex. You're going to want to drizzle this all over your pancakes, and probably into your oatmeal, on your bagel, and on pretty much everything after this.
Just saying.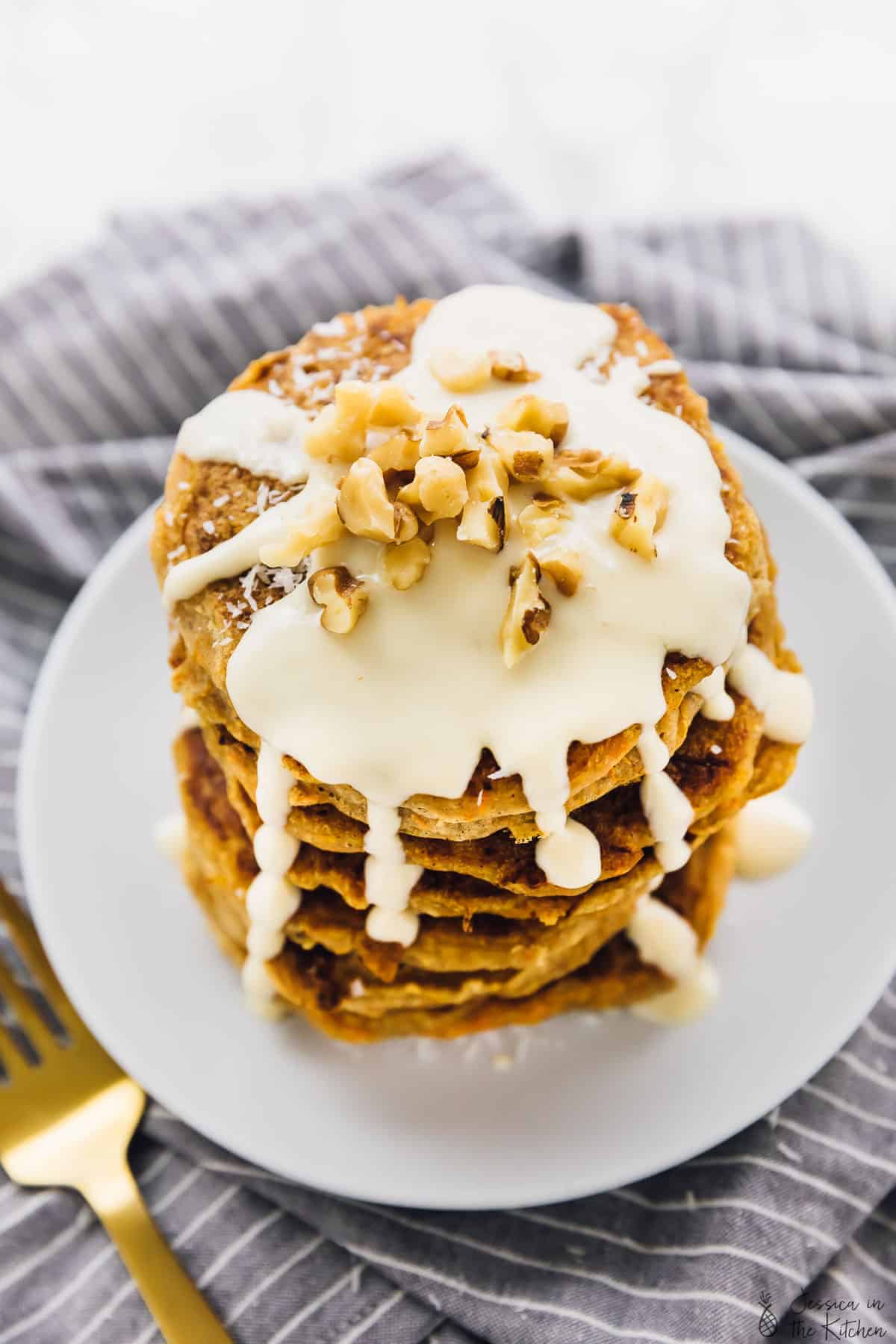 Pro tip: Don't skip those spices. They really amp up the flavour and will have you wanting one of these every time you get a carrot cake craving. Or..am I the only one that wakes up with carrot cake cravings?!
Pro tip part 2: I grated the carrots because if you shred them, they won't cook quickly enough, which we don't want. So definitely grate them nice and fine. Your pancakes will thank you.
Enjoy, friends!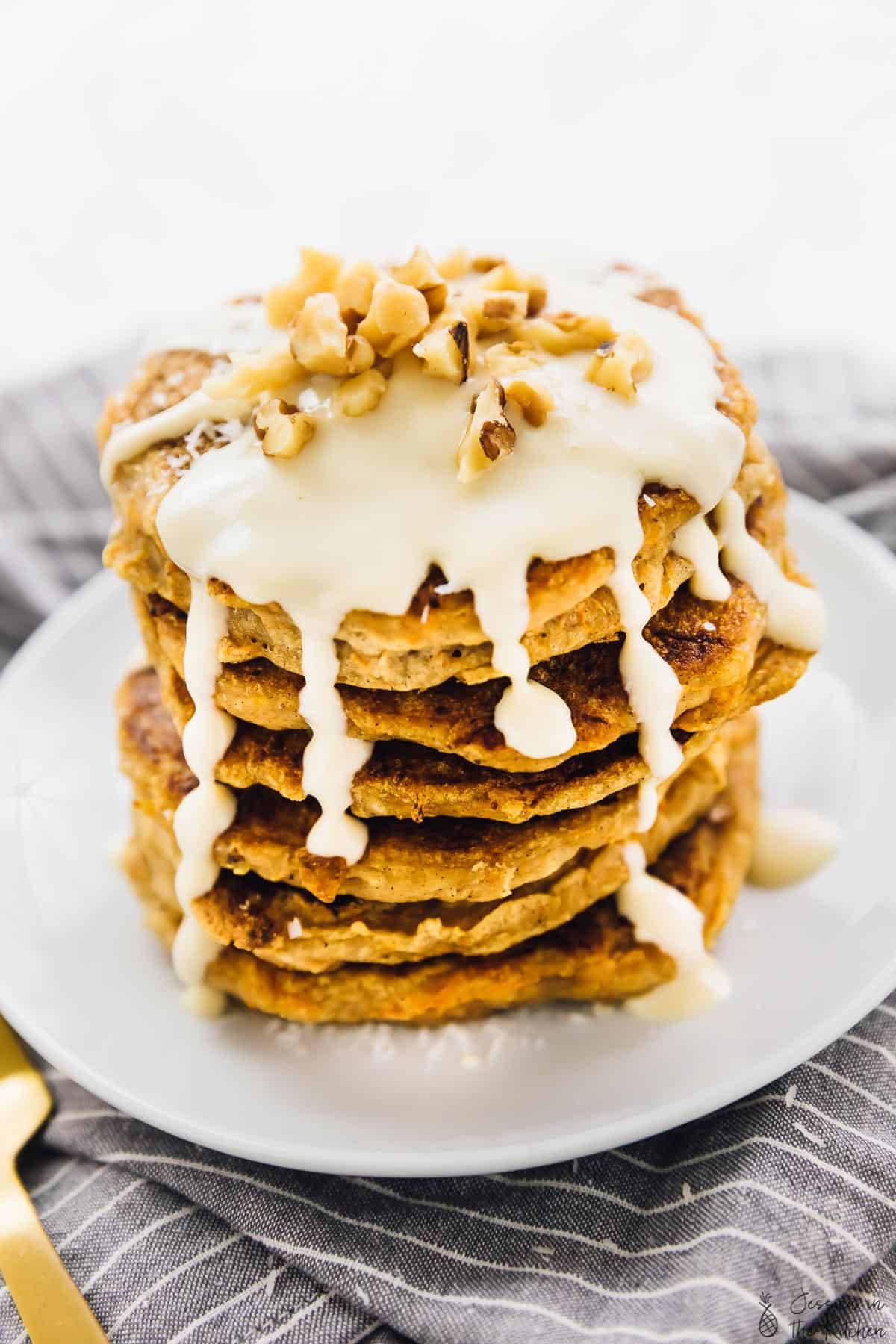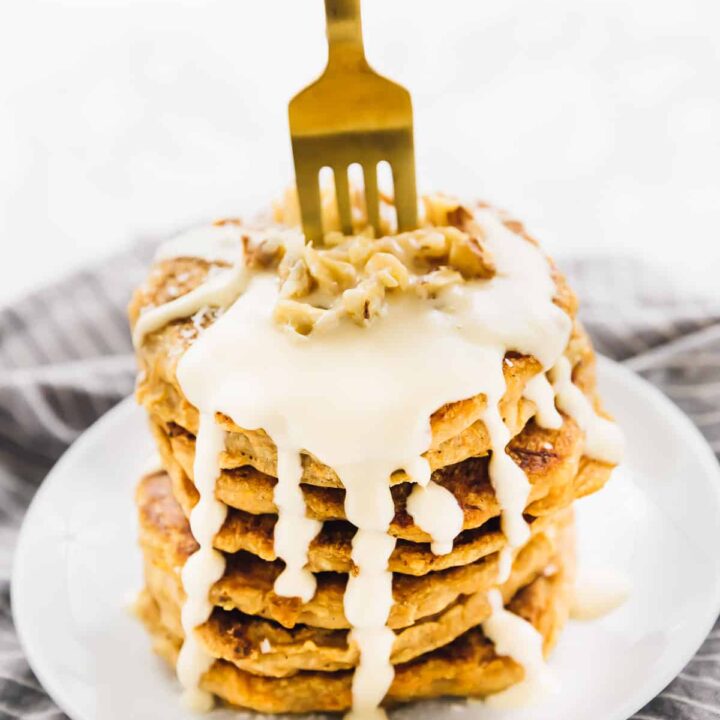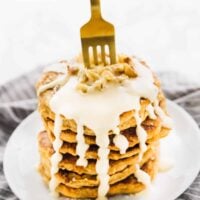 Vegan Carrot Cake Pancakes (with Maple Cream Cheese)
These Vegan Carrot Cake Pancakes are like eating carrot cake for breakfast!! They're gluten free, meal preppable and topped with a divine vegan maple cream cheese drizzle!
Ingredients
Maple Cream Cheese Drizzle
1 tablespoon maple syrup
2 tablespoons vegan cream cheese
2 teaspoons unsweetened almond milk
Carrot Cake Pancakes
1 1/4 cups gluten free baking flour (or regular flour if not gluten free), 185g
1 egg replacement, I love Bob's Red Mill Egg Replacer
1 teaspoon baking powder
1/2 teaspoon baking soda
1/2 teaspoon salt
1 tablespoon coconut sugar
1 ¼ cups almond milk + two teaspoons lemon juice or apple cider vinegar
½ teaspoon ground cinnamon
¼ teaspoon ground ginger
¼ teaspoon ground nutmeg
2 teaspoons coconut oil
1 cup grated carrot
Instructions
Maple Cream Cheese Drizzle
Whisk all of these ingredients together until combined. Serve with pancakes. You can store in a separate container in the fridge too. If you want it thinner, add more almond milk per ½ teaspoon, or if you want it thicker add more vegan cream cheese.
Carrot Cake Pancakes
Mix the almond milk and the lemon juice or ACV together in a small bowl/measuring cup. Set aside - this will make the vegan buttermilk.

In a large bowl, whisk the gluten free flour, baking powder, baking soda, salt, cinnamon, ginger and nutmeg.
Add the egg replacer, coconut sugar and the vegan buttermilk mixture and whisk until just combined and smooth. Fold in the grated carrots. The batter will thicken slightly while you wait for the griddle or the pan to heat up. The batter should be thick BUT spreadable/pourable. If it isn't you can add a tablespoon of almond milk at a time to thin it out a bit.

Heat a griddle or a cast iron skillet or a pan over medium heat and brush with coconut oil or vegan butter.
Pour about ¼ cup of batter into the pan/skillet for one pancake OR use a greased ice cream scoop (this is my preferred method). Wait until some bubbles start to form on top. Allow to cook for 2-4 more minutes (for a total of at least 4 minutes) and then flip the pancakes over. Cook for about 4 more minutes until batter is cooked through. The pancakes will be ready when you press in and they spring back. You don't want to undercook these pancakes! Test the first one to ensure you've cooked it long enough.

Serve pancakes hot and drizzle with maple cream cheese drizzle on top and your favorite toppings.
Notes
Make sure that you grate your carrots and not shred them. Shredded carrots won't cook fast enough, since you're just making pancakes with a short cook time.
You can freeze these pancakes by stacking them in a zipped bag or a Tupperware container in the freezer, with a sheet of wax or parchment paper in between each pancake. This helps to prevent sticking while it's frozen. Just reheat it in your toaster oven on toast or oven until heated back through, about 3 minutes on 450 F.
I love using Bob's Red Mill Egg Replacer for my egg replacer! You could use a flax egg but I haven't tested it here yet!
You could also use soy milk instead of almond milk if you please, which makes an amazing vegan buttermilk!
Calories: 46kcal, Carbohydrates: 6g, Protein: 1g, Fat: 3g, Saturated Fat: 1g, Sodium: 349mg, Potassium: 59mg, Fiber: 1g, Sugar: 3g, Vitamin A: 2675IU, Vitamin C: 1mg, Calcium: 90mg, Iron: 1mg
Disclaimer: Although jessicainthekitchen.com attempts to provide accurate nutritional information, kindly note that these are only estimates. Nutritional information may be affected based on the product type, the brand that was purchased, and in other unforeseeable ways. Jessicainthekitchen.com will not be held liable for any loss or damage resulting for your reliance on nutritional information. If you need to follow a specific caloric regimen, please consult your doctor first.