Iced Pumpkin Cookies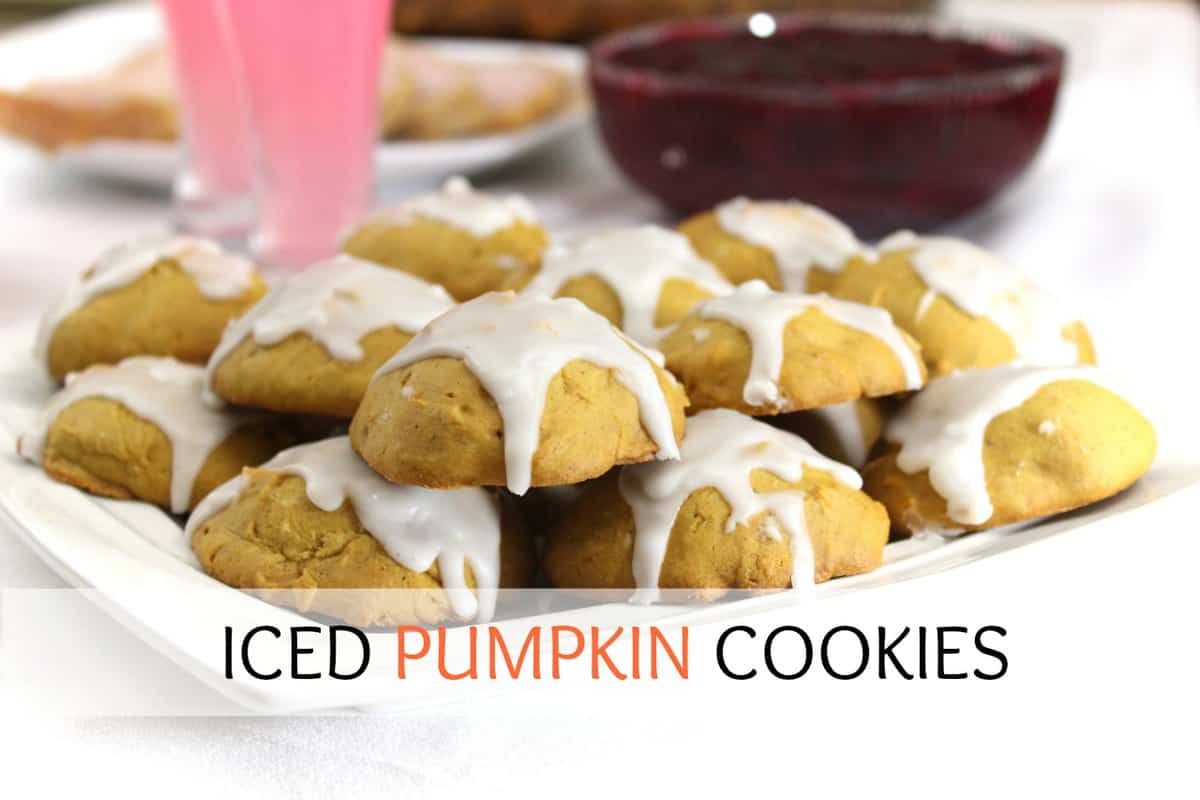 These Iced Pumpkin Cookies were to die for. I don't think there is anything quite like biting into a cookie and being able to tell that delicious pumpkin butter was baked into it, that is, it's such a distinct and unique taste that these pumpkin cookies deserve their own season.
Oh wait, they already have that. See, told you!
But really, I had a slight difficulty fixing the recipe since I was using pumpkin butter which is much sweeter than pumpkin puree, and quite frankly, much more liquid-y than it too. Fortunately I reached a great middle ground. These cookies baked up beautifully with gorgeous domes and sit like little cakes, which I realise are very among many pumpkin cookies.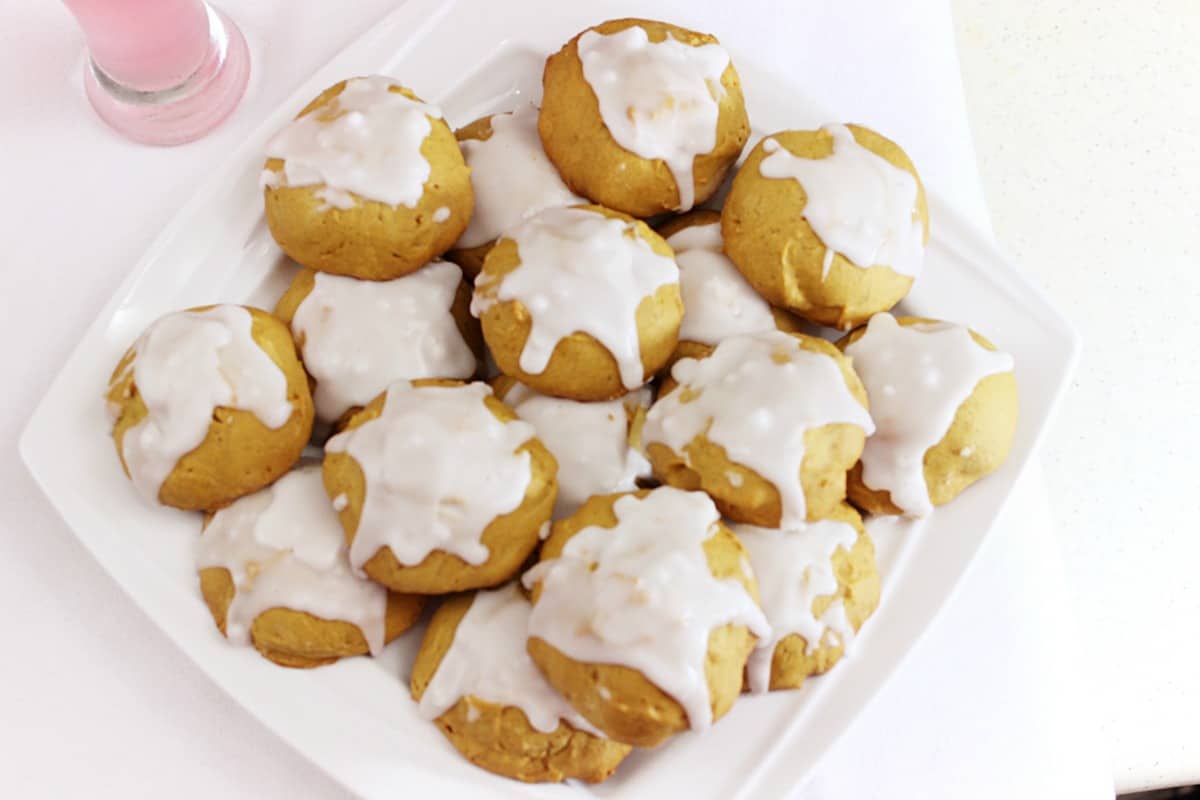 I do have to say this though, I also saw that they tend to get dry much quicker than regular cookies, not hard, but dry. Many bloggers complained that their pumpkin cookies were drier the next day and I experienced the same outcome, they were a tad bit drier and by day 3 they were definitely dry. I guess it is just a pumpkin cookie thing, but I promise you, these did not last long in my house anyway. By the time they were finished baking half the cookies "disappeared" which means "can I have another one please?" was repeated several times.
I think the icing on top (haha literally) is what did it for me with these cookies. They aren't particularly sweet which is great, because the icing on top creates that finishing touch, much like a bow being tied onto a wrapping paper. The next day they even seeped into the cookies themselves which contributed greatly to the flavour overload. So my overall hint would be: make these the day of Thanksgiving; I know they will be finished before the night is up!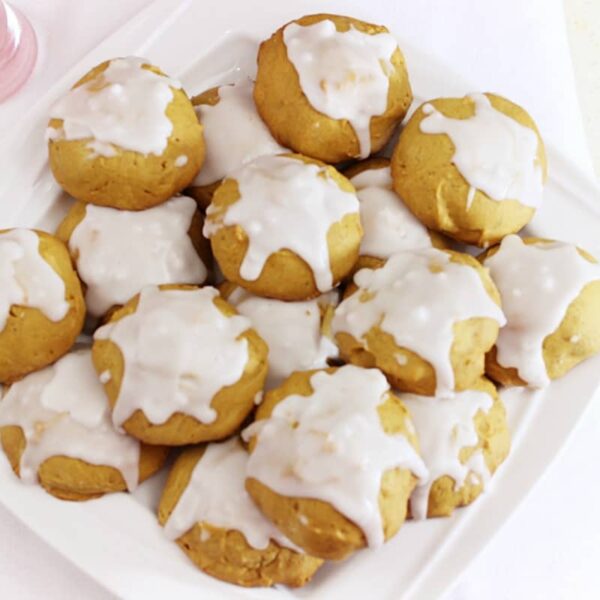 Iced Pumpkin Cookies
These Iced Pumpkin Cookies are to die for. It's such a distinct and unique taste that these pumpkin cookies deserve their own season. Oh wait, they do!
Ingredients
2 cups all-purpose flour
1 1/2 teaspoons baking powder
1 teaspoon baking soda
1/4 teaspoon salt
1 teaspoon ground cinnamon
1/2 teaspoon nutmeg
1/4 teaspoon ginger
dash of allspice
2 eggs
1/8 brown sugar
1/4 cup canola oil
1 cup pumpkin butter
pinch of vanilla powder, or 1 teaspoon vanilla extract
For the icing
3 cups powdered sugar, sifted
1 teaspoon cinnamon
pinch of vanilla powder, or 1 teaspoon vanilla extract
1/4 cup milk
Instructions
Preheat the oven to 325 degrees F. Line a baking sheet with parchment paper.

In a medium sized bowl, whisk together the flour, baking powder, baking soda, salt, cinnamon, nutmeg, ginger, and allspice. Set aside.

In a large bowl, using an electric mixer on medium speed, beat the eggs and sugar until well combined, about 1 minute. (Scrape the sides of the bowl as needed during mixing).

Add the oil, pumpkin, and vanilla and mix on low speed until blended. Stir in the flour mixture with a spoon.

Using a 1/4 measuring cup, scoop out mounds of dough onto prepared baking sheet, spacing them 2 1/2 inches apart. Use the back of a spoon to smooth out the mounds.

Bake the cookies until the tops feel firm and a toothpick inserted in the center comes out dry, about 16 minutes. Cool on the baking sheet for 5 minutes, then transfer them to a wire rack to cool completely.

To make the icing, whisk together powdered sugar and milk in a small bowl. Fold in the cinnamon (so that you get flecks and not brown icing). Spoon the icing evenly over tops of cookies.
Calories: 152kcal, Carbohydrates: 29g, Protein: 2g, Fat: 3g, Saturated Fat: 1g, Cholesterol: 16mg, Sodium: 124mg, Potassium: 48mg, Fiber: 1g, Sugar: 18g, Vitamin A: 779IU, Vitamin C: 2mg, Calcium: 31mg, Iron: 1mg
Disclaimer: Although jessicainthekitchen.com attempts to provide accurate nutritional information, kindly note that these are only estimates. Nutritional information may be affected based on the product type, the brand that was purchased, and in other unforeseeable ways. Jessicainthekitchen.com will not be held liable for any loss or damage resulting for your reliance on nutritional information. If you need to follow a specific caloric regimen, please consult your doctor first.