Classic Madeleines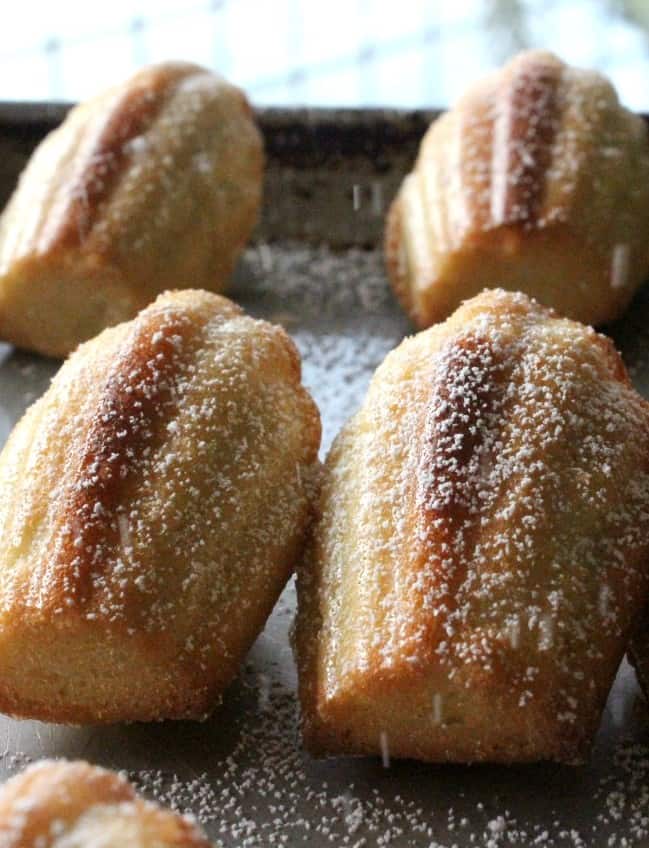 I made you Madeleines.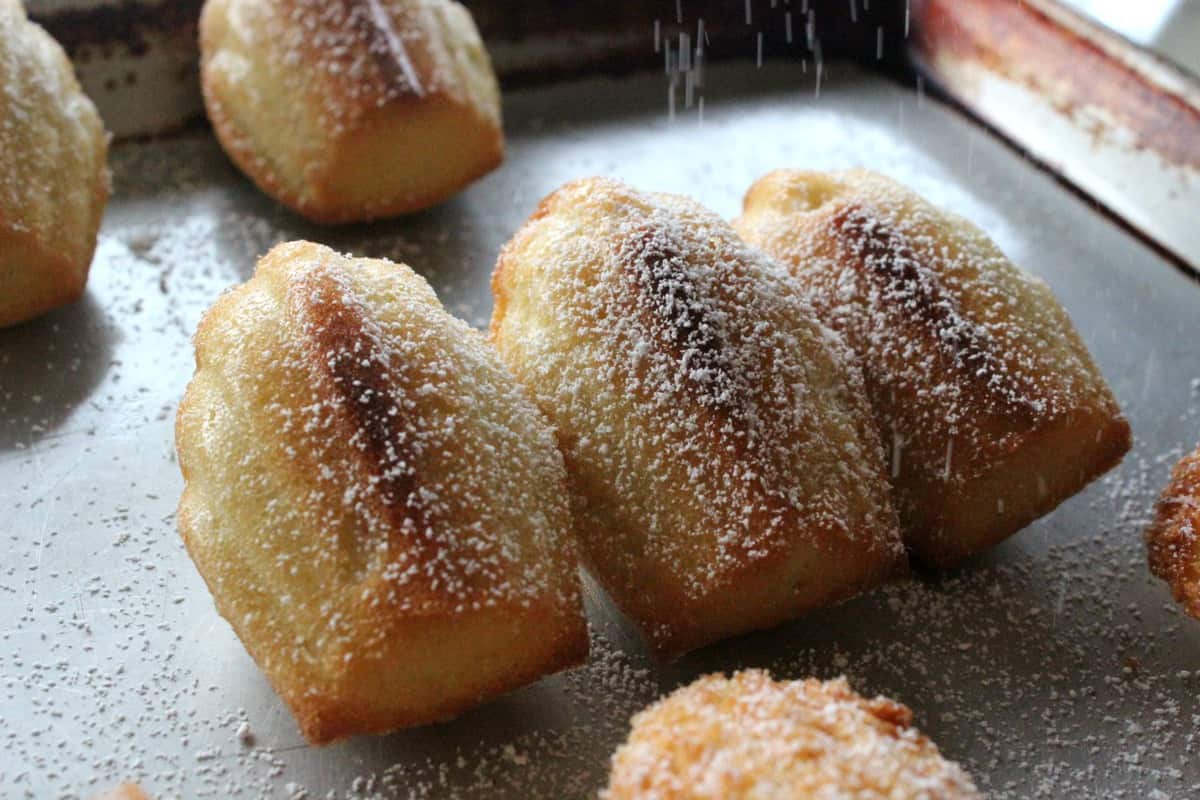 I made you classic, buttery, sprinkled with powdered sugar madeleines. The type of madeleines that you'd be happy to have at a Tea Party, which, in fact they were at. I made these for a charity Tea Party and I must say it fit in quite well with the theme.
I've never tasted madeleines before this but I have always been very fond of not only the pastry, but the name. Similar to the old French cartoon Madeline, it offers such a delicate and dainty feeling yet it provides a slight crunch, a most welcome contrast. The powdered sugar on top is not necessary, but I wouldn't consider it optional either. The powdered sugar compliments the neutral sweetness of the pastry, creating a balance that allows you to have many without feeling sickeningly sweet in any way.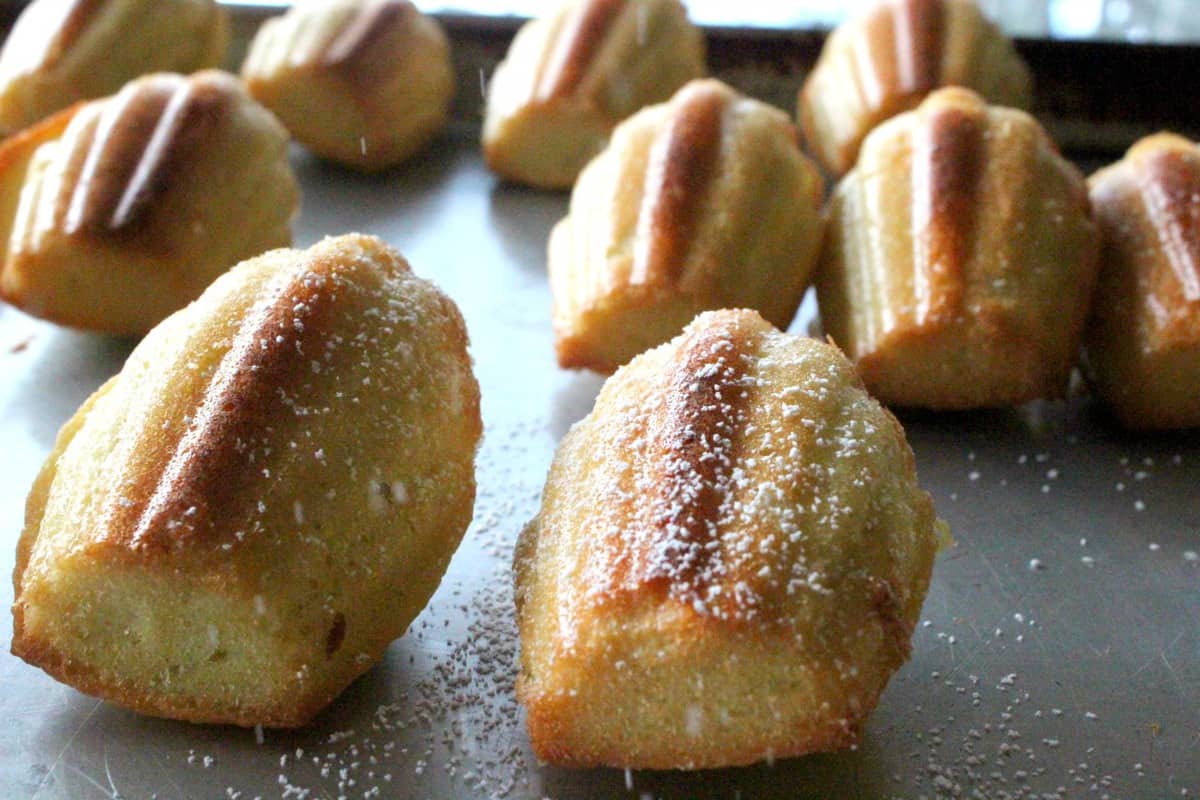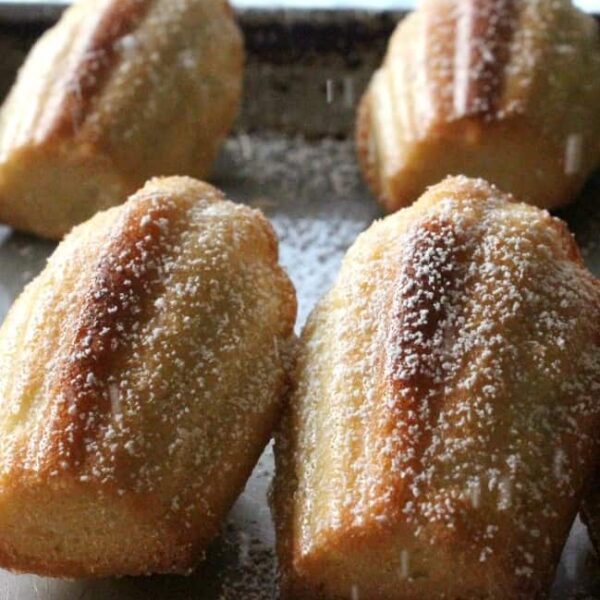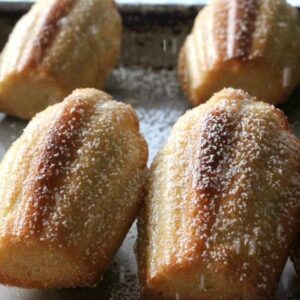 Classic Madeleines
I made you classic, buttery, sprinkled with powdered sugar madeleines. The type of madeleines that you'd be happy to have at a Tea Party!
Ingredients
3/4 cup all-purpose flour, 95 gram
1/2 teaspoon double-acting baking powder
2 large eggs, at room temperature
1/2 cup sugar, 100 grams
Grated zest of 1 lemon
2 teaspoons vanilla extract
5 tablespoons unsalted butter, melted and cooled, 2 1/2 ounces; 70 grams
Instructions
Sift together the flour and baking powder and keep close at hand. Working in a mixer fit with the whisk attachment, beat the eggs and sugar together on medium-high speed until they thicken and lighten in color, 2 to 4 minutes. Beat in the lemon zest and vanilla. Switch to a large rubber spatula and gently fold in the dry ingredients, followed by the melted butter.

Cover the batter with plastic wrap, pressing the wrap against the surface to create an airtight seal, and chill for at least 3 hours, perhaps longer–chilling helps the batter develop its characteristic crown, known as the hump or the bump. (The batter can be kept tightly covered in the refrigerator for up to 2 days.)

Center a rack in the oven and preheat the oven to 400 degrees F (200 degrees C). If your Madeleine pan is not nonstick, generously butter it, dust the insides with flour and tap out the excess. If the pan is nonstick, you still might want to give it an insurance coating of butter and flour. If it is silicone, do nothing. No matter what kind of pan you have, place it on a baking sheet for easy transportability.

Divide the batter among the molds, filling them almost to the top. Don't worry about smoothing the batter, it will even out as it bakes.

Bake large madeleines for 11 to 13 minutes, small ones for 8 to 10 minutes, or until the cookies are puffed and golden and spring back when touched.

Pull the pan from the oven and remove the cookies by either rapping the pan against the counter (the madeleines should drop out) or gently running a butte knife around the edges of the cookies.

Allow the madeleines to cool on a cooling rack. They can be served ever so slightly warm or at room temperature.
Calories: 111kcal, Carbohydrates: 15g, Protein: 2g, Fat: 6g, Saturated Fat: 3g, Cholesterol: 40mg, Sodium: 29mg, Potassium: 18mg, Fiber: 1g, Sugar: 8g, Vitamin A: 185IU, Vitamin C: 1mg, Calcium: 16mg, Iron: 1mg
Disclaimer: Although jessicainthekitchen.com attempts to provide accurate nutritional information, kindly note that these are only estimates. Nutritional information may be affected based on the product type, the brand that was purchased, and in other unforeseeable ways. Jessicainthekitchen.com will not be held liable for any loss or damage resulting for your reliance on nutritional information. If you need to follow a specific caloric regimen, please consult your doctor first.