How To Cook Tofu 101 + Best Tips on Making the Most Delicious Tofu
Want to make your tofu taste better but don't know where to start? Here's How to Cook Tofu 101, plus some incredibly helpful tips for making the MOST delicious tofu you ever have!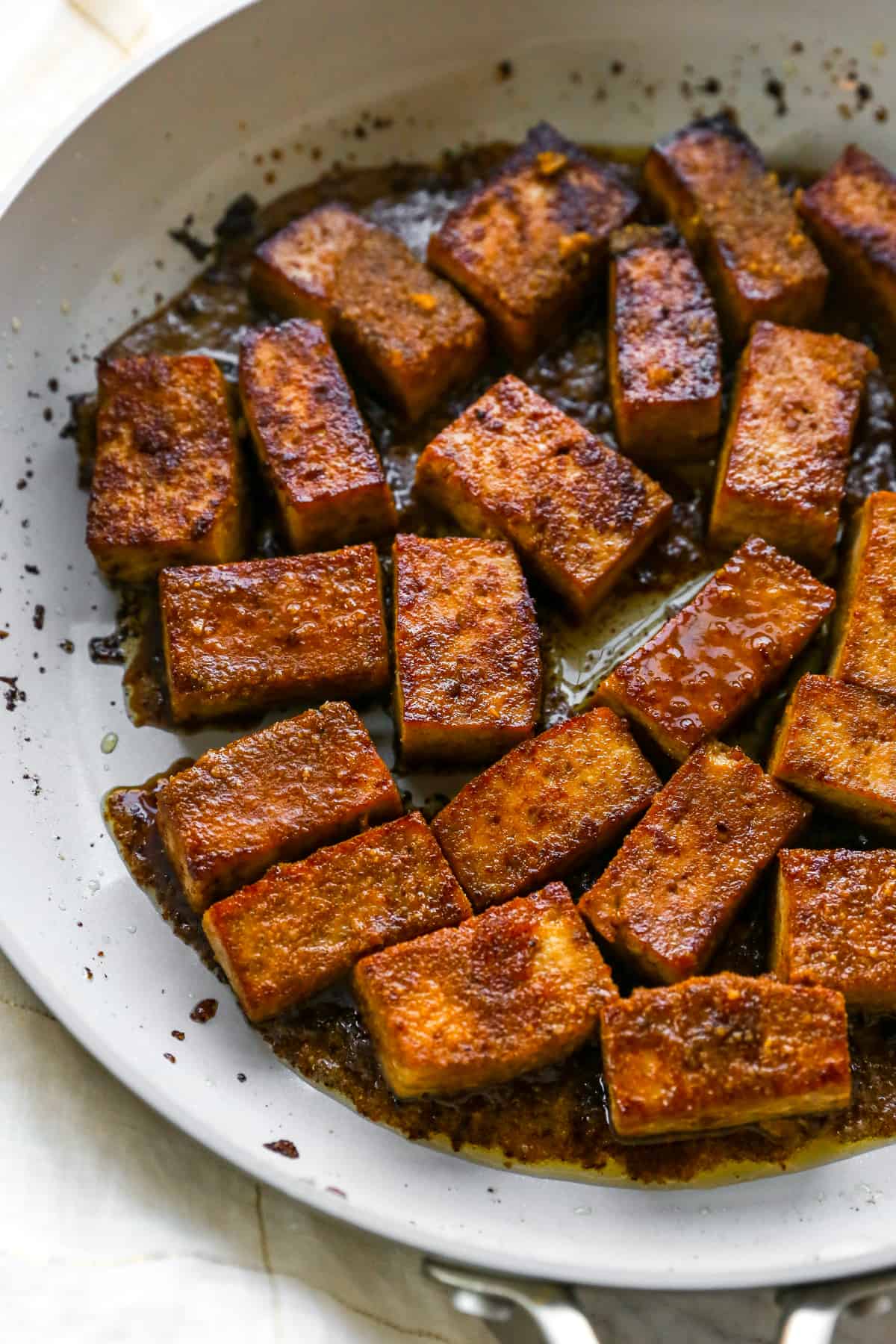 I knew I wanted to write this post about how to cook tofu after one of several incidences. The first was, the realization that Gav and I had been buying the wrong tofu (for over a year!), but my readers hadn't been. The second was after buying the right tofu, that there would still be random friends who would say "I've tried tofu before – I hated it." The third and final push to finally sit down and write this post was when I was told by a reader that they had no idea that they should press tofu and that I changed their entire outlook on tofu.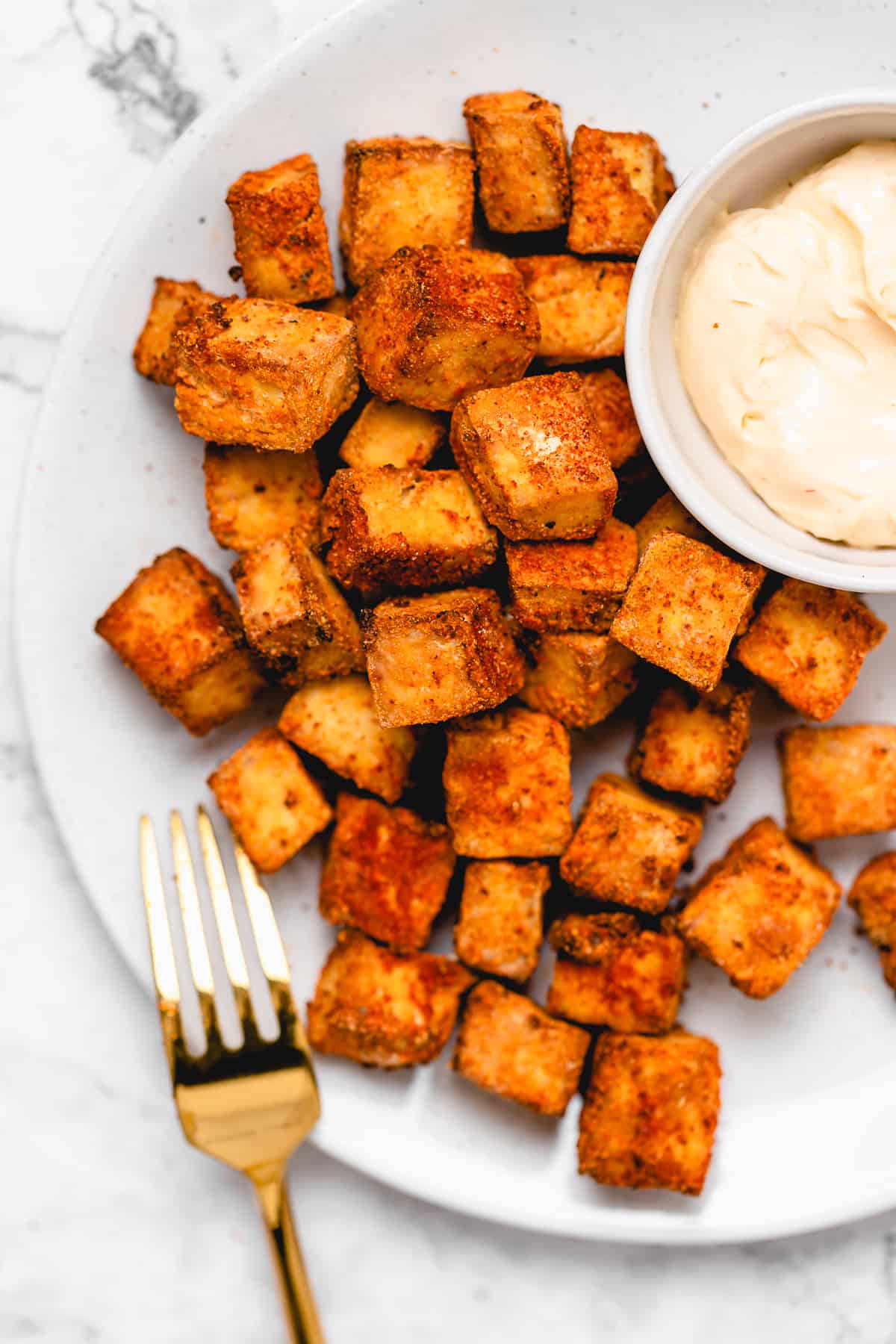 Tofu is DELICIOUS. Tofu is versatile, easy to use, meal prep friendly, freezer friendly. In fact, Tofu is your FRIEND. Instead of dwelling on all the reasons tofu may have been wrong to you in the past, let's dwell on all the reasons to get it right. When you cook tofu properly AND are using the correct tofu your opinion will change.
We tend to view tofu as this one size fits all kind of thing. That we can buy one kind and it'll work for everything. But (for comparison) we would never buy mince meat and try and make chicken parmigiana with it. In order to understand why your tofu type matters and how to ensure you're buying the right tofu, we need to dig slightly into the history of tofu. I promise this part will only take a paragraph or two.
Firstly, what is tofu?
Tofu, also known as bean curd, is a food made from soy beans. Tofu is often seen as a vegan meat replacement and can be used in everything from vegan meat replacements to cheesecakes to puddings to vegan 'eggs' and so much more. One of the things that is asked a lot in relation to tofu is whether it is "real". Yes, it definitely is.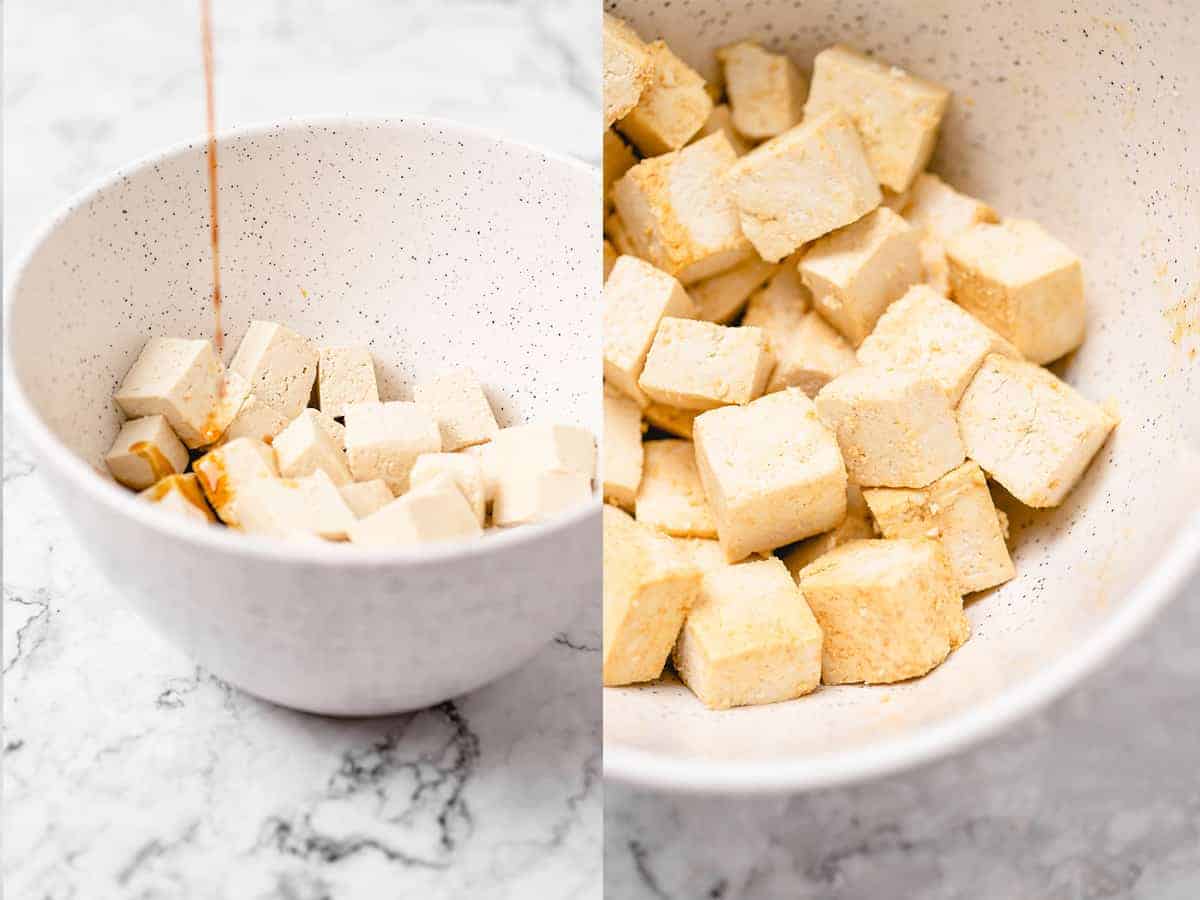 Tofu is actually made from soy milk and there are many videos on Youtube of making it straight from soy milk at home to show that it is just as easy to make at home as many other vegan meat replacers. It's minimally processed and has been a component in East Asian and Southeast Asian cuisines for centuries, just to show that this isn't some recent invention. Also, tofu definitely has an expiration date (trust me, I've personally experienced this one)! If you don't have any soy issues and buy it non-GMO, it is definitely something to give a try. Tofu is also high in protein so it's an excellent vegan source for proteins.
Different Types of Tofu – Regular Tofu vs. Silken Tofu
Okay, I'll address it – Gav and I were buying the wrong tofu. You see, tofu isn't that widely explored, especially in Jamaica, so we just saw tofu on the shelf and bought it. Now, years later, I know the difference. If you're using tofu as a meat replacement, you're going to want to be buying regular tofu aka "medium, firm, or extra-firm" tofu, not silken tofu.
Regular Tofu
Soft Block Tofu – Is another version of silken tofu. You can actually use this similar to how you'd use silken tofu.
Medium Block – This type of tofu works great for miso soups and is a bit than silken and soft.
Firm/Extra-Firm Block Tofu – this is my favourite form of block tofu. It's firm, usually found in a bag of water or a package with water and needs to be kept in the fridge. We use extra-firm tofu more than firm. This type of tofu needs to be pressed to remove all of the water in it. You see, tofu is a sponge. You could add all the marinades in the world until you're blue; if you don't press it, it would have been a useless talk. It needs that free space to soak up the marinades. More on pressing below.
Silken Tofu
Silken tofu is prepared differently from the above. It doesn't need to be refrigerated and is usually sold on the shelf or in an aisle. It comes in a box and has little water surrounding the tofu. Silken tofu has a very 'squishy' consistency and long story short, cannot be pressed. It can, however, be drained. While it says 'silken tofu' on the box but where it can be confusing it that is also says 'soft, firm, extra-firm'. Silken tofu works well for foods you want to blend, such as smoothies, puddings, cheesecakes and the like.
My first interaction with tofu was at a restaurant where they served me this white soggy blob swimming in black bean sauce. No. I later found out that this was silken tofu not being used in the best way. In order to get that crispy on the outside, deliciously seasoned, lovely texture tofu the number step almost every single time (except with silken tofu) is to press it.
Press your Tofu – Pressing vs Draining Tofu
Pressing your tofu removes all of that liquid from it, leaving room for your tofu to actually soak up your seasonings and marinade. In fact, if you make tofu for meat replacement purposes, and you let it soak overnight in a marinade without pressing it, chances are high that the marinade will have had no effect on the tofu since it just can't soak it up.
You'll want to press your tofu for about 30 minutes. This is how you ensure that as much of the liquid as possible is removed. I wouldn't recommend cutting this time down, especially if you want crispy tofu.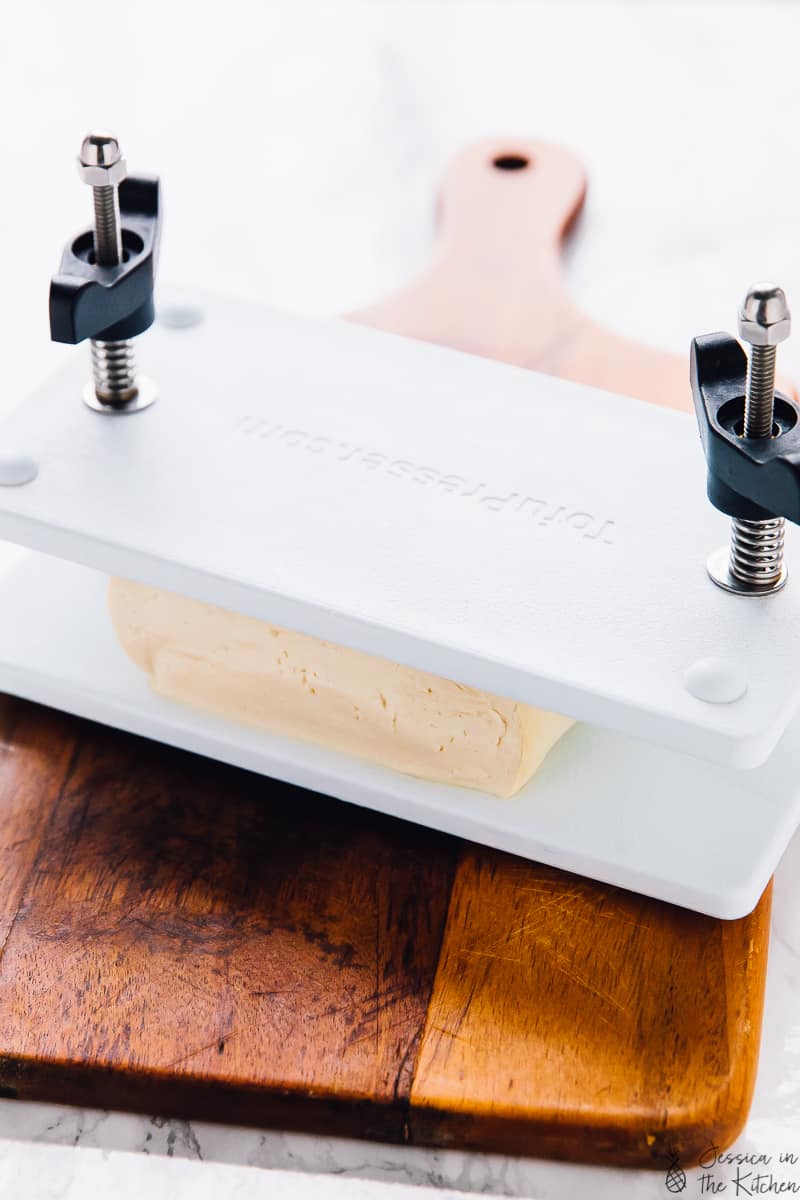 How to Press Tofu
Here are two ways to press tofu: Use a tofu press.
A tofu press is a very simple mechanism that basically screws your tofu into press to press out the liquid. You can adjust it to any level of pressing that you want, and it works wonders. It tastes the fear out of everything on top of your tofu toppling over, and for someone like me who uses tofu so often, it's paid for itself. Prices range from $20-$30, but it's probably going to last you for life. Pressing tofu for us now takes less than 5 minutes to set up from cutting up the tofu bag to putting it in the press.
The second method is stacking heavy items on top of your tofu to remove the liquid. To press tofu this way, remove from the bag or package and wrap in a kitchen towel. Place a heavy pot (such as a cast iron) on top of the tofu or a stack of heavy books that can balance on top. Press for at least 30 minutes. You can press tofu a day or two ahead of time, and place in an airtight tupperware container in your fridge.
Draining your tofu
There are some recipes where you don't want to press your tofu as much, or you're using silken tofu for example. In this case, you'll want to just wrap it in a kitchen towel or paper towel to drain excess liquid from your tofu. This is not the method I recommend when using tofu as a meat replacement.
Season Your Tofu – No, Really Season It
You HAVE to season tofu. Stop treating it like a piece of meat (haha get it).
No, tofu's base flavour is not delicious. That isn't its job though. Tofu is there as a base for you to manipulate. Tofu is a blank slate and that's exactly what I love about it. It needs and wants seasoning, marinading, flavour and proper cooking so that it can become anything you want. You can't just salt and pepper the outside of tofu and expect it to taste amazing. That was my very first realisation about tofu that made the biggest difference for the way I cooked it. Here are a few ways to season your tofu:
Marinade it in a saucy liquid.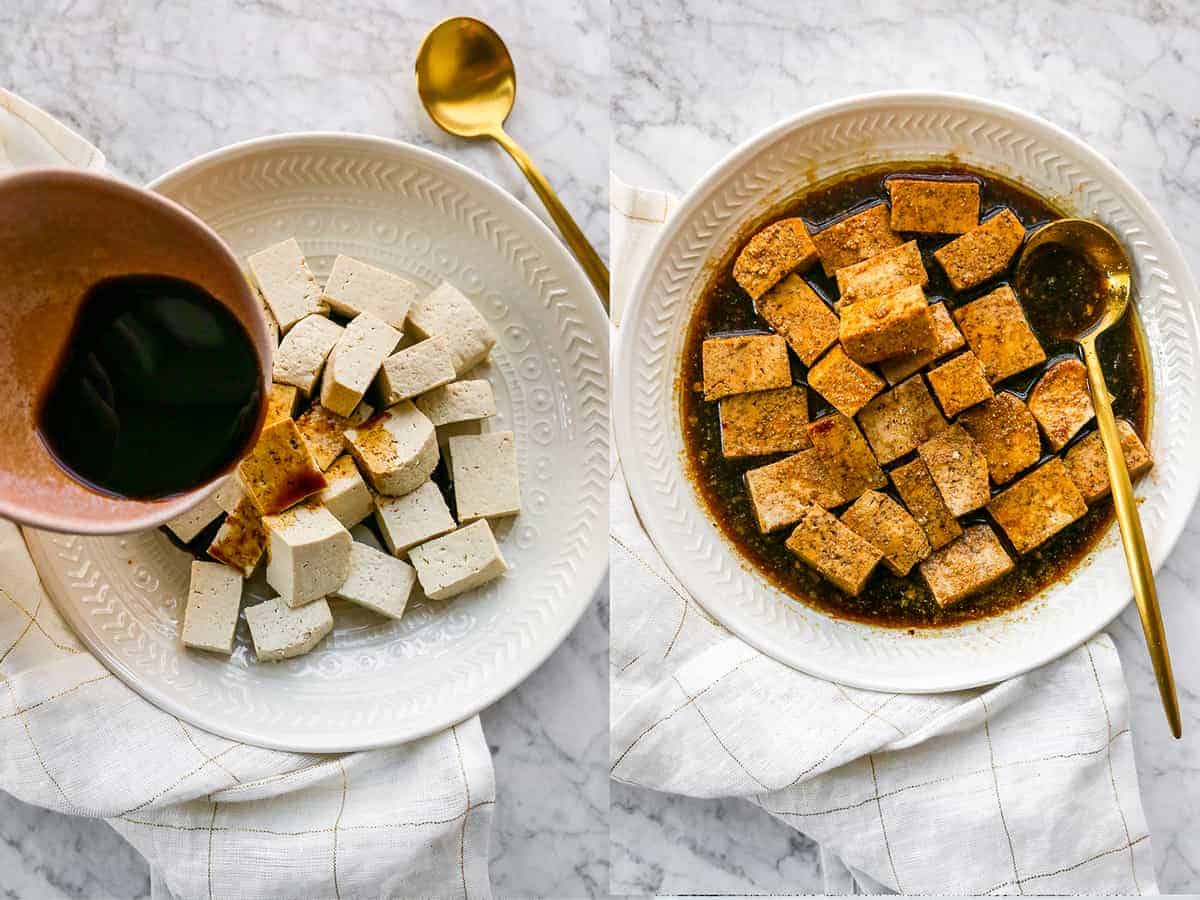 One of the best ways to infuse tofu with flavour quickly and all throughout the tofu is to marinade it. You can literally use any meat marinades for tofu, just pump up the flavours. Remember that tofu tastes like nothing, so it's up to you to really get those flavours singing.
You can marinade tofu for anywhere from 15 minutes to overnight. You again want to use extra-firm tofu here so it doesn't fall apart and so it really soaks it all up. Adding cornstarch into your marinade helps the tofu to crisp up on the outside when it gets pan-fried (see below). Otherwise, you can bake it and it'll still get crispy.
I love to marinade my tofu by cubing it or slicing it, placing it in a pan, then covering it with a sauce. This is an amazing tofu marinade recipe that I love for this baked teriyaki tofu. You could even use the sweet ginger sauce from my Tofu and Veggie Stir Fry to first marinade the tofu, then bake or fry it as you please!
Coat it in a lot of dry seasonings.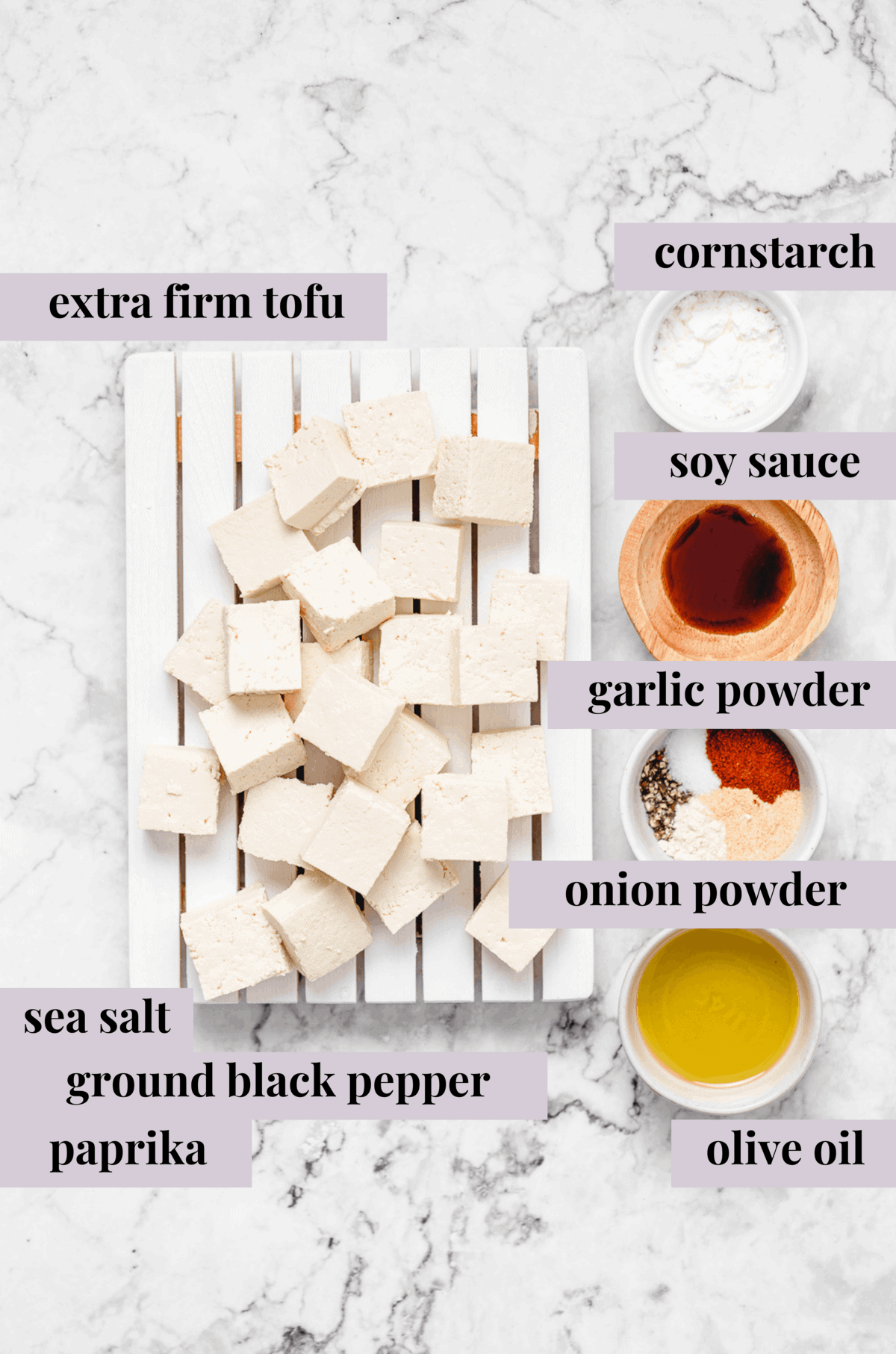 You can also use your favourite potent seasoning mix and coat your tofu in it.
Pre-season it, then let it soak in a sauce to soak up flavours. My Slow Cooker Tofu Butter Chicken wasn't even pre-seasoned, but it was well pressed, and so it truly soaked up the flavours of that sauce. Alternatively, my stove top Tofu Butter Chicken is pressed, coated with cornstarch and a lot of seasonings, then pan fried, then steeped in sauce. Both taste absolutely incredible. It's all about what method you want to use, when.
Using Cornstarch & Other Tofu Tips
Like I mentioned above, I've made tofu by coating it in cornstarch and seasonings. Cornstarch is a genius way of getting your tofu as crisp as possible on the outside, while keeping it easy. There's always the breading method, but sometimes it is long and tedious and you want something quick and effective. That's my cornstarch method for me.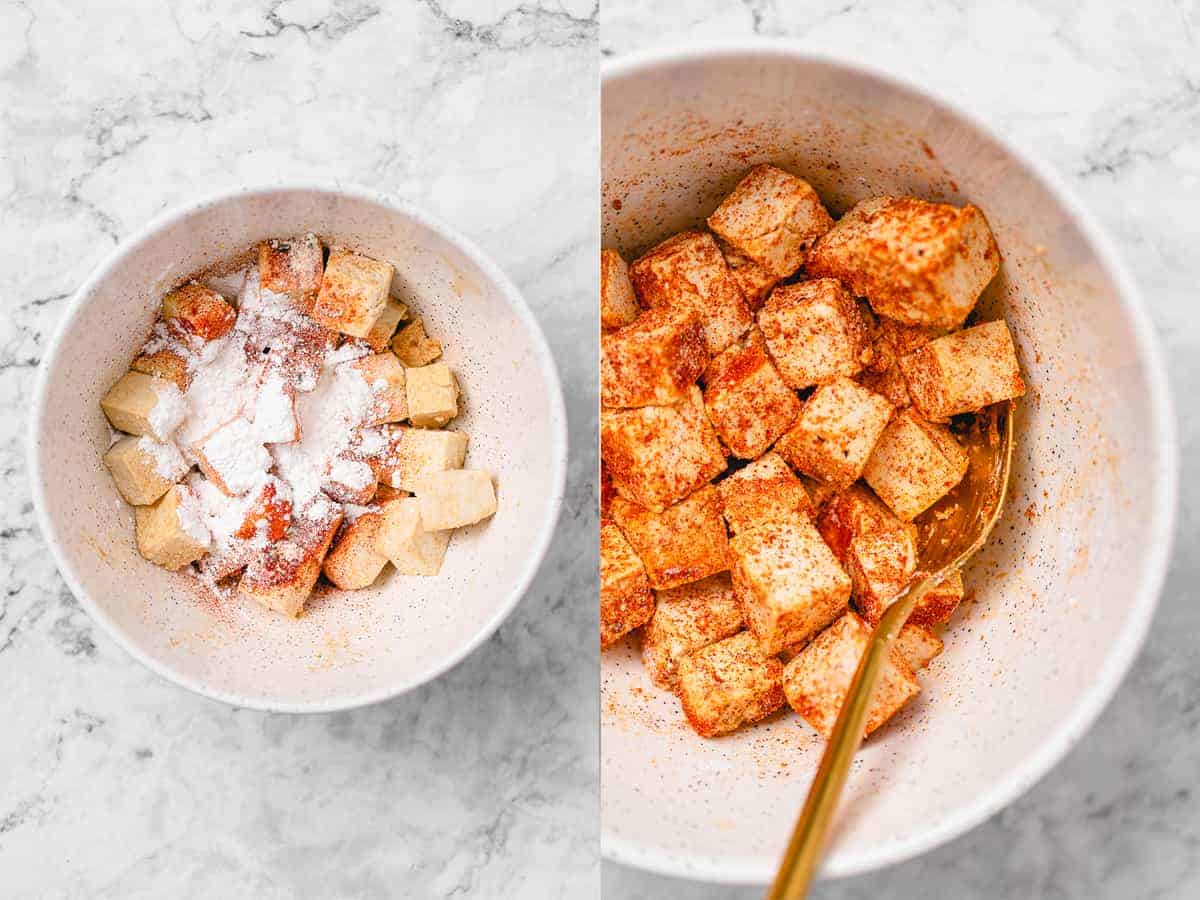 I'll do a bake on crispy baked tofu, but essentially it's oven at 400F/200C. Press tofu and cube it. Coat it in garlic, black pepper, salt (plus more of your favourite seasonings), liquid aminos and some olive oil. Then mix it into some cornstarch and toss it all together, then bake for about 20 minutes. Cornstarch also helps to draw out excess moisture so it really gets the tofu crispy.
Some of my other favourite one off tips would be to bake and cook your tofu at a high heat. Whether that is pan frying it, or baking it, tofu loves high heat. That way you really get to crisp out the outsides, then you could always lower the heat.
Favourite Vegan Tofu Recipes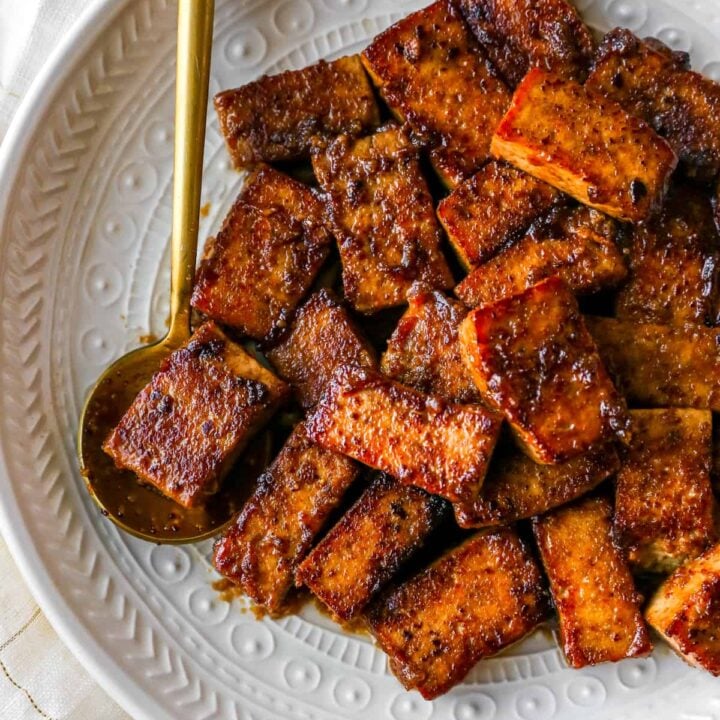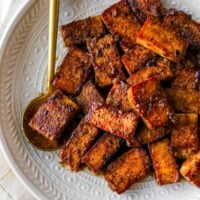 Marinated Tofu Recipe
This Marinated Tofu recipe will make you fall in LOVE with tofu with LOTS of great tips! It's great for baking, pan-frying, grilling, in the air fryer and so much more! Perfect for a multi-purpose simple marinade and makes your tofu so flavourful.
Ingredients
1 lb block of tofu, pressed for at least 30 minutes and cut into 1-inch pieces
Marinade Recipe
1/4 cup light soy sauce, don't use regular soy sauce (you can always used liquid aminos, tamari or coconut aminos
3 tablespoons rice wine vinegar
2 teaspoons sesame oil
4 teaspoons agave
1 teaspoon garlic powder
1 teaspoon onion powder
1/4 teaspoon black pepper
1/4 teaspoon paprika, (preferably smoked)
2 tablespoons water
Rest of Recipe
2 teaspoons oil, (any oil)
1 teaspoon cornstarch
Instructions
In a medium-size bowl place the pressed and cubed tofu. Add the soy sauce and toss to coat. Add in all of the other marinade ingredients (rice wine vinegar, sesame oil, agave, garlic powder, onion powder, black pepper, paprika and water) and toss to thoroughly combine. Ensure all the pieces are coated and let the tofu sit in the marinade for at least 30 minutes, up to 2 days.
Rest of the Recipe
In a pan over medium high heat, add the oil. Once hot, scoop your tofu out of the leftover marinade (do not toss your marinade) and add into the pan. Crisp up your tofu on each side for about 2-3 minutes on each side, until all sides are crisped up and browned.

While your tofu is cooking, add 1 teaspoon of cornstarch to the marinade and whisk vigorously to combine.

Once tofu is finished cooking. Turn off the heat. Immediately add in your marinade and stir to combine. The residual heat will heat through the sauce and cook off the cornstarch. Stir to combine and let it all sit together for at least 2 minutes. Remove from the stove, serve and enjoy!
Notes
Allowing the marinade to sit on the tofu for at least 30 minutes really makes a massive difference to penetrating the tofu and giving it a deep flavour. Marinated tofu really is the best!
Make sure you're not buying silken tofu! That will yield the wrong texture and will break apart if you try and press it. Check out my Tofu 101 post for more, or watch my tofu 101 IG series.
If you want to bake the tofu instead, I recommend following my Baked Tofu post instructions – 400°F for 20 minutes, flipping in between. I would still recommend doing the marinade with cornstarch step afterwards (just heat up the pan a bit and add the tofu right after it comes out of the oven).
How to press tofu: I cover this in detail in my How to Cook Tofu 101 post! The prep time includes the time to press the tofu
Often times tofu sticks in your pan if you're trying to flip it too early, the heat is too low, or your non-stick coating is gone. If your tofu is sticking, consider one of these and adjust accordingly – it's usually that you're trying to flip it too quickly!
Calories: 179kcal, Carbohydrates: 13g, Protein: 12g, Fat: 9g, Saturated Fat: 1g, Trans Fat: 1g, Sodium: 816mg, Potassium: 50mg, Fiber: 1g, Sugar: 7g, Vitamin A: 62IU, Vitamin C: 1mg, Calcium: 149mg, Iron: 2mg
Disclaimer: Although jessicainthekitchen.com attempts to provide accurate nutritional information, kindly note that these are only estimates. Nutritional information may be affected based on the product type, the brand that was purchased, and in other unforeseeable ways. Jessicainthekitchen.com will not be held liable for any loss or damage resulting for your reliance on nutritional information. If you need to follow a specific caloric regimen, please consult your doctor first.
This post was originally published in 2019, and has been updated with new photos and information in 2021.