How to Cook Spaghetti Squash
Here's absolutely everything you know about how to make spaghetti squash! My tricks on how to make it turn out perfect (no soggy squash!) and what you can do with it.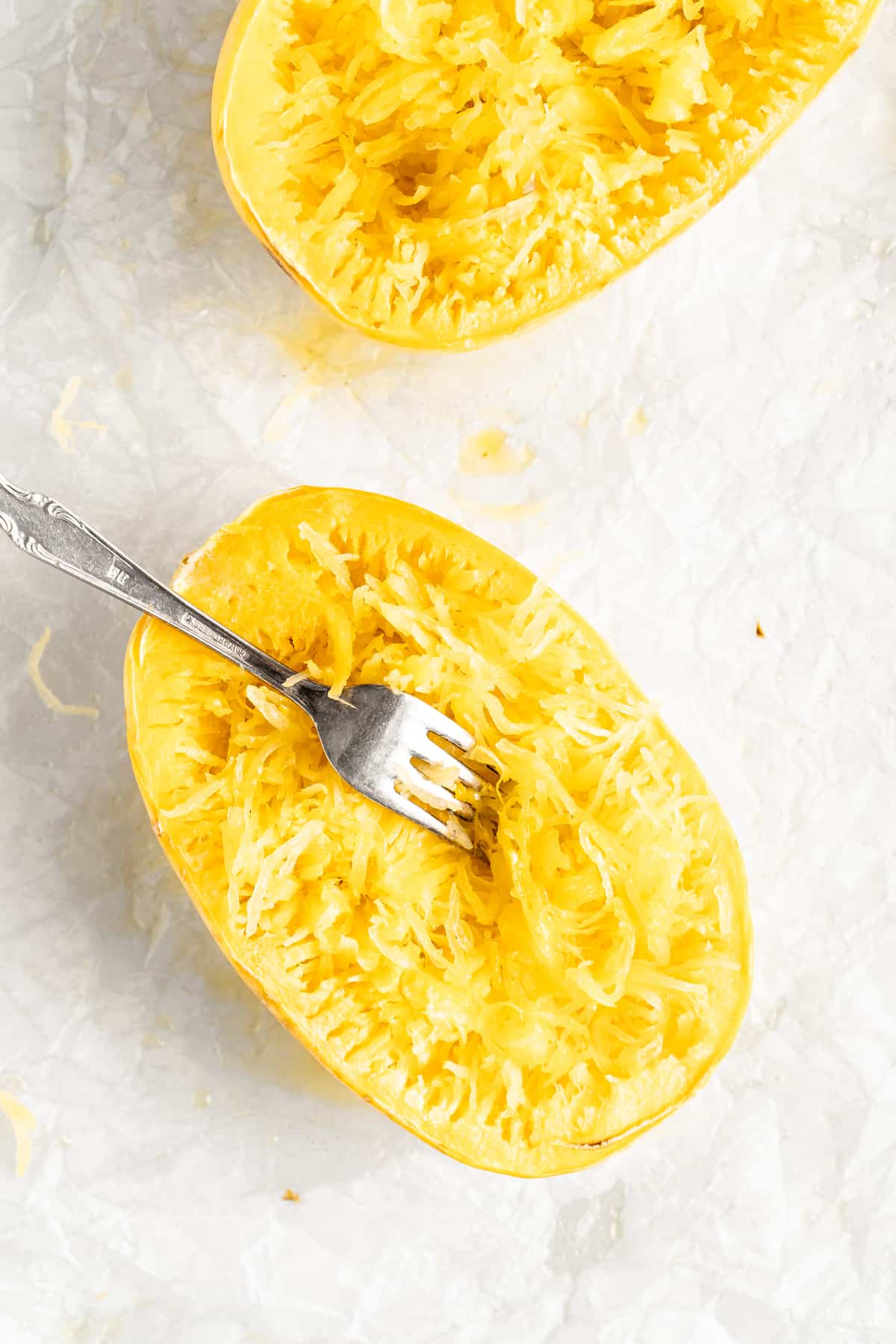 There are many tutorials on cooking spaghetti squash on the internet, and I thought about differentiating this one by calling it "How to Make Spaghetti Squash You'll Actually Want to Eat." Because when it comes to spaghetti squash, technique is everything—use the wrong cooking method and you're left with a squash that's watery, bland, and not all that appetizing. With the method I share below, you're guaranteed squash that forks up into perfectly tender strings, with a lightly caramelized flavor from roasting.
Now, if you've never had spaghetti squash before, you may be wondering, "Does it actually taste like spaghetti?" Not to be the bearer of bad news, but it's definitely more of a replacement for spaghetti in form rather than flavor. It's not all bad news though, because spaghetti squash tastes better than pasta when it's made right. While pasta is basically a vehicle for whatever sauce you add to it, spaghetti squash brings its own flavor to the table! (And really, if we were comparing spaghetti squash to a pasta, I'd say it's more like angel hair!)
A Quick Spaghetti Squash Primer
Spaghetti squash is shaped like a big oval, and although Wikipedia says it comes in a variety of colors, I've really only seen it in shades of yellow myself. The flesh inside also ranges in color from a pale yellow to an yellow-orange-goldenrod type of shade. When you're at the store or farmers market choosing a spaghetti squash, the deeper yellow ones tend to be the ripest and most ready to eat; look for one that doesn't have any gashes or soft spots.
Can You Use It as a Substitute for Other Winter Squash?
Nope! And the reverse is true, too—you can't substitute, say, a butternut squash in a recipe that calls for spaghetti squash. While virtually every other winter squash variety is interchangeable, spaghetti squash is the single outlier thanks to its stringy texture.
Is It Healthy?
Yes! Here's why it's such a popular substitute for pasta—spaghetti isn't really all that nutritious, but spaghetti squash is lower in calories, higher in fiber, and full of vitamins and minerals. Using spaghetti squash instead of spaghetti noodles instantly makes a recipe healthier.
How Do You Store It?
You've probably noticed that spaghetti squash is never refrigerated at the grocery store. The same goes for when you bring it home! Just keep it in a cool, dry place on the counter. It should last about 2 weeks like this, but it may last even longer depending on when it was harvested. If you're buying from a farmstand, you can ask the farmer!
How to Make Spaghetti Squash
Making spaghetti squash is easy—in fact, I think the hardest part is cutting it. You'll start with one spaghetti squash and olive oil for drizzling. Here's what you'll need to do: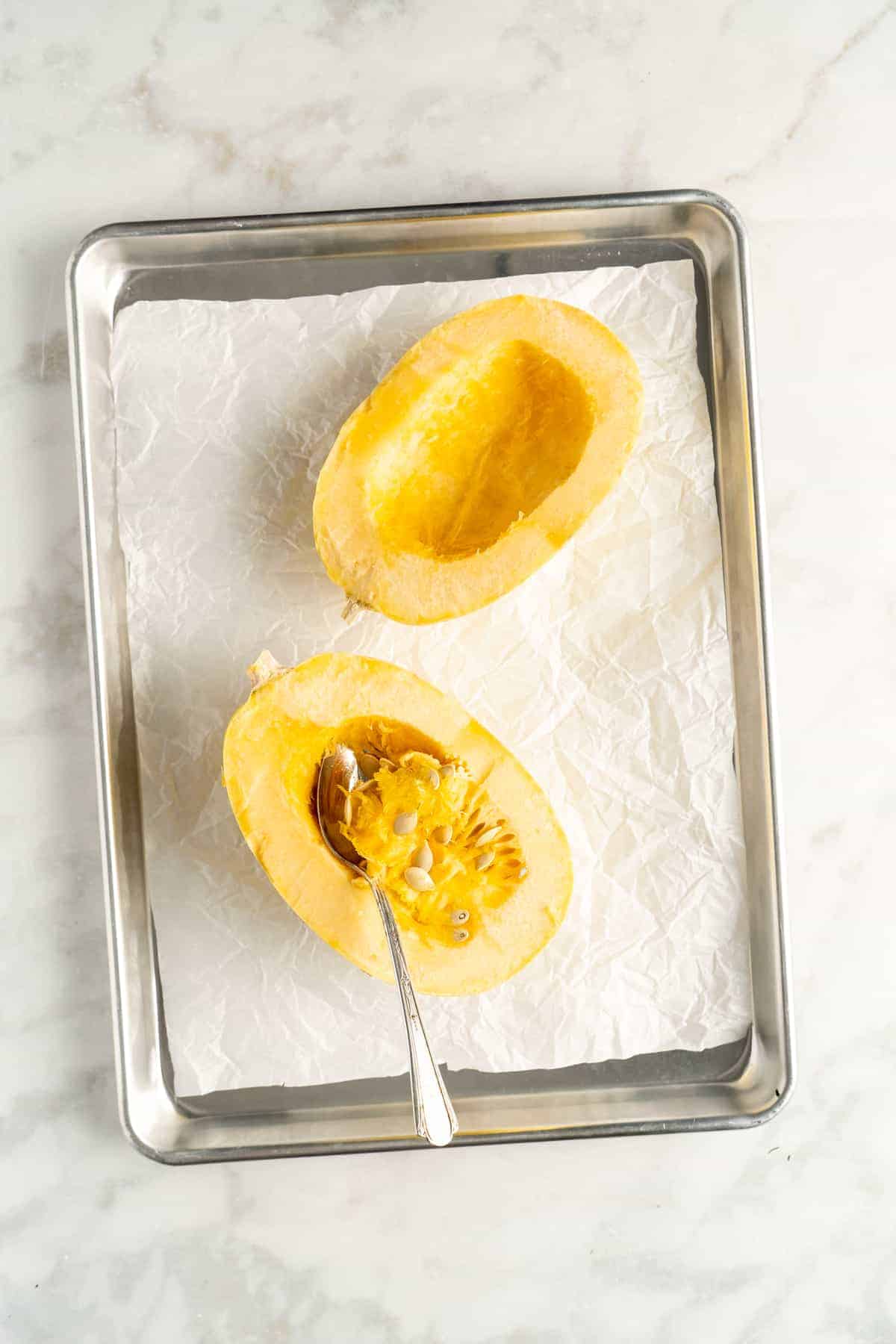 Prepare. Preheat oven to 400ºF and cut the spaghetti squash in half lengthwise using a very sharp chef's knife. Scoop out the pulpy center and seeds. (The seeds can be saved and roasted just like pumpkin seeds!)
Bake. Place the squash halves cut-side-up on a lined baking sheet. Drizzle the insides with olive oil, then bake for 30 to 45 minutes, or until the tops are caramelized on the edges and the squash can be easily pierced with a fork, but is still tender.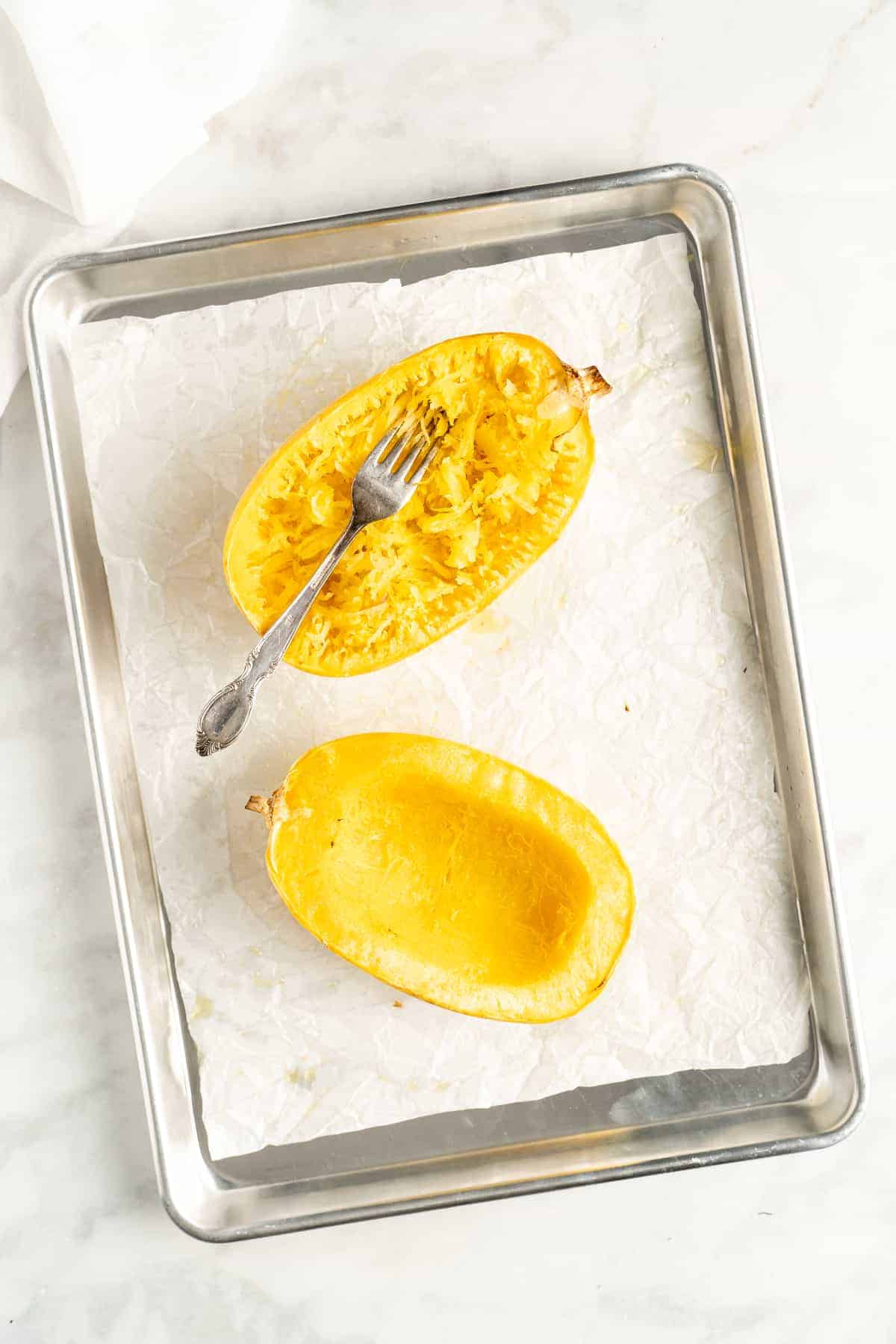 Cool and make "noodles." Take the baking sheet out of the oven and let the squash cool a bit. If the squash has liquid collecting in the center, pat it with a paper towel to absorb it, then use a fork to scrape the flesh from side to side until it resembles spaghetti noodles.
Why This Method Works
I've tried so many ways to make spaghetti squash and this is my favorite. I feel like the microwave method lacks flavor; roasting the squash cut-side-down in the oven traps the steam inside and has a tendency to make the flesh so moist that it doesn't properly noodle. (I guess noodle isn't a verb, but you know what I mean!)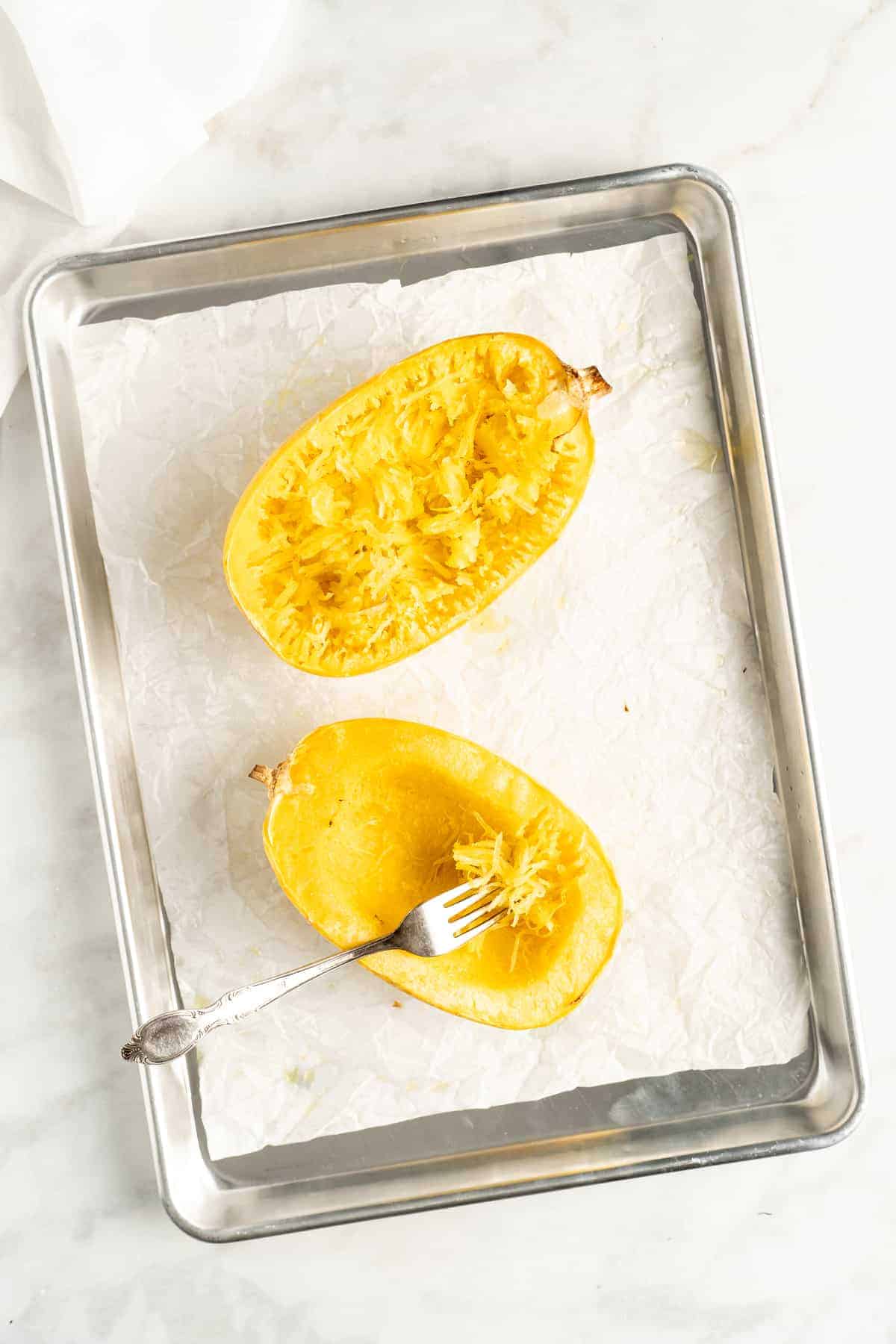 How to Use Spaghetti Squash
And now it's time to answer the big question: how can you use spaghetti squash? You know I have plenty of ideas for you!
Enjoy friends! If you make this spaghetti squash recipe, please snap a photo and tag #jessicainthekitchen on Instagram! We'd also love it if you would leave a comment below, and give the recipe a rating! Thanks so much!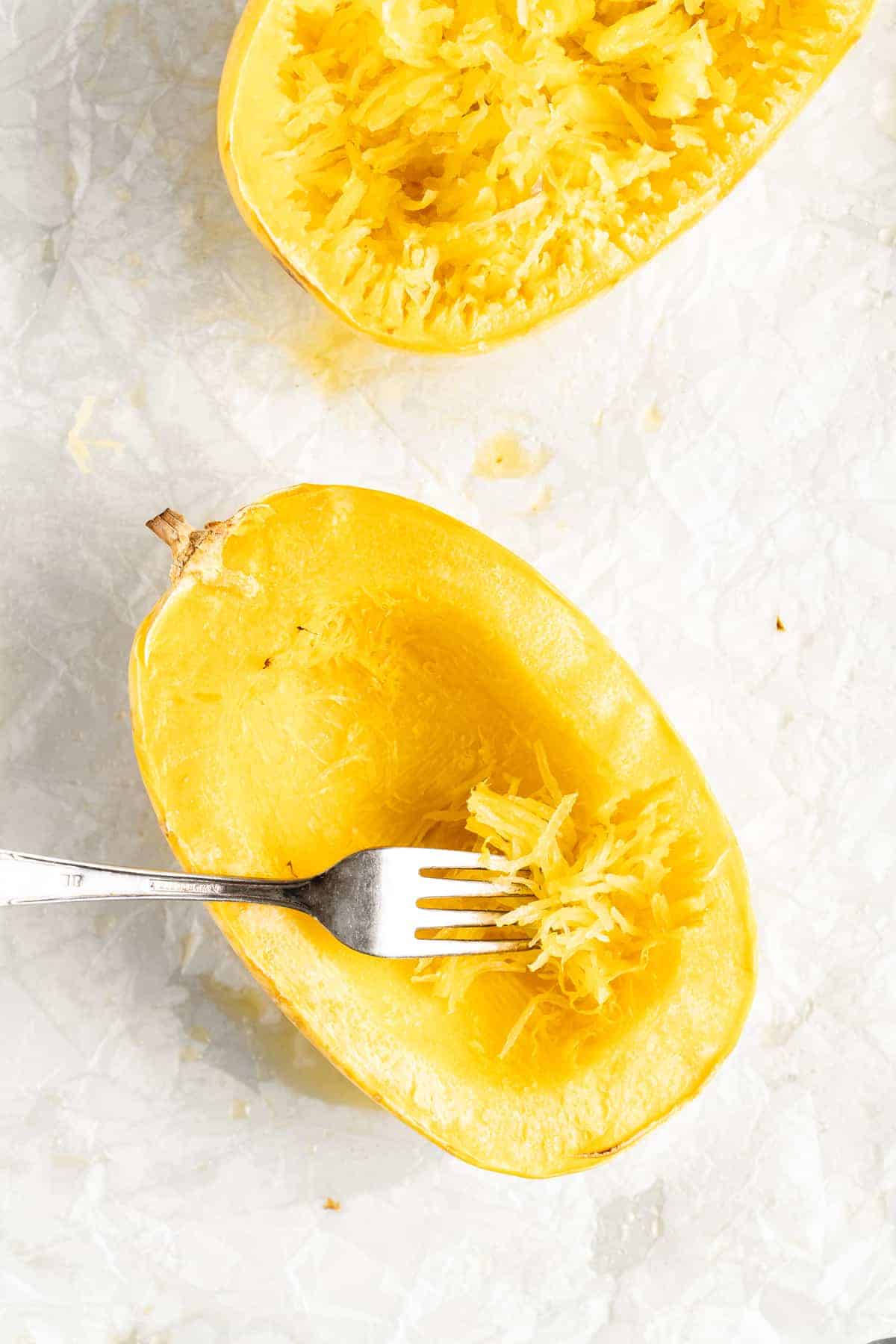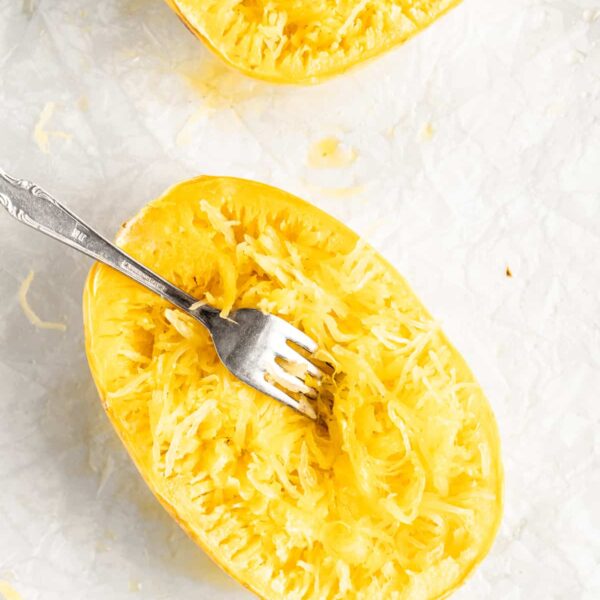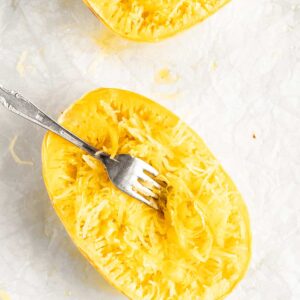 How to Make Spaghetti Squash
My method for making perfect spaghetti squash!
Ingredients
1 spaghetti squash
Olive oil to drizzle
Instructions
Preheat oven to 400°F/200°C.

Cut the spaghetti squash in half lengthwise and spoon out all the insides. All the stringy bites and the seeds.

Drizzle with some olive oil and place cut side up on a lined baking sheet.

Bake for 30 to 45 minutes until the sides are slightly brown and squash is fork tender but still slightly firm. You'll want to bake it for 30 minutes for a small spaghetti squash and 45 for a larger one.

Remove from the oven and allow to cool slightly. Pat with a paper towel to remove any water that has formed.

Using a fork, scrape the squash from side to side until it resembles spaghetti. Don't pierce through the squash at the bottom or sides.
Serving: 1g, Calories: 85kcal, Carbohydrates: 17g, Protein: 2g, Fat: 3g, Saturated Fat: 1g, Polyunsaturated Fat: 1g, Monounsaturated Fat: 1g, Sodium: 41mg, Potassium: 261mg, Fiber: 4g, Sugar: 7g, Vitamin A: 290IU, Vitamin C: 5mg, Calcium: 56mg, Iron: 1mg
Disclaimer: Although jessicainthekitchen.com attempts to provide accurate nutritional information, kindly note that these are only estimates. Nutritional information may be affected based on the product type, the brand that was purchased, and in other unforeseeable ways. Jessicainthekitchen.com will not be held liable for any loss or damage resulting for your reliance on nutritional information. If you need to follow a specific caloric regimen, please consult your doctor first.