Healthy Indian Butter Chicken
A healthier but decadent and creamy version of your favourite butter chicken that is cooked in only one pan! This is served with flavourful basmati rice.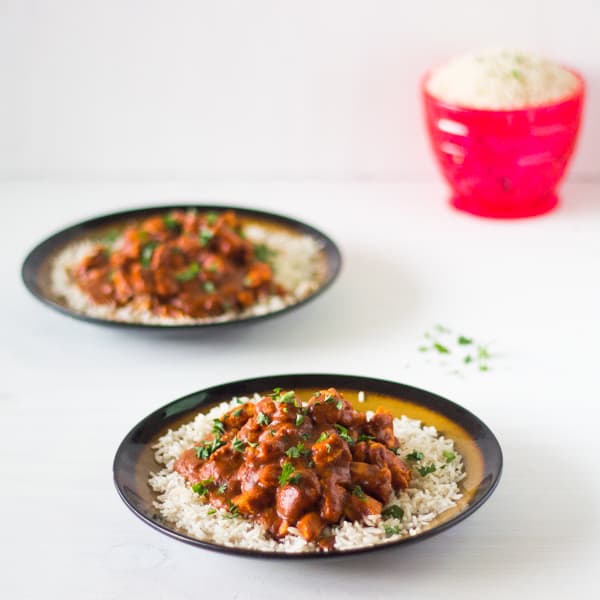 My favourite indian restaurant here is named Saffron, for obvious reasons after the flavourful spice, and it absolutely delicious. It's for the special occasions where you just have to indulge in exquisite food; my birthday, my graduation, my dad's birthday, lunch with the Mr, a random law school lunch, and that time we just had to have indian food ordered at home.
It's pretty amazing. It made me realise how much I love Indian food, and just how many memories great meals can create. I've been craving anything with indian spices and coconut for ages now, in a desperate attempt to recreate one of these meals at home. Here's the thing though; it's pretty much on the heavy side as all indians meals are, resulting in an immediate nap thereafter.
In walks healthy indian butter chicken through the door.
This meal provides with you ALL the flavour, creaminess and fullness of your typical indian restaurant meal minus all the calories and over-full feeling. The Mr. and my family all said it tasted just like the food we order at Saffron, which since I used to eat the leftovers of Saffron's food for a midnight snack, I take as a high compliment.
Umm, don't tell anyone I said that.
The recipe is so easy, and while it can easily be made crockpot style by mixing everything together and cooking for about 5 hours, I made it instantly in 30 minutes. The sauce is a mix of garam masala, coconut milk and tomato paste, which creates a delicious creamy and insanely flavourful sauce that turns your kitchen into your favourite indian restaurant immediately. Everything comes together so easy that I wouldn't mind making this as a weekly staple. The coconut milk replaces the typical addition of heavy cream, and I know what you're thinking, where is the butter ?! Yes, I just did that, I nixed it totally, because you actually don't need it in this recipe. The coconut milk is that creamy and provides a variety of flavours that a lot of the excess fat is cut out of the recipe. On a separate note,please, indulge my weirdness and taste a bit of garam masala in your palm. No, not a tablespoon! Literally a pinch, and it will put you right in the mood. How did I not have garam masala before this?! It is packed with so much flavour that I want to make indian food every single day for the rest of my life.
Serve this over well flavoured basmati rice (recipe below) and homemade whole wheat naan bread, candlelight and some wine (a must) and you can pretty much tell everyone you went to your favourite indian restaurant this Friday.
Friday night, booked.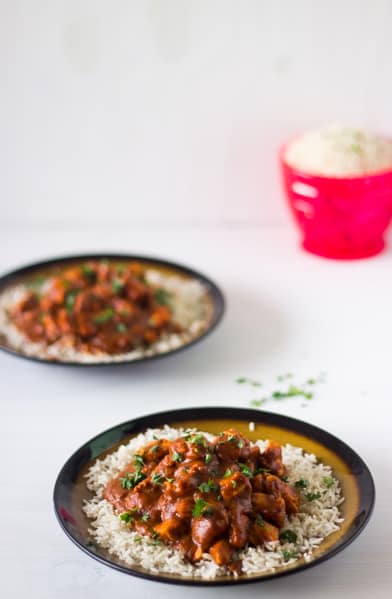 If you liked this Indian Butter Chicken, you need to make this Whole-Wheat Naan Bread to go with it!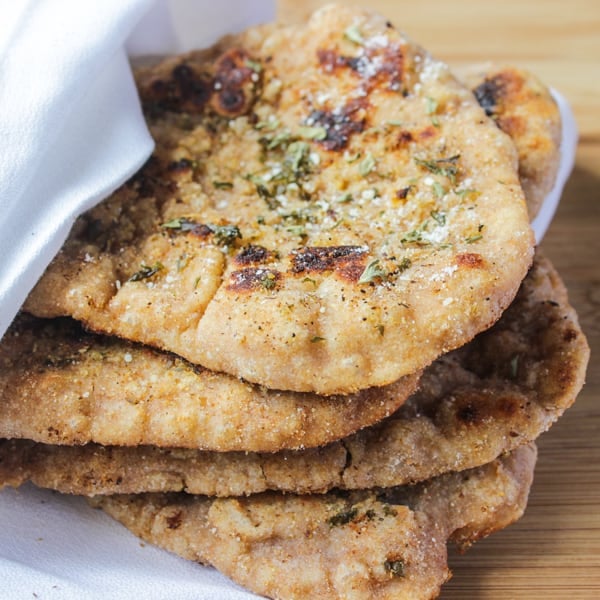 Check out all my dinner recipes!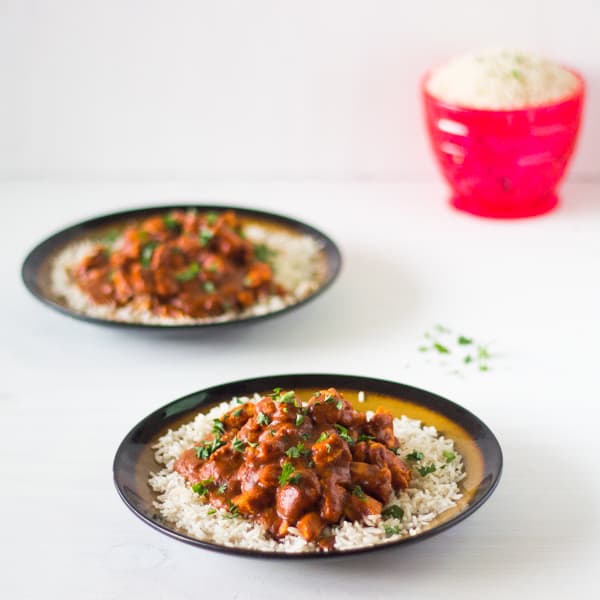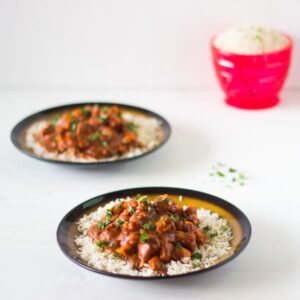 Healthy Indian Butter Chicken
A healthier but decadent and creamy version of your favourite butter chicken that is cooked in only one pan! This is served with flavourful basmati rice.
Ingredients
Butter Chicken:
1 1/2 tablespoons coconut oil
4 tsp garam masala
1 tsp ground ginger
1/2 tsp chilli powder
1 tsp of curry powder
1 small onion diced
1 1/2 teaspoon salt
1 1/2 teaspoon ground black pepper
14 oz coconut milk
1 can, 6 oz tomato paste
2 1/2 tablespoons whole wheat flour
2 pounds chicken breasts, chopped into bite size pieces
Basmati Rice:
2 cups basmati rice
1 teaspoon coriander
1 teaspoon cumin
1/2 teaspoon garam masala, optional
1/2 tsp salt
1/2 tsp ground black pepper
1 tbsp butter
Instructions
In a large pan over medium high heat, heat the coconut oil. Add the onions and sauté for about 4 minutes until translucent.

While this is cooking, mix the 2 teaspoons of the garam masala, ground ginger, chill powder, and the curry powder together. Add this to the sautéed onions and cook for about 30 seconds.

Stir in the coconut milk tomato paste and the whole wheat flour, stirring for about 15 seconds to incorporate everything.

Bring the mixture to a boil and then reduce to a simmer and cook together for about 5 minutes, allowing the mixture to thicken.

Add the chicken, covering it with the sauce. The chicken will reduce the flavouring of the sauce, so add the remaining garam masala and salt and pepper.

Bring the mixture to a boil one more time, and then reduce to medium heat for 8 minutes until the chicken has cooked.

Reduce the heat to simmer when the chicken has cooked, and allow to sit in the sauce for 10 more minutes to allow the flavours to soak into the chicken.


Garnish with parsley or cilantro and serve with basmati rice and homemade whole wheat naan .
Basmati Rice
Place rice in large non-stick pot and cover with cool water. Allow rice to soak 30 minutes to remove starch. Drain the rice through a large mesh strainer then rinse with cool water for 30 seconds to remove the excess starch. Also rinse out the pot.



Return the rice to the pot and add enough water to cover the rice by at least 1 inch. Cover and bring to a full boil on high heat, keeping a watch on the rice so that it doesn't boil over or begin to burn.


Remove the lid when the water has boiled and allow to boil for 2 minutes uncovered, checking the rice. Turn off the heat and drain the rice in a strainer. Pour the rice back into the pot and return it to the burner with the heat off.



Add the butter and the spices and salt. Turn to coat all for the rice. Cover and allow to sit 5-10 minutes - optional but makes such a big difference with flavour. Stir gently and serve.


Notes
Easily convert this recipe into a slow cooker by spraying the bottom of your slow cooker with cooking spray, and adding all the ingredients for the sauce first, mixing together, and then the chicken. Cook on medium for 5 hours.
Calories: 569kcal, Carbohydrates: 11g, Protein: 52g, Fat: 36g, Saturated Fat: 27g, Cholesterol: 153mg, Sodium: 1180mg, Potassium: 1132mg, Fiber: 3g, Sugar: 1g, Vitamin A: 230IU, Vitamin C: 6mg, Calcium: 44mg, Iron: 5mg
Disclaimer: Although jessicainthekitchen.com attempts to provide accurate nutritional information, kindly note that these are only estimates. Nutritional information may be affected based on the product type, the brand that was purchased, and in other unforeseeable ways. Jessicainthekitchen.com will not be held liable for any loss or damage resulting for your reliance on nutritional information. If you need to follow a specific caloric regimen, please consult your doctor first.