Baked Vegan Mac and Cheese
This Baked Vegan Mac and Cheese has been revamped and is about to be your new favourite side dish! It's irresistibly creamy and cheesy and topped with a divine breadcrumb topping! It makes great leftovers, and the sauce is made easily in your blender!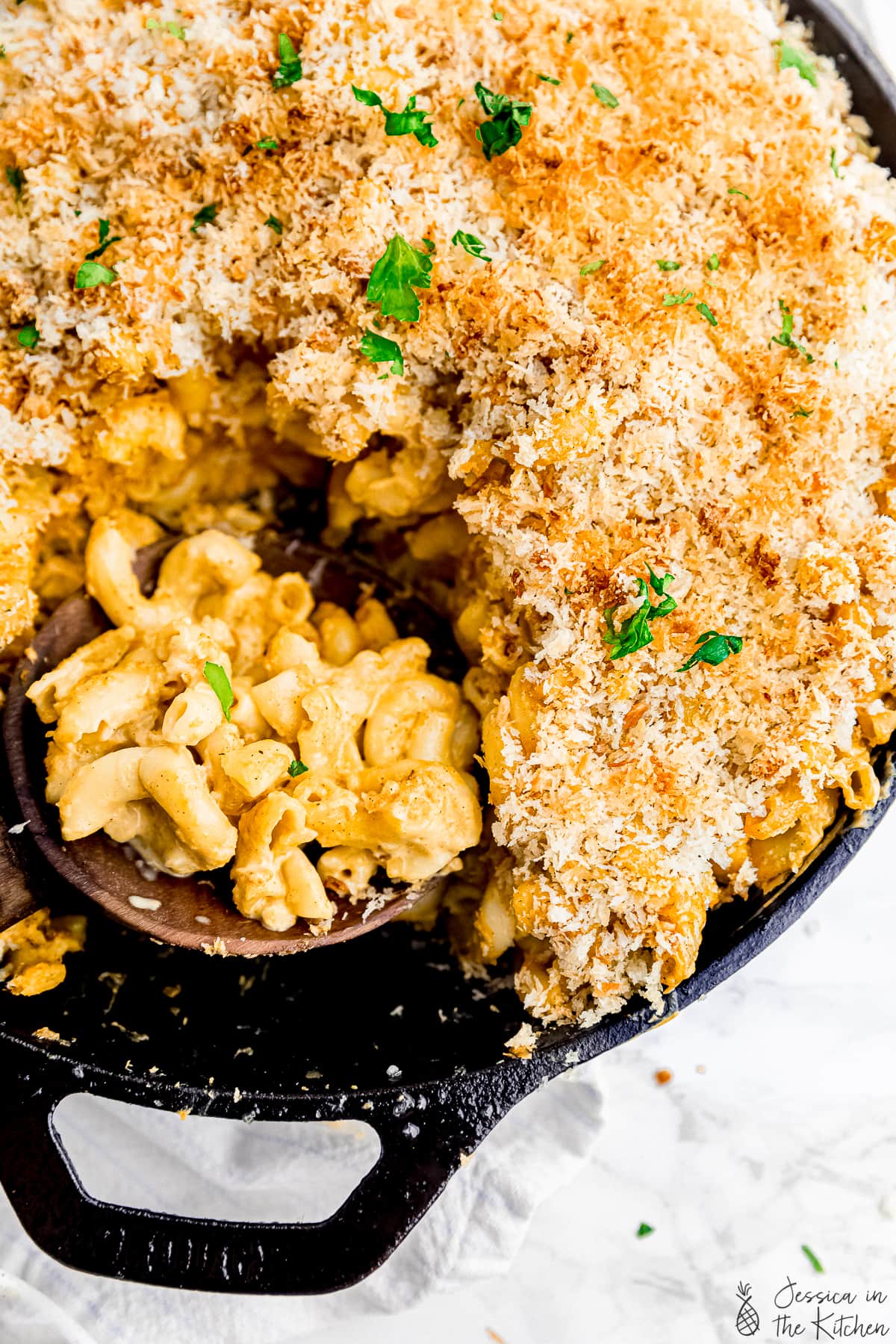 Years ago I wrote a vegan Mac and cheese post. Your classic, baked mac and cheese with breadcrumbs on top. Recently, we've been making it so many times, and I've learned so much that I knew that I needed to re-write the entire post. I've also re done the photos, slightly updated the recipe, and I have a ton of tips to share too. This is about to become your new favourite side dish!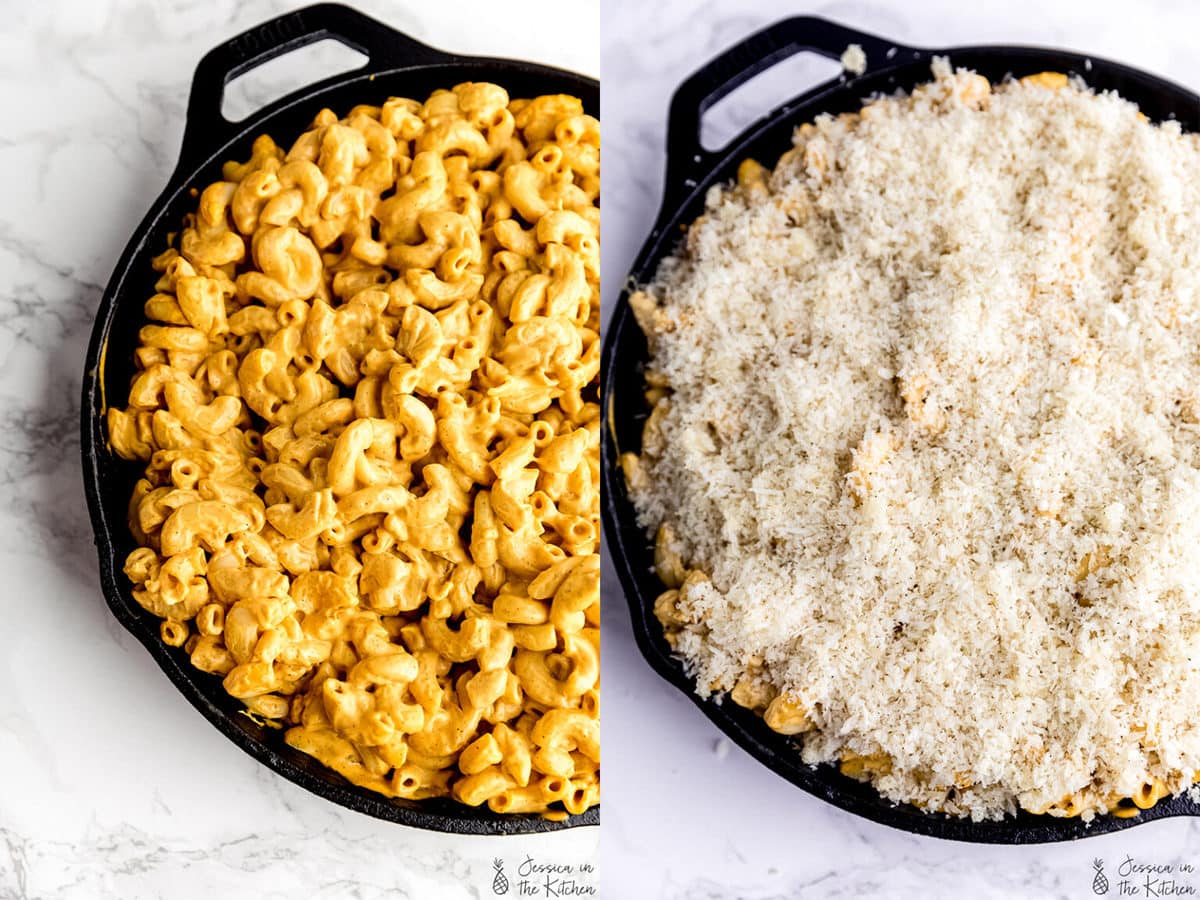 One of the statements I hear the most from you guys is "but I love cheese!". Well, so did I. There are so many incredible vegan cheeses, starting with my cheese sauce. It combines an assortment of easy to find ingredients that together make the creamy, smooth, umami filled cheese flavour you know and love. It's gotten such rave reviews that I've made its own post for it, and I use it constantly for this vegan baked mac and cheese. I want to make sure that you love this mac and cheese so much, so let's get into some tips to help to ensure that.
Expert Tips & FAQ
You can use any vegan milk, but if it's for a special occasion I do recommend coconut milk. It's incredibly creamy and takes this over the top. If you're not a coconut milk fan or you can't because of allergies, just sub your fave vegan milk, preferably a full fat version.
This recipe does have other substitutions too. I list most of them in the recipe, but if you don't have garlic or onions, you can use powdered versions. We've done that when we were low on groceries and it still tastes amazing. I've also made it without the carrots and just doubled up on paprika and a pinch of turmeric for the colour.
If you don't have a high powered blender, boil the cashews first. This will give it a much smoother texture if your blender can't make it smooth!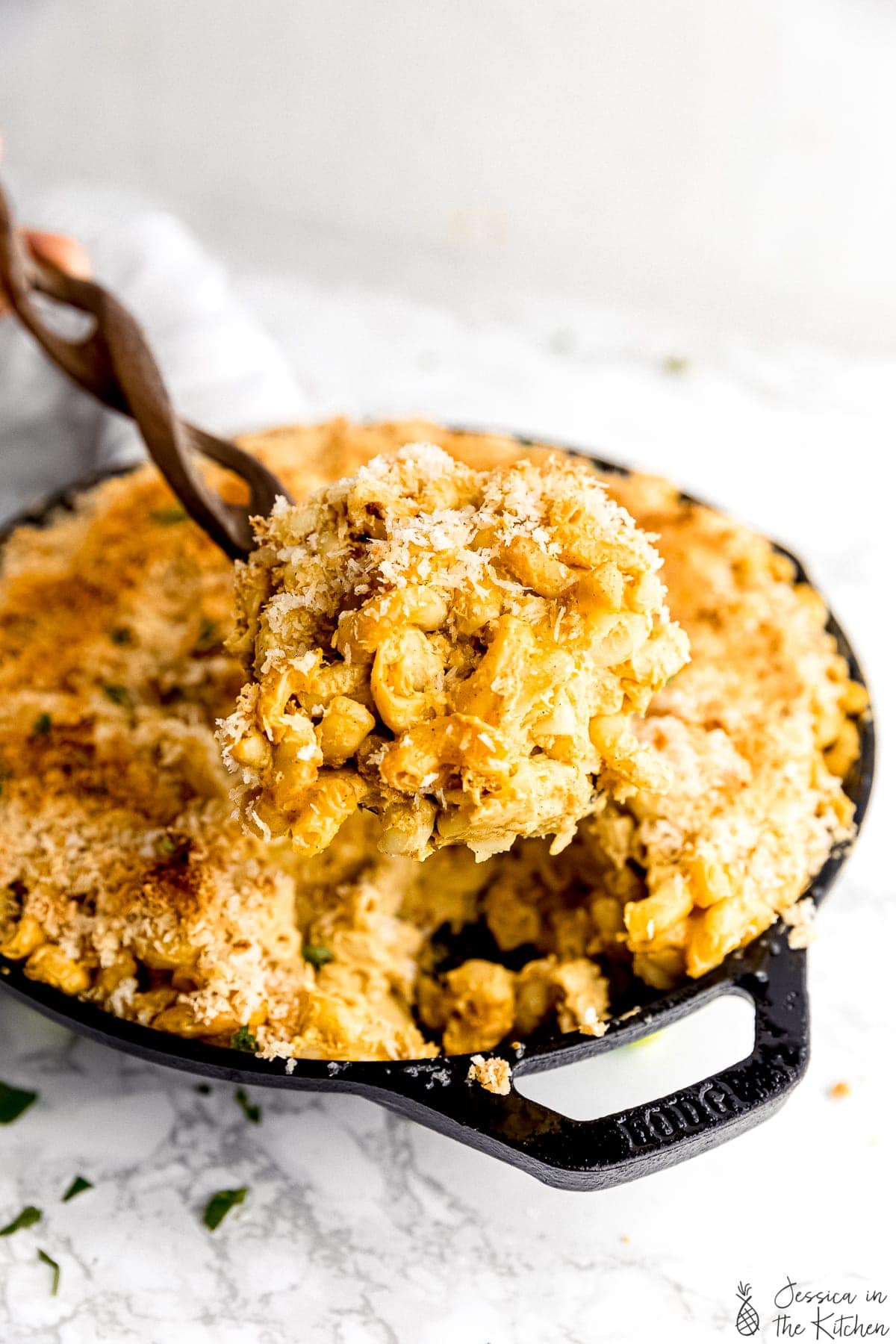 If you have a cast iron skillet, I highly recommend using it. It helps create some divine crusty layers that you'll be in love with!
If you want a sauce that has a bit more pull, add in a tablespoon of tapioca starch into the sauce when it's blending!
Feel free to customise the breadcrumbs with some garlic powder or extra herbs.
The one ingredient I highly recommend is the cashews. It creates a phenomenal creamy flavour for the vegan baked Mac and cheese, and makes the sauce so smooth. If you can't use cashews, you can try subbing tofu, almonds soaked overnight (with the skins removed) or sunflower seeds. It won't taste exactly the same, but it will give you a similar base. Just adjust your seasonings based on the base that you're using.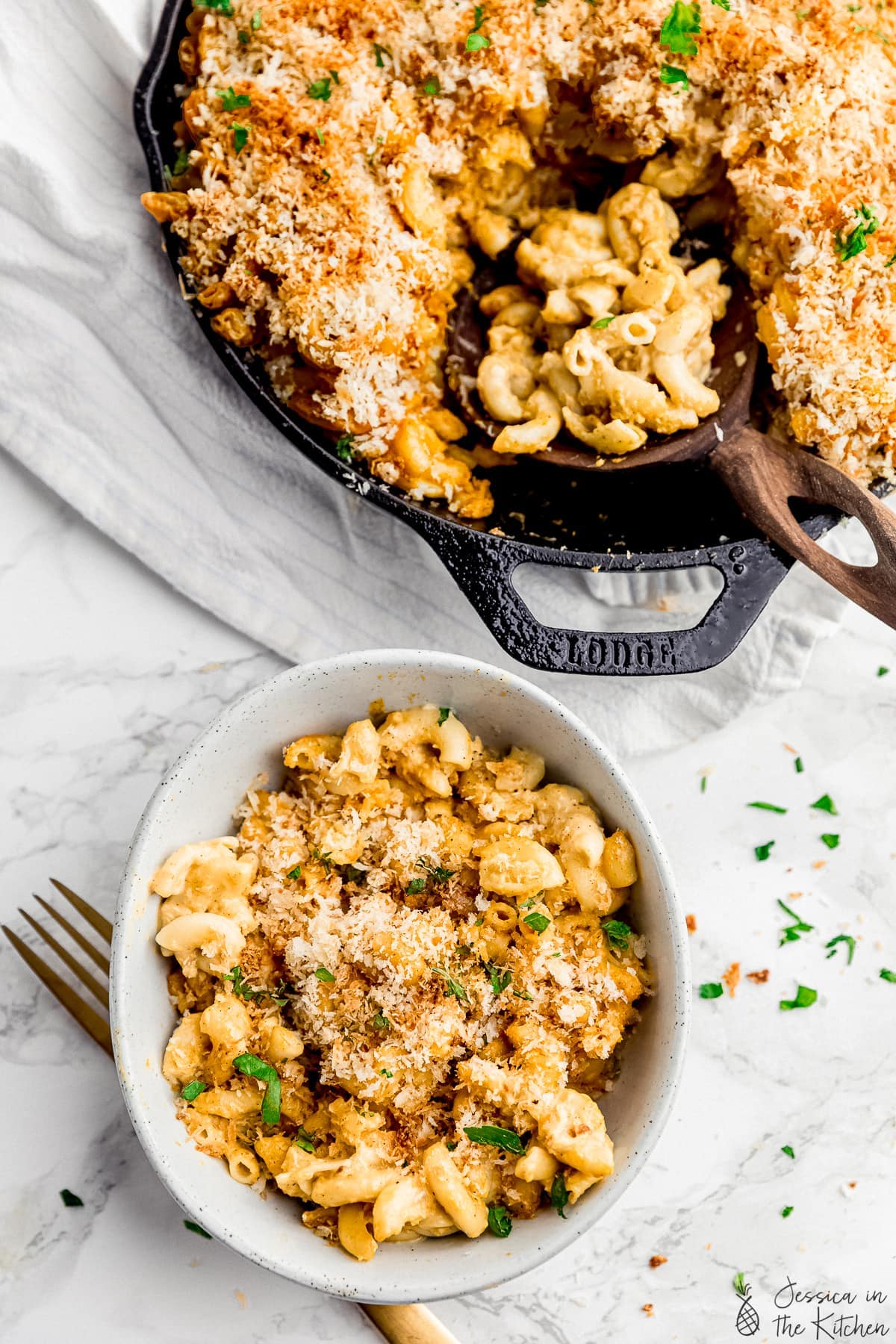 Related Recipes
That's it friends! If you have any other questions about substitutions, let me know!
Enjoy friends! If you make these Vegan Baked Mac and Cheese, please snap a photo and tag #jessicainthekitchen on Instagram! We'd also love it if you would leave a comment below, and give the recipe a rating! Thanks so much!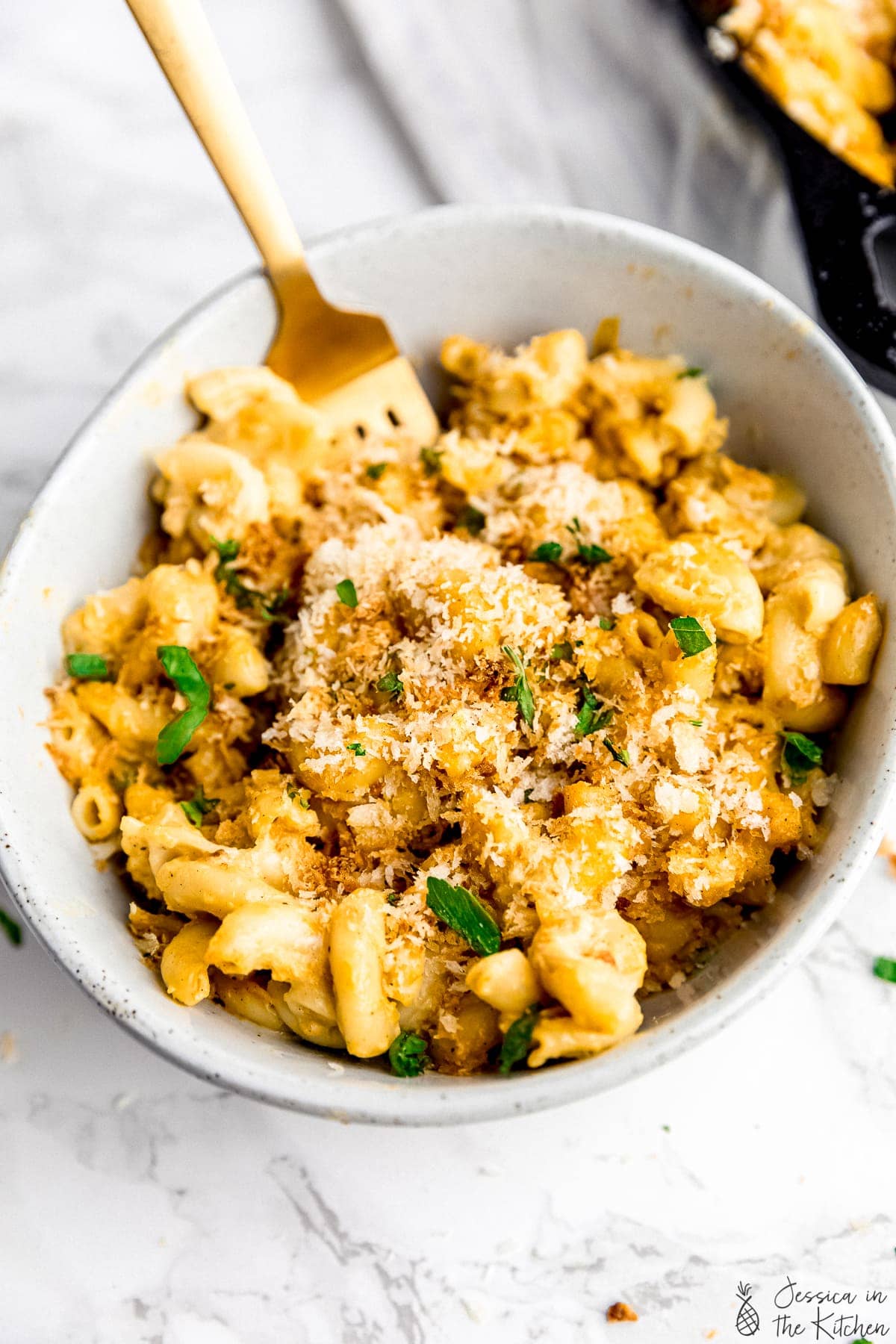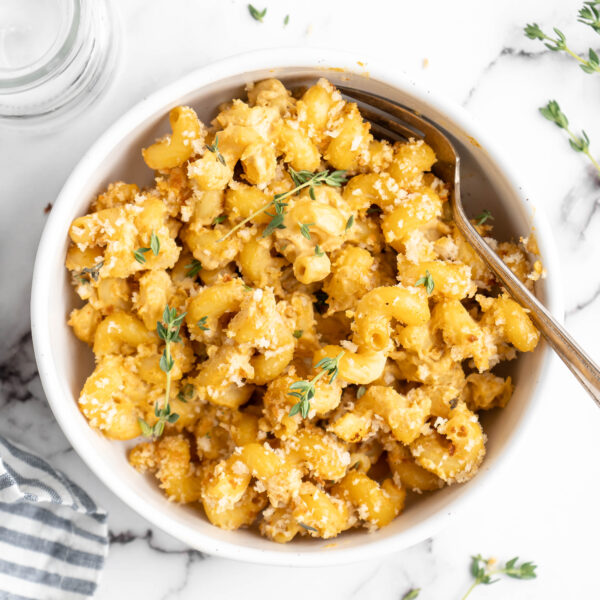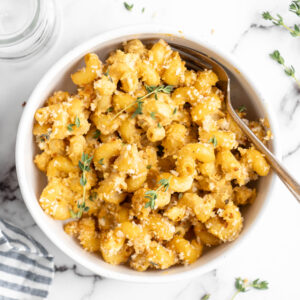 Baked Vegan Mac and Cheese
This Baked Vegan Mac and Cheese is a comfort food classic. You'll never believe the rich, creamy sauce is made with cashews and carrots!
Ingredients
Creamy Vegan Mac & Cheese
3 cups elbow macaroni, (12 oz/340g)
1 tablespoon oil, any oil works, I love olive oil here (12.5g)
1 large carrot, chopped (112g)
1 small yellow onion, halved and chopped (72g)
3 cloves garlic, minced
1 cup raw cashews,  soaked in water overnight, then drained
1 teaspoon sea salt
1/2 teaspoon ground black pepper
1 teaspoon dry ground mustard
1 tablespoon lime juice
1/2 tablespoon soy sauce, or liquid aminos or tamari or lite soy sauce
1/2 cup nutritional yeast
2 teaspoons paprika
1/2 teaspoon ground nutmeg
1 ½ cups vegan milk, you can use any, I love canned full fat coconut milk cause it's so creamy
Breadcrumb Topping
1 cup breadcrumbs, gluten free if needed
salt & pepper to taste
3 tablespoons melted vegan butter or oil
Instructions
Creamy Vegan Mac & Cheese
Preheat oven to 350°F/180°C.

Prepare elbow pasta according to package directions. You can do this while the carrots are being cooked. Drain in a colander until ready to use (You can use the same pan as below - just leave the pasta in a colander, then after carrot mixture has been made, add to pan).

In a pan over medium heat, heat the oil. Once hot, add in the carrots, onions and the garlic, stirring to combine. Lower heat to medium low. Cover with lid and allow to steam/roast until carrots are tender, about 10 minutes.

Remove from heat and allow to cool slightly.

In a large high speed blender add the carrot mixture, cashews, salt and pepper, ground mustard, lime juice, soy sauce, nutritional yeast, paprika, ground nutmeg, and almond milk.

Blend together for about 3 minutes on a high speed, until sauce is completely smooth and incorporate. If you need to blend longer that's fine, just blend until smooth. Taste and add more salt if necessary.

Add the macaroni to a cast iron skillet or other similarly sized oven safe pot or oven sized container (mine is about 8" to 9"). Pour the sauce over the macaroni. Stir to combine until fully combined and all the macaroni is coated with sauce.

Mix breadcrumbs, salt and pepper to taste and vegan butter in a small dish with a small whisk or fork until combined. Sprinkle over the top of the Mac and cheese, covering completely.

Bake for 15 minutes until Mac and cheese is set, then broil for a few minutes until top is golden brown.

Remove from oven, allow to cool slightly then serve and enjoy!
Notes
How to store: Store any leftovers in an airtight container in the refrigerator for 3 to 4 days. They can be reheated in the microwave or in a 350ºF oven until warmed through. How to freeze: You can freeze baked vegan mac and cheese for up to 3 months. Wrap it well, or transfer leftovers to an airtight container. I recommend letting it thaw in the refrigerator and then reheating it in the microwave or oven, as this will result in more even heating.
Calories: 480kcal, Carbohydrates: 58g, Protein: 14g, Fat: 23g, Fiber: 4g, Sugar: 4g
Disclaimer: Although jessicainthekitchen.com attempts to provide accurate nutritional information, kindly note that these are only estimates. Nutritional information may be affected based on the product type, the brand that was purchased, and in other unforeseeable ways. Jessicainthekitchen.com will not be held liable for any loss or damage resulting for your reliance on nutritional information. If you need to follow a specific caloric regimen, please consult your doctor first.