Mediterranean Chickpea Salad
Mediterranean Chickpea Salad is loaded with delicious and filling veggies. This healthy salad is made in just 15 minutes, and it's perfect for meal prep – lunch or dinner!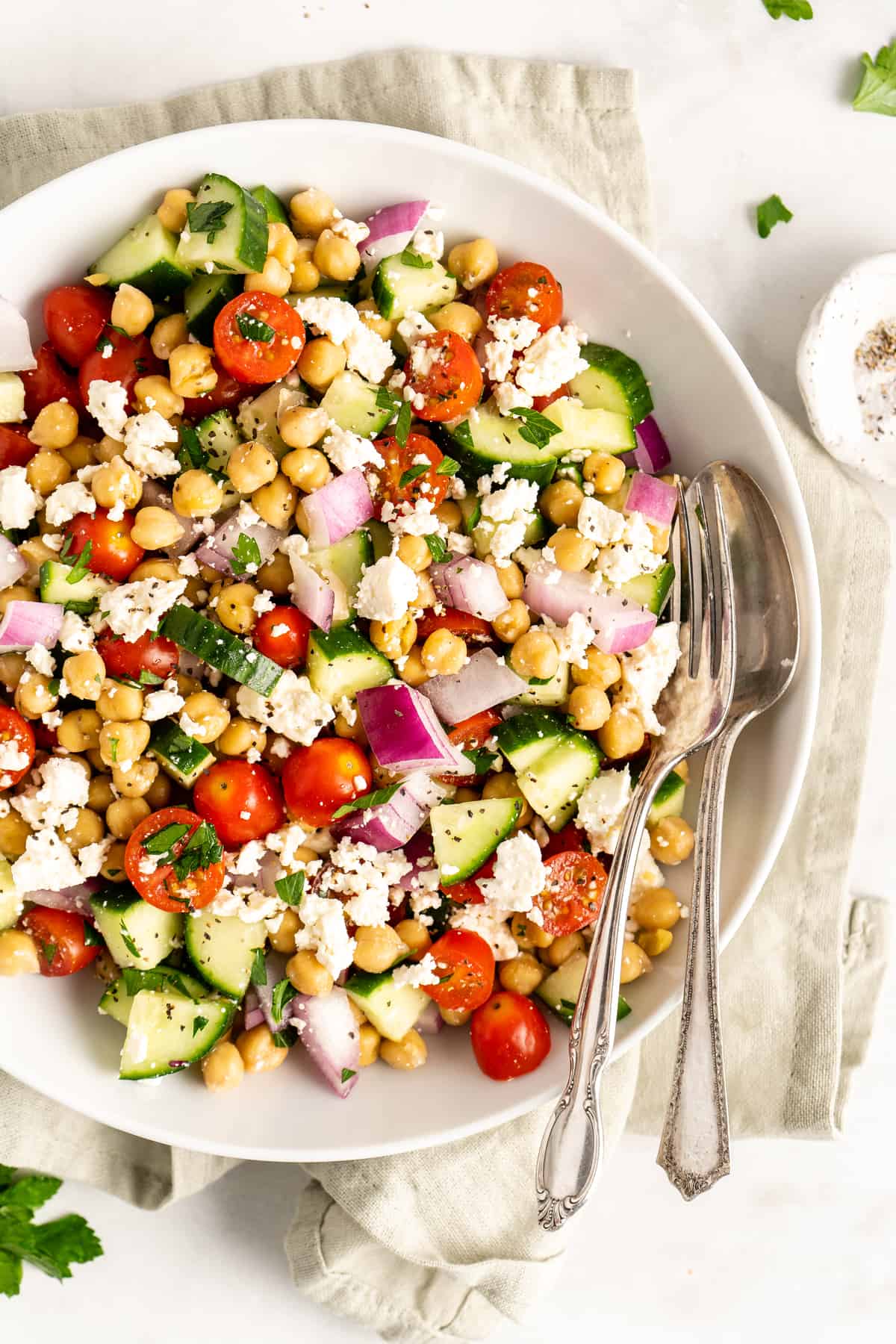 Oh, chickpea salad, you charmer you. I whipped this Mediterranean Chickpea Salad up with what I had in my fridge and pantry a few days ago. I had no time to cook or wait on the oven for a quick meal. Even so, my husband has been eating this nutritious salad non-stop, and he's deemed it one of his most favorite recipes that I've ever made.
These are compliments of the highest order, friends.
But, the flavors here are divine when combined, and I think you'll find that this salad is absolutely addictive. Once it's been left to sit for an hour, or even a day, it's out-of-this-world delicious.
A Fresh and Healthy Chickpea Salad Recipe
Greek salads have been my absolute favorite for a while, and I've used them in a variety of ways, but never yet with chickpeas. So, I wanted to make something that would excite the tastebuds, but still be very filling. This Mediterranean Chickpea Salad totally fits that bill.
I already had all the ingredients in my fridge and pantry, so I set right to 'work', because trust me, this salad was so easy to whip up it's embarrassing. There's really almost no work required!
You need 6 main ingredients, a quick vinaigrette, and that's it. The best part? It all comes together in just 15 minutes.
That 15 minutes is really just for all the chopping required. Chickpeas, tomatoes, cucumbers, red onions, feta, and parsley are a fantastic combo of ingredients. They meld together so well, once a light, homemade balsamic vinaigrette is poured over the whole salad. Better yet, it's perfect for meal prep and lasts several days in the fridge.
So let's get to it!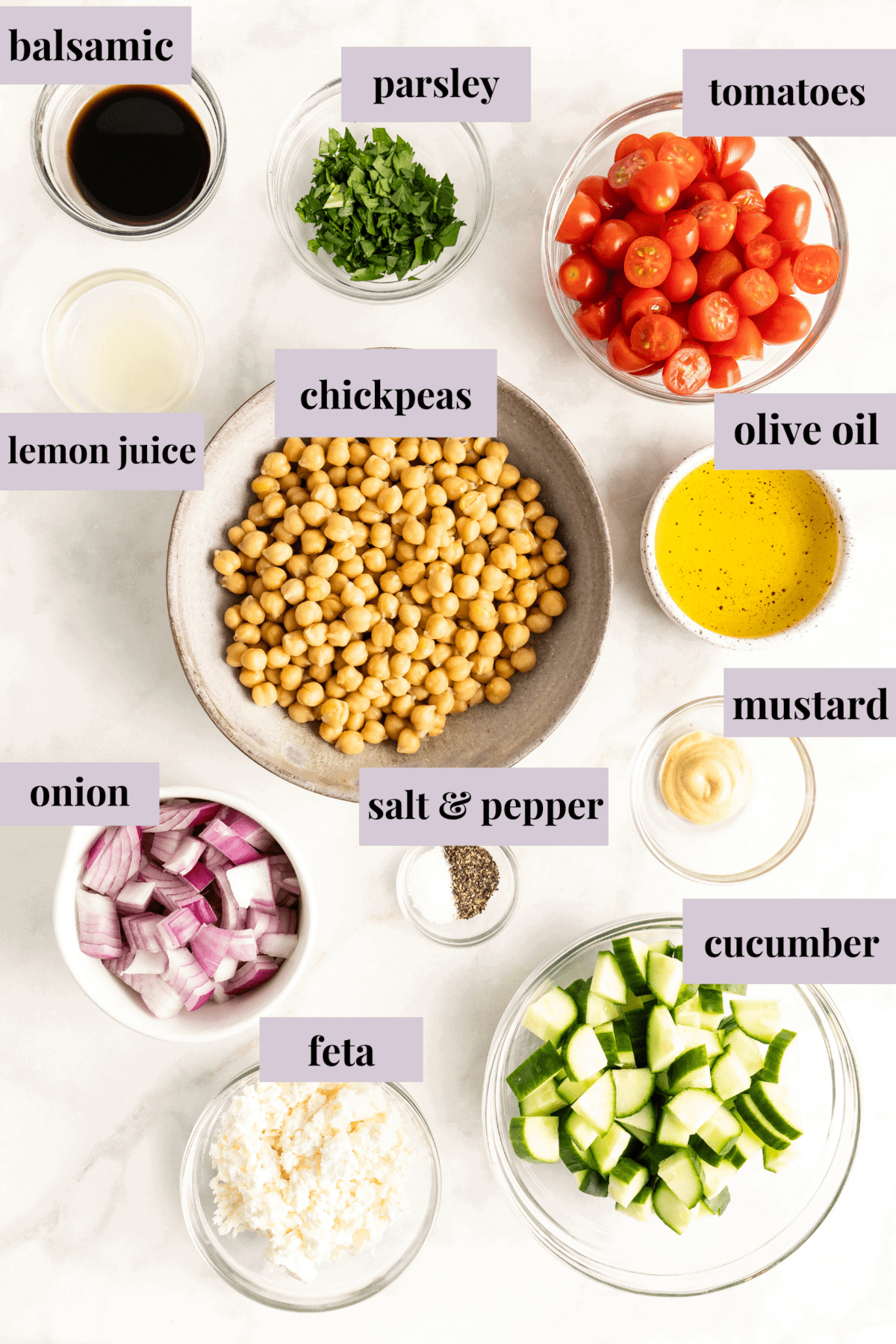 Notes on Ingredients
As I mentioned above, there are just 6 main ingredients in this salad, and a couple more that make up a tangy balsamic vinaigrette! Here's what you need to round up:
For the Salad
Chickpeas: Drained and dried – get rid of that excess moisture!
Tomatoes: I like to use cubed cherry tomatoes for this recipe, but grape tomatoes work well too.
Onion: Chopped red onion adds color and texture to this salad!
Cucumber: Chop up an English cucumber – a regular cucumber will work too.
Cheese: Crumbled vegan feta cheese fits the Mediterranean theme, and vegan tofu feta is great in this recipe too.
Chopped Parsley: Remember to remove the stems before adding it to the salad.
For the Balsamic Vinaigrette
Olive Oil: I stick to extra virgin olive oil, but avocado oil could work too.
Balsamic Vinegar: It is a balsamic vinaigrette, after all.
Lemon Juice: Lime juice is also good.
Mustard: I like to use dijon mustard.
Salt: Sea salt is my go-to, but use whatever you've got on hand.
Ground Pepper: For further seasoning of this salad.
How to Make Vegan Chickpea Salad
This easy chickpea salad would definitely be great for whenever you are short on time or energy, and for any time at all, really. It requires no cooking – you simply mix ingredients together and voila! Salad finished.
Mix Salad Ingredients: In a large mixing bowl, add the chickpeas, cherry tomatoes, red onions, cucumber cubes, feta cheese, and parsley.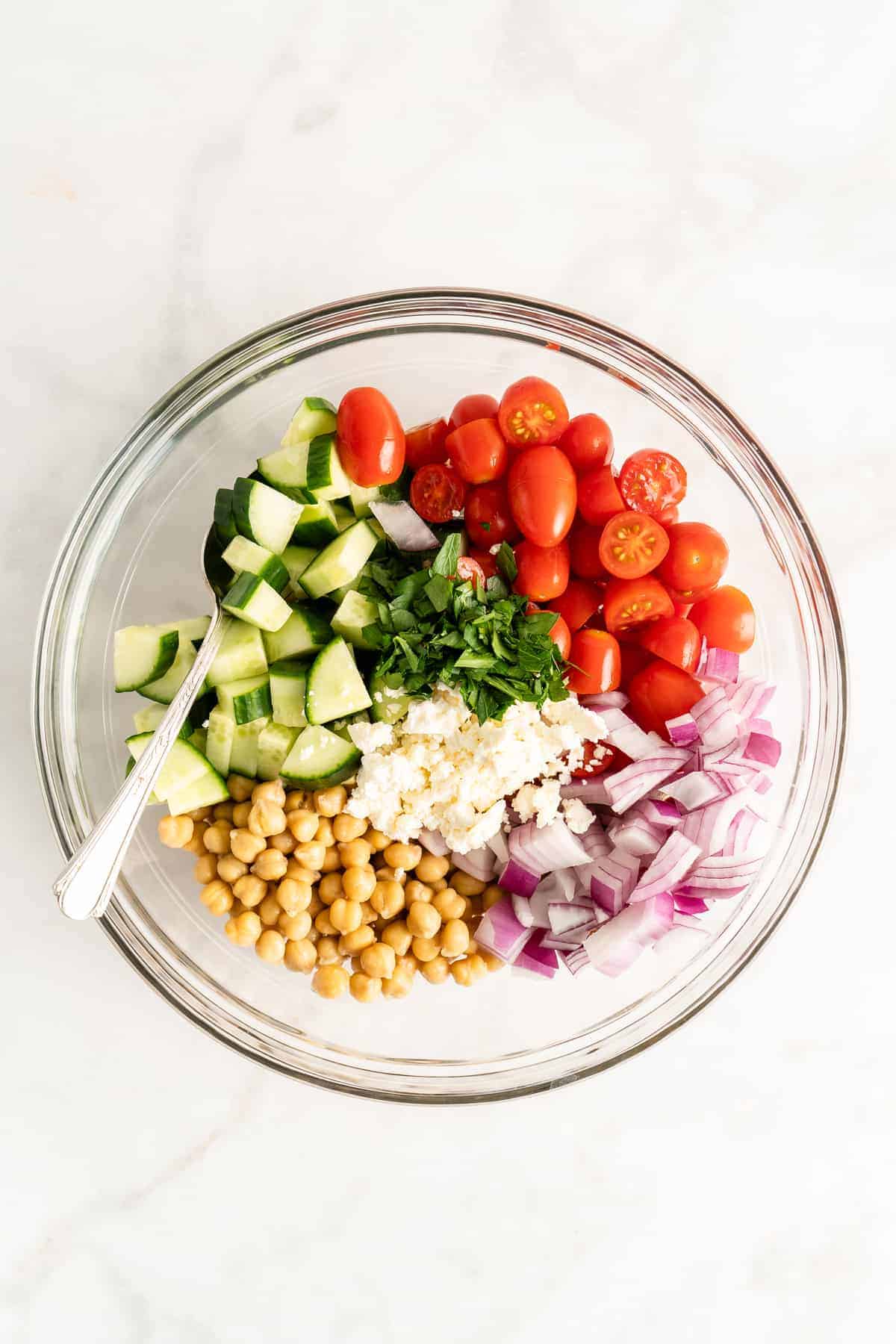 Combine the Ingredients for the Vinaigrette: Then pour the vinaigrette over the salad and toss again to combine.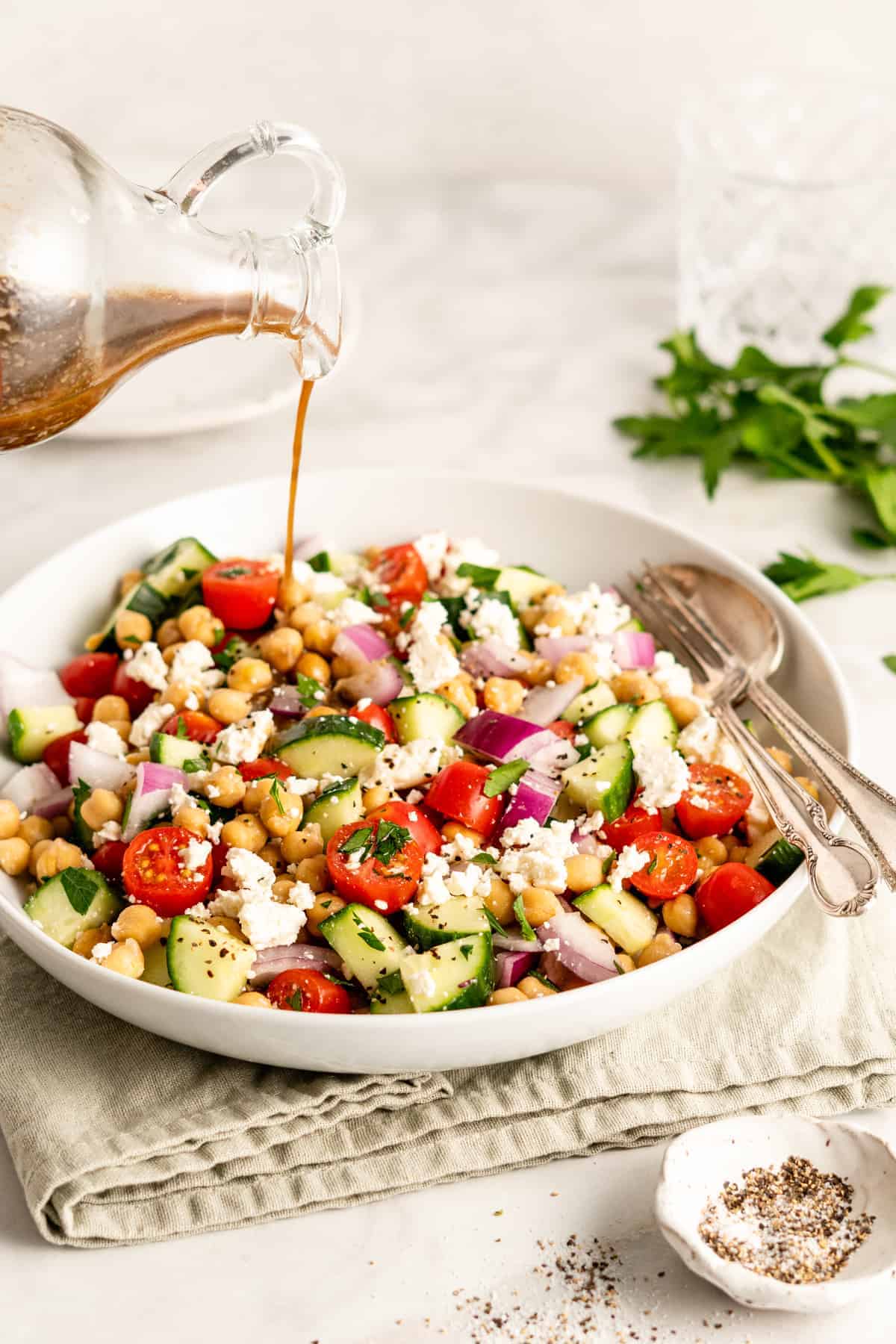 Easy peasy! And, just like that, you're out of the kitchen and ready to go on with your day.
Tips for Success
Though the steps are easy, there is always room for tips and tricks to improve this salad!
Here are a couple of brief suggestions for the best chickpea salad:
Wait 30 Minutes Before Eating: Cover the salad and let sit for 30 minutes to up to an hour so that all the ingredients are completely soaked in and the flavors are combined.
Chop Your Veggies to Similar Sizes: I don't know about you, but I like an even forkful of veggies when I take a bite of salad! Making the tomato, onion, and cucumber pieces relatively the same size achieves that.
Meal Prep Tip: If you're meal prepping this/want it to stay pretty, I would sprinkle the vegan cheese on top or each time you're making it, instead of stirring it in with the rest of the ingredients to avoid discoloring.
Adjust to Your Taste Preferences: When it comes to salads, you're the expert on what you like. If you think the salad needs more lemon juice, by all means add it! If you think it needs more mustard, do your thing. 🙂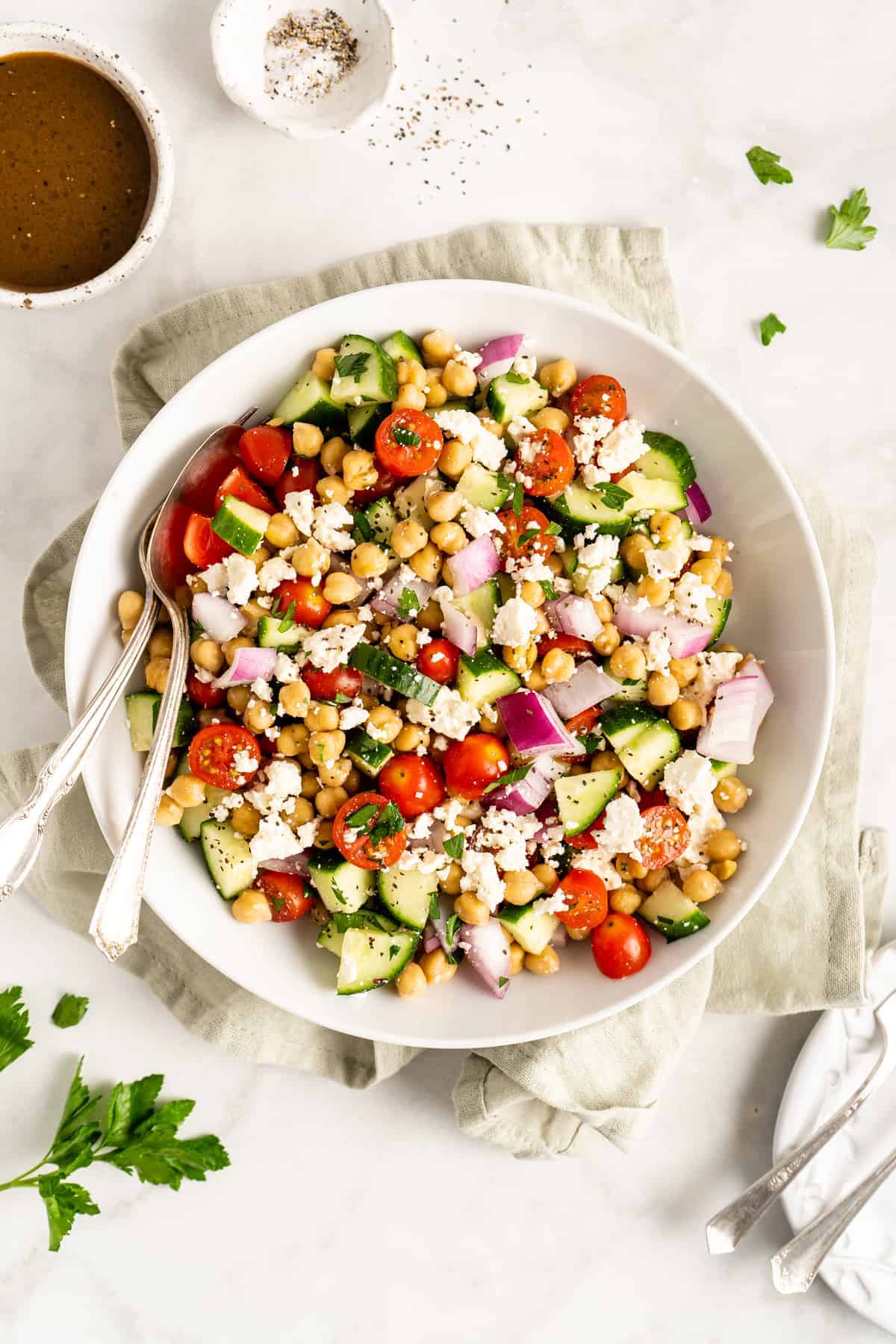 Serving Suggestions
What/how do you serve chickpea salad? A wonderful question! There are many answers.
You could eat this with a fork, or scoop it up with pita chips! Either way works, either way is delicious.
We've been transforming this yummy salad too – in burritos for breakfast, and in jars for my husband to take to work. You can add olives, or even use white beans instead of feta – make it completely yours!
How to Make Ahead or Store Extras
When it comes to making this chickpea salad ahead of time, I like to chop up all the vegetables, refrigerate them, and throw everything together later. The vinaigrette can be mixed up and refrigerated in a mason jar or something ahead of time, too.
If you have leftovers, refrigerate them in an airtight container for 2-3 days.
Enjoy this colorful salad!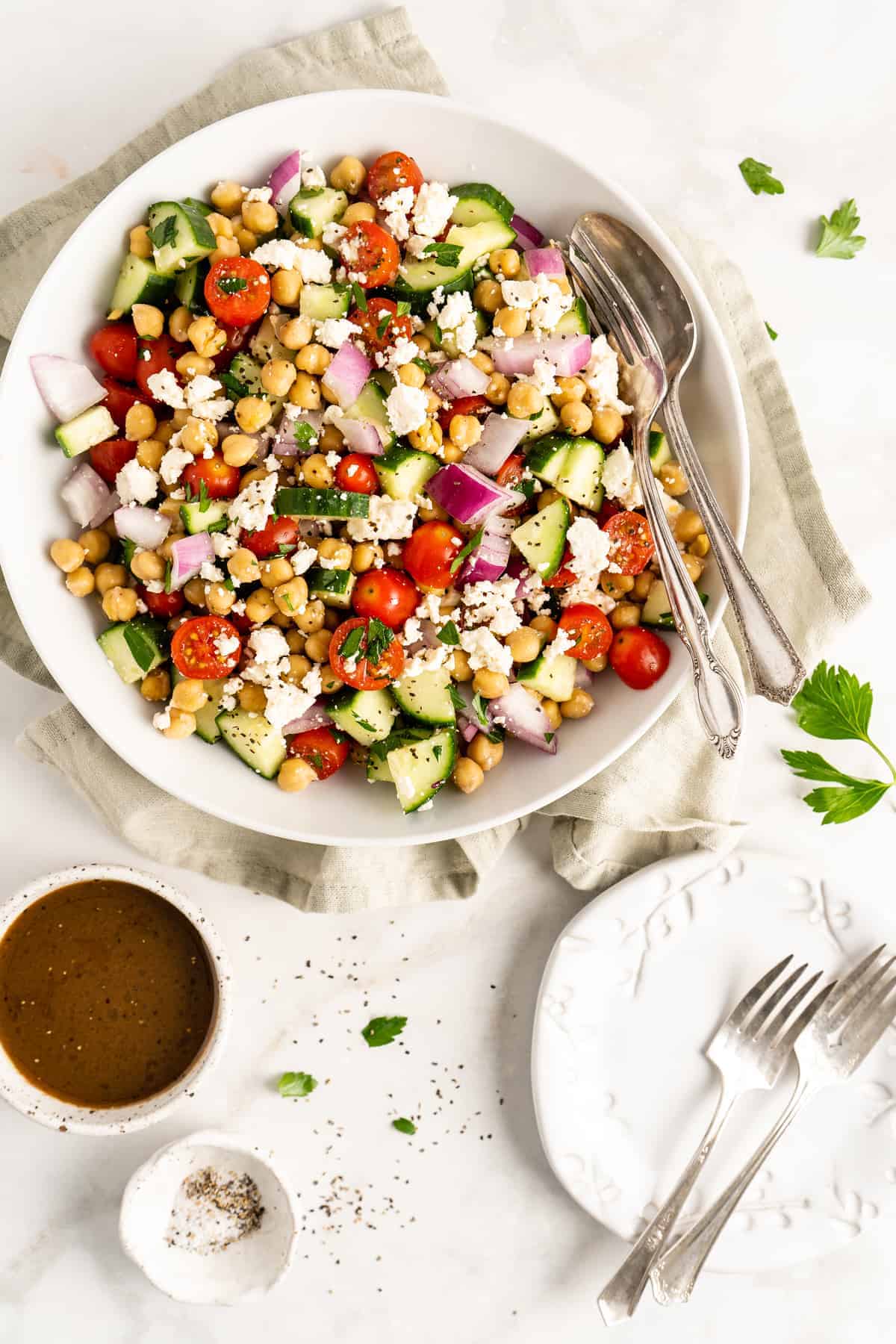 P.S. Here are some of the items I used to make this recipe if you'd like to use them too:
| WHAT YOU'LL NEED // SHOP MY FAVORITE INGREDIENTS & PREP PRODUCTS |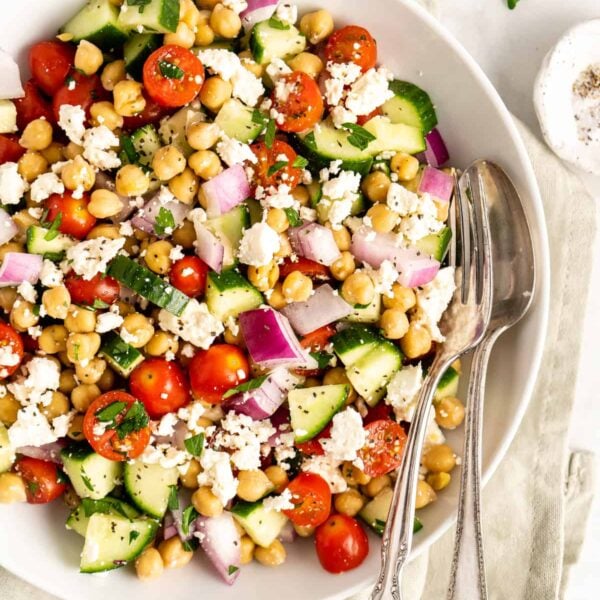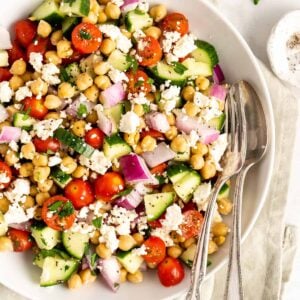 15-Minute Mediterranean Chickpea Salad (Meal-Prep Friendly)
This 15-Minute Mediterranean Chickpea Salad is loaded with delicious and filling veggies, and is made in just 15 minutes! Perfect for meal prep!
Ingredients
Chickpea Salad
1 1/2 cups chickpeas, drained and dried
1 cup cubed cherry tomatoes
1/2 large red onion, chopped
1 cup cubed English cucumber
1/4 cup vegan feta cheese, crumbled or vegan tofu feta
1/2 cup chopped parsley, stems removed
Balsamic Vinaigrette
1/4 cup extra virgin olive oil
1 tablespoon balsamic vinegar
2 teaspoons lemon or lime juice
1 teaspoon dijon mustard
1/2 teaspoon sea salt
1/4 teaspoon ground black pepper
Instructions
In a large mixing bowl, add the chickpeas, cherry tomatoes, red onions, cucumber cubes, feta cheese and parsley.

Pour the vinaigrette over the salad and toss again to combine.

OPTIONAL, but makes a delicious difference: Cover the salad and let sit for 30 minutes to up to an hour so that all the ingredients are completely soaked in and the flavours combined. Serve and enjoy!
Notes
Notes:
1. This recipe is vegan and gluten free. 2. HOW TO STORE You can prep this salad ahead of time for meal prep for sure, and you can store it in an airtight tupperware container.
Calories: 269kcal, Carbohydrates: 22g, Protein: 8g, Fat: 17g, Saturated Fat: 3g, Cholesterol: 8mg, Sodium: 425mg, Potassium: 367mg, Fiber: 6g, Sugar: 6g, Vitamin A: 894IU, Vitamin C: 23mg, Calcium: 99mg, Iron: 3mg
Disclaimer: Although jessicainthekitchen.com attempts to provide accurate nutritional information, kindly note that these are only estimates. Nutritional information may be affected based on the product type, the brand that was purchased, and in other unforeseeable ways. Jessicainthekitchen.com will not be held liable for any loss or damage resulting for your reliance on nutritional information. If you need to follow a specific caloric regimen, please consult your doctor first.
More Vegan Salad Ideas
Ready to try some more easy vegan salad recipes? Check out these ones: