White Chocolate Peppermint Bark
This White Chocolate Peppermint Bark is so easy to make it's barely a recipe. It's a MUST for Christmas!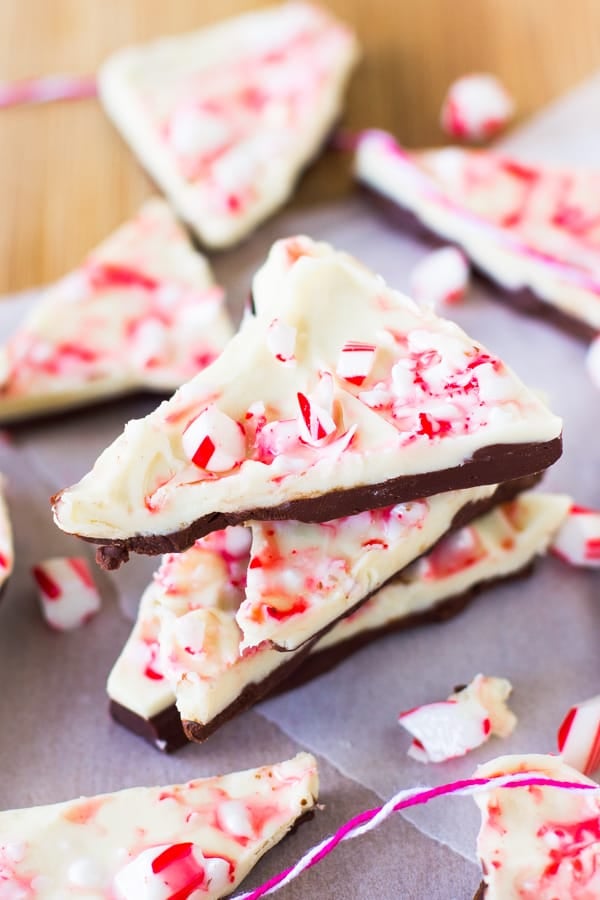 I have a confession: I haven't bought one Christmas gift yet. I didn't even realise that was a thing until I saw everyone on Facebook etc talking about how they have finished their Christmas shopping…what??
How is it even December 14th? How does that mean that next week is Christmas?!
Anyway, to distract myself further from this, I spent the weekend eating this white chocolate peppermint bark and I just HAVE to share the recipe with you. It's so easy it's hard to call it a recipe – no baking, only the microwave for heat and all the ingredients are basically already made (chocolate chips galore!). P.S. I've
shared 4 new chocolate bark recipes that I adore
, including an updated version of this bark.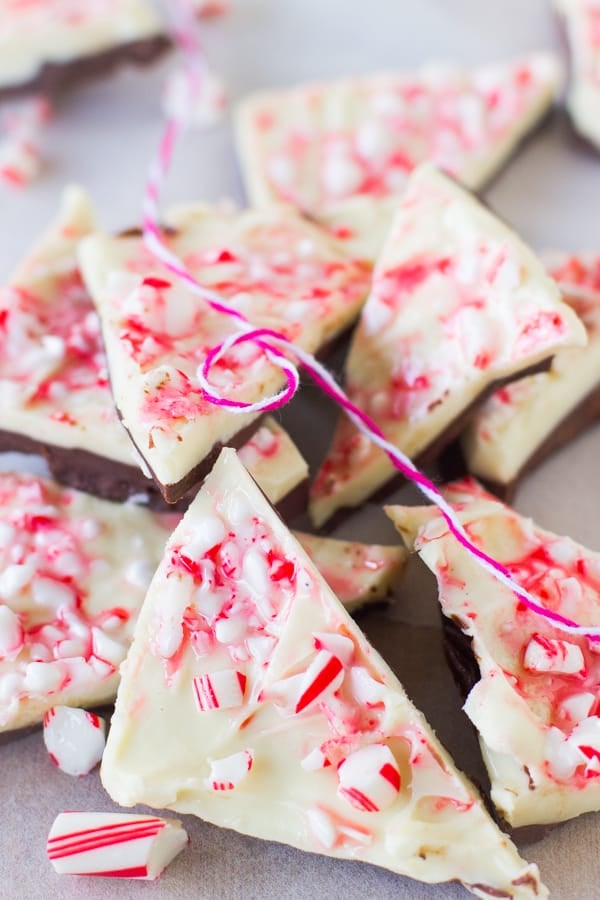 White chocolate peppermint bark isn't a new Christmas treat and I've kept the recipe pretty traditional. What I love about this recipe is that you can customise it to your liking but I generally feel that as long as you keep the amount of white chocolate to semi-sweet chocolate ratio the same, whether it's 1 cup each or you double your batch for example, you're in good hands.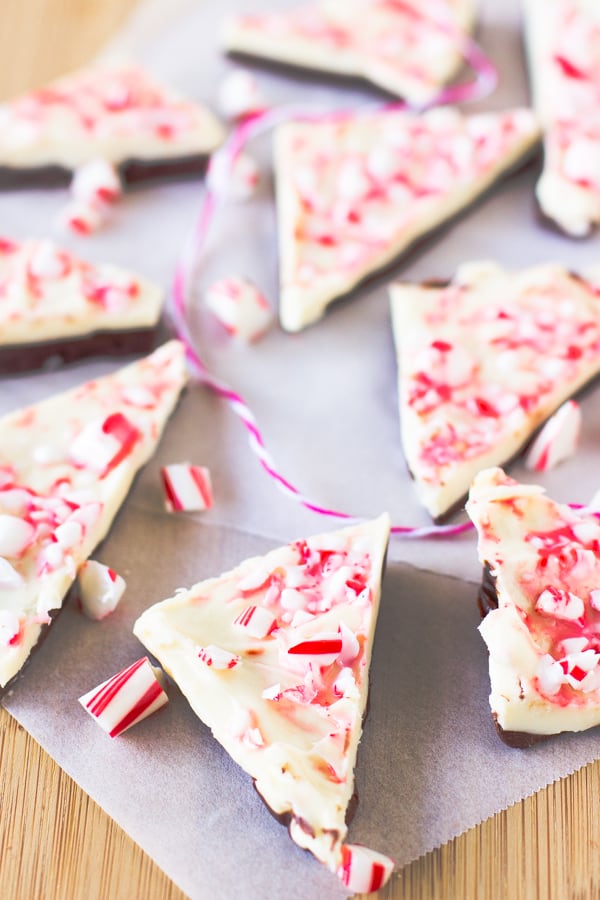 You can add as much or as little peppermint extract as you desire (I'm a peppermint extract kind of gal) and any little additives you want – cranberries; pomegranates…the options are endless. I kept mine addition free because I love how the peppermint extract flavour shines through and even added more peppermint extract to the semi-sweet chocolate than I did to the white chocolate.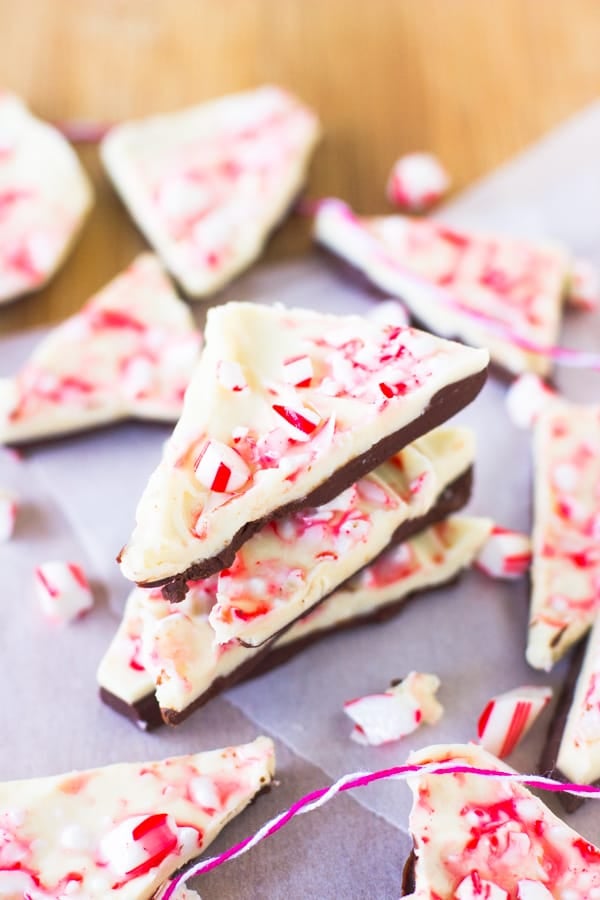 Here's a bit of baker geek time info: the reason I added coconut oil. Being a baker for four years and owning a baking business and making MANY many chocolate covered strawberries has taught me that white chocolate not only seizes up very easily after being melted in a microwave but that it can rarely be saved when it reaches that point. Adding coconut oil and using high quality baking chocolate helps to eliminate this problem as the coconut oil helps to break down the coconut and acts as a thinner (in a more delicious way). So that I'm not completely boring here, that means more yummy chocolate and less problems. Woohoo! I would only recommend using the coconut oil if your chocolate has seized up, or just isn't melting properly.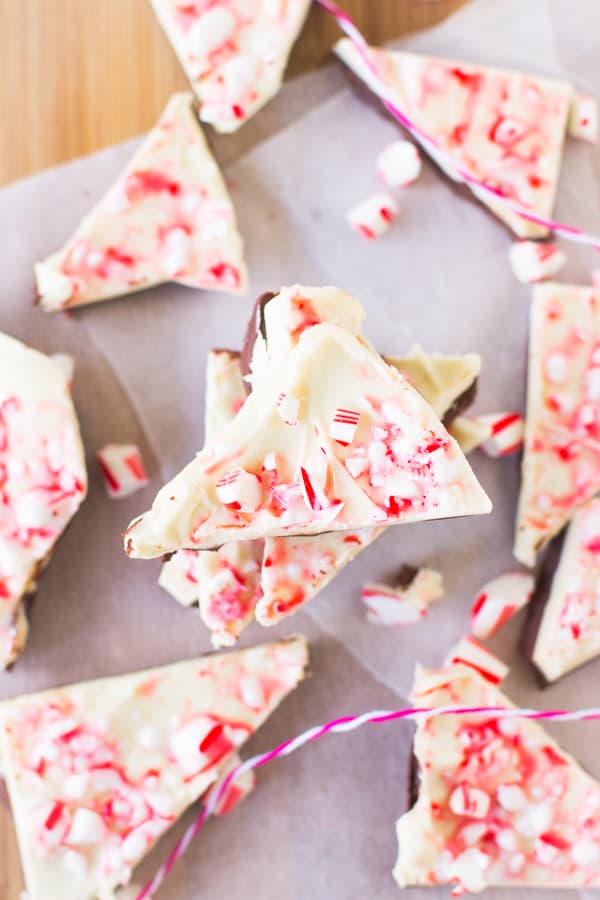 All the logistics aside, this is the crazy easy to make. It literally takes ten minutes to make total and the rest of the time is just fridge time. Then to serve you just have to break it up with your hands. On top of this being so easy to make, it is incredibly delicious. I have definitely eaten half my weight (only a slight exaggeration) in peppermint bark this holiday alone and trust me, I'll be making plenty more. It's a perfect last minute treat for the holidays and I can't stress more how much you need to make this. And don't even begin to count how many pieces you'll be chowing down on – chalk it up to your abundance of Christmas spirit.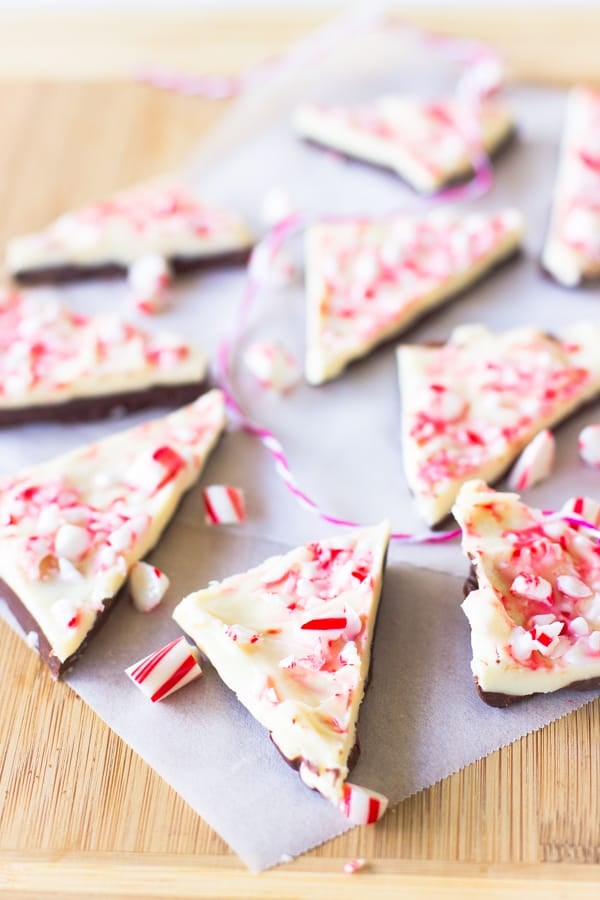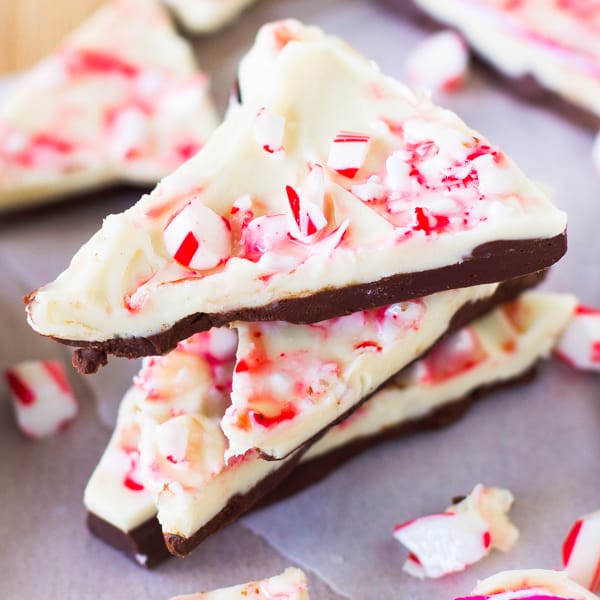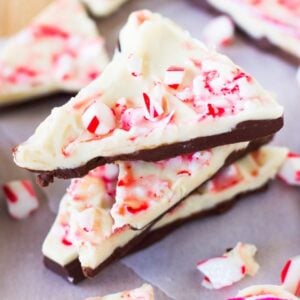 White Chocolate Peppermint Bark
This White Chocolate Peppermint Bark is so easy to make it's barely a recipe. It's a MUST for Christmas!
Ingredients
8 ounces dark or semi sweet chocolate chips, 226g
8 ounces white chocolate chips, 226g
1/2 teaspoon peppermint extract
2 candy canes, crushed
Instructions
Line an 8x8 baking dish or a small cookie sheet with parchment paper, pressing to ensure it is smooth.

In a bowl, melt the dark or semi-sweet chocolate chips for a minute. Remove and stir together with a spoon. The chips should melt after a few stirs but if not, microwave in 15 second increments until melted.

Pour into the bottom of the baking dish or on cookie sheet and spread to cover. Place in your fridge for 5-7 minutes to set temporarily. You don't want to set longer than this else the layers of chocolate may separate once hardened completely.

Melt the white chocolate for 1 minute in the microwave. Remove and stir vigorously - the white chocolate should be melted and creamy. If not, microwave for another 15 seconds then stir again. White chocolate can seize up very easily so work carefully with it. Stir in the peppermint extract. Allow to cool for 1 minute.

Remove the slightly hardened chocolate from fridge, then pour the white chocolate over it chocolate in the baking dish/cookie sheet.

Sprinkle with the crushed candy canes. Place in the fridge until set, about 30 minutes. Remove, peel back from parchment, and break apart into pieces when you're ready to serve it.

Store in the fridge in an airtight tupperware container.
Notes
TIPS:
If you're having any difficult with melting the chocolate, use a little bit (about ¼ teaspoon) of coconut oil. Coconut oil is used to help the chocolate melt (a very useful tip from my days of the baking business!) Use it sparingly as a lot can make the chocolate very very runny. Even if the chocolate doesn't seem to be melted at first, give it a few seconds and a few stirs.
You don't have to use the entire ½ teaspoon peppermint. I thought the extra peppermint contrasted very well to the chocolate and complemented it. You can use any amount you want since the peppermint candy canes on top will give it a great peppermint flavour.
The bark must be stored in the fridge.
MORE CHRISTMAS BARK RECIPES
Christmas Chocolate Bark Recipes – 4 Ways
Calories: 167kcal, Carbohydrates: 20g, Protein: 2g, Fat: 9g, Saturated Fat: 6g, Cholesterol: 6mg, Sodium: 26mg, Potassium: 81mg, Fiber: 1g, Sugar: 19g, Vitamin A: 9IU, Vitamin C: 1mg, Calcium: 56mg, Iron: 1mg
Disclaimer: Although jessicainthekitchen.com attempts to provide accurate nutritional information, kindly note that these are only estimates. Nutritional information may be affected based on the product type, the brand that was purchased, and in other unforeseeable ways. Jessicainthekitchen.com will not be held liable for any loss or damage resulting for your reliance on nutritional information. If you need to follow a specific caloric regimen, please consult your doctor first.