One Skillet Three Cheese Baked Macaroni and Cheese
This One Skillet Three Cheese Baked Macaroni and Cheese is stuffed with delicious cheeses and topped with a crispy panko bread crust. It's all made in one skillet!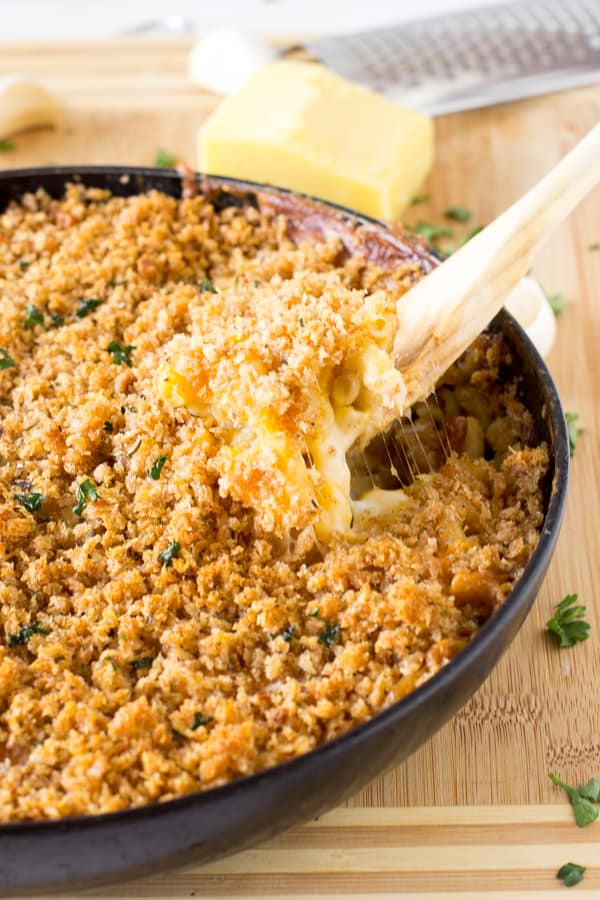 It's 15 days until Christmas! As in, 15 days until a Christmas breakfast feast of croissants, muffins, french toast, casseroles and all sorts of hot chocolate flavours, opening gifts then too stuffed to eat lunch, then a double feast at dinner time of all sorts of macaroni and cheese, and potato salads, veggie pot pies and then a dessert of Christmas cake, peppermint brownies, peppermint bark and white chocolate cranberry cookies to name a few.
In case you're wondering, yes, I'm very excited. That's why I'm continuing the festivities with this One Skillet Three Cheese Baked Macaroni and Cheese. We're talking creamy, cheesy, decadent and incredibly comforting. Of course, I still found a way to make this healthier so you can eat even more of it.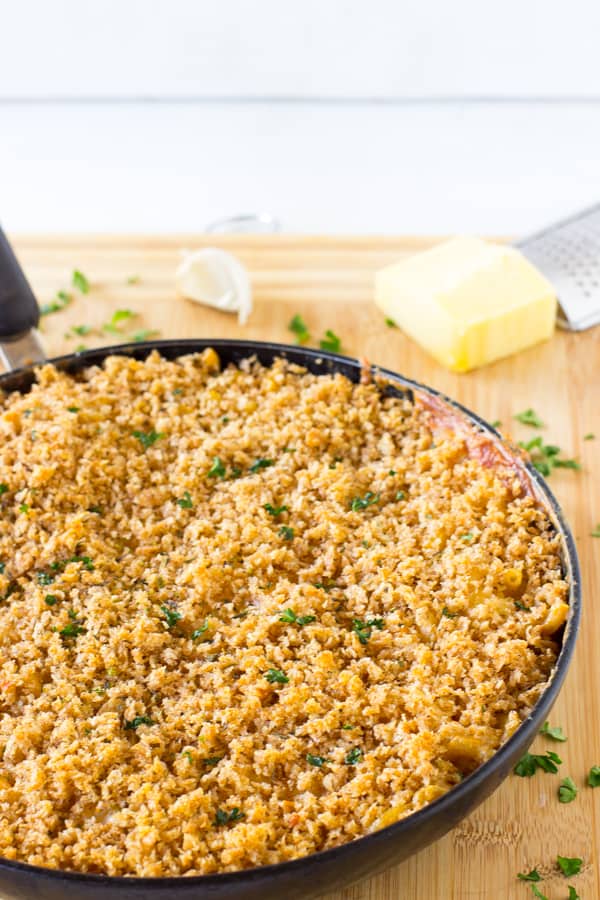 Growing up, I was that rare kid who just wasn't that into boxed macaroni and cheese. I should have known then that I would've ended up in a life where goodies baked from scratch would excite me to a weird extreme but flash forward to my first time tasting baked macaroni and cheese; my life had changed forever.
A bit dramatic, I'll concede. But suddenly this pasta was in almost a pie form, much thicker, and so deliciously cheesy! I've been a huge cheese fan (seriously, I look forward to wine and cheese nights, but that might be more because of the wine) so that's naturally a win win situation for me. But really one me over with baked mac and cheese was always the topping. A crusty, breaded topping that was well seasoned and that covered the entire baked mac and cheese that you could get a deliciously crunchy bite with each soft, creamy and cheese macaroni and cheese forkful.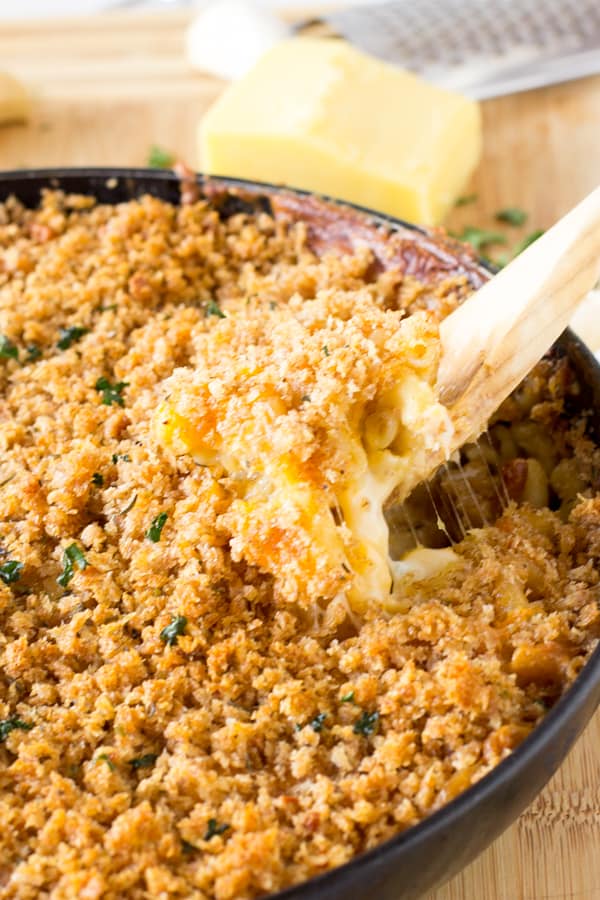 Due to my own specifications, I knew that the baked macaroni and cheese that I creation would have to embody all the things I loved in macaroni and cheese:
Thick, solid pasta base that was cooked until al dente
A variety of cheeses, always including a mellow gooey cheese such as mozzarella and a sharper contrasting cheese such as cheddar
A crust that was crunchy, delicious, golden brown and well seasoned
A recipe that was simple and easy and required only one skillet/one pot for the entire dish.
We a winner my friends.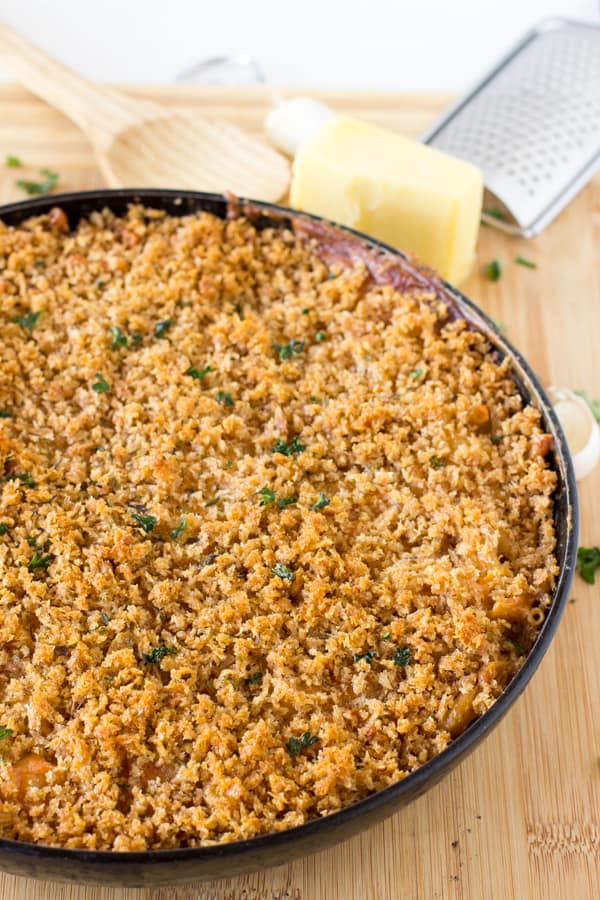 This macaroni and cheese recipe is all that I've been wishing for and even more. Garlic seems to be my signature seasoning so of course I added in a couple cloves which I think helped to develop the cheese flavour even further. The macaroni and cheese is solid enough to scoop into your plate but comforting enough that your eyes will roll back into your head as you take your first bite. I touched on the crust earlier but of course, it's complete with everything I love in a crust.
And my favourite part? All made in one skillet. I could say it's a one pot dish, and you could make it in a pot if you wished, but the skillet to me just presented itself so beautifully when served at the dinner table. My ideal dinner table of course, which focaccia bread on side and potato salad that Mr. Bakes made on the other side. Hello Christmas!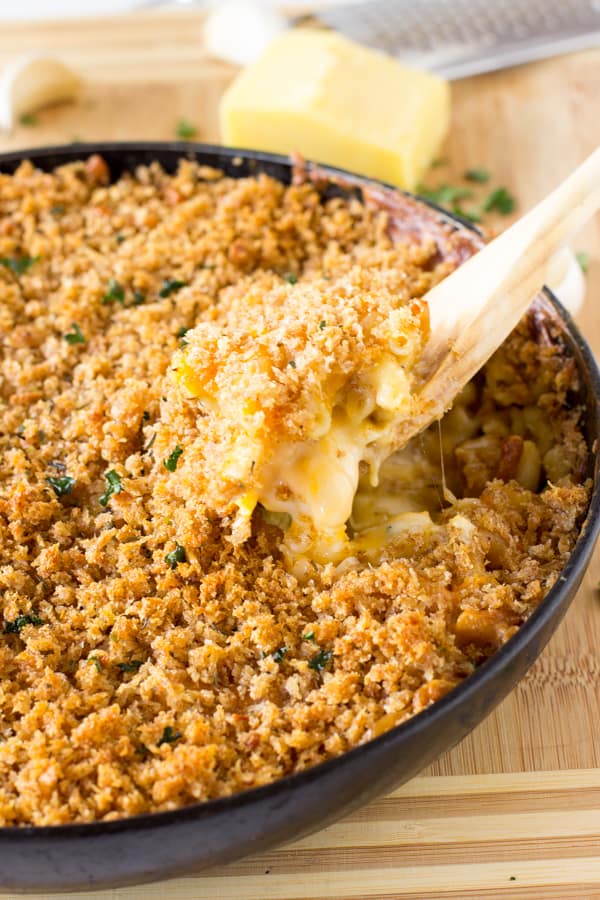 More Macaroni and Cheese Recipes I love:
Roasted Poblano Mac and Cheese – Oh My Veggies
Baked Macaroni and Cheese with Tomato Sauce and Goat Cheese – Joanne Eats Well With Others
Sriracha-Cauliflower Mac 'n' Cheeze – Vegan Yak Attack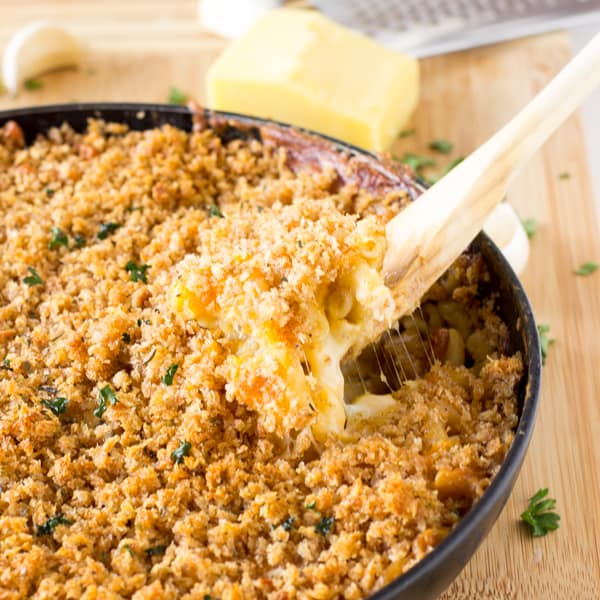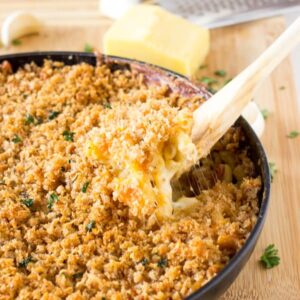 One Skillet Three Cheese Baked Macaroni and Cheese
This One Skillet Three Cheese Baked Macaroni and Cheese is stuffed with delicious cheeses and topped with a crispy panko bread crust. It's all made in one skillet!
Ingredients
2 cups elbow macaroni
3 cloves garlic, minced
3 cups unsweetened non-dairy milk, cashew, almond, coconut - I used Silk Cashewmilk
3 tablespoons vegan butter
3 tablespoons whole wheat flour
1 tablespoon powdered mustard
1/2 large onion, finely diced 1 teaspoon fine sea salt
1/4 teaspoon freshly ground black pepper
3 1/2 cups of three types of shredded cheese, divided (I used mozzarella, sharp cheddar and vegetarian parmesan cheese)
parsley, for garnish
Topping:
3 tablespoons unsalted vegan butter, melted
1 cup whole wheat panko bread crumbs
1/4 teaspoon salt
1/4 teaspoon ground black pepper
Instructions
In a skillet over medium high heat, heat one tablespoon of coconut oil. When hot, add the garlic and sauté for about 1 minute until fragrant. Add the pasta, unsweetened non-dairy milk, butter, flour, powdered mustard, onion and the salt and pepper stir and bring to a boil.

Reduce to a simmer and cook together for about 15 minutes until pasta is al dente (still a bit firm) and the sauce has thickened.

Preheat oven to 350 degrees. Fold in the cheese except 1/4 and mix together. Sprinkle the rest of the cheese over the top.
Topping
Mix the bread crumbs, salt and pepper and butter together in a small bowl then sprinkle over the entire macaroni and cheese.

Bake in the oven for 15 minutes (uncovered) so that pasta becomes set then put under the broil on low for a few minutes until the topping is golden brown. Garnish with parsley.
Notes
If you don't have non dairy milk or vegan butter you may use regular milk and regular butter. When doubling this recipe, you won't need all of the cheese. I used 5 cups when doubling.
Calories: 495kcal, Carbohydrates: 46g, Protein: 18g, Fat: 26g, Saturated Fat: 13g, Cholesterol: 59mg, Sodium: 612mg, Potassium: 151mg, Fiber: 2g, Sugar: 2g, Vitamin A: 896IU, Vitamin C: 1mg, Calcium: 367mg, Iron: 1mg
Disclaimer: Although jessicainthekitchen.com attempts to provide accurate nutritional information, kindly note that these are only estimates. Nutritional information may be affected based on the product type, the brand that was purchased, and in other unforeseeable ways. Jessicainthekitchen.com will not be held liable for any loss or damage resulting for your reliance on nutritional information. If you need to follow a specific caloric regimen, please consult your doctor first.